Ok, sorry for the delay again this week. This time my postie sent the issue to my neighbour's house! At least he came to tell me as he realised his mistake. good-chap. Anyway, here we are with the contents for Warhammer Conquest issues 59 & 60 Confirmed.
Just a reminder up-front. For those of you, Pee'd off with Hatchet (intentional spelling) customer service. The best way to subscribe is with Forbidden Planet (affiliate link). I cancelled my conquest subscription from Hachette and just preordered every remaining issue with Forbidden Planet. I also ordered a few extras where I want extra models.
This is a great way to preorder. They charge 50p less per issue! Yes, they charge postage, but so long as you pre-order 11 issues it breaks even. Order more and you save money. They charge you weekly and deliver them to your door weekly too. Packaged much better than Hachette ever have!
Click this link to see a list of all the available issue in order.
Another quick announcement is that this week our Facebook Group became the second largest Warhammer Conquest group on Facebook! We have a great community there. Please come and join and help us become the largest (before the series ends….)
Now, let's have a look what's coming in the next 2 issues.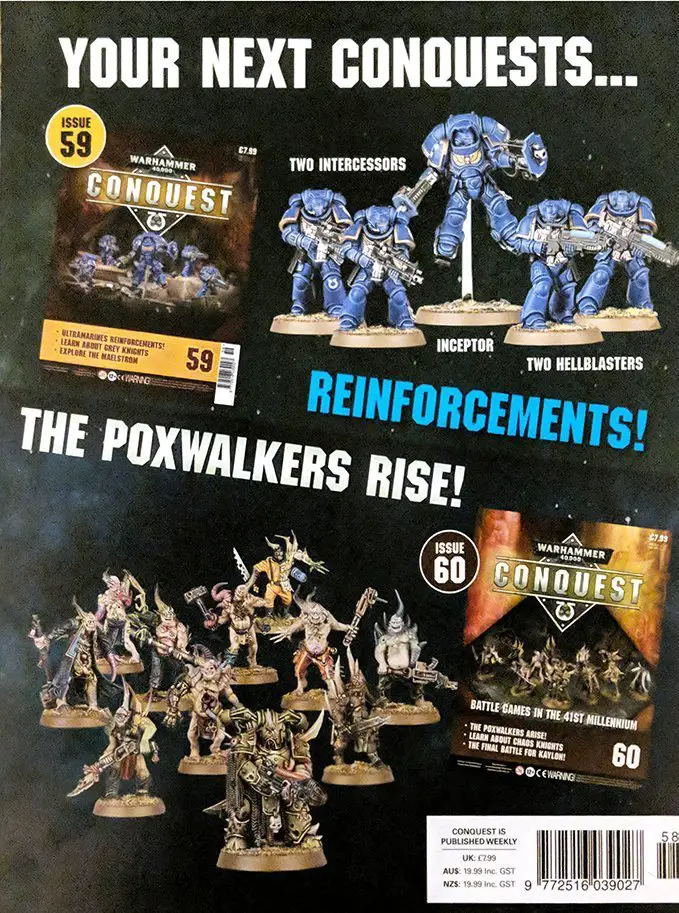 2 x Primaris Intercessors
2 x Primaris Hellblasters
1 x Primaris Inceptor
Issue Price £7.99
Total Value £11.88
Total Saving £3.89
Another great issue here if you want to bolster your space marine forces. If you are building an army. 3 copies of this issue will make 3 full squads. 1 squad of Intercessors, one squad of Hellblasters and 1 of Inceptors. you'll also be left with a spare Intercessor and Hellblaster.
This is the second Sprue B from the Dark Imperium Boxes Set.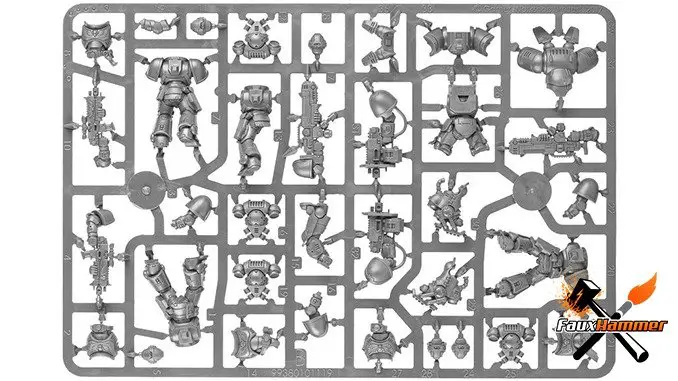 10 Pox Walkers
1 x Plague Marine
Issue Price £7.99
Total Value £11.88
Total Saving £3.89
Another great set, I like to call these practise models as I now have 32 Poxwalkers from Conquest alone! They are really detailed fleshy models and quite a lot of surface area here to practise painting on. If you're struggling with painting skin. There's more than enough models here to play with to get it right by the end.
You get another plague Marine too and they are always fun to paint. But part of this marine comes on the sprue with the bloat drone on it. This model came in Issue 46
This is the Sprue D from the Dark Imperium Boxes Set.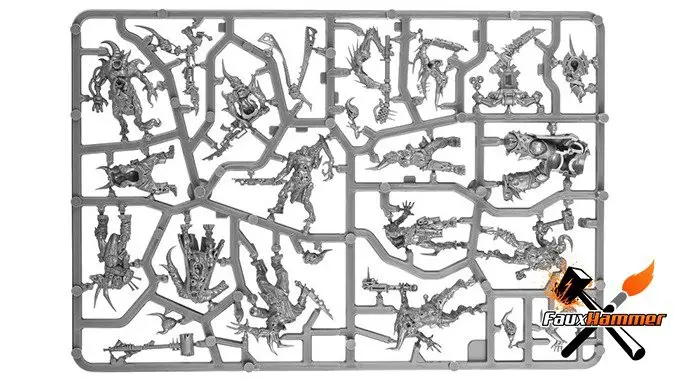 Follow FauxHammer by subscribing to the site (below). You can also follow on Twitter or Facebook for the latest updates.
What do you think of the upcoming goodies? let us know in the comments.