Greenskull Castle by Emvicreative on Kickstarter (Preview)
Last Updated on December 15, 2020 by FauxHammer
Prepare to go green with our latest Kickstarter Preview and collaborative interview, as goblins abound in Emvicreative's first-ever Kickstarter project: Greenskull Castle!
Our Affiliates / Hobby Stores
Greenskull Castle – Introduction
If you're like me, and aren't brave enough to venture beyond the relative safety offered by the walls of the Warhammer catalogue, the likelihood is that you've probably not heard of Emvicreative. I have no qualms admitting that, before being called upon to begin writing this preview, I hadn't either.
Emvicreative is the lasted project from the minds of Italian duo Marco and Vittorio, the pair behind Terrible Kids Stuff, a "miniature production project" that specialises in 1:24 and 1:54 scale miniatures, and have been known to do the odd bust. Have a look at their catalogue; there is an array of miniatures on offer, and the paint jobs they've been given will make your jaw drop.
Greenskull Castle, as it is named, is the duo's first Kickstarter campaign. Born from the unholy union of the Italian Covid-19 lockdown and mushroom pizza, the Kickstarter aims to produce a clan of goblins, developed under the header of their new brand, Emvicreative.
And herein begins the collaboration. Having drawn three pentagrams in blood on the floor of my living room (which my significant other was not happy about) and amassed the necessary trinkets and offerings required to summon forth the necessary parts of the writing team, thus I began my task.
In the first of my summoning circles, I placed some World of Warcraft fanfiction, a pot of colour-shifting paint, and the tears of a thousand foes crushed at Blood Bowl, thus summoning Hellhound. I then had to get her to stop painting her god damn C'tan Shard of the Void Dragon, which was another battle entirely.
In the second, I placed an Auric Runemaster, the new Kharadon Overlords box, and a haggis wrapped in a kilt to summon Oberael. He immediately chastised me for making such a terrible wee joke.
In the final pentagram, I placed a Harder & Steenbeck – Infinity CRplus, a Space Marine wearing a kimono, and the promise of more than three hours of sleep a night, thus summoning Fauxhammer himself. I didn't manage to summon his cup of coffee through with him, though, so he was pretty cross.
Thus assembled, we each received a bag of three minis from the range to paint and review as appropriate. It's important to note that whilst we were sent three random figures each to review, this is not the service offered by the Kickstarter: if you pledge, you pick your figures.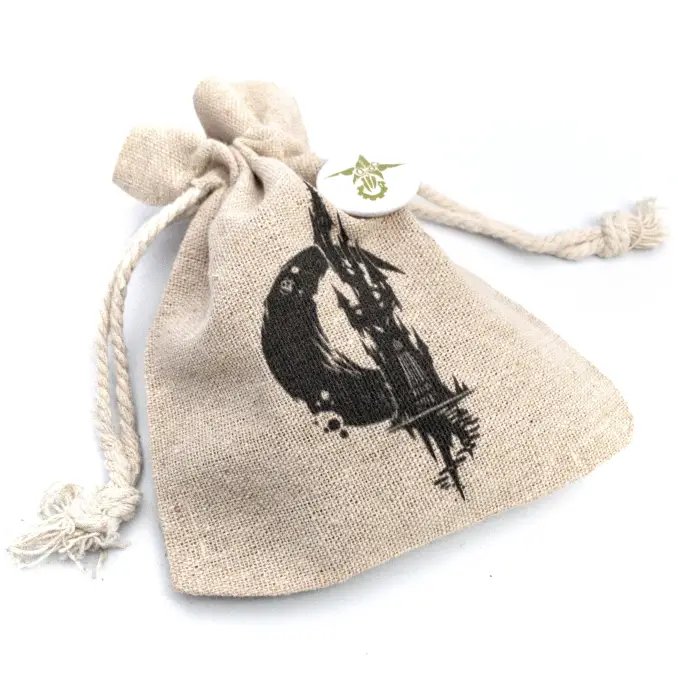 Read on to see what we each did with our figures, and how they all ended up looking.
Fauxhammer – Knamb, Kar and Srakat
So, first off, an apology from me, I didn't get as long to play with these models as I would have liked due to some personal drama which happened this week. But let me give you my impressions based on what I have had time to do.
I love the concept of these models. And that comes from someone who's feet are firmly planted in the sci-fi genre.
They really evoke a feeling of childhood joy in me that I previously only got when collecting Tiny Terrapins from Kinder Surprise Eggs back in the 1990s. Each base models is essentially the same but with some quirky extras in order to accentuate the character.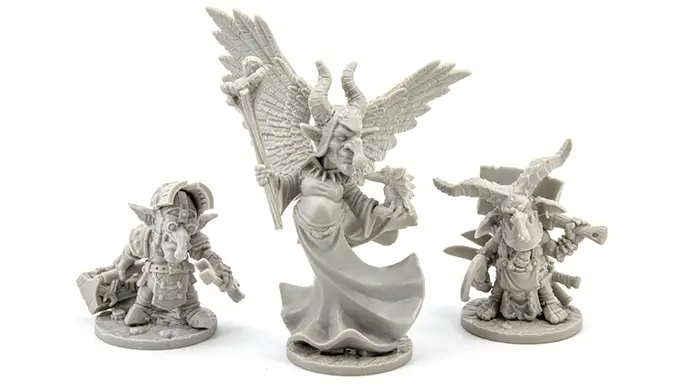 Which, as you look at the series, you realise that each is an elaborate twist on some of your favourite pop culture heroes. With this in mind, the set would not be unwelcome as a blind-box offering,
Whist I can make out a who few these models loosely resemble, from Conan the Barbarian and Geralt of Rivia to Green Goblin and Ezio Auditore de Firenze. I am left stumped with many others Including two of my own. Assuming the one I know is right…?
Reading the FAQ on the Kickstarter, It was suggested that the characters names should give some kind of clue. So I'm pretty sure Srakat is a caricature of Maleficent, but I have no idea how the name is relevant? Perhaps it means more in Italian and the rest is lost in translation?
I have no idea who Knamb and Kar are meant to be, answer in the comments, please?
As for the models themselves, let me just say "wow"!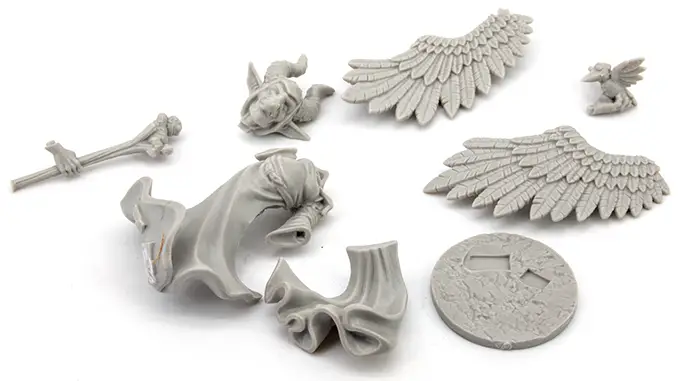 I'm not the biggest fan of resin, sure it's detailed when done right but the prep required to get resin models tidy before painting, is just so much more troublesome than with plastic. It's a barrier to entry I normally turn my nose up at.
But these are borderline flawless…
I had only the fewest of mould lines to deal with. The guys at Terrible Kids Stuff have really put a lot into the models. Especially the considerations as to where the seams and mould gates would go. This made my prep work so easy and in the most part, I hardly even touched it.
In construction, the only real trouble I had is that the pegs on the hands were consistently too large for the respective recesses on the models and needed to be trimmed by almost one third. But this is an incredibly simple step for even lesser seasoned hobbyists.
The scale is spot on, these sit cleraly in the 32mm scale, but don't expect that this means they are 32mm tall, they are goblins after all – they be rather squat. But the level of detail is perfectly attuned to other brands who use 32mm in their resin models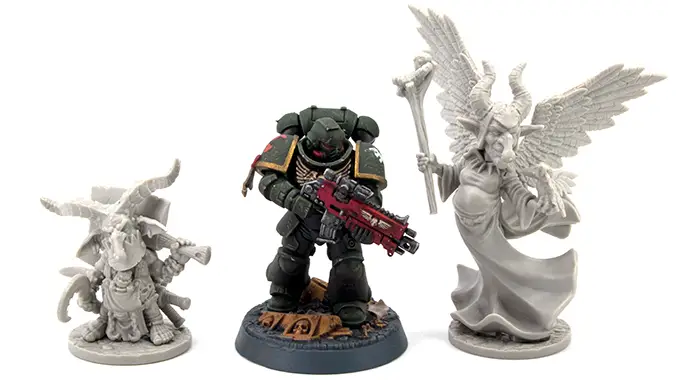 Painting-wise, I opted to go with a few different colours. having seen everyone do these in green I wanted to throw some different colours at them in order to stand out from the crowd. Unfortunately, I simply have not had time to finish but I do yearn to get back to them as soon as I possibly can. I'm sure the detail would really pop with my own speed-painting techniques and as soon as I can get back to my pain bench, I'll get you guys a photo of the finished result.
In the meantime, definitely go and check these guys out on Kickstarter, with so many characters, you're highly likely to find one which speaks to you, and it's a really smart idea by these guys of having very low priced tiers for people to jump in at.
VoltorRWH – Ngabur, Zmuked & Dakumx
My trio of terrors was made up of Ngabur, Zmuked, and Dakumx (Gul'dan, Ezio, and the bagpipe dude), all of whom appear to be named after sneezes. All three are from the "Craftsman" section of the range.
The sculpts on these figures are gorgeous. An enormous amount of attention to detail has been poured into every single part of their characters – and the addition of the little stuffed, voodoo doll-like figures is an amusing touch. Each figure is completely bespoke and unique to the next in every way, and each goblin is as charming as it is hideously ugly.
There was a little cleanup to do on two of the figures: Ngabur's staff had a large nub of resin right on top of it as did the hook hanging off his back-spikes, and Dakumx had a similar bit in his hair, which was very difficult to tidy up cleanly.
Although the figures come with no assembly instructions, I didn't find that they were needed. The figures come in only a couple of components, and there are no components so outlandish as to leave you wondering where it goes. I'd suggest looking at the preview images on the Greenskull Castle Kickstarter for reference, all the same.
Across all three of my figures, there were a couple of bits I had some trouble assembling. Ngabur's left hand wasn't all that keen on going in its slot, the right hand of Xmuked's bone-wielding companion (the one on the right-hand side of the kennel he's standing on) also did not want to be joined to the rest of his body, and Dakumx's two band buddies put up an enormous fight being affixed into the holes on their base.
Also, make sure that Dakumx's right hand is attached before you try sticking on his head.
As far as painting these little green monsters go, they're an absolute joy.
The design on these is really quite genius. Whilst there's enough uniformity across the figures, I found that each one is so rife with its own unique elements that its well-humoured caricature really came to life beneath the paintbrush.
There are simultaneously enough similarities and differences between each model that the painter has ample opportunity to ensure each already unique figure can be made even more unique by their own take. But my personal favourite aspect of these figures was that they really pushed me to try and improve.
Each figure is so gloriously rendered, so finely sculpted, and covered in so many little details that demand justice, that I found myself practising my blending like never before. I even had a go coming up with my own white recipe – a could I previously hadn't dared touch – for Ezio Zmuked (it was a Corax White basecoat, an Apothecary White wash, then Ulthuan Grey and White Scar highlights for anyone curious).
I was actually gutted when I finished putting the final touches on these goblins. They were a pleasure to paint. They really come to life beneath the brush, and their clever blend of pop culture crossover design and archetypal goblin hideousness makes them really, really fun.
A triumph.
Oberael – Snikt, Rab & Orruik
I found one air bubble between my 3 miniatures.
One.
You'll know that the odd air bubble here and there is common enough – and typically easily remedied – if you've spent any amount of time working with resin models. Even larger companies with state-of-the-art casting equipment and experienced staff have this occur.
That such a small company are able to produce such crisply detailed models in such good condition really is an incredible feat. There was no flash on any of the models I received whatsoever and just a couple of nubs from where they had been cut from the sprue here and there. These goblins are easily the least prep work I've had to do on resin pieces so far.
When we were discussing which goblins had arrived in each of our deliveries, it came up that all of the goblins are also references to some character or other from wider nerd culture. Some are strikingly obvious, like to Ezio-a-like that Rob got, or the Conan-cosplaying Krom. But I really have no clue what mine are supposed to be. Shows what I know.
Snikt it the OG (Original Goblin) model that obviously formed the template for the rest of the range, and I think Rab is supposed to be the Diablo Loot Goblin, but I'm not sure who Orruik is supposed to be. None of this detracts from the childhood nostalgia that this will evoke for many of us. The Tiny Terrapins comparison FauxHammer makes is an excellent one.
They also remind me of my beloved Boglins, which are bizarrely making a Kickstarter comeback as I type.
The wee ragdolls that feature on the majority of the models are inspired and embody a comical sidekick role on the models akin to Games Workshop's Nurglings and Snotlings. They are also incredibly detailed, replete with stitches, button eyes and even a hessian sack-like texture.
Cutesy Goblins these are not. They are the filthy, ugly, rusty-blade-in-your-back goblins we all know and love, made weirdly more charming by their repugnance. Owing to that, I felt the deserved a suitably gritty paint job.
It's been slow going for me with painting my Snikt. Partly because I've been spinning a lot of plates this week, but also because I keep finding incredible details on the model that I want to enhance and pick out. It really is amazing just how much detail the sculptors have managed to pack into such a small space without it looking overcrowded.
The good news is that though I've been slow painting mine, it's also because I'm working on a tutorial for painting skin onto your goblin characters. So, forgive me, and stay tuned. <3
Hellhound – Sdoxum, Dzebuk & Zax
When I first caught wind of these goblins, I became extremely hyped. Especially when I saw the Illidan-esque goblin. Having played World of Warcraft for so many years, I would KILL to paint a goblin Illidan. I legitimately prayed that I would get the mini in the mail so that I could paint it up as best I could.
To my utter happiness: I received Dzebuk the Illi-gob Cleric, Zax the Jester, and Sdoxum the Wizard. In terms of detail, these miniatures are absolutely gorgeous. From the indented lines on Dzebuk's horns, to the crisp folds on Sdoxum's robes, these details can be handled by either an experienced painter or a beginner.
My only complaint to be found is on the Illi-gob. The sculpt, although gorgeous, is really cluttered with hard to reach detail. Maybe the clutter could be toned down if the staff-head had fewer voodoo heads, or if the little voodoo doll at the base of the staff was elsewhere, but that's just my two cents.
So, there's a pretty solid consensus amongst the FauxHammer team here: Greenskull Castle's miniatures are fantastic.
All four of us have been blown away by just how good these figures are. Their designs seamlessly blend humour, character, and pop culture into some truly unforgettable little characters – and, of course, their sculpts are exquisitely detailed.
There are a couple of downsides: some of the models were a little cluttered here and there, a few bits don't quite fit together as well as they could have done, and there was a scattering of production blemishes across the models (but for resin figures, these were so few and far between that they can be overlooked in favour of the overall quality of these models).
But these criticisms are small. On the enormous whole, Greenskull Castle's grimy goblins are of excellent quality in all fields. Having previously only ever looked at goblins with disdain, I can say I am now a convert.
Can I have some more?
There are still a few days left on the Kickstarter, so get over there, make a pledge, and bag yourself a couple of awesome goblins!
Our Affiliates / Hobby Stores
What did you think of this Article? Please let us know in the comments.
If you like what we're doing here you could really help encourage more content with a share on any social media platform.
Click the share links at the bottom of this screen (or on the left for computers and tablets)
Want to keep updated with the blog? You can subscribe in the sidebar for RSS or by email below
(Sidebar is below the article on Mobile Devices)