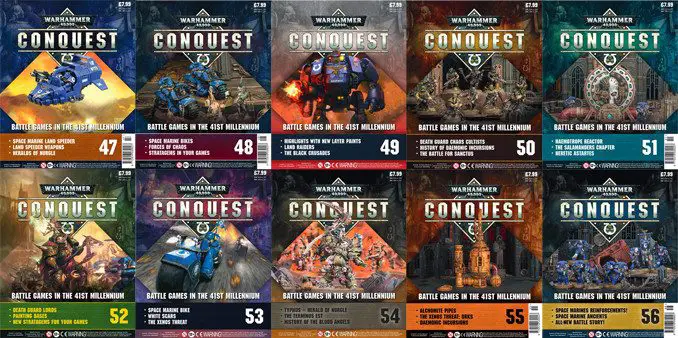 Another 10 Issues of Warhammer Conquest have had their contents Confirmed in another Cover Artwork update from Forbidden Planet. I'm glad this confirms there are no additional changes to the Leaked Line up as it means I don't have to go back and edit that huge article!
Oh and even better this time. With Forbidden Planet you can now pre-order every issue up to issue 80! So be quick as many of the previous popular issues have sold out before the issue was even released!
Join us on Facebook to talk about Warhammer 40,000 Conquest. Discuss the latest news, issues and share pics of your models to get community advice.
Here's a quick look at the covers and a reminder of the upcoming contents
As Expected a Land-Speeder. For 7.99, This one is going to sell out fast. So get those preorders in ASAP
Issue Price £7.99
Total Value £18.50
Total Saving £10.51
2 Bikes (of what is typically a 3 bike squad). If you are not a subscriber, maybe get a couple of copies of this instead of getting Issue 53 which only contains 1 bike.
Issue Price £7.99
Total Value £13.33
Total Saving £5.34
We can tell from the cover artwork that this is a Paints Issue, all of the issues that contain models have photos of the models on the front. Issues with artwork have paint (or in the earlier issues, tools). There have been some changes to the paints order so take this with a pinhc of salt. we'll confirm the contents when issue 47 is out.
Issue Price £7.99
Total Value £8.25
Total Saving £0.26
We expected 10 Chaos Cultists but werent sure if this was 2 of the retail boxes containing 5 cultists each or somehow a mix of the sprue from dark Vengeance. Now we can see our guess was right and that this is two of the retail sets. not a huge saving, but an easy way to bolster your forces.
Issue Price £7.99
Total Value £12.00
Total Saving £4.01
Here, as expected, is one Haemotrope Reactor, No need to rush to get this one, we get another reactor in Issue 68. And the terrain pieces haven't sold too fast so far.
Issue Price £7.99
Total Value £12.50
Total Saving £4.51
To be on the safe side, I've assumed this is one of the 2 Reactors you get in the retail box as we get another of these later on. It could be two, but I doub't it.
Another paint issue, we expect Martian Ironcrust, and with the description on the front of the issue including "Painting Bases" we think this is a done deal. But we also expected Gehenna's Gold, Dawnstone, Leadbelcher, Cadian Fleshtone & Mephiston Red in previous issues. And they were moved to currently unknown issues. So we could get any of these or even some unexpected paints. As we've had unexpected paints before.
Issue Price £7.99
Total Value £4.55
Total Saving -£3.44
So the description says "Space Marine Bike", So we are confident that this will be the third bike as we expected. I can't help but feel shortchanged here. Issue 48 gave us 2 bikes. However, the cover here is showing Artwork instead of a photo. could we get some paints too? We'll know for sure when Issue 51 is out.
Issue Price £7.99
Total Value £6.66
Total Saving -£1.33
Typhus! Yeah, Typhus! Saver over two thirds on this incredible character model. Secure it quickly and preorder it as scalpers will be all over this like a rash. I'm buying two of these, for no other reason than I want to paint one and convert the other.
Issue Price £7.99
Total Value £25.00
Total Saving £17.01
Awww, a bit disappointing but not unexpected. This is only half of the Retail box. but it's still a good saving. The Alchomite Stack is a modular kit allowing you to configure the units in various way. this is only one of the sprues as you are missing thhe main dome and chimney shown in the image below.
Issue Price £7.99
Total Value £15.00 (Half the price of the £30 retail box)
Total Saving £7.01
Finally, and an absolute storm of an issue. If you're looking to bolster your Space Marine Forces get this, get two of them, get three or more. Again another issue that scumbag scalpers will buy just to break down and resell the individual marines on so secure yours now by pre-ordering the issue.
This is one of the Dark Imperium sprues, I worked out the value of that sprues by dividing the number of sprues by the cost of Dark Imperium.
But the value of this issue is so much more than £11.88 it's more like a £30 set, especially with 2 lieutenants. Lieutenants alone have a retail value if £15 each and here you have 2, and an Ancient and a 5 man squad! it's like a £50 for £7.99!
5 x Primaris Intercessors
2 x Primaris Lieutenants
1 x Primaris Ancient
Issue Price £7.99
Total Value £11.88
Total Saving £3.89
This is Sprue F from the Dark Imperium Boxes Set.
What did you think of this article? please let me know in the comments.
If you like what we're doing here you could really help encourage more content with a share on any social media platform.
Click the share links at the bottom of this screen (or on the left for desktops and tablets)
Want to keep updated with the blog? You can subscribe by email or RSS