Warhammer 40,000 Conquest: Art Book Impressions (and Giveaway)
Last Updated on June 19, 2019 by FauxHammer
Last month we noted that the Warhammer 40,000 conquest subscription was about to charge you an extra £14.99 for an exclusive art book. Now that we have our hands on it we can finally give our impressions.
I was really excited to get this month's Warhammer 40,000 Conquest subscription. One, it was already 2 weeks late. Two, I get to see what this art book is all about. Three, it looks like we were right about the leaked contents list for issues 1-80 (at least up to issue 25 anyway).
Join us on Facebook to talk about Warhammer 40,000 Conquest. Discuss the latest news, issues and share pics of your models to get community advice.
So, here's my quick impressions of the book.
As you can see from the image at the head of this post, it comes in a Nice hardback collectors cover.
The inside cover features a blue-scale double page print of the Dark Imperium box cover (sans words). this is repeated on the rear interior cover.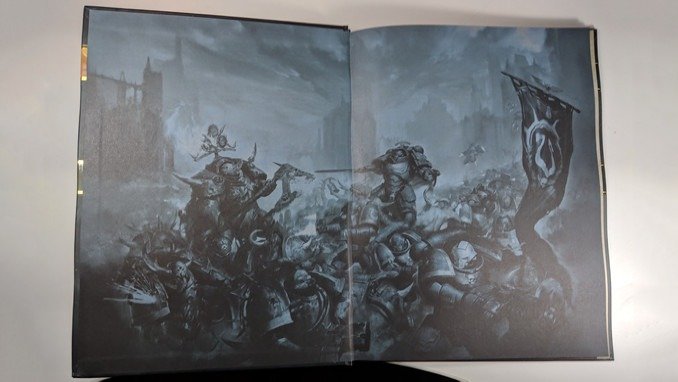 The rest of the magazine (64 semigloss pages) is splattered with Dark Imperium artwork featuring Space Marines and Plague Marines (understandably). All hand-drawn artworks – no pictures of minis.
There are about 8 pages showcasing Space Marine chapters, but oddly some of the more commonly known chapters like Dark Angels, Space Wolves and Blood Angels are nowhere to be seen. Instead, you get lesser known chapters like Invaders and Solar Hawks, with no clear understanding as to why these are chosen. It's not like any are direct successor chapters of the others shared within the same page…..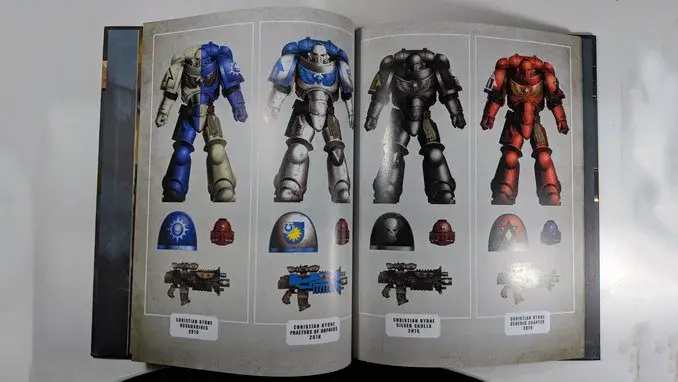 Similarly, with the Plague Marines, you get some beautiful artworks in the second half of the book. Surprisingly (because this is a Hachette Publication now GamesWorkshop) the artworks are pretty high quality. The magazine itself has small pages however, smaller even than your Warhammer Conquest magazine pages.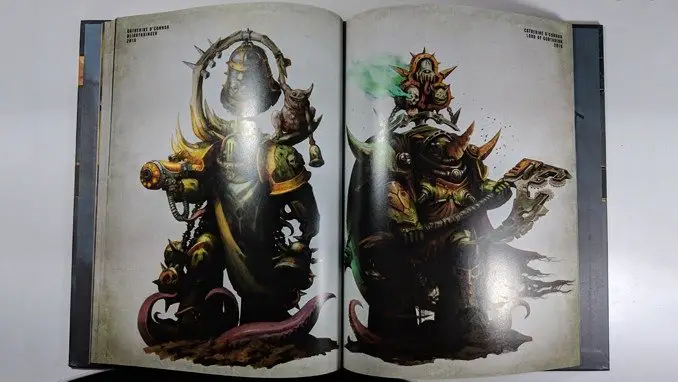 Annoyingly, mine arrived damaged. This is daft. all of my previous Warhammer Conquest subscription packages came in a box. In some cases with plenty of room to spare. But for this delivery, Hachette decide just to wrap everything in a plastic postage bag leading to my artbook being damaged.
At £14.99 it makes me bang my head against the table and scream "why Hachette, why!" Then I remember it's Hachette I'm dealing with. I've already shared my views on their level of delivery and customer service.
In Summary, I'm pleasantly surprised by the quality of this Art Book. I was expecting a poor print quality. Sure the damage is annoying, but I'll send it back for a replacement. It's certainly well presented and features some great art. Nothing truly inspirational that will feed into my paintings. Personally, when it comes to artbooks, I prefer to see conceptual art or the journey of a sketch to a final piece, so this isn't really for me. But art is subjective and my taste is not your taste.
Warhammer 40,000 Conquest: Art Book Giveaway
As this isn't really for me I'm going to give the book away (no, not the damaged one). If you want to be in with a chance of winning, simply share this article using any of the social media links on your screen and subscribe to our newsletter below.
(Note this is open to new UK subscribers only and you must be willing to let me share your name or online handle to prove I did give this away.)
You have until Hachette replace it with a none damaged copy to enter and I'll update this post when a winer is selected.
What did you think of this article? please let me know in the comments.
If you like what I'm doing here you could really help encourage more content with a share on any social media platform.
Want to keep updated with the site? You can subscribe in the sidebar by email or RSS
(Sidebar is below the article on Mobile Devices)