Best 3D Printer for Miniatures & Wargames Models 2023
Last Updated on September 19, 2023 by FauxHammer
If you're reading this I assume you are interested in 3D printing miniatures and/or Wargames Terrain. Great, because just below we are going to take a look at the current best 3D printers for Miniatures & Models. There are a lot of options to choose from and everyone has a certain need to balance with their own budget. Check our guide and follow the steps to get the perfect printer for you. (Updated article from best 3d printer miniatures 2021 and now best 3d printer miniatures 2022)
Our Affiliates / Hobby Stores
The Best 3D Printers for Miniatures & Models – Summary
Already have a resin 3D printer? Miniatures and scale models are some of the most amazing things to create. It's such a perfect combination of products for your hobby. But you can do much more with your 3D printer, Action Figures are another popular choice. If you love Warhammer specifically then this goes great when 3D printing parts for the Mcfarlane Warhammer Action Figures. Want another use for your 3D printer? Anime Figures, Scenery, Props, the list goes on. One of my favourite things to make with my 3d printer, lego figures. If you dream it, you can do it. One of the most popular uses in our hobby is with personalised games, such as d&d miniatures, 3D print is to D&D what butter is to bread.
If you aren't too bothered about any reasoning and just want to see the list, check out this quick summary below of the best 3D printers for Miniatures & Models.
But if you want our buying advice for your particular scenario, see the table
Best 3D Printer for Miniatures – Quick Buying Guide.
If you are after just a super low-budget 3D printer, I'd say go with the Anycubic Photon Mono 2, at Sub $200 this will give you print quality fine enough for miniatures.
The thing that people to know clearly when printing miniatures is that in order to get the highest-resolution prints, you need a high-resolution printer and a high-resolution resin. But the highest resolution resins are typically very brittle. so the resulting model does not lend itself to being used in a tabletop game. or even being painted, or even being handled unless they only have super-chonky parts.
Print anything with a thin sword, long polearm or any of their fine extremities and you'll find they easily snap.
So the point is, you want a resin which cures with a little more rigidity, but the softer the final cured result of any resin, the softer the details of it. So it's about finding a balanced resin of sharpness, but with some rigidity. Something we'll get onto our recommendation on shortly.
But then you also have to consider the impact of voxels and layer lines on a miniature. meaningless on larger prints but obvious on miniatures, especially when you apply dry brushing and wash techniques to your paint job.
You can combat this easily on modern printers using antialiasing and image blur (a subset feature of antialiasing). But applying this also softens the sharpest details in your prints.
So the point is, any printer with 35-micron pixels (I'll explain in a mo, just remember 35 microns) will be more than fine for miniatures. Anything below this offeres minimal to no benefit.
Now, if you are looking at this printer above as your first, you probably want to know what you can get if you spend just a little bit more. we'll for only another $40 (everything is in USD even though I'm British because all the brands' list prices in USD and only some in GBP, so this is an easily comparable metric) get the Elegoo Mars 3 Pro, This provides the same quality as th printer above, but feels much better built, well, it feels less cheaply built. and it comes with a Carbon filter to remove smells and a preinstalled glass screen protector, rather than the oversized plastic one Anycubic provides.
Like the model above, this is a 6.66-inch, 4K printer with a monochrome LCD. Elegoo has a great history of being the starting spot for printer enthusiasts with their huge community backing it up. you're more likely to get peer-to-peer support with this brand than any other.
But if you are considering this, then also consider the newer Mars 4 Max, which again is just another $40, has all the features of this one, same print quality but with the benefit of a much larger build plate. A feature which I personally value above print quality, especially in the case of 8k printers specifically.
There are other printers that do the same as the Mars 4 max, but they cost so much more that this one becasome the easy pick.
From here we kinda make a big jump in terms of price, but also a decent jump in terms of size and bit of a jump in terms of quality.
So if you want something a bit bigger and meatier, you're likely to consider the Saturn 2 8k. (There's also the 12k Saturn 3 now, but for miniatures, there's only the tiniest benefit in getting one over the Saturn 2. and I doubt anyone would even notice that difference – Grab this whilst they still have stock)
The Saturn 2 has a bigger screen and a better resolution than the printers above, (resulting in 28.5µm versus the Mars 3's 35µm) but costs more. RRP-wise – the Saturn 2 is double the price (but you can frequently get discounts and deals. Never pay RRP on these things). Y should see a bit of a difference in prints from this versus the lower-resolution ones, but again, it's not huge.
If you can stretch to a Saturn 2, I'd say definitely get that, Especially as it's heavily discounted to shift the remaining stock before the Saturn 3's full release. The print quality output is nigh on par with something like the Sonic Mini 8k, almost, though not quite – but can your eyes even tell?! I Doubt it. Mine can't.
The convenience of a far larger print bed is frequently worth more than the potential (inferred) resolution difference!
Again, We have more detail on printer resolution vs 4k 8k etc and why that matters (or frequently doesn't matter) in the article below. and I will do all I can to drive this point home and save people money.
However It's worth knowing that Elegoo also make the Saturn 8k, Unlike the larger Saturn 2, the 8k is similar in form factor to the original Saturn. The difference is that the Saturn 2 is slightly taller in its maximum print volume (a rare benefit for miniature printers). It also has a more powerful LED array, resulting in slightly faster prints. and when I say slightly, I mean 0.3 seconds per layer difference. it's 5 minutes per 1000 layers, It's nothing substantial, but it's there!
Resulting Print-quality-wise, there's no discernable difference between this and the Saturn 2, and it's $100 cheaper, (RRP). Check our video below to see if you can see a meaningful difference between prints. If not, get the cheapest one.
The Saturn 2 is currently the perfect balance of size, quality and price. if you can afford it, get it.
Now, If you absolutely must have the best quality miniatures possible. Bearing in mind you need to use high-detail resin, which is very brittle. You probably want the Phrozen Sonic Mini 8k S it has the smallest pixels of any existing printer. Now alternately, if you want print accuracy over resolution, our recommendation over this is still the Anycubic Photon D2, which proves that DLP is the future of 3D printing technologies. It's just so much easier to dial in because you get no noticeable loss of detail due to overexposure and LCD bloat.
Despite a much lower printing resolution, the sharpness of DLP (providing results close to those of the Mini 8k) coupled with Anycubic's softer Craftsman Resin and Cheaper Price makes this a much more balanced choice. It's super quiet, low energy and the projector lasts 10x longer than an LCD. It's super fast with very little in the way of fumes. and unlike the Mini 8k, There's far less to go wrong and because you don't get anywhere near as much outward light bleed as you do with LCD printers. dialling the exposure settings in for sharp prints is a breeze.
However, you are limited by the size of the build plate. For miniatures, the Ultra is more than fine, but for vehicles and large 1-piece models, you could find yourself a bit stuck, unless the models are broken down into multiple components.
Now, Finally, on to my choice of the perfect all-rounder…
The best printer, hands down is the
The number one pick is easily the Uniformation GK TWO. Again, "EASILY" the number one pick. – and I'm still yet to hear even a rumour that any other brand has something in the works that would even come close. From a lesser-known brand (Phrozen were at one point) this printer already has the perfect balance of screen resolution and build size. You'll be hard-pressed to find much of a difference in print quality between this and any other printer on this list, purely because resins themselves aren't capable of rendering detail much sharper than what you can get here. (I'll keep repeating it because so few people realise this adn we need to start spreading this fact)
But the convenience features of this model are worth so much more than anything the other printers offer. No screws and bolts to use or maintain this, everything is clipped in sensibly and firmly. But it also has an integrated heater below the resin vat which warms your resin for you! No longer do you need to warm up your garage/shed or spend hundreds creating an enclosure. Just plug it in, let it warm itself (which it does by default, though you can change the temp setting), and press print.
Fewer issues when printing lead to happier customers. This is far beyond anything else right now.
Everything else is in the middle of the road so read below what the benefits are (normally at the cost of print quality) to see if it's the right printer for your needs.
The Best 3D Printer for Tabletop Miniatures, Wargames, Busts & Scale Models – Introduction
Before we begin properly, let's get this out of the way. Now is the perfect time to get a 3D printer, miniatures, d&d, Warhammer, proxies, unique sculpts and more are readily available at comparable quality to retail products from your favourite brands. This is perfect for people who want truly unique d&d miniatures, 3D print them in just a few short hours.
Yes In 2022 it's finally possible to recreate the model quality you'll see from some of your favourite manufacturers, using consumer-grade home 3D printers. do you play Warhammer? 3D printed miniatures will probably be a very appealing prospect. and yeah you can easily just print a whole army of proxy models to use in Warhammer Games. Also, you can still print a ton of stuff to enhance your existing force, giving some incredible and unique style to your models.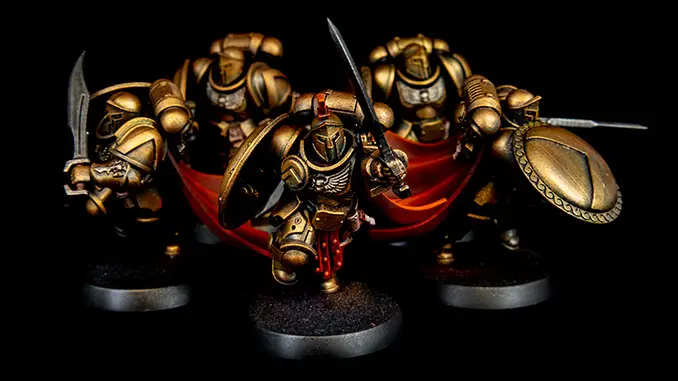 However, It's not only illegal to steal other company's Intellectual Property, but just finding the 3d printer miniatures models to create such a force is nigh-on impossible, When you want the style of your 3D printed parts to match each other. Companies like Games Workshop are clamping down on the models which bear obvious similarities with their products. – though there is a growing number of companies out there providing, not only proxies, but also their own games. And this makes the idea of 3D printing for miniature gamers – highly attractive. You can make some incredibly decent 3D printed d&d miniatures or miniatures for various other games. Or even just to paint because they look awesome. 3d printing wargaming miniatures is so much fun!
If you want to know how to paint 3D-printed miniatures? well, thankfully it's exactly the same as any other miniature and unlike most retail resin sculpts. Once fully cleaned and cured, you shouldn't need to do any further cleanup and a primer will stick great. 3dpreinter and miniature models go hand in hand.
3d printing miniature figurines are really fun and rewarding, it's essentially a hobby in itself. When you don't need to worry about stealing from someone else's IP. You can get some incredible creations.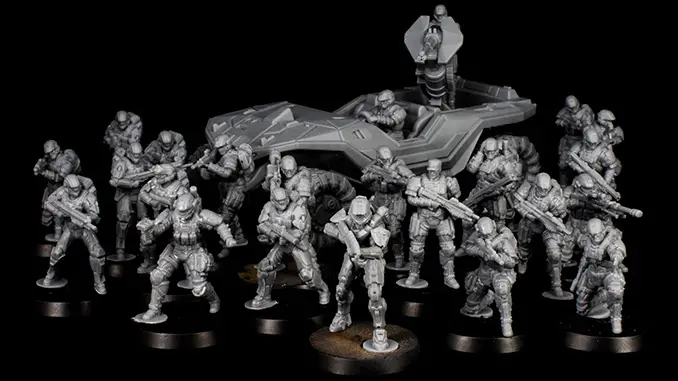 In fact, generic models are aplenty online, if you're looking at 3d printing tabletop miniatures or you're after 3d printed RPG miniatures. Then there are sites which will let you design a custom model and download the file to print it with. This also extends to 3d printing ww2 miniatures and 3d print Napoleonic miniatures too. From full models to components, this opens up a whole new world of possibilities to many modellers.
There are certainly a lot of things to learn when it comes to getting the best out of 3D prints, supporting the components, printing orientation, layer heights and exposure settings. Then once printed you do need to deal with trimming down the areas which supported the printed model. But when you dial your printer in for its environment. You'll soon and rapidly be printing miniatures at a higher quality than even the likes of Games Workshop produce.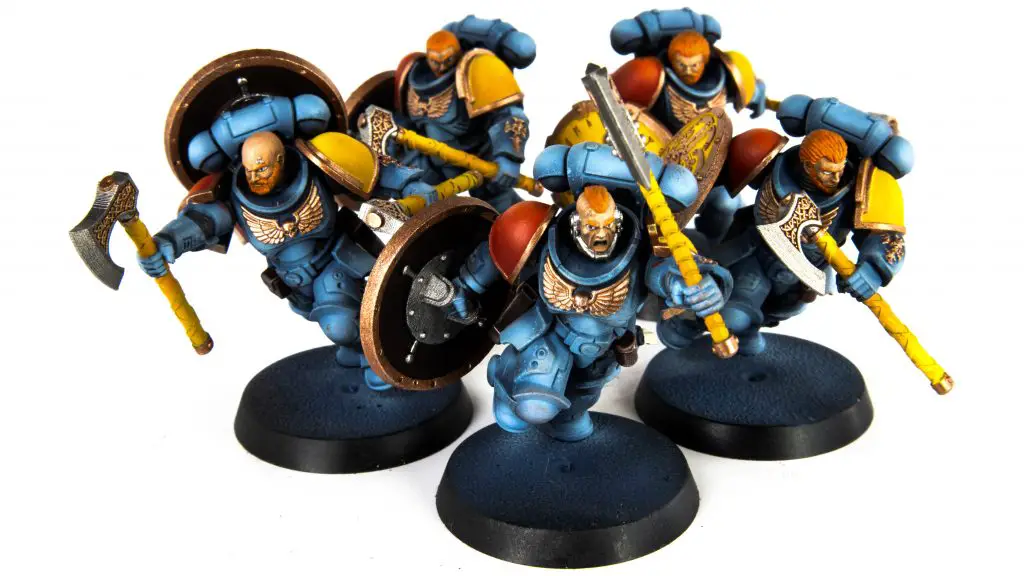 Whilst the process of "whole models printed at 28mm" isn't quite at its pinnacle yet. Larger models and slightly lesser detailed 3d printer gaming miniatures are still very achievable, even with the existing printers, people are improving on their model printing results every day.
To see all of our guides to the Best Tools for Miniatures, click on the image above.
2k Vs 4k Vs 6k Vs 8k Vs 12k Resin 3D LCD Printers
Wow, I hear you exclaim. This is an 8K 3D Resin printer, so details are twice as crisp as they are on a 4k printer, right?
Well, maybe, sure, yeah, Ummm….
Sorry about this bit, but most of the above is marketing spiel. Just like in the TV world, 4k means little more than the standard 3840 x 2160 pixels. but those pixels could be spread from over a few inches to over a foot depending on the screen size. This also assumes the manufacturer is using a standard aspect ratio. After all, 4k in itself is already a loose marketing term.
4K resolution refers to a horizontal display resolution of approximately 4,000 pixels".

Wikipedia
"Approximately". You see, 3840 isn't even 4000 pixels across, but they have rounded up.
8k is further off the mark, with screens at only 7680px wide, itss called 8k, because it's double the standard 4k. Wait until we see the 12k standard which is closer to 15,000 than 16,000.
So when you are looking at a 2k, 4k, 6k or even 8k printer. you also need to check the screen size. Because any 8k screen which is physically twice as large as an equivalent 4k screen has the exact same resolution for a model printed at the same size on each. Meaning print quality will generally be the same. The bigger printer in this example is only really better if you want to print larger things…
What you should really look for in regard to display resolution, which is pixels per inch (PPI). Few, if any, of the manufacturers tend to show off. Even when they are good.
You can easily calculate this by the diagonal in pixels over the diagonal in inches.
But to make it harder for you to work this out, manufacturers will provide the diagonal in inches, and display resolution in Height & Width. The real PITA companies will only give you the screen size in height and width too.
So just take the Square Root of (width squared) x (height squared) to get your diagonal – Thanks Pythagoras
Or you can just read the article below where we've done it for you.
As for FDM resolution. Its nozzle size is multiplied by how much material it splurges out per minute. (That's a whole different ball game)
This really needs to be a separate article which is overtly unbiased, but I have tested dozens of resins, different types of brands and consistencies, My upcoming series of videos will be putting different resins through various tests to compare their detail rendering with their toughness. As a general rule of thumb as I've said, Higher detail resins are brittle and crack, softer resins which create more sturdy prints have softer details. Water Washable and Eco resins are typically quite trash. if you want the benefits they offer, that's fine just accept the drawbacks that come with them. I've seen more people have issues with these than the types that prefer to be cleaned with Isopropanol and/or Methylated Spirits.
The key to a good resin for miniatures is having something that is sharp first and foremost, capable of rendering the highest detail. Then for that sharpness, as sturdy as it can possibly be. It needs to resist handling, and packing in your army bag or box for game days/night and printed model parts need to survive the odd drop from a table.
I've had some favourites over the years, but most, like my previous favourite Anycubic DLP Craftsman resin, are still more on the brittle side than tough. but i liked how well it rendered details and the finish.
So that's why we have released our own resin, in partnership with Yes that's 3D printed you can now buy Wargamer Resin. "THE" resin was made with miniature printers in mind and it is now the only resin I personally use. Unless of course I'm required to use a brand's specific resin in a particular printer review.
Wargamer Resin is made to be that perfect balance for you as Miniature Printers. It showcases high-resolution detail and it's tough. Tougher even than retail models that come on sprues… The result is a miniature printed with a smooth surface that looks indistinguishable from a plastic moulded miniature, you can scrape down support marks as easily as you would scrape off mould lines. The whole point here is to stop worrying about what everyone means by 8k or ABS-like or all that guff because all the brands mean different things.
What this resin means is that we're done with stupid names. Are you a Wargamner? then it's the one for you. Do you want your 3D-printed miniatures to be just like what you would buy in a store? then it's for you.
And as an added bonus. it's Water Washable. I know, I know. I also hate water washable, and I almost refused to put my name on this stuff based on that fact alone. Then I printed it.
This is game-changing magic in a bottle of resin. To have everything you would need as a miniature printer and for it to be water washable. It really is something else.
Don't trust me, try it yourself and be as amazed as I was, because this is all I use now.
The Best 3D Printers for Miniatures & Models
Below is a list of what we believe are the best printers and the order has been determined through my personal use of all the listed models, and I simply asked myself, Would I rather have this than that when printing miniatures? for each individual model. This used to be easy, whichever printer offered the better quality would be higher in the list.
But as we enter the 12k printer generation, we quickly realised that at least for our use case as miniature printers, these new units offer little to no benefit mostly because, as I've already said and will repeat many times again. The best resins for us produce prints a little bit more resilient than the sharpest of resins. and only those sharpest resins will see any improvement from the new generation, even then, it's minimal – but those resins are incredibly brittle.
So now the list is ordered mostly by the preference of what the better printers truly are. It's a balance between, resolution, features and price. but prices can frequently fluctuate as these brands consistently compete with each other.
So yeah, for each printer below I've wondered, would I rather use this, than all of those before it? and here's the result
Screen Size: 10.1″
Screen Resolution: 11520 x 5120px
Pixel Size: Y-axis = 0.024mm (24 µm) / X-axis 0.019mm (19 µm) – (but it's not very sharp)
Build Volume (XYZ): 218 x 123 x 200 mm
Yeah, I extended this list to 16 entries (from 15), just to include the currently popular M5 series from Anycubic. And yeah, these are going dead last. Sorry, don't shoot the messenger, I didn't make them.
This list used to be easy to put together because we had clear categories of printers. 10″ 8k printers, 6″ 4k printers and a few outliers like the 6″ mini 8k and the DLP printers. But time and personal use have clearly shown me what people want in a miniatures printer. And it seems the vast majority of people, mostly want the sharpest printer they can get, at the largest size they can afford, with as many convenience features as they can muster. And the M5 series is just provably weaker in all of those categories than what has come before.
See our video for why.
So whilst Anycubic has done "something" to soften prints due to some intrinsic feature within their hardware – this serves nothing but to remove control from the end user. There was nothing wrong with the way 3D printers worked before – Such as the M3 Premium and Similar printers. The results were sharp and yes this would cause some level of voxelization on the prints where you had sharp edges, but by enabling antialiasing and image blur you could all but combat that to the point these layer marks were imperceivable.
With these, the result is – softer prints. you still need to enable that antialiasing to remove layer lines, but now, because the print is already softer. this softens them further – diluting the details even more.
Don't get me wrong, this printer is still fine for larger prints like busts and scenery. But that's all it is… "fine"
My hope and prayer for Anycubic at this point is that they make an M5 Premium model which actually competes with the Saturn 3, because this just doesn't.
Screen Size: 10.1″
Screen Resolution: 11520 x 5120px
Pixel Size: Y-axis = 0.024mm (24 µm) / X-axis 0.019mm (19 µm) – (but it's not sharp and uses ACF film which blurs prints even more)
Build Volume (XYZ): 218 x 123 x 200 mm
Like the M5 above, this printer has an S at the end of its name. And in this case, that S means Speed. An inconsistent designation considering that with other printers in Anycubic's lineup, S means something different which suggests it means very little at all. It's a confusing addition which serves little more than to confuse people. Just like Anycubic did when they announced this printer – but did not mention the M5 at all. leading many people to preorder it believing the marketing that this is the next best thing! Only to find out… it isn't.
And whilst this has extra features that do make the printer worth more than the base M5, for people who want detailed miniatures (most of us) you will need to swap out the ACF Film with NFEP in order to achieve the best results. which are on par with the printer above and are also, as I previously mentioned "ok". But still worse (Softer) than many last-gen printers.
It's not necessarily a bad printer, it's just not good either. if this is your first 3D printer, you will be happy with it. but if it's an upgrade then I only hope you are upgrading from a smaller 6″ 4k printer, or it isn't much of an upgrade for miniature printers.
The target audience for this printer is those who want speed. Coupled with Anycubic High-Speed resin, along with the included ACF release film, you can print the entire height of the build plate in under 2 hours. meanwhile, as I type I currently have a print of a 32mm miniature on another printer, and it's taking 6 hours.
Check our video on this printer for clear details of its performance.
That's because I'm using a high-detail resin that requires a very slow lift speed and am printing at 30-micron layers. I'm doing this to print the best quality miniature I can. But that's fine. I can't paint faster than I can print already. I like most people am happy enough with current speeds and know that speed is determined more by the resin I'm using than the printer.
In order to get the speed benefits from this unit that it advertises. you must use that resin, which has quite sharp results but is also brittle. It doesn't look great in photos before paint because has some natural translucency – a trick that some resin brands will use to make prints from their raw resin look better (but often makes them more brittle due to the extra pigment).
But also to get that 2hr print of the full height, you must use 0.1mm layers, 100-microns. Double that of the standard most people use and over triple what I use on miniatures. The resulting quality is, well, it's awful by comparison.
And the ACF film also reduces detail on prints too, which you can see in my comparison video of these two printers. This also shows that this printer is capable of better quality using this Anycubic High-Speed Resin, just by slowing it down.
Now, if you want speed and this significant cost to quality, then fine go for this. but I'm hedging my bets that next to nobody does, not when printing miniatures
But it does have some extra features like fully automatic bed levelling and failure detection. so if you want quality you can still buy this printer, and swap the detail-obscuring ACF film with normal NFEP, as is used on the M5. It will stop you from doing the ultra-fast prints unless you swap back, but you do still get those automation features
Are they worth the price difference? they aren't to me. but that's just me.
Screen Size: 6.6″
Screen Resolution: 4096 x 2560px
Pixel Size: 0.035mm (35 µm)
Build Volume (XYZ): 143 x 83 x165 mm
A half-decent starter printer for anyone, Honestly, if you are printing miniatures. this is pretty much the quality level you need. You're unlikely to get much better print quality when you consider what resins you'll probably be using for miniatures. yes, there are printers out there which provide sharper details. but only if you are using sharper resins, which are typically more brittle and do not suit tabletop gaming pieces during practical use. because those sharper resins create really brittle models. fine for larger sculpts – but for miniatures, steer clear.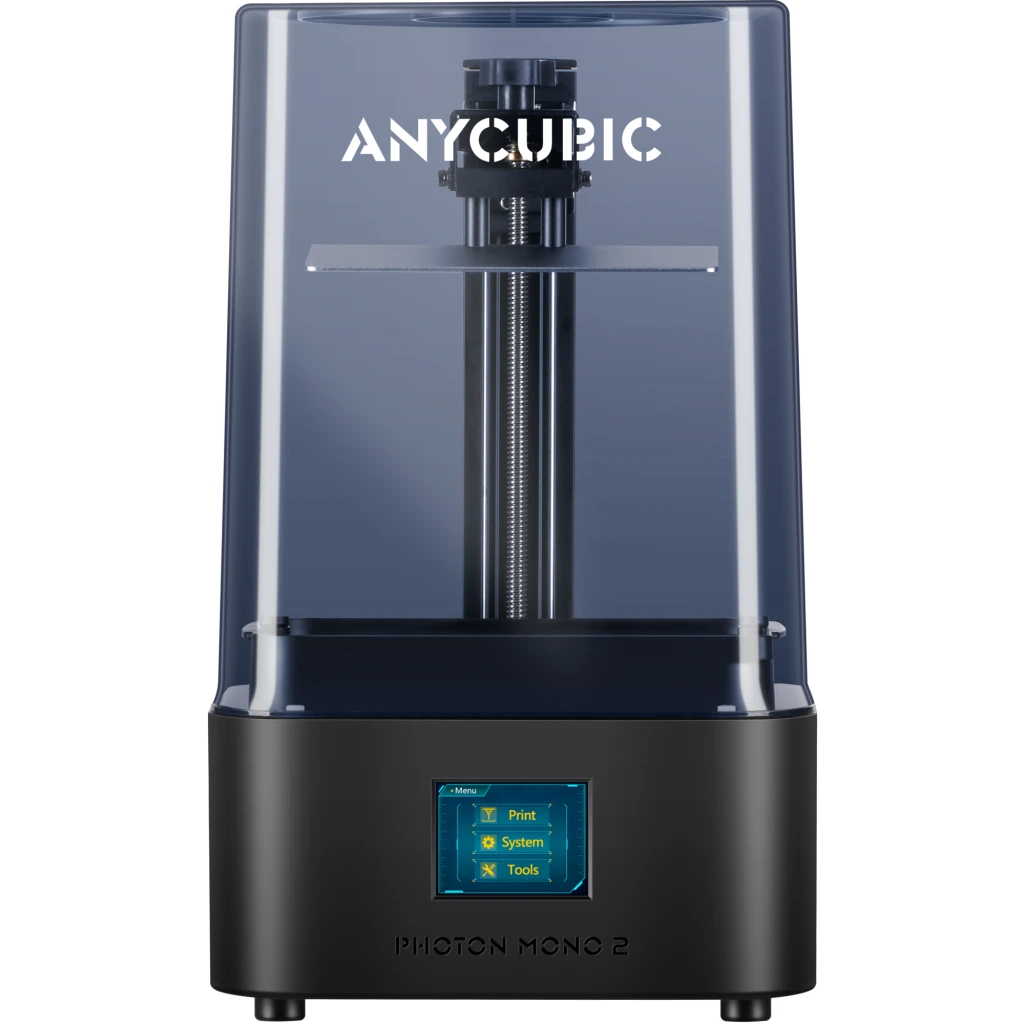 With 35 micron pixels, this is as detailed as you ever truly need, and beyond this level of quality, in most cases, you're paying for minimal improvements to detail, if any is even noticeable. So the value really comes from build plate size and usage convenience. Of which, this has none.
It's the most bare-bones basic printer of this resolution out there from a wider-known company. So basic that everything about it looks and even feels cheap. Like the really soft plastic hood and the Little Plastic Legs on the base which causes this printer to slide all over the place from the briefest of little knocks. Sit it on a silicone mat, which is also useful for cleaning prints.
But it does the job, so if this is your first 3D printer intended to just cut your teeth with the hobby, wade in.
Check out our video on this which shows the printer in full, and also serves as an excellent primer as to why 12k, 8k, and 4k etc are pretty useless metrics on their own.
So yeah, it does the job, just don't expect anything special and you won;t be disappointed. The next step up from this is a printer with marginally better build quality but also has features like the integrated, internally powered carbon filter for handling those nasty smells.
Screen Size: 6.66″
Screen Resolution: 4098 x 2560 px
Pixel Size: 0.035mm (35µm)
Build Volume (XYZ): 163 x 102 x 180 mm
The Elegoo Mars 3 Pro is possibly the best beginner 3D printer on the market right now. And the only reason it's not number 1 on the list is that the below printers offer better quality miniatures and a few more ease-of-use features.
But the Mars 3 pro is a simple and solid printer which I've been having a ton of fun with lately despite owning (what are arguably) better printers. As for build volume, Here's a quick look at a small force of 3D printed Halo Miniatures (32mm) I printed out in just 2 print sessions! One session for the vehicle and another for the Marines
Australia:
eBay
,
Amazon
Once you get the layer exposure time dialled in for your environment, just the first level of Antiailising is applied, along with Image blur, you can get super sharp miniatures with only minimal layer lines. And these are pretty much gone after the paint is applied.
Go on, See if you can spot the layer lines in the image above. And remember though, that this is shown on an average desktop monitor so it's 300% to 400% larger than it looks in real life.
On the advancement side though, this printer comes with a powered and refillable carbon filter to remove all those nasty smells and toxins from your printing environment. This works and it works really well. I have this printer in the same office that I'm typing from, and I can't smell it at all.
Here's how the models from this printer look painted.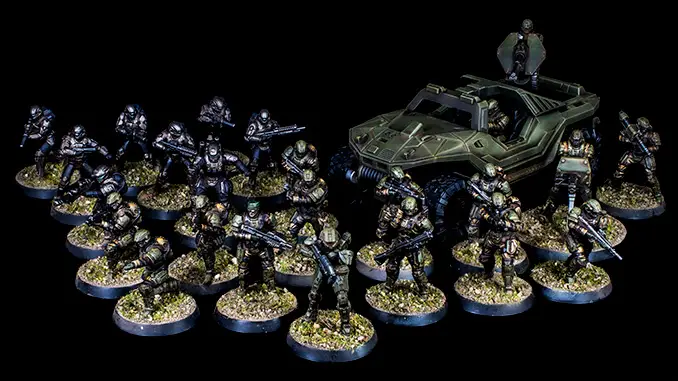 The main benefit of the Mars 3 pro for printing miniatures is the huge community behind it. Elegoo has intelligently carved itself out a solid lead in the resin 3D printer space with several notable creators selling hobby parts back from the days of the original Mars.
Any issues with this printer or support you need dialling it in can be found in various online social forums such as Facebook Groups or Reddit Communities. Though, unlike their competitors, Elegoo Manage only one Elegoo Support Group, rather than having a dedicated community per printer, which would be better for us all.
TLDR, If you are looking for your first 3D printer, for miniatures. I think you just found it.
Screen Size: 10″
Screen Resolution: 7680 x 4320 px
Pixel Size: 0.0285mm (28.5 µm)
Build Volume (XYZ): 218 x 123 x 235 mm
There seems to be a pattern with 3D printers emerging. Phrozen is often first to come out with a printer range. in this case, it was a 10″ 8k printer. And they don't rush them out, the build quality of these units is incredible. But then a few months later, the other brands come out with a similar printer of the same quality spec. but they normally add slightly more to the build volume and significantly reduce the price.
And that is exactly what has happened here.
The Mighty 8k rode on the coattails of the Mini 8k and was the first of this quality and size to market. and they deserve our support (by purchasing their stuff) so they can keep innovating and driving the industry forward.
Check out our review of this awesome printer by watching the video below
For a long time, this was a great little sweet spot for people looking for incredible quality and larger print areas. unfortunately, it's hard to resist the printers below with their lower price and slightly taller build volume.
Screen Size: 10″
Screen Resolution: 7680 x 4320 px
Pixel Size: 0.0285mm (28.5 µm)
Build Volume (XYZ): 219 x 123 x 210 mm
What is Elegoo doing? Well, my guess would be – making sure they are cornering the market. I'll be honest with you, this printer should have been on this list a lot sooner, but despite me keeping an eye on the announcements from 3D printing companies. I didn't even know that the Saturn 8k was a thing.
Even now, if you search Google or Amazon for "Saturn 8k", you'll get the Saturn 2 as the primary result. (because it's frequently called the "Saturn 2 8k"). But this "somewhat hidden" gem is all but essentially the same thing. it's just a little bit smaller than the Saturn 2 on the z-axis. but it's a fair chunk cheaper. Almost a hundred dollar-pounds cheaper!
Over Xmas 2022, Elegoo even had an offer on where you could get the Saturn 8k with a Wash & Cure for less than the price of a Saturn 2!
So with the price difference, what are you missing here?
Well, the main one that sticks out is the form factor, unlike the angular style of the Saturn 2, this is essentially similar in profile to the original Saturn, but with the Saturn 2's 10″ 8k screen.
It still comes with a tempered glass screen protector, and an internal plug-in carbon filter just like its bigger brother.
The print volume has been slightly reduced, but this is only in the z-axis. For miniatures. that' 4cm loss is nothing! most miniatures will
The difference with the internals is that the Saturn 8k uses a 28 Lamp UV light source, whereas the Saturn 2 has a 48 LED array and a fresnel lens. In theory, this should provide us with more intense light and the fresnel lens should help to focus it and make it more uniform.
In reality, will this mean faster prints with sharper accuracy? probably not.
Check out our video on the Saturn 8k
Where people seem more worried about picking this up over the Saturn 2, is because the Saturn 2 has such a large user base already, where this seems hidden in the bowels. Is the concern that as the popularity of the Saturn 2 grows and this Saturn 8k potentially dwindles (despite it being the newer release). is that this could have a limited shelf life, making spare parts hard to come by.
But if you want a printer "now" and are on a budget. yes, this will give you 95% of what a Saturn 2 gives you at a much lower price… The resulting print quality from each printer would be indistinguishable.
Screen Size: 7.1″
Screen Resolution: 7500 x 3240 px
Pixel Size: 0.022mm (22 µm)
Display Resolution: 1152ppi
Build Volume (XYZ): 165 x 72 x 180 mm
15% off Phrozen with code: "FAUXHAMMER23"
The (not so mini) Mini 8k is the present pinnacle of LCD quality. Whilst the screen has a weird aspect ratio (it's far wider than it is tall) it is still the highest resolution screen available at this size.
The details this thing can produce are absolutely superb. and it's here where the line between companies like Games Workshop and what you can print at home – truly start to blur. Yes, you can print better than Forgeworld quality models with this thing.
However, in my situation, I have not had the best, out of box, experience for printing miniatures. But that is mostly due to some technical issues I've had. and I must admit, Phrozen's Customer Service has been superb. Not only were they straight to the point but they even reviewed my posts in their Facebook Community page (unprompted) to get more detail about the issues I faced.
Once set up, however, this thing pretty much eradicates layer lines (z-axis) and voxel/graduation lines (X & Y-axis)
Don't believe me? well check these out, these are Space Marine Accessories printed on one of our Mini 8K printers. no Anitailising applied, these are as direct to the 3D file as you can get. And go-on. find a layer line? Try…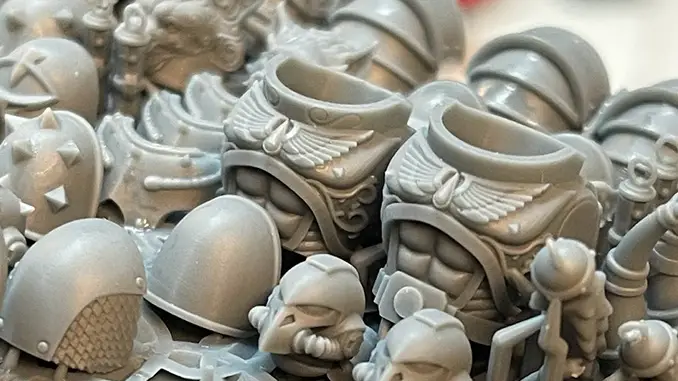 These parts are nigh on par with production-quality models. I know a lot of people worry that printing will kill Games Workshop. That's highly doubtful, but it has certainly changed the landscape for the quality of the miniatures – now very much in favour of 3D printed parts.
You can see this printer in use in our review video
Whilst resin prints aren't as convenient to work with as GW's HIPS plastics. What this Mini 8k printer can produce, definitely provides better quality (read as "sharper and more accurate") parts than what Forge World put out.
If you want maximum detail on your miniatures this is your first real choice.
For more on the Sonic Mini 8k, you can Check out our Written Review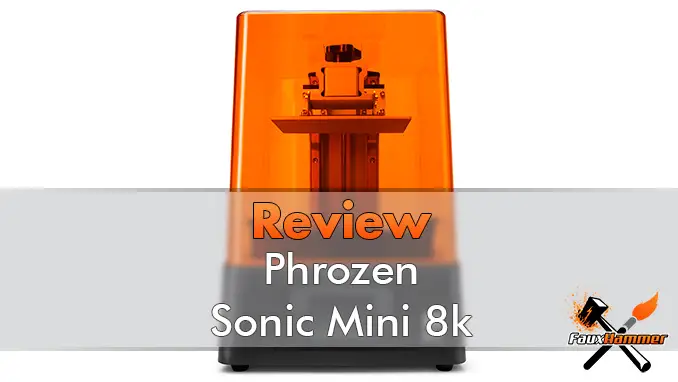 Screen Size: 6″
Screen Resolution: 2560 x 1440px – But it's DLP
Pixel Size: 0.052mm (52 µm) – But it's DLP
Display Resolution: 498ppi – But it's DLP
Build Volume (XYZ): 132.8 x 74.7 x 150 mm
DLP is a different technology from MSLA. if you are confused by the acronym that's fine. DLP basically means the printer uses a projector and MSLA is every other typical printer on this list that uses an LCD – assume printers are LCD/MSLA unless it specifically says they are DLP, like this one.
Because DLP printers cast light only in the shape of the layer they are creating. The result is a much sharper print. LCD have large Light arrays below the screen, as that light comes through the screen, it does not travel upwards directly toward the build plate, so each layer has some element of bloat as light travels outward along the XY plane too. New technologies in Light array projection will combat this. but DLP still performs far better in terms of layer accuracy.
Yes, it's only 51 µm pixels, but it's 51 µm and it's sharp. for those concerned this will result in more voxelisation on prints, you can combat this with Antialiasing, just as you would need to with an LCD printer. The result here is still a more model-accurate print with sharper edges being rendered in the print just like they are on the 3D model render.
The greatest benefit is that because of the aforementioned sharpness, or more specifically, lack of LCD bloat. Dialling in a DLP printer is far easier. The curing time per layer range for a successful exposure is wider on DLP printers than with LCD. adn when you cure smaller items (like supports) they are typically stronger. Once again leading to more accuracy and more success.
You can see this printer in action by watching our Mars 4 DLP Printer Review below
There are further inherent benefits to these printers too, DLP is a lower-power technology. The components operate much cooler, Powerful blower fans are not needed. The units operate much quieter, last 20,000 hours rather than 2,000 hours of LCD's and consume far less power whilst in use.
Whilst this comes with a Carbon Filter, it's also marginally larger on the XY area than the D2, this also means those pixels are marginally larger too (less quality), It's the tiniest amount. it's 1 micron. but it's there.
You also lose 1.5cm on build height too.
Screen Size: 5.9″
Screen Resolution: 2560 x 1440px – But it's DLP
Pixel Size: 0.051mm (51 µm) – But it's DLP
Display Resolution: 498ppi – But it's DLP
Build Volume (XYZ): 130 x 73 x 165 mm
So, this was the second consumer-grade DLP printer to exist, as direct sequel to the Photon Ultra. Whilst it feels a bit cheap with its mostly plastic components, including the resin vat. – it's managed to get our number 1 pick!
Put simply, it's just so much easier to use than an LCD printer. LCD printers can overexpose and bloat details on a print softening sharp edges. you need to dial them in to 0.1 or even 0.01 seconds per layer to get the perfect exposure time. But on DLP, because the light is so direct, you hardly get any outward light bleed. so once you have the minimum exposure time locked in, you can often go several seconds above that with no discernable impact to print detail.
From our own personal experience, we've been able to print higher-quality miniatures on this, far more easily than with the Phrozen 8k – (please note, results will vary from person to person. but my OOB experience was superb). That's even more impressive when you learn that the resolution is only somewhere around 498ppi (51µm pixel size) (WHAAAAAATTTTT! That's only 2k, we had those years ago!)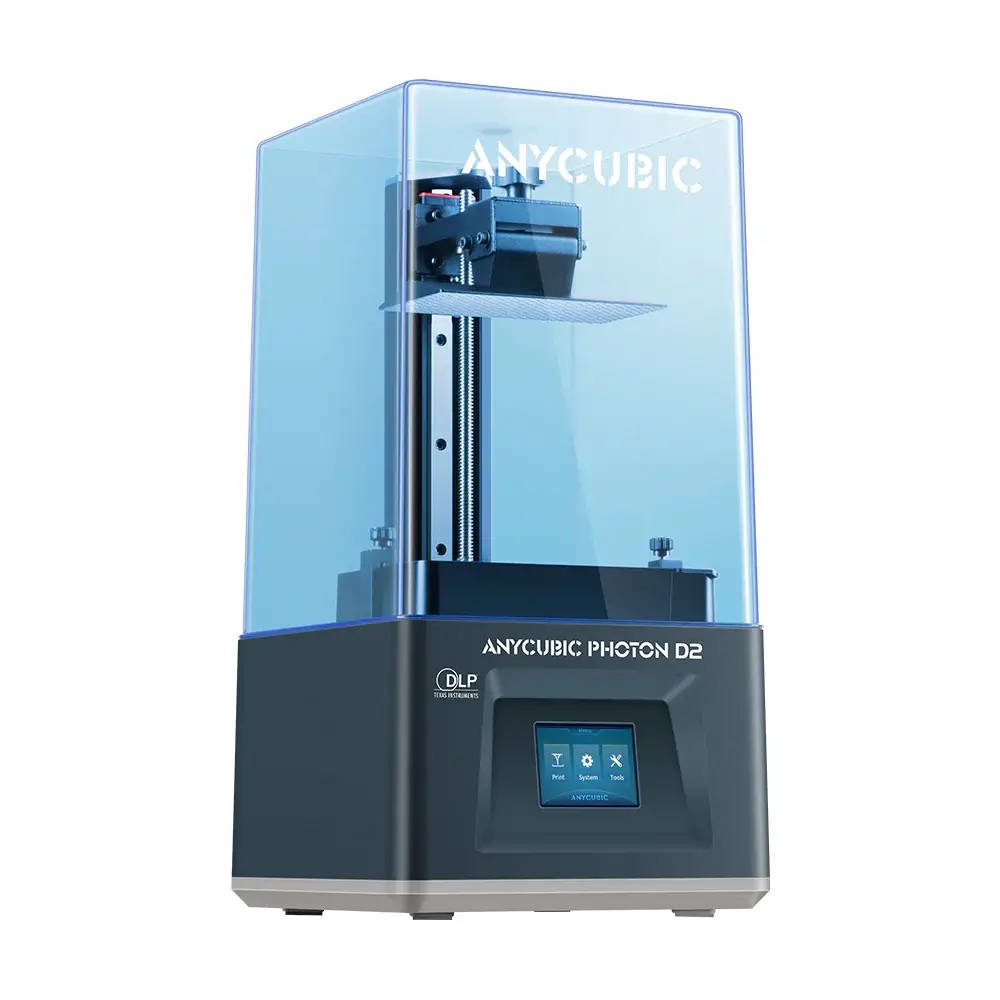 Yeah, that's 4x less than the Mini 8k, and is actually the lowest XY resolution on this list, well, it shows initially. The huge difference between these and LCD printers is that DLP printers are super sharp when projecting light. Instead of projecting a whole chamber of light and having an LCD block it out (leaving some light bleed around the edges, these DLP models actually project light in the shape of the layer, and only that much light toward the resin. Very Precise.
To visualise the effect, think back to the original Apple iPhones before they created retina displays. remember before retina how you could make out the individual pixels if you looked close enough? Well here, it kinda goes back to that the projected light is so sharp that you can make out the edges of individual pixels that make up a layer.
But by adding 16x antialiasing and 2x Image blur in your slicer, you'll pretty much make all of that disappear. But because DLP's projects direct light, you still get super-sharp details in the final result whereas an LCD panel will always have some outward light projection no matter what you do.
If you want to see the D2 in action, printing Warhammer equivalent models from OnePageRules and larger models, then see our detailed review video below which will also guide you through getting the best possible miniature quality from it.
The added benefit to getting this printer for miniatures is that the included DLP Craftsman Resin is sharp but still quite soft and has some comfortable flex to it, whereas the resin included with the Mini 8k is quite firm and brittle. With that resin you only need to pick up a miniature the wrong way and parts can snap off. With this stuff, it should easily survive the odd drop or fall.
When it comes to prepping miniatures to paint. support marks are easily just pulled away and scraped down, (much like mould lines) when using this stuff.
Screen Size: 9.1″
Screen Resolution: 5700 x 3600 px
Pixel Size: 0.034mm (34 µm)
Build Volume (XYZ): 196 x 122 x 150 mm
I would honestly say that this is now the best choice for an entry-level printer. Yeah, you can get the smaller Mars 3 or Mars higher resolution Mars 4? Mars 4 Ultra models. But as I'll say often, you only get the benefit of those higher resolution printers if you are using high-resolution resins – which are far more brittle than resins you would want to use when printing miniatures you'd actually want to use. So practically speaking, the difference between these 34-micron printers and the 10″ 28.5-micron printers below them is minimal.
It's hard to pick a printer right now because we are in a generational crossover with 6″ and 10″ printers all getting resolution upgrades. as just mentioned though, those upgrades are nigh on pointless to most miniature printers.
So the reason to choose this printer would be if you are looking at something like the Mars 3. For not too much more, you could have this printer, which offers the same print quality but the convenience of a larger build plate.
But also when you look at this, for not much more you can get a Saturn 2 with a larger plate still and the increased resolution. So until those older printers are sold out. I'd say it's still better to pick one of those last gen models up at a discount, just because this offers nothing new, other than a choice in the middle, which will be more relevant when the Saturn 3 and Mars 4 are on general sale.
Screen Size: 9.1″
Screen Resolution: 5700x 3600 px
Pixel Size: 0.034mm (34 µm)
Build Volume (XYZ): 196 x 122 x 200 mm
What does "S" even mean to Anycubic? When it comes to the M5 series, the S clearly means Speed with the M5S having things like the ACF release film and the faster motor than the M5. But when comparing the Mono X 6k to the Mono X 6Ks. They look entirely different and have different specs. When you interrogate those. In this case, the S printer, this printer, has weaker specs and is cheaper. unlike the M5 where the S is the feature-rich more expensive unit. WTAF Anycubic, do you enjoy confusing your buyers?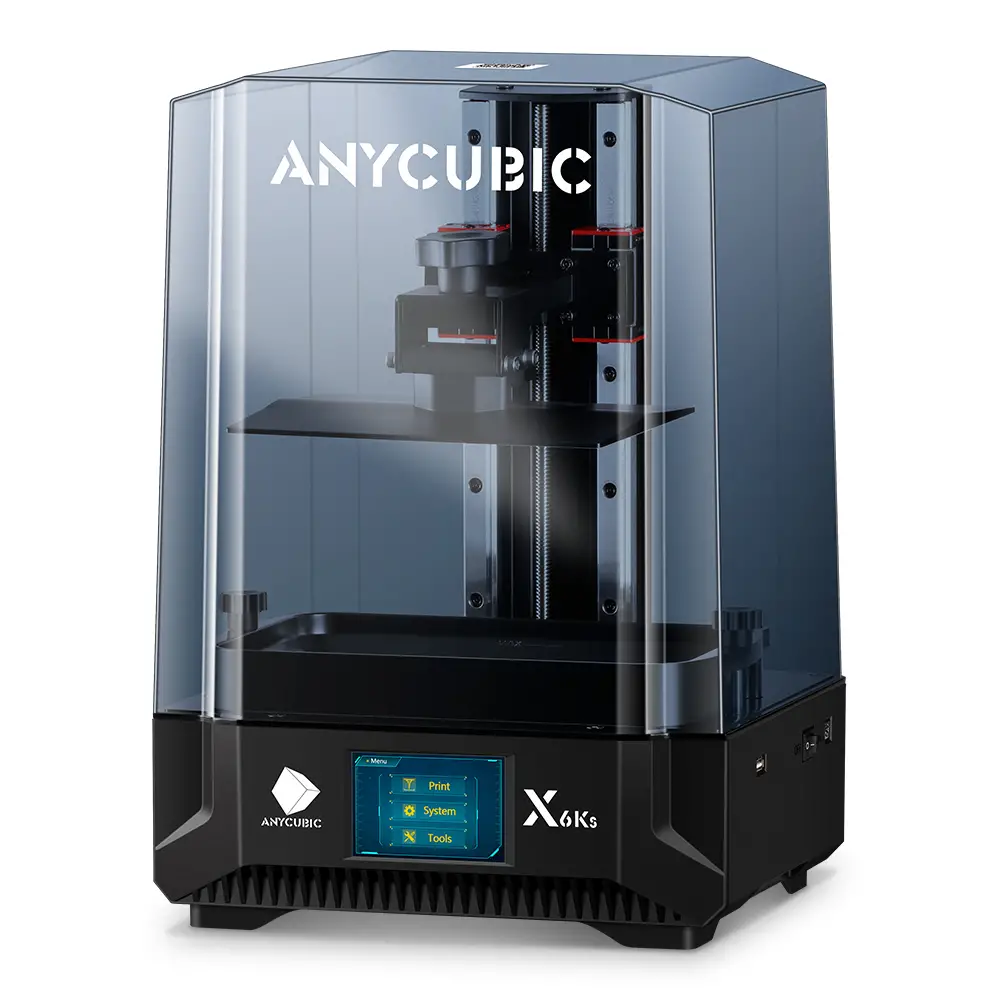 But despite that ridiculous mix-up where S now seems to mean, Smaller. it is only a marginal difference. and the printer itself is fairly decent. And I was unsure where to put this in the list in relation to the Mars 4 Max because they both have the same screen area, but the build volume here is 5cm, taller. Whilst you may not need that when printing miniatures it may be worth it in some case – like when printing scenery.
But you need to decide if the value of having that is worth the price difference between this and the directly competing model above. That's your call to make. because they both print the same quality models.
Check out or video on this printer below
But I also just prefer this printer – With no intrinsic benefit, I like the build quality of the mechanical components, I like the UI more. The lid does not sit on the base as cleanly as I would like because mine was warped in transit and the lip around the base is shallow. but this is the sort of engineering Anycubic should be promoting. Far over what they have done with the very cheapened M5 series.
Just a shame it costs so much more than a competitor printer which all but does the same thing.
Screen Size: 7.1″
Screen Resolution: 7500 x 3240 px
Pixel Size: 0.022mm (22 µm)
Build Volume (XYZ): 165 x 72 x 180 mm
15% off Phrozen with code: "FAUXHAMMER23"
The new Mini 8k S is still the present pinnacle of LCD quality. And it beats out the old Mini 8k in almost every way. Now that Phrozen has designed out many of the quirks of the initial models and reduced the cost of components significantly. using their own controller board rather than buying in from the likes of ChiTu Systems as everyone else seems to do. Though it's also bundled with a year of Chitu Pro Slicer… Worth $169.00 a year on it's own! Wow…
Whilst the screen has a weird aspect ratio (it's far wider than it is tall) it is still the highest resolution screen available at this size.
The details this thing can produce are absolutely superb. and it's here where the line between companies like Games Workshop and what you can print at home – truly starts to blur. Yes, you can print better than Forgeworld quality models with this thing. Easily…
Unlike my experience with the original Mini 8k, which, did not go well but still resulted in an amazing printer, This unit worked for me perfectly out of the box. Coupled with the Phrozen 8k Resin, this results in what are still the ultimate in quality when it comes to prints on consumer MSLA printers.
Whilst for a long time, we marked the much lower resolution DLP printer above this, when you consider the price of the unit versus those.
Once set up, this thing pretty much eradicates layer lines (z-axis) and voxel/graduation lines (X & Y-axis)
Don't believe me? well check these out, these are Space Marine Accessories printed on one of our Mini 8K printers. no Anitailising applied, these are as direct to the 3D file as you can get. And go-on. find a layer line? Try…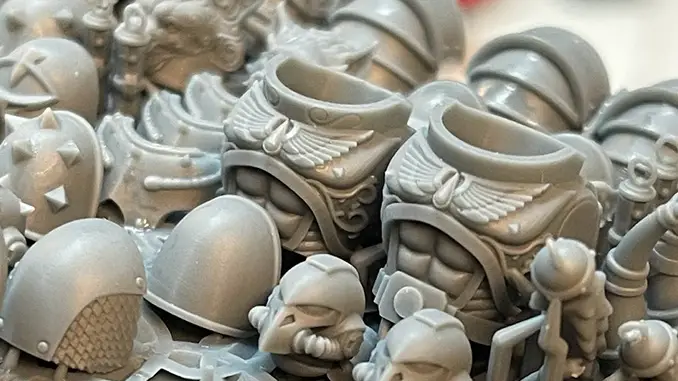 These parts are beyond production-quality models. I know a lot of people worry that printing will kill Games Workshop. That's highly doubtful, but it has certainly changed the landscape for the quality of the miniatures – now very much in favour of 3D printed parts.
It comes with an integrated screen protector which is a welcome addition, and the UI for controlling Phrozen printers is more intuitive than most of their rivals. Phrozen certainly put quality at the forefront of what they do, and this shows through and through – despite the price-point.
You can see this printer in use in our review video
Whilst resin prints aren't as convenient to work with as GW's HIPS plastics. What this Mini 8k printer can produce, definitely provides better quality (read as "sharper and more accurate") parts than what Forge World put out.
If you want maximum detail on your miniatures this is your first real choice – not bad considering it's currently at entry-level prices!
Screen Size: 10″
Screen Resolution: 7680 x 4320 px
Pixel Size: 0.0285mm (28.5 µm)
Build Volume (XYZ): 219 x 123 x 250 mm
OOf the 10″ 8k printers, this model frequently comes in the cheapest. This is fantastic considering that all of these printers are capable of the same print-quality output. The 28.5 µm quoted XY pixel size is a testament to the quality of printers nowadays, the fact that manufacturers are claiming that half-micron in the specs is an arguably pointless metric when you'd be hard-pressed to see the difference between a full micron. or several in fact.
In Practical reality, I can't see the difference in print quality between one of these and a 22 µm printer. The benefit here is that you have a 10″ LCD, almost a third again over a more standard-size entry-level printer. I've quickly found myself opting to print on this far more frequently than a higher-resolution printer, just for the convenience of a larger plate at the cost of a negligible quality difference.
Check out the Saturn 2 in detail by watching our review video below
Don't forget to Like, Comment & Subscribe
At this price point, this size and quality, feels like a bargain.
Screen Size: 1011″
Screen Resolution: 11520 x 5120 px
Pixel Size: Y-axis = 0.024mm (24 µm) / X-axis 0.019mm (19 µm)
Build Volume (XYZ): 219 x 123 x 250 mm
The Elegoo Saturn 3 is the sharpest LCD printer I have ever used. Unlike other printers in the 2023 12k lineup, you can actually see a benefit to the increased resolution on this model over the 8k versions that came before. But only under specific circumstances. Those circumstances being… you must use incredibly high-detail resins. Mostly those labelled as 8k, Such as Elegoo 8k Space Grey, Phrozzen Aquak 8k. and as another contendeer Sirayatech Fast.
But for miniatures, those resins are also very brittle. Extremities will rarely survive a 15cm drop, but worse still is that fine components like bladed weapons or polearms can snap even if you just pick them up the wrong way. This is fine for ultimate quality display pieces if you are really careful, never drybrush small and thin parts. and never touch them again once painted. Don't even look at them too strongly.
So I'm explaining all that because, when you print miniatures, you need resins which cure softer, but the drawback of that, is that these resins cannot render as much detail. So you need to find that balance. The resin we use now for miniatures is Wargamer because we feel it has that perfect balance of sharp detail, but still, the perfect amount of toughness & flexibility to exceed that of production plastic miniatures. But with this, or even with other sturdier resins You do lose the ability to render the finest details. it may render overall prints a bit smoother, but it's a "bit" I would not consider has any value to the vast majority of miniature hobbyists.
Check out our Saturn 3 Video for more details
So when you jump from 28.5 Micron pixels of the 10″ 8k printers to 24-micron prints of this. The difference is all but pointless for practical miniature printers.
But Yes, it is still technically more capable than the Saturn 2. And I know a lot of people would prefer to have a printer with this rendering capability but not use it than someday want to use it but never have it.
The TLDR is; If you are printing miniatures. Just save yourself some money and get the Saturn 2 or equivalent printer, especially whilst stocks last and Elegoo are selling it cheap. But if/when they are sold out. yeah, grab one of these because it's the newer version.
Screen Size: 1011″
Screen Resolution: 11520 x 5120 px
Pixel Size: Y-axis = 0.024mm (24 µm) / X-axis 0.019mm (19 µm)
Build Volume (XYZ): 219 x 123 x 250 mm
Easily one of the best all-round 3D printers Ever made. The Saturn 3 offers a quality level that's indistinguishable from printers with a much lower pixel size. And for the First I've seen in a Printer, the ACF film I got on it smooths out prints rather than leaves an odd cross-hatched texture which is arguably worse than the voxel and layer lines it was designed to eradicate.
Please check out our video for a thorough breakdown of all of the Saturn 3 Ultra's features.
Whilst other videos have pointed out that the Saturn 3 does not have a huge quality difference when compared to the Saturn 2. I feel they have missed a lot of the innovation that has gone into this incredible printer.
This printer's custom Refractive Light Source results in sharper prints from the get-go. The thick ball-screw allows for much smoother motion from the build plate, reducing errors like layer shifts and being a strong support for this machine's incredible speed.
That's not all either. This comes with a better build plate levelling system than the base model by adopting a 4-point screw mechanism found on most other printers these days.,. You can also filter out more smells by installing a second Carbon filter inside the unit. You need to buy the second one separately, but there is a port for it.
Finally, the convenience of Wifi is so useful. I've complained for ages that the USB drives you get with 3D printers are terrible and die quite quickly/ but with this printer, you don't need one. Slice your models using Chitubox, which is included on the USB Drive (OK, you may need to use it once), at the end of the slicing process. choose Network Print and send the file over, you can start it remotely too.
The Elegoo Saturn 3 Ultra is by far Elegoo's best printer and whilst it is on the more expensive side of options. it is worth far more than what you are paying for it. The biggest issue Elegoo could have is having enough of these units in stock to cover demand over the coming months!
Screen Size: 10.3″
Screen Resolution: 7680 x 4320px
Pixel Size: 0.029mm (29 µm)
Build Volume (XYZ): 228 x 128x 245 mm
Don't worry if you haven't ever heard of UniFormation, they are about to become a big name in the 3D printer scene. It's not often when a relatively unknown brand even gets a look in, in the 3d printer space. A space which is dominated by the other 4 brands on this page. Most of the time, your smaller brands will make cheaper clones of existing products, but even when there are differences or the printer attempts to be unique. It is marred by the poorest of implementations and localisations, leading to more usage drama than it's often worth.
So what must a small up-and-coming brand do to get any ounce of recognition in this oversaturated market? And how has a small brand absolutely trumped every other feature of the leading brands to become our top pick?
It fixes almost every problem I have with all the other 3D Printers!
I'll quickly list the benefits, but for an in-depth breakdown of why this all matters, keep an eye out for my upcoming youtube video. We'll be having some (multiple) giveaways of this printer when the video goes live – so make sure you're subscribed.
Flip-Up Cover – No longer need to find an extra surface space to dump the lid, it also has plenty of access to the inside. Unlike previous attempts at using this method where a front fascia would open up, the sides also open.
Quick Release VAT – no more screws means no more forgetting to tighten the screws before starting a print – we've all done it!. just push the tray into place and it locks down!
Factory Installed Screen Protector (and a spare in the box) – not only does this protect the screen from spills but it's more than your typical sheet of clear filp that sits on the glass. This protector surrounds the whole screen and extends seamlessly onto the chassis to ensure everything is well protected.
Easily replaceable LCD = 4 screws allow you to lift the screen out of the base, and 1 small ribbon cable is easily accessible.
Links to free super awesome models are included on the USB drive – why don't more companies do this? it's free awesome stuff for you and free advertising for model creators.
Pre-levelled build plate – this is factory levelled, you should not need to do it!
Quick release Build Plate -no more bolts to twizzle. Just flip up one latch and remove it…
Lip around the build plate – how many times have you removed your vat and in the process of flipping it round to access your model, it drips off a corner onto your desk, floor or you? this plate has a small lip around the edge to catch those minor spills
It copies files to local storage before printing – No more need to worry about your included cheap USBB drive failing mid-print. when each print is started, the first job is to fully copy that file to the local internal storage memory. So even if the USB drive dies halfway through a print, the print will still succeed.
A Resin Heating Chamber!!!!!! – I've saved the best for last and I'll go one better, I'll give this its own section below.
Check out our Video Review of the Uniformation GKTWO
If you have resin printed before, you may be aware that the biggest challenge is temperature. Especially in colder climates and for those printing in their Garage, Shed, Basement or Loft. It's harder to heat these spaces in and around your home. So it should be great to know that this is a problem no more! Resins are very volatile when it comes to temperature and the difference between 20°C and 15°C is significant. One will lead to a decent print, the other will lead to, errors, brittle prints and even complete failures…
The Uniformation GKTwo heats the chamber below the Resin, not too much so that it damages or causes early degradation to the components. (LCD or LIght Array). In fact, they rate their LCD for 3000 hours whereas other companies only suggest 2000. This heat transfers through the LCD to the resin in the VAT. Heating the chamber above would leave the cured resin too soft and cause print failures which is why the ceramic heaters have only been placed in the chamber below.
In reality, As I am now able to print in my office with all the printers here at 20°C-22°C, I have had a lot of success lately. In my latest YouTube video comparing 10″ 28.5 Micron printers, I get the best exposure at 1.5s per 0.03mm layer on each printer. But thanks to the added local temperature increase from this printer, the resin is far more reactive, giving me marginally sharper prints at only 0.75 seconds. That's a 50% reduction in curing time! So not only is this LCD rated to last 50% longer than its competitor printers, but with an additional 50% reduction in curing times, you can potentially get 100% more prints off one of these printers too!!!
Not only have Uniformation come out with a strong offering, but they have brought to the market a series of features that every other brand needs to include now if they even want to be looked at as a top pick!
Why 3D Print Minis?
There are a lot of great reasons to use 3D printing in your miniature Hobby. You can incredibly detailed 3d printed custom miniatures. Albeit not quite to the same quality level as the extruded plastic models you will get from retail. But still god enough to exist as parts of your armies. They're great for making a great multitude of terrain pieces. But the best thing is making custom components and conversion parts for existing models. Think Weapons, Emblems and armour pieces.
After all, If you want your models to stand out on the tabletop, as I've said many times. They just need to look a little bit different from the norm.
Another fun thing to do with 3D printers is to make yourself some hobby tools or supporting components. You can make brush or paint holders, storage for your models, water pots and mini holders. A fan favourite Miniature Painter Garfy, who is very active in the community and has written a ton of incredible guides over on Tale of Painters (one of my personal favourite blogs) has even started up his own 3d printed miniatures business, making some of the Best Miniature Painting Handles you can buy.
If you are wondering "Can I sell 3d printed miniatures?" Well, many early adopters have made their investments back 100-fold by selling parts online. I was even considering opening a shop called "3d printed miniatures UK", specifically as a 3d printing service UK miniatures. But unfortunately, I just don't have the time.
It doesn't take much to put 3d printed miniatures for sale on eBay or etsy or quickly create your own 3d printing miniatures service. 3d printed miniatures as a business is still a fully untapped goldmine. Tons of people are looking online for where to buy 3d printed miniatures. So if you are wondering "is 3d printing miniatures worth it?". Yes, yes it is!
All in all though the process of 3d printing your own miniatures is really rewarding in its own right. Here we are on the first step toward the replicators from Star Trek. Whilst you can already 3D print various foods with these machines, none of them will be edible.
What Types of Miniatures can I print?
Can you 3d print Warhammer? Meaning generic off-brand miniatures to use in that particular game? Well yeah, (legalities of this is different beast we will go into below) But it's not just Warhammer, 3D printing has opened up the Quality of Warhammer to so many other areas of this hobby. below we have listed just some of the different things you can look for and many may inspire your creative brain-juices. So have a look and see what takes your fancy.
3d printed 6mm miniatures
3d printing 10mm miniatures
3d printed 15mm miniatures
3d printed 28mm miniatures
3d printed 32mm miniatures
3d printed miniature buildings
3d printed military miniatures
3d print zone mortalis
3d printed Halo miniatures
3d printed Videogame miniatures
Are 3D Printed Warhammer Parts and Miniature Parts Cheap?
Here's an example of the cost of 3D printing miniatures.
A friend of mine recently asked me to 3D print some shoulder pads and heads for his Space Marines after seeing all of the custom parts I was using on my Mk VI Horus Heresy Models. He offered to pay me for them.
Here is the breakdown of what it I charged him (at cost, minus my time) for 53 Shoulder pads and 24 heads.
So how much does it cost to 3d print miniatures? See below for
£5.17 for the STL Files bought from the designer on Cults3D
£5-7 postage (he's in a different country)
£0.60p for the parts themselves…
£0.60p That's your 3d printing miniatures cost, A similar set of parts would be somewhere around £120 at £15 per set of 100 heads or shoulders. Nothing is wasted either? If you only want 5, print 5.
And this is mostly because the parts in this scenario were only available at a cost. Once you have your printer and resin, you can essentially 3d print miniatures free.
So yes 3D printed wargaming miniatures and parts are incredibly cheap. Make no mistake This is the future of 3D printed tabletop miniatures.
Print Quality & Types of 3D Printer.
If you want to know how to 3d print rpg miniatures and the like, it really depends on the printer you get. If you what to know which 3D printer for miniatures you should get, this depends on what you want to print.
It's worth noting that there are 2 main types of 3D printer tabletop miniatures. One of them uses a plastic filament which is fed through a nozzle (or multiple nozzles) These are Fused Deposition Modeling (FDM) printers. The other uses a bath of liquid resin which is hardened when light is focussed within it, commonly known as resin printers. Even within these 2 main categories, there are some further subcategories.
To understand print quality, you need to know how the printers work.
FDM printers
Have a reel of plastic wire called PolyLactic Acid (PLA) or Acrylonitrile Butadiene Styrene (ABS). often referred to as 3d printing miniatures "filament". The latter of which is generally stronger, but requires more head to become usable. They are types of thermoplastic which means they can be heated to a temperature which makes them act like a liquid.
An FDM printer will feed this reel of plastic wire into a nozzle which heats it to its reformable temperature. The plastic is extruded through the printer's nozzle and the print head is moved around. The printer extrudes the plastic layers. Once a layer of a model is complete, the head moved up and prints the next layer.
The quality of these prints is based on many factors, so you may want to check for your printer's best filament for 3d printing miniatures – the type of plastic used. Also the size of the nozzle, the minimum layer height you can achieve and your patience. But generally (when compared to resin 3d printers below) the print quality is much lower but you can make much larger models. Once printed you'll need to look up techniques on how to smooth 3d printed miniatures such as how to sand 3D printed miniatures or how to smooth 3D printed miniatures. It's not a fun process in either case and often leads to softening of many details.
Resin 3D Printers
UV curing Resin is by far the best material for 3d printing miniatures
The printers are quite a different beast altogether when compared with FDM above. Instead of a reel of plastic wire, you create a bath of liquid resin. the resin hardens when UltraViolet (UV) Light is directed at it. here's where we have the subcategories.
StereoLithography Apparatus (SLA) technology uses UV lasers focused on particular points causing the resin to harden. Unlike FDM printers where the print head moves. with Resin printers, the light sits below the resin bath. The print base itself is raised upwards as the laser is focused. You'll see that with resin printers, they actually print the models upside down.
Digital Light Processing (DLP) is identical in the way it works except instead of lasers this uses a UV projector. This also prints in layers, however with SLA printers where the laser traces the surface of each layer (like some high-tech etch-a-sketch)). DLP will actually print a whole layer at the same time. This makes them faster than SLA printers. DLP printers have the advantage of using a projector to focus light. As you may know, light does not easily travel in a straight line. So where LCD printers with a large array of light shone through them causes outward fade which naturally softens edges on prints. DLP printers are capable of incredibly sharp results as the light projection is more direct. (these types of printers currently provide the sharpest results – but in some cases, maybe that's too sharp). DLP printers also last much longer than LCD printers where the LCD itself is classed as a consumable component.
The difference really is that DLP printers will project the shape of each layer up at the resin, whereas LCD printers will project light and the screen blocks it out, leaving only the shape you want for each layer.
Liquid Crystal Display (LCD) is the most common type of resin printer, though even within this category there are subcategories such as monochrome panels providing darker blacks and preventing light bleed through blacked-out areas. The newer printers also tend to come with a reflected UV array of lights rather than a UV lit backlight – All that is before we even start to consider printer resolution (below). AS stated above. We'll go into the details below, but the general challenge with LCD over DLP is that between the (0.02mm – 0.05mm) LCD and the build plate, the light is not focussed, so whilst it cures upwards, it also slightly cures outwards, softening the edges of a print. but at super high resolutions, does this even matter? well, no not so much.
Generally, though, the most noticeable impact on quality is with the individual layers of the model. If these are too thick (deep/tall), you can see ridges on the individual layers which are printed. These are especially prominent on FDM printers and will show even after a model is primed. There are ways to smooth these out like manually sanding, which takes forever or using acetone-like vapours which smooths out the whole model, including any intentionally sharp edges. You could also coat FDM prints in liquid resin and then cure that with UV light.
With Resin printers, these layer ridges are almost non-existent, but they are still there.
Ease of Use
3D printing is as much a skill as it is a new technology. If you want to get the best out of any of these printers, it's unlikely you will get those results out of the box. There are a lot of settings to understand for 3D printing which makes or breaks a quality model.
In a similar vein to 2D printers, there are various options to consider. When you get a 2D printer (it's rather standardised now) you get the option to print in various qualities. Black & White or Colour? are you printing documents or photographs? What quality do you want in that photograph? All of these options can use more or less ink, and print quicker or slower. Even the paper you use and your knowledge of working with that paper type can have a dramatic impact on the result.
It's the same with 3D printing but more, much more. 3D printing doesn't have many standards yet, it's still in its infancy which should excite you with how far it can go. I was still using a Dot-Matrix printer less than 20 years ago. (because my school was cheap). But this means you need to fine-tune many of the intricate settings to get the results you want.
In regard to quality, there are 2 primary considerations. nozzle width, laser beam width or UV projection panel resolution will control the level of detail on the X & Y axes. (left/ right and back & forth, like a 2D printer) the precision of how incremental the print head of build place can be moved on the Z-axis (up & down) will control your vertical quality.
If you're getting into 3D printing, please understand that high-quality comes from your time and understanding. Thankfully there are numerous resources out there and many people have already come up with some of the best settings you can use. A consideration we've taken when compiling the list below.
It's not just 3D printing that has a large community, but each printer has its own sub-communities and miniature printing is a 3d printing sub-community in itself. So don't worry, you're not on your own in this and there are numerous resources that will accelerate your progress. With these guides, you will be printing good quality models very quickly.
Best Resin for 3d Printing Miniatures
Ok, when looking for the best resin for 3d printing miniatures, this is a topic in itself and we'd need to update it weekly as people test and tweak the various setting on their printers. But there's also the question back to you…
What do you mean by best?
You could mean the sharpest quality for 3D printing something close to a production master. you could mean the best value so you can 3D print a wargaming army at a low price. If you are 3D printing Warhammer Army, you may want something a bit more sturdy. so best may mean least brittle, even though you could loose some quality. Or more unique situations where you want to 3D print Space Marines with a clear or semi-opaque coloured resin so you can insert LED's and create glowing effects.
best could also mean, easiest to clean up or most environmentally friendly.
Personally, I would always start with the resin that comes with the printers. Nowadays, many resins are created with specific use cases for a particular printer. The Anycubic Photon Ultra uses a special DLP resin with really sharp detail and nice flexibility to it. Whereas the Phrozen Mini 8k has their Aqua 8k resin, which clearly provides better detail than their 4k resin. Which has been the most popular all-around choice for a good couple of years.
But depending on how much time and effort you put in, you could find a blend of multiple resins gives the best results.
Here's a quick summary of some of the best resins.
There are a few options to get you started, but honestly, it varies a lot from printer to printer, start with whatever you get with it and join a Facebook or Discord Community for your printer and get direct advice. from there as to what is best for your specific needs.
Where to Find 3D Miniatures to Print
So I know you have a burning question, where can I find Warhammer files to print? Well, if it's not already clear 3D printing Warhammer minis is a very grey area. When I talk about "3D printing Warhammer" here, I'm going to be referring to compatible parts to be used on Warhammer Models that enhance the existing character and vehicle sculps GW produce, or Warhammer Proxy Models. More on this in a mo.
But where can you find 3d printer miniatures files?
That's quite a common question. In fact, the following image perfectly summarises the comments you'll see in most online discussion forums.
First off, when it comes to 3D printing, communities are your best friend. whatever printer you have or get. Go to Facebook and search for "your printer" and look in the group's tab. Join that group. The posts there should inspire your initial creations with various things, but they can also help you with advice on settings and dialling in the
As for 3D printing Miniatures Specifically. Join our Facebook Group below. a great place to see examples and share what you create.
As for just finding models you think are cool. here's a few great sources
Let's say you are 3d printing 28mm miniatures in general or 3d printing D&D miniatures. then one of the coolest resources out there is HeroForge
HeroForge lets you design a character on their website, in a similar way to character creators at the beginning of RPG video games. You can change the base, poses, expressions outfits textures and more.
Once done, you can purchase and download the file for your printer, or have them print it for you.
3D Miniatures Subscription Services
You'll find there are a great few subscription services out there too, these have a general approach of subscribing to us and you'll get a bundle of models each month at a super low price, and rewards for longer-term subscriptions. Alternately they sell their older bundles at a premium if you missed any.
The main services are. (in Alphabetical order)
Independant 3D miniatures studios
I wouldn't even know where to start here because the selection is a veritable minefield.
There are a ton of 3D printing studios out there, from individuals to larger companies like Titan-Forge. dozens if not hundreds of people have their own 3d printed miniatures Patreon where you can get specific things you want.
This is really down to your exploration and you'll find things in groups like the one we linked above
Just beware that before long on your miniature printing journey, your current "piles of shame" will soon be joined by "files of shame". Too many of us have multiple hard drives full of things we'll never print.
3D Printing Warhammer Models – Is it Legal?
When it comes to 3d printing 40k miniatures. Honestly, I don't know, 3D printing, in general, is a legal minefield and let's talk about why.
Let's say someone sculpts a model of a celebrity and sells that sculpt. Should the subject of that sculpt not claim some royalties on the sale of their likeness? Could they sue you for profiting from selling their Likeness? , from what I have read online, In the US, most states have what is called a "Right of Publicity", which means you cannot use their name or likeness without permission. Creating the model is not a violation of that right but showing or selling it is. But that's only in some states and of course, that only caters for some US state-specific Laws. what about the rest? or even everywhere else in the world. You could live in one of these places where sharing or selling the model is a violation. But what if you are sharing it online. Where the company hosting the file operates in a location where this is not a violation?
What if you paint or draw artwork of that Celebrity (go to any hobby convention and you'll find people selling their artwork of celebs) heck, just look in a tattoo parlour. What if you take a photograph and sell it to a news outlet? You see, people have been getting around various individual rights for years, especially for individuals in the public sector.
So there's all that to contend with for a start…
Now onto Games Workshop, Warhammer and what is/isn't IP theft? Again, from a legal standpoint, I don't know, these are just my musings on the topic. so don't take this as advice. if you want advice, start here with Games Workshop's Intellectual Property Guidelines.
Specifically;
recasting and 3D printing – our products must not be illegally re-cast or scanned, nor should digital designs of our products be illegally produced and distributed.

Games Workshop's Intellectual Property Guidelines
Quite clean and yet vague at the same time. so you cannot recast (the process of taking one of their production pieces like a master and using a moulding process to recreate it), and you also can't 3D scan one of your models. So all of you with newer phones and use them to scan your models. Naughty naughty. what if you 3d scan your room and it has Warhammer models in it? More grey area. If you 3D scan a model you have painted and store it on your phone, would GW care enough to take action. probably not, but for any company that owns copyright, if they are not seen to be taking action against infringements, they can lose that copyright.
So what does GW own the copyright on? Well, here we can refer to Games Workshop's Copyright and Legal Information page where it says;
GW, Games Workshop, Citadel, Black Library, Forge World, Warhammer, the Twin-tailed Comet logo, Warhammer 40,000, the 'Aquila' Double-headed Eagle logo, Space Marine, 40K, 40,000, Warhammer Age of Sigmar, Battletome, Stormcast Eternals, White Dwarf, Blood Bowl, Necromunda, Space Hulk, Battlefleet Gothic, Dreadfleet, Mordheim, Inquisitor, Warmaster, Epic, Gorkamorka, and all associated logos, illustrations, images, names, creatures, races, vehicles, locations, weapons, characters, and the distinctive likenesses thereof, are either ® or TM, and/or © Games Workshop Limited, variably registered around the world. All Rights Reserved.

Games Workshop's Copyright and Legal Information
Specifically focus on the bit after all those things where it says "all associated logos, illustrations, images, names, creatures, races, vehicles, locations, weapons, characters, and the distinctive likenesses thereof"
So it's quite clear now that GW claims to own (I use "claims to" I haven't the knowledge or skill to verify), all of these things listed, including models within these franchises and all logos (which I believe clearly extends to chapter emblems).
So you can probably understand why the following happened.
Courtesy of Spikey Bitz, it was reported back in May 2022 (according to the article date) that Several 3D artists had purportedly received Cease and Desist notifications from Games Workshop. (see that article for more details) The example shown below is an "Elf Titan" modelled and released on MyMiniFactory by Duncan 'Shadow' Louca, compared to the £254 Revenant Titan with Pulsars from Forge World
Despite having no Aeldari emblems on the Elf Titan model, this did not stop the Cease and Desist from going out to MyMiniFactory.
Now, let's be real here. Going back to Games Workshop's Copyright and Legal Information page. I think we'll all agree on the distinctive likeness of these two models… Just changing the name from Aeldari and removing any Aeldari Emblems (logos) is far from enough to get around copyright. Surely any layman would argue is in direct breach of GW-owned property and as such Duncan could be liable for any proven damages. Sorry, Duncan, your original sculpts are amazing and you are a talented guy, but sharing this puts you at serious risk.
As of the present time, this model has been taken down on MyMiniFactorty, despite Duncan making it freely available on that platform following the C&D, but i was easily able to find this model available without trying when doing very lazy research for this post. On the available platform (which I won't share) that file, in parts or as a whole piece, has been downloaded a combined total of 272 times at the time of writing.
At the price of this model you're looking at a total of £69.088 in potential claimed losses + legal fees (I think this is how it works, am I wrong?). this in spite of an objective view that Duncan's 3D print file will produce a better quality (sharper)) model than what Forgeworld sell. If you want to take that risk as a 3D modeller, that's on you, Personally, I wouldn't be able to sleep at night. Especially when, in Duncan's case, you have clearly shown your skill is far above and beyond blatant copies.
But why hasn't the C&D been followed up on and how is this model still freely available when GW should be policing this? That's not for me to answer and is an article in it's own right. Heck this whole piece is and I may move it to one in the future.
One of the most popular online repositories for 3D Warhammer Parts is Cults 3D, in 2022, Games Workshop (via their lawyers) requested takedown of over 2000 models on the cults 3D platform.
Cults took down only 65 of them, and even advised the creators what to do (how they could be renamed) so they could be re-uploaded.
See the details of that event here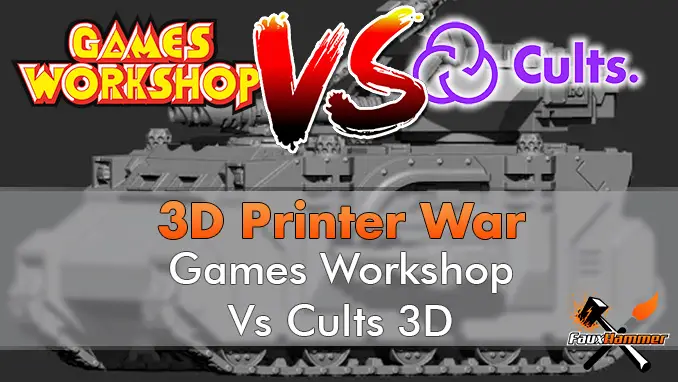 It looks as though Games Workshop is only requesting the removal of files, based on trademarked naming conventions and not on the models themselves.
Is that all they can do, or is this just the first wave?
What Warhammer 3D Print Files are legal?
Again, I don't know, but the copyright policy above indicates that anything which likens to GW models is not ok. But is this "whole models only", or are individual parts included in that? If so, and the Titan above is not ok, how has the following been ok for over 2 decades?
Ok, so it's slightly more dissimilar, but it's also clear to anyone that the Sons of Thor pack bears a striking similarity to the Space Wolf backpack. The Sons of Thor backpack is made specifically to fit on a Space Marine, and IMHO would not exist if Space Wolves Space Marines weren't a thing. But then Sons of Anarchy would not exist without Hamlet. What is IP theft and what is art inspired by other art? And now we're just arguing there's nothing new under the sun.
Going back to Games Workshops Own words. I would infer that the Sons of Thor backpack fits within distinctive likenesses to part of a vehicle[s], creature[s], race[s], or character[s], which in turn are are part of the Warhammer 40,000, Space Marine, 40K & 40,000 claimed Trademarks.
So why is that allowed to exist where Duncan Louca Elf Titan is claimed not to be? Both are clear likenesses to GW products. Is allowable likeness based on a percentage of accuracy in details and scale? Is it because (as per GW's IP guidelines, Kromlechs piece is not a, in Gw's words "digital design[s] of our products".
Wow, I think I just went a complete 180° here, and I'm sure that's how many of us feel as we flit back and forth trying to figure this out.
The problem is we don't know, none of us knows. and GW is probably happy with this being in the realm of the unknown because uncertainty is one of the best deterrents.
But when push comes to shove, and I'm confident that it will, We'll likely see this battle occur on the legal plane as the laws catch up to our collective actions. and when that happens, I worry for those who will become the poster-children of what is not ok.
In the meantime, we just want our models to look cool and unique. So, as is human nature, we'll follow the path of least resistance to do that.
in General games workshop are ok with 3D printed parts (in some respect), so long as you have designed and printed them for yourself – as per their in-store play guidelines (see here) where it says;
Much like hand sculpted detail, if you've gone to the effort of designing and printing your own bespoke parts for your army, then these parts are indeed permitted at our events. Commercially available, third party 3D printed parts aren't permitted though. Please bear in mind that if we do spot cast/printed parts on miniatures at our events, we will ask you to prove where they're from, and may ask for them to be removed if there's any doubt as to their origins.

Model Requirements for events at Warhammer World
So this adds even more confusion to the whole debate. phew!! glad I'm not a lawyer. Good luck everyone.
How to Clean and Cure Resin 3D prints
resin cures under Uv light, this is how your printer works, but as you pull the build plate out and remove the model from it. you'll see that it is still covered in uncured liquid resin. you need to perform 2 actions at this stage. you need to rinse off (and in the case of hollowed prints, out), any uncured liquid resin.
Cleaning 3D Printed Miniatures
To do this you need to wash it off in Isopropanol (which is also great for stripping paint off miniatures). however several people have argued that Methylated Spirits (Ethanol) is better for removing resin but i haven't tested it yet personally.
You can do this in a small jar and just shake it about, you can use a "dedicated" toothbrush to clean up the details, but the prefered method is two-stage. get a pickle jar to do the initial wash pass and take off the bulk of the resin, then use a larger bath, ideal in a resin wash [and cure] station or ultrasonic cleaner to remove the majority. Not having a 2-stage process will lead you to gunk up a large volume of cleaning solution much faster.
Curing 3D Printed Miniatures.
for this, you want UV light, and the most cost-effective source of UV light is sunlight. However this is somewhat inconsistent in strength and where I live in the Uk, it's rarely available.
A cheap option would be to make your own UV curing statin with UV LED tape and a paint bucket, luckily we have a guide on that for you.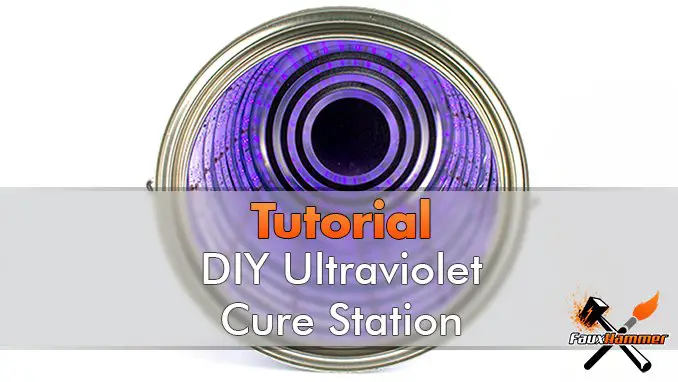 One of these with a cheap turntable in the bottom is a low-cost option.
Just be aware that overexposure can turn resin really brittle and even cause it to warp and crack.
The best option is to get a dedicated cure station, notably one function of wash and cure stations which are available from most 3D printer manufacturers.
Best 3D Printer Slicer for Miniatures
Welcome to the war of slicers. for those who are't aware of what it takes to take a 3D model into a 3D printable file. here's the summary, you need a slicer application. a computer program which prepares the 3D model. here you can add supports for your model and then export it as a series of contained image files with data advising your printer how long each layer should be exposed for, how far the print bed should lift up and how fast among various other settings.
There are a few to pick from but two main candidates. Lychee and ChiTuBox
Some printers will come with their own proprietary software, but in the case of the consumer-grade options below, you can mostly ignore these applications and go with one of the options above. Both of these programs have a fully usable set of free features, but they also have some premium features locked behind a paywall, thankfully unless you are a modeller or sell a ton of 3D printed parts for a living. These features are mostly unnecessary.
Lychee is my (like many people's) preferred application. The workflow is much better as are the auto-support and support refinement features (such as locating unsupported elements of your model). the minor drawback of lychee is that you can find a few odd compatibility issues. never anything major really, just a few irritations such as the issue I have where the creation of a raft layer will raise the base layer up and into the model you are printing. but this can be overcome by being aware and just heightening your initial support level. And it doesn't have a dedicated button for a 90-degree part rotation like all the others do (a personal annoyance).
In my opinion Lychee is the best software for 3d printing miniatures
ChiTuBox or as it is often referred to ShiTuBox generally has better support, with numerous manufacturers directly supporting this slicer to the point of including it as the app you get with your printer. It's light it's fast and has all the features you would want. but the workflow is not as clear as it is with Lychee. It also just doesn't operate well as a windows application. you know how you can do things with other apps where you drag the window to the top and the window fills the screen, this doesn't even do that. Auto supports are ok, but there's no method of checking the model for floating areas (islands) missing supports.
Personally, I used a mix, I'll hollow a model using ChiTuBox and then export it as a hollowed STL (because Lychee won't let you export a hollowed file). Then I'll support it in Lychee and slice it. Though on my Photon Ultra I'll actually use their own Photon Workshop application to slice because none of the other applications offers up the level of antialiasing that this printer is capable of.
Essential Accessories for Resin Printers
Resin printing miniatures will cost more than just some resin in a vat and click go. There are numerous other consumables that you need to use for safety. The main ones are latex/nitrile gove and cleaning tissue paper. Resin can be harmful and I've had more than a few surface-level resin burns on my skin from handling uncured models.
FYI, even your LCD screen is classed as a consumable
Here are another few products you want to get your hands on throughout your resin printing journey.
Essentials
Extras
Silicone Matt(s) – Dirty work area and easier to clean than a desk top.
Sharp Putty Knife – the one that comes with your printers is probably rubbish
Wash &/or Cure Station – All in one post-processing
Plastic Putty Knife – Scrape cured resin off the VAT#'s clear FEP film layer
Small Suction Cup Handles – Remove the cover without touching it with dirty hands
Toothbrushes – Clean resin from hard-to-reach spaces
Resin Strainers – Pour resin back into the bottle whilst removing cured artefacts
FEP Film – Consumable film for your vat, varies by printer, nFEP is better.
Ultrasonic Cleaner – for thorough print cleaning.
The Best 3D Printers for Miniatures & Models
The below list focuses on Print Quality Order for the 3d printing board game miniatures, but please note that this is based on the best possible quality which has been learned through trial and error using specific settings for each device. You are not likely to get the best possible print quality out of the box. Unless you want to pay for it and get a professional-grade printer. Those printers are "call for quote" and you'll be working with an account manager. But you can get great results from the machines below when looking for the best printer or just searching for "what is a good 3d printer for miniatures".
With that in mind, we aren't looking at FDM printers for printing miniatures, it's been clear for a long while that if you want to print miniatures, then resin is the way to go. FDM is fine for large items like terrain, props, helmet replicas and whilst. yeah, they can print miniatures. The quality at that scale is far from what you will want to be producing.
1o get, it's probably worth going with whichever is cheapest at the time.
The Best 3D Printer for Miniatures & Models – FAQ
Here is the part of the article with some useful info that also plays a hand for us in ranking us up on google by answering many of the Frequently asked questions you see on your search results page. so, without further ado.
Is it worth buying a 3D printer for miniatures?
It depends on what you want, do you want to print for painting? for playing a specific game or accessorising an existing army?
3D printing is its own hobby, and for miniature painters, it's a hobby within a hobby. if you buy models just to paint, you have many more model options available to you with a 3D printer. The industry is moving in the direction of 3D print models first, so do not get left behind and get yourself a printer ASAP
For playing a specific game, ok yes, we are talking Warhammer here, you'll be limited to proxies for the most part. getting your hands on copies of Warhammer sculpts is nigh on impossible and very very naughty to boot. But to print a whole army or a huge vehicle, you are talking pence on the dollar in price difference once you have made the outlay for the printer itself.
If you are happy with the limitations GW will put on you for having a 3D army, go for it. You can;t go playing in official tournaments, but in a friendly game between mates at a FLGS, who's to stop you?
For accessories, I think this is the sweet spot. having made a force of Samurai marines. I'd say that since kitting out a single 10-man squad can cost over £100 or the local equivalent. heck, scenic bases or base toppers alone make the investment in an entry-level printer a no-brainer. You can easily get this in less than half an army. Better yet you can print and sell parts to your mates and easily recoup what you lost, if you have enough friends you could even end up making a profit. I have…
Is it legal to 3D print Warhammer? Summary
Well, what do you mean? Ask yourself the same question about a different brand such as 3d printed x wing miniatures? Do you want to 3D print an army and play Warhammer with it? Well, there's been multiple stories of people in the armed forces playing on deployments with rocks or standees. proxy armies exist as do compatible parts so long as they do not contain any GW specific iconography.
As for the legality, really, ask a lawyer, 3D printing is so new and rife with IP theft. There's no legal president to reference here. but beyond Warhammer, look at all the people creating and selling sculptures for marvel properties or busts of famous celebrities. I don't think any of that is legally ok. We just haven't seen enough people be publicly sued for it yet. but it'll come.
As for printing Warhammer, well if it's a copy of an existing model, no, that's not legal. It's IP theft. if it contains GW IP. again, IP theft.
But if it's a shoulder pad or head or armour accessory and contains no GW IP, like with the many accessory companies that have existed over the years like Kromlech and others. I do not believe this is illegal. And morally I feel this is where 3D printing truly enhances the miniatures hobby.
No longer are cool and unique sculpts locked to those few god-like people who can sculpt with modelling clays.
Is 3D printing killing Warhammer?
No, Games Workshop is much more than a warehouse that pumps out models for profit. They have a huge history and rich lore surrounding all of their IP. Along with various other tools that have become almost necessary staples in the miniature painting industry. They have books Videogames and several ever-evolving Game-Systems, they have new games coming out a decent pace too. 3D printing is changing the landscape, but it will not kill GW.
Do you know how easy it is to download ebooks nd audiobooks? It's super easy and has been for years, they are tiny text files. yet Black Libray Still exists and pumps out content on a regular basius, so please stop worrying.
What is more likely to kill GW is a failure to connect with the next generation of modellers from an early age. I grew up with Games Workshop. As a teen it was my version of a creche, where my mum would dump me as she went off to do her shopping. Now as an adult I'm reliving those teenage years with disposable income. But when I look in Warhammer store today, the current generation of kids are nowhere to be found.
When my generation dies off or gets too old to hold a brush. if today's kids aren't replacing me, GW will have a limited customer base.
What is the best material to 3D print miniatures?
Resin, hands down. if you are printing miniatures, you want details and FDM will not cut it. for larger models like props sure go FDM, within the miniatures hobbyFDM is only good for terrain, and even then it will have many grainy print lines.
Can FDM printers print miniatures?
As above, yes. but the detail is miles away from what you would get from a Resin printer. if you don't mind thick layer lines and soft details. sure, they will sit on your tables as proxies, but will likely cost just as much as a resin equivalent.
the only benefit with FDM is that model cleanup is not as messy, having to deal with uncured liquid resin is a pain. but IMHO, it's worth it.
Can I sell 3D-printed D&D miniatures?
You can design, print and sell miniatures to be used in D&D without any problem, just like with any game system. You could even licence and print other people's creations if they allow you to do so. But if someone has made a near enough one-to-one copy of another company's model. No, you can't sell that, it's IP theft.
Is it legal to sell 3D printed miniatures?
Yes, very easily too. And it's a very profitable venture in the present market. so long as you have created or licenced something which does not infringe on another IP. Stick it up on Etsy or eBay and sell them until your heart's content. I paid back my first 3D printer by just selling parts to mates alone! (still at decent mate's rates) Nowadays it still pays for most of my resin.
Figuring out what is legal and not in breach of another IP is completely on you, however.
Can you 3D print a 40k army?
let me change the wording here to be clear. You can very easily and even more cheaply 3D print an army to use when playing Warhammer and Warhammer 40k. But they must be proxies (similar style models) that do not infringe on GW's IP. Also, you will not be allowed to use it in competitions or tournaments.
How long does it take to 3D print miniatures?
Hmmm, "how long is a piece of string?" and "how long does it take to 3d print a miniature?" are similar questions. It depends on the Printer, the size of the miniature and layer height. A 32mm miniature at a 0.05mm layer height can take an hour or two on the fastest printers.
A single print, maximising the z-height of a printer, and printed down at 0.02mm scale can take 2 or 3 days. I printed some accessories for a Warhammer Rhino and it took 5 x 13 hour print sessions for all the parts to complete. Larger models have taken over a week to print all the components on in multiple print sessions.
The Best 3D Printer for Miniatures & Models – Final Thoughts
It's important to decide what your budget is and how much effort you want to put in. With FDM printers the effort is put in upfront in practising to get the right settings for fine layers on your printer. you may think just print everything in the thinnest layer but the issue is that when you print the next layer, ambient heat will reactivate the layer beneath causing it to warp. FDM is best for terrain over anything else. It's just about how much you are willing to spend.
With resin, you are looking at more time cleaning up 3d printed miniatures afterwards, but this is the only way to get the smoothest and sharpest quality prints.
It has the added bonus of being a bit more plug and play too.
Our Affiliates / Hobby Stores
What did you think of this article? please let us know in the comments. Would you like me to do some more top 10's? If so, what?
See our Existing TOP 10 Articles by following this link.
If you like what I'm doing here you could really help encourage more content with a share on any social media platform.
Want to keep updated with the blog? You can subscribe in the sidebar for RSS or by email below
(Sidebar is below the article on Mobile Devices)