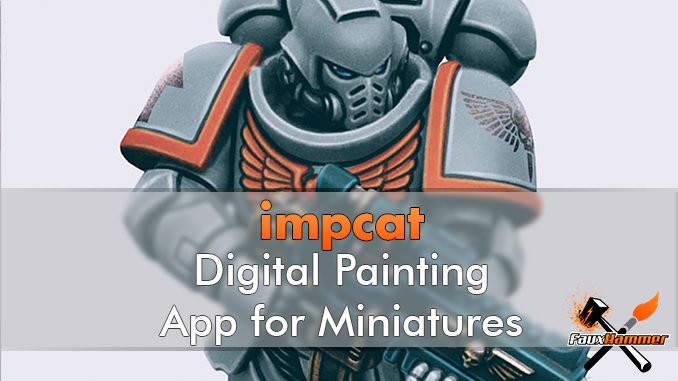 If you are looking for a way to digitally paint your miniatures & models, perhaps to come up with new colour schemes, test paints applications before applying them or just need a way to play at painting when you aren't at home. impcat (lowercase intentional) is an incredible new app that has you covered.
Note: The Guide and Links on how to get the Space Marine (and other) models are below.
What does impcat do?
impcat (Interactive Miniature Painting Catalogue) is a really smart application which allows you to quickly paint your models digitally in an app. You simply select a section, sections or the whole model and apply a Base, Layer, Shade & Highlight from a list of predefined colours. It creates some surprisingly realistic results.
The name plays havoc with most people's spell checkers and even Google Play Store itself thinks you mean Impact, not impcat. So here's a handy link to get the app yourself. The app is not free, but honestly, this is a start-up so they need the money to, well… start up.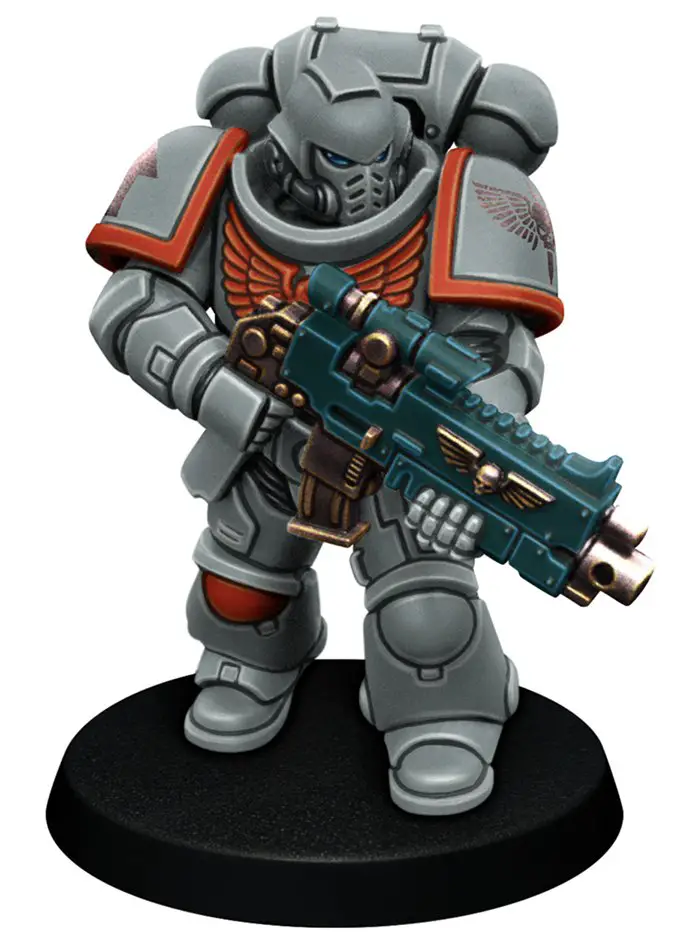 Right now the (BETA) app is officially supported by Artel W Miniatures and Acriylicos Vallejo paints and features their models and paints by default. But the app supports user-created content too. You can take a picture of the bare plastic of your model and create a paintable model yourself with some Photoshop knowhow.
There's nothing stopping you doing it with other things too, like your car or objects around your house. heck, even your house! This process is however quite complex, requires some software like Photoshop and the skills to create the files. (I can't do it) but you can see more about this initiative on the impcat website.
It wasn't long before users found a way of creating Miniatures & Paints sets from other ranges for use in the app.
How does impcat work?
It's really simple, once you download the app (which is Android only at the moment, but iOS is coming) and open it. You select one of the 6 included miniatures to start painting or import your own.
Then (using the icons at the bottom right) you can select 1 section, multiple sections or the whole model.
It's then as simple as choosing a base colour for your selected section(s).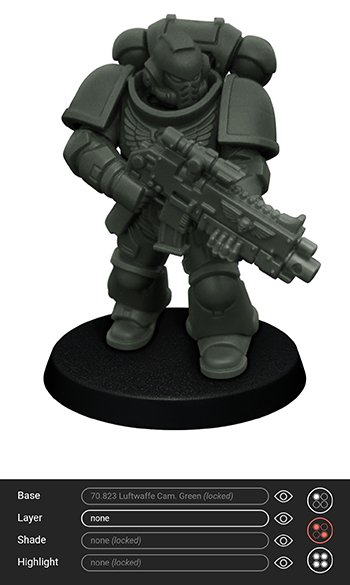 Choosing a layer (which tints the base).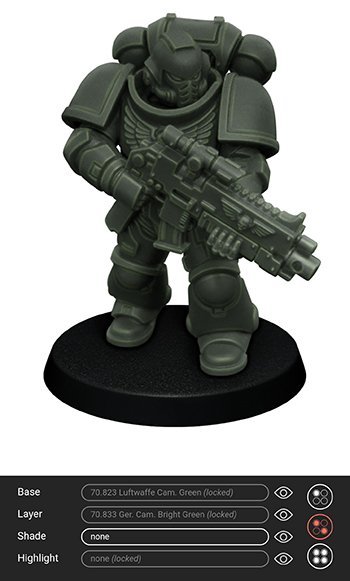 Choosing a Shade (which "perfectly" paints the recesses).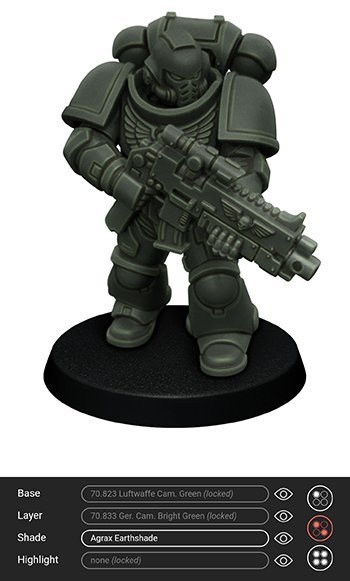 And selecting a final highlight.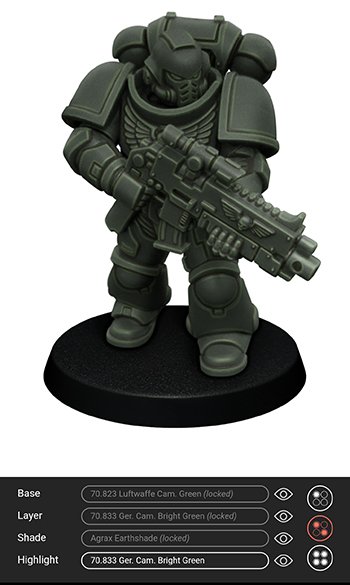 There's also auto mode. Meaning, when you pick a colour for one of the Base, Layer, Shade or Highlight layers, the app will automatically choose the closest matching colours to the other three. have a look at the in-app tutorial for how this works.
Whilst this won't let you try out things like Zenithal Shading or adding special effects. It will let you play with colour schemes for your models with some good accuracy.
It is in beta at the moment, which means there are some bugs. And the user experience is still being worked on. For example. when you import a model it will only stay for that session. If your colour ranges include one that you need to import, then you need to import it every time you switch ranges. There's also no image export mode. So you are limited to taking screenshots with your device. (Power + Volume Down for me).
You can, however, export your selected paints as a shopping list.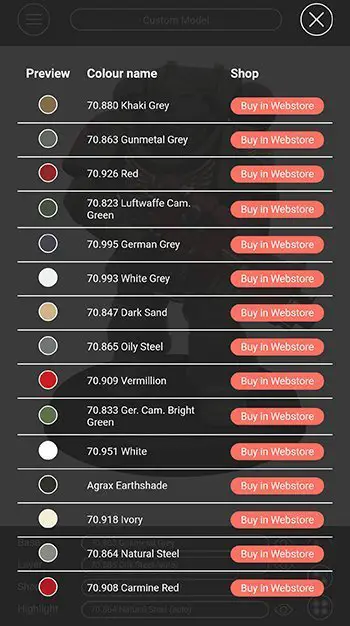 There is a lot to do for the guys at impcat, and the below is just the start of their roadmap.
Release iOS Version
New file Management System (to keep your imported models)
Adding online DLC Models
RGB Colour Picker/Paint Mixer
All of this along with supporting the community with creating new model files for import.
How to get the Space Marine and Citadel Colours
As mentioned above You can create your own models in impcat. To do this you need to create an SVG (Scalable Vector Graphic) file which holds details such as layers in the file.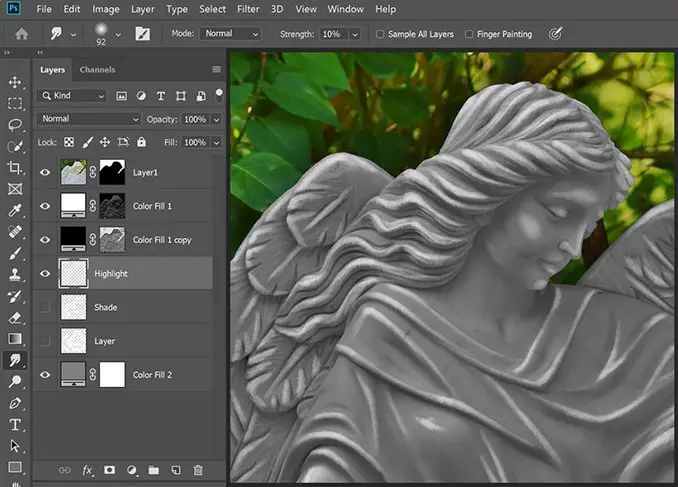 Thankfully for those of you like me, who are unable to create SVG files, many of these have already been created for you. impcat has a small but active subredit community which is looking to grow larger still.
They have created a library of SVG files for many popular miniatures. The model above comes in 2 variants. this is one which has a split down the centre so you can create models with centre-split schemes. There are many more to find and play with. From Warhammer to Gundam with several armies available.
To get the extra files, just follow this link (directly on your Android phone ideally) and download (currently 11) available mini's SVG files. Or get the CitadelColour.XLSX file from the paints folder. This doesn't include the latest paints which released alongside Citadel Contrast.
Then in the app, choose to import a model or when you're picking paints, import a list of paints. You simply navigate to where you saved these files.
This app is still in its infancy with a long and/or busy road ahead, but impcat has the potential to be huge.
Please if you can, give them your support. You're likely to benefit greatly from an incredibly useful tool in the end.
What can I do with impcat?
Whatever you like, I wanted to create my own Space Marines chapter colour scheme.
I shared a sample of my own chapter (The FauxHammers) test colour scheme online and many people thought it was a real model (I wish).
If you are sharing your moels online, don't forget to add #impcat
This also got more likes comments and shares than anything I've ever uploaded. I'm upset now that it's not real and I can't paint this good. Maybe I'll ask Brushstroke if he can do it?
What did you think of this Tutorial? please let us know in the comments.
If you like what we're doing here you could really help encourage more content with a share on any social media platform.
Click the share links at the bottom of this screen (or on the left for computers and tablets)
Want to keep updated with the blog? You can subscribe in the sidebar for RSS or by email below
(Sidebar is below the article on Mobile Devices)
Summary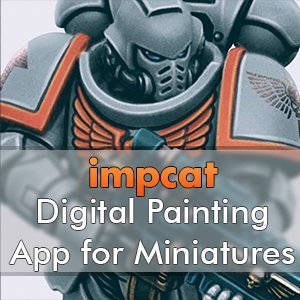 Article Name
impcat - Digitally Paint your Miniatures & Models
Description
If you are looking for a way to digitally paint your miniatures & models, perhaps to come up with new colour schemes, test paints applications before applying them or just need a way to play at painting when you aren't at home. impcat (lowercase intentional) is an incredible new app that has you covered.
Author
Publisher Name
Publisher Logo