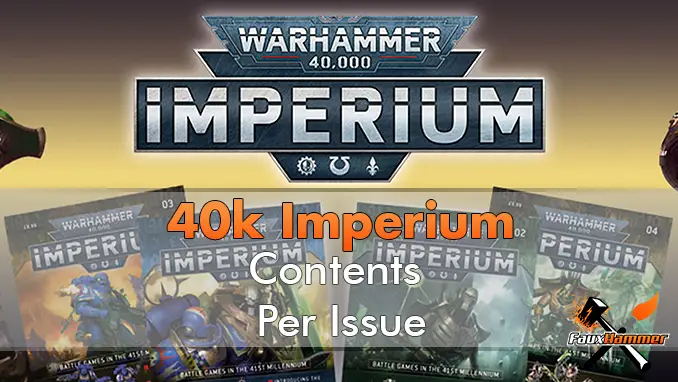 Ok, so we did this with Warhammer Conquest when the contents were leaked. We did it again with Mortal Realms. Those articles have been our most popular posts ever written. I guess it's clear that people want a repository showing all of the contents per issue. So now we are doing the same with Warhammer Imperium Magazine. This article will regularly be updated to show the full contents list of Warhammer Imperium Magazine issues. For now, it is mostly a placeholder. If anywhere leaks the full contents we'll be sure to let you know.
UPDATE: This is a Trial Release for now! See more info below under "Is Warhammer Imperium Magazine released yet?"
Despite all that, people will still complain about me saying the title is misleading. well, at least I told you how it works in the same paragraph because that's easier than updating the article's title every 4 weeks and waiting another 8 weeks for google to show the update. (not my fault how the internet works, but complain away guys, I'm used to it).
For anyone who just wants to get in on this subscription now, go the official website and click subscribe!
Our Affiliates / Hobby Stores
Support FauxHammer.com on Patreon
Become a Patron!
Like, Comment, Hit the Bell & SUBSCRIBE
FauxHammer Exclusive – Warhammer Imperium – Premium Subscription Giveaway
We've worked with Hachette to provide a competition for a full Warhammer Imperium Premium Subscription!
That's right, one lucky winner will receive a Free Premium Subscription on us! That's the complete subscription – issues 1-80 with the premium extras. Even if you have already subscribed, you can still enter, if you win you can cancel just your personal subscription and have it replaced with the free premium one you win from us. (or keep both, your call).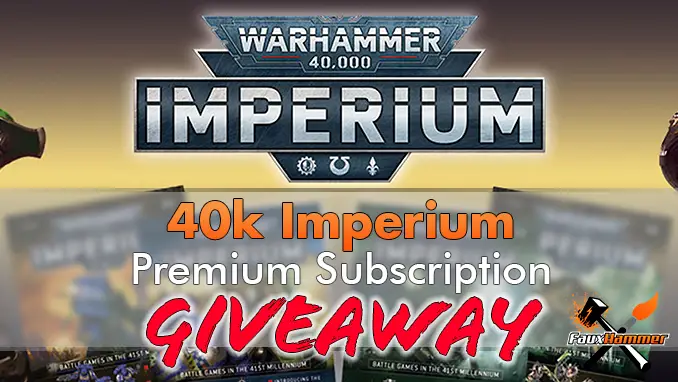 This competition will be exclusive to all of our Youtube Channel Subscribers new and existing.
(get used to the Silver Templars, this canonical chapter were a big part of the extras alongside Conquest Magazine – we hope they make a comeback with Imperium)
So to be sure you are even in with a chance to win, you first need to subscribe to us on YouTube – hit the notification bell too so you don't miss our competition entry video.
Warhammer Imperium Facebook Group
Join us on Facebook to talk about Warhammer Imperium Magazine. Discuss the latest news, issues, share pics of your models and get community advice.
Latest Updates
Click here to skip to the Warhammer Imperium Contents List
05/03/21 – New magazine Announced
10/03/21 – Magazine Trial Begins
Warhammer Imperium Magazine FAQ
For anyone who is new to the magazine or even the hobby in general, we've done a quick FAQ below based on our experience with Warhammer Conquest and Mortal Realms. This contains lots of useful info, even for those who have been around for a while.
Is Warhammer Imperium Magazine released yet?
The Release Date for Issue 1 (trial) is March 10th 2021
And by Trial we mean this is not a National Release across the UK and ROI.
For more info see the below post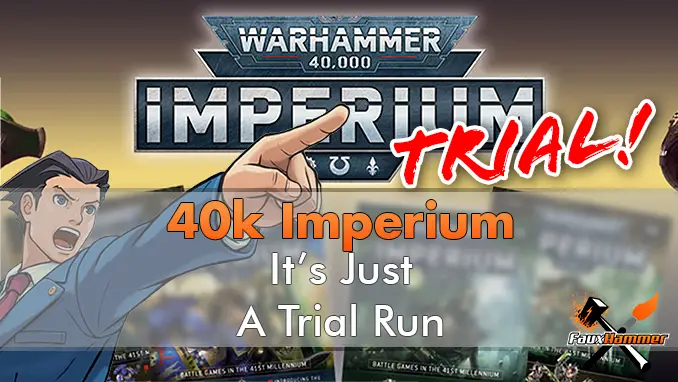 All Partworks companies have a process to follow. They don't just release an 80 issue magazine series and hope for the best. If there's no uptake on that magazine, they'd be publishing thousands of copies of redundant mags and components. So in order to see if the full release is viable, they need to trial it.
As of now 10/03/21 – That is what this is. But what does it mean to you?
Well, first of all, only the first 4 issues will be released over the next 5 weeks (with issue 1 having a 2-week shelf life, then weekly thereafter).
Second, this will be a limited region within the UK. We don't know the region but we have set up a Facebook Post in our Group so you can tag and track the stores which stock these magazines. (you need to be a member of the group to view it and you need to answer the membership application questions to join).
Finally, Subscribing online does not mean you will get copies of the magazine any time soon. Based on how the last magazines worked the only place to get these issues during the trial was by getting them from select stores in the trial region. However, subscribing early is not without some potential benefit.
For both Conquest and Mortal Realms, anyone who subscribed during the trial period and then had to wait months for the mag to truly start shipping – was gifted with the first couple of issues free. That's a pretty good deal for nothing more than your patience.
And don't bother calling Hachette to chase where your issues are. Whilst it's a bit daft in this day and age, the staff there will pretend they aren't sure what is happening with the trial, suggest delays, or all manner of bogus reasons for you not having your issues. They will never admit that this is a trial. Because doing so would unnaturally affect the results of the trial by having people buy more issues to make it look more popular.
This is daft, I know. But Hachette is a big publishing company, they were round for years before Warhammer Partworks, they have a process, this is it, they will follow it.
So sit back, relax, be patient. Nobody is gonna take money from you now and you will need to re-confirm your card details etc online when this goes live properly before you are charged.
So go subscribe if you want this mag and you "may" (this is not confirmed, just what they did last time) get some free issues, just for being patient.
What is Warhammer Imperium Magazine?
Warhammer Imperium is a Partworks Magazine (In that pieces are released with each issue to make a complete product). With this magazine, you get the parts to build and paint 2 opposing armies of miniatures from Games Workshop's Tabletop wargame, Warhammer: 40,000.
What are the expected Contents of Warhammer Imperium?
Oh wow, coming out with the big questions straight up, are we!
Well, until today when I'm re-writing this, I had no idea. But when you crack open issue 1, it's right there. it's also here…

Yes, those are Sisters and Adeptus Mechanicus units you can see, along with everyone's favorite reborn Primarach Robute Guilliman.
There's also some Necrons.
We have a higher resolution version of this image and will spend some time breaking down the value of the full contents versus the cost of a full collection very soon. (actually, I'm doing it now)
Update: Done it, you can see the full cost breakdown by following this link
Generally, the models and terrain (before including the value of paints) come to £1242.45 RRP (Estimated as some units are not available individually) the cost of the magazine collection is £701.22. So the total saving is £541.23 (again estimated).
Roughly a 42% saving before including paints, brushes, and the other freebies.
How many Points are these armies?
Looking at the photo of the full collection above, we've identified what we believe will bee the particular configurations of all the models within the whole collection.
We estimate the following points for the armies
If you want to see more detail on this breakdown then please check out the post below.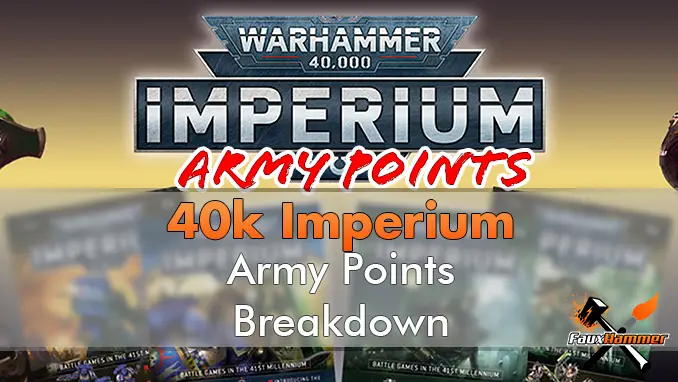 We've gotten near as we can to worrking this out and it is all based on how the models are presented in the full coillection image. Though you can configure yours differently, buy extra issues for the various options.
Still over 5k in models is pretty impressive, especially for the price you'll pick them up at.
What is the best way to subscribe?
This is a bit of a hot topic, there are two main ways… And a third (IMHO better) way. Below we will look at the different ways to subscribe to Warhammer Imperium.
Now, as this is a Trial run initially, the only way to subscribe until the mag is released properly is option 1. and whether you are in the catchment area or not, you won't actually get any issues (or charges) for several months.
Option 1:
Subscribe directly with Hachette by clicking subscribe now on their website. With this method, you will be sent 4 issues every 4 weeks and will be charged around the same time that the issues despatch.
With Warhammer Conquest & Mortal Realms, the 4 issues were normally despatched halfway between the issues in the stores. For example, if you're package contains issues 5-8. You will get them shortly after issues 5 & 6 are released in stores, but before issues 7 & 8 (roughly). However, due to delays in Warhammer Conquest deliveries from Hachette, and Covid lockdowns during Mortal Realms. The boxes ended up arriving in-line with the issues arriving in stores or sometimes later. So by the time, your issues arrive, people who buy from local newsagents or online may have already had them all already.
With Mortal Realms, it was an absolute mess around March 2020 due to Covid-19 restrictions preventing despatches.
With this option, you also have to deal with Hachette's customer service if you ever have a problem. Now, to be fair, this was hugely overhauled and massively improved with Mortal Realms compared to the abysmal state it was in with Warhammer Conquest.
Subscribing with hachette (from issues 1-4) is the only way to get your hands on the 4 premium packs at an extra £2 per issue.
Option 2:
Subscribe with your local newsagent. They will manage your subscription and you simply need to collect your issue from them every week. Normally on a Wednesday. However, with Warhammer Conquest and Mortal Realms, we had reports of some newsagents releasing the issues earlier in the week. Also, with covid many shops were shut preventing people from getting access to their copies.
So this method can have its's drawbacks. Make sure you trust your newsagent. In our Facebook groups, we have seen reports of Newsagents claiming that they did not get any copies of certain (high-in-demand) issues. These are also the issues that turned up in droves on eBay.
By subscribing at your "trusted" newsagent, you are unlikely to get the extras that Hachette provides in deliveries (not an issue, remember there are 4 "issues" per "delivery"). Nor will you get the binders or art subscriber extras (if there are any with Warhammer Imperium) which you are charged extra for. Though we have had reports in our Facebook groups that some newsagents had provided the binders at least.
Option 3: The best way to subscribe to Warhammer Imperium
This one didn't occur to many of us until well into Conquest's subscription run but ended up the best of both options above. I actually canceled my Warhammer Conquest subscription with Hachette to subscribe this way. But to be fair, Conquest did not have such awesome premium gifts. more on that in a mo.
This method is to subscribe with Forbidden Planet.
To be clear straight away, with this method you will not get the extra gifts in deliveries. Nor will you get the binders or secret premium (chargeable) extras which come as a surprise throughout the series. But bear with us.
What we learned from Warhammer Conquest and Mortal Realms is that Forbidden Planet generally sells the issues 50p cheaper than the RRP. We got the same discount with Conquest and Realms.
Subscribing with Forbidden Planet will get your issues delivered to your door weekly rather than every 4 weeks. You're charged weekly, you can pick and choose the issues and quantities you like. Oh, and this pretty much makes it available anywhere outside of the UK! (though please consider shipping/handling and bloomin' Brexit!)
It took people a while to figure this out, but the way it works is as follows. Go to Forbidden Planet. Add all the issues you want to your basket.
There is a postage cost, but this is how it works. postage for ordering 1 issue is £2, 2 issues are £3. And 3 or more issues is £5.50. That's the cap. If you order 3 issues or 300 issues (They don't need to be the same issues, you could order issues 1-10, 10 copies of issue 1, or anything in between. so long as the total quantity of issues in a single order is 3 or more), So long as it is in one order, the postage cost will never rise above £5.50. (I've spoken with Forbidden Planet on the phone to confirm this).
As the issues are all 50p cheaper anyway, if you order 11 issues in one go, you will break even. Order more in a single order and you are saving money.
When the first issue of the order is despatched you are charged for the issue and full £5.50 cost of postage for your whole order, after that you never pay postage again and just pay for the issue weekly until that order is complete.
What Countries is Warhammer Imperium Magazine Available in?
As of now it is only confirmed in the UK, but Expect this to come to numerous European countries. My contact at hachette is the marketing head for all english speaking countries. So if it comes to the US or Australia etc, We'll let you know as soon as we do.
Update: March 31st 2021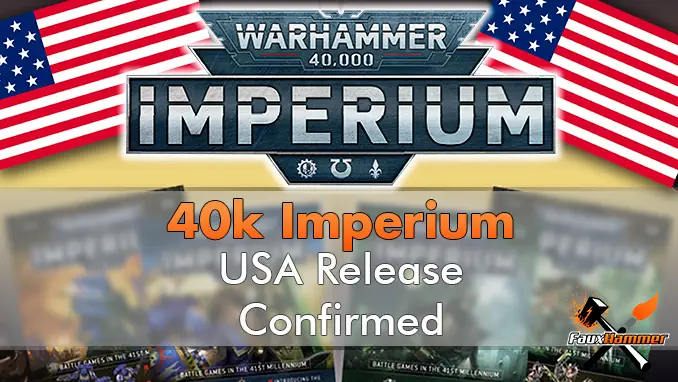 It has been confirmed that this collection will come to the US
Is there a model exclusive to Warhammer Imperium?
Yep, here he is!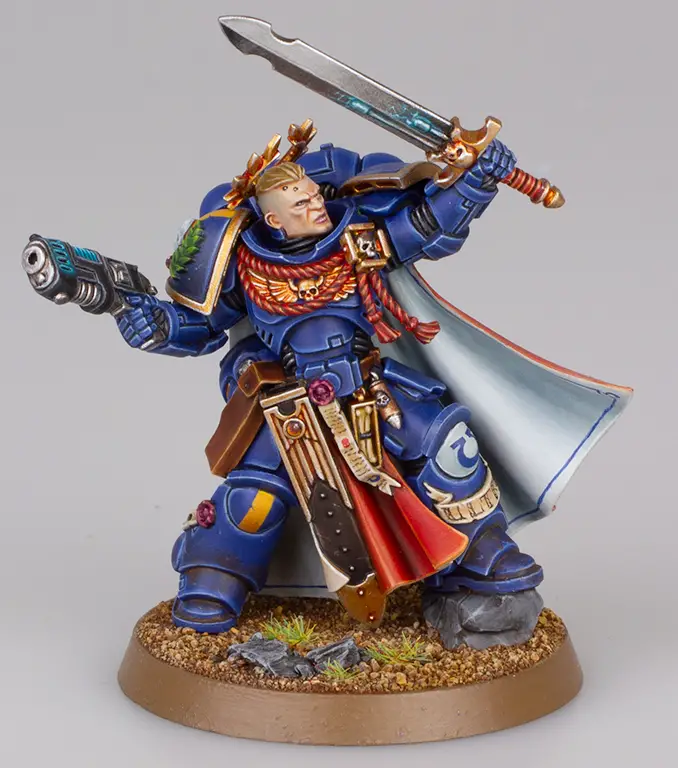 An Ultramarine primaris Captain (I don't know his name yet)
Based on Mortal Realms and Warhammer Conquest, the exclusive mini came with issue 5. Hopefully, we see the same again this time. Keep an eye out for this as it is one of the several issues where scalpers will rinse the shelves of them, hold onto them for 6 months and mark it up 300% on eBay.
I really like this pose it would be cool in a diorama or duel scenario with someone bringing down a large sword aiminng to cleave this chap in twain. Though the hand with the plasma pistol just doens't look like it's at the right angle to me. good job kit-bashing is a thing.
Are there any Hidden Charges?
Not really hidden, if you read the small print. After the First Binder, Hachette will charge you for each of the 3 additional binders they send you throughout the series.
There will likely be some exclusive gear too. With Warhammer Conquest, this was some (mostly Silver templars) books. With Mortal Realms, it was a 3 part Novella. When these are available Hachette will auto-enroll you to receive one and will charge you for it. You can opt-out if you are quick (but some people have accidentally had their whole subscription canceled when doing this). If you end up with them and you didn't want them, You can also send them back (Freepost) for a full refund. (make sure you get proof of postage however).
Our Affiliates / Hobby Stores
Support FauxHammer.com on Patreon
Become a Patron!
Like, Comment, Hit the Bell & SUBSCRIBE
Warhammer Imperium Contents Per Issue Breakdown
Right here we go, this list will get progressively larger as we get new info every 4 weeks. and we'll do a post on each set of issues as we get them along iwth updating this master list.
Warhammer Imperium Issue 1 Contents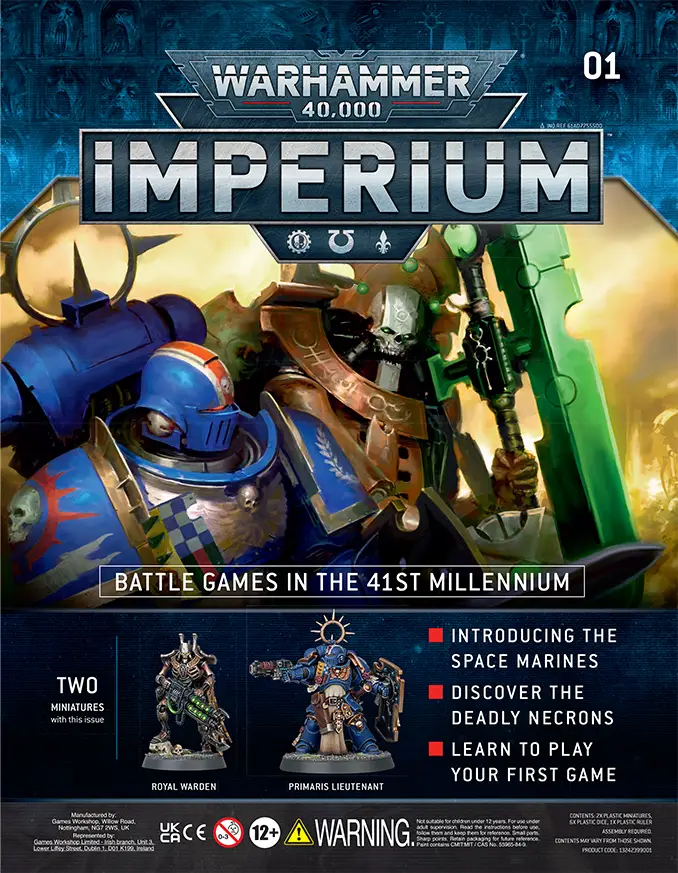 6 x Dice
1 x Plastic Range Ruler
Release Date: 10/03/21 (Trial Only)
If you are familiar with the first issues from the last two magazine's this first issue may seem like a poultry offering. As Warhammer Conquest gave us 3 Space Easy-Build Space marines, some paints and a brush (about £20 worth RRP) and Mortal Realms Gave us 3 Sequitors and 10 Chainrasps (again about £20 worth RRP). here we only get 2 models
but 2 awesome models
But to be fair, the average Space Marine Lieutenant will cost you £20 alone, a character like a Royal warden would around £15. There's arguably more value here than any previous mag's issue 1. Obviously, it's not this simple. Realistically you can get both of these models in the Recruit Edition Starter Set which is £35 for 17 models (20 including the 3 scarab swarms) then the retail value of these models individually is anywhere from £3.50 to £4.10. Yeah, that's for both, not each…
This actually seems sensible. With those previous magazines you were givena crazy ammount of value, and that welcomed scalpers and proffiteers from all walks to rip these magazines from shelves before you loyal fans even got a look in. We saw some many posts of people clearing out stores just so they could stick the sprues on eBay.
This time the results of Issue 1 sales should be more realistic for Hachette to predict the popularity of the upcoming series. Lets be fair, for £3, many of you are still gonna be pulling multiple copies from the shelves just to have some cool practise models.
Warhammer Imperium Issue 2 Contents
Release Date: 24/03/21 (Trial Only)
Issue 2 does the sensible thing of shoring up your Necron force first just to try and get some semblance of balance between your steadily growing armies. Again, an odd one to put a value to as these models are only available in the "Necrons: Warriors + Paints Set" from Games Workshop.
The Cost of that Set is £22.50 When you minus the cost of the paints from this set, it leaves you at minus -£0.95? already. Oh and we are going to totally ignore the Starter Brush in this value calculation because it's absolute trash.
Now to be fair,m when we remove the cost of buying those retail paints from the value of the set, It's already unfair as the paint set comes with 25ml bottles, whereas the shade and technical paints come in larger bottles when bought retail…. and I just can't be bothered to work this out by price per ml to figure out the remaining cost for the models temselves. so lets just say the saving here is £0. But you do get 3 models which were previously exclusive to the paint set. yay!
Warhammer Imperium Issue 3 Contents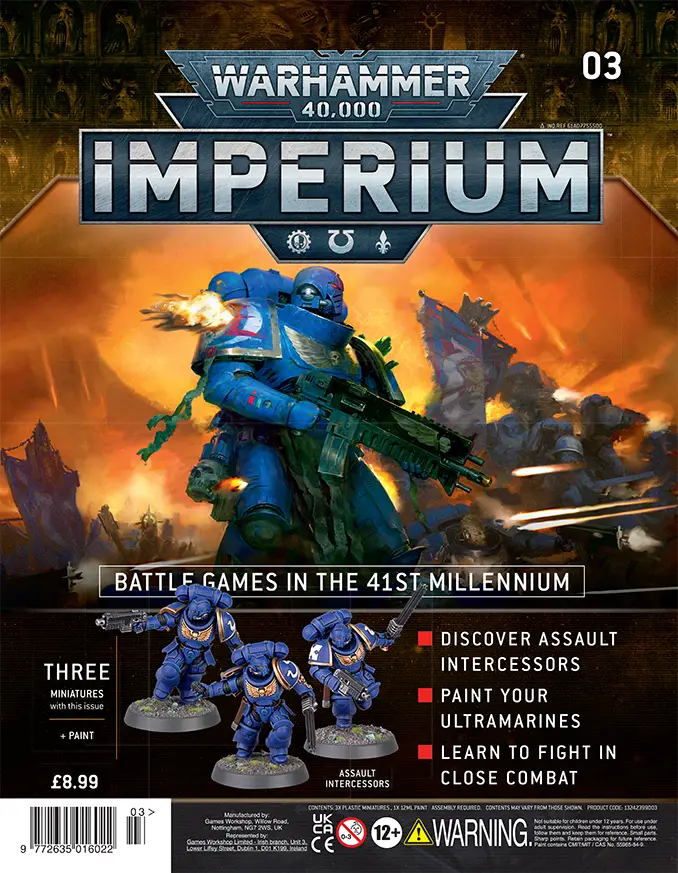 Release Date: 31/03/21 (Trial Only)
Issue 3 is the one that is most likely going to teach the Necron player how they should just concede before the end of their first turn. Despite each force now having a leader and 3 infantry units. The Assult Space Marines will easily outmatch 3 Necron Warriors with Gauss Flayers.
As above, it's near on impossible to work out the value of these. So the saving is still £0. You can argue that you save less because this issue is more expensive than the last. ok, do that if you want.
Still 3 cool models which were previously exclusive to the paint set.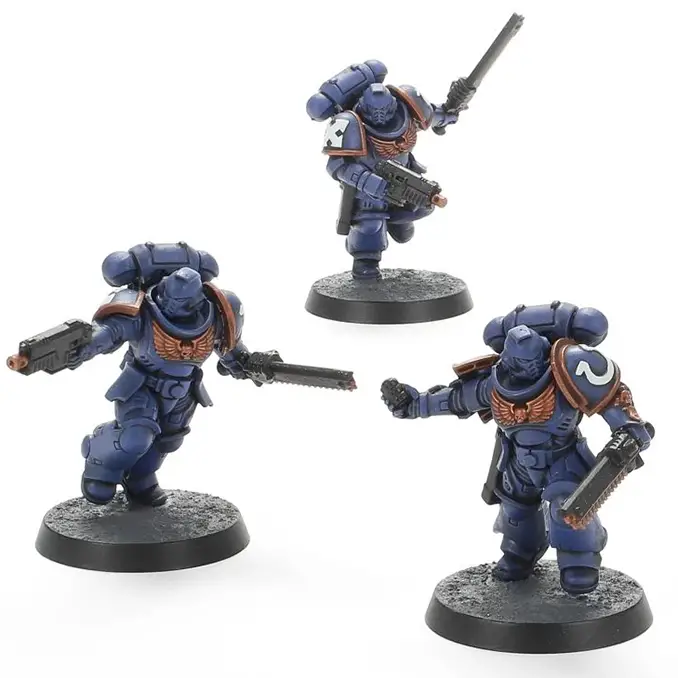 Warhammer Imperium Issue 4 Contents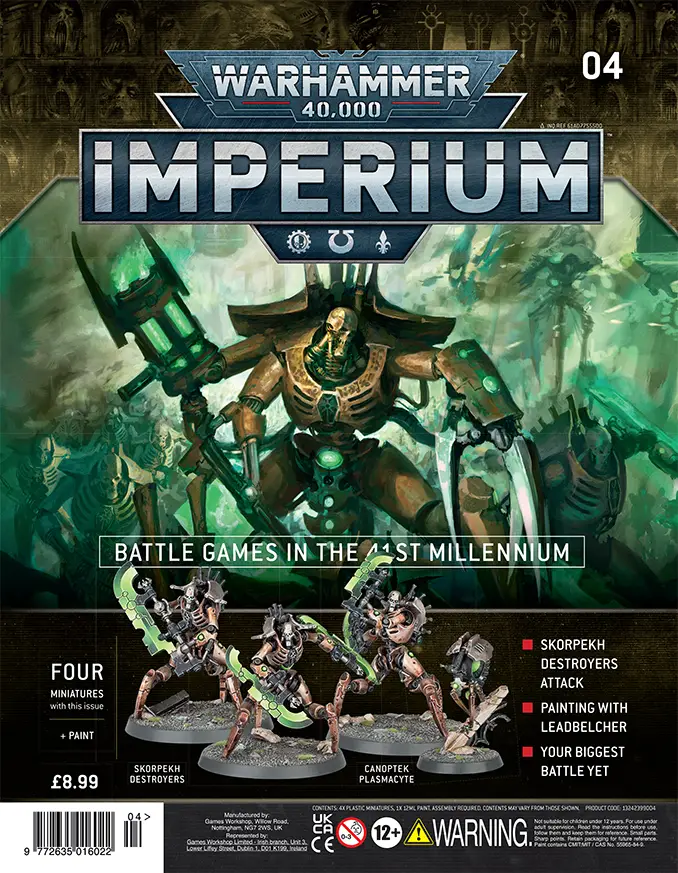 Release Date: 07/04/21 (Trial Only)
And now for a real taste of things to come, our first of what we expect to be several of the sprues from either Indomitus or at least the 9th Edition Starter Sets (Bring on the Outriders issue! if that comes out).
This issue will also (likely) prove that the only way to really win as the Necrons is to completely outmatch the Space Marine Force. (jokes, calm down please).
The value again was odd to decipher. You can buy these models on their own at the staggering cost of £34.50 or you can get them pretty cheap as part of the Elite or Command sets of 40k 9th edition (where the price per sprue in those sets is £13.00 or £8.75 respectively).
These units are absolute "units" and they are incredibly fun models to paint. Expect that they will be flying off the shelves when this issue comes out.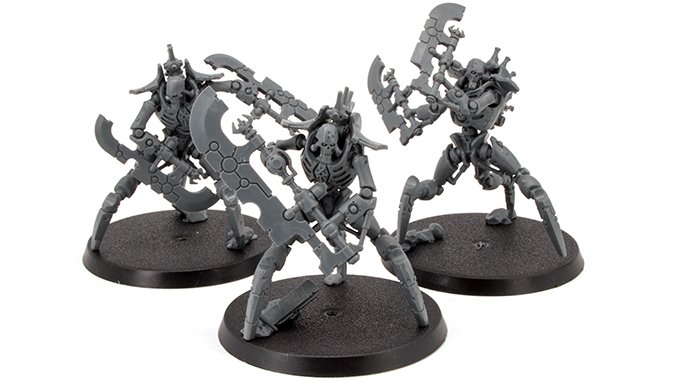 Warhammer Imperium Issue 5 Contents
Release Date: 12/02/20
Warhammer Imperium Issue 6 Contents
Release Date:
Warhammer Imperium Issue 7 Contents
Release Date:
Warhammer Imperium Issue 8 Contents
Release Date:
Warhammer Imperium Issue 9 Contents
Release Date:
Warhammer Imperium Issue 10 Contents
Release Date:
Our Affiliates / Hobby Stores
Support FauxHammer.com on Patreon
Become a Patron!
Like, Comment, Hit the Bell & SUBSCRIBE
What did you think of this Article? please let us know in the comments.
If you like what we're doing here you could really help encourage more content with a share on any social media platform.
Click the share links at the bottom of this screen (or on the left for computers and tablets)
Want to keep updated with the blog? You can subscribe in the sidebar for RSS or by email below
(Sidebar is below the article on Mobile Devices)