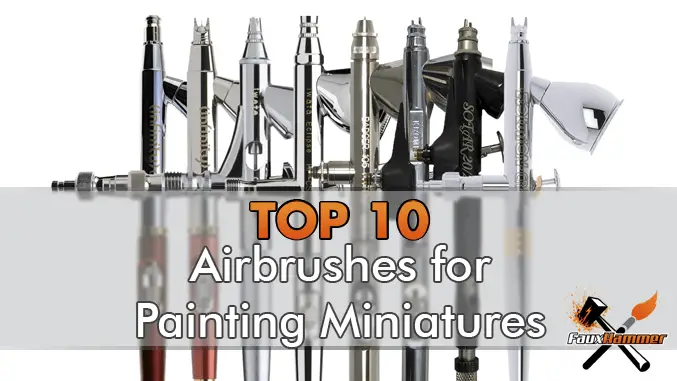 Searching for the best airbrushes for miniatures & wargames models can be rather arduous. Even within a specific brand or model, there are many considerations to make. How do you know you are selecting the correct airbrushing kits, especially when committing so much money? We'll show you below by cutting the chaff out of model airbrushes.
This article has been updated from best airbrush for miniatures 2017 & best airbrush for miniatures 2018.
It's hard enough to navigate into model airbrushing with all the new terminology to pick up. But when it comes to choosing the right airbrush kits for models, there are so many considerations to make, without clear direct comparisons across brands and models.
To make your choice simpler, we've cleared this up below, nice and simple like. No matter if you are brand new to airbrushing miniatures or have had some experience already, there some solid airbrushes for modeling options in this list.
The list below are the 10 most popular airbrushes for miniature painters within the wargames community. The list was compiled by surveying over 600 airbrush miniature painters who are also airbrush users.
Do you Airbrush your Miniatures?
If you do, please leave a comment on this article, saying yes and which Airbrush for miniatures you use?, if not, leave a comment with No, and why not?
This is so we can understand the community better and helps focus future articles on the content you want. We do try to replay to all comments so feel free to ask questions in the comments and we will give whatever advice I can.
Best Hobby Tools for Miniatures
This article is part of our series looking at The Best Hobby Tools for Miniatures and Wargames Models.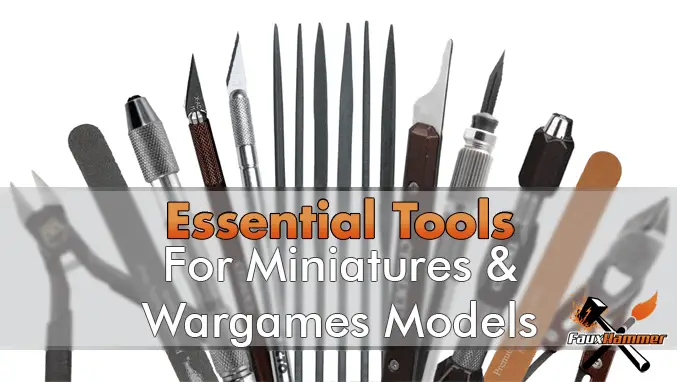 To see all of our guides to the Best Tools for Miniatures, click on the image above.
What airbrush is best for miniatures?
If you just want to see the list showing the best airbrush for miniatures, check out the grid below. If you want to see the reason for the individual airbrushes, click here to view the full detailed list.
What is the best airbrush kit for beginners?
An airbrush kit for miniatures consists of an Airbrush and a Compressor. We'll look at the best airbrush compressor for miniatures in a separate article.
If this is your 'First' Miniature Painting Airbrush, please consider reading our Best 'Beginner' Airbrush for Miniatures and Models Article which shows a Complete Airbrush System. And IMHO the best airbrush compressor for miniature painting. This is a perfect pick if you just want an Airbrush for Priming Miniatures or if you want to airbrush miniatures cheap.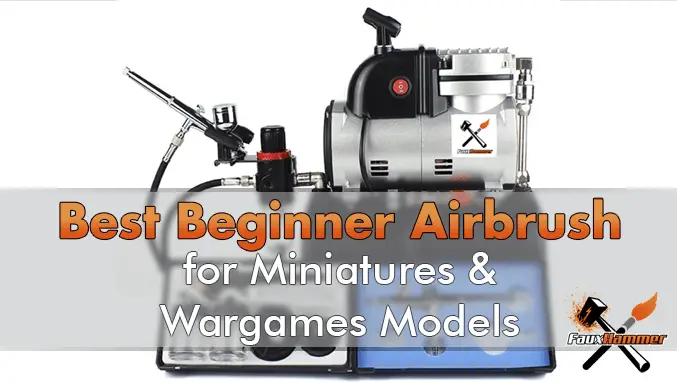 In summary; that article advises just picking up a cheap Airbrush Kit for painting miniatures on eBay or Amazon. This will include your Airbrush Compressor for painting miniatures (which should last you a long while) and a very basic Airbrush for painting miniatures. It won't be one of the best airbrushes for miniatures that you can buy, It will be something like a master Airbrush. For painting miniatures, this is just fine. You can buy a more expensive airbrush from the get-go, but there are many reasons not to dive in headfirst. Check that article for more information. The best cheap airbrush for miniatures is the airbrush you get free with a compressor or an equivalent airbrush purchased on its own.
This was my first type or airbrush and I just picked it up to airbrush Warhammer miniatures. To prime them without wasting money on the aerosol sprays. If that's all you are looking to do, it's still the best airbrush for priming miniatures and I use these today as spare workhorses. But after a few years, I started looking for the best airbrush for Warhammer miniatures. (this is what lead to the list in this article).
The view on buying these cheap airbrushes to start with is just one train of thought which suited my approach. there is an equal number of people who would argue against this for numerous reasons. Neither approach is the right one, it's about what's right for you that matters. Are you on a super budget? Get The cheap option explained here. If you have the cash to spare, don't waste any time with a cheap model and just skip straight to the main list below.
How to use an airbrush for miniatures
With your first airbrush, look up an airbrush miniatures tutorial or airbrush miniatures techniques. You should practise spraying an airbrush using plain water. You can spray patterns toward paper instead of a model first to understand how much spray is coming out.
Even a well-practised airbrush painter would spray paint towards a flat surface to check the consistency before applying it to a model.
What airbrush is best for miniatures?
If you are looking to airbrush 15mm miniatures, this is a great choice, at that scale you're unlikely to be able to get an airbrush which will offer detail. this will probably be all you need. When stepping up to airbrush 28mm miniatures or airbrush infinity miniatures (same thing) you can actually start to airbrush noticeable details and transitions onto the model. For the best airbrush for 28mm miniatures, It is still worth starting with one of these cheap models and working up to a more precise and robust airbrush from the list below when you feel ready.
If you are airbrushing 40k miniatures (which are essentially 28mm but now with the new Primaris models are closer to 32mm or 35mm) you really can get a lot of detail using a precision airbrush. Again, for priming, base coating and Zenithal shading, the cheap options are fine. but remember these are just to get you started and give you a taste of the technique. you'll likely want to set up to a better model in a few months.
Which airbrush for miniatures?
A good starter airbrush for miniatures is a cheaper, unbranded model. These airbrushes for modelling are legitimate options and actually came as the 12th most popular choice in our survey. With Airbrushing comes a lot of maintenance, otherwise, it can end up destroyed after a single-use. It's best to learn this on airbrushing model kist you picked up for next to nothing. rather than risk destroying an expensive modeling airbrush.
Also, if all you ever want to do with an airbrush is Priming, base-coating or at most some Zenithial shading. Then you won't ever need more than a cheapo option anyway.
Check out this article to find the best cheap airbrush for miniatures.
Considerations for Selecting the Best Airbrushes for Modeling
If you already know about the specific airbrush components and what you need in airbrush kits, skip straight to our top 10 list.
We'll keep this simple and focused toward airbrush miniatures painters, you don't need to know everything about modelling airbrush kits. We'll quickly summarise the information you need for painting miniatures with an airbrush. Then you can make the right considerations for yourself and choosing an airbrush for miniatures and your needs.
Note: If I say Nozzle or Needle, I am generally talking about both components. In most cases, they work as a pair. The nozzle needs to have an equal size hole to the diameter of the needle.
Best airbrush Nozzle/Needle size for models
In very general terms this is the primary component which controls the width of the cone of spray from your Airbrush. A smaller nozzle equals a smaller spray cone, a larger nozzle, a larger cone. Think of this as you think of your paintbrush sizes, the lower the number, the more detailed the work you intend to be doing with it.
With a modellers airbrush kit, there's something else to consider here. The smaller the nozzle the more likely it is to clog up with pigment.
Acrylic Paints, which most model airbrushers use, aren't always directly suited to airbrush painting (Specifically Citadel or Vajjelo Model/Game Color). This is why many of our favourite paint brands now offer an 'Air' range. Many other brands are much more suited to Airbrush painting right out of the bottle. Even then, smaller nozzles are still more prone to clogging.
As you gain more experience, you will find the balance as to how much thinner and paint you need in order to get the right flow and avoid blockages, without making the paint too thin. This knowledge and experience are the reasons why detailed airbrushing work is for more advanced airbrush painters than airbrush priming and base coating.
Most people suggest that if you are just priming, base-coating or Zenithal Shading, 0.5 mm or 0.4 mm Nozzles are fine. If you want to do detailed airbrush work like recess shading or spot highlights. you are looking at a 0.2 mm or 0.15 mm Nozzle. Not that this level of detail is impossible with larger needles, but it takes much more practise.
Selecting either option could be considered the best for airbrushing minis. It really is down to what you want to do.
You can always basecoat a tank with a 0.2mm nozzle, it can just take a little bit longer. With experience (of paint thinning) the time difference is marginal. If all you want to do is basecoat armies quickly. get a 0.3mm / 0.4mm or larger to deal with fewer clogging issues.
Airbrush Kits with a variable Nozzle/Needle?
Some of the best airbrushes for miniatures will let you swap out the standard Needle/Nozzle. So if you are more of a beginner who wants to try out the differences between nozzle sizes? Perhaps you are stepping up from your first cheap airbrush, know how to lay down a good base-coat and want to try your hand at the detailed work? Keep an eye out for brushes that offer, or even come with different needle/nozzle conversion kits. At least then, you're only buying one body (the expensive bit) but have the option of trying the different sizes to compare them
If you look to airbrush miniatures, needle size is somewhat important but the cone of spray can vary between airbrushes. a general rule of thumb is that anything around 0.2mm is good for detail work and 0.5mm is good for base coating and vehicles. But in my experience, the larger nozzle won't spray much faster than a smaller needle to make getting a larger needle a big time saver. But with a smaller needle, they are more prone to clogging.
If all you are intending to ever airbrush is vehicles and larger models. 0.5mm is fine for you. if you want precision. 0.1mm or smaller would be the best pick, just be aware they will clog easier. if you are unsure, get an airbrush which offers options or get a 0.3mm or 04mm needle for now.
Which is better Gravity or Siphon airbrush?
For Miniature Airbrush Painters, this is really simple. The best airbrush for miniatures painting is a gravity-fed airbrush. This airbrush for painting models is one with an airbrush paint cup on the top.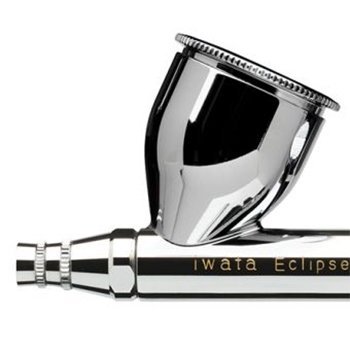 You simply pour paint in, mix with airbrush thinner and spray. The only thing to consider for your airbrushing kids is what size paint cup top get. Some options below allow you to swap and change the cup size.
You can also get Side-Fed which is just like Gravity-Fed, but the cup is mounted into the side of the airbrush. I've had one of these and don't see the benefit over Gravity-Fed. If anything, it's just a lot harder to clean.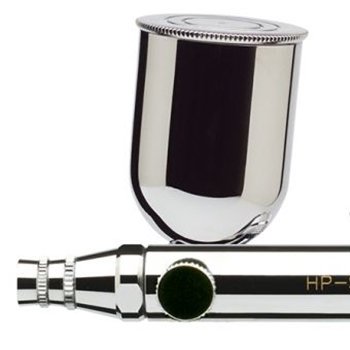 The other common type of model airbrush is Syphon Fed. This is where a bottle or cup attaches below the airbrush and the paint is syphoned up by air pressure. I've had one of these too and unless you are priming hundreds of mini's in one go. it's overkill.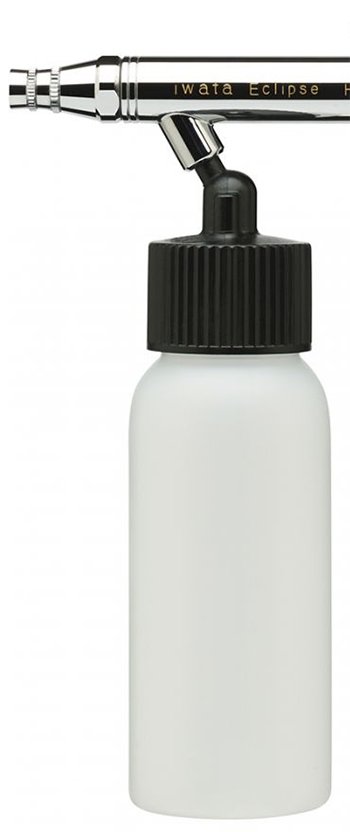 Most of the time I've had more paint left in the bottle which the syphon hose can't reach than I'd even put in a Gravity-Fed airbrush.
Airbrush Controls – Trigger & Paint Flow
The most common selection in this list is a dual-action finger trigger (with only one exception). This sits on the top of the airbrush body. Push this down to release air, pull it back to release paint.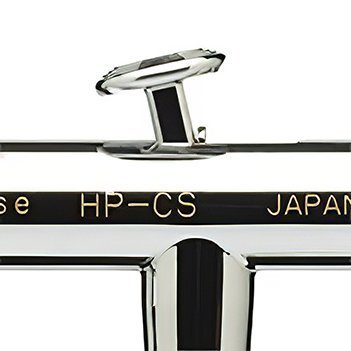 The further you push it down the more air is released, the further you pull back the more paint is released.
With the air control, I've never found use in having such analogous levels of control, some of the airbrushes below don't really offer much control in regard to airflow, the slightest touch just releases all of the air. A decent airbrush compressor controls the amount of air released so most will just hammer on the air anyway.
Having a comfortable and smooth pull-back motion (or a mechanism to stop the needle coming back at a set level) is key to getting the correct amount of paint you need.
You can also get a simpler to use pistol trigger action, which is a good option for quick army painters and to avoid finger cramp.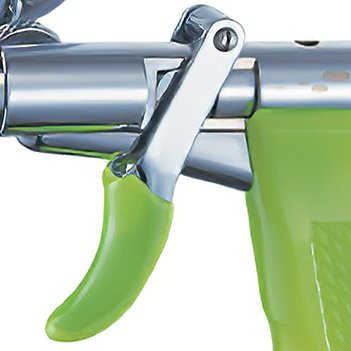 Neither option is considered a good airbrush for miniatures, but the standard dual-action finger trigger is much more common in airbrushes for miniature painting.
Other controls on Airbrushes for Miniature Painting
Along with the trigger, you can get some additional controls and these vary widely between brands and models.
Many of your more popular airbrushes will come with a stop mechanism which prevents you from pulling back the needle too far. This ensures you don't expel more paint than you intend. This could be good for a beginner wanting to perform airbrush detail work, but it does not teach you proper airbrush control, but here are a lot of high-standard airbrush miniature painters who use this mechanism.
Aside from this, you can also get brushes with a screw on the front, normally below the paint cup (though none of these is on our list). This will narrow the tube which the air flows through, again limiting the speed of paint you express through the nozzle. You can also buy a separate line adapter for this function. If you feel like you would need it and if you like to have options (of having more dials and knobs), it's something you can consider.
Airbrush psi for miniatures.
When you come to airbrush miniatures, airbrush pressure (The PSI for your Airbrush Compressor) depends on your airbrush, the paint consistency and how fine you want to spray (how close your brush is to the model). Most Airbrush paint will operate well at 20-25 PSI (1.3 – 1.7 Bar). For thicker paints, which you should dilute with water or Airbrush Thinner anyway, you may want to up the PSI to 30-35 (2 – 2.5 Bar).
Again this depends on your airbrush. Some airbrushes have analogue control of your airflow, depending on how far you depress the trigger. Other triggers are shallower in their range, and operate more like an on-off switch offering no air or full pressure air.
If the airbrush has analogue levels of control, you can just crank your compressor up to 60 PSI (4 Bar) or higher and just control airflow with the trigger.
If your pressure is too high, you will cause spider webbing, this is where the paint spreads as you spray it. To combat this, use thicker paint, reduce the pressure or move farther away from the model – the latter option will cause a wider spray.
On the other end of this, if you get spattering, which is not a smooth spray, it is when the paint comes out is speckled dots. This is becasue your paint is too thick or your pressure is too low
You need to play around with the paint thickness, pressure and distance to get the correct spray consistency.
Best airbrush kit for models – Purchase Options
And now a key point. The below list of best airbrushes for miniature painting will define the "body" of the airbrush only. But just buying that body will not ensure you are using the same thing as your favourite pro painter you're watching tutorials from.
Many manufacturers will sell you the same body with different Needle/Nozzle sizes. Beyond this, there are many add-ons, including third-party ones (which I'm not covering here to keep things easy). Some will offer a selection of Needle/Nozzle conversion kits with your purchase. Others may offer the same brush in different colours or finishes (if that matters to you). But essentially Once you have picked the body you want based on what available features are right for you, you can then look at the different purchase options available within that particular airbrush.
The 10 best Airbrushes for Miniatures & Wargames Models
Whilst the below is a top 10 list ranked by popularity within the miniature painting airbrush community. You need to consider your personal needs when selecting an Airbrush kit. The main ones being, what do you want to do with it, how much effort do you want to put into maintaining it and how easy is it to get replacement parts if you need them?
Like with finding the Best Brushes, a good airbrush does not make a good Airbrush Painter. But if you are trying to accomplish a new technique or better standard, a bad airbrush can hold you back.
There is no "top airbrush for miniatures", all of these are in the "best" category for one reason or another. please read the listings to decide what's right for you.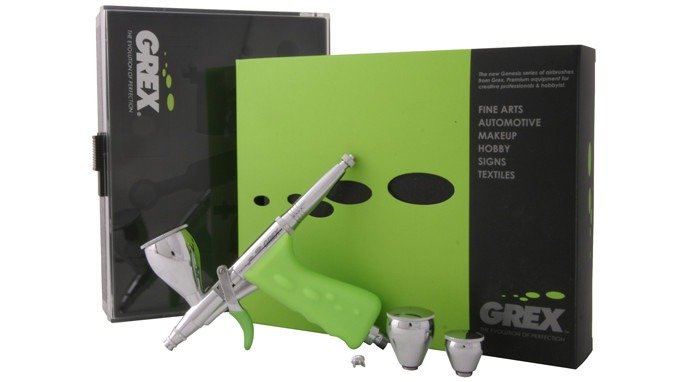 Best For:
Comfortable Grip
Army Painting
Primer, Basecoats & Zenithal Highlighting.
With its almost luminous Green Handle, Chrome Body and Pistol Grip trigger – This Airbrush certainly has the most interesting look of all of the models on this list. The Grex Tritium or as it's more commonly known, the TG, is an excellent all-round Airbrush and perfect for those of us with hands prone to aching.
The Pistol Grip Trigger is still a dual-action trigger. Pull back slightly and you get air. Once the air is fully on, pulling back further engages the needle which will increase paint flow the further you pull back. You won't have the analogous control of airflow that you get with the press-down-pull-back finger triggers. but you can always adjust airflow pressure on your compressor or pick up the Grex Micro Air Control valve for even more precise control than your finger could give you.
Another cool feature of the Grex TG is the magnetic quick release needle cap and crown, which can be swapped from in-use on the front to storage on the back. The set comes with 2 ml, 7ml & 15 ml paint cups which you can swap out as needed (you can even buy a 50 ml add-on if needed). The website even suggests you can use the bare threaded cup recess as an integrated cup when you need minute amounts of paint.
Proudly American Made (just Like Robocop and Robocop 2) so you know this will be a heavy hitter. But unfortunately, it seems that picking it up outside of the US will mean it's hard to come by, more expensive when you can find it or if you need to import it, you're responsible for import duties.
Thankfully the purchase "options" or "variations" are nice and simple.
The Grex Tritium, TG2, TG3 and TG5 Come with 0.2mm, 0.3mm and 0.5mm needles respectively. There's no 2 in 1 option but you can buy the conversion kits for any other size. you can even get a 0.7mm conversion kit. additionally, you can pick up a 50mm paint cup. The best accessory Grex offers is the Micro Air Control valve, which fastens into your airline to restrict air flow and put the control of airflow back into your hand. This can also be used with any airbrush.
Whilst the Pistol Grip may put some off for not looking like any other airbrush on this list, It really isn't a barrier to airbrushing. Especially when used alongside the Micro Air Control valve. Simply purchase a starter kit and add on some accessories as needed.
Buy now using the links below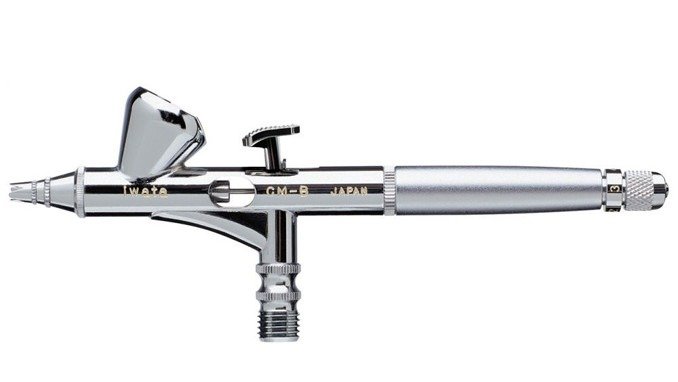 Best For:
Ultimate Precision
What is the best airbrush for fine detail?
The Iwata – Custom Micron CM-B
Iwata's first entry on this list is in 8th place for probably one reason. It's expensive, very expensive. In fact, it's over double the price of some airbrushes on this list, three times the price of others.
This Gravity fed airbrush features a Fixed 1.5ml (0.05fl. oz) cup with no room for expansion. It has your standard dual-action finger trigger and a dial-in trigger stop, this feature lets you turn a dial on the back of the airbrush to limit how far you can pull back the needle.
A couple of other old-school features (or lack of features) are the screw-in needle cap and it's lack of a cutaway in the rear of the handle (which you can buy separately) which would allow you to easily pull back the needle for cleaning. On the point of cleaning, users have said it is one of the more difficult brushes to maintain, not restrictively so, just marginally trickier.
What it does feature is is a 0.18 mm needle (without any conversion options I can find) and an incredible reputation of being one of the best detail airbrushes available. It does one job and it does it well. Users of the Iwata Custom Micron CM-B have said that after using this model they can't even consider using anything else. So, Once you go CM-B you don't go back.
Purchase options are as simple as they get
Buy now using the links below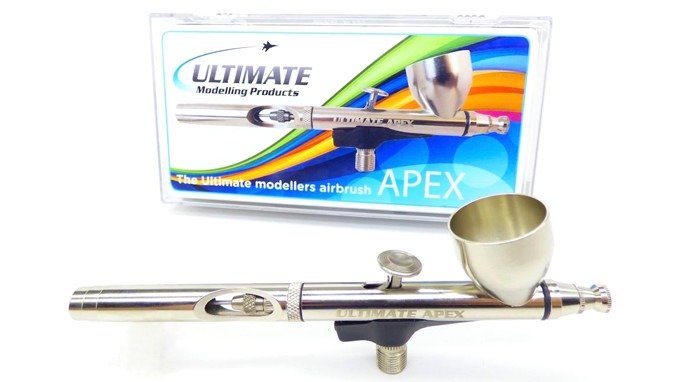 We jump from the most expensive model on our list to the cheapest. A brush with an interesting history too. Originally Designed by Thayer & Chandler who went out of business in 1998, The product line was subsequently bought by Badger in 2000 Who produced this brush under the name "Omni 4000". I'm not sure what happened then, but now it's rebranded as the Apex. This brush is sold by Ultimate Modelling products and I believe it is still Badger who makes it.
Featuring your standard dual-action finger trigger and solvent resistant 'O' rings. It has adjustable trigger tension a reversible needle cover to either expose the needle for close up detail work or protect it the rest of the time. Strangely I was unable to find any detail on the paint cup volume, so I'll just say it's large.
The brush works with a single 0.35mm nozzle it really fits the bill as a great all-rounder. If you are simply looking for something as a beginner brush and don't want to trust the Chinese built Knock off products or you want a secondary airbrush as a general workhorse. This is the model for you.
Once again the purchase options are really simple, and you can buy spares of literally any part, direct from Ultimate Hobby Products.
Buy now using the links below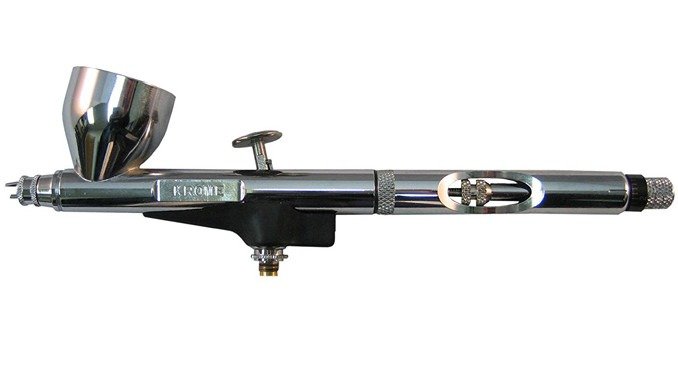 About time Badger properly showed up on this list, Badger makes great airbrushes and feature 3 times on this list (4 if you include the ultimate Apex). Let's just say straight off. Badger make much better Airbrushes than they do websites. Trying to do any research for this brush was like travelling back to 1998 when looking at Badger's own website. Maybe early 2000's for their Renegade series sister site. It was painful! Honestly, I can't even tell if the Renegade Krome is in production anymore as I simply cannot find it on Badger. But you can still get them from Amazon.
The Renegade Krome has a fixed 10ml paint cup, access to the needle and adjustable trigger tension. It also features a quick stop dial for the needle. The trigger action on this model is loved as one of the more intuitive dual-action systems allowing for great control.
Once again, simple purchase option, it comes as a 2-in-1 set with a 0.21mm and 0.33mm nozzles.
Buy now using the links below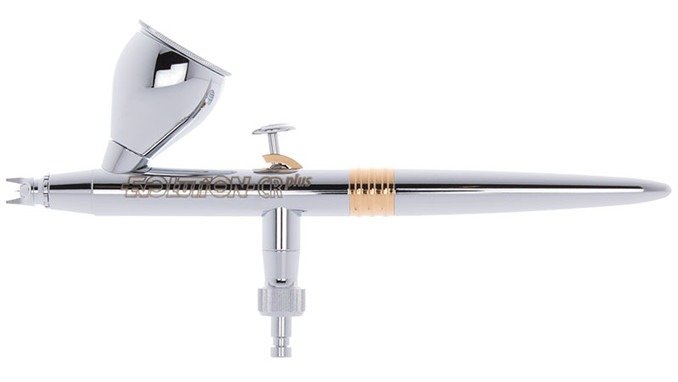 Best For:
Needle size variation on a budget
Much like the Infinity, the Evolution CRplus is the top of the Evolution range. The Evolution rage itself is the mid-range offering from Hader & Steenbeck. It's been around for a while and at a much lower cost, it's much higher up on our list than it probably deserves over the Infinity CRplus. but it is simply more popular.
The infinity, truly is a great mid-range airbrush.
On the outset, you can see the Nozzle cap is different from the Infinity, but within this, the nozzle system is the same, as are the paint cups. The Evolution does not have the same needle cutaway as the Infinity nor does it have the quick stop for the trigger. The finish is also Nickel on the Evolution which means it will wear over time as opposed to the Infinity which will look brand new after years of use.
The purchase options are the same as that of the Infinity. 3 individual needles sizes or a two-in-one box set.
Buy now using the links below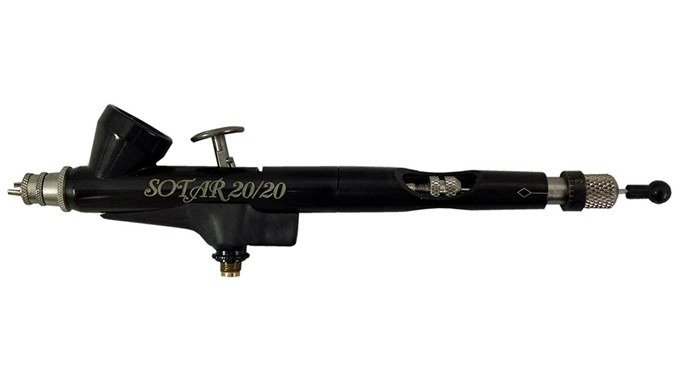 Best For:
Durable
Multiple Control Options
Snap-on Neele Guard (crown Cap)
Does it come in Black? Finally one of what I consider to be a sexier Airbrush. This model has a standard set of features. The dual action finger trigger, quick release trigger stop, a quick-release needle guard and a snap-on crown cap. The fixed paint cup holds 2.5ml of paint.
And that's about as much as I can tell you. This is what frustrates people about buying airbrushes, the inconsistency of details. Not only are there different versions of most of the models and different size needles. But the Badger Sotar 20/20 doesn't even follow the standard size names for the nozzles, usually defined by its diameter in mm. Instead, the Badger Sotar needles (which already have a unique look due too the plastic handle on the back end) are defined as (1) Fine, (2) Medium and (3) Large. This is lauded as a great airbrush, but just like Badger's archaic website, figuring out these uniquely named needle sizes and which has a better application for miniature painters was so frustrating, I gave up.
Update: Chris from The Hobby Hangout Facebook Group has given us the sizes (1) Fine is 0.2mm. (2) Medium is 0.3mm and (3) Large is 0.5mm.
You can buy the kit with the fine needle and get conversion kits for the different sizes.
Buy now using the links below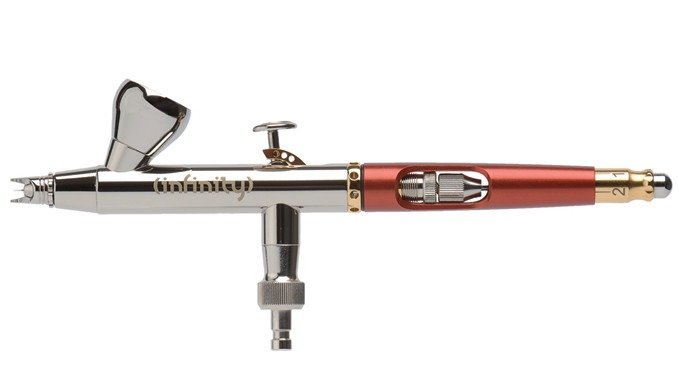 Best For:
Older Model CRplus on a budget (if you can still find one)
This is the Older Version of the Infinity CRPlus – it is still available whilst stocks last. whilst there are a few minor (mainly cosmetic) differences in the CRplus it is essentially the same amazing airbrush. If you can find this on 'sale' it's a bargain.
See our Harder & Steenbeck Infinity 'CRPlus' Review
This base Infinity Solo comes with a 0.15mm nozzle which makes it one of the finer airbrushes on this list. Perfect for those of you who want to airbrush a whole model almost entirely. But it's not for the beginner, you need to know how to properly thin your paints to use this as it is so fine it is prone to clogging with acrylics. It also has a 2ml paint cup. This is however interchangeable.
Like the CRplus it has a Quick Fix Trigger Stop to prevent you from pulling the needle back too far. It also has a cutaway for quick access to the needle release and torsion system, allowing you to adjust the tension in the trigger for more accurate control. It has a crown cap for super fine detail work whilst still protecting the needle. It's also nickel-plated which can be an issue for those with nickel allergies, and the finish will wear down over time. Whereas the CRplus is chrome meaning it will look new for years.
You can buy the Solo which is the superfine 0.15 mm nozzle or you can get this as a two-in-one set which also gives you a 0.4mm nozzle and a 5ml paint cup. If you can find this a discount, you can get yourself a best-in-class airbrush at a bargain. But if you're happy spending retail prices, get the Infinity CRplus.
Buy now using the links below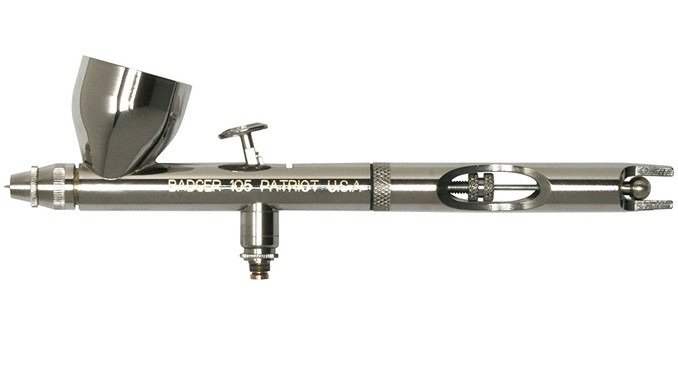 Best For:
Durability on a Budget
The Patriot 105 is the most commonly chosen Badger Airbrush for Miniatures
Comfortable, reliable & cost-effective are how Badger themselves describe this brush, and they aren't wrong. It's a true patriot. It's also simple. The second most popular airbrush for miniature painters is in this place because it's a trusty workhorse that simply won't let you down. This is possibly the perfect option for those of you stepping up from the cheap airbrush set you may have picked up online. Oh, and did I mention that Badger Airbrushes come with a lifetime warranty on their seals and labour? Just pay for shipping back to badger and it will essentially be refurbished for you whenever you wish.
It has everything you need from novice level to some more advanced techniques. A cutaway for access to the needle clamp, minimal spare parts and easy maintenance.
For purchase options, it's as simple as it gets. it has a single 0.5 mm needle/nozzle system. Like the Sotar, I can't find any details online as to what size this needle is in comparison to the others. However it is lauded by the miniature painting community, so it surely does the majority of jobs.
There is also the Extreme model which features an air flow regulation screw and a longer trigger for more accurate control. but the more popular model is the base Patriot 105.
If you know the nozzle size. please let me know in the comments.
Update: Thanks to Matthew in the Comments & Chris from The Hobby Hangout Facebook Group we now have the Nozzle Size. 0.5 on the Patriot 105 and 0.3mm on the Patriot 105 Extreme. There are also conversion kits for different sizes available online.
Buy now using the links below
Honourable Mentions
The below models were all voted for by the miniature community as a particular individual's brush of choice. Disappointingly, none of the Paasche models made the Top 10. There is a range of great brushes here from the top-end to budget workhorses. Each is worth your time and consideration when choosing your next brush.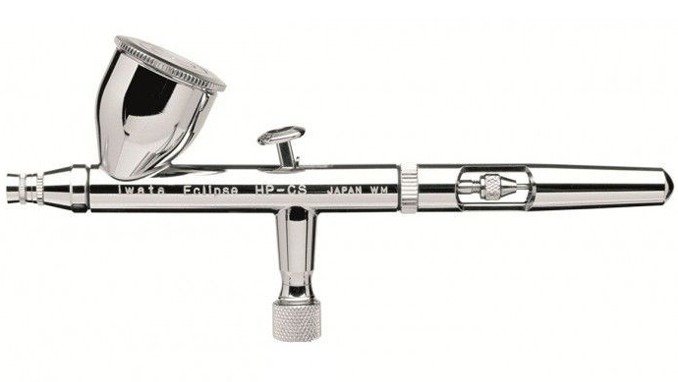 Best For:
Durability
Precision
Ease of Use
See our Iwata Eclipse HP-CS Review (Sponsored by Airbrushes.com)

The Eclipse HP-BS or HP-CS is the Best Iwata Airbrush for miniatures if you are looking for a great all-rounder.
Ok, so I know it looks like I've paired up 2 airbrushes into one category, but the only difference between the HP-BS & HP-CS is the size of the fixed paint cup (do you see how airbrush model names can be confusing?). The HP-CS having a 7ml paint cup and the HP-BS having a 1.5ml paint cup.
There's no price difference, so, unless you have a specific application for this ultrafine airbrush, it's probably worth just picking up the HP-CS for the option of the larger cup which you can always just put less paint in. You can get the conversion kits online to swap out the needle when necessary. It has a dual-action finger trigger, cutaway for needle access and a quick release compression fit needle cap. It does, however, lack some of the more advanced features such as a quick stop for the trigger or any kind of torsion system to adjust the tension of the trigger.
This is a mid-range airbrush which potentially has everything that the majority of miniature painters are looking for. Also, it won't break the bank like some of the more specialist options. It's not hard to see why this is the most popular pick on the list.
Buy now using the links below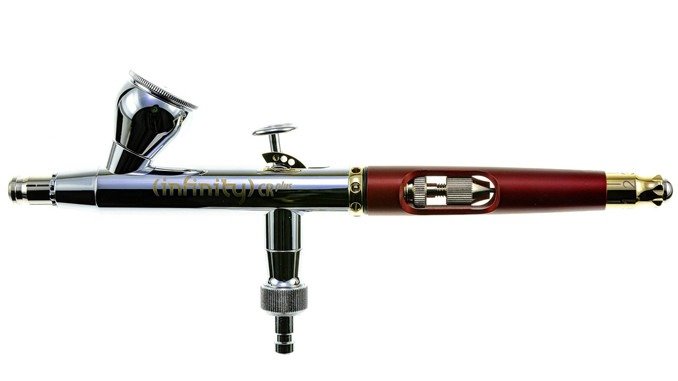 Best For
Features & Controls
Various Options
Accuracy
See our Harder & Steenbeck Infinity CRPlus Review
The Harder & Steenbeck Infinity CRPlus is a true up-and-comer and a highly recommended airbrush for miniatures. In our "Best Airbrush for Miniatures & Models – 2019" I said, "It is likely to be in the top 3 next year (I'll be shocked if it isn't!)" Well, here you go… The Infinity Solo is selling out at Harder & Steenbeck. The Infinity CRplus is the replacement for the base Infinity model.
The CRplus features a Chrome Plated body and PTFE Seals (to avoid solvent wear). It's not lacking in controls either. The quick-fix system on the back allows you to quickly lock how far you can pull back the trigger, and you can fully release this in an instant. You can even control the resistance of the trigger too. The needle guard is quick release and the cup can be changed out from 2 ml to 5 ml.
With all the quick snap on components, this is really easy to clean between uses, but the full teardown is a touch trickier than most and it does require more regular maintenance.
This is an expensive, top of the line brush, a bit too much to chew for most miniature painters right out. Harder & Steenbeck are a German company so you will benefit from that excellent German level of engineering quality. This will lead to higher costs outside of European territories.
As for purchase options, these are almost as plentiful as the variations available.
The Infinity CRplus 0,15, 0,2 & 0,4 come with 0.15mm, 0.2mm and 0.4mm needles respectively. The 0,4 retail box also upgrades the changeable paint cup from 2ml to 5ml. They offer two different two-in-one kits, one with the 0.15 and 0.4mm nozzles, the other with the 0.2 & 0.4mm nozzles. Each of these comes with both the 2ml and 5ml paint cups.
There are a good amount of purchase options for this. and remember no matter which you get, you can always spend a bit more money later to get the different needle/nozzle sizes and cup sizes if you wish.
In any of these set's, you get a really good instruction manual detailing how to do the specific things to control your brush.
Buy now using the links below
The Best Airbrushes for Miniatures & Wargames Models – Final Thoughts
Much like the top 10 best brushes, choosing the best airbrush for miniatures is down to personal preference, and the highest quality, the most feature-rich airbrush will not make you an instant master at airbrushing. But unlike selecting brushes, choosing an airbrush is much more down to personal needs and your skill level. Oh, and your budget.
If you are a complete beginner, read our best beginner airbrush article and maybe just get something cheap with a compressor before you jump in the deep end spending hundreds of your hard-earned cash. Sure, it will last weeks not years. My first one didn't even last until I could use it! But they cost next to nothing to replace the whole brush. If you are really against the eBay knock-off models then one of the workhorses from the list above will be perfect for your first model.
If you have some beginner or intermediate skill and want to move up, then something with optional nozzles is a logical next step. This will let you have the benefit of giving a quick primer or base coat and also lets you try out the precision work. just remember you will need to start using proper thinners and drying retarders with the smaller size nozzles.
If you are intermediate to advanced with airbrushing and paint all of your minis with some level of fine airbrush work, you already have your paint thinning supplies, a good technique and you have the budget! Then you want to be looking at the best-in-class models.
No matter what you select, every brush on the above list would be considered a great choice. Just make sure you are making the right choice for your personal level and intent.
What's Next?
Once you have selected your airbrush, have a look at our list of essential accessories that you will want to go along with it.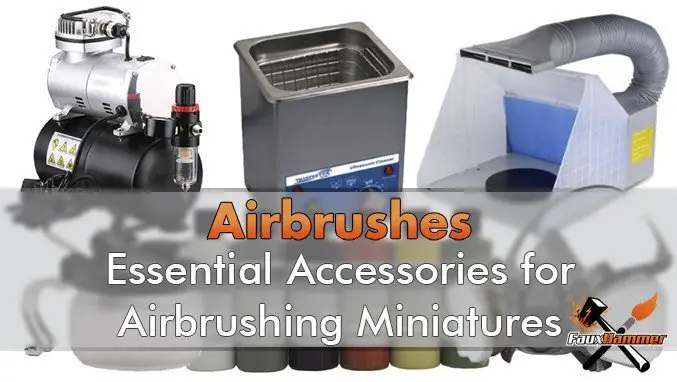 What did you think of this article? please let me know in the comments. Would you like me to do some more top 10's? If so, what?
See our Existing TOP 10 Articles by following this link.
If you like what I'm doing here you could really help encourage more content with a share on any social media platform.
Want to keep updated with the blog? You can subscribe in the sidebar by email or RSS
(Sidebar is below the article on Mobile Devices)
Summary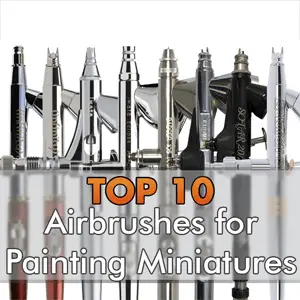 Article Name
The 10 Best Airbrushes for Painting Miniatures
Description
Find the Best Airbrush for Miniatures and Wargames models based on your skill level and budget
Author
Publisher Name
Publisher Logo