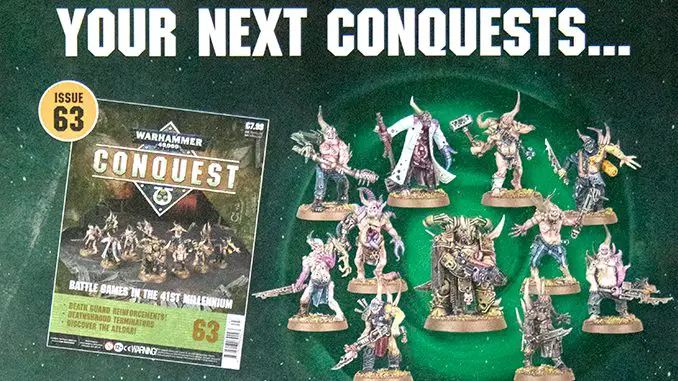 Right then, let's have a look at what's coming in issues 63 & 34 of Warhammer Conquest now that we have the Confirmation from the back of Issue 62.
Why not join our Warhammer Conquest Facebook Group, see everyone's progress on collecting more plastic than they can manage painting their models.
Warhammer Conquest: Issues 63 & 64 Contents
Let's have a look at what's coming.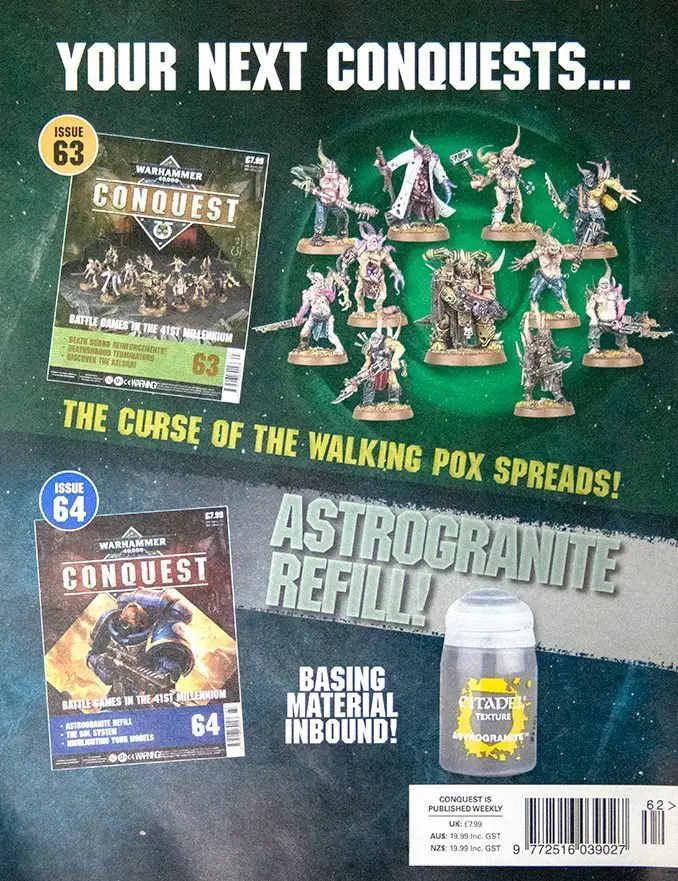 10 Pox Walkers
1 x Plague Marine
Release Date: 13th November 2019
Issue Price £7.99
Total Value £ Unknown
Total Saving £ Unknown
This is the second Sprue D from the Dark Imperium Boxes Set. It is also the last of the Dark Imperium Sprues you get in Warhammer 40,000 Conquest Magazine. Like with issue 16 the Total Value comes from the cost of Dark Imperium Divided by the 8 sprues in it.
Please note; the Plague Marine can only be built using the "Extra Parts we got back in Issue 46". Now, correct me if I'm wrong, but we have 2 of these Poxwalker Sprues (Sprue D) in the Warhammer Conquest collection, but only 1 Spriue C. So unless you have 2 copies of Issue 46 or can get another one, you can't actually build this Plague Marine?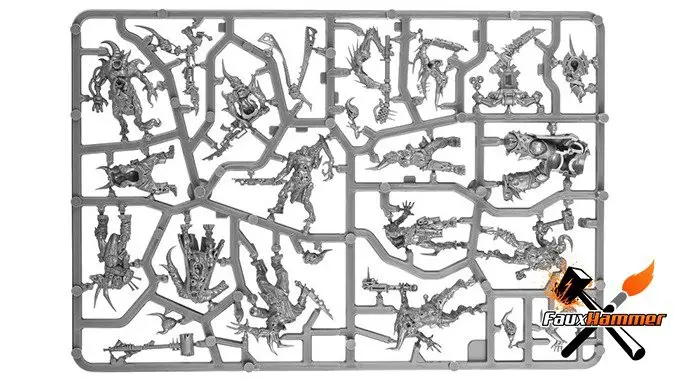 Release Date: 20th November 2019
Issue Price £7.99
Total Value £4.75
Total Saving £-3.76
Originally in this issue, we expected Runefang Steel, Screamer Pink & Nihilakh Oxide. According to the Italian Contents List, we were getting 2 more pots of Astrogranite. However the back of Issue 62 it looks like it is only 1.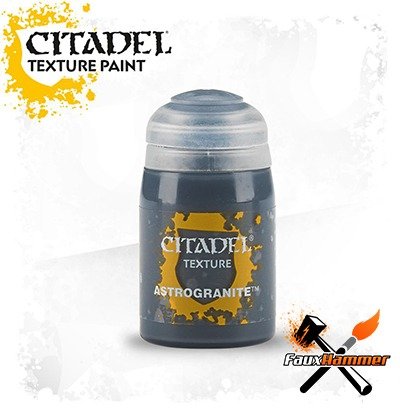 Follow FauxHammer by subscribing to the site (below). You can also follow on Twitter or Facebook for the latest updates.
What do you think of the upcoming goodies? let us know in the comments.