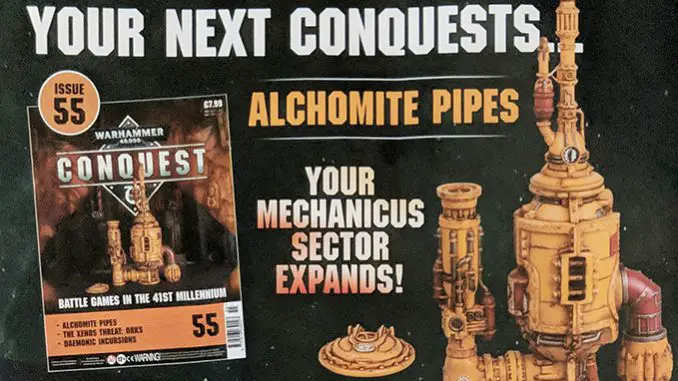 Hi everyone, Sorry for the delay this week. My postie normally drops my issues with my neighbour when I'm out at work but this week took it back to the sorting office for me to collect. Anyway, here we are confirming the contents of Warhammer Conquest issue 55 & Issue 56. There's a minor change.
Here's a reminder that Hachette recently announced a new Warhammer partworks magazine for Warhammer Age of Sigmar. It's Called Mortal Realms and you can find out more about it here.
Please check out our ever-growing Facebook Group for Warhammer Conquest
So let's see what changes are in store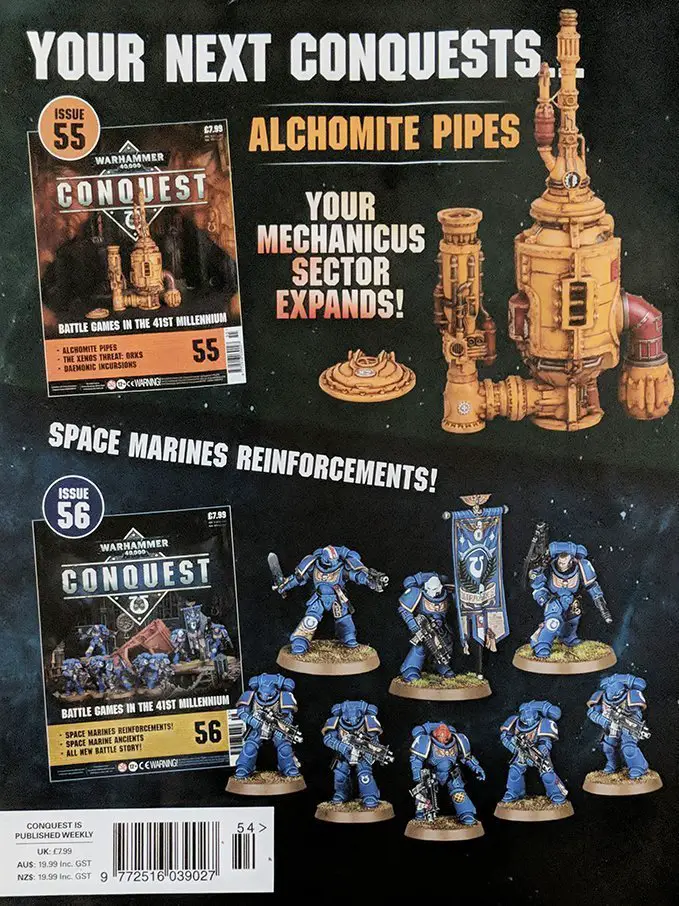 Thanks to Daniel who got in touch via our Facebook Page to share the details.
Issue Price £7.99
Total Value £15.00
Total Saving £7.01
This was originally reported to be the Sector Mechanicus Alchomite Stack but we expected it would only be 1 sprue from the £30 boxed set (we just hoped it would be both parts). Looking back at the full image of contents, I can't actually make out the domed part of this set (the part on the right below). So it looks like we are just getting the pipes (the left part on the image below). Still a decent saving on what is part of some good modular terrain from GW.
These pipes also form part of the Galvanic Magnavent set which Bookends the Series in issues 79 & 80.
So basically, we aren't getting the Alchomite Stack in the Series, we are getting the Full Sector Mechanicus Galvanic Magnavent, and this is just the first part.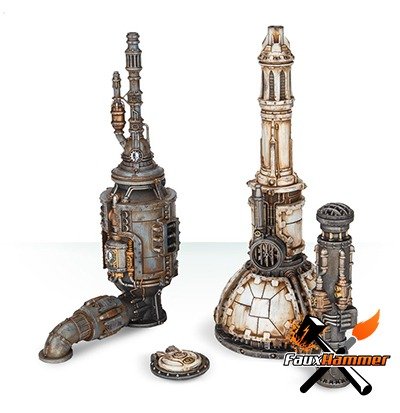 5 x Primaris Intercessors
2 x Primaris Lieutenants
1 x Primaris Ancient
Issue Price £7.99
Total Value £11.88
Total Saving £3.89
Sorry to sound like a broken record but I do keep getting messages along the lines of "Where can I get issue X, it's sold out everywhere!". If you want an issue which will be in high demand, like this one. go to Forbidden Planet now and pre-order it. you won't be charged until the issue is released.
I said this with Typhus in Issue 54 which at the time of writing this article isn't even released. Yet that issue is already sold-out.
This is an absolutely huge issue, sure the Saving is technically £3.89 if you were to buy Dark Imperium (The only way to get this sprue). but if you work out the individual cost of the models, Lieutenants alone are £15 each. then you get the Ancient and a full squad of Intercessors. Make sure you get it before the scalpers by pre-ordering.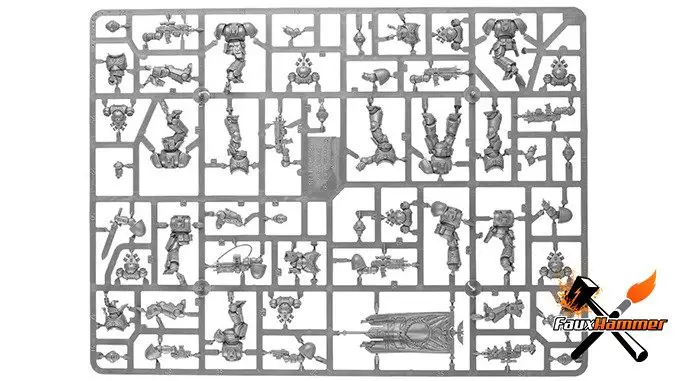 What do you think of the next two weeks issues? I'm super excited for these models, especially the Space Marines sprue.
Follow FauxHammer by subscribing to the site (below). You can also follow on Twitter or Facebook for the latest updates.
What do you think of the upcoming goodies? let us know in the comments.