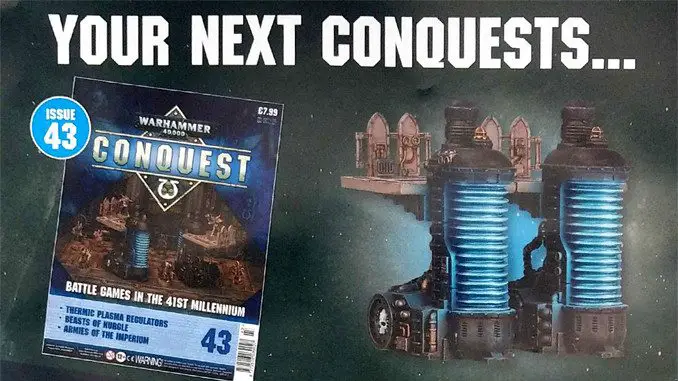 Thanks to Hachette now delaying all mail subscribers a full week behind those picking up their issues from local Newsagents., I'm a little late to the game by confirming the contents of issues 43 & 44. But here they are anyway (along with confirmation of issue 45 too!) And there has been a change to the leaked lineup again.
Please note, you can now pre-order all the remaining issues, up to Issue 80 with Forbidden Planet. So get in there early to make sure you get the issues you want.
Also with this subscription, we get our £19.99 (€29.99 for ROI) Silver Templars Source Book – I'll have separate impressions on this shortly.
Also this week, we created a Facebook Group to discuss specifically Warhammer Conquest. We have a great community there so please come along and join in the live discussion and get the latest news from the community itself.
Anyway, that's enough intro, lets have a look at what we're getting…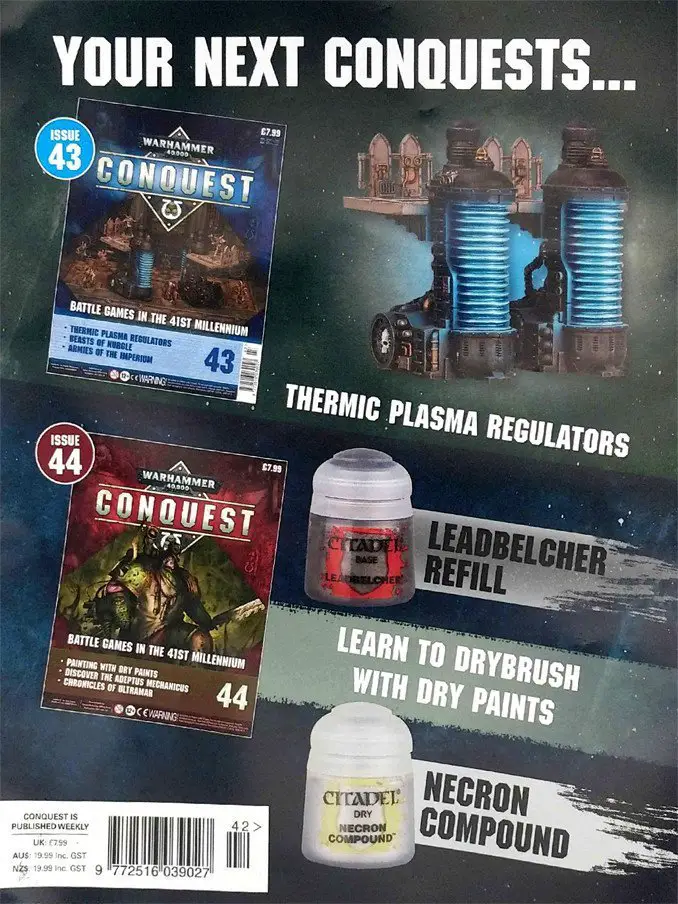 Not a bad issue , pretty much 50% off. I'll probably pick up a couple, but I'm a sucker for Terrain pieces.
Issue Price £7.99
Total Value £15.00
Total Saving £7.01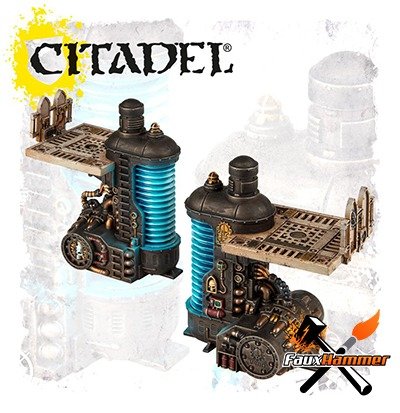 Here's an interesting change, It always seems to be the Paint issues that change now.
We initially expected to get Thousand Sons Blue in this issue. (Which would have been great for those Thermic Plasma Regulators in Issue 43. But now that's been moved (to an unknown issue) and we are instead getting a Leadbelcher refill. (which we'll assume is the one we originally expected back in Issue 34).
With the paint changing from a layer paint to a metallic you're actually saving another 31p. But this issue is still one of the few where it would be cheaper to just buy the extras in the shop. and that's if you buy from GW, save even more if you just start buying your paints from places like Element Games instead.
Issue Price £7.99
Total Value £5.50
Total Saving -£2.49
I'm really wondering what will happen now with Thousand Sons Blue I really like that colour.
Issue Price £7.99
Total Value £15.50
Total Saving £7.51
Thanks to Paul in our Facebook group for sharing the details of the next issue.
How are you getting on with painting your conquest minis? let me know in the comments. Here's an interactive (rotatable) photo of everything I've finished so far. (seriously, this is everything in my finished pile).
(Drag left/right to rotate image)
To make images like the one above, check out the Foldio 360.
We'll continue to provide updates as changes are identified. Keep an eye on the full lineup article for changes.
Follow FauxHammer by subscribing to the site (below). You can also follow on Twitter or Facebook for the latest updates.
What do you think of the upcoming goodies? let us know in the comments.