Warhammer 40,000 Recruit Edition Starter Set Review
Last Updated on April 23, 2021 by FauxHammer
Hey folks, today we're going to take a look at the Warhammer 40,000 Recruit Edition Starter Set and I'm going to tell you why I believe it's one of the best introductory box sets available!
Thanks to MTech Cave (US Based Hobby Store) for providing this copy for review.
Click this link & buy your hobby stuff from Element Games for the UK & Europe to support FauxHammer.com – Use Code "FAUX2768" at the checkout for double reward points.



Our Affiliates / Hobby Stores
See a breakdown of all Warhammer 40,000 Starter Sets (with links to individual set reviews) by Clicking the image below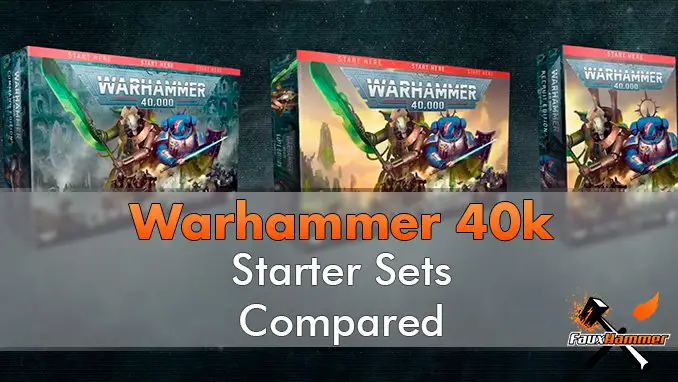 This quick overview should help you decide which is the best set for you
Warhammer 40,000 Recruit Edition Starter Set
You want to learn how to play Warhammer 40k, but you're hesitant. You don't know all the rules, or perhaps it's not in the budget to spend hundreds of dollars on plastic miniatures. You might find yourself overwhelmed with the choice of army and subsequent factions within.  Maybe you've attempted to assemble miniatures in the past, and you don't want to put yourself through that nightmare again. (more on this later).
These are some of the most common reasons people put that box of awesome looking models back on the shelf and keep walking. But, what if I told you there was a way to learn how to play, acquire enough models to test not one but two starting armies, be supplied with enough "gear" to enjoy a game AND it can be yours for the cost of fueling your SUV (or five trips to you and your spouse's favorite coffee shop, but we wouldn't want to ruffle feathers now, would we?)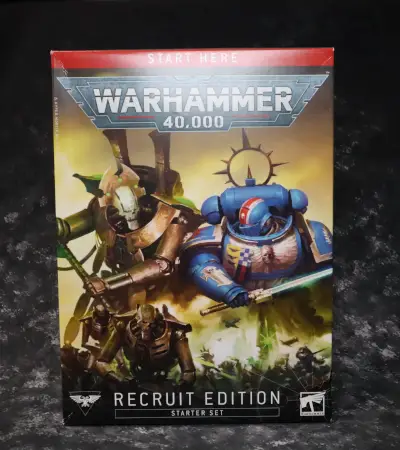 That's right folks! Games Workshop has released their Recruit Edition Starter Set. This is the entry level package designed to give you enough models, gear, and information to take the first steps into grim dark future of the 41st millennium.
Warhammer 40,000 Recruit Edition – Summary
The Recruit Edition serves as a fantastic gateway into the Warhammer 40,000 universe. This set has everything you need to get started, without making you feel lost in the woods. It's honestly a perfect introduction to the multiple facets of the hobby in general.
You're introduced to a bit of the rich lore that drives the story behind the box's staged conflict. You're also given a glimpse into the realm of model building as you assemble your micro-combatants. And finally, you're taken on a well-paced stroll through the rules and given a step by step outline, (including pictures) of how to play the game.
Warhammer 40,000 Recruit Edition Starter Set – What's in the Box?
This Starter Set comes complete with;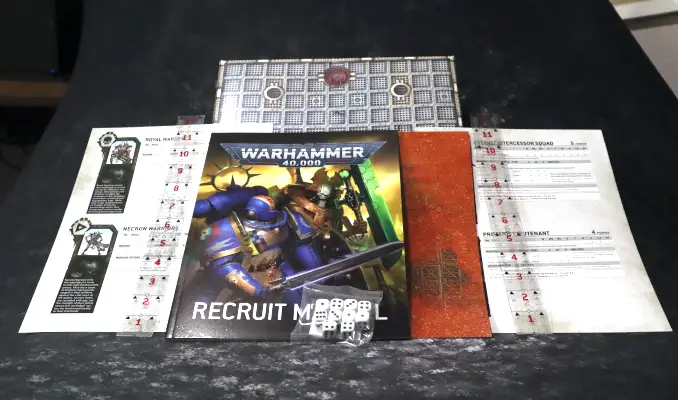 Core Rules Manual
Foldable paper game mat
Convenient carry box/ playable terrain feature
2 game rulers
10 dice
20 models
Core Rules Manual
The Core Rules Manual is an easy read, designed for two purposes. The first is to get you excited about the purchase you just made. If you flip through the pages, you're bombarded with some of the coolest pictures you've ever seen. But, potentially more importantly than that, it's to explain how to play the game and assemble the models (more on that later).
Two Sided Terrain Mat
The game mat is a foldable double-sided sheet of poster paper, measuring 30 inches by 22.4 inches (76.2cm by 56.9cm), intended to help add to the immersive aspect of the game. Custom professional-grade mats can cost over $100, so being able to play on a surface with more visual interest than the kitchen table is a big plus. The two sides allow for a measure of gaming diversity.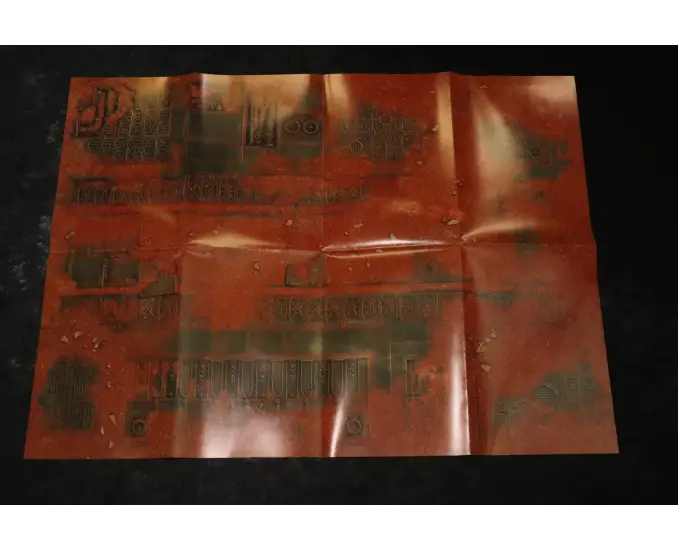 One side is the red crusted earth pattern often attributed to the barren landscape of Mars. The other side bears the non-living mechanical aspect of a Necron Tomb World.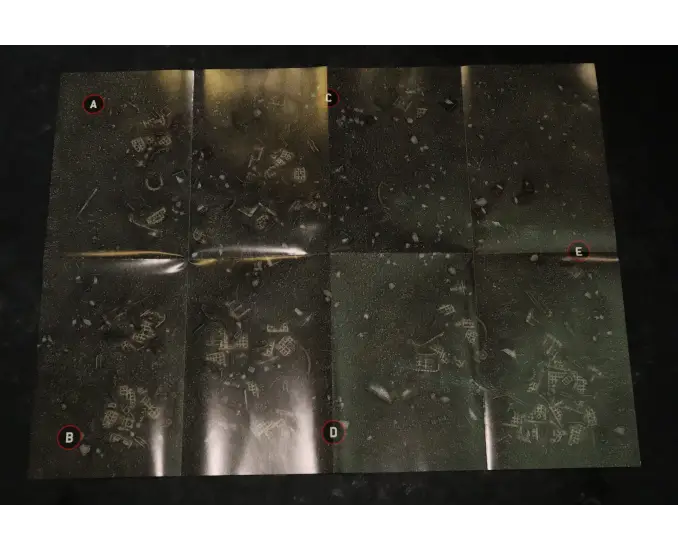 The Martian side is devoid of anything other than "suggested" terrain features, whereas the Necron side has 5 locations marked, indicating objective markers.
Transport Box/Terrain Feature
Another key aspect of any tabletop game is terrain features. Although it's not entirely impressive, the interior tray has a printed design, intended to be overturned and utilized as a line-of-sight obscuring barrier.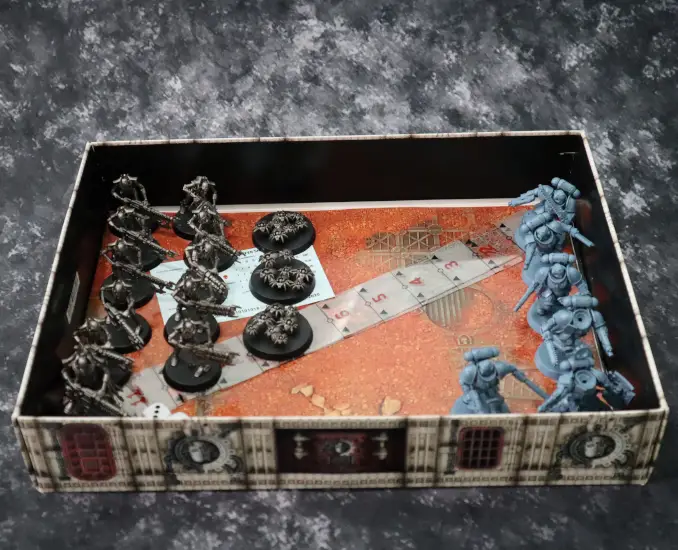 As time passes on, and your love for the game grows, more terrain pieces will inevitably find their way to your board. But for now, learning how to play with even one terrain feature will add to the complexity of the game.
If you need to add to the difficulty of the game, but have no desire to buy fancy terrain pieces, you can use household objects and imagination to fill the open void on your board…
Key Gaming Equipment
Now we get to focus on the essentials: the gear. This set comes with two rulers, (one per player) and 10 six-sided dice.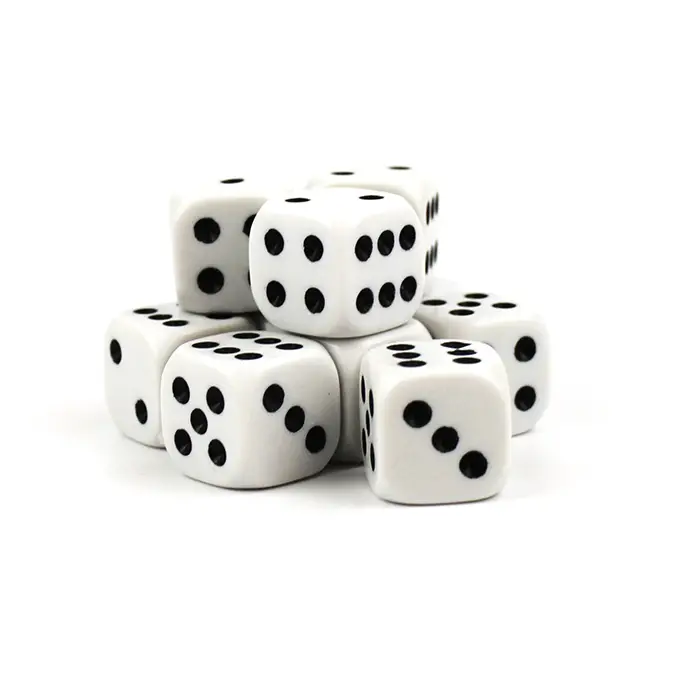 The rulers are essential to measure the distance of your movement, as well as your weapon's range. The dice are used to determine the will of the gods. The dice gods that is. Dice dictate everything. Movement, charge, retreat, attack, defense, even cowering from the field of battle.
Ten dice is a good start, but as your armies grow, so will your need to collect more of the six-sided destiny cubes.
Included Models
Now, the part you actually care about: The models.
The Recruit set has a starting set of two armies; Space Marines, and Necrons. The Space Marines are humanity's last bastion against everything….not….human. In the 41st millennium, there are quite a few enemies that fall into that category.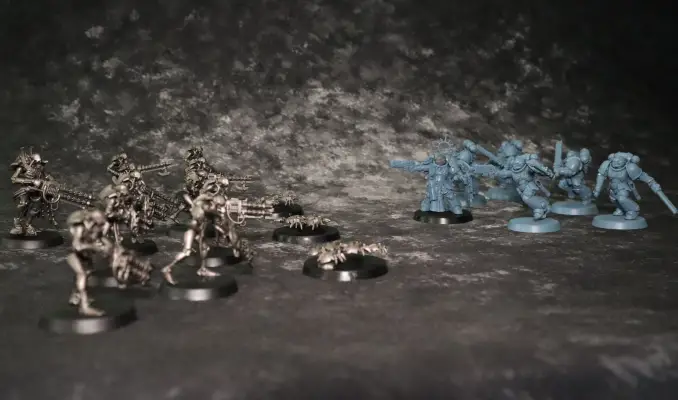 The Necrons are one such foe. Made of metal and driven by sheer will to regain their former physical forms, the Necron forces search the galaxy for worlds of ancient power, suitable for terraforming to their Overlord's exact specifications.
For the Space Marine force, there are 6 models. The models are:
x1 Primaris Lieutenant
Something of note, the Primaris Lieutenant can ONLY be found in the Recruit Edition Starter set, or in the Limited Indomitus Edition.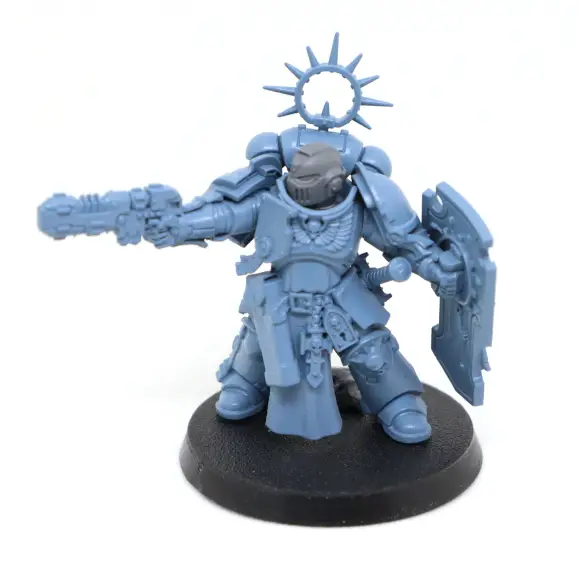 This model will most likely be available for individual purchase at a later time. I Primed the Lieutenant with The Army Painter's Wolf Grey Spray (head not being used in final assembly).
x5 Primaris Assault Intercessors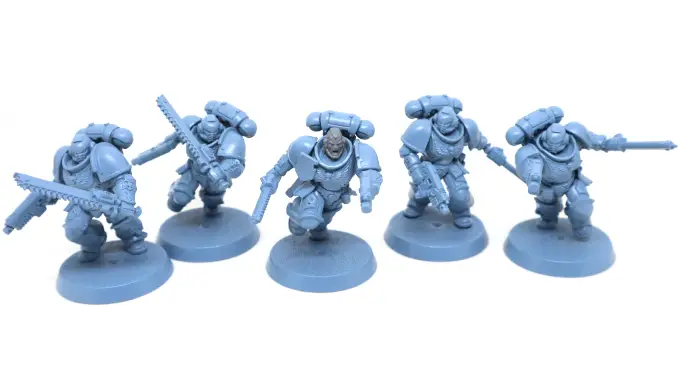 The Assault Intercessor has a squad of four Marines and an option for either a Sergeant or a fifth standard Marine. This model (indicated above by a grey head) is the only model on the sprue that allows for variation. I also primed these models with The Army Painter's Wolf Grey Spray.
For the Necrons, there are 14 models.
x1 Royal Warden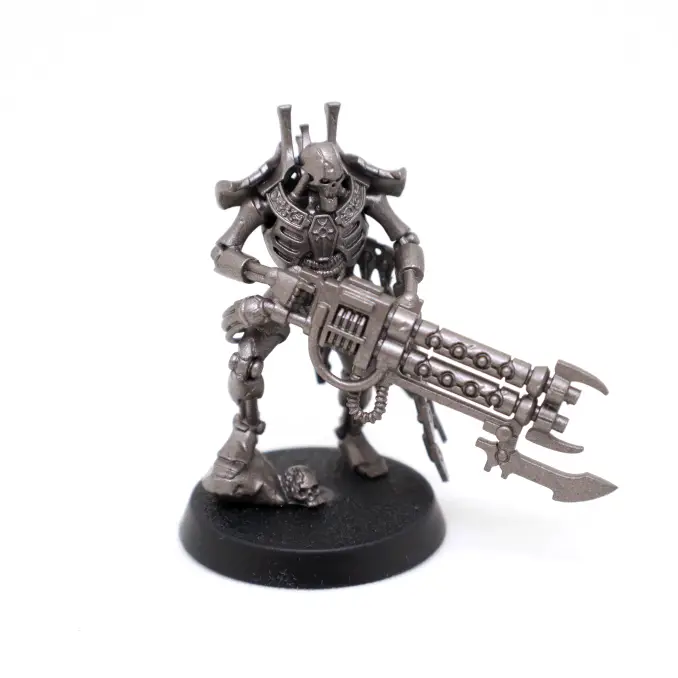 Royal Warden, primed with Games Workshop's Leadbelcher Spray.
x10 Necron Warriors.
Unlike the assault marines, the Necron Warriors offer a bit more customization when it comes to weapon loadouts. Remember to look at the manual to determine the abilities of the weapons and what they can offer in terms of battlefield strength.
I decided to assemble mine as five Warriors with Gauss Flayers, (long range, less power) and the other five wielding Gauss Reapers (shorter range, more powerful).
The core manual recommends you assemble the Necrons with the Gauss Flayer, as the missions are more or less designed with that weapons range in mind. I personally chose to assemble them this way for the diversity in models.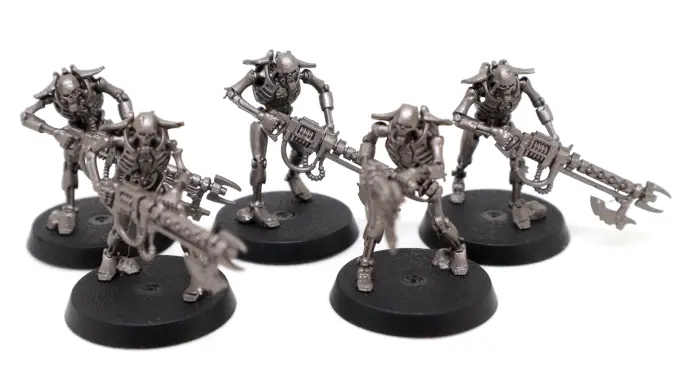 Necron Warriors with Gauss Flayers – Primed with Games Workshop's Leadbelcher Spray.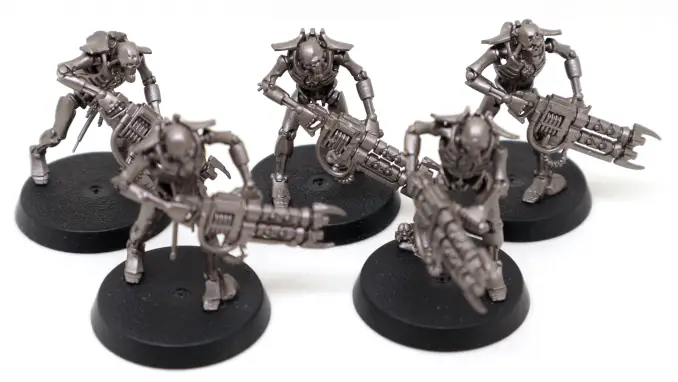 Necron Warriors with Gauss Reapers – Primed with Games Workshop's Leadbelcher Spray.
x3 Canoptek Scarab Swarms
These little bugs are the easiest to assemble, because although it looks like there are a lot of tiny pieces, it's actually only one bit. Two of them have a small rock outcropping the scarabs are skittering over, but still…it's a flash and you're done. There are no options for customization here.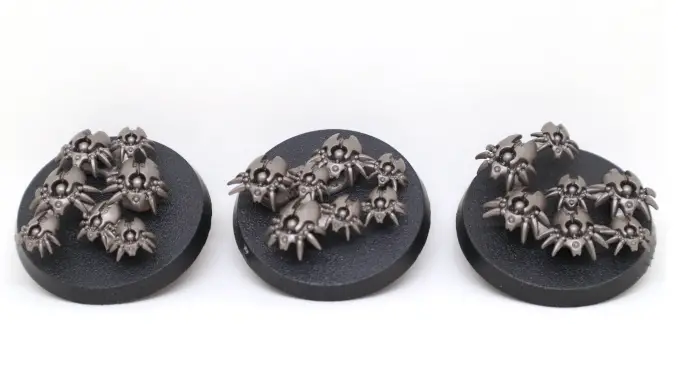 Canoptek Scarab Swarms – Primed with Games Workshop's Leadbelcher Spray.
Assembly           
Now, to address the aforementioned fear of assembly.
I can tell you from years of making models, and only recently becoming a commission painter, these are some of the easiest models I've ever assembled.
If any models provided any difficulty, it would be the Necrons, but that's mostly due to the exceedingly thin pieces. Due to how brittle they are, you may need to be a bit more careful than with the Space Marines. In fact, one of the Necron's tiny spindly arms was broken in the box when I opened it.
That being said, compared to the first sets of older models, or even the more recent fully-customizable kits, even the Necrons go together very quickly, not requiring glue and, if using a good set of clippers, not requiring much cleanup.
I spent roughly 3 hours assembling the entire force, but honestly 2 of those hours were spent mindlessly scraping tiny mould lines, or figuring out ways to leave the models in sub-assemblies so I can modify them later.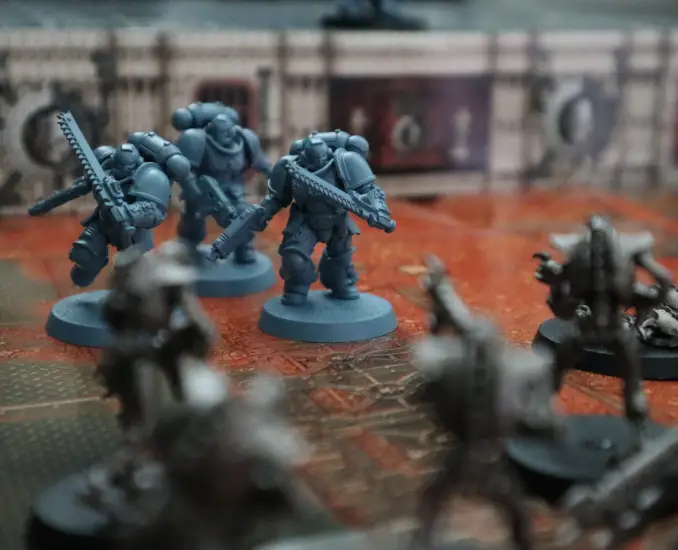 If getting the models on the table is your sole focus, you could go from ripping the plastic off the box to throwing dice in 30 to 45 minutes.
Price and Availability
At the time of release, the box can be purchased from Games Workshop's website for 32.50. GBP or 49.99 USD. Most hobby stores can offer discounts. Some stores we recommend are MTech Cave, and Game Kastle. As always, you can check eBay or Amazon, but you most likely won't see much of a discount.
I would like to thank MTech Cave for providing me with the set to review. If you're anywhere in the US, check out Their Website and use our Code "FAUXH" to get 15% off your next order.
I would also like to mention Tablewar, for their amazing photography backdrop! They also have game mats at an extremely affordable price. (The backdrop was purchased by me, but you will be seeing it in a lot of my reviews!)
Click this link & buy your hobby stuff from Element Games for the UK & Europe to support FauxHammer.com – Use Code "FAUX2768" at the checkout for double reward points.



Our Affiliates / Hobby Stores
Warhammer 40,000 Elite Edition Starter Set Review – Final Thoughts
Pros
Cons
Great price for what you get
Fantastic way to learn
Enough gear to play
Easiest Space Marine assembly ever
Necrons are brittle, require finesse
Paper mat is cheapest bit of kit


This set is honestly one of the best starter sets on the market, both in terms of cost and game introduction value. Often times, sets in this price range are nice because you either get a full set of gaming gear, or a cool set of models. Rarely do you get both.
The Recruit Set is an absolute gold mine when you consider the cost of the models alone. For example, if you were to visit the Games Workshop site right now, most named (special) characters, like the Lieutenant or the Warden go for $35 – $50 (26.5-38 GBP) by themselves! Then, you can easily spend the cost of the kit on gaming gear, such as dice, rulers, gauges, carry cases, terrain pieces, play mats, etc.
When you consider the primary focus of this set is to get curious people in the door, at a more-than-reasonable price point, it honestly cannot be beat.
Sure, the paper mat might be flimsy, or the dice might be cheap, but realistically, you will be able to play time and time again before you need to replace them.
If you find yourself falling in love with the game as I have, you'll be replacing them, upgrading gear, buying (or printing) more terrain pieces, and amassing your own pile of plastic shame.
It's ok. It's normal. Welcome to the family!
Click this link & buy your hobby stuff from Element Games for the UK & Europe to support FauxHammer.com – Use Code "FAUX2768" at the checkout for double reward points.



Our Affiliates / Hobby Stores
What did you think of this Review? Please let us know in the comments.
If you like what we're doing here you could really help encourage more content with a share on any social media platform.
Click the share links at the bottom of this screen (or on the left for computers and tablets)
Want to keep updated with the site? You can subscribe in the sidebar for RSS or by email below
(Sidebar is below the article on Mobile Devices)
Summary
Reviewer
Review Date
Reviewed Item
Warhammer 40,000 Recruit Edition Starter Set
Author Rating





Product Name
Warhammer 40,000 Recruit Edition Starter Set