Warhammer Imperium Release Date Announcement
Last Updated on June 28, 2021 by FauxHammer
Ooh, it's so exciting. For me more than you. We get to "announce" the Warhammer Imperium Magazine Release Date! I remember Saturday, January 21st 2019 like it was yesterday. I woke up and found that a website had leaked the contents of Warhammer Conquest online. So I quickly hit print and I'm glad I did because just hours later the post was taken down. So I spent the rest of that day writing up the leaked list. All of a sudden this site blew up from having a few hundred views a month to having 21,000 in that January alone.
Click this link & buy your hobby stuff from Element Games for the UK & Europe to support FauxHammer.com – Use Code "FAUX2768" at the checkout for double reward points.



Our Affiliates / Hobby Stores
Well, give the people what they want I guess. Since then I've gone back, updated and re-edited that article countless times. I've shared every time new contents are confirmed. and the site has grown and grown. Thank you for being here from the bottom of my heart.
With Mortal Realms, Hachette actually reached out to us and offered us (along with others) copies of that new magazine to cover it. and boy did we. Once again we made our complete list of issue contents. Which has been regularly updated (the final list of issue contents has gone out today as I write this new article) and covered all of the premium extras with that set.
And with Warhammer Imperium, our coverage has already been quite exhaustive. From Savings breakdowns to Army Points lists and more. once again we have our Full Issue Contents article primed and ready to go.
And whilst all of the above has been re-shares of content which Hachette put out themselves. Often we have gone day-and-date with their announcements. What makes today special and exciting to me, is that we, get to Exclusively "Announce", the release date. You heard it here first…
That's what 2.5 years of bloomin hard graft gets me!
Sure, the above is a lot of self-indulgence. But, since FauxHammer.com is my first baby. This is my proudest dad moment so far.
Warhammer Imperium Subscription Notes – READ THIS
So, to be clear, I've been asked to advise the following;
anyone who subscribed to the test will automatically be set up with a full national subscription – [you] don't need to go through the whole subscription process again! We often get people subscribing again without realising, and then they have to cancel one of their subs.

Hachette
Though you may or may not be asked to enter your card details again (I don't know). So my advice. Log in to your account on Hachette's website if you subscribed, you will see your subscription listed. If it's not here, you have the option to add it. you need to click the button to add it and then add your subscriber number. Hachette is very helpful now if you have problems.
To be clear, what you don't need to do is go through the whole subscription process again if you already have.
If you haven't subscribed already then register your interest so that you get the mails at least.
Update: 28/06/21: just spoke to Hachette on this. so. In the next couple of weeks, an email will go out explaining what to do if you are a current subscriber (Keep an eye on your email and spam). When the email goes out, I'll have a copy and will update this post. So at least then, if you don't have the email. you need to contact Hachette to subscribe – to chase your existing trial subscription sign up or just sign up for the first time if you weren't already a trial subscriber.
I'll also post in our massive Magazine Facebook group (though several of our readers will probably beat me to it). so you can see when the email comes out there too.
The likelihood is that a lot of people are not yet "subscribers" as you have just entered your details on the website. In this case, just go and subscribe when they open up to new subs again.
Warhammer Imperium Premium Subscription Giveaway
Another reminder that we are going to give away a full premium subscription to Warhammer Imperium. More exclusive stuff from us. A further reminder is that the retail value of the models you get in this collection is worth an estimated £1520! And that's just the models, before the paints, binders and other extras you can get!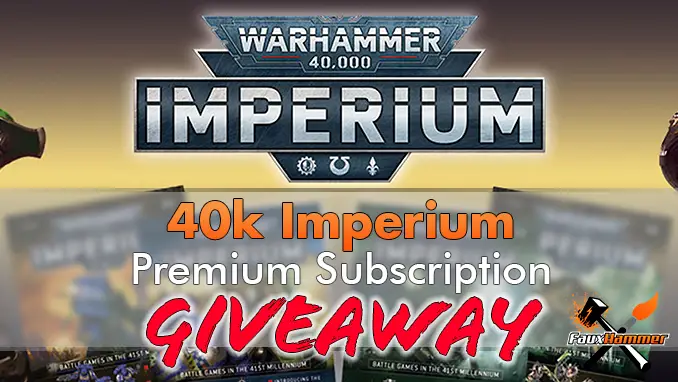 Sure that's the RRP of the models. but still, the collection alone is still available at a cost of £781.22. Forgive me if I'm wrong, but this could be the biggest Warhammer related giveaway in History. is it? Does anyone know of a bigger one?
Anyway, do you want to win this? well it's super simple, just subscribe to our YouTube channel.
Warhammer Imperium Release Date
Warhammer Imperium Magazine Issue 1 will be released in the UK on August 25th 2021. Issue 1 will be on the shelves for 2 weeks before Issue 2 is released. from Issue 2 onwards the magazine will come out weekly.
The US release is still marked as Early 2022, which I know will be disappointing for many reading this, but it has already been shared on the website. We are still waiting on confirmation of a Canadian release. You can keep track of the latest release info on the Imperium website (but I am hoping to get the US date as exclusive news too) If you haven't already, enter your email there to register interest. Please consider there are a ton of moving parts when trying to bring these types of magazines out. And the US is a territory where partworks aren't really done.
Those who already subscribed during the trial in the UK will be getting an email over in the next couple of weeks, with more detail. And equally so, those who registered for interest will also be seeing emails come out.
Please remember (as some people don't know) FauxHammer.com a news site, not customer support for Hachette. If you don't get these emails. Check your spam, but aside from that advice, I can't help, sorry. please check your account with Hachette
Come back here mid August time where we can share with you the TV Advert for Warhammer Imperium and the contents of the first 10 Issues
Click this link & buy your hobby stuff from Element Games for the UK & Europe to support FauxHammer.com – Use Code "FAUX2768" at the checkout for double reward points.



Our Affiliates / Hobby Stores
What did you think of this Article? Please let us know in the comments.
If you like what we're doing here you could really help encourage more content with a share on any social media platform.
Click the share links at the bottom of this screen (or on the left for computers and tablets)
Want to keep updated with the blog? You can subscribe in the sidebar for RSS or by email below
(Sidebar is below the article on Mobile Devices)