Warhammer 40k Panini Sticker Album – Warriors of the Emperor – Full Collection Breakdown
Last Updated on April 19, 2022 by FauxHammer
Got, got, need, swop. SHINY! When was the last time you went through that process? and did you say swop or swap? (that could be the largest argument in here – have at it, I'm gonna use both interchangeably just to be a troll.). Well, come one come all Warhammer fans and get ready to return to your pre-formative years by collecting tiny pictures in a sticker book.
Our Affiliates / Hobby Stores
Just a quick intro. It's a 32 page Sticker Album featuring stickers containing various existing Warhammer 40,000 Artwork from the past couple of generations. Stickers are standard, Foul backed and holographic, with several multi-part stickers along with some other cut-out stickers.
The collection contains
204 Stickers
50 Hero Cards
5 Limited Edition Assassin Cards
As it has appeared so far, there is no distinct rarity spread for any of the Stickers or Hero Cards. Everything in the collection seems equally plentiful among collectors. the exception is the Limited Edition Collector Cards which are available in the starter sets and multipacks. Those sets are;
Starter Set
Warhammer Store Exclusive Starter Set (available 23/04/22)
Multipack (6 Sticker Packs)
Multiset (8 Sticker Packs)
Mega-Multiset (17 Sticker Packs)
You'll need to get 1 of each set to obtain all of the 5 limited edition cards. or be on point with your swaps game.
Update 19/04/21: The above was based on how Panini has previously operated with Limited Exclusives. However in this series. it appears that 4 of the cards are random amongst all of the starter sets and various multipacks. with only the Vindicare Assassin available as a GW store exclusive.
As for the stickers and cards themselves. we've full compiled a list with images below.
If you are new here, welcome. We have quite a few articles covering various 3rd party Warhammer collab collections. From McFarlane and JoyToy Miniatures to (most Famously) partworks magazines. So here we are again covering a new collection.
As we learn more about this collection, the page will be updated to show everything you need to know about finishing the whole thing.
Whilst tons of sites have covered the news that this is coming out soon, we hope that the info here means it's the page you will be coming back to.
Here is my last attempt at completing a sticker collection. I was actually curious as to what these are worth now…
Turns out a complete set is selling for near £600! This is why this post was delayed. I had to go check my loft for the status. I'm missing about 3 stickers! gutted.
The thing I tried to look up is how much sticker paks cost back in 1996. could not find a source, so if you can, please remind me. I think it was £0.25p for a pack of 5 or 6 stickers. now it's £0.90p
Whilst this, like most sticker books is generally aimed at a younger audience than the general mid-thirty to the mid-forty-year-old demographic who occupy this golden-age of Games Workshop, there's still a lot to enjoy about building up a new type of collection.
It's just fun, isn't it! And no matter your passion, don't let anyone tell you you are too old for it.
Watch us open the Starter Set and walk through the album, then unbox 50 sticker packs.
Don't forget to Like, Comment & Subscribe
Honestly, eBay has always been my best friend when it comes to various collections. with sellers constantly trying to undercut each other on packs. it is also a solid swap shop for anyone looking to trade individual stickers and cards
Check out this link, or the image below and you'll find that you can already buy components from the unreleased collection.
If you know anywhere a bit more specialist when it comes to these collections. let me know in the comments.
Here's how the two-in-one collection breaks down.
204 Stickers
50 Hero Cards
The stickers can be compiled into a collectors album, which is available for free at Warhammer Stores on 23/04/2022 (whilst stocks last most likely). It would make sense if these are limited to people actually buying a pack of stickers (at least) though.
Whilst the collection is called "Warriors of the Emperor" It will also feature stickers from various factions as shown in the preview images.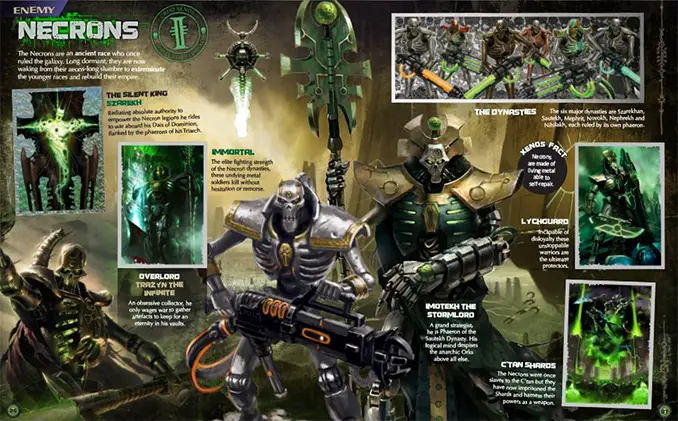 As shown above, this Necron faction page has 6 stickers. 4 portrait images, One of which is an often sought after metallic (and what appears to be holographic) backed card. Commonly known as a "Shiny". the landscape image is made up of two individual stickers.
Throughout the magazine, the stickers come in different formats. Standard 5×7 or 7×5 images. Foil Stickers (SHINEYS!) and shaped stickers, such as Space Marine helmets and Character portraits where only the outline of the character's upper torso is the sticker.
I hope that Panini has improved its cropping since 1995. Lining up these two-part stickers was as difficult as dotting a Space Marine eye back in the day.
Along with the Sticker collection, there is also a secondary collection of hero cards
The only way we are aware of to get the cardholder is by purchasing a Starter Pack. It's bound within the pages of the album along with 6 stickers. but there's no clarity yet on whether the album outside of the starter pack with come with these extras.
As we have done with the other Warhammer collections, we have created a Facebook group and added a channel in our discord server for anyone wanting to socialise around the collection as a topic. And maybe do some online need, need swap action.
Join Facebook below
And join our Discord Channel Here
The social channels could be good places for organising swops at the cost of a stamp. but bare in mind we have no way of policing this, so any trades are arranged at your own risk.
Ooof, ok, how do we work this out.
Well, you have 204 Stickers and 50 cards to collect. so basic math, this is a minimum of 51 packs just to get the correct quantity of stickers you need (and an extra card). But each sticker/card has a certain rarity. This means that you will get duplicates, tons of them.
before we go much further, it's worth talking about Limited Edition cards which come in some of the purchasable sets we detail below.
The following Sets come with Limited Edition Cards. Starter Pack (containing 4 packs and 6 extra stickers), Multipack, Multiset & Mega Multiset (more on these in a mo)
First of all, within these packs, that limited edition card is an extra card in the set. It's not cleverly hidden within one of your sticker packs (that are standard random sets). So the starter set comes with 4 packs of stickers. Which means 16 stickers and 4 cards. the limited edition card, is an extra (5th) card. (you also get 6 extra stickers too but more on that in a mo).
I have limited experience with sticker sets in the last 20-odd years, so the following is based on me being educated by Mark, one of our Group mods. He has more-recently collected Dr Who stickers and based on that experience, he advised the following. (paraphrased).
Not only are these limited edition cards, different in each of the sets. but they are also only available in those sets. So unless you know a friend who bought multiple copies of said set and had duplicate limited edition cards. You need to buy at least one of each set to make sure you get all of the cards.
So that's £31.96 straight up. but that will also get you 35 Sticker packs (146 stickers & 34 cards, not including the limited cards in the calculation.)
But [after buying 1 of each set] now you only need another 58 stickers (15 packs) to complete the total number of 204 stickers you need. (again assuming you get no duplicates)
Update 15/04/22 -As found on the Panini website. there are 5 additional Limited edition cards available in this set
#1 CALLIDUS ASSASSIN (inside Starter Packs and Multi-sets)
#2 VINDICARE ASSASSIN (exclusive to Games Workshop Starter Packs)
#3 CULEXUS ASSASSIN (inside Multipacks and Multi-sets)
#4 EVERSOR ASSASSIN (inside Multipacks and Multi-sets)
#5 INQUISITOR EISENHORN (inside Multipacks and Multi-sets)
These are above and beyond the initial 50. You'll need to buy at least 1 of each Starter Pack and MultiSet. one of which is only available at Games Workshop stores (probably online too).
Update 19/04/21: The above stricken-out content wass based on how Panini has previously operated with Exclusives. However in this series., it appears that 4 of the cards are random amongst all of the starter sets and various multipacks. With only the Vindicare Assassin available as a GW store exclusive.
So you need. (just to get the minimum quantity of cards and stickers) and have the best chance of getting more of the unique cards.
And this feels like a half-decent spend (I say as I've already spent £49.99 on the Starter set and a box of 50 Sticker packs – I did it before I worked all this out).
So the absolute minimum spend is £45.46, again, just to get the Quantities you need and to ensure those limited cards are yours.
Arguably you could spend only £39.92 and get 8 Multipacks and £2.70 on individual packs and get the correct quantity of stickers. But you will not get all of the unique Limited Edition cards (maybe you can swaop them). oh, and you won't have an album, but you can pick that up free from any Warhammer Store on 27/04/22.
So the absolute bare minimum spend, (again assuming your swops game is absolutely on point) is £42.96. that's not bad really.
So, is your head spinning with all these numbers? cool, let's make it worse with insane math?
Right, so. bare with me. so the following is based on a calculation (– e_k =[1/(1−Pr(k,0)] ×(1+∑ i=1,5 Pr (k,i) ×e _k+i) -) created by Sammy Ford. A consulting actuary with a degree in mathematics from Balliol College Oxford. Who worked out the cost of the 2018 Panini World Cup Sticker album.
That set (when packs cost £0.80p for 5 stickers) had 682 stickers to collect! Sammy's equation indicates that a single collector would have needed to buy 996.4 packets (£797.12! back then) to complete the book. Though if a collector bought the final 50 stickers they needed from panini, that cost plummeted to only £294.20.
So. Taking Sammy's calculation for a collection of 682 stickers needed. We can first of all (breaking her equation completely), work out the price difference by taking the number of packs the calculation says you need and multiply that by £0.90p. Giving a range of (£294.40 – 897.30) but that still assumed it's a 682 sticker collection.
No now, destroying the clever person's math even more. we just devide those results by the number of stickers in that set (682) and multiply it by the number of stickers in this set 204+50.
So it's approximately £99.07 – 268.40 for the sticker collection and £123.35 – £334.19 for the stickers and the cards.
TLDR. I just took a very clever person equation, (an equation that has been publically poopooed by Panini) and applied simpleton math to in expecting an accurate result. but of that result is anything close to real. it's not so bad really.
There's a ton of extra complexity added here that I haven't accounted for, specifically with the second layer in this set by having a card collection with its own odds.
Anyway, the point here is not to bore you, I just like numbers. The Real fun is in swapping and collecting the set, so go do it! if you can work this out better than me, let me know.
So, you're probably wondering how you get your hands on these stickers and in what specific formats. well, let's get into it.
Here's a breakdown of the known sets of stickers available
So, value-wise it's kinda odd, you;d think that the more you spend the more you save, when actually the cheapest price-per-sticker or price per pack is by purchasing multiple copies of the 6-pack. Multipack, then the larger 8-pack multiset and then with even less value, the 17-pack Mega Multiset. Buying the 50-pack booster set is no better value than buying the individual packs.
Several of the packs above are noted to contain a "Limited Edition Card". Which we explained in the previous section.
Individual Packs – Value Breakdown
Individual Packs rack in at £0.90 each and within each blind-packet you'll get 4 stickers and 1 hero card.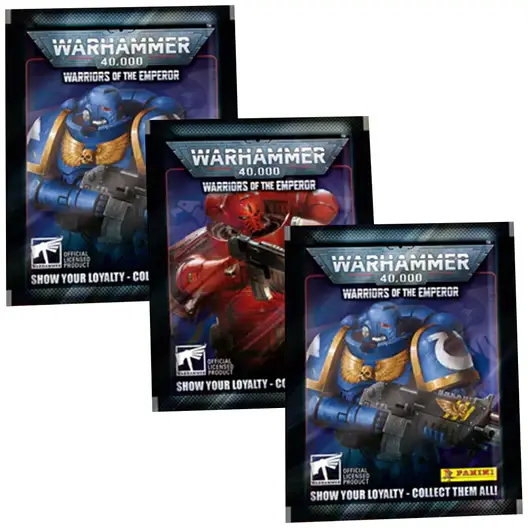 Just some quick math here, with 204 stickers in the collection, you'll need a minimum of 51 packs minimum to complete it (which will also net you 51 of the 50 cards you need).
This of course assumes you don't get any duplicate stickers/cards (which you will) or you are able to swap every duplicate for the exact ones you need (which you won't).
Starter Pack – Value Breakdown
This is the entry-level package for the collection.
At £4.99 you get your Sticker Album (which mentioned above is free at Warhammer stores on 23/04/22), 22 Stickers and 4 Hero Cards.
Plus a Limited Edition Card.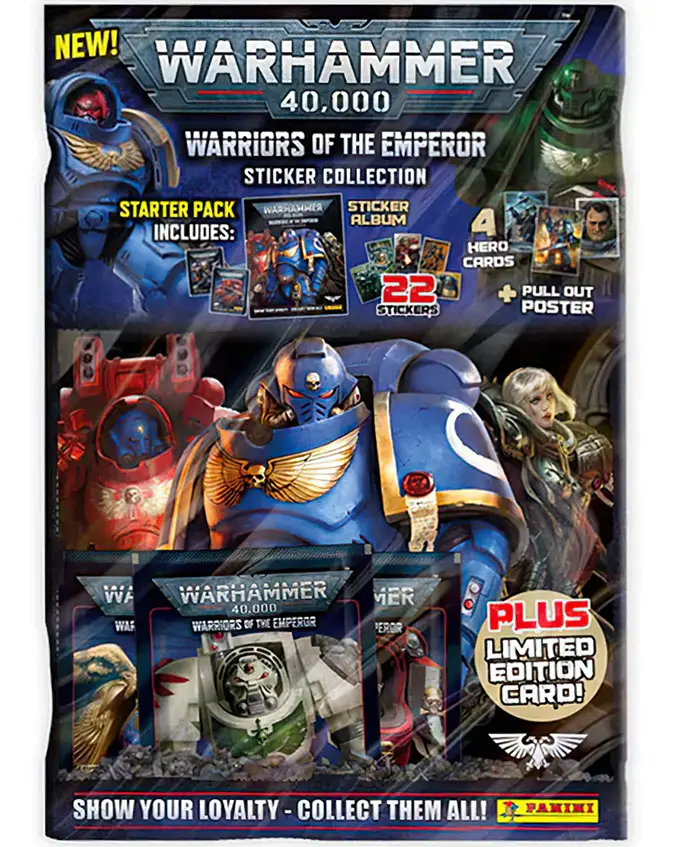 An odd number of stickers and cards in this set. at 22 this does not equal a set number of cards per pack. With 4 cards per pack, you'd either get 20 or 24 stickers. Equally odd are the 4 Hero cards. Which is not equal to the number of packs you get.
What you actually get is 4 complete sticker packs, and 6 bonus stickers.
MultiPack – Value Breakdown
Coming in at £4.99, this set will get you 6 sticker packets. plus 1 limited edition card for £4.99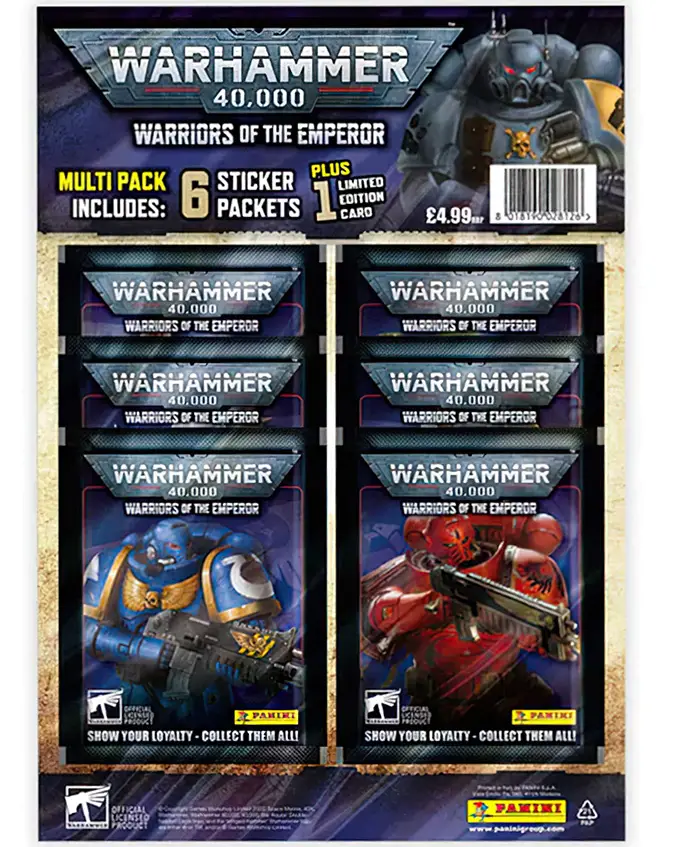 Price per sticker or pack wise, this is the best value set.
It's also the only way you will get one of the limited edition cards.
Multiset – Value Breakdown
This box nets you 8 sticker packs and another Limited Edition Card. I've rounded up the price per sticker/card above as it's everso slightly closer to costing half a penny more than the set below.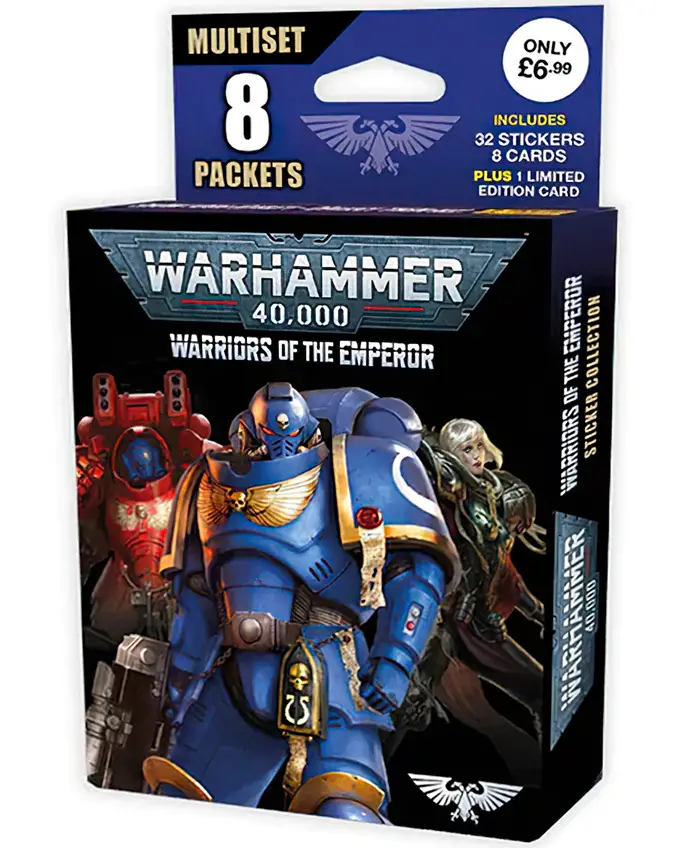 This is the third-best for value when it comes to available purchase options. It is also the only way you can get one of the limited cards. so it's a must buy.
Mega Multiset – Value Breakdown
Again, this is the second-best for value, clocking in at 17p per sticker/card. This set will get you 17 packs of stickers and a Limited Edition card.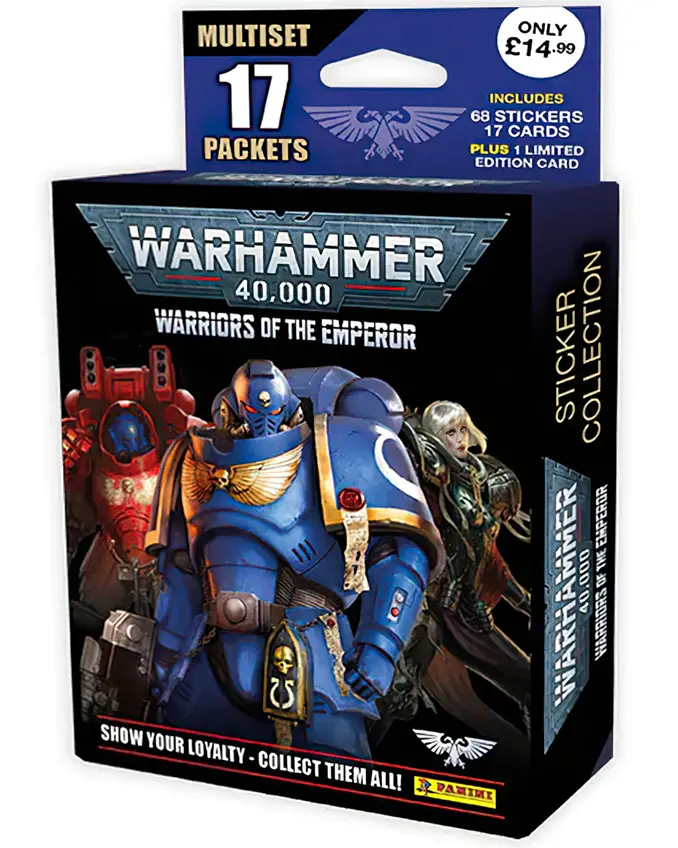 Once again, that card is unique to this box, so you should buy at least one of these anyway.
Booster Set – Value Breakdown
When it comes to the Booster box, there's no saving, you are just buying 50 packs of stickers along with the retail display box they come in. So the extra value you get here is that box.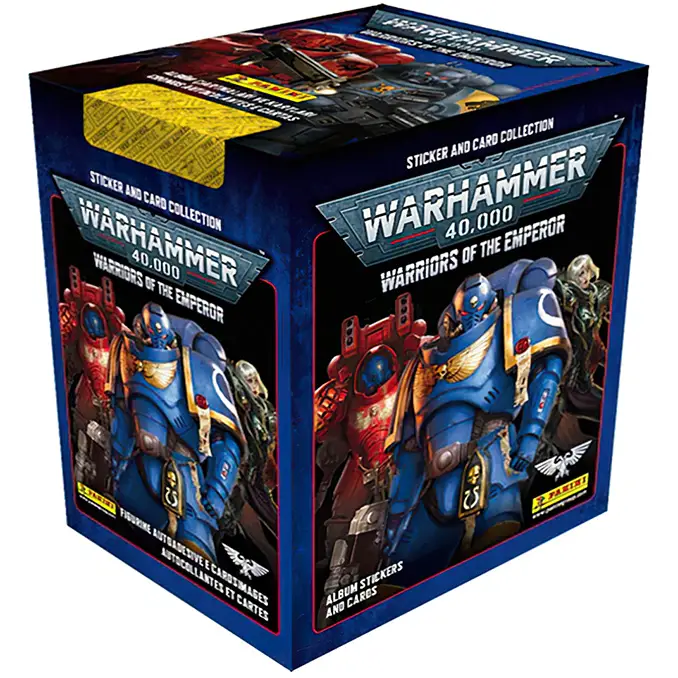 These will be the most common way you can get stickers, but it's actually better to buy any of the above multipacks or multisets if you can find them. they will be limited much more than these.
Booster Set & Starter Pack Bundle – Value Breakdown
This appears to be exclusive to panini.co.uk. With value comparable to the. Multipack thanks to those extra 6 stickers, but those 6 stickers are pre-set and come as part of the album.
i.e they aren;t random, they are the same stickers for everyone and you get them with the album in the starter set anyway.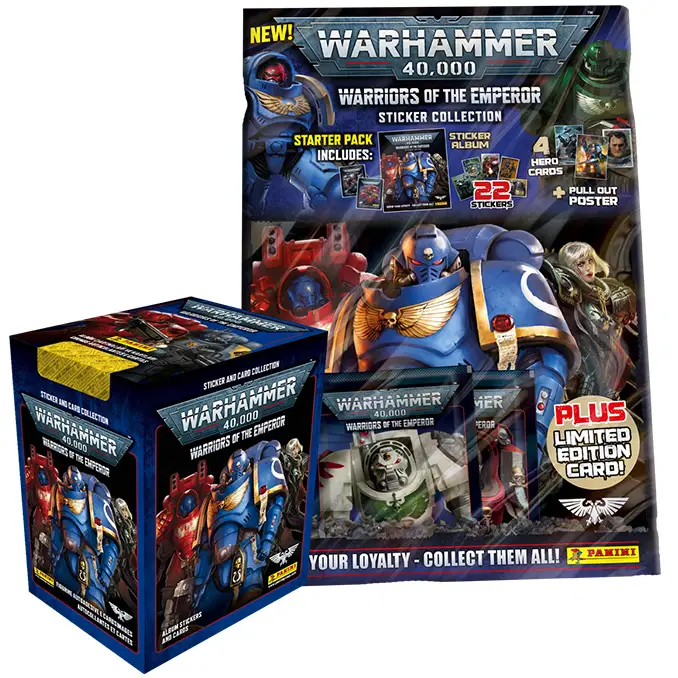 Still, if you have the funds, this is the best place to start your collection.
Ok, so below we will do a chronology of all the stickers, consider this as something you could use you maybe print out and monitor your collection? maybe. just remember to print it at work when nobody is watching so that it's free (jokes)
We'll build up a list showing the cards here, but in super-low resolution with a massive watermark so there's no copying to be done from here.
So, spoilers ahead!
If you want to submit a missing image, I use Google Photoscan to take the images. so do the same please, stick them in an online album named with the sticker number and share a link to that album in the comments below, or use the contact us page. I'll credit everyone who submits and if you want a link to one of your socials, drop that in the message too.
Bare with me as I update this article
Introduction
The Imperium of Man
Ultramarines
Aeldari
Dark Angels
Ravenwing
Deathwing
Space Wolves
Orks
Blood Angels
Necrons
Sisters of Battle
Armoury
We're doing the same as above, but with the cards this time.
Hero Cards
Limited Edition Cards
Honestly, I feel like I'm 111-years old again. but this time on a mass scale using the power of cataloguing and online sales.
Personally, like many of you, I'm also still thinking "eh, why a sticker book?", I kinda get that someone at GWHQ had the genius idea of, "kids love stickers". "This partnership will get more of the young audience into Warhammer". But will it?
I know some things have changed, but as a kid, I hated football, I've never liked football or any sports. even now I do half a sit-up every morning when I get out of bed and the other half at night when I return to slumber. #Exercise
But I still collected football cards because all my mates collected football cards. What kids are gonna collect Warhammer cards? Warhammer itself has always been a niche and the only people who will collect Warhammer stickers are surely already Warhammer fans.
Once again this goes back to my ongoing worry that GW isn't doing enough to attract a new young audience so they can be sustainable in the next generation. GW's uplift right now seems to be based on the fact that those of us who loved it in the 90s, now have some disposable income to spend on our hobby. In some cases, it takes priority over rising energy and fuel prices, Come on, who hasn't asked them for a day (or several) to work from home because they are struggling to afford fuel. but what you really mean is that if I buy fuel, I can't afford my Warhammer models this month?
Despite everything GW do, I still see a very minimal number of younglings in Warhammer stores compared to the creche it was back in the day. That's your next generation of customers, where are they? The few I do see have that glazed over vacant expression associated with "dad dragged me here".
Please GW, if you want to bring in a new audience, then make an easily accessible and fun game. Imagine for a mo that Games are the core of your company. Make something easy and fun to play. again, as I've said before; like Heroquest was. Not, not Warhammer Quest which is an overcomplicated Advanced Heroquest anyway. I mean something that 7-11 yr olds can play. A fold-out board game. (1 board, not a ton of little tiles).
Or just bring back Space Hulk
Our Affiliates / Hobby Stores
What did you think of this Article? Please let us know in the comments.
If you like what we're doing here you could really help encourage more content with a share on any social media platform.
Click the share links at the bottom of this screen (or on the left for computers and tablets)
Want to keep updated with the blog? You can subscribe in the sidebar for RSS or by email below
(Sidebar is below the article on Mobile Devices)