Warhammer 40,000 9th Edition Indomitus Starter Sets Compared
Last Updated on July 12, 2021 by FauxHammer
It was only a couple of weeks back week in our Warhammer Indomitus Review that I said, "I can't imagine that there won't be some kind of starter box on the shelves once Indomitus has sold out"! then 3 days later (they must read FauxHammer.com and agreed with me), Games Workshop Announces the three new Warhammer 40,000 Starter Set – Recruit, Elite & Command Editions. Oh, So Indomitus was a limited exclusive after all!!
Our Affiliates / Hobby Stores
So yeah, if you hadn't ordered Indomitus by 28/07/20 then it's all gone, even made to order is gone….. Well, we'll see. I imagine some of our FLGS have been smart and ordered a few extra copies. So I won't be surprised if there are a lot floating around at Christmas time because "Cancelations" – Wink Wink?
But for those walking into a Warhammer Store asking to buy a Warhammer 40,000 stater set, you won't find a named release such as Assault on Black Reach, Dark Vengeance, Dark Imperium or Indomitus. It's just called Warhammer 40,000 (9th edition) – and there are three versions.
We previously had a similar breakdown of versions with Dark Imperium (8th Edition) in the form of 3 named boxes; First Strike (is succeded by Recruit Edition), Know No Fear (succeded by Elite Edition) and Warhammer 40,000 Dark Imperium (Now Command Edition). It's similar with Soul Wars too.
There's a bit of a change-up in the approach with these, previously, each version would come with more models. Now, Command Edition (the Flagship) is Elite Edition but with some terrain and A hardback Rulebook
We'll be reviewing each of these sets independantly in the coming weeks
Let's take a Closer Look at The sets
Warhammer 40,000 Paint Sets
As a quick Aside, Games Workshop just announced two new paint sets. one for each of the factions featured in Warhammer 40,000 9th edition.
Warhammer 40,000 Assault Intercessors Paint Set
This new Paint Set contains 3 Models and 6 Paints – which should be enough to get you started.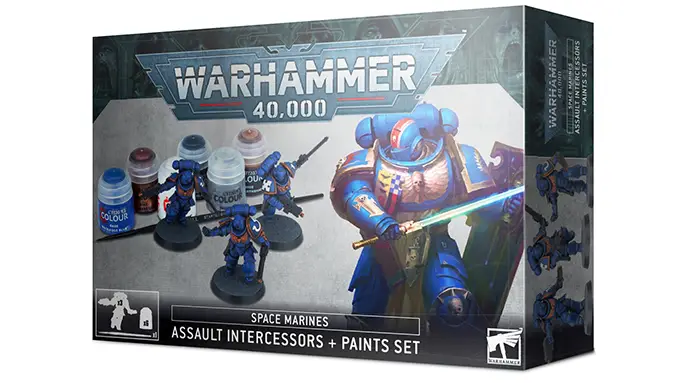 Warhammer 40,000 Assault Intercessors Paint Set Contents
3 x Easy Build (Push-Fit) Space Marine Assault Intercessors
Starter Brush
Macragge Blue
Balthasar Gold
Corax White
Warhammer 40,000 Necron Warriors Paint Set
The Necron Set also features 3 models and 6 paints. including a couple of the new paints released specifically for this edition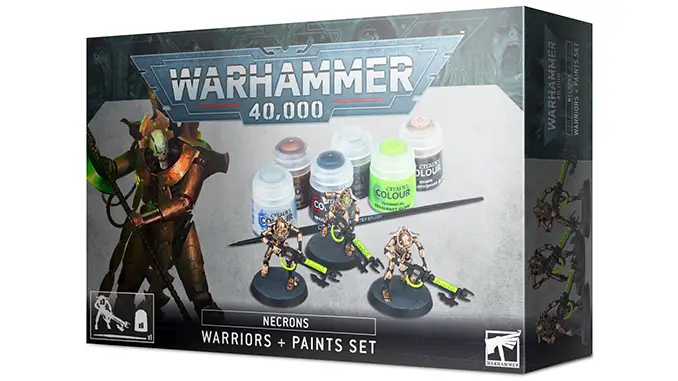 Warhammer 40,000 Necron Warriors Paint Set
3 x Easy Build (Push-Fit) Necron Warriors
Starter Brush
Runelord Brass
Runefang Steel
Tesseract Glow
The thing I care about in both sets is the models. The Assault intercessors themselves clearly have distinct poses. The Necrons are also unique when compared to their Indomits counterparts. but this time you get the Gauss Flayer Rifle Only (there's no Gauss Reaper option unlike in the main set).
They really are some good start painting sets. with only 6 paints in each, you now have everything you really need to get some base colours on these models, get a wash on them and even some texture paint for the base. Although, all of these are in 12 ml pots, unlike the actual texture paints and washes which are now 24ml.
Personally, as I have the paints, I'll skip these as I expect those models to be released as separate "easy to build" kits of just the 3 models in each. Just like we had with 8th Edition.
Warhammer 40,000 Starter Sets Recruit Vs Elite Vs Command.
Starting off with a few Comparison Charts so you can know what you get in each set.
Warhammer 40,000 Starter Sets – Contents Per Edition
Just a quick overview of the different sprues of models you get in the sets (for a better breakdown of the models you get per sprue – please see our Warhammer 40,000 Indomitus Review
Warhammer 40,000 Starter Sets – Sprues
This bit is for those of you who have Indomitus and want a quick overview of how the new sets are broken down using Indomitus as a base.
Warhammer 40,000 Starter Sets – Models
Ok, let's get into the meat of it, the models themselves – I've broken this down into two tables, Space Marines & Necrons
Space Marines
Necrons
So in each edition you get 5 Assault Marines and 10 Necron Warriors (Vs Indomitus' 10 & 20 respectively),
With The Recruit Edition you get the Lieutenant and Royal Warden, With Elite & Command you don't get those models but instead, you get the Captain & Overlord along with the Outriders, Destroyers & a Plasmacyte
Warhammer 40,000 Starter Sets – Extras
So there are a few other bits you get in these sets
Warhammer 40,000 Starter Sets – Recruit Edition
So here's you entry-level (aka Stocking filler) for those who just want some more models to paint
Price: £32.50, $50(USD), €40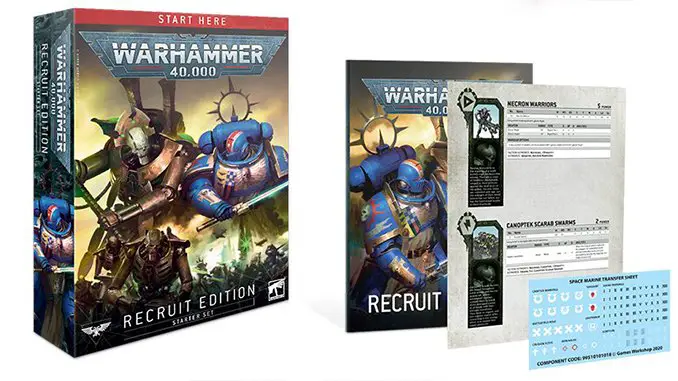 This is the basic kit for anyone who wants just a taste of playing Warhammer 40,000, 2 Small Squads and a leader for each faction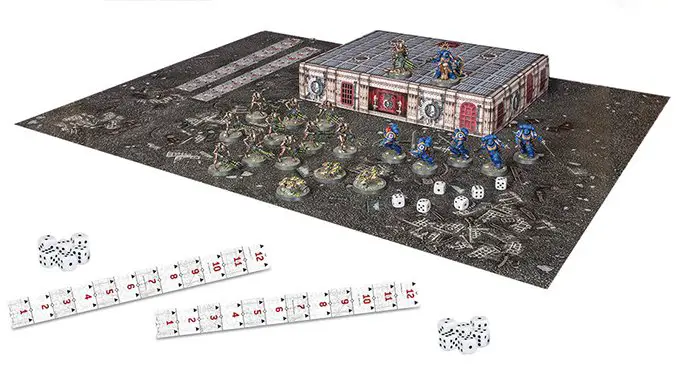 One slight bonus to these starter sets is that along with a fold-out mat, the box also becomes part of the terrain on your battlefield
Click the image below to see our in-depth review of Warhammer 40,000 Recruit Edition.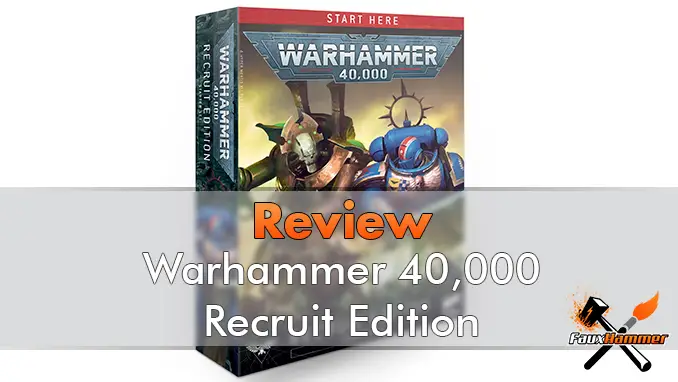 Warhammer 40,000 Starter Sets – Elite Edition
The mid-tier is likely to be the most popular of the new sets as this comes with 2 larger armies now including the Destroyers and the Bikes.
Price £65, $99(USD), €80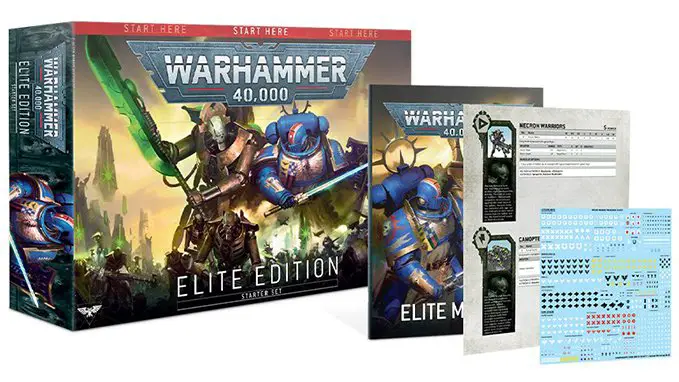 Another slight upgrade here is the transfer sheet which (unlike the Recruit Edition) has transfers for Ultramarines, Blood Angels, Space Wolves and the traitorous Dark Angels.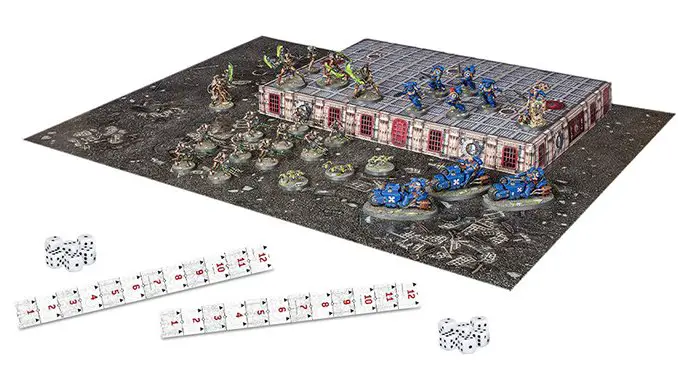 Again, the box can be used as terrain – this is brilliant as a starter set.
The price point for this one is just right for those who really want to get into Warhammer 40,000 but can't quite afford the Command Set – But if you're new and this price puts you off – please don't look at how much some individual models and squads may cost in the future.
Seriously don't look.
Look away.
LOOK AWAY!
Click the image below to see our in-depth review of Warhammer 40,000 Elite Edition.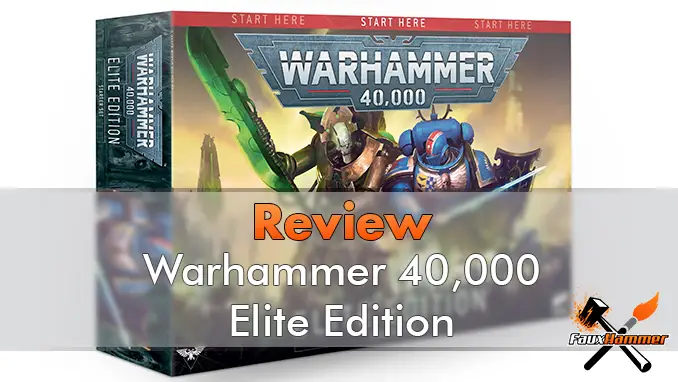 Warhammer 40,000 Starter Sets – Command Edition
Finally "Command Edition" is the new flagship of the range. Which makes me wonder why Elite Edition has that name. I thought the definition of Elite was something "that is superior in terms of ability or qualities to the rest of a group or society". But now there is a version which is more superior than Elite…
Whatever… If you are looking for a franchise where words make sense, Warhammer is not it.
Price: £105, $165(USD), €130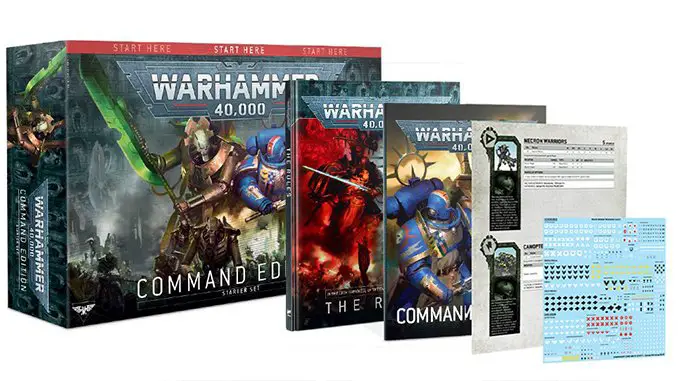 Unlike the previous versions, there are no more models here. This is the Same as Elite Edition but you get a hardback (180-page) rulebook and some terrain (and six fewer dice, probably to save costs).
Again a really great set and if you know you are committed to Warhammer 40,000 this is a great starter set for you to wage tabletop war
Click the image below to see our in-depth review of Warhammer 40,000 Command Edition.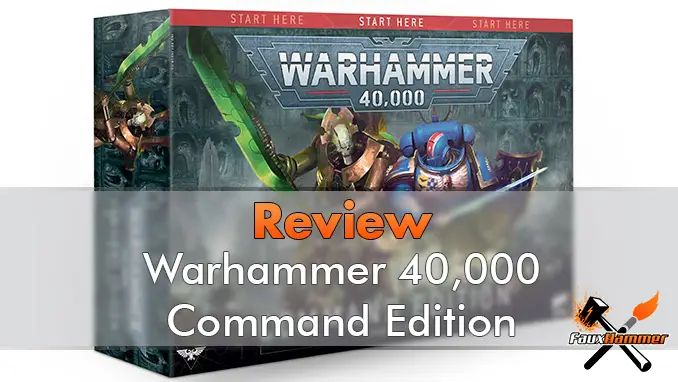 Warhammer 40,000 Starter Sets – Price & Availability
First up, let's have a look at the prices.
Prices below are based on RRP, use our links below the availability section to get up to 20% off.
Please note we are counting the connected models as one sprue, for Example, the Lieutenant and the Royal Warden is one Sprue as they come joined. The term "Model" refers to any unit with its own base.
The Terrain in the Command Edition has been ignored in the "cost per model".
So price-wise you can really see the value in these sets. On the base level the Recruit Edition looks a steal as you are getting a large number of models at quite a low value per model, just remember – Rank and File are normally the cheapest.
The comparison above is quite crude and as such unfair. Especially in regard to Indomitus' value. But that's because we have stripped this down to the barest of comparisons here, single model divided by the cost of the set.
It does not take into account the value of these models in-game or the value of an equivalent model individually. The missing sprues between Elite/Command and Indomitus contain some of the more formidable units such as the Chaplain, Judiciar, Ancient, Eradicators, Bladeguard Veterans Skorpekh Lord, Canoptek Reanimator and more. Some of these individual units would easily retail at £20 ($25 USD) – £25 ($35 USD) each!
Let's have a quick look at equivalent model/unit prices (Unit cost /value is based on the price of the Indomitus Box contents. So 10 Marines and 20 Necron Warriors.
So, whilst these are based on Estimates (especially on the Necron side as we don't have comparable unit prices yet), it really puts into perspective the value of the boxed sets above and what each sprue is worth were you to buy those models individually.
The Space Marine Sprue G which has all of your main command level models along with BladeGuard Veterans and Eradicators has an individual unit value of £102.50 ($300 USD) Almost half the cost of the complete Space marine force at its individual model value of £215 ($390 USD).
The Necron Side has Indomitus Sprue H missing from the new boxed sets. This has a rough value of £89.50 ($146 USD) – Just under half the value of the rest of the available force which has an individual unit value of approximately £217 ($349 USD).
All of a sudden, that Indomitus box is looking much more valuable!!! There are places still selling it. So if you can, bag a copy now!
See our list below of places to check out or this post here
Availability wise, you will be able to pick them up from pretty much anywhere. To make it easier for everyone (and more financially supportive to us with affiliate links) see the list below for various hobby stores in your country. Most of which will offer up to 20% off the retail price (some will offer discounts using our exclusive codes).
Our Affiliates / Hobby Stores
Warhammer 40,000 Starter Sets – Summary
I think these latest sets by Games Workshop are a very smart approach to getting beginners into the series. None of the models in these sets is particularly unique so if you want to quickly bolster an existing force, you can just buy another set.
They've broken it down well so that buying Elite + Recruit or Command + Recruit will get you a solid force on the tabletop straight away.
Heck, even if you already bagged Indomitus, All of these versions would be a decent way to reinforce both armies.
Though it leaves me wondering, what about all of those other awesome Models we got in the Indomitus Set? Sprues G & H which have some awesome models like the Judiciar, the Chaplain and the Skorpekh Lord? Those moulds can't have been used purely for Indomitus right?
Well, first of all, I expect these will probably be part of a future "Start Collecting Set" Like how the Space Marine models from the limited Shadowspear release became Start Collecting Space Marine Vanguard.
I expect something similar with these forces in the not too distant but fairly grim dark future,
My real hope is that we see all of this and more in an updated version of Warhammer Conquest Magazine – I mean, that sold so well and Mortal Realms Magazine is doing pretty good too.
What do you think?
Our Affiliates / Hobby Stores
What did you think of this Article? Please let us know in the comments.
If you like what we're doing here you could really help encourage more content with a share on any social media platform.
Click the share links at the bottom of this screen (or on the left for computers and tablets)
Want to keep updated with the blog? You can subscribe in the sidebar for RSS or by email below
(Sidebar is below the article on Mobile Devices)