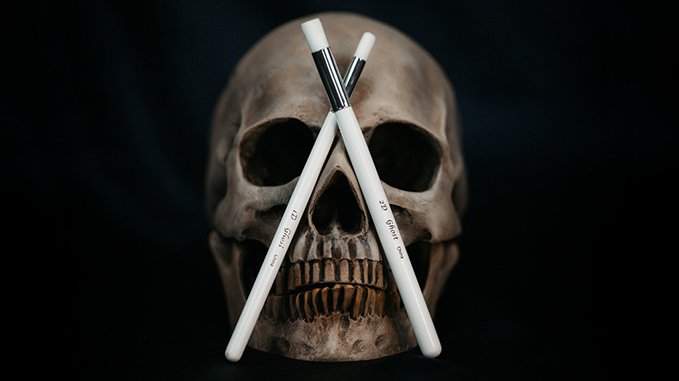 Here's another cool Kickstarter for Hobby tools. if anyone is after some affordable dry brushes. SleewwalkAir is running a follow up to their last incredibly successful GHOST Brush campaign. Now entering the ring with drybrushes.
I have to be honest, despite the success of the GHOST brush, I had never heard of this campaign. It wasn't until the creator posted the new campaign in our Paint Hub Facebook Group. many may immediately compare these to the Artis Opus – Series D. I did it myself having commented on the post (before reading the content – advising a product like this already exists). Sorry.
When I actually read the campaign, it's clear to tell that these are a different approach, for a different audience. So I'm not sure why the creator decided to take a playful dig at Artis Opus in their campaign…
I'm not here to ask you to pay for decorative packaging. I'm not interested in charging you to cover the bill so I can hire big name studio painters in an attempt to convince you these brushes will bring you 1st place golden trophies.

Sleepwalk Air
At least it's a fun dig.
But this does drill home the difference, these are "affordable" Drybrushes. At only $16 USD (approx £13 GBP) for four (two of each size) drybrushes. it's worth it even if they turn out to be trash. I'd pay 4$ for any brush I don't need to care about too much.
They clearly do a decent job, you can see plenty of videos from the creator himself RedBeardBoss on YouTube. This one below shows the brush in action.
My immediate view (without a hands-on), is that Nylon will not give as smooth a blend as natural hair. The video above shows some streaking when painting the horn (though this is explained). Yet streaking can come in useful for certain techniques.
The worries with most Kickstarter campaigns is whether or not the creator will deliver. I was put off at first by such a low initial Kickstarter goal. Normally a goal for Sub $1000 (even $5000/$10,000 depending on the product) can normally be the first indicator of a creator not being too serious about the product. However, SleepwalkAir has already delivered a very successful campaign at a similar goal.
It's just unfortunate I can't find these anywhere in an online store to get some and try them out.
Nevertheless, a really coll campaign and I'm glad that at least someone else is giving us another drybrush option. Competition drives creativity after all. And so many people are still buying dry brushes from the likes of Citadel when there are far better options to get much more out of this incredible technique.
For $16, what's to lose (other than the $16).
What did you think of this Article? please let us know in the comments.
If you like what we're doing here you could really help encourage more content with a share on any social media platform.
Click the share links at the bottom of this screen (or on the left for computers and tablets)
Want to keep updated with the blog? You can subscribe in the sidebar for RSS or by email below
(Sidebar is below the article on Mobile Devices)