Best Wet Palette for Painting Miniatures, 3D Prints & Scale Models
Last Updated on August 17, 2022 by FauxHammer
So, you may have heard that a wet palette will improve your painting, maybe you've been using a wet palette for a while and are wondering if there are better options out there? Today we are looking at the Best wet-palette for miniatures paints.
Click this link & buy your hobby stuff from Element Games for the UK & Europe to support FauxHammer.com – Use Code "FAUX2768" at the checkout for double reward points.



Our Affiliates / Hobby Stores
The Best Tools For Miniatures?
FauxHammer.com is dedicated to finding the best tools for your hobby. Start with our list of Essential Hobby Tools which will lead you to find the Top-10 tools for each category.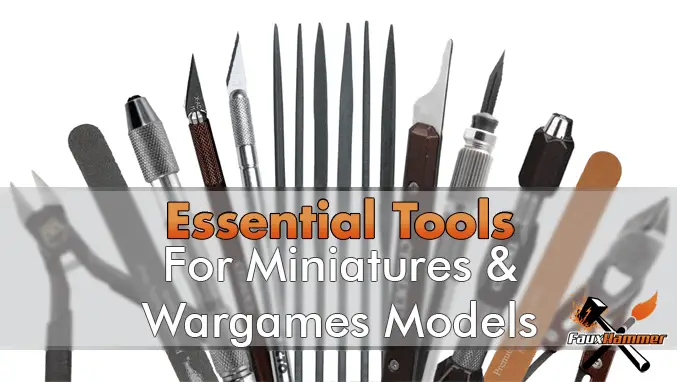 To see all of our guides to the Best Tools for Miniatures, click on the image above.
Best Wet-Palette for Painting Miniatures & 3D Prints – Summary
If you are just interested in the "What" not the "Why", here's the ranked list of wet-palettes – but beware, best for everyone may not be the best for you. Check out the summaries below to see why each product has taken the place it has.
Why use a wet Palette?
If you're not already using one, a wet palette essentially keeps your paint wet for longer. As soon as the paint is out of its container it's drying (heck some of the more popular paints dry in their containers!) By having a water-absorbent layer below a semi-permeable layer, the paint is able to slowly absorb water as it sits on the palette.
In addition to this user have noted that they are able to achieve more stable paint consistency – you are not constantly fighting against local air humidity & temperature in order to keep your paints at the correct workable fluidity.
There is still a good argument to make for dry palettes – when I do sharp linework I prefer a drier, tackier paint. Wet palettes can overdilute your paint at times – especially with metallics & washes.
Beyond this – with a good container you can keep a usable palette active for days, even weeks!
How to make a Wet Palette
Assuming you want to go with the DIY approach we already have this covered check out our tutorial on How to Make a Wet Palette for your Miniature Paints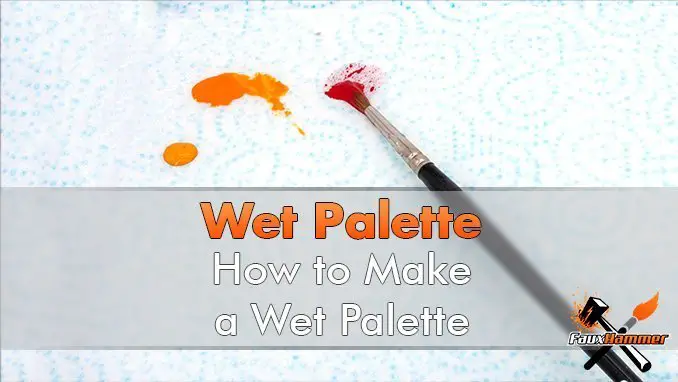 Best Wet-Palette for Painting Miniatures & 3D Prints
You don't need to spend much money – or even any at all – in order to make your first wet-palette. Depending on what you have laying around the house, you can make one out of any flat surface, ideally one with raised edges.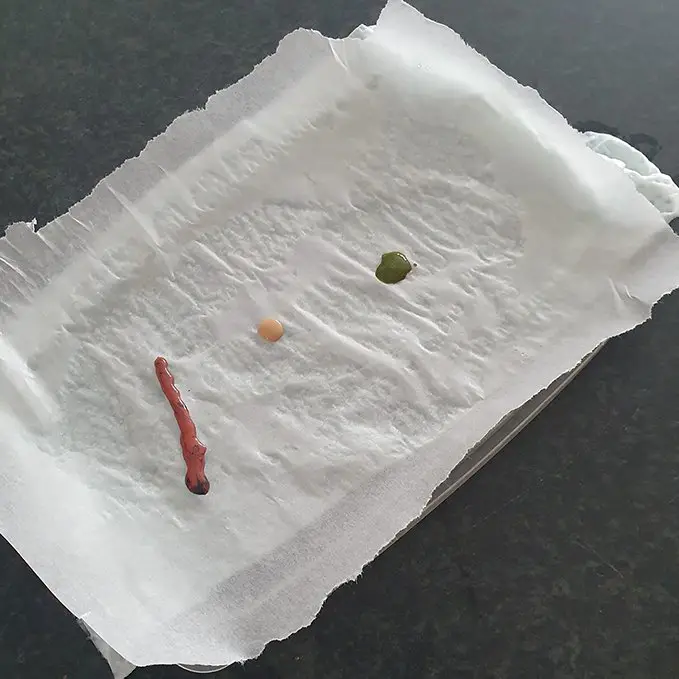 Some tissue (any tissue really) can act as a water-absorbent layer, then all you need is some baking parchment/paper (the none silicone-based stuff) and you have a makeshift wet palette. (you don't technically need that layer but you'll soon end up with bits of tissue in your paint).
These have been made from tons of things. Old Tupperware, takeaway food containers. Even the little boxes for citadel basing materials can make a half-decent wet-palette.
See some examples of DIY palette's on the below Facebook Post
The biggest problem most people have is finding the correct paper. Check out our guide on how to make a wet palette for some guidance on this.
Another frequenly used option. Available in 2 sizes – Small 27.9 x 25.4cm (11″ x 10″) and Large 50.8 x 27.9cm (20″ x 11″).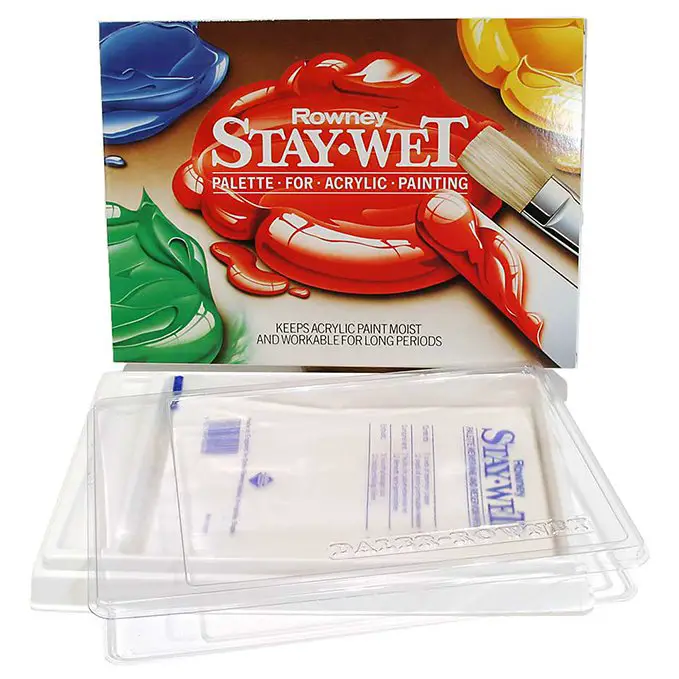 This is one of the more commonly used wet-palette types due to its size and availability – the quality of it however is…. not great.
This is made from the sort of vacuum-formed plastic which would you would expect used as packaging. The lid is clear, flimsy, not airtight and will very likely crack after some uses.
Honestly – steer clear and build your own.
A useful, but budget-tier, wet palette that seems to be on the way out of production. A fairly decent size at 34.5 x 21.1cm (13.5″ 8.5″).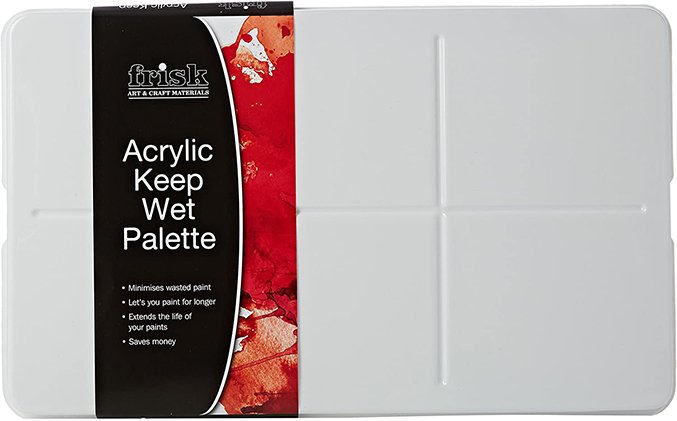 It is soft and flexible, I worry that before long it would crack. But with care and attention, it can last a good while. If you can find one cheap in a hobby store somewhere, may be worth picking one up – Just so you have a decent container and some sheets. But beware it only comes with 12 sheets of the semi-permeable membrane. The refill packs for more paper come in packs of 12 – each pack has 3 keep-wet absorbent papers in too.
Put simply – it does the job, but you can make a better DIY Palette.
This is a really large wet-palette, designed for fine-art. When I say really large, It's huge. With the workable area measuring at 36.8 x 26.7cm (14.5″ x 10.5″) and the outer dimensions at 40.6 x 30.5cm (16″ x 12″), it takes up a lot of real estate on your desktop.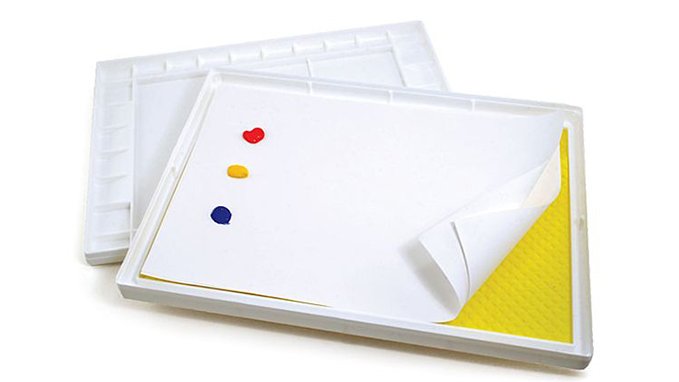 This is also a two for one, with one side (the lid) acting as the wet palette and the base is a segmented dry palette with mixing area in the middle.
It has a solid build quality and an excellent reputation – replacement sheets and sponges are readily available
The first one on the list which is made specifically by a company who specialises in wargames and model paints.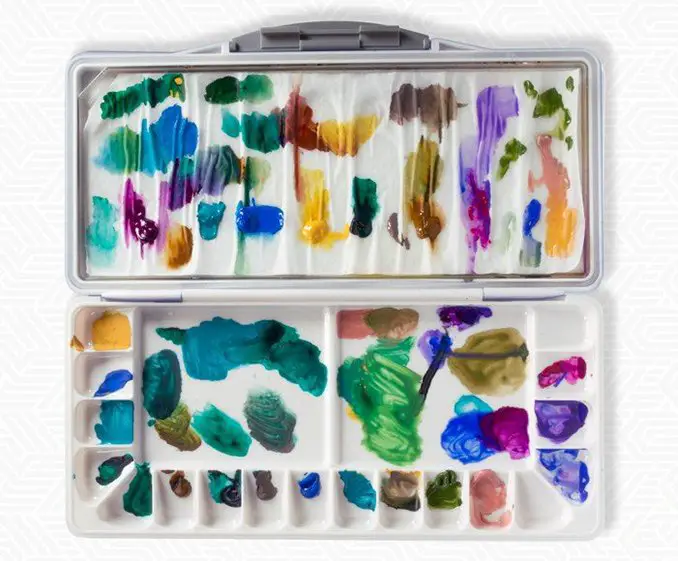 Scale 75 should need no introduction and their wet palette is one of the most functional options out there.
First of all it's a flip-over 2-in-1 solution, where the lid acts as a wet plaette and the base acts as dry palette with mixing pad. It's well built and stores nice.
However, unlike most of the other options, this is a one-use solution. No storing in the fridge with this one. As soon as you flip the lid over the wet palette would fall into the dry palette, mixing your paints. Sure you can store it upside down, but you need to wipe out the dry palette first.
Certainly the most discreetly-functional option, but if you are specifically after a single item which will keep your active paints wet for the longest periods – grab one of the other options – or make your own.
From the largest palette on the list to possibly the smallest. The AK Interactive Wet-Palette is made specifically for miniature and model painters.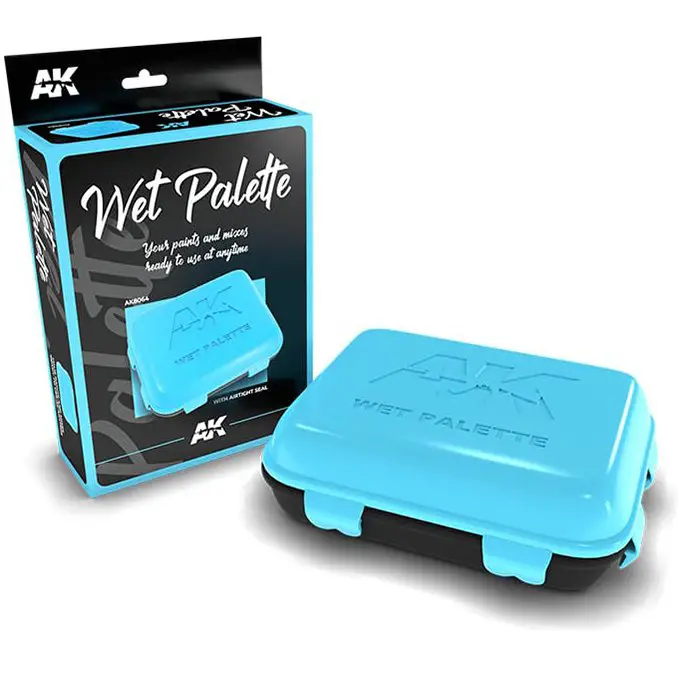 This is an odd option if I'm honest, Firstly that there are 2 sheets of paper between the paint and foam. 1 your usual semi-permeable layer. And 2, a layer called a wipe, which is an absorbent cloth fibre layer.
This extra layer acts as a kind of water filter as it absorbs water but unlike other palettes which can overdilute your paint – this helps limit the amount of water which sits directly below the semi-permeable paper.
On the other hand, the foam that sits below this is quite thick so it can take a lot of water sitting in the base to actually reach up to the middle layer. This palette retains the most consistent paint to water ratio out of any wet palette.
However, I just find it too small 16 x 13cm (6″ x 5″) to be useful in most scenarios. It's also quite tall when compared to the other options. Another issue is that the paper and wipe are flush with the edges, of the container – so adding extra water when needed is awkward.
This is the only retail option where the lid actually clips to the base, the clips are a bit flimsy but it makes sure you won't get paint everywhere if you drop it when transporting it to the fridge for storage.
It's also one of the cheaper wet palettes available.
Okay….
this is what happens when a company wants to make a product that other companies already make but want to put their own stamp on it. Wondering "how much can we cram into the area of a wet palette"?
This palette has some cool features, the main one being the 6.5" x 9.85" paint area which is all but on par with the Redgrass V2 painter – albeit with a lower price, but this one does not allow you to use the lid as a second palette.
Whilst I own two of these, I have some personal bias against them. Mainly due to the daft hard sell on their Kickstarter Campaign. I do Like Game Envy Creations, Their Hobby Holder is super clever as is much of their product line, even if this is cool. but IMHO, it's just too much stuff you probably don't need and won't use.
The lid itself has a second lid within it, which opens up to become a non-adjustable phone stand… taking up more space on your desk than most other phone stands. and in my case, keeping my phone at the optimal angle to show mostly glare from my desk lights.
This recess is also useful for brushes and small tools, so long as you get rid of the mixing tray it houses.
That tray has several wells for various fluid and mixes along with a pad for blotting your damp brushes on and a brush rest…
It does come with different accent colour options though. but as they put, one feature here is "Great for differentiating between projects". But come on guys, who is buying 4 wet palettes? or even 2?
Look, IMHO, it's cool, and if you have use for these features, awesome! But these extra features are also limiting. If you want your wet palette to be a wet palette, there are better options.
This should really be considered the "standard" option – like with all The Army Painter Products – this does the job and comes at a fair price.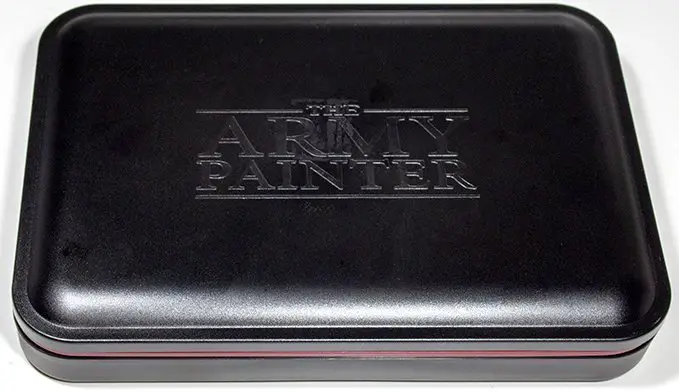 See our Army Painter Wet-Palette Review
The added benefit with this one is that it has a central tray which will hold your brushes – so long as they are Army Painter brushes or equivalent width/length.
This is great for brush storage when your kit is not in use, but when you have everything out on the table it's just an unnecessary piece which gets in the way. And when not in use you should really store your wet palette in the fridge to keep the paint wet for longer (and to stop bacteria build-up). Do you want to store brushes in the fridge? Especially if they have wooden handles.
Another downside to this is that the foam and paper sit flush with the edge of the base container.
As your palette naturally dries out, you need to lift up the paper later to reactivate the foam with extra water. Annoying – especially as this can lead to paint running and mixing.
The paper is really good on this one and the benefit of this – like with any wet-palette is that you have the convenience of not having to cut sheets of paper every time you need them.
Decent product – fair price widely available.
Redgrass Games Wet-Palette Painter V2 is the direct follow-on from Redgrass Games company launching Wet Palette. Redgrass made their name by famously launching one of the first retail wet palettes aimed specifically at miniature painters. from there they have grown to a good staple business within the hobby.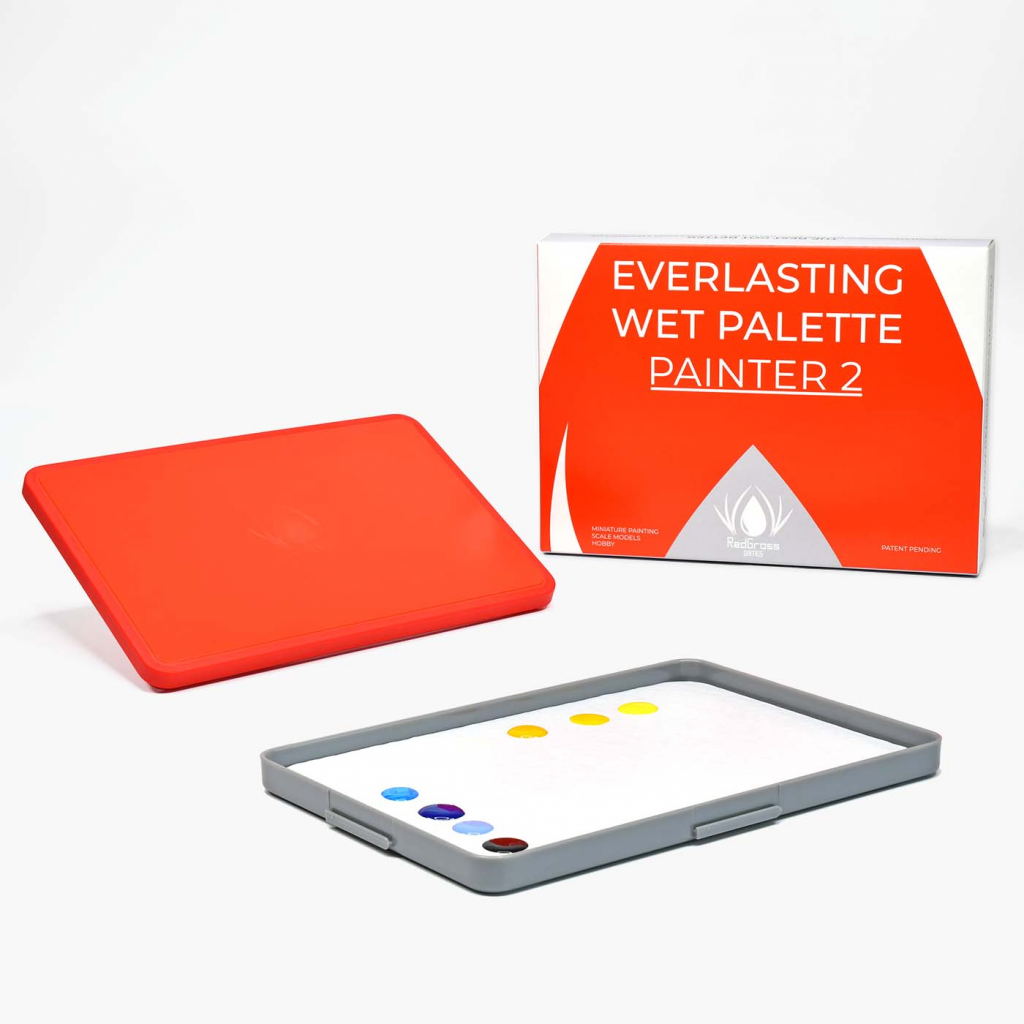 The V2 is an upgrade of the original, featuring many of the same great usability options which made that original so awesome. Specifically that the lid will double up to become a second palette.
The new features include a 20% larger palette and a rail on each side so that you can mount the new wavy accessory or Citadel paint pot holder.
Whilst the larger paint area is great, the accessory notches on the side make for a less streamlined product – all for a marginally improved method of attachment for accessories that few people actually use. And the price of this is nearly half again over the Painter Lite Palette, for 20% extra space.
But if you want to play slightly less than double the cost of the lite, you can get the much larger Redgrass Studio Palette V2.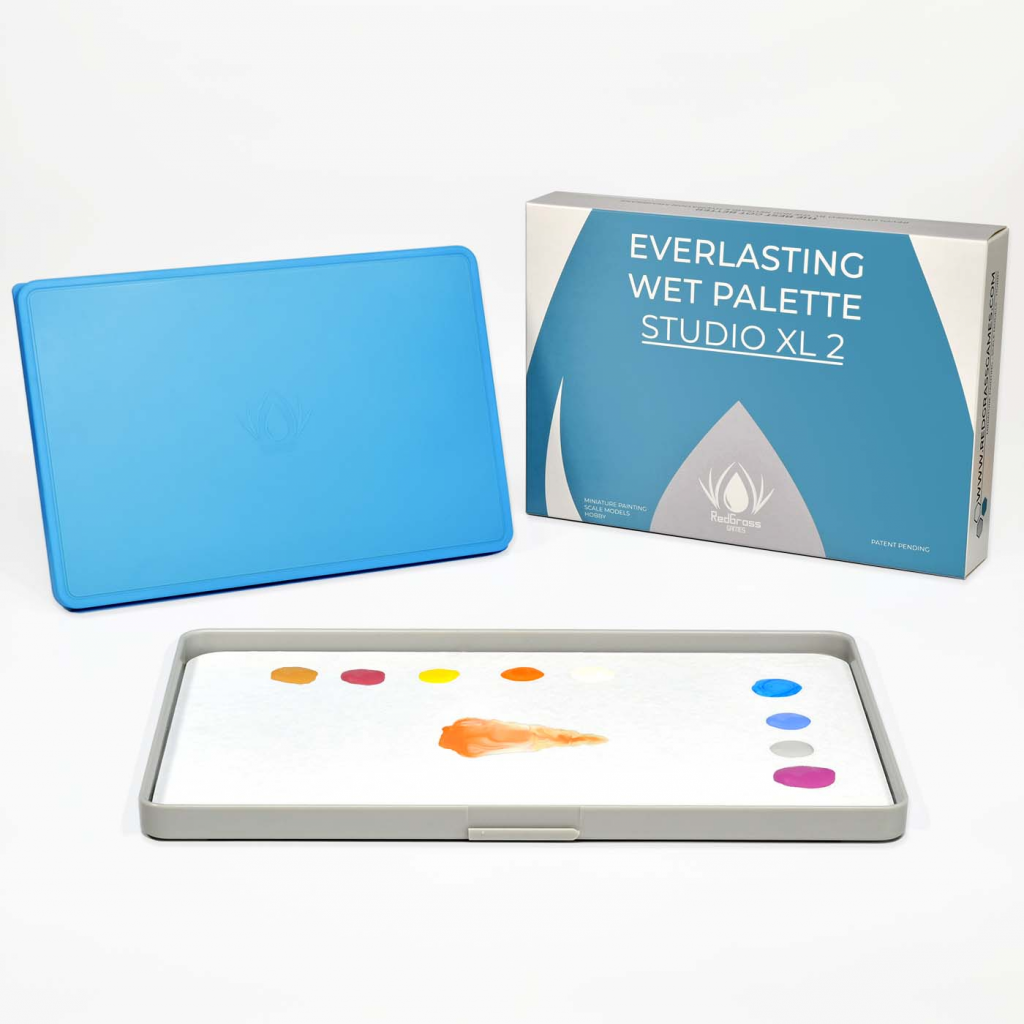 Unlike the Previous versions where the Studio Palette was twice the size of the painter, this time the Studio version is only slightly larger. With the Painter area at 6.5″ x 9.44″, the studio is 8″ x 12″
Still quite large but we find it hard to recommend these over the much more cost-effective Redgrass Games Wet Palette -Lite where you can use both the palette and lid as a palette for a combined area of 10″ x 16″ at almost half the price.
These V2 palettes really do cater for very specific usage scenarios.
The new version of RedGrass Games' original Painter Palette, is now in a different colour scheme and has had the magnets for the original Wavy Accessory removed. The new price point for the palette (which is also now available globally on Amazon) is still our top retail pick.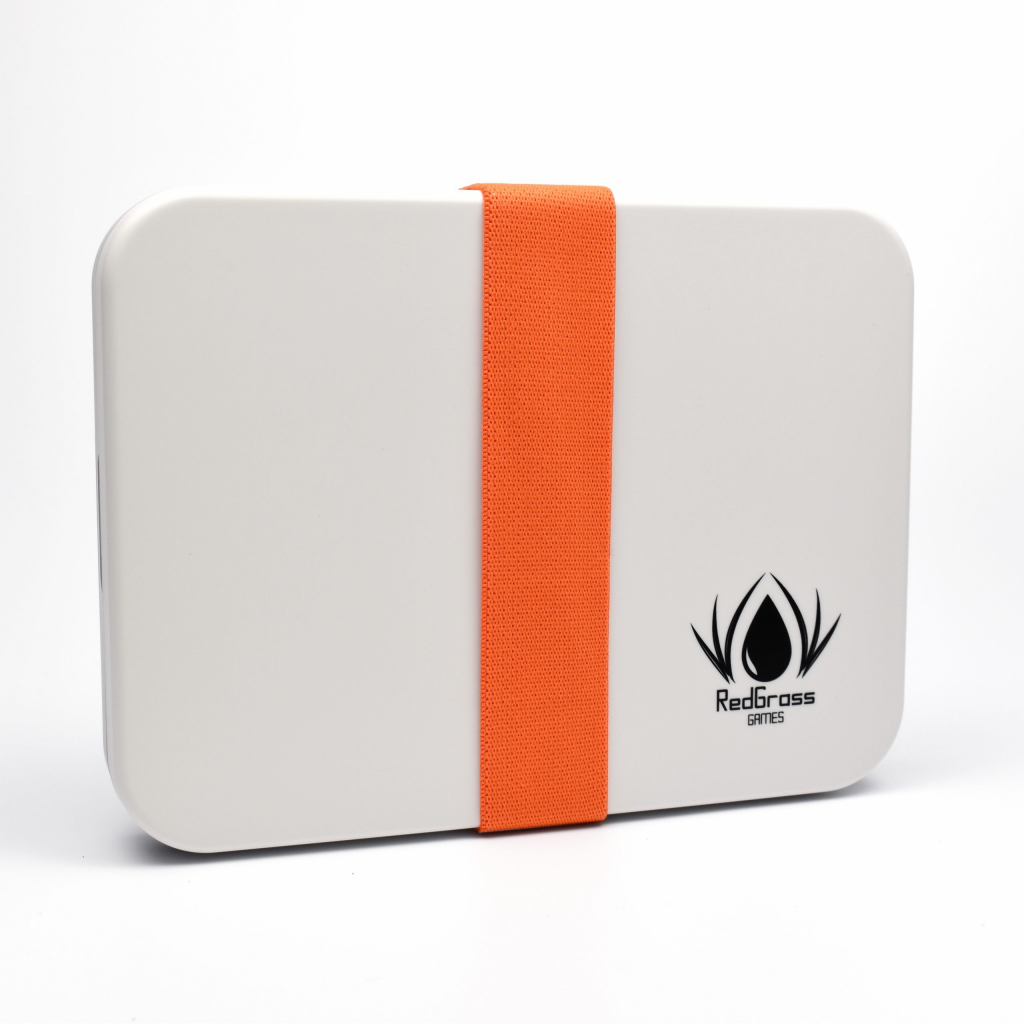 It doe the job, a wet palette is a rather simple affair, it's just a container with some absorbent sponge and a semi-permeable membrane. And here bundled with Redgrass Games' reusable membrane, this small and cheap container is more than most hobbyist painters would ever need.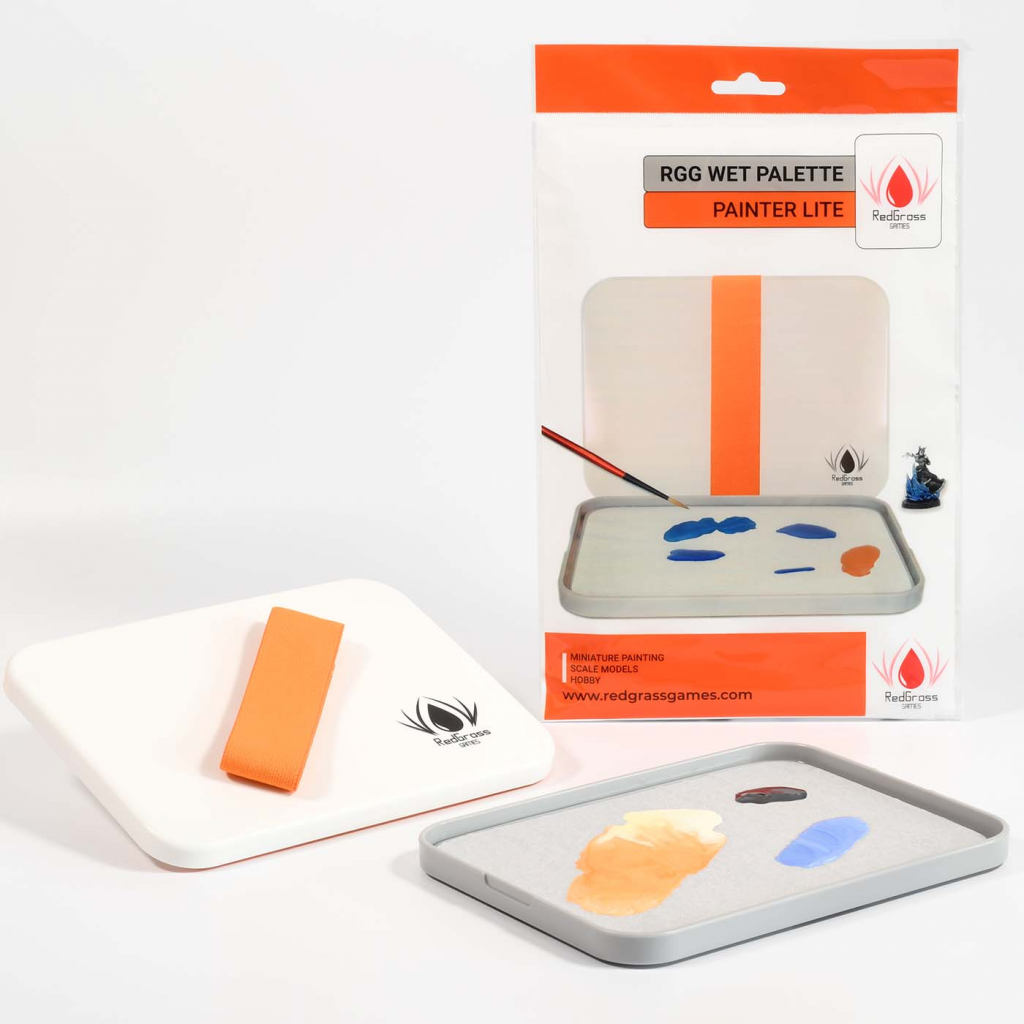 Thelid itself doubles up as an extra palette, which is perfect considering you get 2 foam pads in the box so you have lots of space for your paint. Yet it still folds away to a neat and small form factor, it's just so much more convenient to use one of these than anything else.
Since the Kickstarter, Redgrass Games has gone on to become a decent player in the miniature painting industry and now offer a selection of products including Brushes, Clippers and the RGG360 which is their own painting handle.
Extra packs of foam, hydro sheets and the wavy accessory are all available from Redgrass Games website and many Friendly Local Game Stores.
Wait what?!
Yes, this was also Number 10 on the list, but the topic of "Best" is so subjective. Look, no matter what retail wet palette you buy, you're essentially just paying for convenience – and there's nothing wrong with that. I do.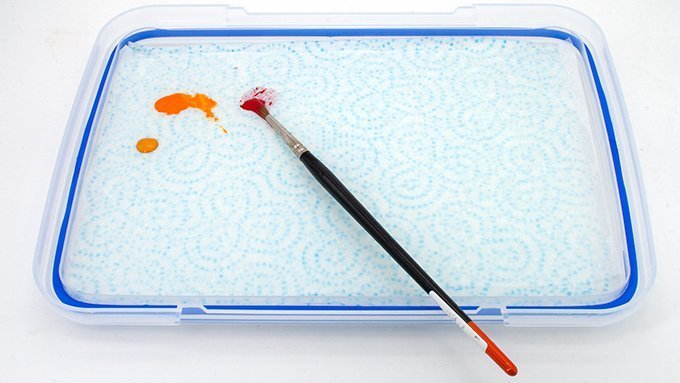 Getting a container and some foam is easy enough, but it can be quite tricky to get the right paper that does what you want and behaves in the right way.
Search the internet for how to make a wet palette and you'll find so many posts where people have struggled to get the right paper to use. The correct paper is called different things in different countries which makes the guide you follow quite difficult. Baking Paper in the UK, for example, is more commonly greaseproof paper, which isn't the right stuff as it's non-permeable.
When I finally found the paper to use, the next batch (of the same stuff) I bought was a brown paper instead of white. I had no idea until I opened the box. This obviously discolours the hues I'm mixing on my palette.
So, back to square-one on the paper hunt for me then…
However, if you follow a guide (nudge nudge, follow our guide) that is aimed at explaining what paper you want in your locale, you should be good.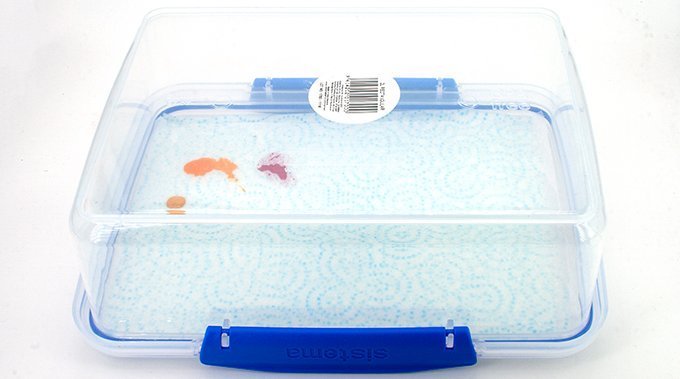 With the right container, you can have added benefits too. Sure you can make a wet palette from an old (washed out please) tub of butter if you want. But a decent food storage box is see-through, which is useful for when the water evaporates and sticks to the lid. So you can now see through it before you splash water all over the paint on your palette. Oh, and they are completely airtight – I've had active paint mixes last months in one of these,
So, if you're happy with hunting for the right paper, and then cutting it down every time you need some – DIY is the way to go. If you can't be bothered with the paper hunt/cutting and just want to get paint on your models – there's nothing stopping you using something like the Redgrass Games foam and paper in your food storage box.
Click this link & buy your hobby stuff from Element Games for the UK & Europe to support FauxHammer.com – Use Code "FAUX2768" at the checkout for double reward points.



Our Affiliates / Hobby Stores
What did you think of this Article? Please let us know in the comments.
If you like what we're doing here you could really help encourage more content with a share on any social media platform.
Click the share links at the bottom of this screen (or on the left for computers and tablets)
Want to keep updated with the blog? You can subscribe in the sidebar for RSS or by email below
(Sidebar is below the article on Mobile Devices)
Summary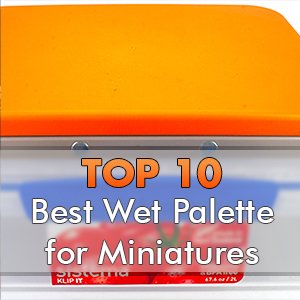 Article Name
Best Wet-Palette for Painting Miniatures and Wargames Models
Description
We are looking at the Best Wet Palette for your miniature paints. So, you may have heard that a wet palette will improve your painting, maybe you've been using a wet palette for a while and are wondering if there are Better Options out there?
Author
Publisher Name
Publisher Logo