Best Paints for Miniatures & Wargames Models
Last Updated on November 27, 2022 by FauxHammer
Looking for the best paints for your miniatures? So was I and I almost bit off more than I could chew. I've done this type of post a few times before. When looking for the best Brushes for miniatures. And again when looking for the best Airbrushes for Miniatures. When looking for the best paints for miniatures, Reddit was a good source but the opinions were quite uneven across the board. So I've been running polls in Facebook Groups. The response to the numerous polls created for this "best paints" guide was more than overwhelming.
Click this link & buy your hobby stuff from Element Games for the UK & Europe to support FauxHammer.com – Use Code "FAUX2768" at the checkout for double reward points.



Our Affiliates / Hobby Stores
There were Over 18,000 individual votes cast, over 70 paint brands recommended and just under 400 comments made. It took 3 evenings just to calculate the results. But it's done now, and I can share the summary below.
This is part of our series of top 10 tools for miniature painting. We plan to do one of these articles for all the essential mini painting tools. Due to the overwhelming responses on paint brands, I've upped the usual Top-10 list here to Top-15.
See below for the best of miniatures painting paints.
The Best Tools For Miniatures?
FauxHammer.com is dedicated to finding the best tools for your hobby. Start with our list of Essential Hobby Tools which will lead you to find the Top-10 tools for each category.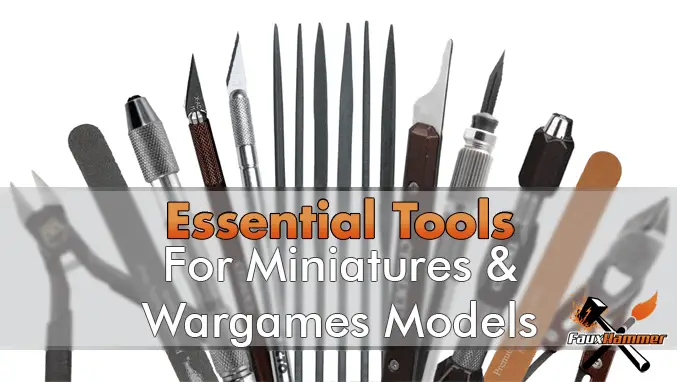 To see all of our guides to the Best Tools for Miniatures, click on the image above.
The Best Paints for Miniatures, 3D Prints & Scale Models – Selecting the Best Paints
Please be aware that all of the paints below are considered amongst the "best" acrylic paints for miniatures available.
Whilst we would mostly use acrylic paints on miniatures, some oil paints on miniatures are worth serious consideration. Unlike Acrylic paints, miniatures painted with oil paints will offer a much greater working time. With oil paints, miniatures may take longer to dry and therefore extend the time it takes to paint a mini. you can be rougher with your paints whilst in use and spend more time getting blends perfect.
As we were saying, there is no single best brand because the term best is entirely dependant on you and what you want to get out of your painting.
Do you want an army done quick? Do you want to paint with quick drying time or slow drying time? do you want dense pigment for coverage in fewer layers or weaker pigment for layering and glazing? Do you want to improve the weathering effects on your mini's? Do you just want cheap paints for miniatures that will do the job? All of these considerations and more will make up the best paints specifically for you. Please be considerate that the product in the Number 1 spot is not better than the product in the number 15 spot. The order is purely based on popularity.
Whilst some people may look specifically airbrush paints for miniatures, I'm happy to say that you can put pretty much any of the paints below through an airbrush with the right amount and types of thinner.
So, If all you want to know is 'which of the below brands is the single best paints for miniatures figures'. I'm sorry to say; there isn't one. Every brand on this list is worth your consideration.
I had this echoed to me on a recent miniature painting course I was on. It's not just the paint brands but some of the individual paints within those brands that have particular strengths and weaknesses.
Below I will summarise those strengths and weaknesses of each brand as considered by the miniature painting community. After all, the real question you want answering here is "what paint brands 'you' should invest in and why?" So that you can spend that hard-earned cash appropriately.
The information below is a brief miniature paint comparison, intended to guide you in making good paint buying choices and where we have had direct hands-on we will link to our individual miniatures paint reviews. For whatever you want to get out of your hobby. No matter if you use a brush, an airbrush, paint plastic miniature or paint metal miniatures. Here are some great paint choices.
The Best Paints for Miniatures, 3D Prints & Scale Models
The lowest in popularity on this list but arguably the absolute best paints I have ever used, especially for base coats. Super opaque, they thin easily and dry nice and level. Not convinced. go buy their white (it's 1 paint) try it out on your models and then come thank me on your way to buy every single paint they make. this is the only brand where I get excited just because they release a few new colours,
Slow Fuse Gaming/Monument Gaming/ Creature Caster (there's some interesting history regarding the company name there) actually featured on our Best Brushes for Miniature Painters list. People are quickly falling in love with these paints as they are some really good paints for miniatures.
Whilst the Pro Acryl range is still relatively new on the scene, they are lauded for having really dense pigment, ensuring great colour coverage in just a few layers.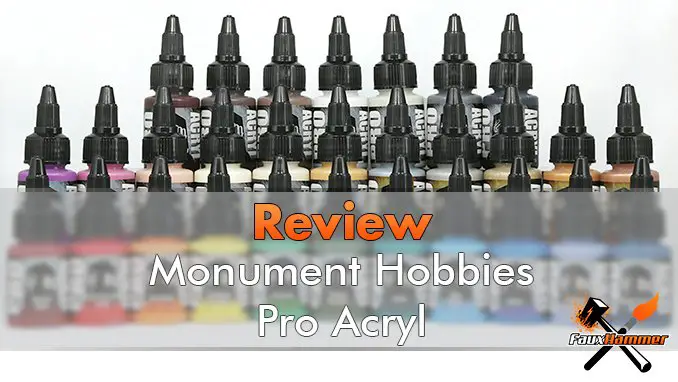 Even though they are quite pigment heavy, they still thin very nicely and work great with brushes or airbrushes alike. Due to their properties, they are an excellent choice for blending and dry with a matte finish.
The entire range is acrylic based (if you couldn't tell from the name). They currently consist of 24 colours & 5 metallics. These paints come in 17ml dropper bottles with a unique twist cap lid which prevents all clogging. (It's the best bottle type in this whole list).
You can buy the whole set or individual colours, direct from the Monument Hobbies online shop. Monument Hobbies is a US-based company so there are some slightly heavier shipping costs outside of this region. But thankfully, most hobby stores around the globe stock them now.
This set is gaining popularity fast as more people hear of them. Personally, they are my favourite brand of paints.
Mig has an almost overwhelming range of paints. Primarily directed at real-world scale models such as Tanks, Ships and Aircraft. They have over 240 standard hues, many of which are matched to real-world colours. They also have ranges of metallics & crystal paints too. Not to mention their mediums and varnishes.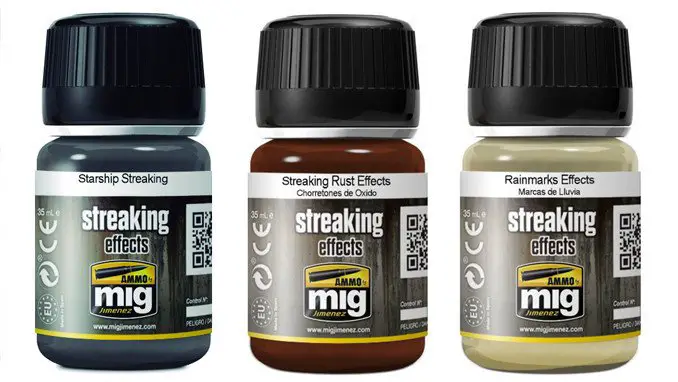 All of these paints come in 17ml dropper bottles and can be used with a brush or through an airbrush. they are one of the more inexpensive products on the market. But that doesn't mean they are a "cheap" product.
A stand out of the Mig range is their set of weathering effects, effects that every painter should have in their miniatures paint kit. Including Washes, Streaking Effects, Nature Effects, Water Effects Mud & Others. They even supply grass and leaves. Mig are specialists in the weathering field so if you want to grime up your mini's, especially vehicles. these are definitely worth your consideration. They even have a series of magazines walking you through all of the techniques so you can master them easily.
All of the products can be bought as individual pots/bottles or for some minor savings; They have a wide range of collective sets.
AK is another brand who specialise in paints for historic scale models. You'll find lots of similarities between AK and Mig. That's because Mig Jimenez (of Mig above) previously worked for AK. Then parted ways and started his own company.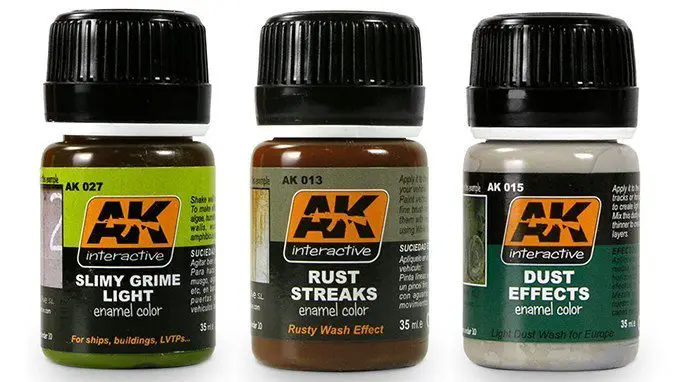 They have a paint range of over just under 400 paints with 100 (what they call) real colours. Matched to real-world historic vehicle & infantry colours. They also have a handy conversion chart matching their paint colours to other brands. This is available on their website. The acrylic colours range comes in the standard 17ml dropper bottles. Whereas the real colour paints come in 10ml pots (similar to the Tamiya's Mini pots). All paints are suitable for Brush or Airbrush.
Again though, just like with Mig Jiminez – the stand out here is the weathering products. They provide Weathering pencils, Streaking Effects, Dust Pigments & Real Metallics. They even have a series of books and other resources so that you can learn how to apply the products for amazing results.
If you like to Grimdark your models get some Streaking grime and learn how to use it. it's not that hard and makes your models look great.
You can get all of these products individually or in various sets.
Badger's Minitaire range is another series dedicated to miniature painters and model makers. Like their Stynylrez Airbrush primer paints (which I love). These paints are specifically designed for airbrush use. But you can brush them on if you wish. They come in 30ml dropper bottles with flip-cap & pour lids. Each 30ml bottle is about the same price as other range's 10ml – 17ml bottles. After a shake, they will run through most airbrushes without the need for thinning.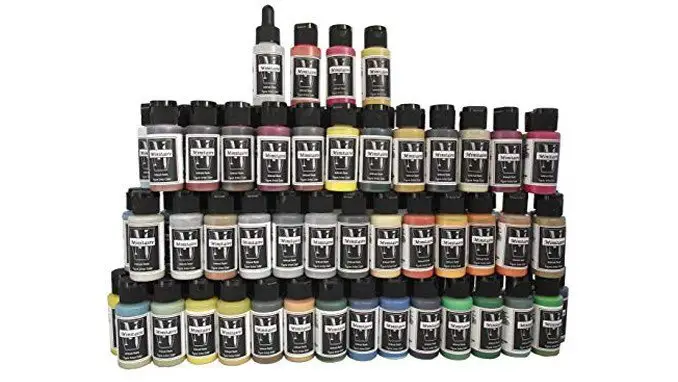 There are 80 colours in the set and getting the complete set makes the price a bargain. If you are looking to airbrush entire armies to get them out of the door quickly. Then a few bottles of this would be perfect for your initial base coats and highlights. If you really want to save money. The Complete paint set is a steal. They are just a bit tricky to find online nowadays.
Warcolours are another great range dedicated to miniature painting. Almost directly comparable to ranges like Creature Caster's Pro Acryl set. This range has over 180 paints in 15ml dropper bottles. They also have a nostalgia '88 range. Which matches the colour, bottles, feel consistency and…. erm… smell (apparently) of the Original 1988 Citadel Colour range.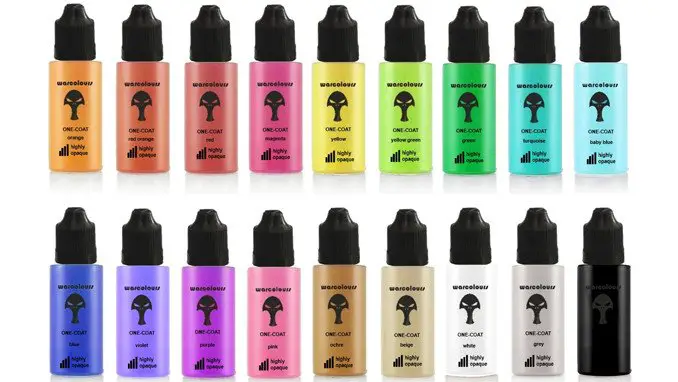 The one-coat based paints have a matte finish and are pigment dense for good coverage. The rest of the range has a satin finish. Many users have lauded these paints for their behaviours when layering and glazing. Another set that works well through an airbrush.
These are available directly from the Warcolours website, As Individual bottles or in sets.
Secret Weapon is another company focussed on miniature painting products – Mainly resin products for modding existing wargames such as Warhammer or Infinity. Their paint Range is rather small. Their mech Acrylics range has 30 Colours and their Weathering Acrylics also have 30 paints.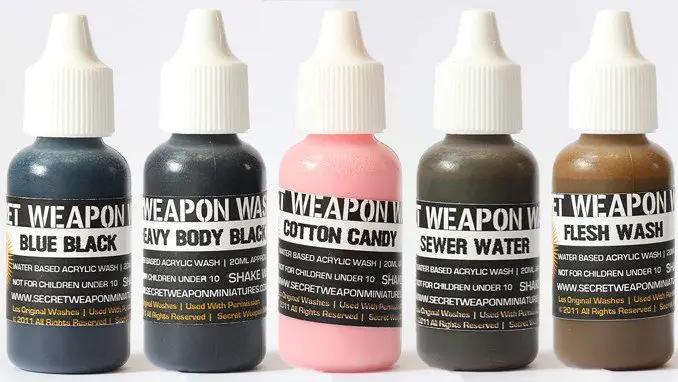 The stand out for Secret Weapon though is their large range of washes (again 30 of them). Using these paints to pin wash or shade your miniatures really adds depth to the model without much need to thin them. Thanks to how fine the pigment is in these washes. you'll ensure that the colour depth sits exactly in the recesses you need them to.
The range comes in 20ml dropper bottles for application with a brush or airbrush.
There are a lot of claims online that the Coat d'arms paints are the same as the 80's to early 00's Citadel Paints. And that the manufacturers of these paints were the guys who Supplied Games Workshop with that Citadel range. As far as I can tell, this hasn't been confirmed, but I've emailed the UK distributor to ask. From several comparisons online, these are comparable to the Classic Citadel Colours.
Update 08/05/19: I managed to get a contact at Coat d'arms who had the following to say.
[When Coat d'arms was purchased by its new owners in 2006], According to the previous owner they were using HMG Paints in Manchester [UK] to manufacturer a range of WW2 paints. [Games Workshop] was also using HMG and when GW dropped HMG as a manufacturer and moved to a French Manufacturer, Coat D'arms used the same paint formulations as GW to create a fantasy range.

Coat d'arms
So there you have it, if you are desperate to match those classic colours. This is the only way you can do it now. Coat d'arms will be sending us a sample set soon. So watch this space and we'll have our impressions and comparison up as soon as we can.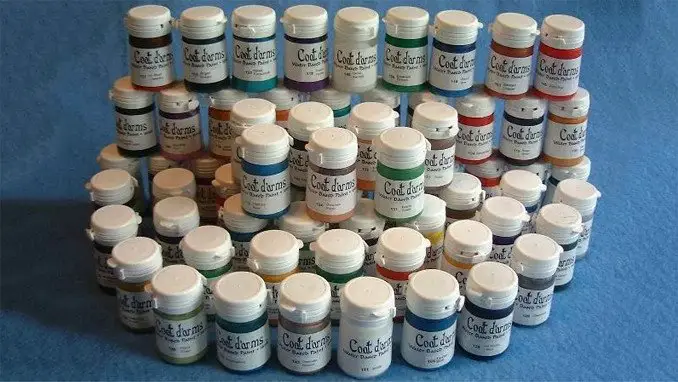 These paints are loved by oldhammer fans for that nostalgic look & feel. The even come on the classic (80's Citadel era) flip-cap bottles.
They are available from miniature hobby stockists such as Element Games. Who is based in the UK but offer very low-cost worldwide shipping.
Green Stuff World – named after the popular moulding compound (properly known as Kneadatite). Which was used to manually sculpt the master models for Citadel Miniatures before Digital Sculpting took off. The term 'Green Stuff' popularised by Games Workshop and other model making companies who used it. GSW is a company focussed on miniature modelling customisation.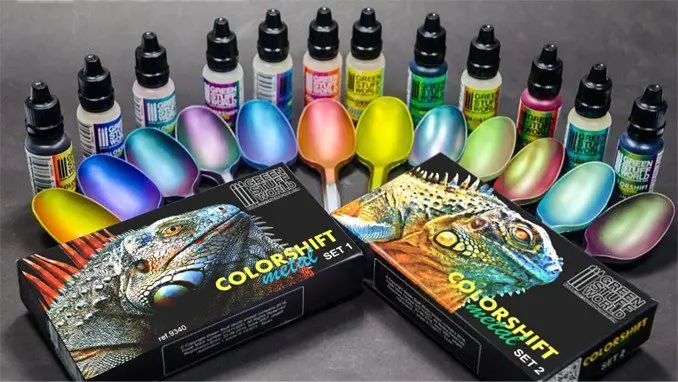 Green Stuff World specialise in products that are somewhat outside of the usual hobby box. Their products help you create features and effects which are truly unique to their brand. A favourite amongst converters.
The real standouts of their range are the Metallics, Colourshift (Pearlescent & Irridescent) paints and Fluorescent paint. Along with their 'out of this world effects paint, such as Spider Serum for creating realistic webbing.
All products can be purchased from Green Stuff World directly and come in individual (various sized) dropper bottles, They also sell some theme sets.
Tamiya is a well-known brand of scale models. For miniature painting they are really smooth, pigment-dense paints that generally finish with a matte to satin texture. Their Tamiya Color glass bottles with twist caps come in 2 varieties; standard 23ml or the mini 10ml. With over 50 standard colours available.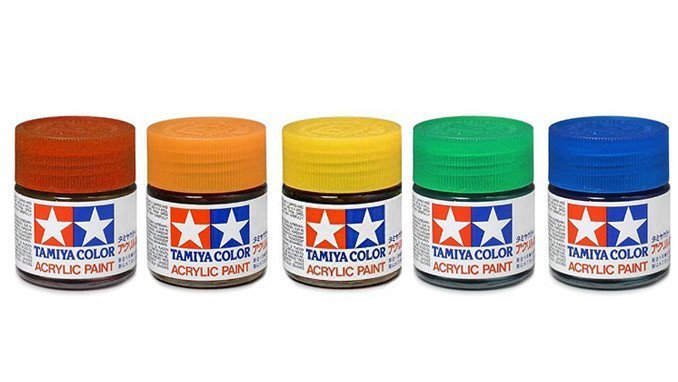 Most people pick these up due to general availability in their region over other brands, they are very common in most hobby stores. But the most commonly used colours by most miniature painters are their clear colours. Which are similar to Games Workshop's Gem Paints.
Simply apply a clear coat over a metallic surface to tint that colour and give a candy effect where the metal shine is below a lacquered surface. This is especially good for jewels. The clear red makes a fairly decent congealed blood effect if you move it about after it's started drying.
Another thing they succeed with is their compact Weathering Master Sets, which are small parcels of 3 dry pigments with a provided applicator brush.
Reaper is another company dedicated to miniatures. They provide a great paint set consisting of 208 different paints in the Reaper Master Series.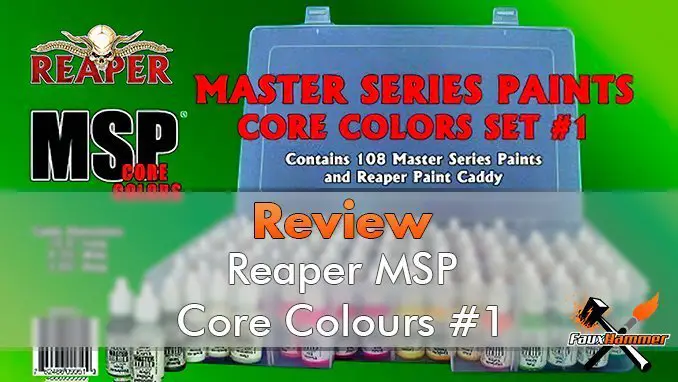 See our in-depth Reaper Master Series Review
Paints come in 15ml dropper bottles, have high really density coverage and have a matte finish. A great choice if you want to paint miniatures quickly and retain a high finish standard.
These paints are highly recommended as they are good to work with for anything from base-coating & layering to glazing. You can buy individual bottles, theme sets or the 2 larger boxed sets, each containing halves of the entire range.
Reaper showcase that their paints operate in a Triad System. This essentially means they showcase 3 paints which work together, such as a base colour, then a supporting shadow and highlight colour. It takes some of the guesswork away for a beginner looking to apply simple blends. This is very similar to how the Citadel Paint System works (Games Workshop just don't call it a triad, they call it the Citadel Paint System, but it's the same thing).
Scale 75 is yet another company focused on miniatures & models. Their paint ranges all fall under the Scalecolor banner. They are more popular across Europe simply due to local availability. Scalecolor (63 paints) & Warfront (63 paints) are pigment dense and have a matte finish. They also have their Fantasy & Games range (48 paints) which are slightly more diluted, but brighter hues with a satin finish. I got my first couple of these paints for a recent miniature painting course I went on and can directly attest to both their coverage and excellent workability.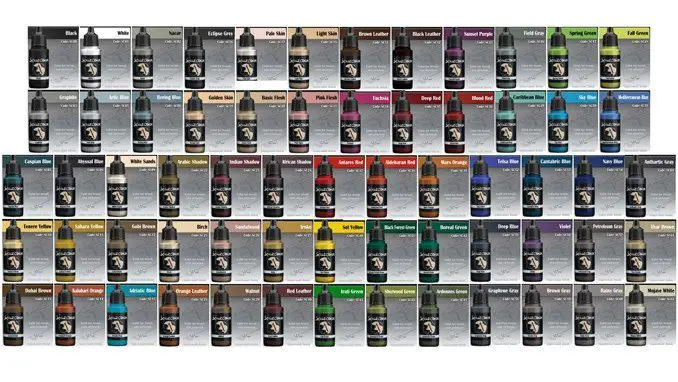 All paints come in 17 ml dropper bottles and are available as individual bottles, theme sets or collections of each range. Their Flesh Paint Set and NMM paints sets (Gold & Silver) contain everything you need for mastering those techniques.
Another standout of this range is the Inktensity inks which are really colour rich. Perfect for boosting your existing palette.
Privateer Press Paints (P3) – The Formula P3 range is to Warmachine & Hordes, what Citadel is to Warhammer. Another series of paints with incredible coverage. As advertised these paints have a slightly slower drying time than most, making them more workable on the model leaving fewer streaks. Excellent too for those who like to wet-blend.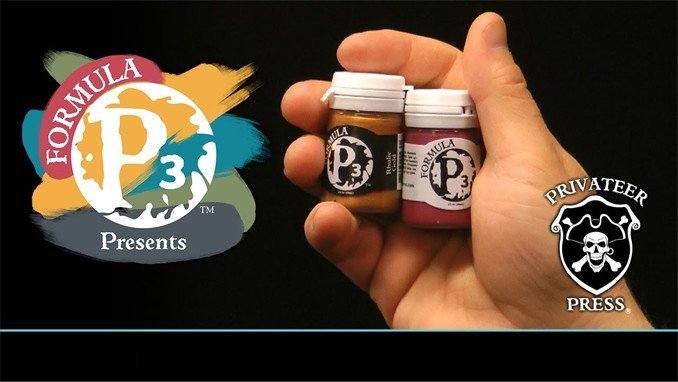 The range is more limited than Citadel with less than 100 total paints, which includes metallics, washes and inks.
The other way these paints stand out is that they haven't adopted dropper bottles. These 18ml pots are similar to the classic Citadel pots with flip-top caps (you could always transfer them to dropper bottles). Yet you don't see as many people kicking off at them as do at GW for not having Dropper Bottles. Available as individual pots or in faction-specific collections of 6 paints. P3 also has a mixing guide showing base paints and their intended shadow and 2 stages of highlight colour. Similar to the Reaper Triad system of the Citadel paint System.
Like the name says, this is a company dedicated to miniature painting with a huge range to back it up. They have a generally neutral approach, to all wargames brands. However, they have partnered with some newer tabletop miniature games. The Army painter tends to be the go-to paints for D&D miniatures. They offer guides to paint the majority of different brand models using their paints.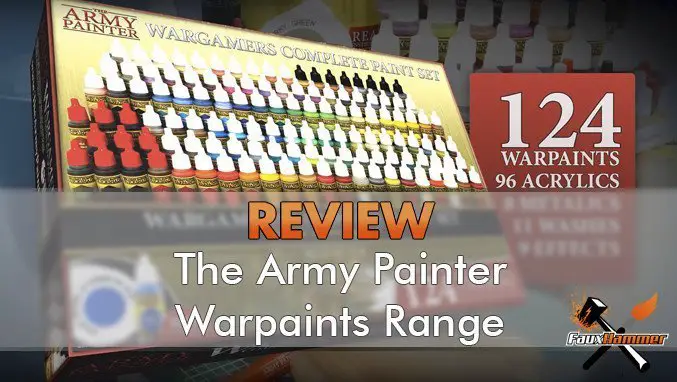 See our full The Army Painter Range Review
The paints are almost directly comparable to the Citadel range in regard to coverage and consistency but many users say that Army Painter is the better of the two. The added benefit is that they come in dropper bottles. These dropper bottles are also 18ml – making them (marginally) the bottles with the most paint volume on this list (for standard bottles). They also have a series of Army Painter Dungeons & Dragons, these, however, are in 12ml bottles.
Update: This article previously advised that the standard line was in 12ml bottles. This has been corrected as only the Army Painter Dungeons & Dragons is 12ml bottles. The standard line, and Zombiecide paints are 18ml. Thanks to the community and everyone who advised on this.
The set consists of 124 paints in total, splitting down into 96 standard paints, 8 metallic paints, 11 washes & 9 effects paints. This is just the warpaints range. They offer various different types of miniatures paint set
The best features of this range are their 100% colour match between their Primer Spray paints and their base colours with matching names. Additionally, they have their Quickshades. These are essentially large tins of their excellent wash colours with an included varnish. With these, you simply paint a miniatures base colours, dip it into the tin, then shake off the excess. Your mini is tabletop ready. Both the colour-match primers and Quickshde Tins are excellent if your focus is getting a decent looking army on the table as fast as possible.
The paints are available individually. they also have a starter set, washes set, ink set, the (most commonly purchased) mega paint set, an upgrade set for the rest of the paints which are not in the Mega Paint Set. Finally, they have complete warpaints set of all their paints (although this is limited).
Vallejo is commonly known to have "the" paint range when it comes to miniature & model painting. They have more ranges and colours than anyone else on the market.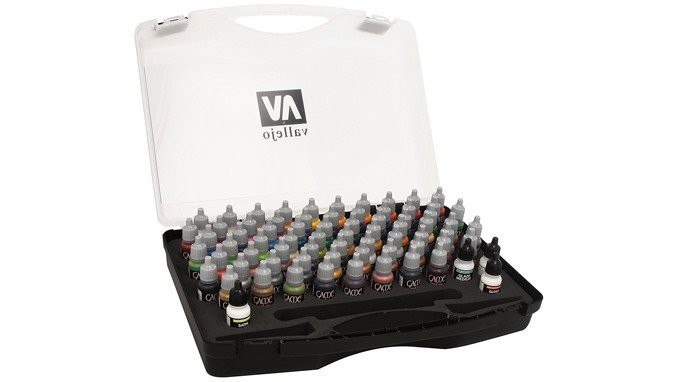 The most commonly known ranges are Model Color (known for their historic model colour matches) and the Game Color range (for wargames & fantasy models). Both of these ranges have an Airbrush equivalent range (Model Air and Game Air respectively). They also have the Mecha Color range, produced to satisfy all the Gunpla modellers. And the Panzer Aces range which are matched to WWII vehicle and Uniform colours. All of these paints come in 17 ml dropper bottles, are available individually or in numerous themed sets and in large collection boxes.
Beyond those ranges, they also have their incredible metal color paints, which are all water-based metallics that provide excellent shine. A step up from these, however, is the Liquid Gold range which is alcohol based and provides almost real metallic surfaces.
They offer ranges of Washes, Pigments, Effects and their excellent Airbrush Primers and Varnishes.
Boasting excellent coverage, great workable fluidity and the sheer size of the products available. Vallejo paints are widely considered to be the best paints. Miniatures can be painted with pretty much any paint brand shown below. Vallejo are the paints most people will go to when they realise there are possibly better paints outside of the brand that got them into the hobby.
Click this link & buy your hobby stuff from Element Games for the UK & Europe to support FauxHammer.com – Use Code "FAUX2768" at the checkout for double reward points.



Our Affiliates / Hobby Stores
The Best Paints for Miniatures & Wargames Models – Honourable Mentions
As I said in the opening, there were over 70 paint brands listed, below are just some of the other considerable options. It really goes to show you can use just about anything you can get your hands on. Remember, it's about using the paint that works for you and the project you are working on. Don't let anyone tell you that you are wrong for using a particular paint or brand. there may be better ones for the job you are doing. But just ignore the trolls who are doing nothing more than validating their own purchase. Stay open-minded.
Wargames Foundry
Folk Art
Kimera Kolors
Turbodork
Darkstar – Molten metals (See our Review)
Jo Sonja
MP (Miniature Paints)
Instar
Partha Paints
Life Colour
Mr Paint
Pacific 88
Scale Fantasy
Anitas
Modelmaster
Alba Colours
Eterna
K4
Monitor
Pokorny (Dwarven Forge)
Royal Talens
Warpigs
Xtracrylix
As if this surprises anyone. And I just want to put a reminder in here that this list is ordered by brand popularity. Not on which paints are the "best" coverage etc.
This is so that people actually read the article to decide what's best for them, instead of just skipping to the number 1 spot and buying what's there.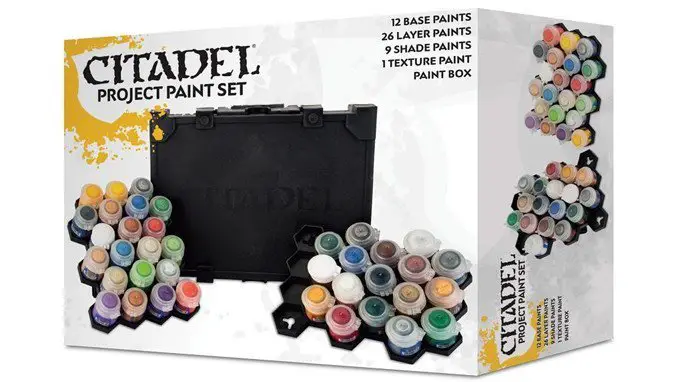 Explaining this brand would be rather pointless. If you are reading this article, it's highly likely that you already use Citadel Paints. Games Workshop is the most popular Miniature Wargames brand by a large margin. It's only expected that their paints are the most commonly used brand.
The range get's some stick but it's a decent range of paints that is readily available in most regions. The Citadel system makes it easy to apply base colours and know the equivalent shades and highlight colours. If you are getting into Wargames specifically Games workshop, The paint guides available are like no other. Following these guides and using the Games workshop system will get you good results with nothing more than concentrated practise. The barrier to entry with this range is much smaller than with any other product. The real stand out products in the Citadel line is their shade (wash) paints. And with their new Contrast Paints, miniatures are essentially painted with Inks.
They come in 12ml flip-cap pots (although you can easily transfer them to dropper bottles, as many people have). You can buy them as individual pots, starter sets, and category sets such as Base and Layer. Citadel also offers an airbrush range matching their existing base colours too.
The Best Paints for Miniatures, 3D Prints & Wargames Models – Final Thoughts
So, the summary is no different than the opening really. There are a number of different paint brands to choose from and are likely others that aren't even listed here.
For beginners, it's clearly better to stick with the brands that match your models as there will be simple guides to follow in order to quickly get some confidence with using brushes and how each paint behaves. It makes it simple to get your armies looking how you want.
If you are into large army painting, it's likely you'll stay with that brand for a long time. Mainly to ensure your army colours are consistent by using the same paints. (Probably Citadel, Army Painter or P3). You can start with other brands, but, as a beginner, you'll need to manage with knowing the paint name equivalents too. Assuming you are following tutorials. Tools like Army painter Quickshades and their 100% Primer to paint match will get an army on the table very quickly.
But it does feel great to stand out on the tabletop, so using some slightly different versions of your armies colours can help you here which is where the other brands come in handy. If you're ok with dealing with the guides using different colour names than you have (or you could just write the alternatives on the bottle). Then dive in with one of the special wargames brands, or get your Vallejo collection started early.
If you are into the hobby more for the painting or aren't too bothered about your army consistency. Please try out at least 1 paint from the other dedicated brands to see which feels right to you. Using better paint, won't instantly make you a better painter. But it can certainly help get you in the right direction.
Vallejo seems to be the main go-to brand for the majority, but they aren't all magically better paints. Try out one of their many starter kits. If you want more realistic colours, grab the Model Colour Series. For more of the fantasy hues, the Game Colour range is your best bet. It's worth trying out both the standard and air range too, even if you paint with a brush, the consistency of the air range in many cases is suited to super smooth brush layering, glazing and blending.
The range's with standout weathering and texture effects are worth a look if you want to go down those routes for battle damaged and weathered models. These products can push things to a whole new level.
In many cases, the choice will be dependant on your budget and local availability. Just don't ever commit yourself to one brand, or you're just limiting yourself. Always be willing to try out something new. You may just find the thing that gives you your specialist edge…
Click this link & buy your hobby stuff from Element Games for the UK & Europe to support FauxHammer.com – Use Code "FAUX2768" at the checkout for double reward points.



Our Affiliates / Hobby Stores
What did you think of this article? please let me know in the comments. Would you like me to do some more top 10's? If so, what?
See our Existing TOP 10 Articles by following this link.
If you like what I'm doing here you could really help encourage more content with a share on any social media platform.
Want to keep updated with the blog? You can subscribe in the sidebar for RSS or by email below
(Sidebar is below the article on Mobile Devices)
Summary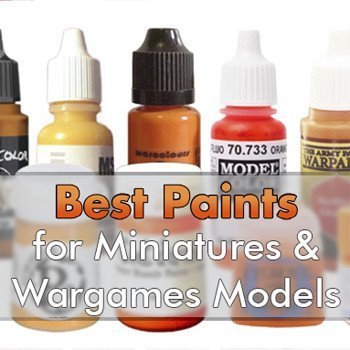 Article Name
Best Paints for Miniatures & Wargames Models
Description
If all you want to know is 'which of the below brands is the best for all miniature painting'. Click here
Author
Publisher Name
Publisher Logo