Best Miniature Wargames & Boardgames Tables for Your Home
Last Updated on June 9, 2022 by FauxHammer
So, you want to play wargames and/or board games at home, do you? Makes sense, especially with the world as it is right now. Whether you want to make sure you have enough area for a family and/or friends game night, a D&D Session, Casino style games or you want to rain down a blitz upon an opposing army. We've decided to take a look at some of the best wargaming tables your money can buy. Today we are looking at Best Miniature Wargames & Boardgames Tables for Your Home, more after the ads.
Click this link & buy your hobby stuff from Element Games for the UK & Europe to support FauxHammer.com – Use Code "FAUX2768" at the checkout for double reward points.



Our Affiliates / Hobby Stores
Click this link & buy your hobby stuff from Element Games for the UK & Europe to support FauxHammer.com – Use Code "FAUX2768" at the checkout for double reward points.



Our Affiliates / Hobby Stores
Best Miniature Wargames & Boardgames Tables at Home – Introduction
I was recently at UK Games Expo 2022 which reignited my passion when looking at these tables, which is why I bring such options to you now.
There are a lot of considerations to make when looking for a table you can use at home. Sure we can look at the required board size for your favourite wargames. (and we will). But let's be honest. If this is true for your home, then the main considerations could include;
Space Available
Does it need to be multi-functional?

i.e. Can you use it as a dining Table 90% of the time?

Can it/does it match the current decor of my home
Will my Significant Other approve of it
But the main thing you need to ask yourself is, what do I want the gAming table for? is this a Boardgame Tabe? a D&D Table a Warhammer Gaming Table? Which Warhammer Game?
Once you've decided, now ask yourself, why did I just choose all of the above?
Ok, so you want a multi-function gaming table. ok, let's see how we get on.
Best Miniature Wargames & Boardgames Tables – Table Size
So, I need to start by saying I live in the UK. Not the US. I have a fairly decent sized house in a rather average area in the UK. and yet I'd still struggle to fit anything larger than a typical 4-seater dining table (approx 75cm – 90cm) unless I can convince my wife to completely empty our spare bedroom.
In the US, many houses have a much larger footprint with larger rooms in general. In fact, most US house rooms I've seen are larger than the whole area of my house. So yeah, you lucky buggers! The short of it is that stateside you'll probably be able to choose from a lot more of the options below simply because you have the space available to do so.
Below we'll look at the maximum dimensions of some of the largest games out there. I mean we're not talking about travel chess are we? are we? why are you here?
Board Game Table Sizes
| Game | Metric | Imperial |
| --- | --- | --- |
| Warhammer AoS/40k (Classic) | | 6′ x 4′ |
| Warhammer AoS/40k 500pts/1000pts (AKA Combat Patrol / Incursion) | | 44″x30″ |
| Warhammer AoS/40k 2000pts (AKA Strike Force) | | 44″x60″ |
| Warhammer AoS/40k 3000pts (AKA Onslaught) | | 44″x90″ |
| Warcry | | 22″x30″ |
| Necromunda (Zone Mortalis) | | 2'x2′ |
| Necromunda (Sector Mortalis) | | 4'x4′ |
| Star Wars Legion | | 6'x3′ |
| Infinity (Standard) | | 48″x48″ |
It's mostly wargames which take up the space and you'd generally be lucky to find a dining size that is still large enough for even the smallest games of 40k when it comes to ranked play. And remember with a lot of wargames you'll still need space to the side for cards, books dice, minis and the like.
A 6'x4′ would be a reasonable sweet spot for you to look at, and it's what most people go for. But even when I check my existing dining area in an average-sized UK house. A 6'x4′ would only just fit. and with many options below, your play area is recessed into the table. So you'd need a 6'x4′ play area before you consider the size of the border around the edge.
This is where many will become thankful for GW's official table sizes update in 2020, where smaller 500pt-1000pt games can be played in a slightly smaller area of only 44″x30″. which is slightly smaller than the average (Ikea) dining table
But for the fun of just playing the game. let's be honest, the board can be really as large or as small as you like.
have some consideration of the above-needed sizes when looking at the options below.
Top 10 – Best Miniature Wargames & Boardgames Tables for Your Home
Right let's get into it, more and more companies have come to light recently and whether you're into board games or wargames, there's certainly been a boom in the last few years of both (even before covid was a thing). Board gaming cafes are springing up all over the place and whilst you may be lured to them for a social event. as you grow and age you'll soon find yourself staying at home more and more often.
So why not bring the wonder and excitement of those events to your home and have a game night every week (every night) on your own dedicated gaming table that you can still use to serve dinner on? Below we are going to take a look at the best options out there. And if you think we missed any, let us know in the comments.
I nicked the image below from Instructables.com and is arguable a much better version of the tables we all use. I mean, all you need is a big flat space really?
Most of us will just grab a large sheet or two of plyboard and stick it on top of something with 4 legs. and that could be your existing dining table. a cheap fold-out table or a pet if you're brave enough.
Cover that in some cloth and stick your battle mat on top, away you go. this is still the preferred option for most FLGS gaming centres.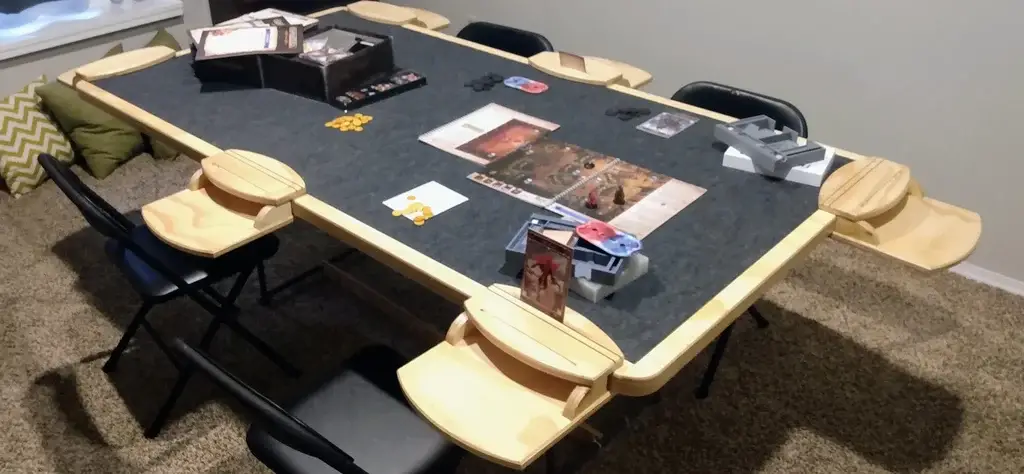 You can get as creative as you like with this depending on your existing skill level with woodwork. the example above is fairly straightforward, but still requires knowledge and access to certain tools.
Go as simple or as fancy as you like and make one yourself. it's often the cheaper method in every way that word can be interpreted.
Whilst reading into Mcfadden (a company in Canada which has seemingly shut down as of their last tweet in 2018), I saw a few people recommend Wheatland as an alternate option.
The image below is obviously not a gaming table, but it looks cool and I had to share it.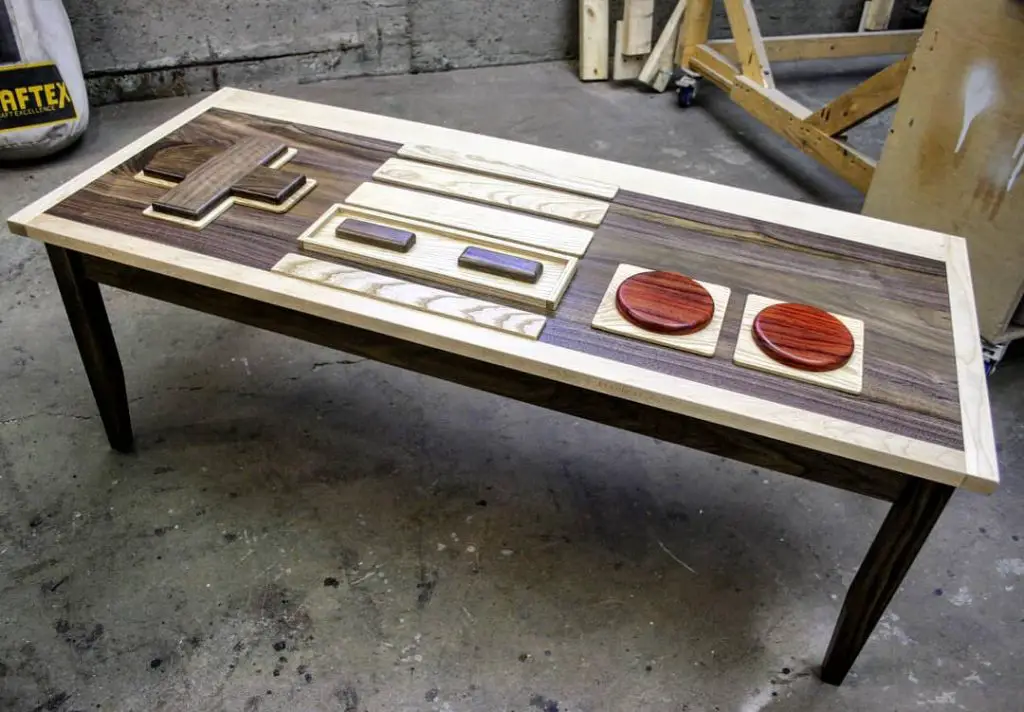 From what it appears, Griffin of Wheatland Woodworkd does single bespoke tables with his client's needs in mind. his online shop doesn't specifically list any particular tables or styles, however, he does offer a couple of cheeky little accessories. including 2 Dice Towers and a Dice Tray.
But check out his/their Instagram page for examples of what they can do for you if you are looking for a truly bespoke offering.
This gorgeous table comes with a very unique feature, a mechanical lift with a removable crank handle. it still comes with the common feature of covers should you want the play area in the lower position covered in-game pieces, but if you want to raise the playing surface up to table level, you can do it in seconds with this rather original method.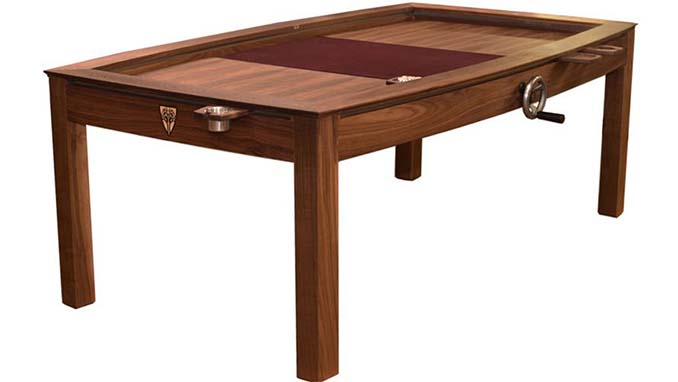 The table comes in a variety of beautiful woods and finishes and also has a rather unique curved design helping ensure crossways players are more easily facing each other.
Whilst this isn't the top-tier offering from Board Game Tables, it is the one they are known for, Successfully Kickstarted in 2018 in order to streamline and reduce the costs of their existing range of custom board game tables.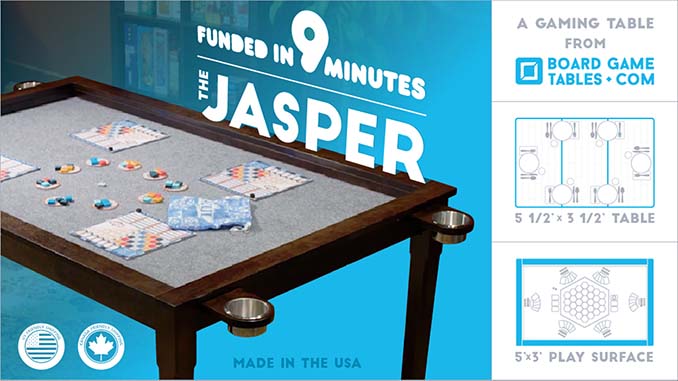 It's simple, basic and elegant and comes with a variety of accessories. Just flip off the 3 topper boards and you're ready to play on the 3'x5′ playing area
Boasting a lot of the same offerings as other manufacturers on this list. Uniquely Geek offers a range of gaming tables which come in various styles, sizes and finishes. but they are limited by current lead times and direct focus on US national shipping. International shipping is available, but on a "contact us for quotes" basis. If you're in the US, specifically West Coast, you're golden.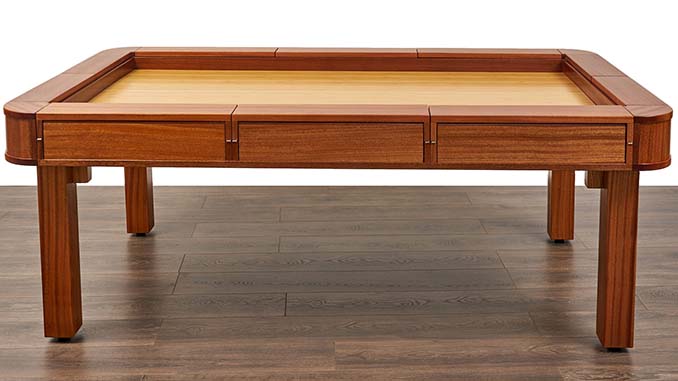 But with these guys, it's a case of what do you want and they do it. With several signature styles including Rustic, Farmhouse, Contemporary, Transitional and Coastal, you'll easily find something to match your decor.
Whatever size you want, they'll do it and with a ton of accessories to go alongside, you'll not be left wanting for options. One of their unique features is the table accessories actually lock into place avoiding any accidental knocks.
Check out their site including the table estimate calculator.
An option which sprung to popularity on Kickstarter (where it's still the only place this exists) thanks to its affordability coupled with its myriad of options.
The Kingmaker is (what appears to be) a very basic wooden dining table, unlike many of the other options here which go all out to be the centrepiece of your home. this option is a very traditional and fair style. like something you would find in a typical home.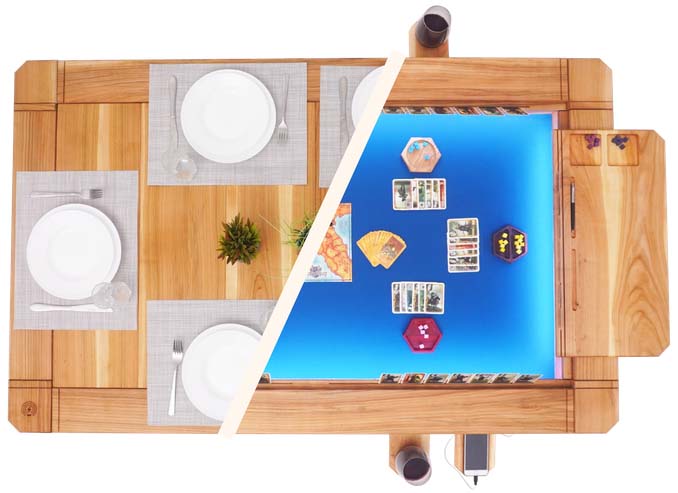 Under the hood, however, we see so much. With various sizes available accessories come out of the seams. It also allows you to add your attachments on the outside or inside of the table depending on their function. (drinks outside, dice and game pieces inside).
There's no wonder this has become a popular choice as it marries the line between function and affordability.
A gorgeous series of tables from Greek Manufacturers Rathskellers who had a lave running family history of furniture manufacture. The series includes The Councilor, Phalanx, Hive, Garrison, Altar, & Sunnygeeks.
The Councillor is their most popular table, but I'm a personal fan of the Altar (shown below)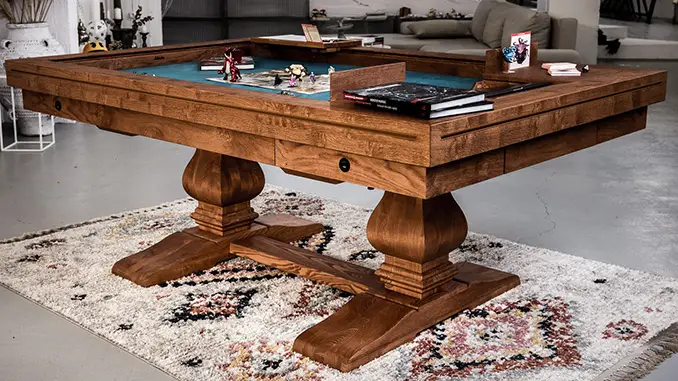 These tables are similar to the rest, with various add ons and tabletop covers. but several also come with built-in drawers for storing various trinkets between or even during, games.
What is unfortunately letting these guys down is their long lead times. Indicating a minimum of 7 months, all the way up to 11 months for some of the larger options.
But, good things come to those who wait.
This is the option that I suspect 90% of our readers will choose. (and I'll leave the best bit until the end)
The only reason these are not in the number one spot is that the product is not a full table. Well, not on the surface of viewing the product anyway. These are Military Grade Aluminium Framed table "toppers" and the initial selling point is that they can sit atop your existing table (with a rubberised base to avoid scuffs, chops or other damage. The ones we saw at UK Games Expo 2022 were set up in some cases on spindly little cheap fold-out tables, and they were still really sturdy. They can be set up in just a few minutes and there you have it, a gorgeous and highly functional gaming table ready to go.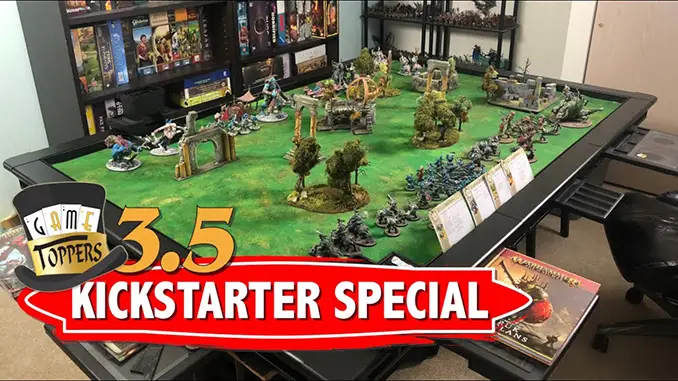 The table edges are all fitted with recesses compatible with their various accessories and work as card stands too. If Black Aluminium isn't your thing, they also have several upgrade versions with a wood inlay across each edge.
But remember earlier when we said, it's a "topper" not a "table"? Well, they also sell a compatible leg kit which comes in a neat and tidy storage bag. And that's just one of the many, many accessories.
Before I talk about them in more detail. Let's look at the sizes available.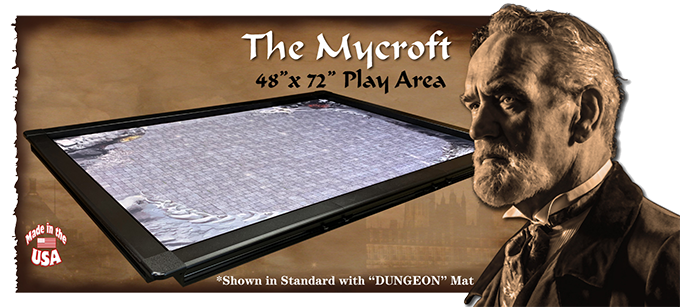 Pictured above is the Mycroft, (all tables are named after popular Sherlock Holmes Characters) currently the largest table they offer with a, you guessed it, 6'x4′ play area. WOOOOOHOOOOOO!!!! C'mon! Pretty much any wargame we could want to play in a reasonably sized home! the beauty of this model is that at any point you can build it smaller as a still adequately sized 4'x4′ table. (using the single rail accessory) But if you are truly limited by space they also offer the Lestrade at 3'x3′ or the rectangular Adler at 55″x43″.
Check their website for more of the available sizes, but it's basically, (small to large) Lestrade, Adler, Watson, Holmes, Moriarty, Mycroft.
Here, let's let Burky from Games Toppers show you himself. (Footage from UKGE 2022)
And now back to the accessories, there's a ton. (and even that's not all). let's blast through them
Legs (with storage bag)
Cup Holder/Component Tray (rubberised pop out with perspex cover)
Double Cup Holder/Component Tray (as above but 2-in1)
Goblet/Chalice Cup Holder
Matt Bags (more on this in a mo)
Matt Racks – 3 sizes (again we'll get to these)
Extension Leafs (make your table bigger)
Extra Side Rail (convert larger tables to smaller ones)
Padded Zipper bags (convenient transport and storage)
Dining Cover (pop these over your play area and have dinner)
Dice Towers
Dice Corral
Poker Chip Trays
Component Trays
Themed Privacy Screens
Thematic Game Mats
And now onto the "Thematic Game Mats". Game Toppers have an absolute ton of themed neoprene game mats available in various sizes to fit their many table formats. And these are absolutely gorgeous,
The online pictures do not do them justice. They do plain ones in various colours, they do themes like Grass, Desert, Ice Wasteland, Ocean & Space. Several mats are perfectly themed for specific games and some are designed by leading board-game box artists!
Remember I said I'll leave the best bit 'til the end? well, the best bit is the price! Whilst they aren't "cheap", they are considerably less expensive than any other option on this list for an equivalent sized play area! (in some cases over 6-times less!!!).
The absolute versatility of these toppers makes them the most desirable choice with a balance between cost and overall functionality.
Natural Twenty (NAT20) offer the most simple and elegant solution for your needs. With 2 ranges, Event and Gamer, and initially fixed sizes all the way up to 6'x6′ (oh, you have space for that in your house! I'm not jealous all). But they also go down as small as a coffee table if you wish.
Honestly, just pop over to their site on either the Event Series page or the Gamer Series page and you can knock yourself out an initial quote in seconds. All table sizes are based on the play area, so please allow for the extra with of the sides when measuring your room (sizes are explained on the page, roughly 4″ per edge, so add about 8″ to the length and width).
As with many others, these are dining tables with a Cellar play area hidden beneath.
This is the fully bespoke option, the website will give you a guide, so just round up, but then you can contact them directly for a quote on a specific table size for your needs. You also have a choice of wood options; Tulp, Ash Sapele & Oak.
The dining table covers come on all of these tables as standard and you can purchase a storage tub or bench for these when you're mid-game.
You can also add extras to the table itself with tech features like USB Ports, a TV bay or LED lights. And these are addressable LED's rather than a single colour, so you can set up things like chasing colours and other special effects.
We'll get onto the price shortly (it's really good) but before that, let's take a quick look at the more budget-conscious, but equally feature-rich, Gamer Series
This Series is more streamlined in production but arguably no less versatile than the Event series. Where's the saving? They use the Tulipwood (a Hardwood) as standard and thinner planks than what is offered for the Event Series tables. that's it. you still get the beautifully oiled finish over the natural wood, or stained in Oak or Walnut. you can even have it painted if you like, in your choice of colour.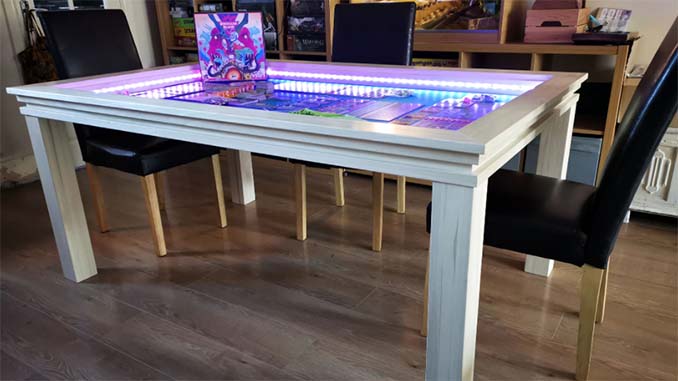 As for the accessories, well. here we go;
Lid Covers (Gamer Series only – They come as standard on Event Series)
LED RGB Lights (addressable)
Acrylic Sheet
TV Bay
Cup Holders
Wine Glass Holders
Mug Holders
Token Trays
Card+Cup/Token Trays
Tablet Trays
Desk Extender
Gaming Mats (Standard Coloures or "Custom Printed" Neoprene)
There's a ton of stuff here and you can always add accessories at a later date. I know I'm eager for a table with a custom FauxHammer branded gaming mat. They also seem to be one of the few brands understanding the age bracket of their audience and offering a "mug" holder, (I'm too old for wine and beer now)
When looking at the price of these, it's actually comparable to a very similar product on the market. A natural wood table. No, I'm not talking Ikea prices here, but when you look at the typical cost of your average hardwood dining room table, these aren't far off. So when you look at your current table and think "what else does this do". It probably does nothing and just takes up space.
Go check out their calculator(s) now and surprise yourself with the price/value of these. Then surprise your Significant Other in a few months from now when you show them your Credit Card bill. (or be really kind and loving, and instead take advantage of the 0% finance offer on Natural Twenty's website.)
STOP! Stop reading right now. Go and put your wallet/purse in another room. In fact, give it to someone and ask them to make you explain in detail why you want it back. If you have your card details stored on your PC or phone, then go and read this next bit on someone else's PC.
There is so much choice here, arguable so much that it's overwhelming! let's try to simplify things for you here, but bear in mind, no matter what you want from this line. it's gonna cost you. it will be worth it, but these are made to be family heirlooms and will last for generations to come.
If you want a rectangular table, square table, hex table, tall table, short table, or pretty much any table you can think of, they have it here.
Their Custom Gaming Tables Break down into Several Series, and here they are from lowest cost to most expensive. Adam (coffee table), Megan, Denis, Henry and Virgo. And even the coffee table isn't cheap. in fact, it's comparable to an average-sized table from the supplier above. Dut Damn are these things gorgeous.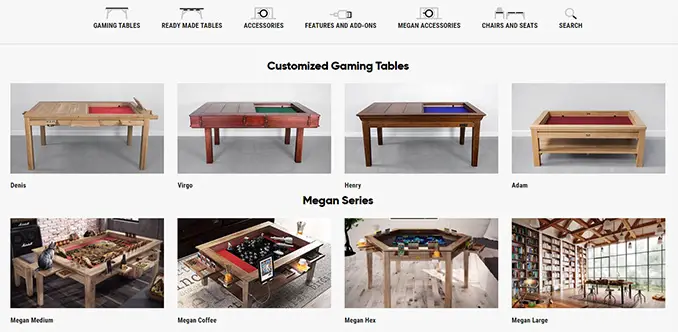 Check their site for the details, But generally, the Denis, Henry and, Flagship, Virgo, are the upper premium tables, with an increasing feature set. The Denis is their original table and the Henry is an upgrade of that features USB Ports and Bluetooth Speakers. The Ultimate choice is the Virgo where each player has a flip over/out station, complete with shelves and a cardholder. this thing is an absolute beast.
The most versatile and likely popular choice is the Megan table series which breaks down further into Coffee, Medium, Large and Hex.
and if none of them takes your fancy, they'll make you a custom table of your required dimensions.
Right, accessory time.
Acrylic Storage bin
Dice Tower
Counter Holder
Food Desk/Tray
Wine Glass Holder
Cup Holder (extra cups available)
Desk with Shelf
GM Station
Ipad/Tablet Holder
Strake Boards
Wooden Storage Bin
And for the Megan specifically, there's also;
Flip Deks
Cat Holder with rope (lol, this is awesome, it's a tray with rope on for your cat! to play with)
D&D Bench
Mug Holder
Wireless Charger
Acrylic matt
Leaf Storage Box (can be converted into a stool)
Side Desk
Upholstered bench
Elevator (to raise your playing surface)
Oh and chairs! they actually offer matching chairs for their tables. additionally, the table covers have a spill-resistant fixing, protecting your play area when using it as a dining table.
There's a variety of tables finished on offer along with coloured play surface insert colours. The one place I have to knock them down in is their size descriptions. the site explains the table size, but infrequently denotes the play area. (they also use Cm and inch measurements, rather than the preferred wargaming standard of feet. So they probably do a table with 6'x4′ play area, but I can't easily locate it.
Do you like these, can you afford one? do you have one? let me know in the comments but if you do have one, my reply will likely be – I hate you.
Best Miniature Wargames & Boardgames Tables – Final Thoughts
C'mon, you know you want one. I know I want one and I rarely play wargames.
the point of this article was just to share with you many of the various options out there so you can at least start some consideration with what's available.
Now personally for me, if I were going to convince my wife to swap out the existing Ikea set with a dedicated gaming space, I;d go with natural Twenty, for that balance of affordability (in the UK)) and style, with a set of rich features.
But the Game Toppers are really speaking to me too, if I could find some matching legs which are thicker and more square & stylish than the bare poles they offer, I think I could talk her into letting us get one of those, the Black aluminium would actually suit our decor quite well and it has a neo-modern look to it.
My heart is with Geeknson, but unfortunately my wallet runs away every time I even think of them.
That's my take, but it's your hobby, so you do you? What do you think of these options, which would you buy? have you already bought one? do I hate you for having one I really want? let me know down in the comments.
Click this link & buy your hobby stuff from Element Games for the UK & Europe to support FauxHammer.com – Use Code "FAUX2768" at the checkout for double reward points.



Our Affiliates / Hobby Stores
What did you think of this Article? Please let us know in the comments.
If you like what we're doing here you could really help encourage more content with a share on any social media platform.
Click the share links at the bottom of this screen (or on the left for computers and tablets)
Want to keep updated with the blog? You can subscribe in the sidebar for RSS or by email below
(Sidebar is below the article on Mobile Devices)
Click this link & buy your hobby stuff from Element Games for the UK & Europe to support FauxHammer.com – Use Code "FAUX2768" at the checkout for double reward points.



Our Affiliates / Hobby Stores
What did you think of this Article? Please let us know in the comments.
If you like what we're doing here you could really help encourage more content with a share on any social media platform.
Click the share links at the bottom of this screen (or on the left for computers and tablets)
Want to keep updated with the blog? You can subscribe in the sidebar for RSS or by email below
(Sidebar is below the article on Mobile Devices)