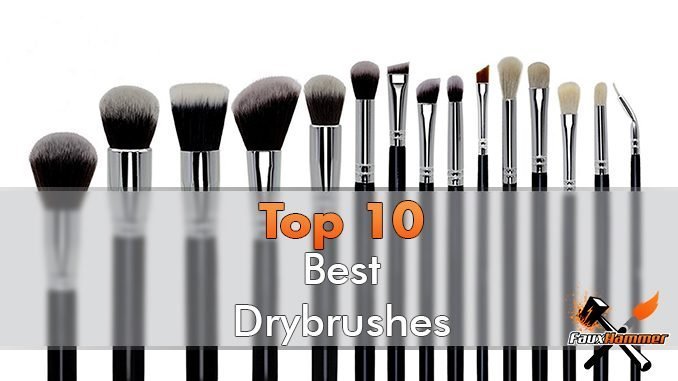 A few months ago we decided to have a look at The Best Brushes for Painting your Miniatures. That article was intended to look at your primary brush set, the standard brushes if you will. Today we are specifically looking at the best Drybrushes for painting your miniatures and models.
I must admit that for a long time I've had an aversion to drybrushing. This is only becasue it was my only technique back when I was 13. My whole painting approach consisted of, spray a model black, then drybrush (more specifically "overbrush") a colour over a certain area. it gave me layers and shadow and back when I was 13 it looked great! But we've come a long way from that now and looking back they look awful!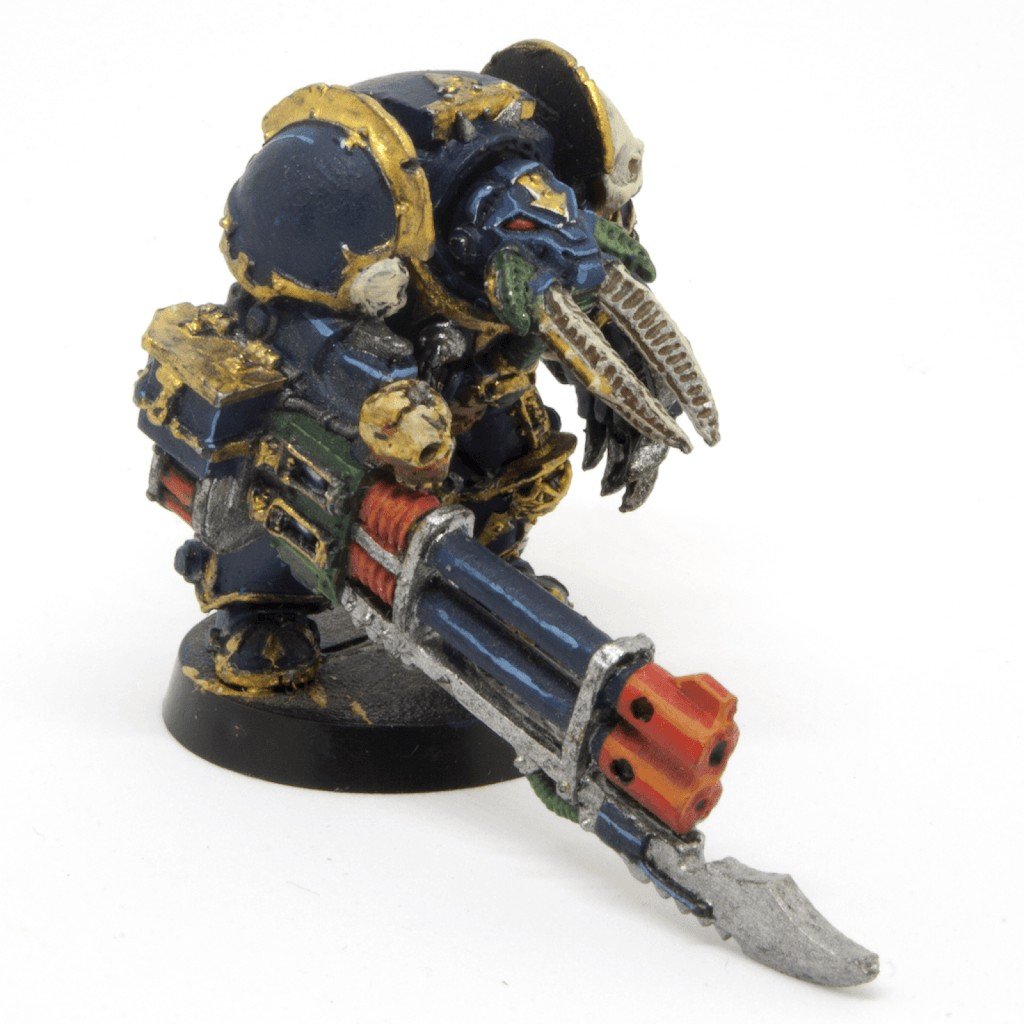 In moderation and by applying the technique in the correct way, drybrushing is incredible and provides striking results. It can also be used as a quick way to shade, highlight or even add weathering & texture to a model. One of the things the best drybrushers know is what drybrushes to use.
For drybrushing, having the best drybrush really does make a considerable difference as shown below.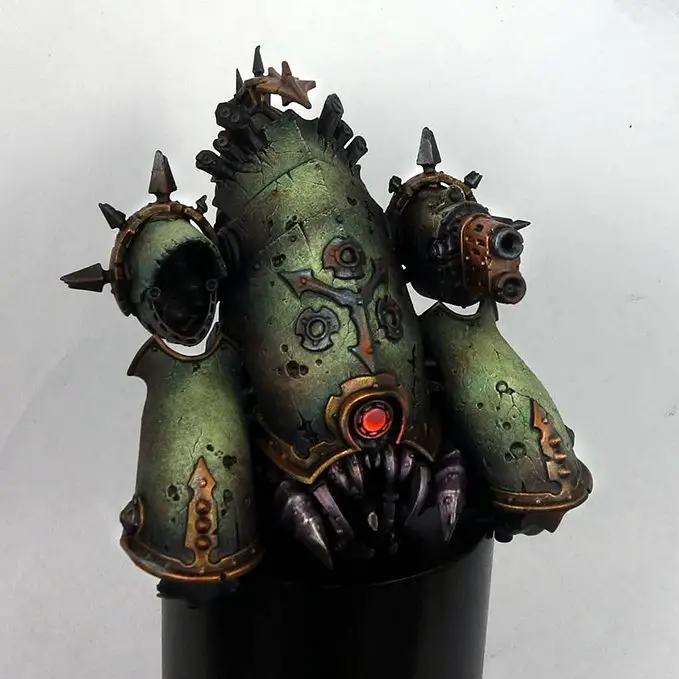 The Best Drybrushes for Painting Miniatures & Models
The Army painter Drybrushes are unfortunately some of the weaker Drybrushes offered. Both the Wargamer (white-handle) series and the cheaper Hobby (red-handled) series and just a little too stiff and coarse.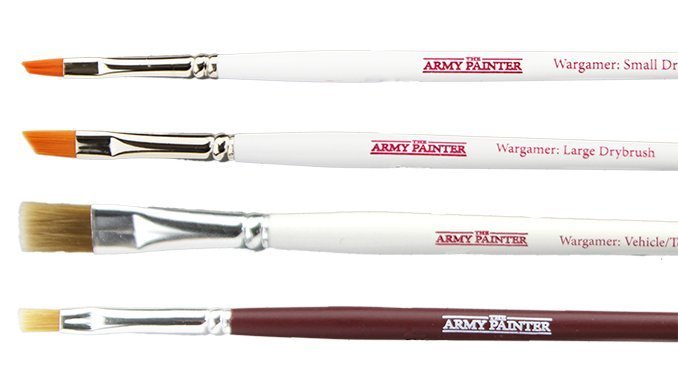 Whilst the point of drybrushing is to wipe the paint off your brush before applying it to a model. The synthetic hairs of these brushes do not retain enough paint when dried to perform a good drybrush finish. They tend to leave the most inconsistent effect of all the options on the list. It's a pity as the smaller of the two Wargamer brushes are an interesting shape which should allow you to apply drybrushing technique in smaller areas.
Don't get me wrong, these are not bad and for the price, they will allow you to drybrush. But no better than any cheap synthetic hair brush with a flat edge would.
A slight step up and made with a blend of synthetic and Ox hair, these are pretty much the standard dry brushes used by most miniature painters. They do a good job. Until I realised there are much better options at a fraction of the price, they have been my go-to for all forms of drybrushing.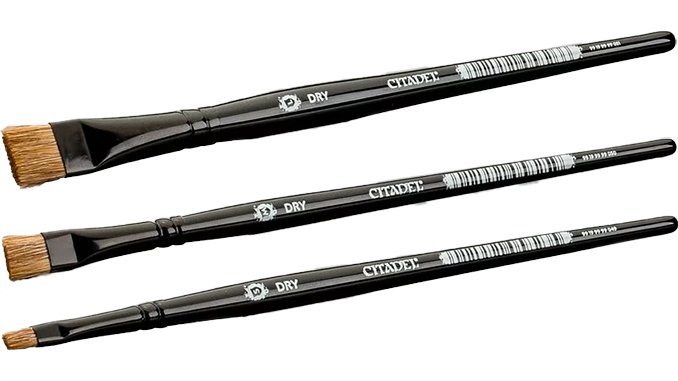 They are cheap enough to replace when you need to.
The only main issue I have with them is that they do not last long enough. the ox hair is firm but brittle. After a couple of uses, you will have several stray hairs. Depending on how neat you like to be, this can cause chaos with follow up drybrushing attempts. You either need to trim the brush making it even smaller or just replace it.
3. Rosemary & Co. Smooshing Brush
This range was designed to be an inexpensive artist blending brush. The "Smooshing" Brush is made from badger hair. There are different types of artists blending brush available but this seems to be the one that dry brushers choose as a consistent set.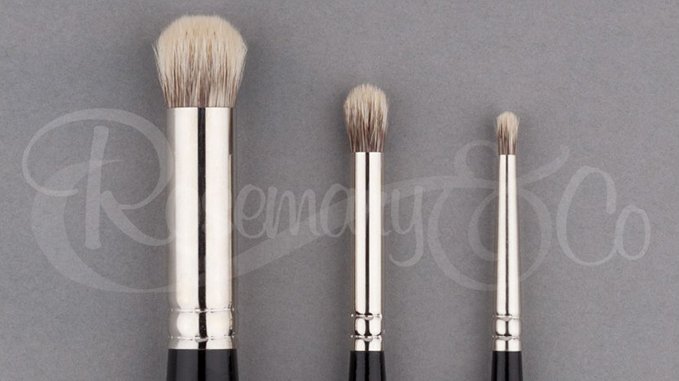 The hairs are packed tightly into the ferrule really to create a dense brush. One which is which will be firm to the touch, but still flexible. The domed shape allows for application at any angle. This leaves a more consistent blend on the surface of your model.
Additionally, the dense hair ensures the bristles protect each other from the bending and snapping you tend to get with flatter brushes.
They are available in small, medium and large.
I feel like this is some kind of secret that only a few people know. The main best type of drybrush is cheap make-up brushes. When I say cheap, I mean budget store cheap. You will typically find these in Pound, Dollar or Euro stores.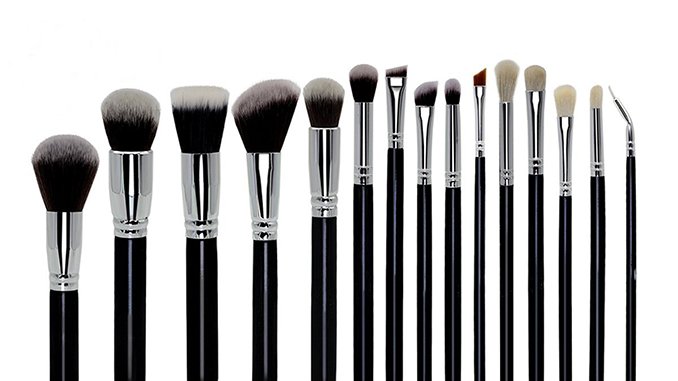 e.l.f is a commonly seen brand and the e.l.f Eye Conour Brush is a common choice. Though this one is only available in one size.
What you are looking for is any make-up brush with round ferrule and a domed head. Beyond that, you want something which has densely packed bristles and fibres with more flex than a snap.
Think, the more bristles that touch a surface the smoother your drybrush layer will be, and these bristles will protect each other from bending as you push the brush against the surface. The softer these bristles are the smoother it will be. But don't go too soft as they will not be strong enough to actually push paint onto a mini.
Just have a feel of the brushes before you buy them if you can. Run them over the back of a knuckle to see if they sharply snap back into position or softly flex back. Start with the e.l.f Eye Conour Brush as a benchmark for the brush texture & feel.
Quite easily the number 1 brushes on this list are the Artis Opus Series D.
I've had my eye on these since the Kickstarter and managed to score some from the Element Games Website. I'm having a really good time with them.
Side Note: The guy who runs Element Games is one of the guys who runs Artis Opus along with the guy running Siege Studios so they clearly know this hobby!
Working with signature artists to test out various brush combinations (including the Rosemary & Co Smooshing brushes above) these have been developed to have excellent hair length and density to provide amazing results. The natural hair on these will give you a softer finish than what you will get from makeup brushes.
Whilst many people say they are "Expensive". When you look at the individual brush prices. They don't cost that much more than the Smooshing Brush and will last several times longer than any synthetic make-up brush. So long as you take good care of them.
Unlike the Badger Hair Smooshing brushes from Rosemary & Co, these are made from a different type of animal hair. Artis Opus are keeping quiet in regard to the type of hair they are. Probably because of how much time they spent developing them!
Possibly the hardest part of getting the best drybrushes is finding brushes which consistently do the job. Sure you can get some dollar store brushes and they should work. But I ended up spending a lot of money over the years on different possible dry brushes, looking for the best one. All the while nervously watching favourite brands disappear off the shelves or get changed in a new revision. With the Series D you get the benefit of a consistent brush you know will do the job.
With these brushes, you are setting yourself up well for the drybrushing and stippling techniques which go alongside them. Techniques popularised by the likes of Bohun. When spending this much on a Drybrush, it also pushes you to get the most out of it.
There are numerous videos online showing you how to create blends so smooth they can be mistaken for airbrush work.
What did you think of this article? please let me know in the comments. Would you like me to do some more top 10's? If so, what?
See our Existing TOP 10 Articles by following this link.
If you like what I'm doing here you could really help encourage more content with a share on any social media platform.
Want to keep updated with the blog? You can subscribe in the sidebar for RSS or by email below
(Sidebar is below the article on Mobile Devices)
Summary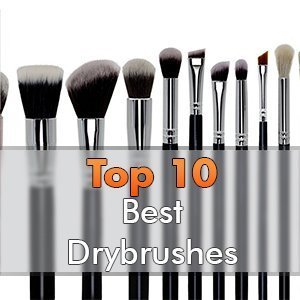 Article Name
The Best Drybrushes for Miniatures & Models
Description
Today we are specifically looking at the best Drybrushes for painting your miniatures and models.
Author
Publisher Name
Publisher Logo