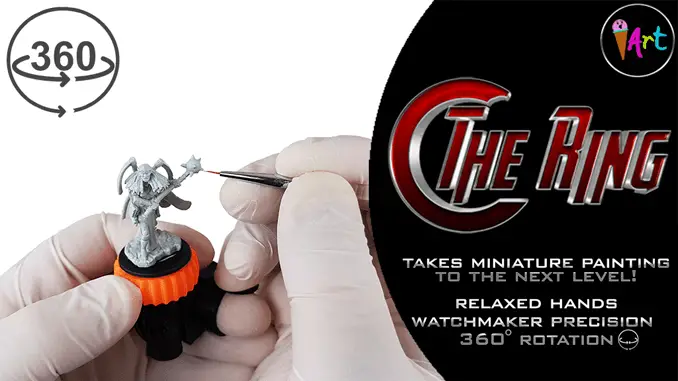 For about a month now I've been speaking with an incredible product designer who has been showing me some of his designs for miniature tools. For now, I'll just say his designs are really interesting and I look forward to sharing more details with you in future. for now, let me share with you the first product he's sent me. The Ring
Full Disclosure: I am not affiliated with I Scream Art, also, this article uses affiliate links
When sharing details of the latest Regress Games Kickstarter for their miniature handle, I saw many negative comments. Fair enough, if a painting handle isn't for you. This post probably won't interest you. But for me, I can't think of anything better than supporting people within the miniature community, who are creating things for the miniature community. So below I show you the first look at I Scream Art's ring handle
I have to hope that's the same for everyone here anyway, it's what compels me to keep writing articles on FauxHammer. So that you guys can benefit from tool reviews and guides.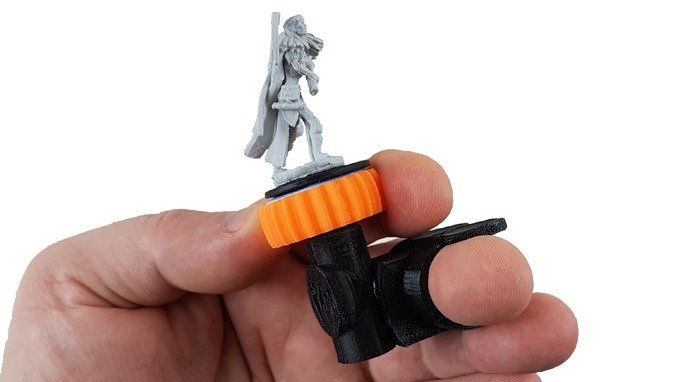 The ring is a more interesting design than many I've seen. It was sent to me with instructions on how to heat up the finger clamp in hot water so that I could shape to my finger. The upright strut is magnetically attached to the finger clamp and can be turned upside down (more on this in a mo). The actual base is also magnetically attached, and there's no worry here, the magnets are more than strong enough to hold the mini. The actual base for the mini can attach a mini with blu-tack as shown above. No specially coloured or re-named putty here. Just use normal blu-tack. Or it can be swapped out for a separate base containing cork for pinning your miniatures – this is how I've been using it.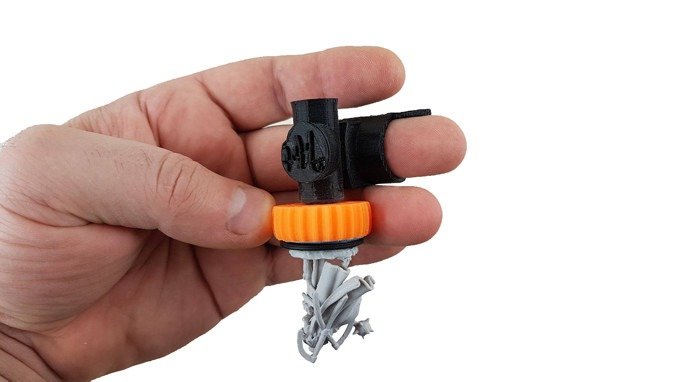 As shown above, the base strut can be turned upside down without worry of the magnets disconnecting. Just like the Redgrass Games RGG 360 you can also rotate the model by turning the base plate.
Using this for the last few evenings (check my Instagram for more details) I've found that it's incredibly comfortable to hold. I'm not really holding it, it's just clipped to my finger so I'm free to flex and bend my hand as much as I wish to avoid cramp. The model is held nice and firmly so this is a great handle for some quick batch painting.
Personally, my go-to is still Garfy's Get-a-Grip Pro as this an inexpensive holder where you can clamp bases or use corks. It has an upright guard, which I need as I do not have a very steady hand. And it's available now.
I'll be looking forward to sharing more details of The Ring with you as I get them. Look forward to details of the Kickstarter – coming soon.
What did you think of this article? please let me know in the comments.
If you like what I'm doing here you could really help encourage more content with a share on any social media platform.
Want to keep updated with the blog? You can subscribe in the sidebar by email or RSS
(Sidebar is below the article on Mobile Devices)
Summary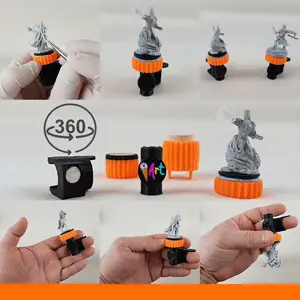 Article Name
The Ring Miniature Painting Handle
Author
Publisher Name
Publisher Logo