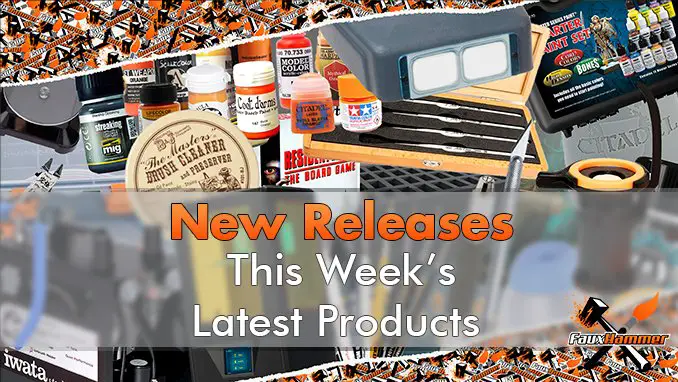 Happy Star Wars Day everyone (Google it) – as announced last we're going to be doing the se new release posts weekly from now on – just somewhere to summarise the upcoming Hobby releases this week.
As you may have seen, Games Workshop announced a limited re-opening this week for their web-store and orders to their FLGS Partners. Stock is limited however so you may wish to shop around.
Not on eBay though, have you seen how much people are spending on paints like Abaddon Black? Seriously, It's time to buy shares in Abaddon Black.
Whilst Games Workshop is back for distribution in the most part, Paints (made by HMG) are very limited as HMG have switched to making Hand Sanitiser for the time being.
Finally – If you haven't already, please join our Facebook Group Paint-Hub.
New Hobby Releases W/C May 4th 2020
I'm kinda cheating this week as this "new release" has already been released and a "few" people have their copy – however as the world went mental just after the official release date – most FLGS and Games Workshop orders were never despatched.
Price RRP : (£105 GBP, $170 USD, €140 EUR, $210 CAD, $290 AUD)
Element Games: £84 GBP – 20% Discount
Ragnar vs Ghazkull in this 40k Boxed set – spend a ton of cash for models you don't need – just to get the 2 models you want.
Set contents
1x Ghazghkull Thraka
5x Ork Nobz
1x Grot Ammo Runt
3x Ork Meganobz
1x Grot Oiler
1x Makari for Orks
1x Ragnar Blackmane
10x Primaris Infiltrators / Incursors
1x Space Wolves Primaris Transfer Sheet
1x Ork Transfer Sheet
Price RRP : (£20 GBP, $35 USD, €25 EUR, $40 CAD, $41 AUD)
Element Games: £16 GBP – 20% Discount
What is Ragnar without his wolves – less of a new release, more of a re-release. Get 5 wolves and paint 2 of them to look like Svangir and Ulfgir, since Darren Latham didn't include them as part of the Ragnar Model (Booooo). This is almost as bad as the Time Jon Targaryen abandoned Ghost (oops, spoilers!)
Price RRP : (£25 GBP, $40 USD, €32.50 EUR, $50 CAD, $70 AUD)
Element Games: £20 GBP – 20% Discount
If you play the game – check out the latest instalment of Psychic Awakening with this, the 6th book in the series – Play the included missions to follow the Campaign.
What did you think of this Article? please let us know in the comments.
If you like what we're doing here you could really help encourage more content with a share on any social media platform.
Click the share links at the bottom of this screen (or on the left for computers and tablets)
Want to keep updated with the blog? You can subscribe in the sidebar for RSS or by email below
(Sidebar is below the article on Mobile Devices)