Black Friday Hobby, Miniatures & Wargaming Deals 2021
Last Updated on February 1, 2022 by FauxHammer
Well, it's Black Friday Tomorrow (does that make today Black Thursday?) I say Black Friday, but everywhere seems to have Black Friday week sales now. (because that makes sense). If you're in the HobbySphere, you could be somewhat dismissive of this day, because we normally feel a bit left out. But as the year's clock on, and more companies eke out of the woodwork – you'll start to find quite a bit up for grabs. Let's take a look at some highlights below. and if you know of any Black Friday Hobby Deals in 2021 – let us know in the comments.
Click this link & buy your hobby stuff from Element Games for the UK & Europe to support FauxHammer.com – Use Code "FAUX2768" at the checkout for double reward points.



Our Affiliates / Hobby Stores
So, whilst all of the electronics device lovers are buying Echo's and Nest's like they are going out of fashion, fighting for TVs etc, you are probably scouring the internet looking for cheap miniatures, tools and other sundries? So let's have a look at the best places for you to pick up some deals this year.
Get your fingers on your clickers and be ready to refresh some web pages.
If you do see any solid deals we haven't mentioned, add them in the comments and we'll update them throughout the day.
Let's do it (we'll get the chaff out of the way first)
Black Friday Hobby Deals 2021 – Warhammer
Nada, zip, zero. Don't expect anything. I'm yet to see Games Workshop themselves do any kind of Sale. Sure, check Games Workshop at 10:00 am on Friday morning (even though they normally only update the store on Saturdays), just don't be shocked when it looks identical to how it did 2 minutes earlier.
We do know the Battleboxes are coming, this is essentially GW's end-of-year discount. We just don't know when. It could be this Saturday, but don't forget we also have all of the following still expected to release this year.
So I suppose this is less of a deal this week, and more a reminder to save your money for what's still coming.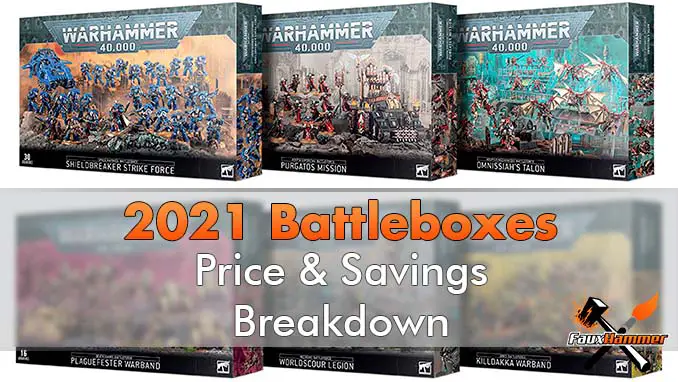 You may be able to pick up some Warhammer deals at online wargames stores, so be sure to check out the following list of our affiliates, at least check those stores.
A couple already has an extra 5% off some excess stock.
Despite being the largest online store I've checked every year and again, you'll find very little in the Warhammer Sphere on here that is discounted.

Once again you canpick up a Mini Vortex Mixer with 20% off. Always great to have. Honestly, just try searching for some of your favourite brands.
One thing to check is 3D printers, you do get quite a few of them discounted on Black Friday. For Miniatures, get Resin, for Terrain, get an FDM Printer if you're happy with ridges in it.
Cameras too, if you want really good pictures of your minis, grab a half-decent SLR Camera in a Black Friday deal, and one of those cheap portable studio backdrops.
"Boxed boardgames" in general, is another category which could see some decent savings, there are more miniatures out there than Warhammer you know?
Fallout, Doom, Harry Potter, Resident Evil…. and tons more all with great miniatures
Like previous years, the discount you see on Black Friday will be no different to what you see on the previous day.
If it is a specific "Black Friday" deal, it will be marked on the listing.
Personally, this is about as good as Amazon for hobby stuff, it's all individual sellers. So unless it is a big eBay business then you will likely see exactly the same discounts as you see any other day. Sure eBay has Black Friday deals but these are for big companies Like LG, & Dyson etc.
Large manufacturers who have a direct eBay presence.
We don't have that with our favourite brands. Worth a nosey as you shop around, but don't get held up on there too long, there are other places to check.
Black Friday Hobby Deals 2021 – Hobby Stores
Shops are back open now, (remember that covid lark?)… So maybe venture away from your computer or phone and head back out into the real world (safely please). And contact your FLGS to see if they are offering anytiong special.
Again, check some online stores, a few will have some deals on hobby sundries.
Element Games had one last year, so if you reside in the UK or any of Europe, worth a gander over there. FAUX2768 should still net you double reward points back too.
Here's the rest of our affiliates again, check em, I will be
UK:Element Games, The Outpost, Wayland Games, Mighty Lancer, Goblin Gaming, Forbidden Planet, Model Scenery Supplies, eBay, Amazon
US/Canada:MTechCave (Code "FAUXH" = 15% off), GameKastle, eBay (US), eBay (CA), Amazon
Europe:eBay (DE), eBay (FR), eBay (ES), eBay (IT), Amazon
Australia:eBay, Amazon
Global: RedGrass Games, Warcolours
Black Friday Hobby Deals 2021 – Specific Brands
Right, this is where it actually gets fun! We know some brands are ready and geared up for Black Friday with pre-announced deals
last year they pre-announced 20% off everything! This year, all they have so far is a landing page, so get ready to hit refresh on this one.
If you don't have a wet palette already, now you have no excuse.
If you don't buy one, they have a significant other or relative buy you one as a gift.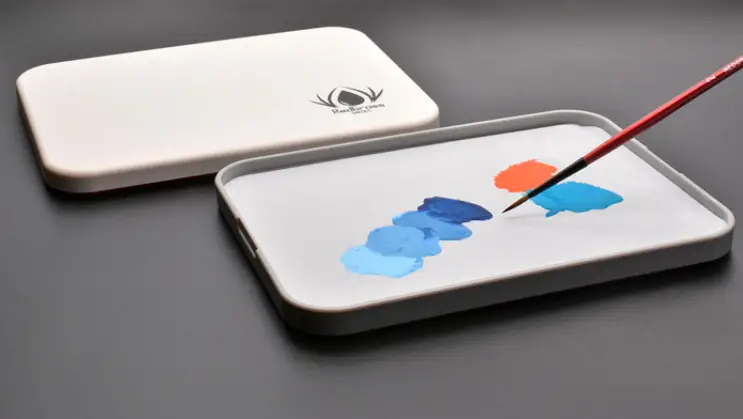 Definitely check out their nippers, some of the best in their price range (which just dropped) and the Handle is really useful too – It's actually my most commonly used handle when airbrushing.
Absolutely solid paint and we really liked them in our review, be sure to check out their Contrast alternatives "Antithesis"
The banner advertises "20% off everything" with code BLK, which makes preparation easy.
In the most case, you are getting 1€-2€ off your smaller bundles. and the largest bundle, of 208 paints has 20€ off, from 469.99€ to 449.99€.
This is another maybe, but Garfy has previously released a Black Friday Edition of our favourite painting handle. Here's hope he does so again.
Edit: Just spoke to garfy – and he's confirmed that discounts are coming. So check his eBay store in the morning and grab some bargains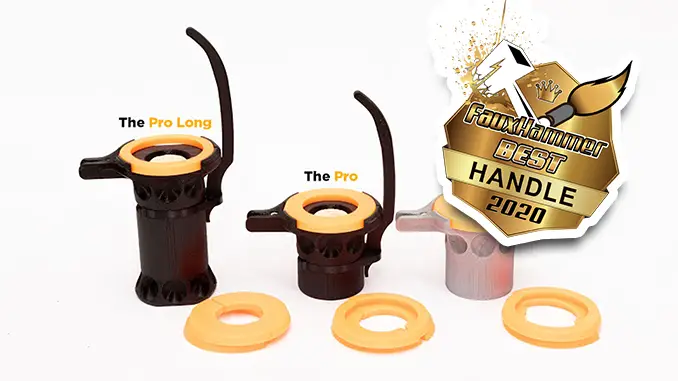 Garfy's eBay store had this all-black model along with some bundles available. I remember well as I picked up 5 of the pro-long for myself.
I hope this deal is back.
Everyone's fave stuff supplier is having a 15% off what appears to be everything this week, it's already live so grab a deal now with code "FRIDAY21"

One caveat is that you must spend over 60€ or equivalent in your local currency. Again, just check your local hobbies stores first for price+shipping as they may be already cheaper anyway.
Want some sexy ass resin models? Creature Caster has some of the best around. with new releases and discounted bundles check them out for sure
Black Friday Bundle Offers Coming Soon! Check out your region's web store for more details.
Design and get your very own specific miniature with. Once again Hero Forge are offering $5.00 off all physical miniatures when you use the code "EPICLOOT" during checkout!
And all digital STL files are marked down to $3.99.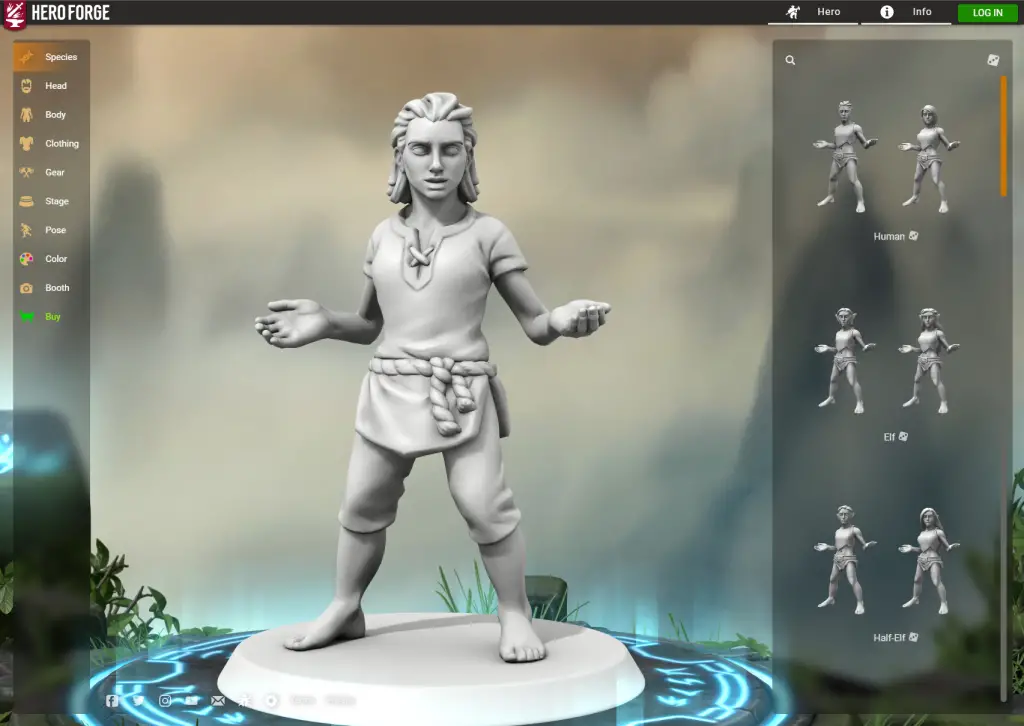 This is the same deal as last year, but it is a cool service and one worth checking out at a discount.
Black Friday Hobby Deals 2021 – Closing comments
This list will be updated throughout the day so please share this with your friends and if you spot any deals we have missed, post in the comments below.
Click this link & buy your hobby stuff from Element Games for the UK & Europe to support FauxHammer.com – Use Code "FAUX2768" at the checkout for double reward points.



Our Affiliates / Hobby Stores
What did you think of this Article? Please let us know in the comments.
If you like what we're doing here you could really help encourage more content with a share on any social media platform.
Click the share links at the bottom of this screen (or on the left for computers and tablets)
Want to keep updated with the blog? You can subscribe in the sidebar for RSS or by email below
(Sidebar is below the article on Mobile Devices)