A new boxed set arrives to get players started with Warhammer Underworlds – Age of Sigmar's game of fast-paced, deck-building and miniature-pushing mayhem. This new set sees Morathi's sadistic aelves battling it out with Clan Eshin's sneakiest gutter-dwelling rat-assassins.
Click this link & buy your hobby stuff from Element Games for the UK & Europe to support FauxHammer.com – Use Code "FAUX2768" at the checkout for double reward points.


Our Affiliates / Hobby Stores
Whilst it doesn't revolutionise the game of Warhammer Underworlds, Season 6's Nethermaze box provides players of Games Workshop's deck-building miniature-wargame hybrid with a reliable and all-inclusive introduction to the gaming system. Whilst it's packed with literally everything players need to start playing Underworlds, experienced players may feel a little hard-done-by at the lack of new, meaty rules changes.
It seems like it was only a few weeks ago I was reviewing Harrowdeep, the last Underworlds set that also heralded a new season of the game. Now, we enter Season 6 of Underworlds with another collection of new miniatures, new cards, and new rules.
The various warbands stumbling through Harrowdeep have arrived at this new zone, so called the Nethermaze, and it is within the confines of this staggering and maddening labyrinth that Season 6 of Warhammer Underworlds takes place.
It's a deeper, darker, more forbidding area of the (already pretty deep, dark, and forbidding) region in which the current season of Underworlds is set in.
So, as I always quantify at the start of these reviews, I am not an experienced Underworlds player. I only ever seem to play Underworlds when reviewing these boxes for FauxHammer.com, and just about every time I do my girlfriend and fellow player-tester, Lizzie, resoundingly beats me.
I've done a bit of digging, and as far as I can tell there are no real great changes. Nethermaze is the first new season box to be released for Warhammer Underworlds since GW switched from making annual season releases for the system to releasing new seasons on a six-month rotation. Perhaps, then, it's not hugely surprising that there aren't that many changes to the game's rules.
The new box builds on the introduction of Gloom Tokens (which were designed to make players consider objective placement better) and Cover Hexes (which provide a small buff to defence for models), which first appeared in Harrowdeep. It is, perhaps, no coincidence that the decks of cards for the new warbands in this set are built around making the most of both of these mechanics.
There are, however, new keywords included in the this season: Map and Domain. Domain cards affect the battlefield, and can be used to change the world around the miniatures to their advantage – and the disadvantage of their foes. Map cards are a bit more ambiguous at this stage as there's only one example of them in the new box, but they seem to be geared towards obtaining glory points at a risk. For example, the Detailed Map Fragment card in this box has an action that allows you to gain 1 spent glory point, but your opponent gets to play an upgrade without spending any glory points in response (provided, of course, they have one to play).
As ever, we'll start our review with a look at the box, how everything is packaged, and what we've got within its glossy cardboard walls.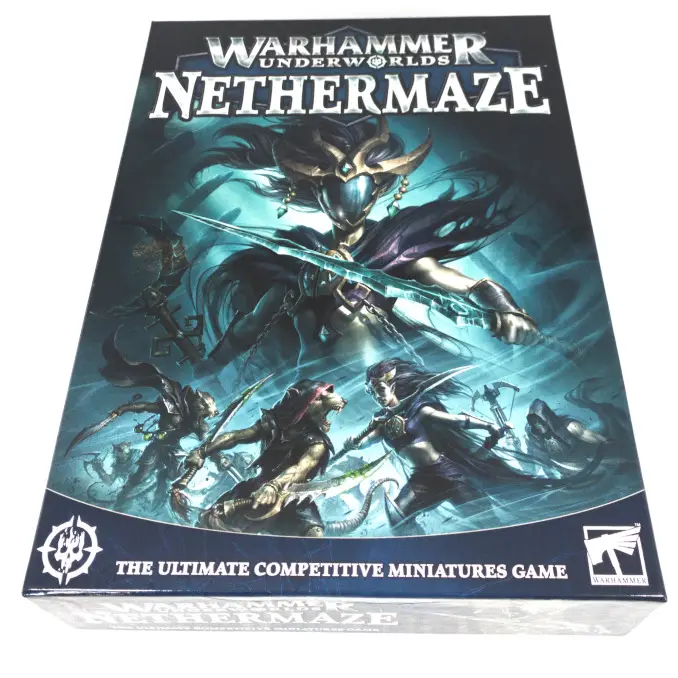 As every GW box release is, the cover of the Nethermaze box is covered in awesome artwork. This time, the art depicts the two warbands – the Shadeborn and Skittershank's Clawpack – kicking the snot out of each other.
Beneath the lid, we have the paper goods, sealed safely within a plastic wallet.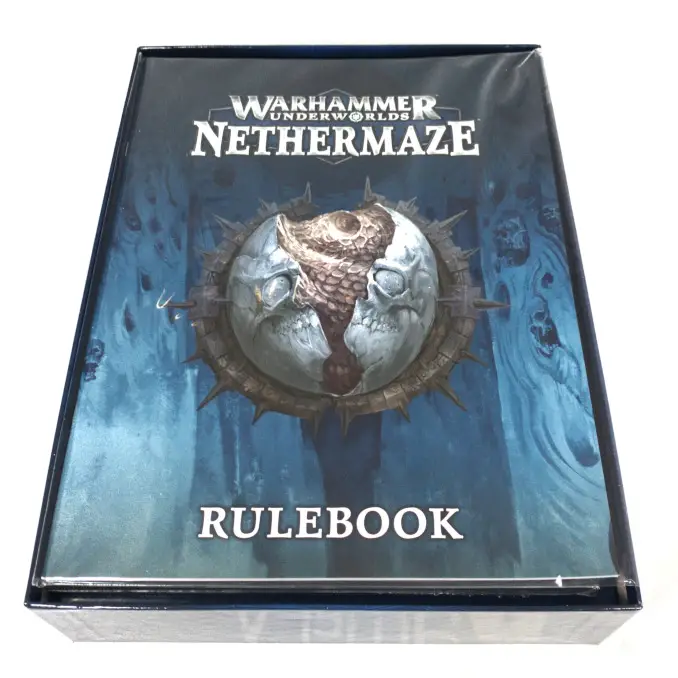 There are two things in the wallet: the all-important rulebook as well as the assembly guide for the miniatures. The guide is only one sheet of A4 as the miniatures are push-fit, so super easy to put together.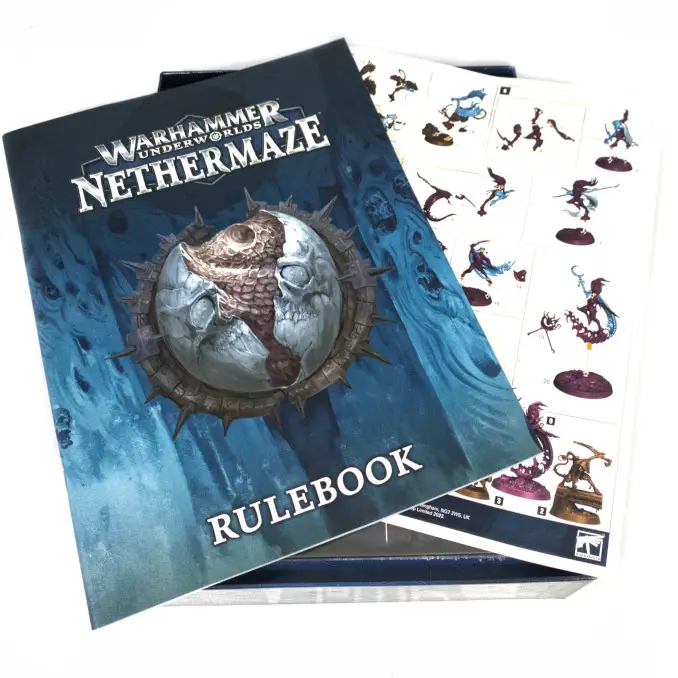 Beneath the rulebook and the assembly guide, safely sealed away in their own plastic shrink-wrap, are the two folding game boards that come with the set. We'll look at these in more details in a few moments.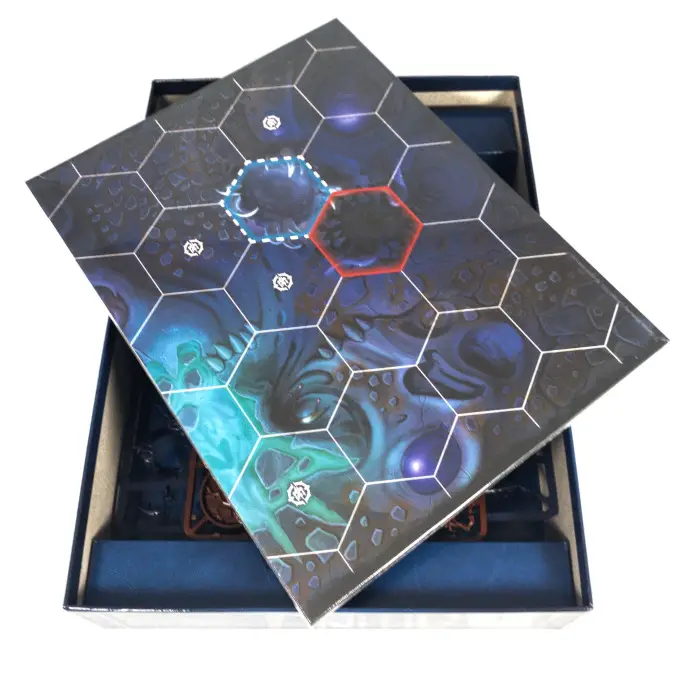 Then, beneath the boards, lies everything else.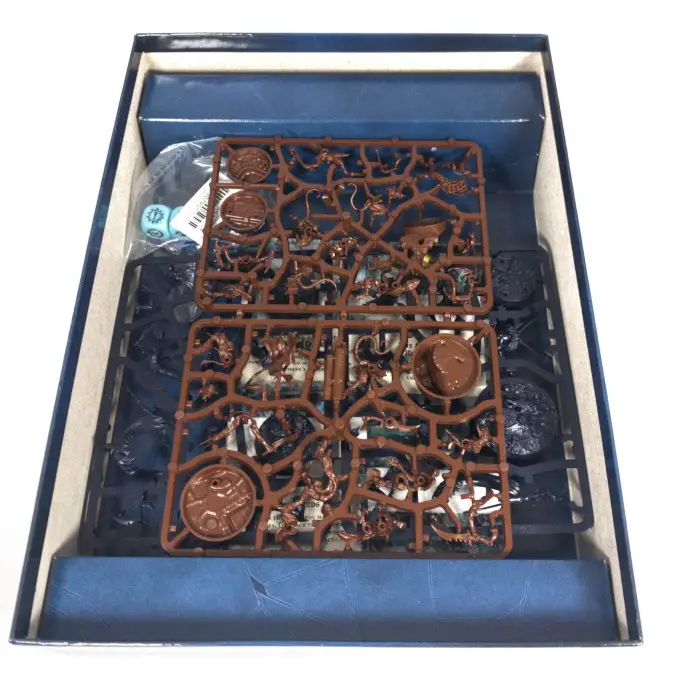 So, that's two sprues for your miniatures, your four decks of cards, and a packet of dice.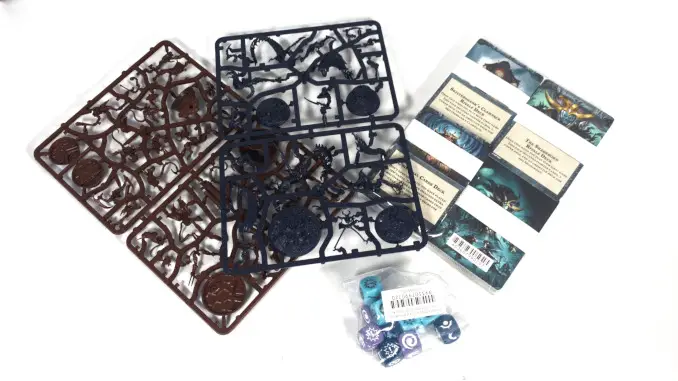 As ever, we'll have a closer look at everything in more detail in a moment.
Warhammer Underworlds: Nethermaze Review – Contents
Here's everything that you get in the Nethermaze box.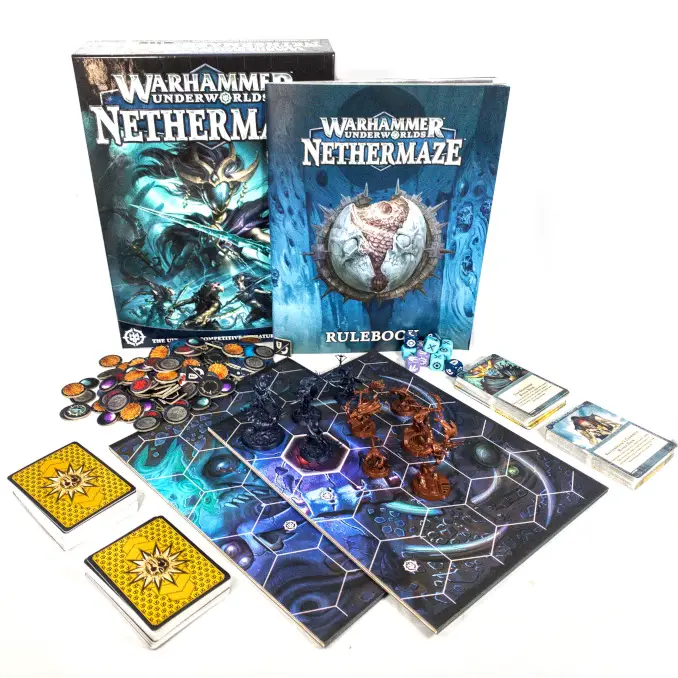 In all, that's:
The complete rules for Warhammer Underworlds
9 x Citadel Miniatures

4 x Aelves making up the Shadeborn warband
5 x Skaven making up Skittershank's Clawpack warband

2 x double-sided game boards
Loads of cards

48 x universal cards
36 x Grand Alliance cards – gambits, objectives, and upgrades that can be used by any warband belonging to that Grand Alliance
2 x Rivals Decks, one for each warband

11 Dice

5 Attack dice
3 Defence dice
3 Magic dice

Like, a billion tokens. Seriously, I'm not counting these.
We'll have a closer look at everything in just a moment.
Warhammer Underworlds: Nethermaze Review – Literature
There's only one book with the new Nethermaze set, but it's a pretty important one.
Warhammer Underworlds Rulebook
The Nethermaze rulebook is your one-stop port-of-call for all the latest rules for playing Warhammer Underworlds.
I've always been quite impressed with the Underworlds rulebooks. On the whole, Warhammer rulebooks have a habit of being a little bit, shall we say, overawing. They can be extraordinarily jargon-heavy, long-winded, and have to explain key concepts and rules to the Nth detail that can leave players feeling confused and frustrated.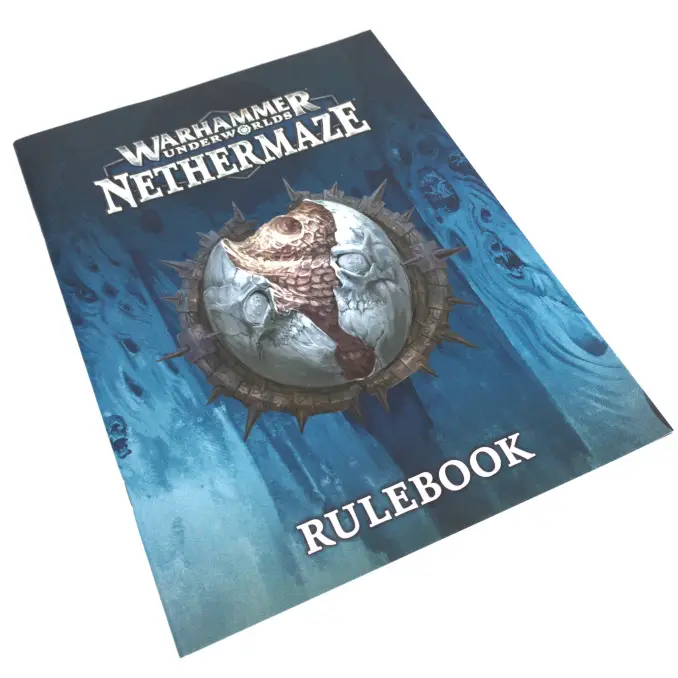 This is in-part due to just how massive the games are: with so many factions, so many units, and so much stuff happening in each game, there's an extraordinary amount to consider – and getting it all down in a straightforward, easy-to-understand and logical order is a frankly impossible task.
Because Underworlds is a much smaller, much more streamlined game, there aren't anywhere near as many rules. This makes it far easier to get the core concepts of the game across to players in a straightforward manner.
The Underworlds rulebook does this very well. Whilst the first pinch of pages is dedicated to the new setting deep within the Nethermaze, the rest of the book will take players through the various core ideas and concepts that they need to understand in order to play a game. The book is structured well, so much so that brand-new players can traverse through the core concepts and stages to the game in the order that they need to be understood.
There is a lot, though. As I discovered when I played the Harrowdeep box, getting through my first game of Underworlds as a newcomer to the rules can feel like a bit of a slog. There's still lots of stuff that needs to be done and an awful lot to remember when playing Underworlds, so even though the rulebook isn't massive, there's still a lot of information in it that will take some time to get to grips with.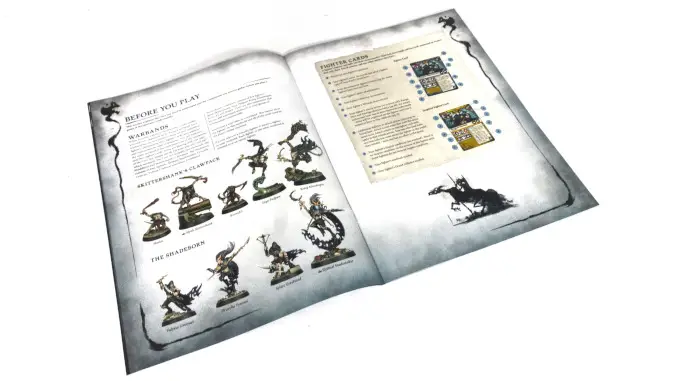 It's really important to note that, whilst this is a clear and concise book in the grand scheme of rulebooks (each section builds on the previous – for example, the "Playing the Game" section is immediately followed by a more in-depth look at what makes up each step in a battle round), this is not a resource designed to be used by brand-new players of the game as an introduction to Underworlds. This isn't a beginners guide to the system – that came out in the Starter Set.
The rulebook, then, is an excellent resource that does its best to make the huge amount of info crammed into its reasonably few pages as concise and as understandable as possible. Experienced players will make short work of the info here, and whilst the logical progression of the book will make life easier for newcomers, the book can still be quite complex – but then it wouldn't be a Warhammer game if it wasn't.
Warhammer Underworlds: Nethermaze Review – Wargear
Nethermaze comes with a whole host of goodies to really pimp up your gaming experience. We'll have a look at the gaming boards, the tokens, the cards and the dice that come in the box in this section.
Game Boards
The Warhammer Underworlds: Nethermaze box comes with a pair of game boards printed to look like the swirling, spooky underwater depths that reside deep beneath Harrowdeep.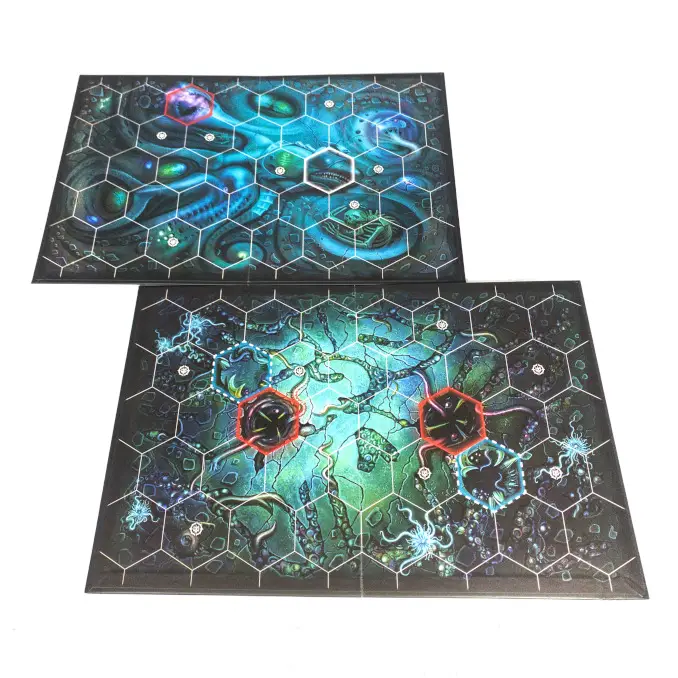 Board placement is a key part of the Underworlds game, with how the boards are aligned on their long edges forming an important part of the set up of the game.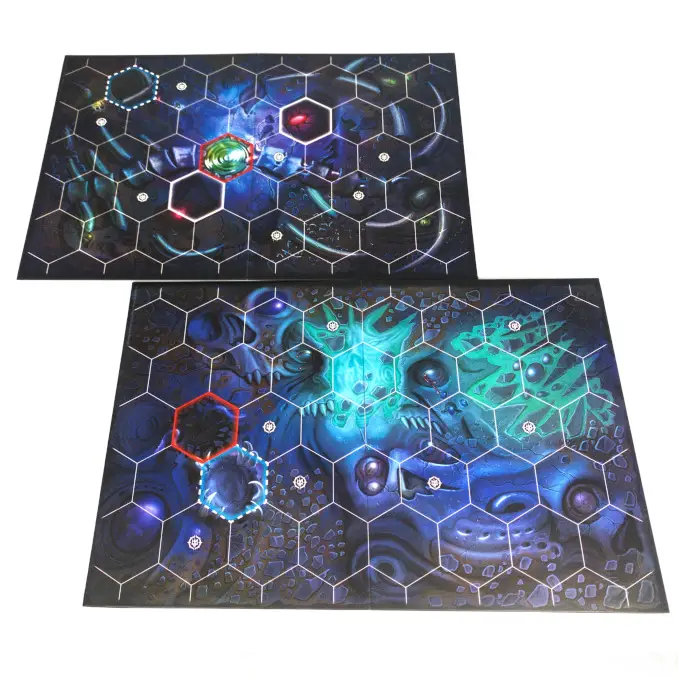 The print on these boards is excellent. Each one is unique yet fits the underwater theme perfectly. Hexes are clearly outlined, as are the various icons on each, which will make playing the game all the easier.
Tokens
They really don't scrimp on tokens in these Underworlds boxes. There are dozens of little cardboard circles, squares and hexes in the Nethermaze box, spread across two boards.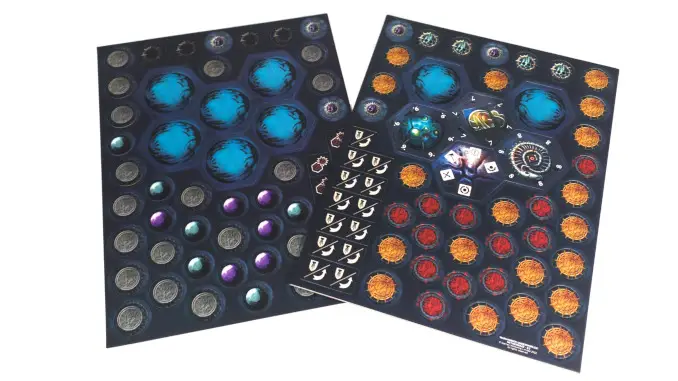 In the image below, the hex-shaped counters on the left are either gloom hex tokens, double-sided scatter tokens, or double-sided feature tokens. The silver and gold tokens in the top centre are glory point tokens. The square tokens on the right are Move/Charge tokens and Guard/Stagger tokens. The red counters and counters with gemstones on them are wound/generic counters. The little tokens with the Underworlds logo on them are activation tokens, and the final pile in the bottom-right corner are Raise tokens.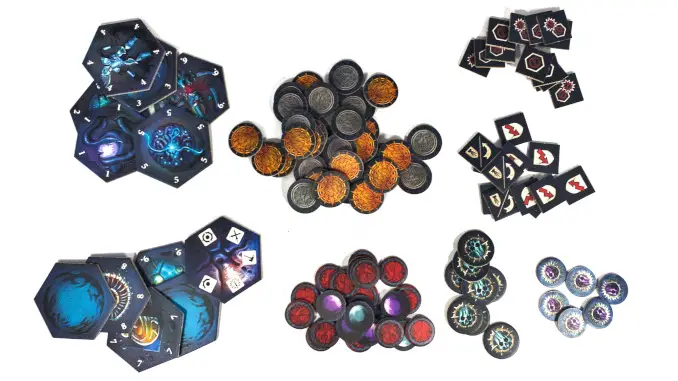 Each token has a specific use in the game, either for being used with the game boards to mark objectives and features, or for tracking player progress throughout the game.
The tokens are really good quality and come off the board with only a little push. There's no real risk of little carboard tabs being left on the counters, not the finish snagging and ripping, so each one of these should come out without issue.
Cards
I hope you like cards, 'cos there are a lot of 'em in Nethermaze.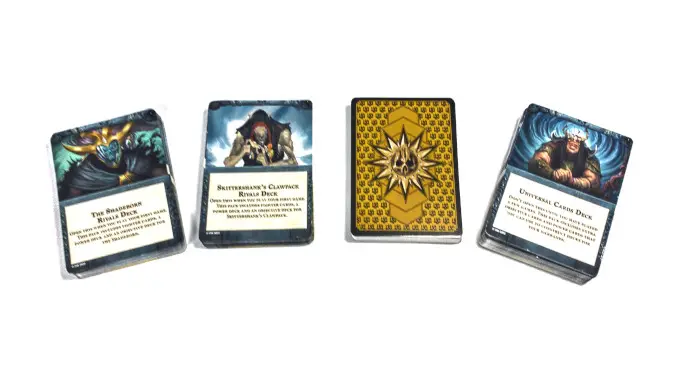 So, first off, on the left and second from the left, are two Rival Decks: these are the base cards designed to be used with each warband. These come with lovely themed art, so it's always clear at a glance which team each card belongs to.
On the right are universal cards – and there are 48 of them. Universal cards include gambits, objectives, and upgrades that can be used irrespective of which warband you are playing with. These are designed to help add a splash of individuality to whichever warband it is that you play, these cards are perfect for changing up your Shadeborn and Skittershank's Clawpack decks so you can play however you wish. Of course, these are cards are not limited to being used with just these two warbands, you can use them with any you so wish to.
Finally, we have 36 Grand Alliance cards (these are the yellow ones second from the right). Again, these include gambits, objectives, and upgrades, just like the Universal cards did, but these ones can only be used by warbands belonging to a particular Grand Alliance.
As a deck-building game, you'd hope that Underworlds would have some great cards – and it does. The function of each card is clear, comes with great artwork, and all the info is clearly displayed and easy to read.
Dice
Nethermaze comes with the eleven dice you need in order to play a game of Underworlds.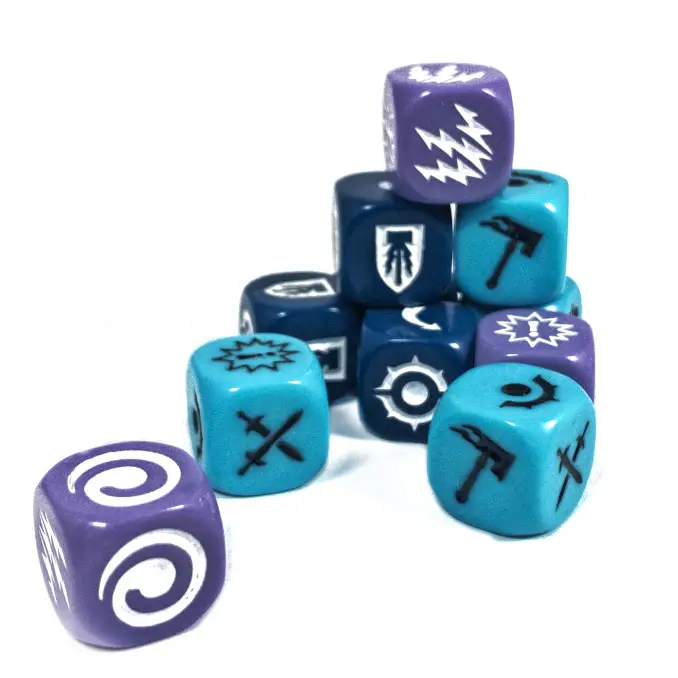 That's 5 attack dice, 3 defence dice, and 3 magic dice. Whilst these dice are pretty cheaply made, it's nice that their colours are themed to the overall deep sea, enchanted underworld theme of the box. It's a nice finishing touch that just helps the box feel that little bit more complete.
And now we arrive at the good stuff. The 9 models that come in the Nethermaze box (5 Skaven and 4 Khainite Aelves) are all push-fit, so they're designed to be quick and easy to put together.
We'll have a closer look at the models for each warband in turn, starting with…
The first of the two warbands in the box are the Morathi-following Shadeborn.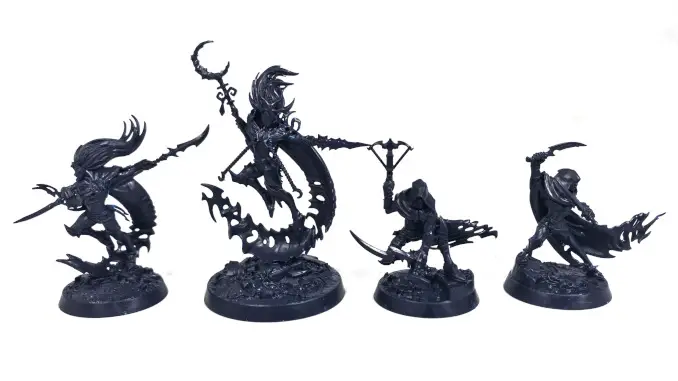 This little group of murderous aelves have been sent to the Nethermaze to hunt down a group of dangerous rebels – and to find out how Morathi might harness the Nethermaze's powers for herself.
There are four absolutely gorgeous figures in this set. There are a few flimsy bits on some of the figures, so take care when clipping them from their sprues. Pay particular attention to the weapon blades, the tips of the hair, and the chains worn by the Shadeborn's leader, Slythael.
But other than that, these models are very easy to build. As mentioned, each figure is push-fit, so can be assembled without blue (though gluing in a few places will just help ensure there are no gaps on some of the models).
These are a really cool little warband that will delight both painters and players the (Under)world over. Each figure is really unique, and I for one can't wait to get some colour onto these.
The Skaven enter the Underworlds in supreme style in the form of Skitterhank's Clawpack.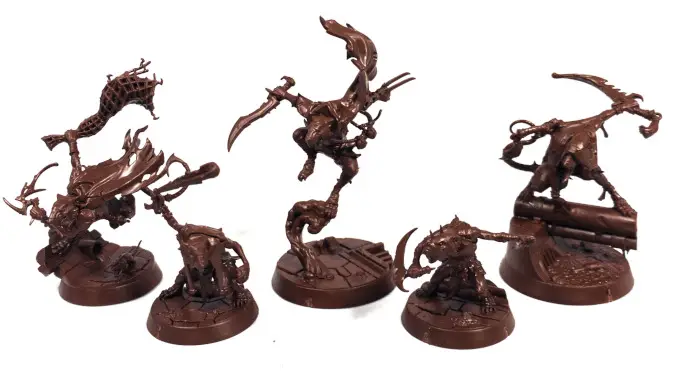 I'm not a huge fan of Skaven. I don't particularly like the vast majority of their (fairly outdated) models, and I'm not keen on rats after finding a dead one the size of a rugby ball in my garden when I was a kid (it also promptly, shall we say, "emptied its pipes" everywhere when I tried to shovel it into a bin bag). Whether this is a contributing reason as to why I don't particularly like Skaven, I'm sure only therapists can speculate.
But this warband is something truly spectacular. The detail on each model is stunning, and the sculpted bases – oh man!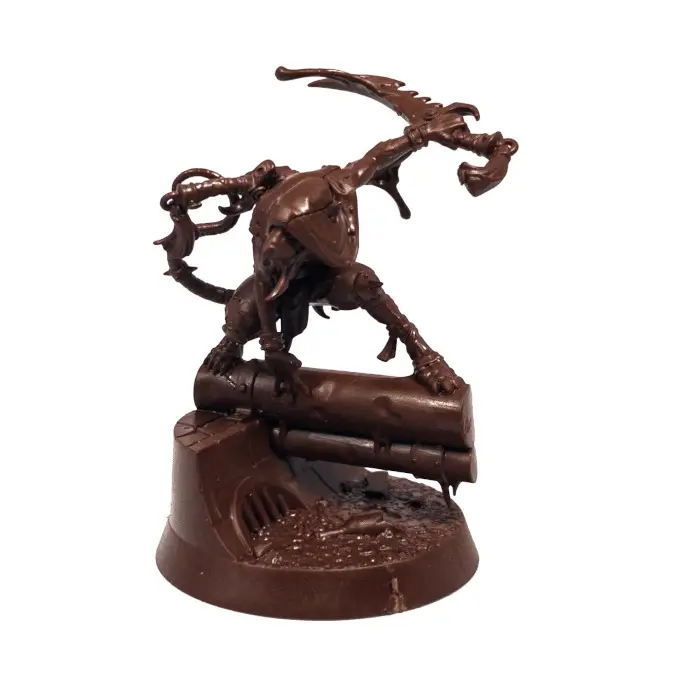 Each one of these models is a masterclass in sculpting. There are a handful of crack-thick join lines on a few of the miniatures, but for the most part these have been disguised by being sculpted within the folds of clothes.
The Shadeborn are an absolutely gorgeous collection of models, but they look almost boring next to Skittershank's clawpack. These models are, without doubt, the better looking warband in the box – and maybe even the best-looking warband in the history of Underworlds warbands. They are an absolute triumph.
I can't believe I'm saying this, but hopefully we'll see some more horrible little rat-men like this in the future!
Given that we've managed to do a playtest of every recent Underworlds release over the past year or so, it felt only natural that we continued the tradition within this review. So, my long-suffering partner and playtesting duo extraordinaire, Lizzie, took control of the Shadeborn whilst I took the Skaven (she's giving up her Sunday afternoon for this; I wasn't going to make her play with the rats).
Regular readers will know that Lizzie absolutely hammered me when we had a go with the Harrowdeep set (and I'm still not over that useless bird the Stormcasts have on their side), so I've got a score to settle this time around.
Set Up
The very first thing players need to do before they can begin playing Nethermaze is set up the battlefield. The battlefield is made up of the two double-sided boards that come with the box. Each side is covered with hexes which divide up the battlefield. Some of these hexes all have different rules applied to them.
Blocked hexes – these cannot be moved into or through and block line of sight.
Lethal hexes – these deal damage to fighters when they are moved into them.
Cover hexes – these increase a fighter's defence.
Edge hexes – an outermost hex on the edge of the battlefield.
Occupied hexes – these are hexes with fighters or other features in them.
Empty hexes – hexes that are not otherwise blocked or occupied.
In order for players to set up the Underworlds battlefield, the two boards need to be placed adjacent to each other. To do this, each players roll off. The player who rolls the best using Underworlds' dice (there's a handy comparison chart in the rulebook to show which dice roll wins against what) wins picks their board first. This is an important part of the set-up, as the board and the side of the board they choose becomes their territory.
In order for a set-up playing space to be legal, both boards have to be joined by four hexes. This means there are a variety of ways in which the boards can be set up. We ultimately decided to keep things simple-ish and go for a straightforward square.
Next, we have to place the various gloom and objective hexes onto the map. We did this in the layout below.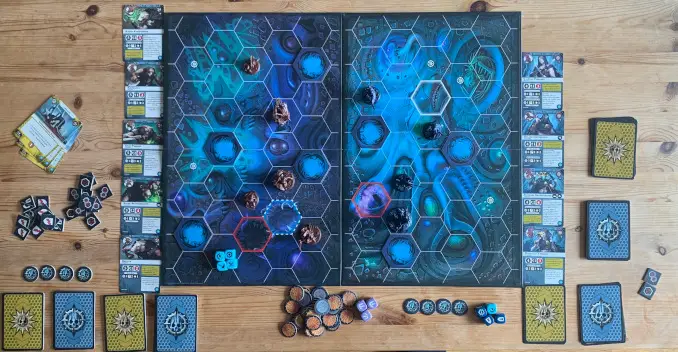 With the boards set up, we could move on to the next part of the set up process.
As with all games, the very first thing players will need to do before they can start moving figures and throwing dice will be to construct a deck to play with. Luckily, Nethermaze comes with two pre-made Rivals decks for playing with the Skaven and Aelves in this set, so for their first few games players don't need to worry about mixing and matching their cards. The rulebook even advises new players to keep the Universal and Grand Alliance decks off the table for the first couple of games until players are feeling more confident – so this is what we did.
The cards in a deck are divided into three types:
Objective Cards – these reward you glory points for completing their conditions.
Upgrade Cards – these bestow permanent improvements on your fighters
Gambit Cards – these are versatile cards that work like abilities for your fighters
Because we were using pre-made decks, these weer already sorted out for us. We gave them a good shuffle and split the grey-backed Gambit and Upgrade cards into one pile each, and the Objective cards into another.
With that, we were ready to begin.
Round 1
Each round (which consists of four alternating "activations" between each player) is begun with a roll off. In round 1, Lizzie won roll off and began aggressively, having her character with a ranged weapon shoot at Skittershank and deal him a single wound. In her part of the subsequent Power phase, she played a couple of Gambits to help keep her Aelves safe from the skittering Skaven.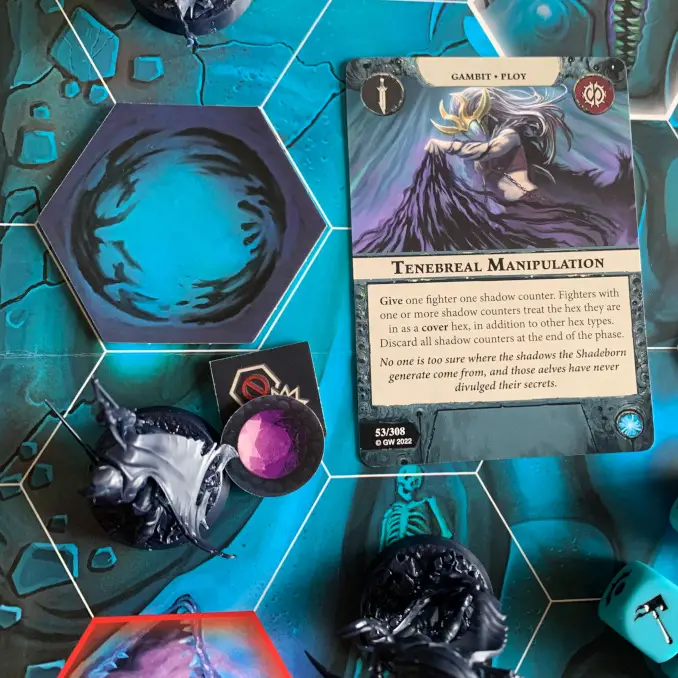 The Skaven came out strong in their first activation, with Snyp Padpaw knocking two wounds off Lizzie's leader, Slythael Shadestalker. In fact, after a largely unsuccessful second activation from the Aelves, Snyp was able to knock Slythael Shadestalker's final pair of wounds off her, rendering her out of action and inspiring the entire Skaven team.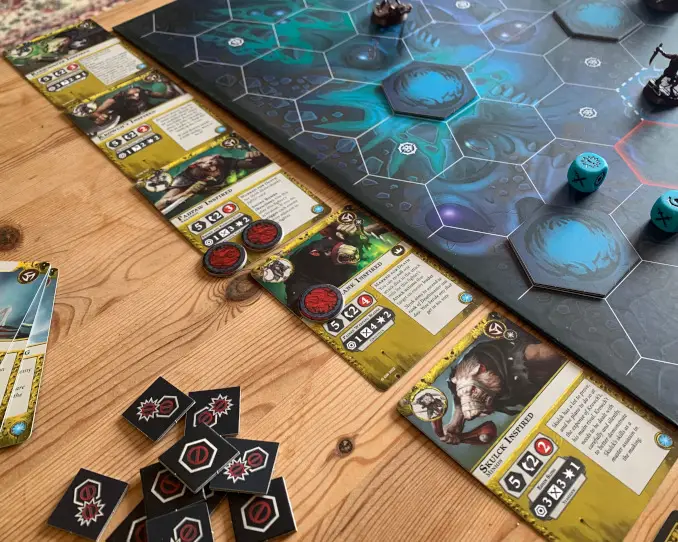 In retaliation for killing her leader, Lizzie promptly focused her attacks onto Slink Skittershank and removed him from the board before the end of the first battle round thanks to the timely use of a Gambit card.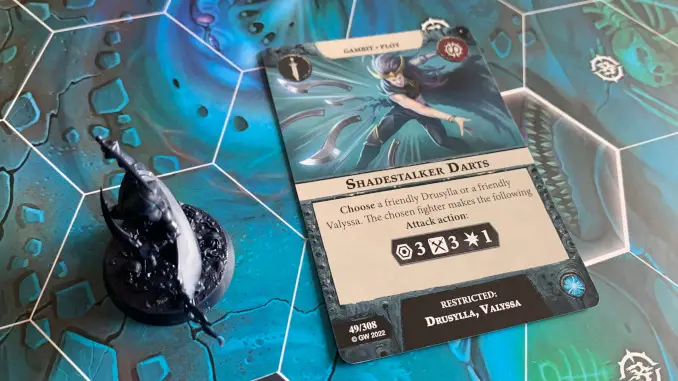 A few more points of damage were allocated across the board, but beyond each warband losing their leader, there were no further significant changes to the board.
By the time I'd had my final activation and both of us had passed in the Power phase (the part of the turn where each player plays their cards), only one glory point had been scored – and that was by the Skaven. Lizzie and I both discarded the majority of our hands – both of us were concerned we weren't going to be able to use the Upgrades we had and complete the Objectives looking at how the battle was going – and drew new cards.
Round 2
Round 2 began with the score 1-0 to the Skaven. I won the roll-off for Round 2 and a quick glance at my objective cards told me I needed to do some serious damage to Lizzie's Aelves in order to have a chance of scoring any more Glory Points – though the Objective cards I had weren't great.
Lizzie, on the other hand, couldn't actually score two of her three Objectives and wouldn't be able to discard her hand until the end of the Round. One Objective, which was to kill the enemy leader, couldn't be completed as my leader had died in the previous round. The other Objective card she held could only be scored in the third end phase is two or more of her fighters were in cover or edge hexes outside of her territory. Her final Objective card required her to make four attack actions in a round.
Lizzie's Round went from bad to worse as she struggled to do any of my fighters any damage across all her activations – though she did manage to kill the inspired Snyp Padpaw in her final activation. Whilst I failed to do take any of her fighters out of action, I did manage to knock one wound off Valyssa and Sylarc.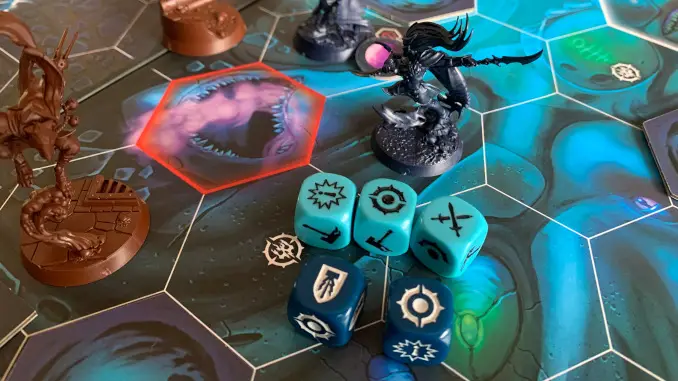 When the Round ended, we tallied up our Objective cards again and, to our dismay, realised we hadn't managed to score a single one. My Objectives required one or both of my two weakest fighters – Krowch't and/or Skulk – to have made two successful melee attacks, which they hadn't done, or to have killed some of Lizzie's fighters, which I also hadn't managed to do.
Still, at the end of the round I was still 1-0 up.We drew and discarded as appropriate, and the groan that came from Lizzie as she flipped her Objective and Gambit/Upgrade cards over told me that I was, perhaps, in a good position going into the last round.
Round 3
Round 3 began with me winning the roll off. I used my first activation to attack Lizzie's Valyssa with my (now upgraded) Kreep Kinwhisper. The already-wounded aelf suffered further damage and was taken out of action, which allowed me to score no fewer than 3 Glory Points thanks to a fortuitous selection of Objective cards that I'd drawn.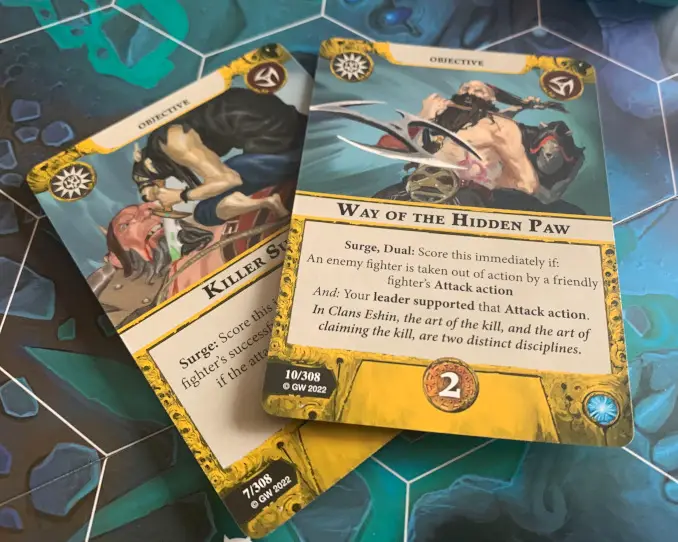 I used my part of the Power phase to upgrade one of my surviving fighters with Eshin Throwing Stars, which allowed me to work towards completing my Objective of damaging Lizzie's fighters with Krowch't and/or Skulk.
What followed over the rest of the Round can only be described as the worst spell of bad luck I had ever seen. Lizzie failed to pass every single roll she made: all of her attacks missed, and all of her defences failed. Combined with the bad luck she had rolling at the end of Round 2, we worked out that she didn't successfully pass a single roll for eight consecutive activations.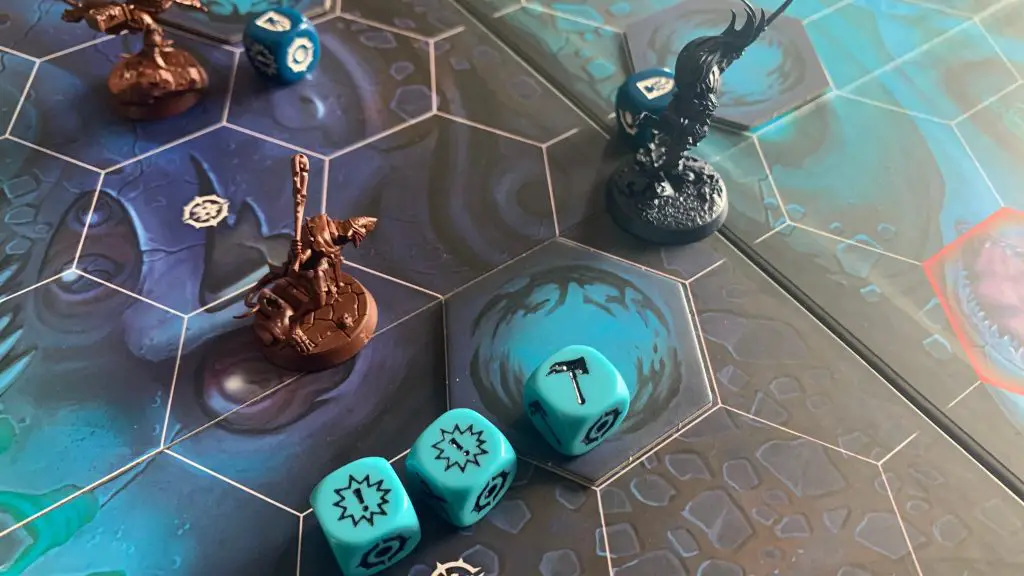 Lizzie's fate was sealed when two of her remaining sighters – Sylarc and Valyssa – were both killed leaving only the glaive-and-dagger-wielding Drusylla Vyserax in the centre of the battlefield. Half way through the final Round, Lizzie had all but conceded. We played out the rest of the rolls and activations for the sake of completion, but she put her hands up and said that there was no way she could win.
She did, however, manage to wrangle a single Glory Point out in the final end phase.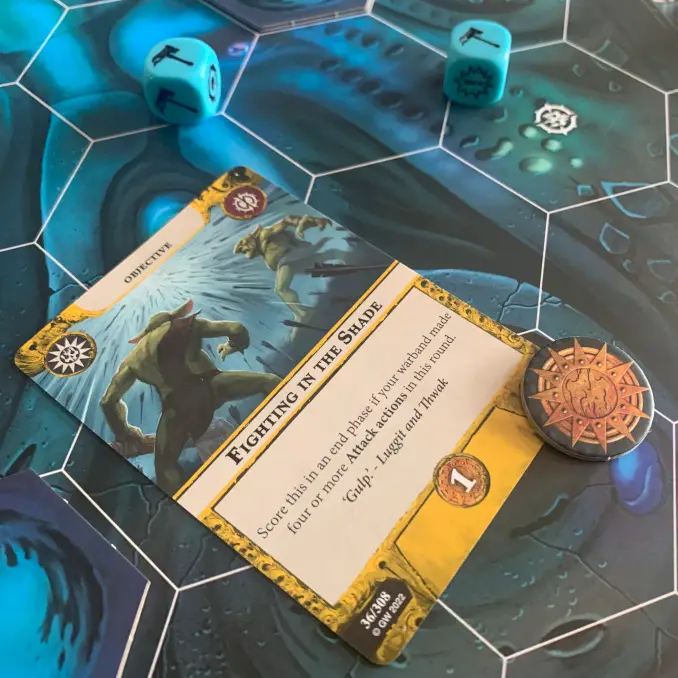 It transpired that when Lizzie had discarded her entire Upgrade/Gambit hand at the end of round 2, she had drawn five Upgrade cards that she couldn't use as she hadn't scored a single Glory Point. She had also discarded her Objective had again and had drawn another selection of unfavourable Objectives – one of which required her to have all her surviving fighters – of which she had 3 at the start of Round 3 – sitting in Cover hexes – of which there was 1, which my Krowch't was quite comfortable in.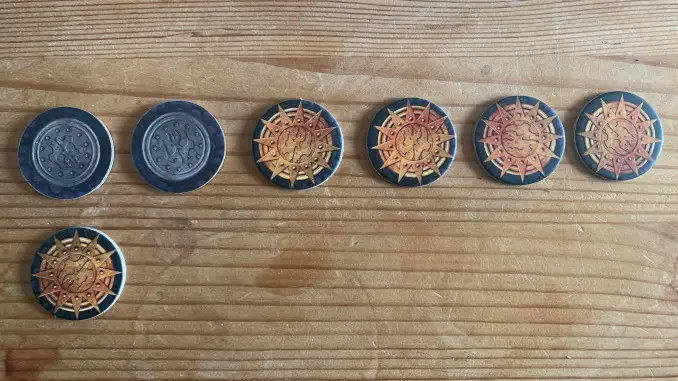 The final score was 6-1 to the Skaven – which I was very pleased (and surprised) with.
Roundup
It's a little bit difficult to get a sense of just how good the new decks and units in Nethermaze are, simply because of Lizzie's staggering bad luck. For almost the entire latter half of the game, she drew Objectives she couldn't complete, Upgrades and Gambits she couldn't use, and didn't pass a single roll.
A few notes, though. First, we realised in our final Round that neither of us had actually Delved on a single Objective hex. This left us feeling a bit bewildered, and concerned that we'd done something wrong. All that set-up with the various hexes and by the end of the game neither of us had used any of them for anything. It felt very weird. There's also absolutely no real information on this in the Rulebook. The Rulebook explains the placement of Objective Hexes and how to "Delve" into a hex to reveal it, but doesn't actually say what happens next.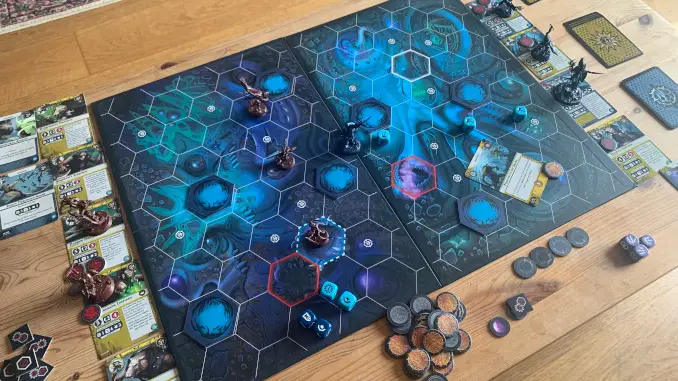 Actually using the Objective hexes to score Glory Points depends on the cards you have in your deck. A glance through the Grand Alliance and Universal decks showed that there were plenty of Objective cards that related to holding one or more objectives on the board.
However, a review of our respective Rivals decks showed us that there isn't a single card in either the Skaven nor the Aelf deck that encourages players to play for the objectives on the battlefield. Everything in the Shadeborn's deck is about being sneaky, hiding, and killing their opponents, whilst Skittershank's Clawpack are all about staggering and stabbing their enemies. Whilst this was actually kinda fun and encouraged us to be engaging with each other's warbands, it did feel a little bit like we weren't actually playing the game.
Secondly, and this is a good thing, the game is actually relatively easy to pick up once you get going with it. Neither of us have played Underworlds since we staggered through the Harrowdeep playthrough we did, so we couldn't really remember what it was we were meant to be doing. However, whilst our first Round took ages as we were constantly referring to the rulebook and trying to figure out what things meant, the rest of the game actually passed very quickly once we got into the swing of things.
This is Underworlds' biggest selling-point: the game has a very understandable rhythm to it that's very easy to get into. The more rounds you play, the easier and easier players will find it to get into the game's swing. Our final Round only took us about ten minutes, as we were well into the pattern of how the various turns progressed.
Conclusively: Underworlds remains a fun and fast-paced game that's surprisingly easy to get into. I'm just not completely sure if the new Rivals decks are, perhaps, as conducive to introducing new players to the game and their factions as they are meant to be.
Nethermaze can be brought directly from Games Workshop's webstore for a not-too-bad £65GBP/$95USD/€80EUR. Whether or not this will; seem like a reasonable amount of money for you to spend on this box depends entirely on what you want to get out of it. If you're an Underworlds fan, then this'll seem like a reasonable amount of money to spend in order to be able to keep turning up to your favourite gaming hangout and play with the most up-to-fate ruleset.
However, if you're just after some stuff to paint, the value of this box is much more difficult to ascertain. Whilst the warbands are currently exclusive to the box, it's unclear whether or not these will be available for purchase as individual kits later on. GW has recently scrubbed a lot of old Underworlds warbands from their webstore by "taking them out of rotation", and as yet, Xandire's Truthseekers and Da Kunnin' Krew, who made their debut in the Harrowdeep box, have not come available for individual purchase (but can be brought in the Warhammer Underworlds: Nethermaze – Rivals of Harrowdeep box).
It's a bit of a sneaky move, as painters enamoured with these unique warbands (and those awesome sculpted bases) won't want to miss out on the opportunity to paint some cool new Skaven, nor some unique Aelves. But £65GBP/$95USD/€80E for 9 figures is a lot of money.
As I briefly mentioned in the last section, GW have recently taken a large number of Underworlds warbands "out of rotation", which basically means you can't buy them anymore. A quick glance at their store page for Underworlds and it looks like anything that's been around longer than Direchasm has disappeared.
This means that if you're buying from GW direct, you're perhaps a little more limited as to what you can buy. Local and independent stockists may have older kits available (though a look at my two go-to independents hasn't revealed much), but it does look like the pool has shrunk quite significantly.
The good news is that GW have (fairly) recently released a couple of new warbands: Blackpowders Bucaneers and The Exiled Dead. Further good news is that Elathain's Soulraid, with it's iconic crab, is also still available.
Pros
Cons
Really great miniatures
Nice tokens, boards, and other wargear
Fairly good starting resource for new players.
Game remains good fun
Not masses of rules changes (or is that a good thing…?)
A couple of parts in the Rulebook not as well explained as they could be.
Nethermaze is another faithful – albeit perhaps a little predictable – entry into the annals of Warhammer Underworlds history. Whilst on paper the contents of this box are very similar to those that have arrived in other Underworlds boxes of a similar price, there's enough fresh and new stuff in here to keep Underworlds fans happy.
First – and most importantly – the game is fun. It has the faced-paced feel of any good deck-building game, and its synergy with the miniatures-based archetype of Warhammer gaming systems is seamless and adds an extra dimension to the playing experience.
The box is also a surprisingly good resource for brand-new players, in spite of the fact it isn't pitched at them. In the past, these boxes have had a habit of being a little bit too rules- and jargon-heavy for completely new players to get their heads around (which is what made the Underworlds Starter Set such a good resource). But I have to say, following a read through of the rulebook and a look over the various cards and other bits and pieces in the box, there's nothing in here that should turn newcomers off. Sure, it's got a steeper learning curve to it than the Underworlds Starter Set, but it's by no means an impossible mountain to climb.
The miniatures in the box are really excellent. I'm a big fan of a sculpted or scenic base, and the Skaven figures have absolutely crushed this. That the figures are push-fit also means that they're blissfully easy to put together, so much so that any idiot could assemble them with absolutely no trouble whatsoever.
So, yes: a lot to like, and very little to criticise. Nethermaze successfully seizes the Warhammer Underworlds baton from Harrowdeep, and faithfully carries the system forwards into its new season. Nice one.
Click this link & buy your hobby stuff from Element Games for the UK & Europe to support FauxHammer.com – Use Code "FAUX2768" at the checkout for double reward points.


Our Affiliates / Hobby Stores
What did you think of this Review? please let us know in the comments.
If you like what we're doing here you could really help encourage more content with a share on any social media platform.
Click the share links at the bottom of this screen (or on the left for computers and tablets)
Want to keep updated with the site? You can subscribe in the sidebar for RSS or by email below
(Sidebar is below the article on Mobile Devices)