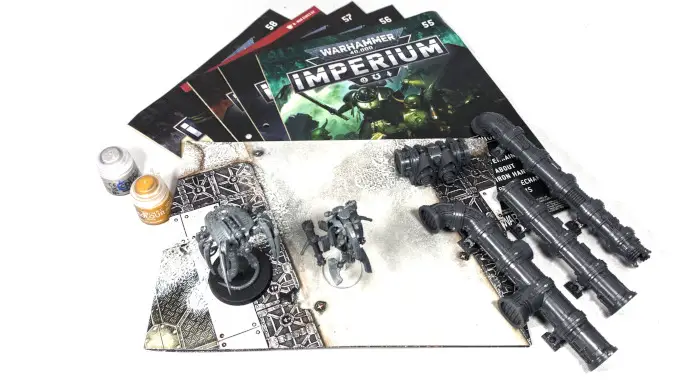 Another month has rolled by, so it's time for another injection of miniatures and magazines courtesy of Hachette Partworks' Warhammer 40,000 Imperium subscription service. What delights await in this month's delivery?
Click this link & buy your hobby stuff from Element Games for the UK & Europe to support FauxHammer.com – Use Code "FAUX2768" at the checkout for double reward points.


15% off Phrozen with code: "22PRFHDP15"

Our Affiliates / Hobby Stores
Warhammer 40,000 Imperium Delivery 15: Issues 55-58 Review – Introduction
We're now entering the closing phases of the Warhammer 40,000 Imperium magazine. Standing on the cusp of Issue 60, it's hard to believe we're almost three-quarters of the way through the service.
After the highs of Delivery 14 and Delivery 13 – which saw us furnished with some of the best models and savings thus far – the pace slows down with Delivery 15 with a set that's comparatively light on plastic.
Read on for a closer look at what awaits this month.
Warhammer 40,000 Imperium Delivery 15: Issues 55-58 Review: Contents
So, here's everything you get in Delivery 15: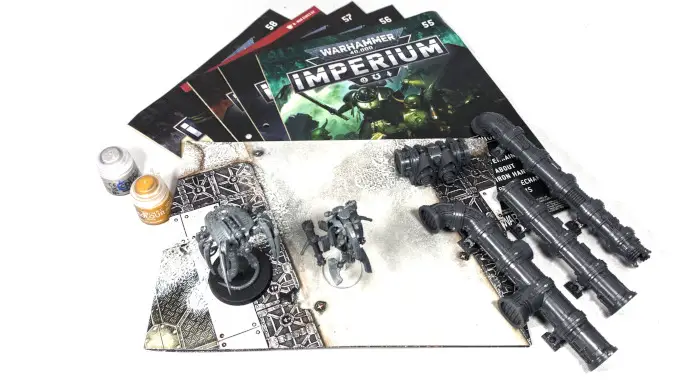 You'll either view Delivery 15 as a reprieve or a poke in the eye: following just how good and how much stuff came with Delivery 14 and Delivery 13, you'll either be relieved that the flow of minis has slowed down so you have a little more time to get a handle on your growing pile of unpainted plastic; or, you'll be desperate for more of the same, and will see this fairly small offering as a bit of a bummer.
However, if you've been paying attention, you might think that Delivery 15 seems a little bit familiar, and you wouldn't be wrong in believing so. We've received one of every model in Delivery 15 at some point already throughout the Imperium subscription service. Whilst the paints, mat and magazines are all new, all of the models have featured at some point in previous issues. Read on for more info.
The Magazines: Issues 55-58
Issue 55 introduces buyers to Warzone Alectia in its opening pages, before moving on to take a quick look at a Warhammer 40,000 Conquest fan favourite: the Iron Hands. There's also a bit about the Adepta Sororitas in here, too, for anyone sad to see them go after the last delivery.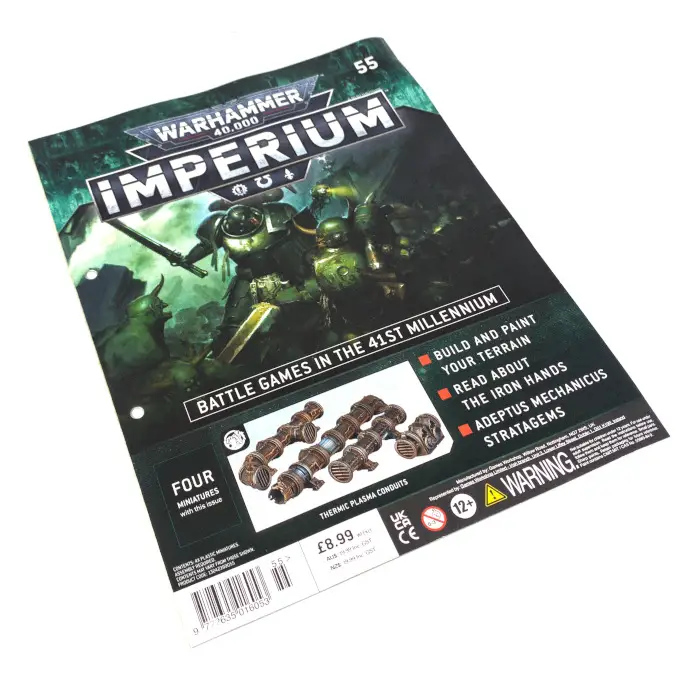 A large part of Issue 55 is taken up with lots of new rules and ways to play, including a sizeable slice of Adeptus Mechanicus rules – remember, for those models you received a few months back? – as well as a battle plan and missions for a Sisters versus Necrons showdown.
Issue 56 with delight 40K loremongers the world over, with the first half of the magazine entirely sacrificed to the Imperial cause. There's yet more about the Adepta Sororitas, War Zone Damnos and, as the cover suggests, plenty about the Officio Assassinorum.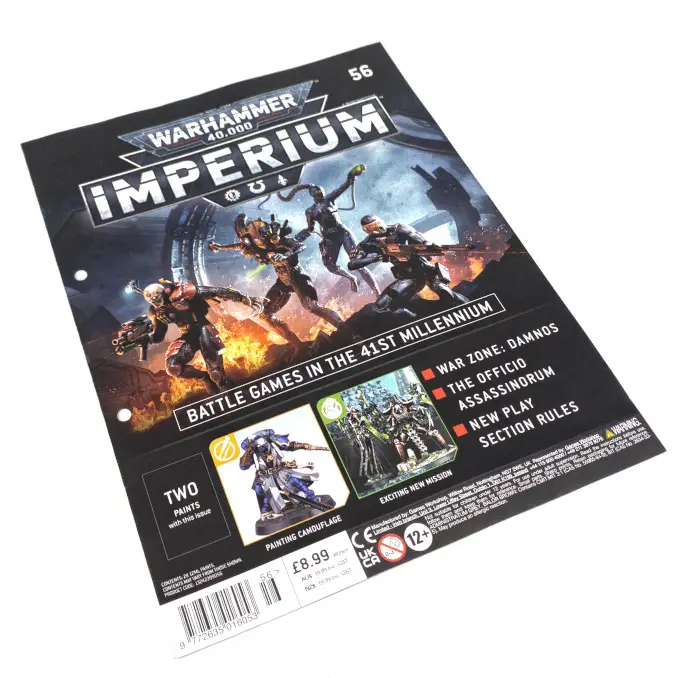 The paint guide within Issue 55 takes you through the basics of highlighting, before stepping aside to allow for the remaining pages to focus back on how to play the great game of Warhammer 40,000.
Issue 57 is another fairly lore-heavy issue, broken up with the short (yet nightmarish) assembly guide for the Necron Tomb Blade that comes with this issue.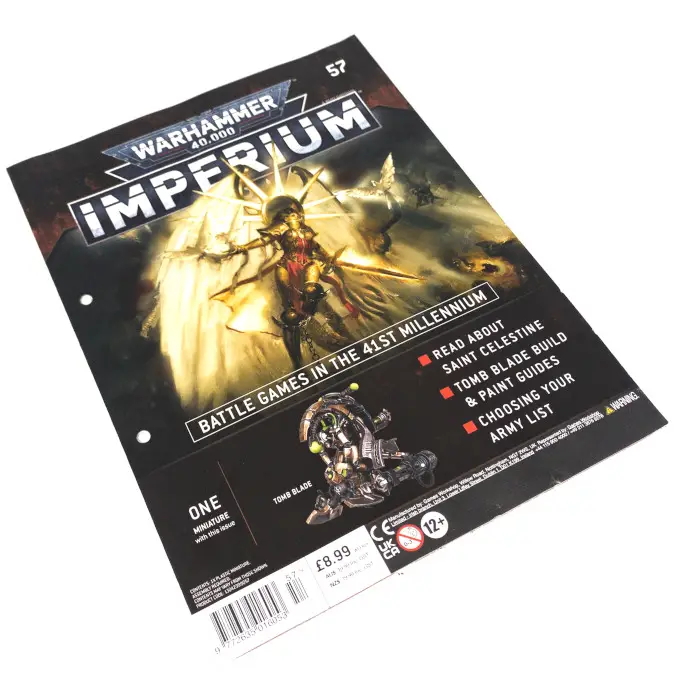 If you have the psychological stamina to continue to look at your Necron miniatures after battling to assemble this hellish model (more on that in a minute), there's a paint guide for the Tomb Blade as well, as well as some more rules to get you playing the game.
Included in Issue 57 is another fold-out, including more information on Alectia and the battles waged between the Necrons and the Adepta Sororitas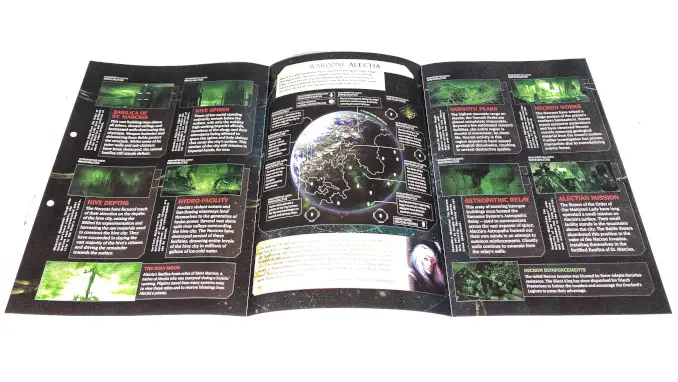 Finally, we arrive at Issue 58, which has a distinct focus on doing. The first few pages are given over to new Space Marines lore but are quickly replaced with a build guide for the Necron miniature included in this magazine, as well as a wider paint guide aimed at getting all your Necrons up to standard.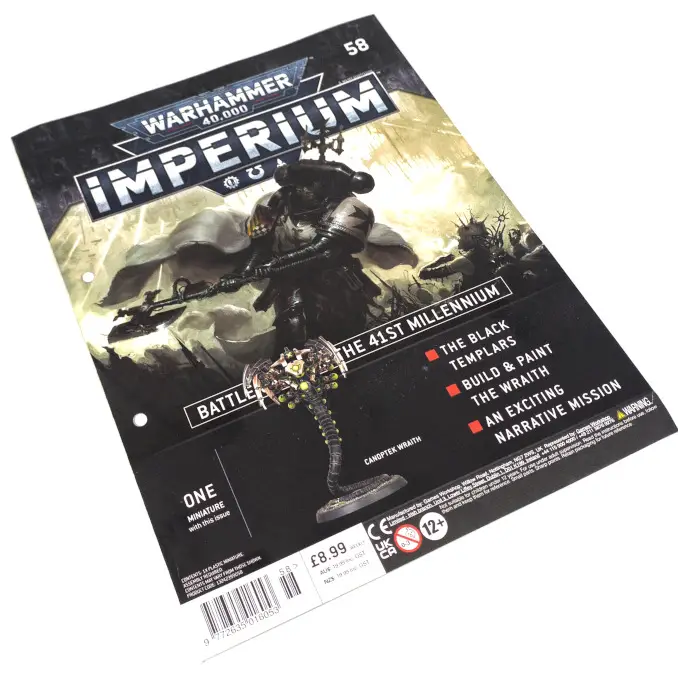 Abutting this and closing the magazine are a few more pages dedicated to getting you spinning dice and shunting your miniatures around a tabletop.
Miniatures
This month, everything looks a little bit familiar.
First off, we have the inoffensive and very easy to assemble pipes that you might also recognise from Warhammer 40,000 Imperium Delivery 10: Issues 35-38.
Quick to put together and good and tactile, assembling these bits of scenery is a breeze. They aren't very exciting, but they also won't inconvenience you to assemble. Each pipe is made from a handful of large pieces that slot together with ease, so there'll be no dramas putting these together.
After the simplicity and brevity of the pipes, we arrive at the Tomb Blade. Subscribers will also recognise this model from Warhammer 40,000 Imperium Delivery 10: Issues 35-38, where we weren't huge fans of it. And you'll see from looking at mine below, things haven't improved much.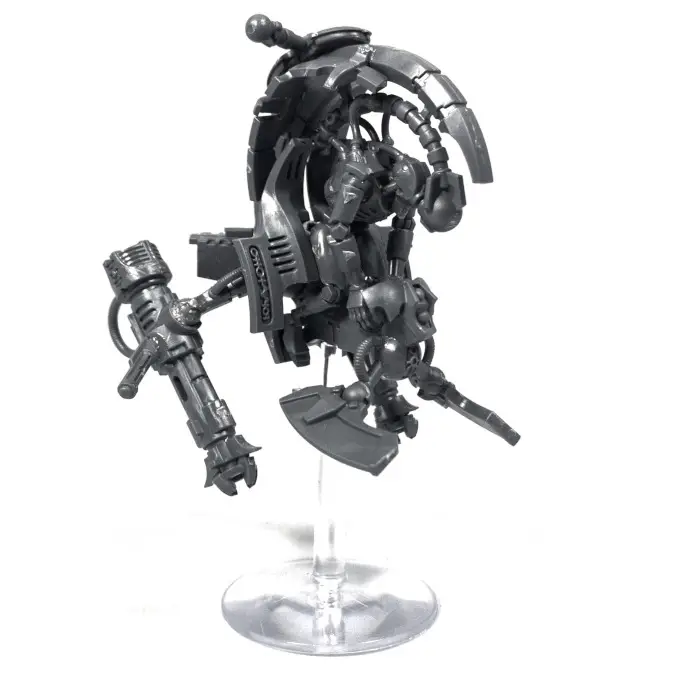 I had a horrendous time trying to put this irritating little together. So many tiny little pieces go into building this (still pretty tiny) model, and trying to get parts to fuse and stay stuck down is a nightmarish challenge. As you can see on the downwards-pointing gun on the left-hand side of the image the guns on this model are by far the most difficult bits to get to stay in place. Each gun, which is a comparatively large component, is attached to the body of the Tomb Blade by a flimsy and poorly connected arm. The gun doesn't want to attach to the arm, and the arm doesn't want to attach to the gun or the body of the miniature. If you're not extremely careful, you will end up with a poorly-fused, glue-caked mess like I have.
This is by far the worst model we've had to build since *checks notes* ah, yes: Delivery 10, Issues 35-38 where we had to build another Tomb Blade. You'll be pleased to know that we still think the Tomb Blade holds the second-place award for "Most Difficult Imperium Model to Assemble", pipped to the post by the Necron Flayed Ones from Issue 15.
This month's collection of models rounds off with another familiar-looking miniature: a Canoptek Wraith. Yup, we saw one of these in Warhammer 40,000 Imperium Delivery 12: Issues 43-46.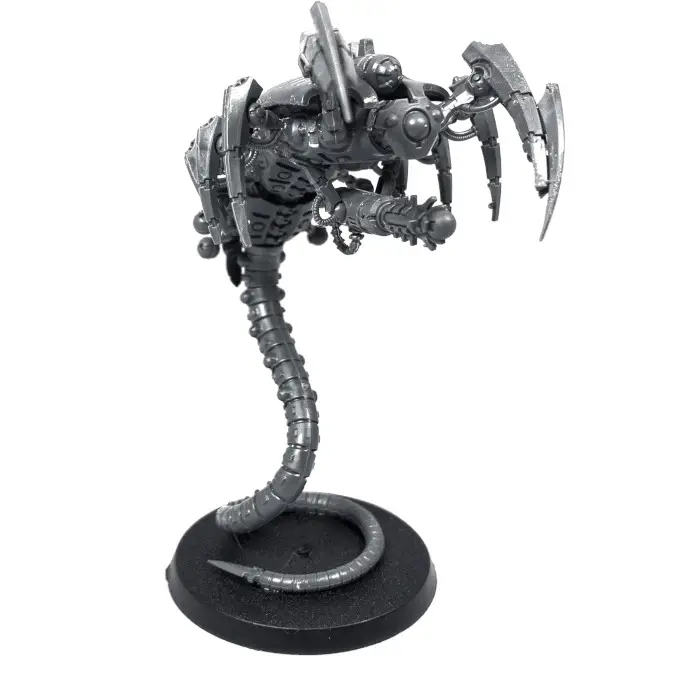 It's another slightly fiddly Necron miniature, but after the agony induced by the Tomb Blade, it feels like a comparative walk in the park. Plus, we'd be lying if we didn't say the model looked insanely cool.
Wargear
This month, Issue 57 comes with a new foldable gaming mat. Nice.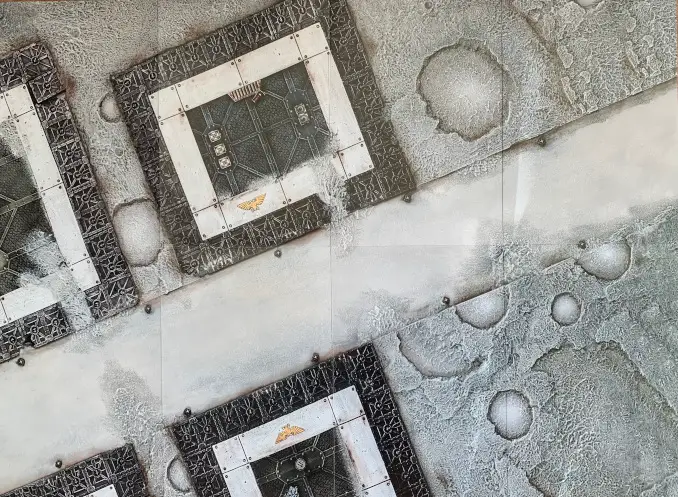 This thick, double-sided cardboard mat comes printed with a different battlefield on either face. On the obverse, we have some Imperial structures on a lunar-like world.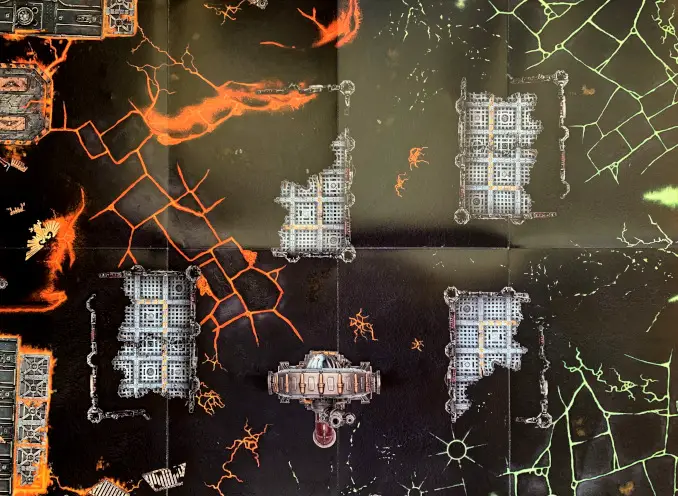 The obverse is much more exciting, featuring wrecked Sector Mechanicus terrain on a churning Necron-scarred world. Flames and whatever that creepy neon green stuff Necrons love so much abound on this battle-ravaged hellscape.
The battle mats are nice inclusions, but they aren't of the highest quality. As you can see on the images above – particularly on the second – some of the print is already starting to flake off along the seams where the mat has been folded.
Paints and Hobby Tools
This month furnishes you with two further paints: Administratum grey and Balor Brown.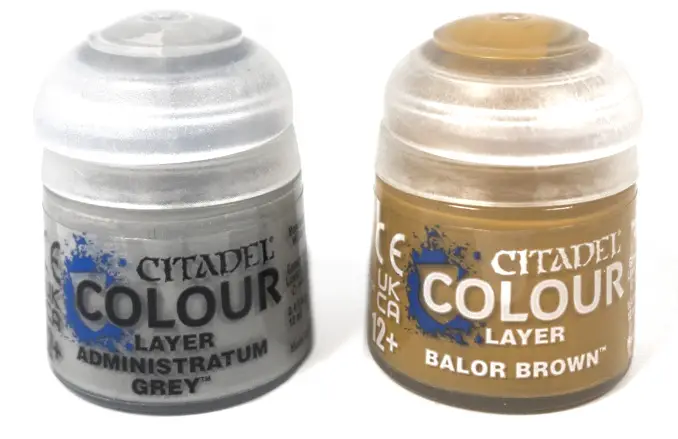 Both colours are great for adding detailed highlights to miniatures. Administratum Grey, for example, is great for highlights over Mechanicus Standard Grey and Dawnstone when painting stone textures, or as a brilliant spot highlight on black. You can see both at work on the miniature below.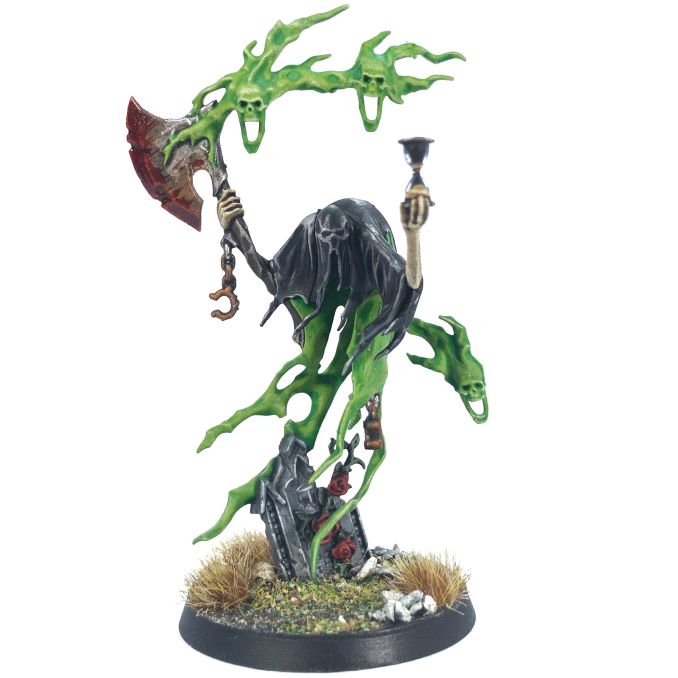 Administratum Grey has been used as a very fine highlight on the black details on Leikoron the Executioner's hood, and as a slightly heavier highlight on the tombstone on his base.
Balor Brown has been used as a mid-tone highlight on the hair of the miniature below. The hair has then been highlighted again with Ushabti Bone. This is most visible on the long strands of the character's ponytail.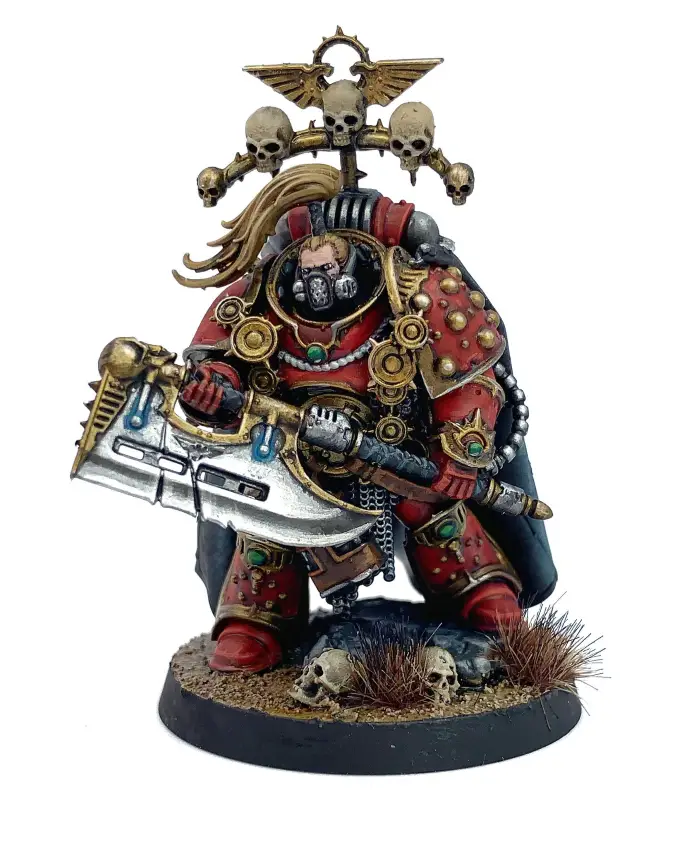 These are two paints you won't get through in too much of a hurry, as you likely only ever need a little of each when painting. Whilst Balor Brown likely isn't going to see as much use as Administratum grey – which is a must-have for every hobby arsenal – they are both nonetheless excellent paints to have at your disposal.
Warhammer 40,000 Imperium Delivery 15: Issues 55-58 Review – Price and Availability
So, how do the costs stack up across this delivery?
| | | | |
| --- | --- | --- | --- |
| Issue no. | Issue Price (GBP) | Total Value (GBP) | Total Savings |
| Issue 47 | £8.99 | £8.21 | -£0.78 |
| Issue 48 | £8.99 | £5.50 | –£3.49 |
| Issue 49 | £8.99 | £10.84 | £1.85 |
| Issue 50 | £8.99 | £11.66 | £2.67 |
| TOTALS | £35.96 | £36.21 | £0.25 |
And again for the US:
| | | | |
| --- | --- | --- | --- |
| Issue no. | Issue Price (USD) | Total Value (USD) | Total Savings |
| Issue 47 | $13.95 | $13.93 | -$0.02 |
| Issue 48 | $13.95 | $9.10 | -$4.85 |
| Issue 49 | $13.95 | $21.67 | $7.72 |
| Issue 50 | $13.95 | $20.00 | $6.05 |
| TOTALS | $55.80 | $64.70 | $8.90 |
…What?
One of the biggest draws of the Imperium subscription service is the promise of savings – but Delivery 15 really lets the side down. Between some fairly low-value models (each model is only part of a much larger set, which reduces the value of each individual model) and some paints, there's not much cash being spared in Delivery 15.
Try and frame this within the overall savings had across the range – remember back to Delivery 14 and Delivery 13 where the savings were plentiful and the models fantastic. Try not to let this put you off.
Still, it is hard to deny that the maths for Delivery 15 is a bit depressing.
Warhammer 40,000 Imperium Delivery 15: Issues 55-58 Review – Final Thoughts
Pros
Cons
Interesting magazines
New game mat
Cool Canoptek Wraith miniature
Horrible Tomb Blade model
Lots of repeats, nothing new here
Savings? What savings?
Whilst there are a few interesting bits in Delivery 15, Hachette's latest instalment of the Warhammer 40,000 Imperium partworks service does fall a bit flat – especially when framed within the context of such fantastic previous deliveries.
Between some inoffensive yet lacklustre scenery, an undeniably horrible Tomb Blade figure, and barely any savings across the delivery, Issues 55-58 are a tough quartet to be excited about.
Oh well. Onwards and upwards!
Click this link & buy your hobby stuff from Element Games for the UK & Europe to support FauxHammer.com – Use Code "FAUX2768" at the checkout for double reward points.


15% off Phrozen with code: "22PRFHDP15"

Our Affiliates / Hobby Stores
What did you think of this Review? please let us know in the comments.
If you like what we're doing here you could really help encourage more content with a share on any social media platform.
Click the share links at the bottom of this screen (or on the left for computers and tablets)
Want to keep updated with the site? You can subscribe in the sidebar for RSS or by email below
(Sidebar is below the article on Mobile Devices)