Citadel Tools 2022 Refresh – Review
As I sit here (with what community has come to perceive as a laser dot pointed at my forehead), I contemplate. On the one hand, I have built a following over the last half-decade by being completely honest with my audience about products. And on the other hand, with this being our first review officially supported by Games Workshop, do I want to say things which they could find so very disappointing? And, wonder why they agreed to support us in the first place? Let me quickly re-read my NDA and then I'll get on with reviewing the new Citadel Tools, Cutters (mmmmm), Knife (hmmm), Mouldline Remover (oooooh) and Drill (oh dear!).
Click this link & buy your hobby stuff from Element Games for the UK & Europe to support FauxHammer.com – Use Code "FAUX2768" at the checkout for double reward points.




Our Affiliates / Hobby Stores
2022 Refreshed Citadel Tools – Introduction
To Be Clear, these tools were provided by Games Workshop, for review, our opinions are our own – Which will become glaringly obvious very quickly.
So yes, that's right, in a new era of FauxHammer, we are, now, officially part of the review club. And don't believe what you have read online. You'll be happy to know that we are under no obligation whatsoever to "only say positive things" about Games Workshop's products.
This is perfect for this review as we have a few not-positive things to say. But I also need to apologise to GW, because I've been humping their legs for the last 4 years trying to get included in this exclusive club. Only for my first review to be their tools. And whilst I don't hate them, I don't love them either.
Let me explain
2022 Refreshed Citadel Tools – Summary
Much like the new Painting handle, the 2022 refresh of Citadel's Tool choice represents an overt cheapening of their Hobby Tool range with only a slight improvement to function – see there is some positive improvement here.
Some,
It's mostly that, for a Premium Brand, there's little of that shown here. Other than the price tag.
Whilst most of these new devices have some minor operational improvements over their predecessors. Gone is the rugged mechanical aesthetic in place of what feels like cheaply moulded generic tools, with a crude logo stencilled on.
Calling out some of the notable features
The Mouldline Remover is a significant upgrade in function
The Clippers are also much finer and easier to wield.
The Knife has some decent heft for the palm and some finger grips – a decent safe hobby knife
The Drill is surely someone's idea of a Joke. (seriously, how does this thing even exist!)
So, first off, this is not an NDA thing, it's just bad practice as a reviewer to directly mention other brands in a sponsored review of a particular product. But I am going to take a moment to remind you that we do have articles discussing the best Hobby Drills (because this one is bad) and Best Clippers (where these are ok, they are just expensive). The hobby-knife is decent at least and puts safety first. And finally, the Mouldline remover is still the best one you can buy, and it's even better than the last.
I want to say nice things, I want to say thanks GW for accepting us on board, and whilst I do have nice things to say. If I don't call out the obvious issues, and even the packaging/naming inconsistencies. I'm gonna look like an idiot.
So let's take a look at them in order – I'm leaving the drill til last because I can I'm only going to slate that and hopefully, they will give up reading before they see my harsh critique.
These Detail Cutters are Super Fine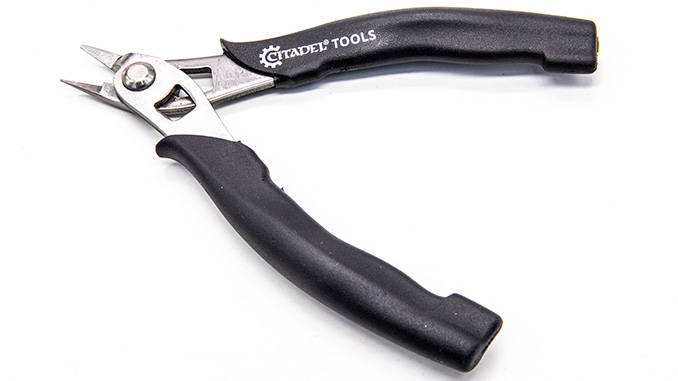 I used to work at Vision Express's head office in Nottingham, (not far from Warhammer World actually) every day on my commute with my friend (The Writer: David Christopher Johnston). We would make a joke about a local farmer who was selling Dry, Hardwood Logs. Look, I'm gonna be upfront. it's not a clever anecdote but many of you can probably relate to the crap you talk about on a repeated 1-hour commute.
You see, the farmer only had a small square board to announce the availability of his surplus treestumps. So he used only 2 lines of large text. Line 1 read, DRY HARD, line 2 read, WOOD LOGS. The day I spotted this, I asked my friend if he knows anyone who was after Dry Hard, Wood Logs. It resulted in a decent chuckle and a 40-minute conversation about grammar inconsistencies. Even now, years later it comes up frequently between us whenever we spot bad English. (yes I know, I'm one of the worst offenders). But anyway, I wanted you to know that story before showing you the box of these…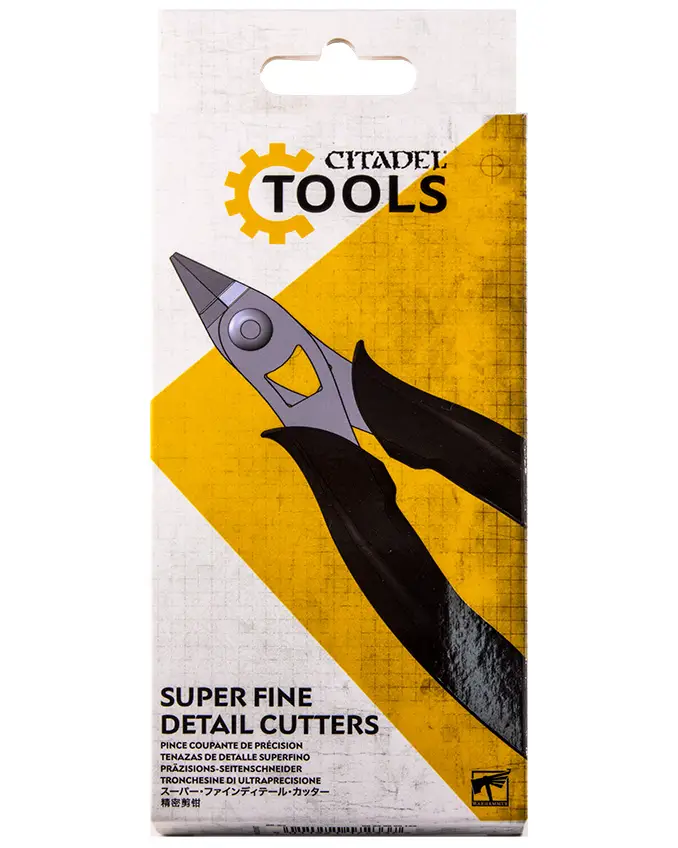 …Super Fine, Detail Cutters
So, what makes them Super Fine?
Well, it goes on…
Look, you may be thinking, "what does all this have to do with the cutters?" Well, We're talking about 2 pieces of metal that have sharp ends, bolted together and wrapped in black plastic. There really isn't much to talk about here. So just go with me on this…
If you check the image on the website. You'll see that the name is different to what I have in my hand, was there a revision? If so do I have the latest version and the image on the website was just an early mock up. Or have they changed the box now?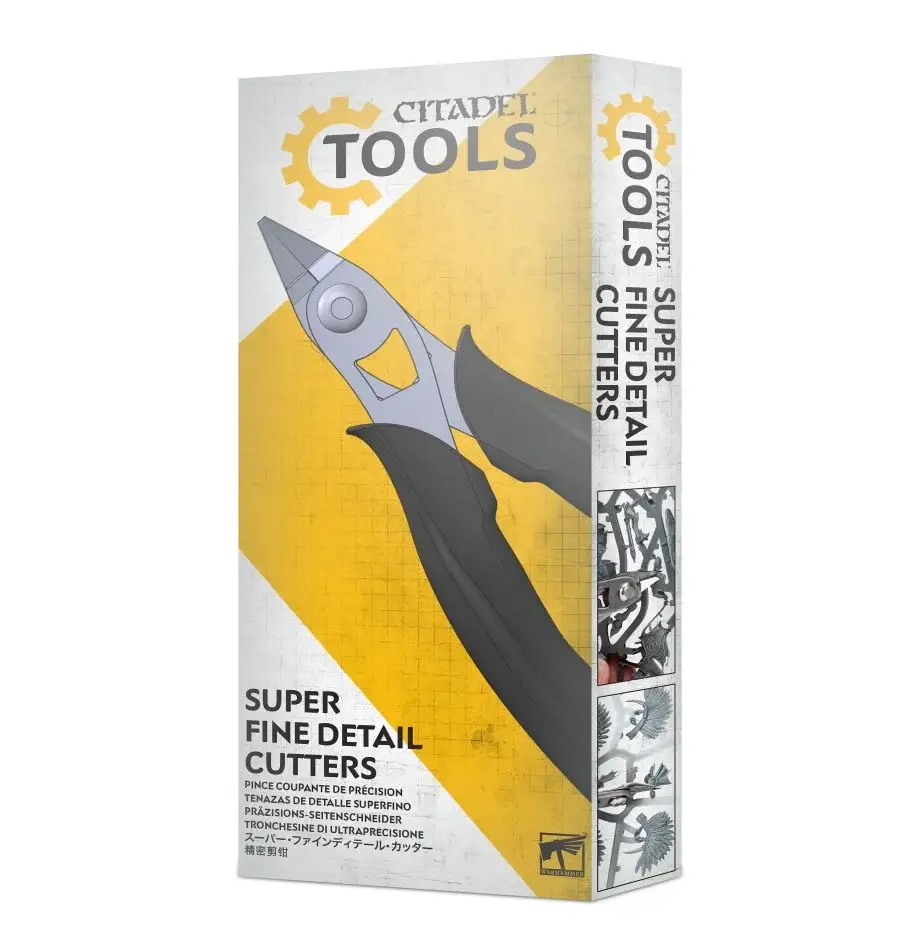 In any case, we now have Super, Fine Detail, Cutters.
Why am I making such a big deal about this? Well, it stands to the credibility and effort put into the range, how much has truly been considered when it comes to the end-to-end creation. Is this product line offering on par with what we'd expect of a premium brand, or does it appear a bit throw-together in order to reduce manufacturing costs and at the same time charge more?
Well, the reason I'm picking on this specific title, is because the Knife is just called "Knife", not even "Hobby-Knife" in order to differentiate it from something that belongs in your Kitchen. And the Drill, doesn't even hold the fancy (and correct) moniker "Pin-Vise". It's unceremoniously called "Drill"
So why did this particular product need the obviously intended prefix of "Super-Fine-Detail" Cutters? Just call them Cutters, or more accurately Clippers, in order to be consistent with the rest of the range…
Who signed this off? I totally understand the simplification of the tool names in the case of the other products. This is an entry-level set. Keep it simple because that's perfect to onboard hobby beginners. But if you are gonna do it,
DO IT!
You just thought of Shia LaBeouf, didn't you? (and people say I don't know my audience).
So, do you want to know how they perform?
Well, when it comes to cutting fine details. And even I can't believe I'm going to say this (honestly these articles write themselves). They are fine…
One might even go as far as to say they are super fi…… (no no no! Sorry, I promise to stop now)
Now I'll go so far as to say these are a functional improvement over the last generation of citadel clippers. Both in use and the ergonomics. Whilst the last generation were the coolest-looking clippers around, they were uncomfortable for all but the people who had larger hands. For reference my glove size is Large and I found them a little too big. For the number of little things we need to cut, this frequently led to overextending fingers to the point they would mildly ache. And despite how cool they looked, this style also added to the weight.
The new iteration is far more comfortable. The new plastic handle is far more ergonomic and the material's light rubberiness makes them softer to hold too.
The actual clipping end is more refined, The blade is thinner, the cutting angle is not as sharp and from the top down the whole cutting end is narrower too allowing it to fit into tighter gaps.
But here are some more inconsistencies direct from GW marketing, that makes it come across poorly.
First of all, let's talk about Single-blade Knippers. These are the preferred choice of cutter for hobbyists where one side of the blade is flat and the other side of the blade, is well, a blade. The benefit of this is that you don't end up with that pinched line across your removed sprue-gates (shown above in left pic) and you end up with a more flush cut (shown above in right pic).
Now, whilst the GW website suggests there are 2 blades here (in a quote I'll come onto in a moment), I can clearly make out that the left side of the cutter (from the top down) is a sharp blade, and the right side has a wider profile on the edge. leading me to infer these are actually single-blade. But when I cut with them, much like a single-blade knipper. Only 1 blade (the sharp felt one mentioned above) cuts…
Do I have a defective blunt blade, or are these intended to be single-bladed? If so, WTH are they going on about on the GW Website?

Whilst I'm referencing that, I also want to draw attention to "Bump-stopping design makes it impossible to mash the blades together with too much pressure, which means they'll stay sharp for longer"
So, I can't see anything on these that would stop the blades from mashing together, in fact, it was clear that the blades (let's call them cutting-edges as we can't confirm if both are blades) were touching.
So I squoose them as hard as I could, and guess what, I noticeably blunted the blade which I could feel by running my finger over them. (crossways not lengthways, don't try this yourself unless you clearly understand how a blade works!)
What puts me, and let's be fair, most of the community off. Is the price.
We have gone from a fairly priced version of a tool that promoted form over function. To a tool which is more functional than its predecessor, But both looks and operates like a generic set of cheap fine-detail clippers.
When compared to the market it is undeserving of the title "super", in comparison to the older Fine Detail Cutters, they are finer in comparison. But there are so many other, now cheaper, options out there which are astronomically finer than these.
Update
Ah ha!
It is a single blade. Check out this post from Warhammer Community from October 13th 2022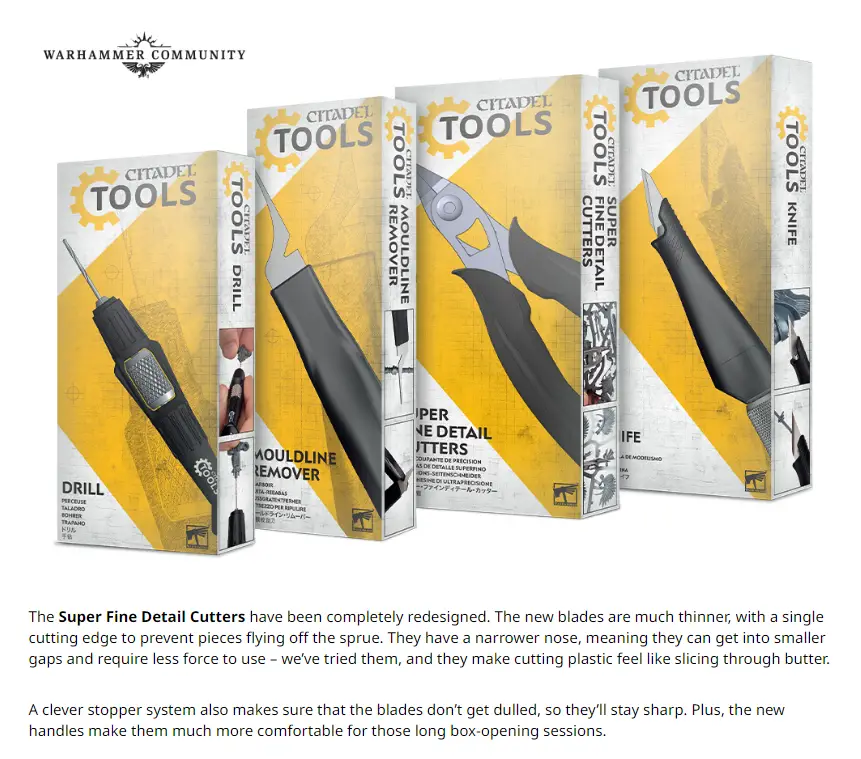 Also, if it's a flat edge, it's not a blade. hence the term "Single-Blade". I'm sorry GW, but how can we expect to take this range seriously if the tool, it's function and intention is not clearly defined?
The bread and butter of the Hobby Tools line is the Mouldline Remover.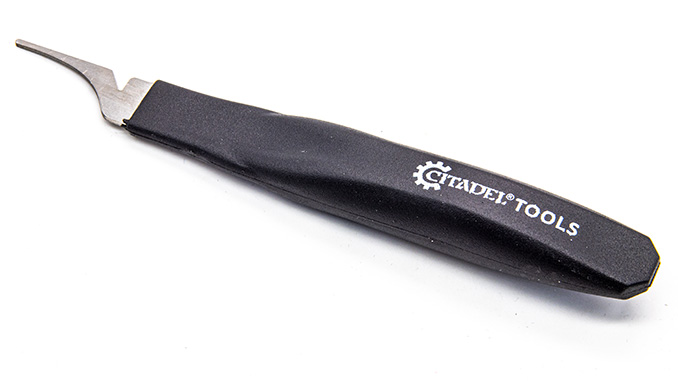 I have little negative to say about these, they are in every way an improvement over the previous generation, and since no other company out there makes one of any significant merit. (Trust me I tried a couple and they are all rubbish) This is now the best tool out there dedicated to mould-line removal. Despite it's cheapening.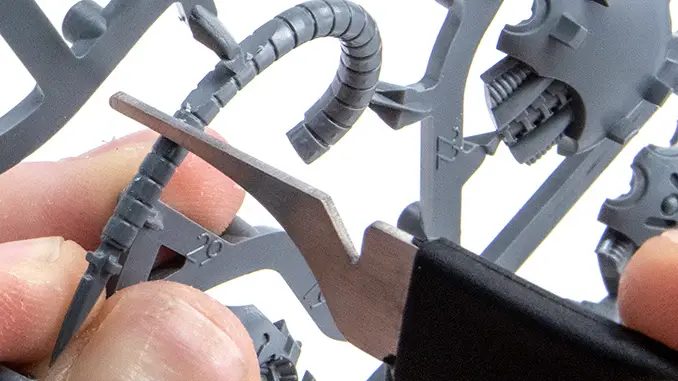 For the last couple of years, there has been a cheaper version of this, If you collected Warhammer Conquest Mortal Realms or Warhammer Imperium partworks magazines, your first issue would come with a micro mould-line remover. this was basically the old citadel mould line remover with the handle removed – Thankfully garfy from Tale of Painters made a simple 3D render you could print to recreate the handle.
The new version is improved by its much thinner nose, I always found the old model cumbersome and for finer parts, you could not even get this into the details. Now we can get into much finer parts with the new tool and that is a huge blessing.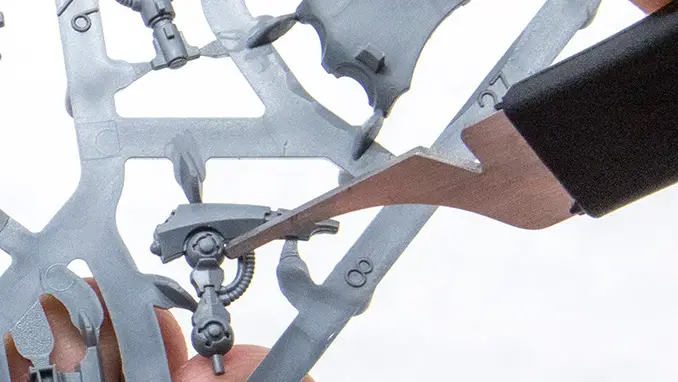 The additional notch is intended for base rims so you can clean those up too, on the very rare occasion you have some extras flashing would the edge. but this hardly happens anymore thanks to GW's moulding quality. So well done GW for making this, but you are already so good at what you do, we hardly need it.
but better to have and not need, rather than need and not have I suppose.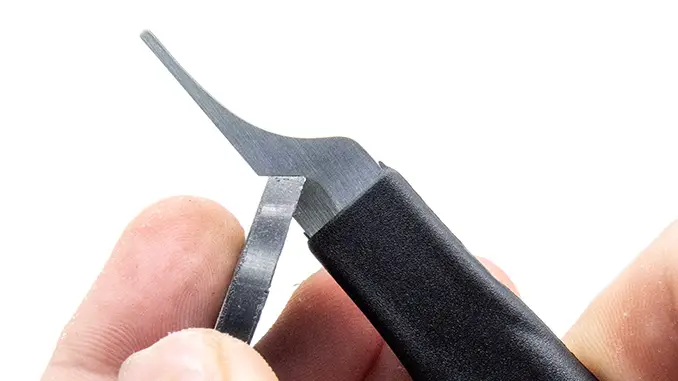 The biggest upgrade though is the handle. Again I'm gonna call out that this looks cheap and generic, and far from the premium that GW is as a brand. The plastic is much lighter than the handle of the old version of this tool.
The rubbery shell is an addition to comfort. The rounded body has a comfortable girth to be held for hours. (grow up) and less to a flat part at the tip so that you can pinch it snugly between your fingers. (seriously, grow up)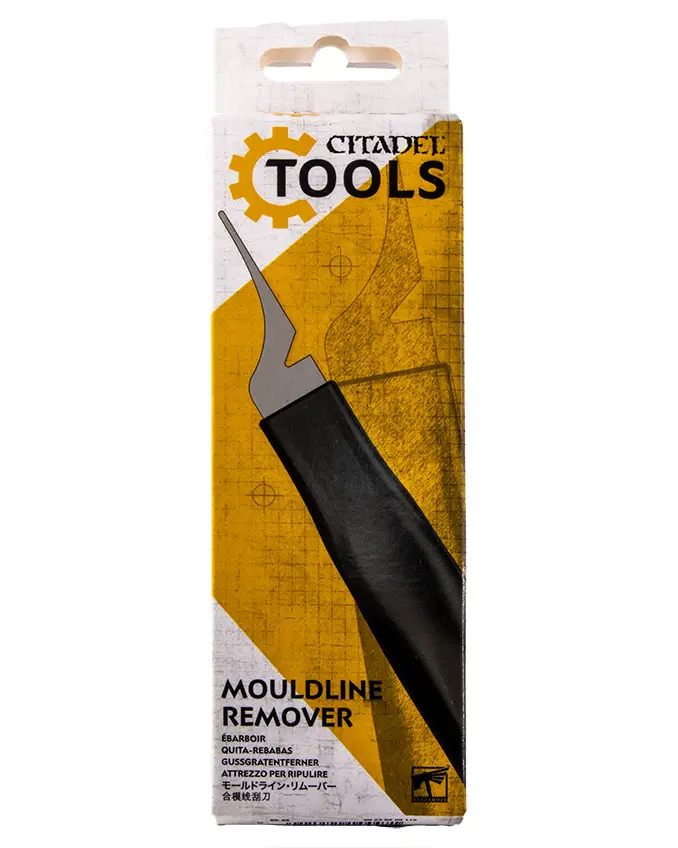 I wouldn't even say this one is overly expensive either. of all the tools this is probably the cheapest for Games Workshop to produce, but it's also the one they will definitely sell the most of.
Personally, Other than reviewing it, I never use these, I much prefer a hobby knife for doing everything this can – and the next stage of cleanup too.
One of the most versatile tools in the hobbyist's arsenal. I use my hobby knife for so much that I frequently have a stack of anything up to 100 or so blades spare at any given time.
Once I've cut models from the sprue, this is great for shaving down any remaining sprue gate. Further to this, the bladed edge (or even the back edge if you want to keep them sharp longer). can be used like the mould line remover to scrape down mould lines. Where i's better is that because of the blade, it's faster than the mould line remover, and because of the fine point, it can get into the tiniest of spaces.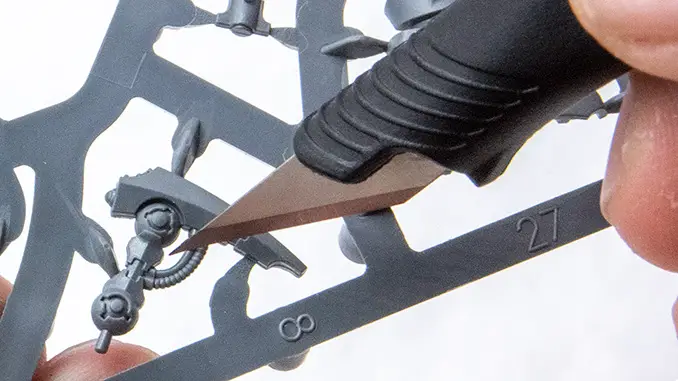 Games Workshop has done well here, yada yada looks generic like the rest of the tools. but functionally, this one is really smart.
Like the others, it has a more ergonomic handle than the previous offering. it's got curves in all the right places. My favourite parts are how and where the blade is held.
The blade itself is held in a metal collet, tightened by a rotating chuck at the back end of the shaft. it's intelligently placed as this is not in the way when holding the knife Smart. This mechanism has a much tighter grip than my usual hobby knife, which is similar but the bit you twist is also the bit you hold, frequently causing it to become loose – and yes, I have lightly stabbed myself a few times due to this…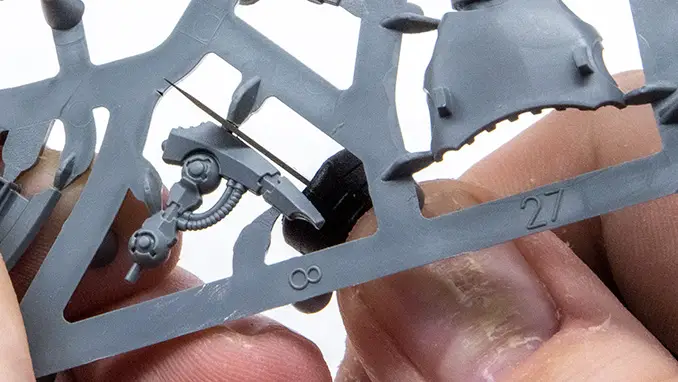 The old knife's angular handle also lead to slips and because of it's more defined angular shape, a slight twist would easily become a 90-degree pivot.
Games Workshop's new knife is far safer in this regard.
An additional safety measure is a collar around the blade. Directly above the blade is a thumb grip. The point where you need to add pressure has a ridged sheath, No longer am I pressing down directly on top of the blade itself. Then right where your index finger sits mid-cut, the blade handle has a concave curve to support the correct placement. again, much much safer.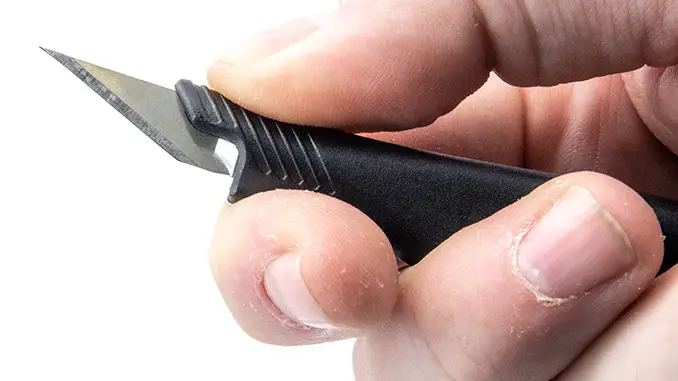 And, it even comes with a protective shroud so you can keep the blade in place and keep it covered and safe when not in use.
Unlike the other tools which have a more rubbery housing, this one is made from harder plastic.
It's probably Games Workshops best-designed tool yet…
So why do they make it so hard to buy it?
What I mean by this is that it's hard to even find. Look at the Citadel Tools section on games Workshop.com. This is not listed. the only way you can find it is by specifically searching for "Knife"
Then when you do find it, you can't actually buy it.
as they state on the website
The Citadel Tools Knife is only available through retail stores and trade stockists. Visit your local Warhammer store with our store finder.

Games Workshop.com – January 8th 2023
An additional note, they also do not sell replacement blades. So for reference, you need a size-11 Model Blade. (not a scalpel blade they have a different profile and won't fit.
Games Workshop are likely doing this to protect themselves from errant purchases by minors, the last thing they need in the news is 9-yr old bleeds-out due to hobby tool. When they should not be using such a tool anyway.
Unlike the other tools which say 12+ on the back, this states 18+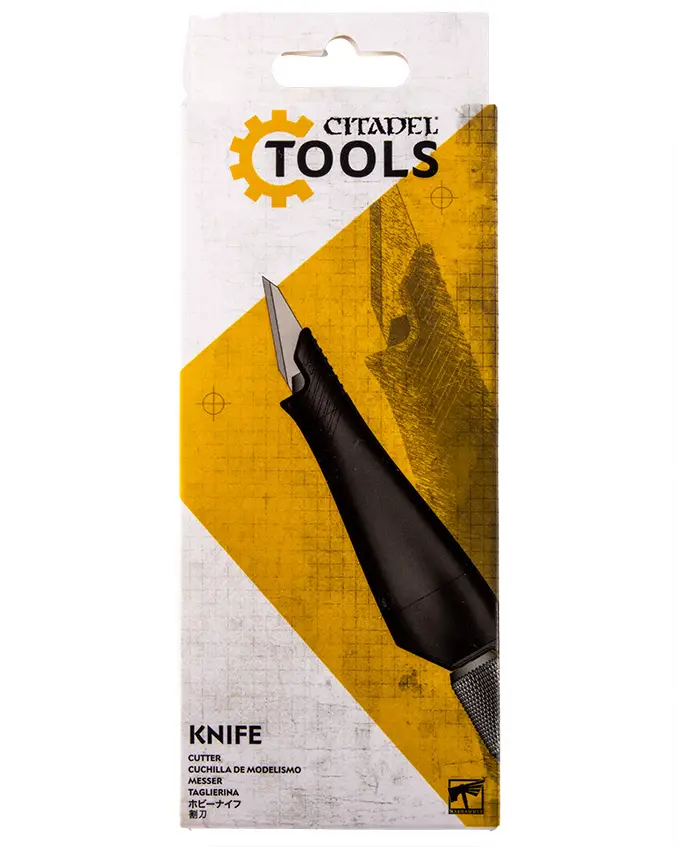 It's not a toy, hobby knives are incredibly dangerous. I have on occasion bled to the point of wondering if I need to go to the ER. So the approach they are taking with this is that it needs to be bought in stores so that the seller can verify age. Games Workshop.com has no mechanism to verify age before purchase and I suspect it would be expensive to implement this feature for a single product.
Price-wise, well it's double that of your typical hobby-knife, but much more engineering has gone into it than the standard metal rod with a neck collar. For anyone used to the traditional style, of knife this may be cumbersome.
But if this is your first hobby knife, it's not a bad place to start.
I would love to sit in a room with the person who designed this, and the person who signed it off for production. I'd love to know if either of them used it. Oh no, I'm not going to go easy on this at all.
Let's talk about the positives.
When you have all your Citadel Tools on the shelf, this matches the style of the others.
That's about it…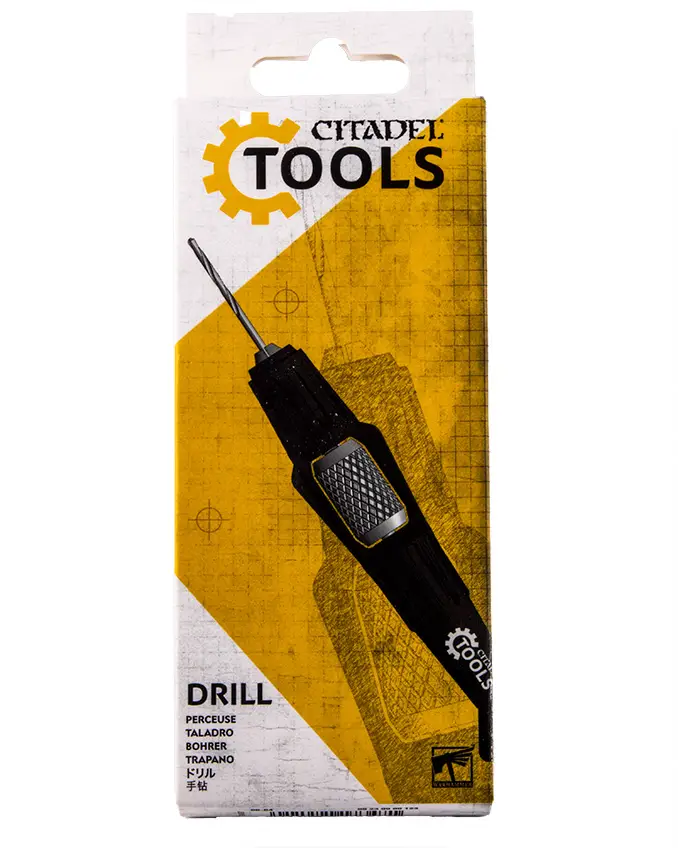 Like the knife, this is hard plastic, not a rubbery shroud.
The plastic mechanism grinds and feels like it could easily snag mid-turn.
But the main reason I think this is daft is because of the chuck placement.
Now there is a smart addition to this tool. Unlike the older tool which had a 2-sided collet. And just to wee-wee on that fire. That old drill would actually open at the rear to store an extra collet for different-sized drill bits – but there was no additional collet provided… anyway, this is more of a traditional drill chuck.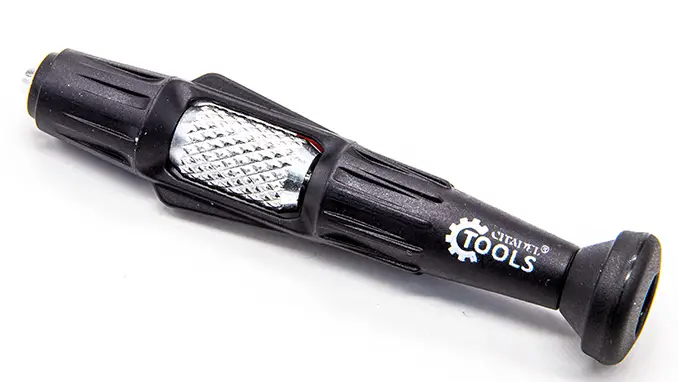 This is great, the most annoying part of pin vice drill collets is having to swap the various collets for different-sized drill bits. This allows for any sized drill bit and makes swapping and changing easier.
That's brilliant! We frequently need to swap drill bits in these to different sizes.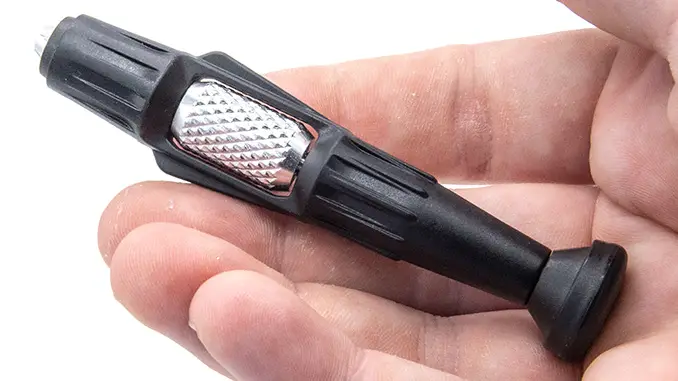 But then this falls flat on its face because the knob for the chuck sits exactly where your fingers need to go to actually turn the drill. Worse still is that the sides which connect the front housing and rear housing, stick out to reinforce the plastic. so you basically hold only these parts, because if you hold the knob you'll just loosen the drill. but you need to give it a full 180-degree turn so you can grab it again on the next rotation.
That's not how fingers work…
Honestly, and I do not say this lightly. This needs redesigning asap. It's unusable.
2022 Refreshed Citadel Tools – Final Thoughts
These tools appear to be aimed at a very specific category of hobbyist…
The Noob.
If you are at all internet savvy you are probably in one of the many online social groups and know this already, our audience specifically, I hope would be savvy to most of these and would see many of the alternative options before investing in these.
If you are a young person walking into a hobby store and need some tools to get started with that box of Space Marines you bought, this is what you'll be sold. The essential tools are the clippers and mould line remover. And these are ok.
But if you are of an appropriate age, you'll soon replace that mouldline remover with a knife, if it's the Citadel Knife, cool. That's not a bad choice.
in fact none of these choices are particularly bad, but the clippers especially are incredibly overpriced. It used to be that you could buy better "fine electrical" clippers for cheaper than what GW charges, but GW's clippers were ok for the price, a fair starter set. bit now you can get much, much better, hobby clippers, specifically for models, for the same price. if not a few pence cheaper.
The mouldline remover is still best in class for what it does and not the worst price in the world.
The knife has some of the best safety features of any in the hobby industry.
The drill through. Just no.
If I were GW, I think they are missing an opportunity here. They should look to reduce the price to match the production quality they now have, and market them as beginner tools. Then they should design and release a series of pro tools aiming to be the best-in-class.
I mean why not, they are a premium company and should be selling the best tools in the hobby sphere. They can also sell to consumers twice with this approach, once when you are new and once when you are established.
But this is a mixed bag leaving me feeling a bit meh overall. It's not 1999 anymore, people rarely buy anything nowadays without reading 3 articles watching Youtube videos and seeing what's on TikTok. Games Workshop generally needs to do better in the tool space. We know they can, they have done it before so many times.
Click this link & buy your hobby stuff from Element Games for the UK & Europe to support FauxHammer.com – Use Code "FAUX2768" at the checkout for double reward points.




Our Affiliates / Hobby Stores
What did you think of this Review? please let us know in the comments.
If you like what we're doing here you could really help encourage more content with a share on any social media platform.
Click the share links at the bottom of this screen (or on the left for computers and tablets)
Want to keep updated with the site? You can subscribe in the sidebar for RSS or by email below
(Sidebar is below the article on Mobile Devices)