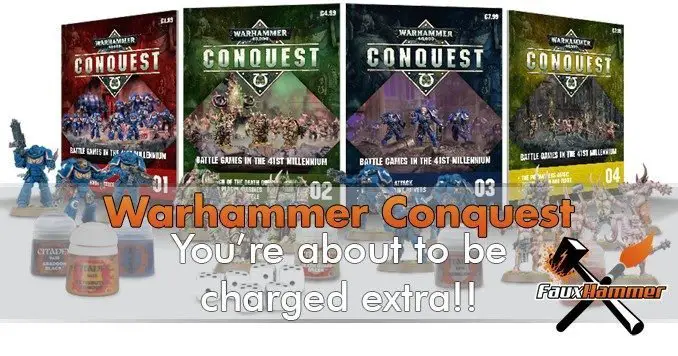 You may be ready to skip past this post and if you are you may be as likely to skip the paperwork included with your latest Warhammer Conquest Delivery
Join us on Facebook to talk about Warhammer 40,000 Conquest. Discuss the latest news, issues and share pics of your models to get community advice.
No need to get upset or worried, this is just a head's up for people who may not check the paperwork in their delivery (especially at this busy time of year).
Please dont!
For those of you who subscribe to Warhammer Conquest. This month included a little extra note. I didn't pay much attention at first, I saw the picture read the headline and quietly assumed it was adversting a new Games Workshop Book. As someone who is uninterested in books and is only picking up the Warhammer Conquest magazines for the monthly figure delivery. this was quickly dismissed.
However, this is actually advising you that you are about to automatically charged for the book. Unless you call and explicitly state that you do not want the book.

Dear Subscriber


For over thirty years, the heroics and the horror of the Warhammer universe have been immortalised in art.


Discover a brand new a limited-edition book full of incredible artwork by some of Games Workshop's best artists. The art in this exclusive product depicts the superhuman Space Marines and their sworn enemies, the disgusting. mutated forces of the Death Guard. Your high-quality hardback book comes with a protective sleeve and makes an exciting addition to your Warhammer 40,000 collection!


This special one-off book comes for the special subscriber price of £14.99 (€19.99 for ROI).


As a subscriber, we have already reserved a Warhammer 40.000: Conquest Art Book for you and it will be sent out automatically in your next dispatch.


If you do not wish to receive your limited-edition art book, then you can contact us via phone or email to cancel the order.


Call us on 0333 300 1045 – local rates apply (from the ROI call 0333 300 1046)


Email us at conquest@jacklinservice.com – please include your subscriber number in your email


We would like to thank you for your subscription and we hope you will continue to enjoy collecting the series


Yours sincerely,
Hachette Partworks



Hachette Partworks
This isn't unusual behaviour from part-works magazines and I don't expect it will be the last time we see it happen in our Warhammer Conquest Subscriptions either. After all, we are only just about 1/4 of the way in.
Hachette's phone lines are only open 9am-5pm Mon-Fri. they aren't open on weekends. I have Zero Confidence in their email service. I suspect they would either cancel your whole subscription or just ignore you!
Personally, I'm not thankful that they've taken the trouble to reserve one on my behalf. I've already had issues with Hachette's Customer Service and I've noted the issues many other people have had in my Issue 1 Review when it comes to trying to cancel the subscription.
What do you think of this practice? do you want this artbook? let me know in the comments.
As for me, I need to go and make a phone call.
Update 23/12/18:
According to the subscription paperwork, this type of activity was advertised: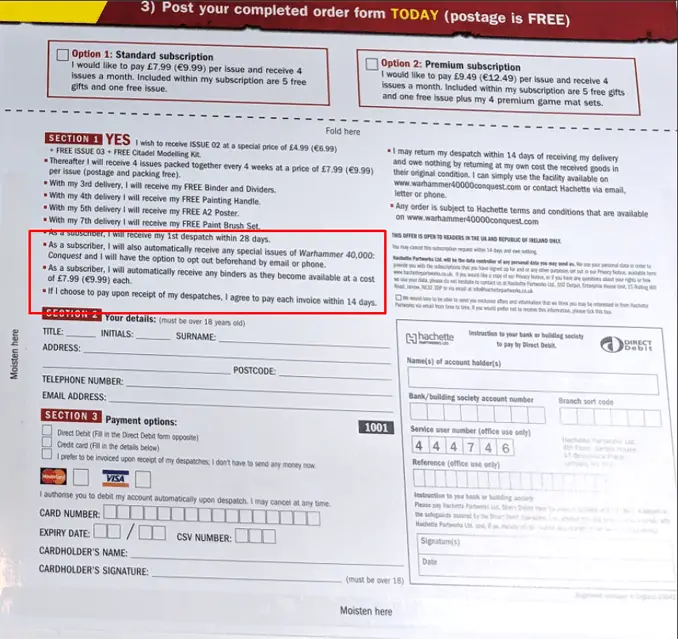 As a subscriber, I will also automatically receive any special issues of Warhammer 40,000: Conquest and I will have the option to opt out beforehand by email or phone.
As a subscriber, I will automatically receive any binders as they become available at a cost of £7.99 (€9.99) each.
When you subscribe online, the following is in their terms:
As a subscriber, you will automatically receive binders as they become available at £7.99 (€9.99) each. You will also receive special issues, though you will have the option to opt out of these beforehand.
You do however need to click on "order and delivery T&Cs" to view this.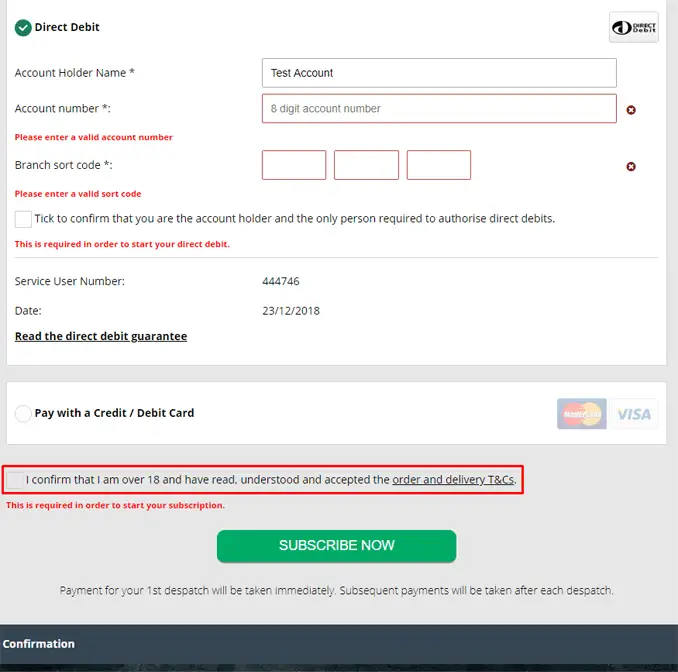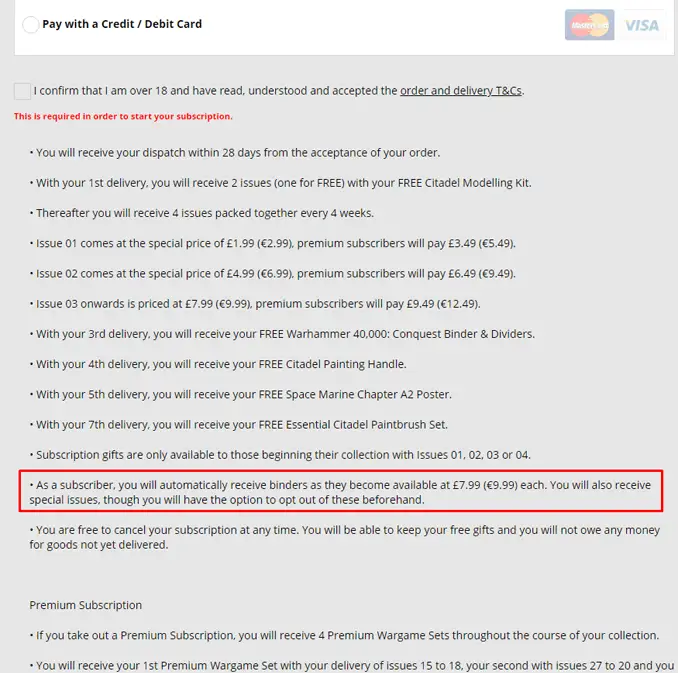 I for one, subscribed online and did not read this specific condition and I imagne that many people also didn't and are surprised by this. So yes, this is on us for not reading thoroughly.
But I completely stand by the statement that cancellation may not be a simple case of calling or emailing. I know of may reports where requests to change addresses, resolve missing deliveries and cancel subscriptions have been ignored.
I'm also a bit surprised to find I'll be charged an additional £7.99 per folder they send me (an undisclosed qunatity). Even though I personally have no use for them as I tend to bin the magazines. Can I even send these back?
Summary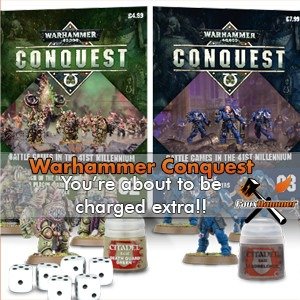 Article Name
Warhammer Conquest is about to charge you extra!
Description
Warhammer Conquest Magazine Subscribers are about to be unexpectedly charged extra in next month's delivery
Author
Publisher Name
Publisher Logo