Warhammer 40,000 Imperium Delivery 12: Issues 43-46 Review
Last Updated on August 24, 2022 by FauxHammer
We're back with another close-up look at the Imperium magazine from Hachette Partworks. With another bumper delivery bound for mailboxes, take a look at our Warhammer 40,000 Imperium Delivery 12: Issues 43-46 Review for all the info on what's to come.
Warhammer 40,000 Imperium Delivery 12: Issues 43-46 Review – Introduction
Another month has gone, which means cardboard boxes from Hachette will be filling postal vans and hitting doorsteps across the country.
We're nearing the home stretch now. Having crossed the half-way point last month, and still with plenty of good stuff to come, the next few months are set to be good 'uns for subscribers.
What have your impressions been so far? Have you already found your favourite model? Or are you waiting on something still to come? Let us know in the comments!
Warhammer 40,000 Imperium Delivery 12: Issues 43-46 Review: Contents
There's quite a reasonable amount of stuff in Delivery 12. Take a look.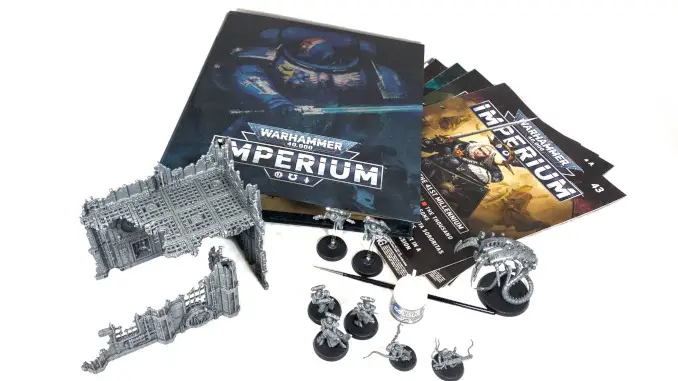 Alongside new terrain, as well as some Adepta Sororitas miniatures and a Necron figure, there's paint, a brush, and a folder for your new magazines.
We'll have a closer look at each thing in turn (aside form the folder, which we've covered before).
The Magazines: Issues 43-46
Issue 43 carries on the Adepta Sororitas high from the last delivery. Resplendently covered with art of the Triumph of Saint Katherine, Issue 43 promises some great Sisters content.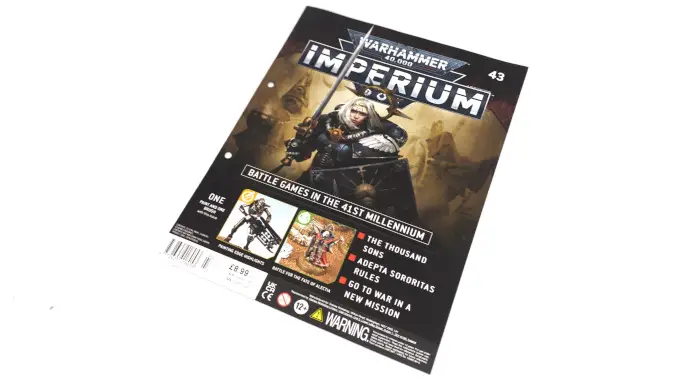 Which we get. For a bit. The focus quickly passes back onto Necrons too, just to keep us reminded that there is a non-Imperium faction involved in this partworks service!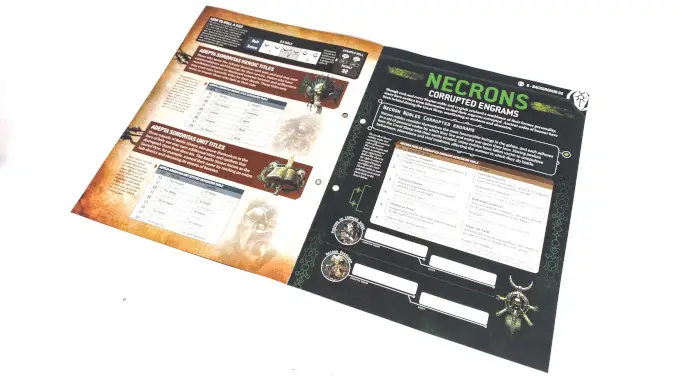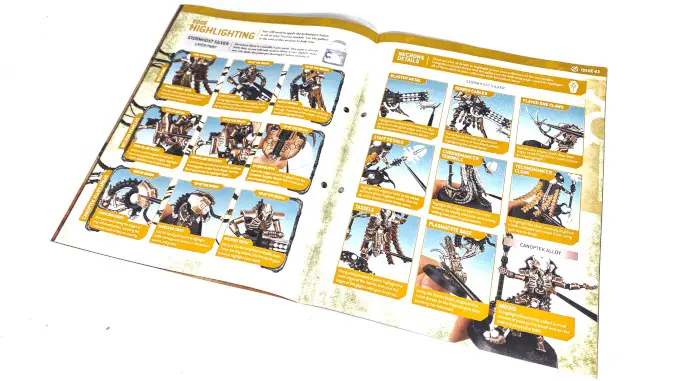 There's also a fairly extensive guide on edge highlighting in Issue 43. If the 'Eavy Metal painting style is where you're aiming to be, take careful note of this section.
Issue 44 introduces us to Jaghatai Khan's legion: the White Scars.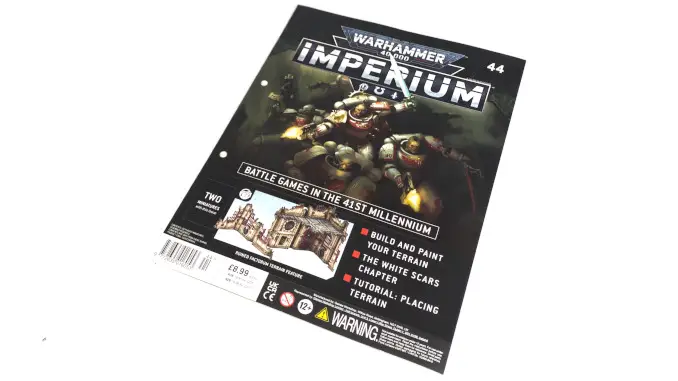 There are a few pages introducing us to the namesake of the latest Citadel spray, as well as some further info on the Warhammer 40,000 setting. A lot of Issue 44 is, however, given over to learning new rules and playing the game. Grab your dice and get ready for some classic table top warfare.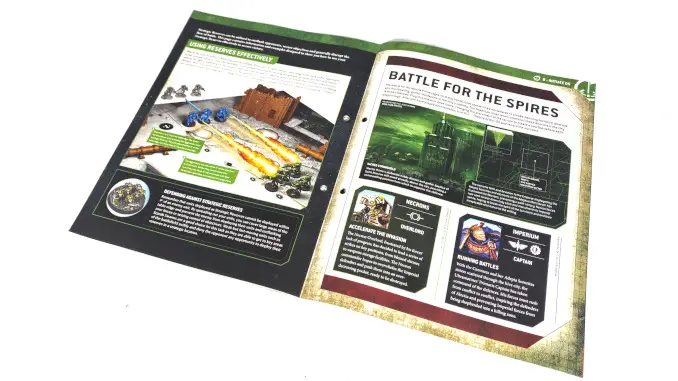 Issue 45 introduces us to the Canoptek Wraith, both by way of the miniature that comes with this issue and the spooky image on the cover.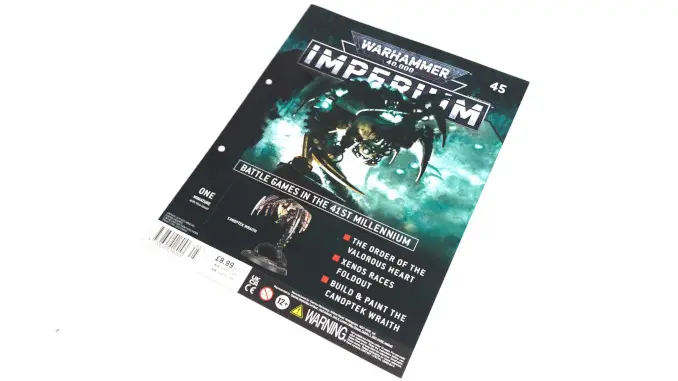 Inside, the Sisters of Battle muscle their way back into the spotlight for a little while, before seceding the rest of the magazine to more rules. Make sure you've got that Wraith built, as you'll need it for this section.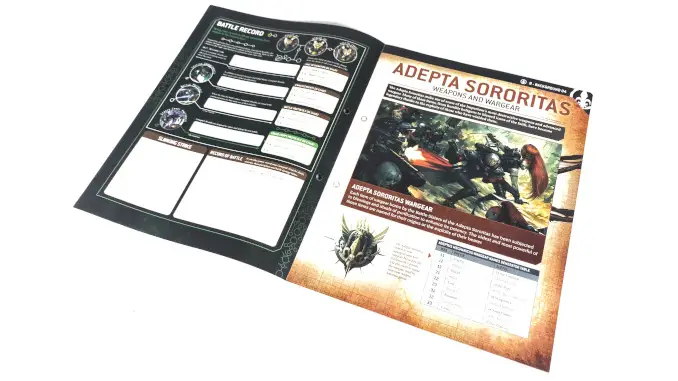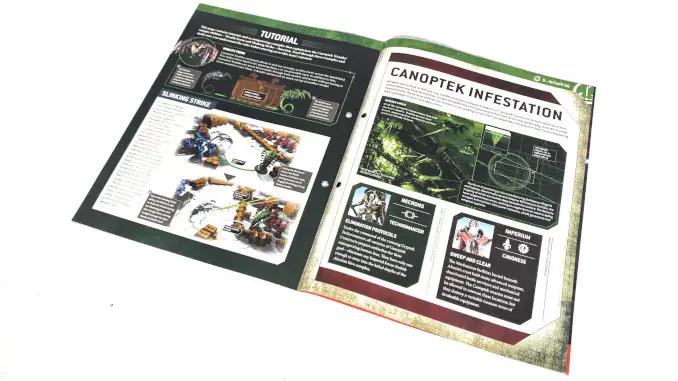 If you were feeling as if your Xenos itch wasn't quite being scratched by the Necron coverage in issue 45, then worry not. This issue comes with a large fold out with information on all the other Xenos races in the Warhammer 40,000 universe.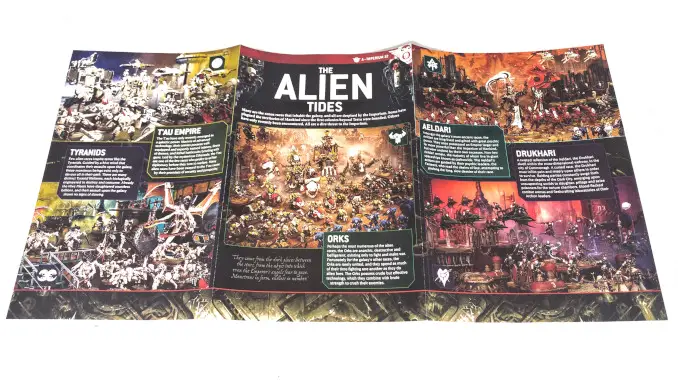 Finally, we arrive at Issue 46, and it's all about the Sisters of Battle.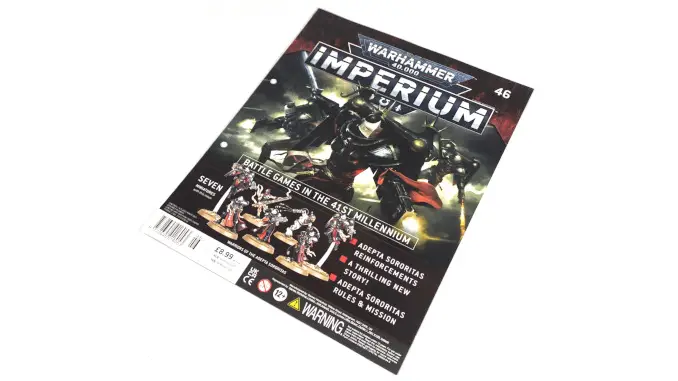 There's a surprisingly lack of lore and background for the Adepta Sororitas in this issue, but the reason why becomes clear quickly. With extensive assembly instructions and a bumper painting guide for the Sisters models received so far, there's not much room for anything else.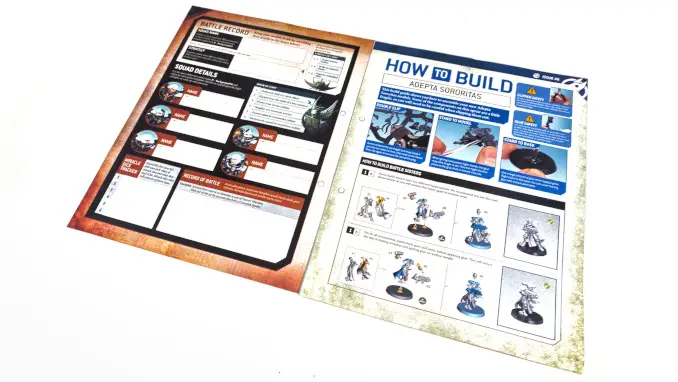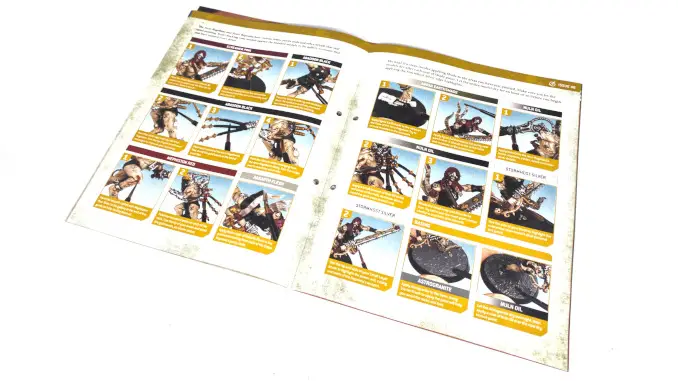 And that's that. Make sure to take a closer look at your magazines each month in order to get the lowdown on your favourite 40K faction, as well as all the info you need to take them to the battlefield.
Miniatures
Moving on from the magazines, let's take a look at the miniatures and models arriving in this month's Imperium delivery.
Issue 44 comes with a few more bits of the Battlezone Manufactorum: Sub-Cloister & Storage Fane. we've already seen a few bits of this in Issues 31 and 34.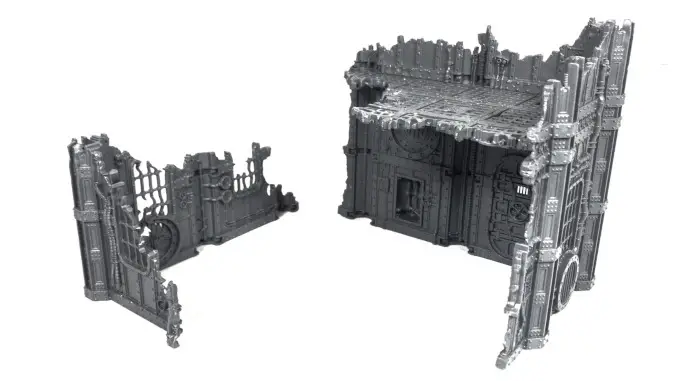 There are only 6 components to make these two bits of terrain, so they're very quick and easy to put together.
The Necrons aim to take centre stage with Issue 45's miniature: the Canoptek Wraith. However, as cool as this laser-wielding serpent-spider-thing looks, there are a few things to be aware of.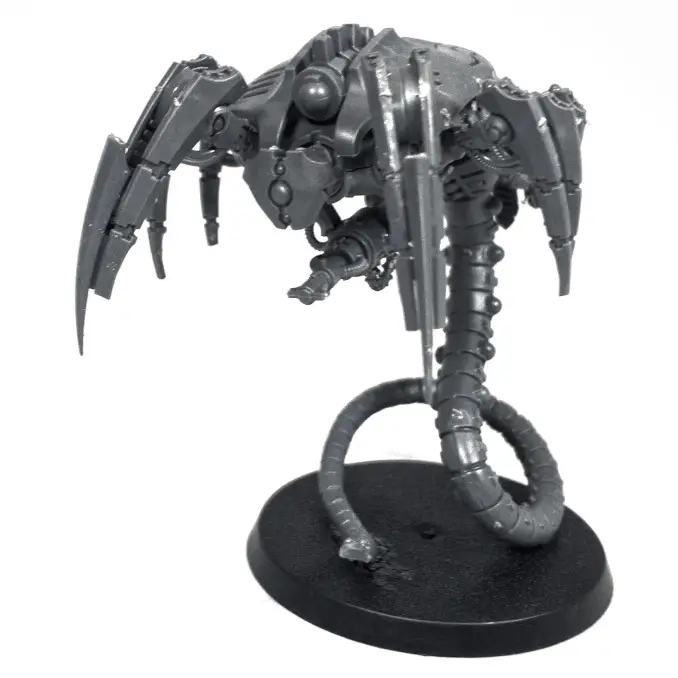 The first is that you may discover that you're not building the miniature pictured in the magazine – just like I did.
I only started to notice problems when Issue 45 asked me to construct the Wraith's tail. I noticed the numbers on the sprue were wrong, and that the shape of the tail was different to the one pictures.
The trouble with the model's tail did not end there. Whilst I was able to glue this component to the rest of the model without any issue, the base was a different story.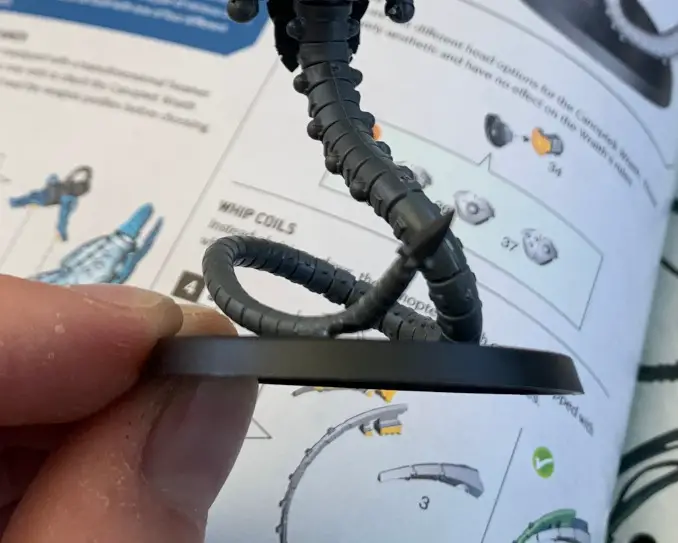 As you can see in the image above, part of the tail does not want to glue down flat to the base. There are two sections of the tail that are flat underneath so they can be attached to the miniature's base. The larger section, which you can see is stuck down on the right of the image above, is no trouble. On the left, slightly blurred thanks to my camera and a load of half-dried glue gunk, you can make out the flat section of the underside of the tail, which has not stuck down.
If I had noticed this earlier, I would have tried to reposition this by heating the part in warm water and very carefully bending it. If you're reluctant to do this, you could always try using a small clamp – if you own such a thing – to secure the piece in place whilst it dries. I just tried holding mine for a few minutes but did not have much luck.
Moving on from the Wraith, we arrive at the Adepta Sororitas miniatures that come with Issue 46. There are 7 in total, and the eagle-eyed amongst you will recognise these miniatures as originally being from the Sisters of Battle army box. This sprue now lives on in the Combat Patrol box.
This issue nets buyers a trio of Battle Sisters, a pair of Seraphim, an Arco-Flagellant and a Sister Repentia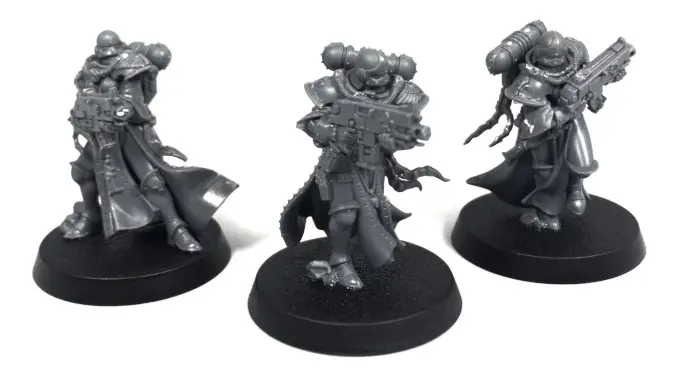 The three Sisters are a fairly standard fair. Made of only a few parts, they go together very easily. One thing to note is that two of them are mid-run, so are only attached to their base via a single foot. ensure you hold the model steady for a minute or so to ensure the glue is fully dry or else they'll fall over.
Next up, the two Seraphim. Much like the Sisters before them, they glue together very easily (though they do come with a few mould lines, which I've left on so you can see them in the image below).
Believe it or not, I haven't glued these to their flight stands. These two jump-pack wearing she-warriors are in fact balanced on their clear flight stems. You may want to do this too, as keeping your miniatures off the bases will make them easier to prime as you're less likely to get paint on the clear stem.
Finally, we have the Sister Repentia (on the left) and the Arco-Flagellant (on the right).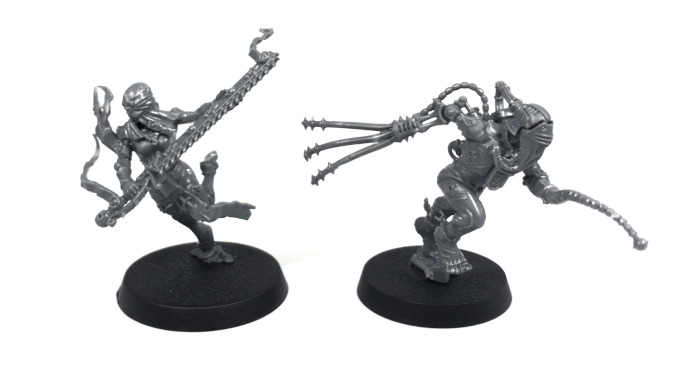 These two figures are extremely easy to put together, though again they have relatively small contact points with their bases. Once more, make sure you hold them steady when they dry.
Paints and Tools
This month's delivery nets you a couple of new painting supplies – and they're pretty useful ones, too. First up is Stormhost Silver.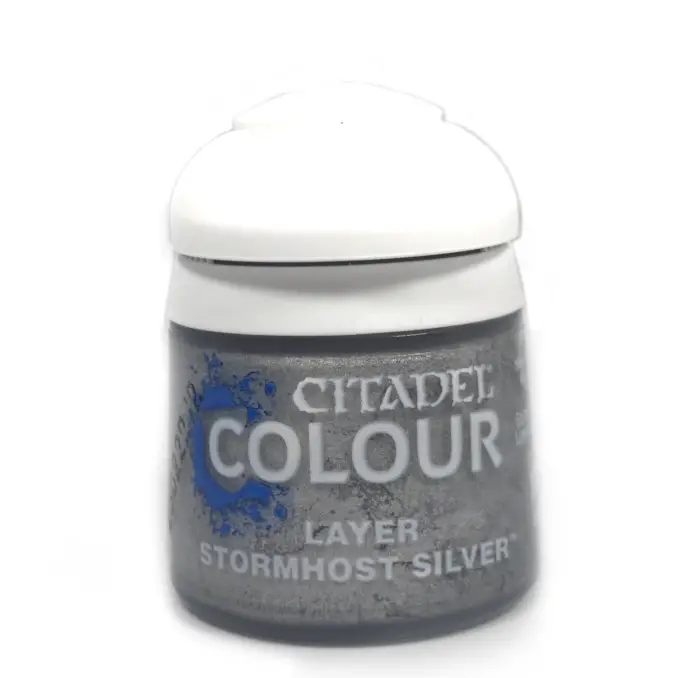 Stormhost Silver is a very bright metallic paint. It is perfect for those finest metallic highlights on golds, silvers, and coppers. Citadel metallics in their Layer range can sometimes be a bit hit-and-miss, but Stormhost Silver is a good 'un.
Issue 43 also furnishes you with a new paint brush: a Citadel S Layer.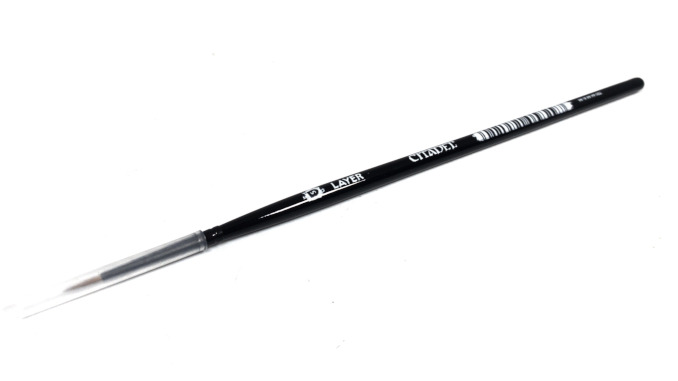 The S Layer is a decent brush. Designed for details, it has a fine tip but still holds a reasonable amount of paint.
Even if you're not a fan of Citadel brushes, having something like an S Layer brush to hand is always useful. Sometimes you don't want to break out your really nice brushes. Perhaps you're just doing a quick paint job, or just need to make a correction. At times like this, brushes like the S Layer shine.
Warhammer 40,000 Imperium Delivery 12: Issues 43-46 Review – Price and Availability
The big questions is, though: how much money are we saving with Delivery 12? Well…
| | | | |
| --- | --- | --- | --- |
| Issue no. | Issue Price (GBP) | Total Value (GBP) | Total Savings (GBP) |
| 43 | £8.99 | £9.20 | £0.21 |
| 44 | £8.99 | £17.50 | £8.51 |
| 45 | £8.99 | £11.66 | £2.67 |
| 46 | £8.99 | £12.85 | £3.86 |
| TOTALS | £35.96 | £51.52 | £15.56 |
And again for our friends in the U.S.
| | | | |
| --- | --- | --- | --- |
| Issue no. | Issue Price (USD) | Total Value (USD) | Total Savings (USD) |
| 43 | $13.95 | $15.10 | $1.15 |
| 44 | $13.95 | $30.00 | $16.05 |
| 45 | $13.95 | $20.00 | $6.05 |
| 46 | $13.95 | $21.42 | $7.47 |
| TOTALS | $47.80 | $86.52 | $38.72 |
Delivery 12, then, boasts some pretty decent savings across the board. Whilst the value of Issue 43 is fairly low when compared to the others in this month's haul, the difference is made up very quickly by the other issues.
Warhammer 40,000 Imperium Delivery 12: Issues 43-46 Review – Final Thoughts
Pros
Cons
Really nice Adepta Sororitas Models
Necron miniature is quite cool
Reasonable savings
Useful brush and paint
Necron miniature is, however, a bit confusing
Delivery 12 follows on the from the excellent Delivery 11 with the same energy. The terrain is perfectly inoffensive and easy to assemble and the Adepta Sororitas models are, once again, superb. However, the Canoptek Wraith has a few flaws that may stifle the enjoyment of the build process.
The paints and tools included in this delivery are also decent ones to have, and will be welcome in many hobby arsenals. There's also plenty to be reading and doing in the magazines, so no matter how you hobby, there'll be something here to keep you busy over the next four or five weeks.
Summary
Reviewer
Review Date
Reviewed Item
Warhammer 40,000 Imperium Delivery 12: Issues 43-46
Author Rating





Product Name
Warhammer 40,000 Imperium Delivery 12: Issues 43-46