Mortal Realms Magazine – Issue 1 & Subscription Impressions
Last Updated on January 17, 2020 by FauxHammer
So it's finally here, from today Mortal Realms magazine has launched. below were going to take a look at the upcoming series and give our impressions. This will also serve to get you primed getting the most value out of the collection.
Best Hobby Tools for Miniatures
This article is part of our series looking at The Best Hobby Tools for Miniatures and Wargames Models.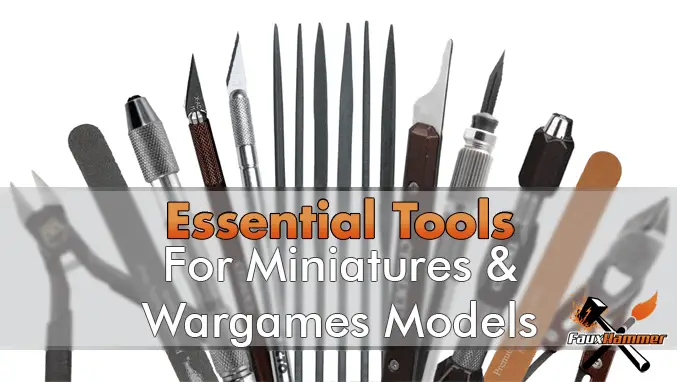 To see all of our guides to the Best Tools for Miniatures, click on the image above.
Follow Fauxhammer on Youtube
What is Mortal Realms Magazine?
The Mortal Realms magazine (Similar to Warhammer Conquest magazine) is a weekly partworks magazine from Hachette Partworks. each issue is bundled with models, paints, brushes (occasionally all 3). The series is based on Warhammer Age of Sigmar and will feature models from both the Stormcast and Nighthaunt factions.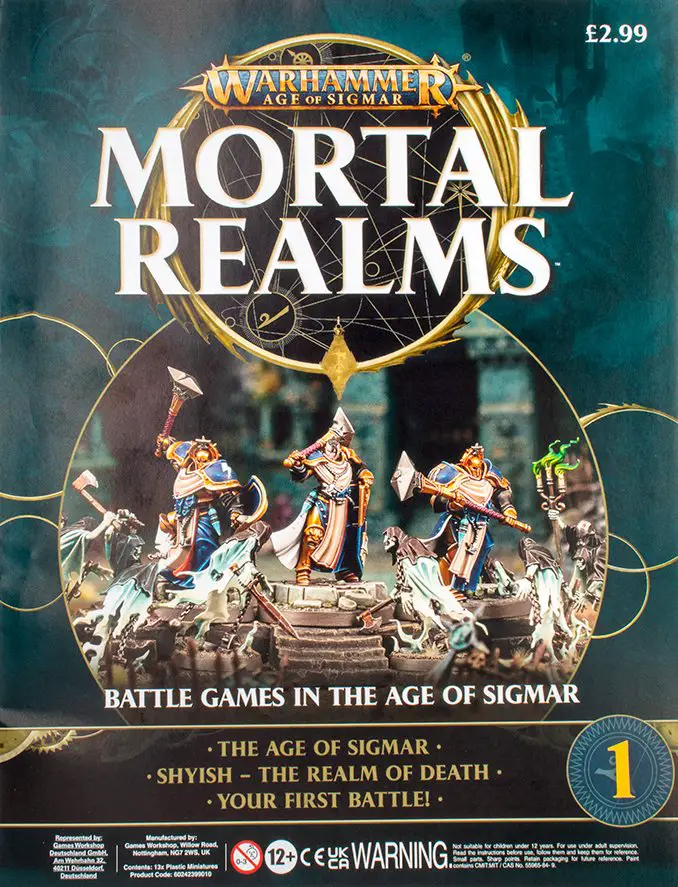 For the newcomers not in the know, this series will prepare you for spending unnecessary amounts of money on plastic models and paint.
For those of us already well versed in all the above. It sets you up with two armies, teaches you how to paint them (without primer!) and it will teach you how to play Age of Sigmar. There's also some other info steadily detailing the immense lore of the Warhammer universe.
Compared to retail prices there are some good savings to be made across the planned 80 issues. The models in Issue 1 alone which is £2.99 RRP has a comparable retail value of £35! So here's a warning, get to your local shop or get on Forbidden Planet now, becasue scalpers are going to rinse the store shelves clean and stick these on eBay at a considerable markup!
Warhammer Mortal Realms – Issue 1
Issue 1 (like with any partworks) is jam-packed with value. Not only are you getting £35 worth of models for £2.99. you get dice, an inch-ruler and a paper battle-mat. Now you only need some sprue cutters, a table and a friend (each sold separately) to play a game of Age of Sigmar.
With Warhammer Conquest, issue one came with models and paints. I think it's a much smarter approach to give out models from two factions with Issue 1. the gaming side of this hobby has always outshone the painting side by a good margin. So getting people playing the game with the first issue has a huge reach!
Honestly though, though, I just want the models
Issue 1 also comes with a free poster, this is printed on (very) slightly thicker paper than the conquest poster, which just fell apart as you tried to unfold it.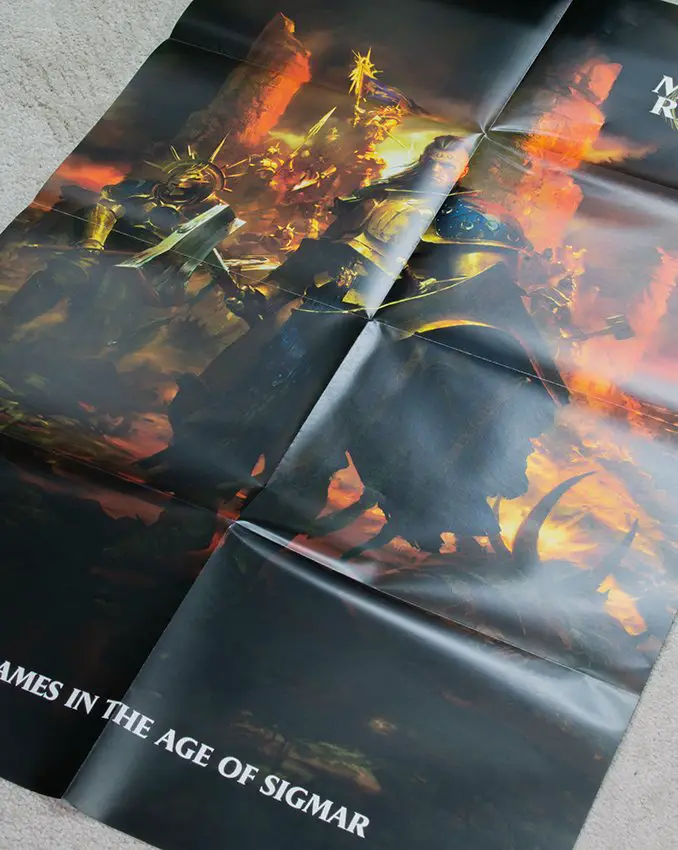 For the lore side of things, Issue 1 gives you a brief primer on the 8 realms, specifically on the Stormcast forces of Sigmar and the Nighthaunt army of Nagash.
The issue provides further details of the Sequitors and Chainrasps, both of which are the models from this issue. As I'm not 100% up on the actual game, I had no idea that these Chainrasps had names. I know that the later Thorns of the Briar Queen set were individually named for their part in Warhammer Underworlds – Another (really good) Warhammer Game System. But I did not realise padlock mace guy from this set was called Yorik the Wicked (I'll assume Yozza for short).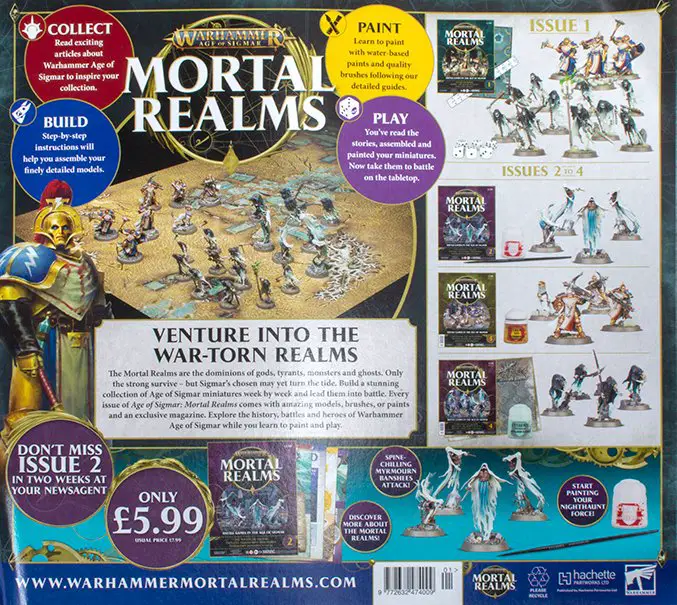 Aside from this, you are also loaded with a good amount of advertising chaff. After-all this high-value issue is meant for one thing. To get you into the Subscription.
Warhammer Conquest The Subscription
Thanks to Games Workshop, we've had images of the total collection contents since November. The back of the fold-out poster makes this a bit clearer (we'll re-review our original cost estimate) Working with a few guys in our Facebook Group, we estimate the value of "models" in this collection to be somewhere roughly around £770.90. Bear in mind this is without considering any paints or tools (many of you may already have). But the subscription will cost £634.19. So on models (including terrain pieces) alone, you will save £136.71 on the models. This works out better if you just target the individual issues you want. We'll always keep an up to date list of what's coming out. The info on this page comes directly from Hachette – unless it leaks earlier.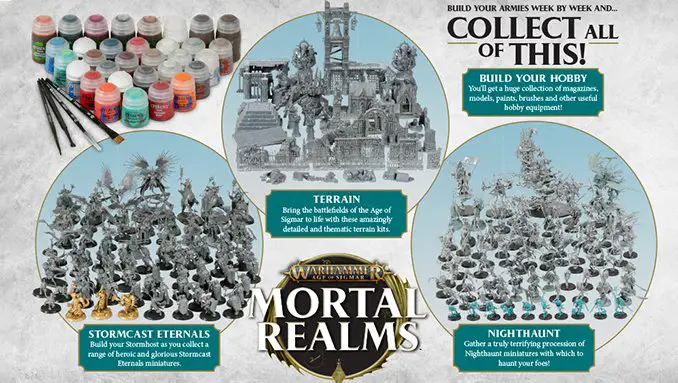 When we compare this to the savings on models from Warhammer Conquest, it is considerably lower with Mortal Realms.
However, there is some extra value to be had. If you get the issues directly from Hachette you will get some extra freebies with your "deliveries" (remember I said "deliveries" – more on this in a sec)
Citadel Modelling Kit (delivery 1)
A Binder (delivery 5)
Citadel Brushes (delivery 7)
Citadel Paint handle (delivery 10)
Water Pot and Palette (delivery 12)
If you pay £2 extra per issue (£160 across the whole series), you will be gifted (roughly every 20 issues) with 1 of 4 additional forces.
Update 08/01/19: I originally posted the Delivery dates based on the Spanish release however the UK FAQ notes the premium wargear dates are different. Thanks to Michael on our Facebook page for pointing this out.

Flesh Eater Courts (Delivery 5)
Sylvaneth (Delivery 8)
Orruk Warclans (delivery 13)
Blades of Khorne (delivery 18)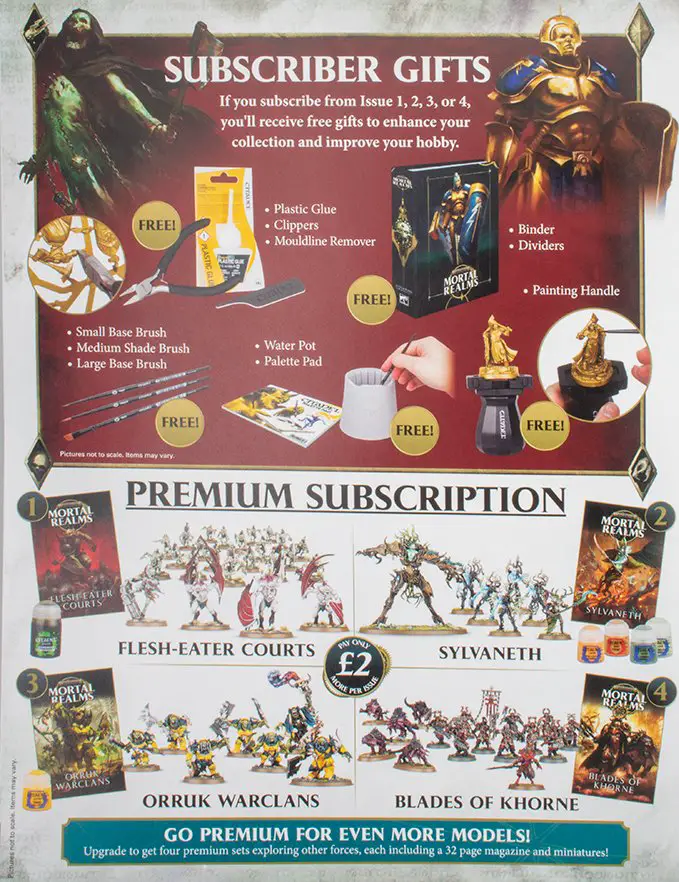 From the images, these appear to be approximately 1/2 of the Start Collecting Boxes in each set. These Start Collecting Boxes retail at £60 each (RRP). So (if you could buy half boxes) the value is roughly £120 for the models above. So with the premium sub, you're actually paying £40 more (ish) – But you do appear to get some booklets with them – we have no idea what the content of these booklets are. As you can't buy half a Start Collecting box – this is still pretty decent value at £30 for each of the above forces – There are 6 paints included too
Update 08/01/20: After someone pointed out to me they just wanted the Orruk Warclans, I took a closer look at the above models. These aren't actually the Start Collecting Boxed Sets as I originally assumed – They are similar but contain different models, the only way to get these models is individually.
Here's the breakdown on the premium Contents
So, you're paying £160 across the series and the value of the models is £307.50 So you're actually saving £147.50…
Wow! that's a much better value than the 4 cardboard boxes with some dice you got with the Warhammer Conquest premium sub.
It's worth stating that a "delivery", is not an "issue". Hachette isn't clear enough what a "delivery" means. It says everywhere "a weekly magazine" however your actual deliveries to your door will be 4 issues every 4 weeks. So delivery 7 is issues 23-26, 11 is 39-42, 15 is 55-58 and 20 is 25-78.
Something to bear in mind with the advertising.
Another thing to take note of is that Hachette will also be sending some extras throughout the series. 3 additional binders will be sent to you at a cost of £7.99 each. With Warhammer Conquest, there were also 3 books sent out throughout the collection ranging from £15-£20. Unless you specifically contact Hachette and say you do not want these, (make sure you get confirmation from them) they will be automatically allocated to you and charged to your account. On top of the £31.97 you're already paying for the mag every 4 weeks. Also, beware this is every 4 weeks not monthly. If a month has 5 Wednesdays in it, you're potentially looking at 2 charges that month!
Warhammer Conquest – Hachette Partworks
UPDATE: 08/01/19 – So before you read the section below. I just need to note that it was written based on my prior experience with Hachette. However I've literally just been on the phone to them during my lunch break (as my subscription still isn't showing on their website) and I must say – wow! using the contact number on their website, I waited in a short queue and got through to Jordan. (Hachette, get this man a pay rise!).
He completely understood the issue I explained, that I was a previous subscriber and that I had a letter saying the first 2 issues were meant to be free. He set me us with teh sub and ensured that there would be enough credit on the account to cover the first 2 issues. Excellent!
Obviously, I'm yet to see this come to fruition. but I've come away with confidence that it's sorted – something I've never experienced before from Hachette. Apparently, they've recently changed their entire customer services department.
Well done Hachette, I really hope this is how things will be going forward. So hopefully, you can all ignore the section below, but I'm keeping it as originally published so you can see how far we've potentially come.
Previous Experience
Those of us who have been in this hobby for a while are used to an incrediby standard of Customer Service when it comes to Games Workshop products specifically. And Games Workshop can afford to offer that after how much they charge for extruded plastic.
But with Hachette, there have been so many problems already that the service (or lack thereof) has put people off their collections entirely. Let's just see what we've already had to deal with before the collection even launched.
Mortal Realms magazine was initially released in August on a trial basis where only a small region of the UK was sent the issues. Partworks companies do this all the time to gauge interest.
The website was immediately live and numerous people subscribed (myself included). Weeks later, there were no issues delivered and there was no news from Hachette. Worse still, if you called the number on their website. you'd either be told the magazine doesn't exist or that the issues would be sent soon. All of us on the internet talking about the sub knew this was just a trial, but Hachette continued pretending that the whole thing was real and live now. They flat-out refused (through personal experience) to acknowledge the existence of a trial.
Then, a few weeks ago, the subscription we all had just disappeared from the website. Are we still getting them? Aren't we? Hachette has advised a couple of months back (via a letter) that those of us who subscribed early will be getting the first few issues free as thanks for being early adopters. Yay (in principle)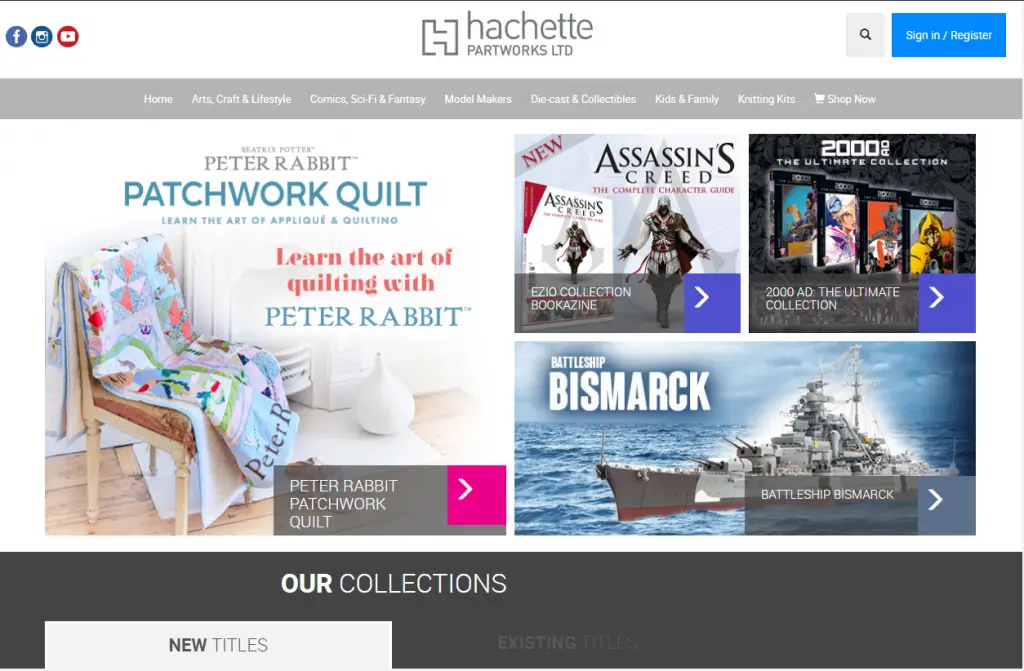 However, here I sit on the morning this magazine goes live and I still don't know what happened to my subscription on their site? do I need to subscribe again?
Don't take my word for it, just search for Hachette Partworks on google and the second result is their reviews on Trustpilot. They really need to sort out their customer service and I only hope that people have a better experience with Mortal Realms than the had with Warhammer Conquest.

Hachette need to sort out their front-line communication, I heard so many horror stories from "I can't get in touch" to "I asked to cancel an extra they sent me and they cancelled my whole sub, also they now out of stock of the issues I missed becasue of them"! Even I had an issue when I cancelled my sub by following the instructions on their website (3 times) and they just kept sending me issues, then I got a demand for payment from their debt collectors!
See our Warhammer Conquest Facebook Group for these and numerous other examples.
Mortal Realms Magazine What now?
So, assuming you like the idea of this subscription my recommendation would be to ask yourself if you want the premium extras? If you do you have no choice but to go directly to Hachette and subscribe with them online.
If you aren't too bothered about paying the extra for these 4 additional forces. My recommendation, as it always was with Warhammer Conquest, is to order all your issues from Forbidden Planet (where the issues are cheaper anyway).
Forbidden Planet charge shipping, but this tops out at £5.50 for 3 or more issues. (I called them to check). This can be 3 or more of the same issue or 1 or more of each issue available. You save 40p an issue. So long as you order 14 issues in a single order, you actually save money. You also have the benefit of having the issues charged and delivered through your door weekly (not every 4 weeks) and most of the time the issues arrive before the official release date!
I cancelled my Warhammer Conquest sub with Hachette around issue 50 and have subscribed via Forbidden Planet ever since.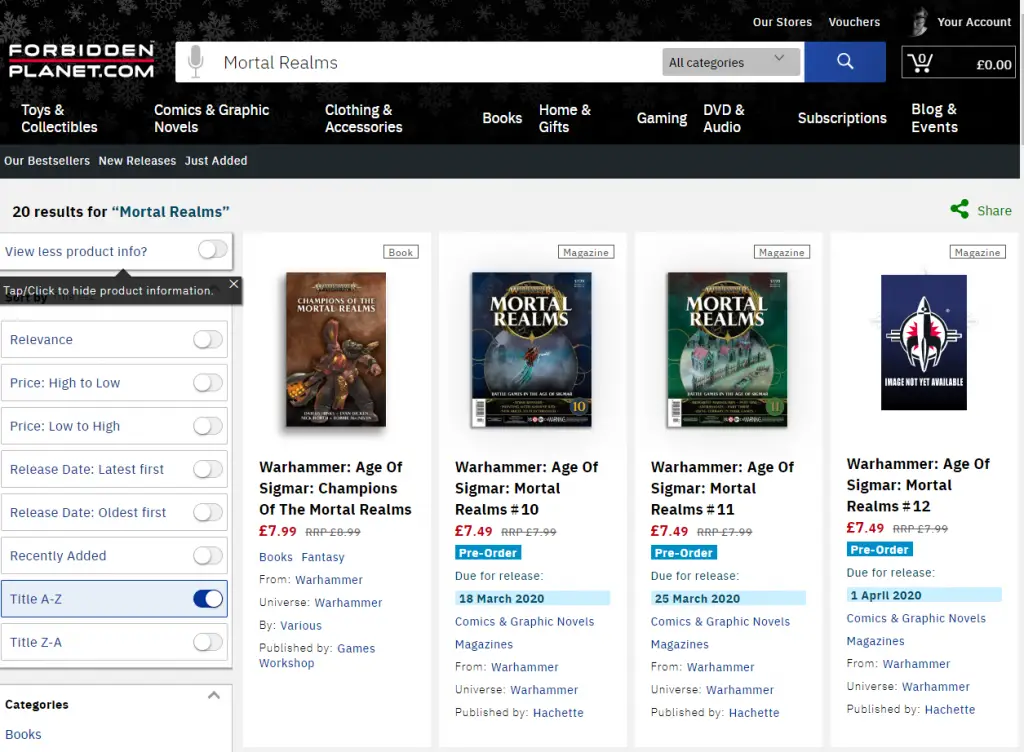 Once you've committed to the magazine, grab yourself some Spray on Primer. They don't use or recommend primer in the magazine (probably becasue the mag is kid-friendly), but you'll thank me later. It's also worth grabbing a decent X-Acto knife. Many consider this a necessary tool for removing mould lines, and you certainly won't get one in the mag.
Keep an eye out on our full contents per issue list which we'll regularly update with the latest issue contents. Subscribe to this site by hitting the notification bell (we also share tips and techniques regularly too for all hobbying stuff, like the best tools for miniatures).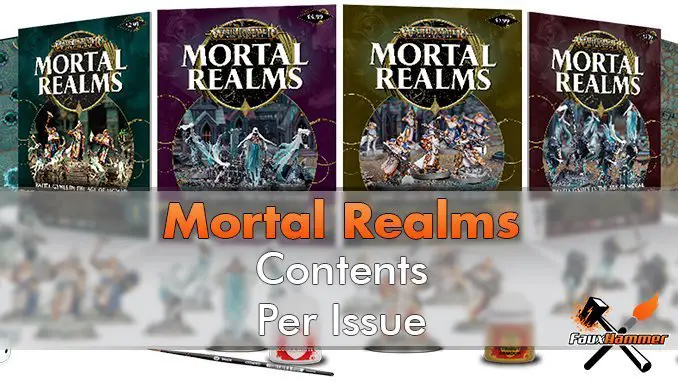 If you really want to get involved with the Warhammer Mortal Realms community, join our facebook group. Ask questions and share your models to show off or just for thoughts and feedback.
You can also follow Mortal Realms on Youtube on their Official Channel, but be sure to check out The Hobby Corner & Foyble Games Channels too
What did you think of this Article? Please let us know in the comments.
If you like what we're doing here you could really help encourage more content with a share on any social media platform.
Click the share links at the bottom of this screen (or on the left for computers and tablets)
Want to keep updated with the blog? You can subscribe in the sidebar for RSS or by email below
(Sidebar is below the article on Mobile Devices)