Best Miniature Painter & Wargames Models Gift Buying Guide for Holidays & Events
Last Updated on July 10, 2022 by FauxHammer
Whether you're looking to buy gifts for a friend, Significant Other, family member or even want to treat yourself. This Miniature Painter & Models Gift Buying Guide should walk you through getting some excellent treats that are certain put a smile on someone's face. Especially if you are after a Warhammer Gift guide
No matter if you are after gifts for a Warhammer wargamer/painter or for any other brands, we've got you covered. If you're reading this and already don't understand some of the word's used. We've got that covered too. If you want to make a hint to someone else to get you some gifts, maybe share this article online and tag them in it (as an entirely unsubtle nudge).
Why not, I'm doing it myself, I'm writing this as much for the people who would buy me gifts as much as for other hobbyists who want to be somewhat surprised by their loved ones.
Are you a mini painter or wargamer who's been hinting at a gift?
Let us know in the comments what you would love to receive gifts.
Buying Miniature Hobby Gifts for a loved one.
Unfortunately, if you want to impress, it's not as easy as simply picking from a list. Hobbyists are a particular sort and tend to buy what they want when they want it. This means there are a few decisions which need to be made and a little bit of sleuthing to do. But we'll walk you through it.
Painter, Wargamer or a bit of both?
For this step, you need to understand if they are a Painter, Wargamer or somewhere in-between. This will guide your decision making for what category of gifts is best to for them.
We'll be splitting the guide below into two sections. One is more targeted to wargamers, one for painters. It's an important distinction to make and will guide you in picking the right gifts for them. If you are buying for someone who is half-way between the two (like me). brill. you can have the pick of both categories below.
Even if the person you're buying for fits easily into one category the other is still worth considering.
How to identify a Wargamer?
A wargamer is someone who prefers the gaming side of the hobby. Typically more interested in growing their Army or Armies than actually sitting down to build and paint them. If you want to keep the gift-buying a surprise, here are a few tips on how you can "typically" spot a wargamer over a painter.
Sorry if this is dumbed down, but this is to make sure everyone (even those who don't know much about the hobby) gets a chance to find something.
Bonus tip, when you get a chance, take some photos of their hobby models and equipment (we'll use this later).
A Wargamer Typically;
Spends most of their hobby time out of the house or in with friends
Has a 1 or many large groups of models which are the pretty much the same colour
Paints a lot of models very quickly
Owns a travel box (possibly made of cardboard) or case and transports models in them
Has mentioned Tournaments or Wargaming Events
Owns books filled with statistics (pages containing lots of grids with numbers on)
Curses about the price of spray-paint
Keeps their models in boxes instead of on shelves.
How to identify a Mini Painter?
A painter is someone who prefers the modelling side and creating artwork with their miniatures
A miniature painter typically;
Says "look at this" when referring to one model they've painted.
Spends hours painting one model
Has various models in different colours
Exhaustively explains the effort that was put into one tiny detail of a model that you are struggling to even see
Has or wants a desk area specifically for hobby work
Own books filled with pictures of models
Owns other arty books filled with pictures of art
Keeps their models out on display
Says, "don't touch", when you're within 5 metres of any model
Christmas is Coming
Isn't it always.
I wanted this guide to be useful at any time of year, but we need to be aware that the holiday time of year is just over the horizon! so in the sections below, I'll highlight some of the holiday's advantages. Many brands will change up their product line for pushing sales during this period. Which is a great opportunity to bulk out some armies.
The other thing to consider is the run-up to the holiday season. There aren't any (that I'm aware of) Hobby Branded advent calendars, but you can really surprise someone with a DIY advent calendar and filling it with hobby treats.
A good idea here would be something like a paint set and you can separate the contents down into individual days, stuff all 24/25 days out with paints or fill in the gaps with some chocolates.
Alternately, (in the UK at least) Mighty Lancer games have actually made a Reaper Miniatures Advent Calendar. This gifts a reaper Bones miniature every day before the 25th.
Stocking Fillers
Stocking Fillers really depend on your budget, so the list of items below all fall below £20. The below list should be fine as a little extra for any type hobbyist, Painter or Wargamer. (unless otherwise stated)
Best Wargamer Gifts
By far the most popular item for wargamers is more miniatures. Ignore the fact that there are still piles of unbuilt plastic laying around everywhere. Everybody in this hobby want's more minis!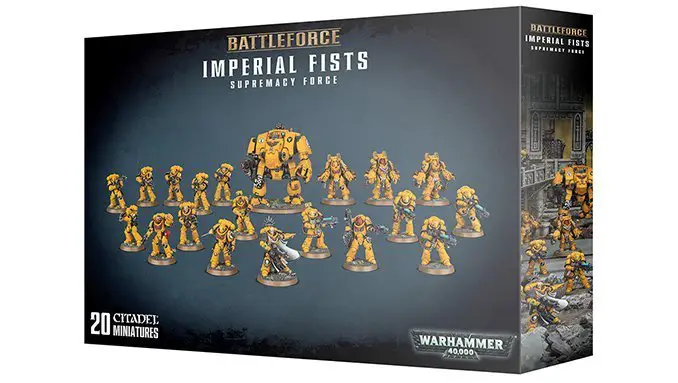 To figure out what models to get however can be trickier. Here's the best way to do it. Find a time when you can snap some pictures of the models your giftee has already. For Games Workshop this is easy, walk into any Games Workshop or Warhammer store with these pictures. the friendly staff will guide you to the best things to buy.
If you don't have access to a store, you can always join our Facebook group and ask in there. Just make sure the person you're buying for isn't already a member. Alternatively, Contact Us and we'll do the best we can to help.
Slightly less subtle (but a better way to get what is really wanted) is to feign interest and just ask "what are they?" when the models are being 'played with'. You'll likely be bored very quickly, but lead the conversation toward asking "what an army is" and then "what army they play with". Ask "if they plan to build that army and if so how". This is a double gift as it shows you care about their hobby.
The key terms you are looking for here are as follows;
The name of the Army or Armies they play as
The names of models they want to build that army
(Write these down when you hear them)
If you get this just add the words together. Stick them in the box below and click search. So if they say they play with Death Guard, and They want a Mortarion. Change the search box below to say Death Guard Mortarion and find the one with that name.
I picked the example above as it's one I want myself, (although I'm still after a Size V Tumb ring too Nudge nudge to any of my loved ones who may be reading this). I'd buy it (and any hobby supplies) from Element Games as it's much cheaper.
Battleforce Boxes
Assuming Games Workshop models are their go-to brand, keep an eye around Christmas time where large value boxes are released. Referred to as Battleforce Boxes, these huge collections are large forces at bargain prices. I still have a 3 yr old Stormcast box to build.
Update: Literally the day before this post was due to be published, Games Workshop announced their Battle Force Boxes for 2019, here they are listed below.
Blood Angels – Crimson Spear Strike Force
Space Wolves – Talons of Morkai
Chaos Space Marines – Vengeance Warband
Drukhari – Poisonblade Raiding Party
Tyranids – Bioswarm
Tau Empire – Starclaimer Hunter Cadre
Stormcast Eternals – Exorcism Soulstrike
Nighthaunt – Court of the Craven King
Skaven – Corrupting War-Swarm
Gloomspite Gitz – Caveshroom Loonz
Although for Warhammer 40,000, an alternative is to just look for and buy a Warhammer Apocalypse box set for the greatest immediate value.
Start Collecting Boxes
Another Option (possibly the best as they are always available) is the Start Collecting boxed sets. These sets are available all year round and whilst the contents are changed from time to time they are always great to start new armies bolster existing forces. As someone who already has a ton of (unpainted) Stormcast models, The Start Collecting Stormcast Eternals set is still appealing to me due to the configurations you can make with the models in this box. Although as I have just picked up Shadespire, The Start Collecting: Kharadron Overlords is appealing too!
If you're in the UK, one of the best places you can search for and buy your gifts from is Element Games. Who offer significant discounts on most retail prices! no matter what you want (like 15%-25% off all Warhammer!). You can also claim Element Crystals (Reward Points) giving you money off Future Orders. Use our referral Code "FAUX2768" at the checkout stage and you'll get double Element Crystals.
Make note of this as we will be mentioning Element Games throughout this article.
More Games
I'm coming at this from a Warhammer point of view initially. over the last few years. GW has released (and re-released) a plethora of different game systems, all using their models. Except for Space Hulk, which is just sad!
No longer are we limited to Warhammer & Warhammer 40,000 base sets. Both of these games now come in 3 variants, each hitting a unique price-point.
If someone wants to get started with Warhammer. You can buy Warhammer: Age of Sigmar – Soul Wars. or you can pick up the smaller Tempest of Souls or cheaper still Storm Strike Boxed sets. (any of these are on my pretty please Santa list, so I can get the wife into the game. She likes the Dementors)
With Warhammer 40,000 the base game is called Dark Imperium. Again you have the smaller sets Know No Fear and (stocking filler) First Strike Respectively.
At the very least, these boxed sets will have models to bolster existing armies.
Beyond this, there are loads of other options and various price points.
For Sci-Fi fans, you have; Warhammer 40,000 (variants listed above) Adeptus Titanicus, Aeronautica Imperialis, Kill Team, Necromunda, Warhammer Quest: Blackstone Fortress & Speed Freeks. Although this one is no longer available from Games Workshop, so snap it up if you can.
For Fantasy Fans the list is equally impressive. Warhammer (variants listed above), Warcry, Warhammer Underworlds (consisting of Shadespire, Nightvault & the new Beastgrave set), Warhammer Quest, The Lord of the Rings and Blood Bowl.
All that is just the Games Workshop lineup. (and I'm sure I'm forgetting loads)
Outside of this, you have some other popular games. Ones I would make note of include;
Personally I'm hoping to get Beastgrave off someone at some point (since the copy of Shadespire I picked up on the cheap is in Italian). Again you can get this in the UK at Element Games (where it and all the games above are cheaper than RRP). I really should pick up Blackstone Fortress before they change the base set. I must admit, the Harry Potter & Resident Evil Games look appealing to me, for the minis at the very least.
This one is simple, find out what games they play (some games use special dice with unique symbols on them) and buy a ton of dice for that game. If they use D6 Dice (a normal square die numbered 1-6) and they play Warhammer or Warhammer 40,000, just buy a ton of them in their favourite colour.
A step up from this is a dice tray. There are numerous options available online. If they roll a lot of dice (10 or more) you need a large dice tray (which you can't buy anywhere I've looked). For smaller board games you just want a small dice tray.
You can even show extra love in your gift by making a dice tray in their favourite colour. This is a really cheap and simple thing to do and you can make them in various sizes and colours.
More specifically for Warhammer Players at least they may want a book which shows them how to use the army in battle. They may be building out the army but haven't gotten it ready for battle yet.
Keep an ear out for phrases like Codex and "I need the" (not specifically in that order)
If you hear anyone say I need the Codex for X. they are talking about a book. Just search for that online and you should find without trouble.
One of the best things for a wargamer is normally one of the last things they think of buying themselves. Better Carry Cases.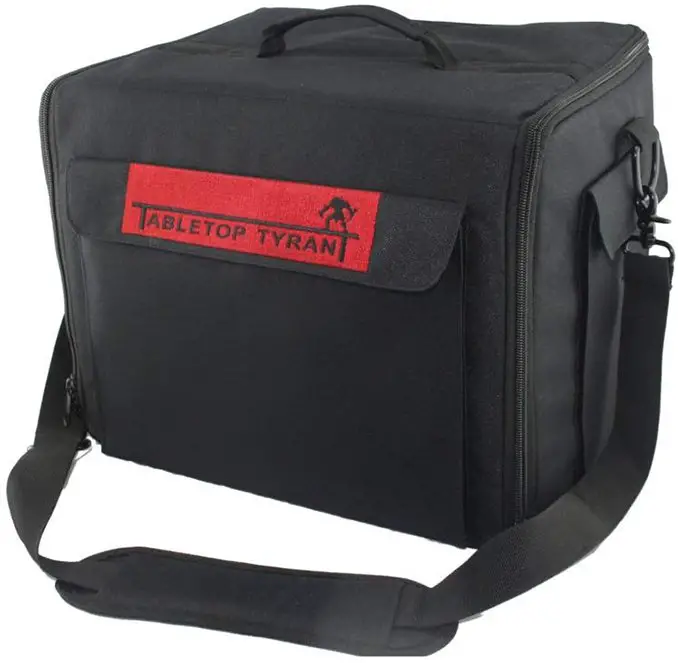 If the person you are buying for takes transports their models in an old food container, a big plastic storage box or even in old cardboard boxes. A carry case is a really useful addition to their collection.
The majority of these will advise you how many standard size models they carry and how many vehicles too. They normally come with pre-cut inserts or pluck foam, where you can pull out the foam were needed to store your models in between.
You can get cases made of strong cardboard, woven fabric or even metal.
Just count the models they have and make sure you get a case with enough storage and space for at least 20% extra
Foam Trays for Boxed Games
A slight tweak on the above, but if you know that your giftee plays a particular game (a standard boxed game using only the models from that boxed set). There's a company called Feldherr who probably make foam inserts for it.
In most cases, these sit in the original game box and store all the parts for that game safely. All the models, dice rules, cards book and other components will remain safe. (One day I just hope someone takes the hints I've dropped and gets me the Space Hulk one)
Once again (even if you import them to your local country) these are available (cheaper) from Element Games, Use our referral Code "FAUX2768" at the checkout stage and you'll get double Reward Points.
So, this is painting equipment, but it's great for an Army Painter. If you've ever heard your hobbyist say, I want an airbrush. Brilliant! To some, it can feel like entering the world of airbrushing is quite complex. But actually It's a lot simpler to get started than even they have probably realised.
If you are seeing them use a lot of spray cans on their models, it's definitely worth considering getting them an airbrush kit. They spray more precisely, can be used indoors, aren't affected by the weather like spray cans are and they are better for the environment.
If they already had an airbrush, you'd know.
If they don't, grab one of these.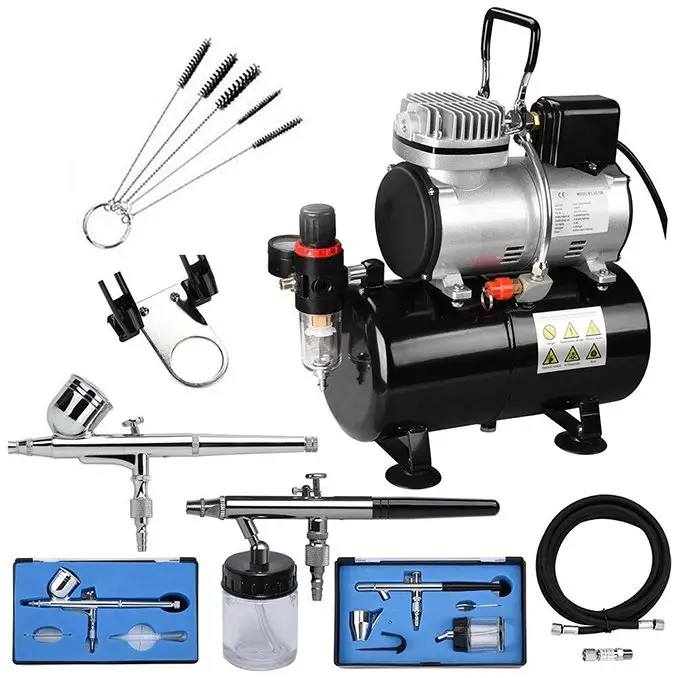 They are cheapest off amazon or eBay. You want one that has the big silver bit on the top (Compressor) and the big tank on the bottom. (Don't get one without a tank, you'll regret it later). Here's some, which will be just what you want.
These normally come with a free Airbrush. Those airbrushes themselves are trash, but what you are really paying for here are the compressor and tank. A real decent airbrush is a few hundred Pounds Euro or Dollars. If this is their first airbrush, you don't want to be spending that much until they've at least had a go.
If you do want to spend a lot of money, you can see our guide on the best Airbrushes here.
This cheap kit shown above is enough to get them started and the compressor unit is one of the two main components in airbrushing, and this should last years.
Along with the airbrush, you want airbrush primer so they can actually use this when you gift it to them. Check what spray cans they use. it will normally be black or white. So grab Some Vallejo or Stynylrez primer in that colour. If their spray cans aren't black or white. Just grab black if they spray dark colours and white if they spray light colours. They can use all their existing paints through this airbrush.
On that regard, pick up some diluted car screenwash too for thinning their paints – no joke, this is what is often used to thin paint to use in an airbrush.
Optionally, if you can stretch to it. Grab either a spray mask like a 3M 4279 or an airbrush spray booth (if you can stretch to it) so they aren't breathing in paint particles. The latter option will keep the spray area tidy too.
Best Mini Painter Gifts
Gifts for those people who spend most of their time painting, unsurprisingly focus more around paints and tools. More miniatures is always an option but it can be tricky to guess what they would want based on their existing models. Instead, these people tend to go with whatever inspires them at the time.
Airbrush
I listed this in the wargamer section above, so if you skipped that, nip back and check under Airbrush at least. If your Mini Painter Doesn't have an airbrush, it's cheaper and easier than most people realise to get started (see the section above). If they have an airbrush. Maybe they would like a better one? See here.
More or Better tools
This is another great little "we'll just hand you the answers" parts of this guide.
Any hobbyist needs tools. If they have tols they will benefit from better tools. Anything that makes the modelling side of the job easier or more fun.
The simplest thing to do is have a quick peek at their modelling tools and compare them to the following list.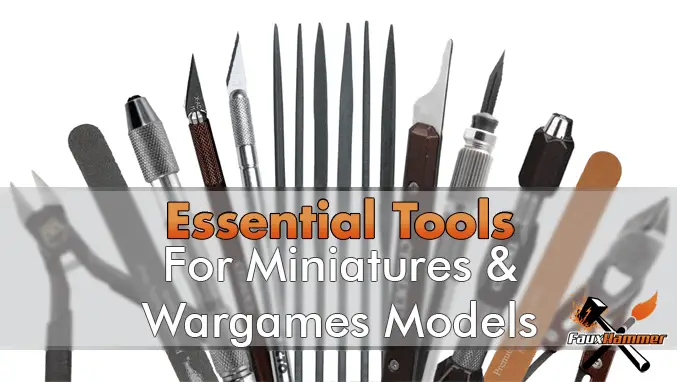 This list will give you an idea of what a full hobbyist arsenal should look like. You can either top-up or upgrade based on our recommendations.
One of the easiest things to get someone as a stocking filler is a Citadel Water Pot. (Cheaper EG Link) I already have two but I'd be happy getting a couple more! A branded mug would be a decent option too. I had a cool Warhammer mug last year but sadly the paint started flaking off.
Often, the best gift to get someone is something they would want but would rarely buy for themselves. This is just one of those items. Every painter has to shake a lot of paints and no matter how fast or how strong anyone's arm is. They'll never be able to shake a paint as well as a motorised mixer.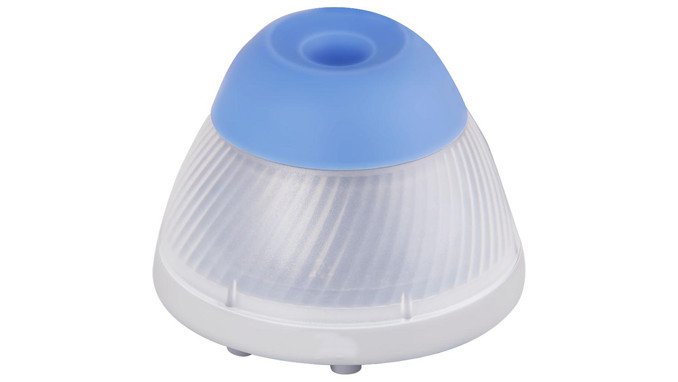 You can get a paint shaker as a stocking filler by just searching for a nail polish paint mixer. A (slightly) more heavy-duty option is the Robart Paint Shaker. But the best thing you can get for shaking paints would be a vortex mixer. The latter is quite expensive, but if any mini painter got this as a gift, they probably don't realise until they use it, how much they have always wanted one.
You can see the breakdown of paint mixers on our best paint mixers & Shakers article. But these 3 options are the best.
It's an easy gift to decide on. If your mini painter has a lot of paints and shakes them by hand before use, they will greatly appreciate one of these.
Paint Sets
Paint Sets are something to be careful with for a miniature painter. It's likely that mini painters have the specific paints they want already. but there's no reason they can't be coerced into trying something new. If they already have a bunch of Citadel (Games Workshop) Paints, there are some better brands out there.
Why not grab them a starter set of Vallejo Paints or Reaper Master Series paints? Just a starter set to give them a taste of another brand. Don't go spending the earth on a Complete set of paints unless they've specifically asked for a set from that brand.
If they are half invested in a brand such as Citadel, Why not round out their set for them?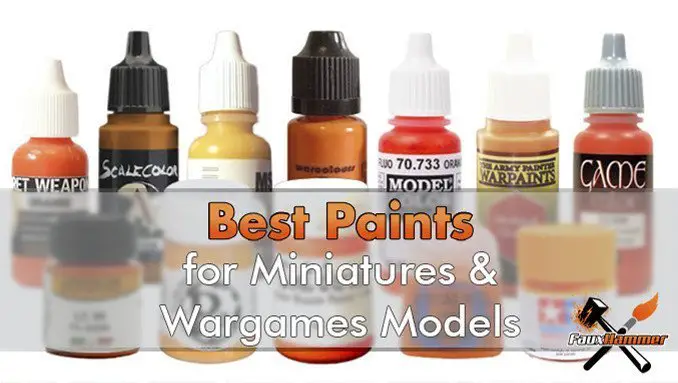 Check out our list of Best Paints for Miniature Painters to get some inspiration for different brands
Brushes
There's never a bad time to get your a mini painter some new brushes, they will always come in handy at some point.
There are loads of brushes to choose from and it can be quite daunting when you dive in. Check out our Best Brushes for Miniature Painters article for some ideas.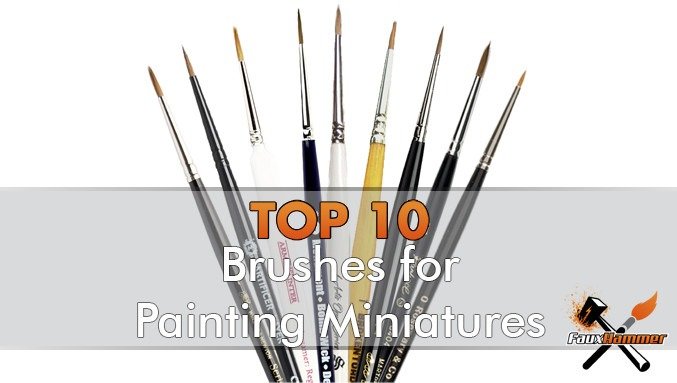 In Summary, the better ones are Rosemary & Co Series 33, Winsor & Newton Series 7 (which have an attractive gift set box), Raphael 8404 and Artis Opus.
If You're after building your own set, you're after Brushes from Size 000 to Size 3 (dependant on the brand, if you can afford every size between great, if not, an evenly spaced variety should do. so 000, 0, 2 & 3 will be an excellent start.
In all honesty, these are great brushes! But it's the Artis Opus which makes the greatest gift. Arguably the best paint brushes you can get for miniatures and models. The Artis Opus Brush Set takes the cake for presentation. Having 4 brushes in the set with a great storage case and brush soap. This is a great kit for any painter.
Also, the best place to buy these is also from Element Games. The owner of Element Games is also the Co-Owner of Artis Opus.
Detailed Models from other Companies
Depending on what your painter paints, this could be a great option. Like many people, they may be solely focussed on a particular brand. I myself would paint nothing but Warhammer models for years. However, once I had some experience with other models, not only did I have a great time. I learned a lot of new techniques by painting models on a different scale.
Finding Models for this task can be as simple as looking at their other interests and searching with Models or Miniatures on the end. e.g. Warcraft Miniatures or Harry Potter Miniatures (that Dumbledore model looks awesome). Check the Wargamer section above under More Games to see more examples.
You can find some great custom 3D printed models or even commission your own for them.
Another great company which has a lot of highly detailed models available is Creature Caster. Definitely worth checking their stock out!
If they don't already have this, nothing says "I love you" like giving someone space (that's what marriage has taught me anyway). If you can, why not plan out an area that you can give so that they have somewhere in the house they can go away to paint.
There are numerous hobby desks you can buy. Just make sure you don't get the ones that are angled up at 45°. They are for drawing and planning, not painting miniatures. everything would just fall off.
You just want the biggest flattest space possible and if you can arrange it, lots of storage options for small parts. The benefit here is that everything would be kept in one place instead of spread all over the house…
A present for everyone
Once a mini is painted it's great to have it out on display somewhere. Display cabinet can be quite expensive and take up a lot of space.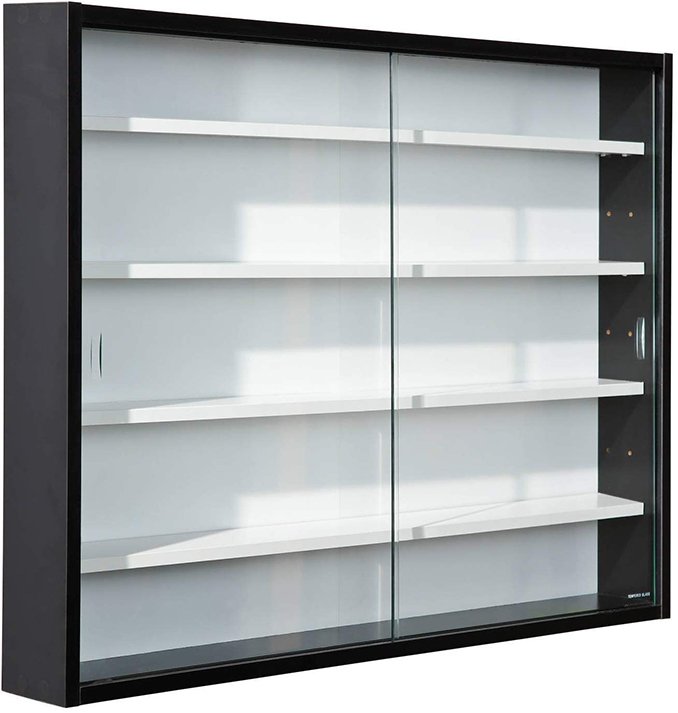 One suggestion I would give is exactly what I've done. Keep an eye on Facebook Selling pages for "display cabinet". I managed to pick up a huge glass shop display with shelves for £20!
If you're looking for something more presentable, just search "Model Display Cabinet" on somewhere like Amazon or eBay. some of the more popular ones are the really nice wall mount options with glass fronts (shown above). Typically these have several shelves in them, so long as you get something with a 5.5cm gap between the shelves, this should be suitable for most rank & file miniatures.
you can always pinch and measure some favourite models to ensure they will fit.
If you really want to spruce these up, or give your hobbyist some extra hobby work, you can always grab mains operated (if it's going near an outlet) or battery-operated LED strip
If you have a larger display area, a really solid option (more as a stocking filler) are little display turntables. Just Search "Jewelery Turntable" on your favourite web store and you'll find that you can pick these up for next to nothing. they are battery operated and last ages. I've had one running off one battery for over a year and a half.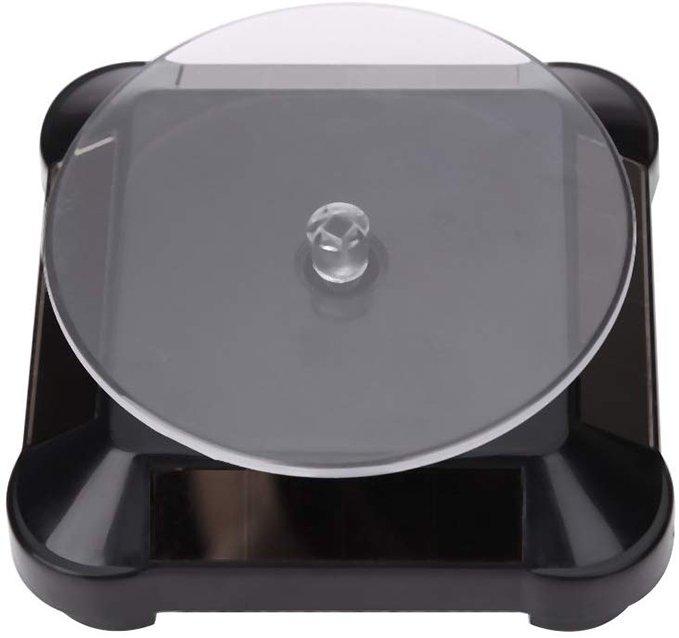 Personally I don't like the ones with LED's as they can affect the look (colour) of the mini and drain the battery faster. But this is something great which most mini painters would never buy for themselves.
Best Miniature Painter & Model Gifts – Final Thoughts
This list should give you a solid idea of something to buy for any mini painter, wargamer or general hobbyist. Getting them something they want whilst being presently surprised.
If nothing above floated your boat you can always go with the usual approach of buying apparel like Mugs, Bags, Cases, T-Shirts etc. Anything to do with the hobby they like. But just be sure to show interest into what franchises they like. for example, I've been after a Black Mass Effect N7 Hoodie for years. Now they're sold out I'll need to settle for a crappy aftermarket one. (the sort you need to check the quality of as soon as you receive it or you can't send the crappy thing back).
If you're a giftee and are after something which isn't on this list but you'd love to get. Let us know in the comments.
What did you think of this Tutorial? please let us know in the comments.
If you like what we're doing here you could really help encourage more content with a share on any social media platform.
Click the share links at the bottom of this screen (or on the left for computers and tablets)
Want to keep updated with the blog? You can subscribe in the sidebar for RSS or by email below
(Sidebar is below the article on Mobile Devices)