FauxHammer Hobby Awards 2020
Last Updated on February 8, 2021 by FauxHammer
Dumm Dum Dummmm Baaaa dumm dummmmmm, ba ba ba ba ba ba. BA BA, buh dah duh, Buh dah bum bum! I guess Fanfares don't really work in written format. But it sounded great in my head, really exciting and gets you right in the mood to see what our best hobby picks are in 2020!
Click this link & buy your hobby stuff from Element Games for the UK & Europe to support FauxHammer.com – Use Code "FAUX2768" at the checkout for double reward points.




Our Affiliates / Hobby Stores
I think we can all agree that 2020 has been a crazy year so far. Things have been very crazy on the FauxHammer front too! had an absolute stormer of a year following last Christmas. Everything as going in the right direction and I was throwing money at developing the site every which way. Speed features etc. Then a virus which will not be named came along and I personally almost ended up in financial ruin in the space of 2 months! It was almost the end of FauxHammer, but thanks to the generosity of the community. it not only kept us afloat but also gave us the power to grow even more.
The site is now available over 4 languages with a dedicated French translator and our writing team grew by 600%!
We've reviewed tonnes this year, starting a new series of Ask the Artist Articles and we have even more to come!
With all of those articles and more to come. We thought it would be great to summarise our top picks for 2020. I assume many of you will want to be spending most wisely over the coming period as our countries economies collapse into anarchy.
So on that positive note. check out our summaries of the best miniatures hobby stuff we worked on in 2020
We wanted nothing but the best for these awards – and so "spared no expense". The badge alone for example cost over £8 from Fiverr!
Why not start off strong, one of the most commonly asked questions in this hobby is "what are the best brushes for painting miniatures?"
Well, that's a very personal thing really, what works for one may not necessarily work for the next person. brushes are a very natural and organic thing. You can often buy 3 of the same brush and have different feelings about them all. This is true across any brand. Honestly, I encourage you all to try a variety of the top brushes throughout your hobby career and see what suits. That being said, I've found my go-to;
When you start using Kolinsky Sable brushes, there's really very little between those different brands you've all heard of, and preferred shape is a very personal thing. But Artis Opus are the only company so far that make the whole range you would ever need.
Don't Take my word for it, ask people like David Soper, Bohun, Angel Giraldez, Richard Grey.
The reason people say that Windsor and newton are the best brushes is that it's a pretty well known poorly-kept secret, that's they are what most of the 'Eavy Metal team use. Personally, I've turned my nose up to W&N because I'm just so used to seeing posts online like this one.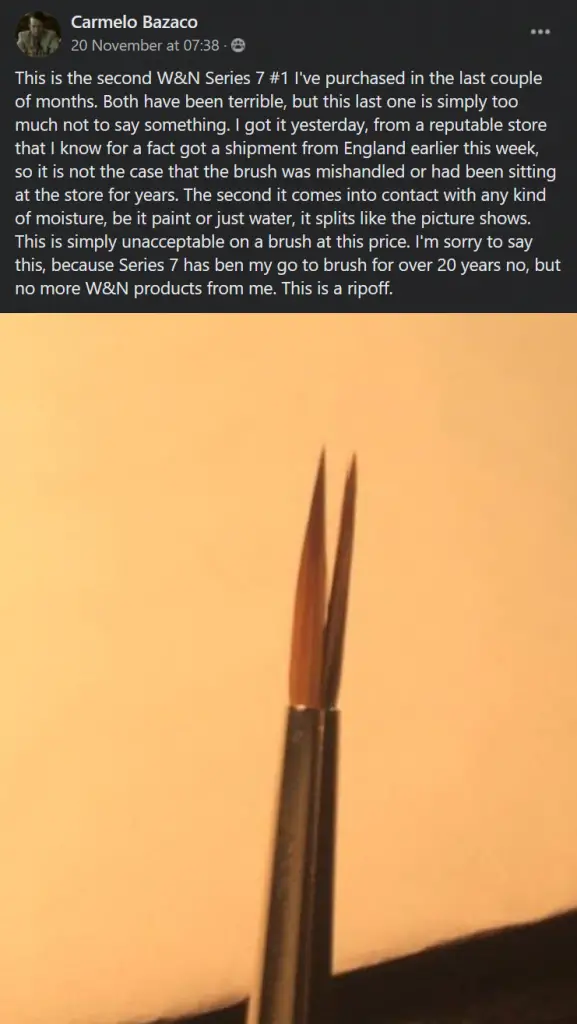 So if you take your mind away from Warhammer and ask some of the world's best miniature painters what they use. They use Artis Opus.
For normal brushes, you've got the Series S, For detail work the Series M and for the ultimate in drybrushing (which you may know I am a fan of) the Series D. what more could you need?
Having personally had hands-on with these, along with all of the other Top Brushes, such as Squidmar Raphael, Winsor & Newton, Rosemary & Co and even Broken Toad. These are the ones I always default back to. Favourite picks include the Series S #3 & #1, Series M #0 and the Medium Series D brush. Space Marines… Done.
They really should release set with just these brushes in….
SEE OUR BEST AIRBRUSHES ARTICLE
I've put a lot of Airbrushes through their paces this last year, reviewing the top brushes on the main 3 Brands, Harder & Steenbeck, Badger & Iwata. and I have to say there is one brush which is so far above the others. Someone needs to do a lot of work to top it
Another brand which ticks two boxes, Intermediate & Pro. If you are new to airbrushing. I highly recommend getting a cheap airbrush from eBay/amazon. The sort that comes free with a half-decent compressor. All that is for is to get you used to Airbrushing, they are trash but they are cheap trash. I'd Start there.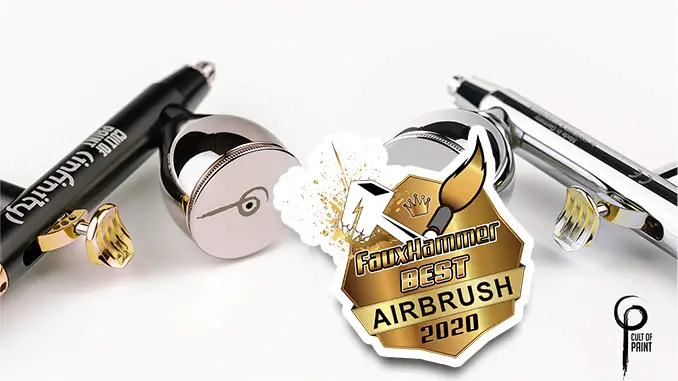 But when you want to get better quality work and more control you generally want to be spending over £100 ($130 USD, $200 AUD, 120€). Anything cheaper than this and from what I have seen you may as well buy a cheapo knock off airbrush becasue the quality is generally on par.
The first on that list is the Evolution. Exactly the same as Harder & Steenbeck's Evolution, but with Cult of Paint Branding and a trigger which is unrivalled. Having a (reversible for left or right hand) lip on the trigger gives you so much more precise control when compared to any other brush
But the pro version is clearly the Infinity, with the same trigger and needle. But this comes with a few bonus extras. A cutaway for easy access to the needle nut. A quick-release needle stop (the best stopper due to the quick release nature). It has a micro colour cup, helping avoid waste. It's aluminium making it one of the lightest airbrushes you can get. And it comes in a beautiful matte black.
Harder & Steenbeck's Infinity CRplus is the best airbrush I have ever used. And Cult of Paint made it better, specifically for miniature painters. The biggest bonus of these two brushes is that you can get the Evo as an intermediate airbrush painter. As the components like the needle/nozzle and colour cups are interchangeable when you upgrade to the Infinity you can swap and change parts between them. None of the other brands has this perfect upgrade path for you.
Choosing the best paints for 2020 was easy! Of all the paints I used this year, only one brand left me with my jaw, quite literally, on the floor!
Just see our review for the detail, but these paints are the paints that Citadel base paints wish they were.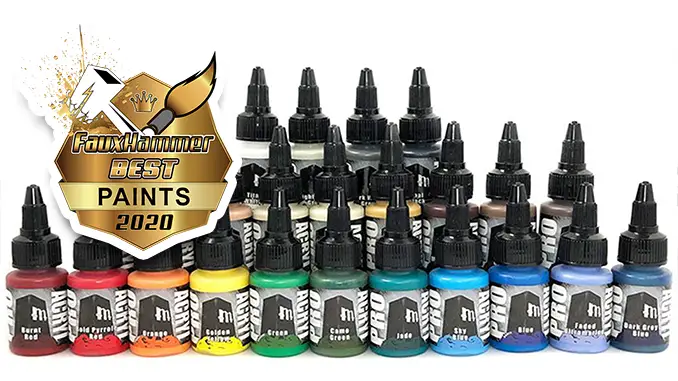 The incredibly fine pigment in a medium so smooth it feels like cheating when you paint with these. Even colours like the white and yellow cover so much smoother than many other brands. If you want to nail basecoats, get these. iI you want blends to be smooth get these. If you want colours which go through your airbrush with ease, get these.
As a critic, I have to be careful with recommendations, there have been a few times where I have loved a product, said why bout others have said,they could not get on with them. With these I am so confident in them that I am happy to say, go any buy them and thank me when they arrive.
"I can't get on with pro acryl paints and they are rubbish to use!" Said nobody ever!
SEE OUR BEST WET PALETTES ARTICLE
Again, an easier choice but this one has at least had some challengers this year. Wet palettes are fairly simple items and you can easily make your own. With buying a wet palette you are paying for the convenience of not having to cut up bits of baking parchment (or even find it in the first place). So why not choose one which is more convenient than any other.
Despite The Army Painter coming out with their own version which is very close in comparison, where these guys succeed is in matching the Army painter price point and offering more functionality to you.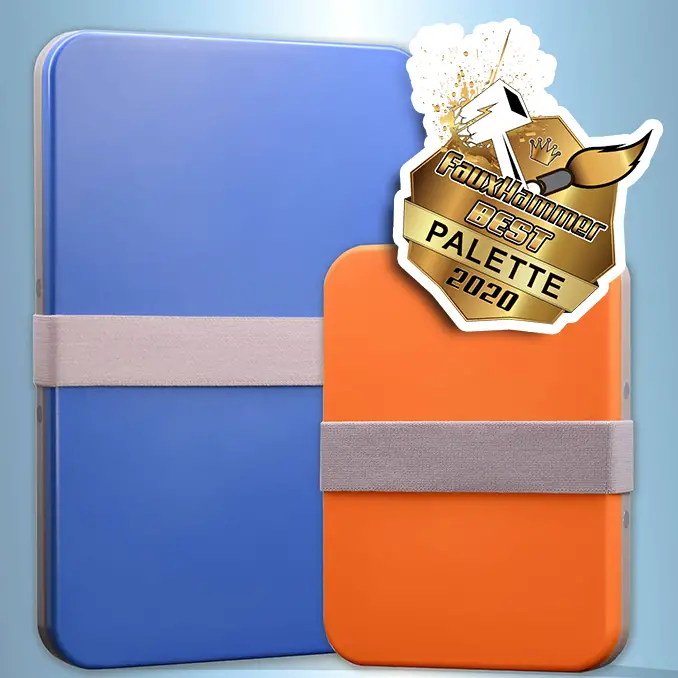 Where TAP's has a middle-tray to store your brushes. It's actually very little use since you can't actually carry the wet palette around with you lest it spill. That brush tray just becomes an extra lump of plastic to clutter your desk.
Redgrass games win by offering the Standard (painter) and Large (Studio) sizes, the lid fits under the palette to maximise the free workspace on your desk or even doubles up as a second palette. The wavy accessory is a great bonus extra where you can store all manner of fluids & mediums.
Hand's down, the best thought out product across the board.
SEE OUR BEST SPRUE CUTTERRS ARTICLE
Ok, a bit of an odd one here. I mean, how important are Sprue cutters? It's not like it's Paint, Brushes or an airbrush. I considered an award for every tool category, but for things like Hoby Knives and Piv Vise', there are some top picks but nothing stands out. With Sprue Cutters, however – different story!
There were 2 top choices for best Nippes until these came along.
1 The GodHand SPN-120. Available in Japan or via import. they are the absolute best nippers you can buy, but only by a razor's edge. It's a shame that the price is astronomical due to import fees.
2. The next up is Redgrass Games Nippers which feature a similar design, but a thicker blade. The cut is nowhere near as good as the GodHand but they are far and above the rest of the cutters in a similar price range.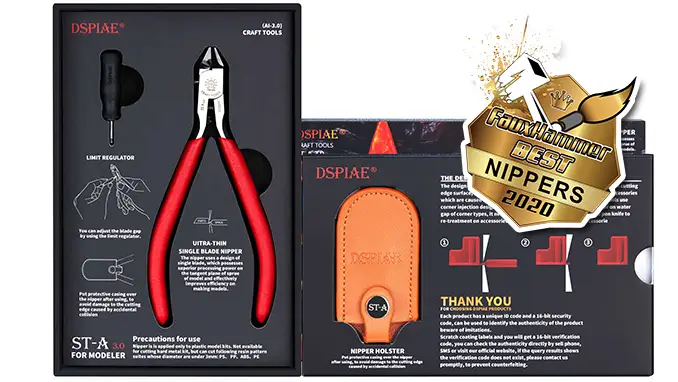 But the DSPIAE STA 3.0 Nippers feature the best of those two models with none of the downsides. The STA 3.0 Features a similar razor edge to the Godhand, and sells for a similar price point as Redgrass and most other hobby cutters. You need to be careful with these because that blade is so fine you can snap it (and with the GodHand I have). I literally can't tell between these which one has the closer cut, I reach for the DSPIAE more often because I just don't want to risk damaging a product which does pretty much the same job at double the cost.
If you like to make sure your miniatures are clean of sprue gates before painting. This will Save you a lot of time and effort with less risk to damaging parts of your minis.
Again, get them and put a smile on your face…
SEE OUR BEST HOBBY HANDLES ARTICLE
Hobby handles are a divisive topic but I'm not surprised that the following winner was also mentioned more than any other handle when we asked for nominations on Paint Hub.
Right out of the gate, there is 1 handle I would say is arguably better and that's the Rathcore Miniature Grip. But that one really works best for pro painters who always pin their models. The price is also considerably more than Garfy's Get a Grip;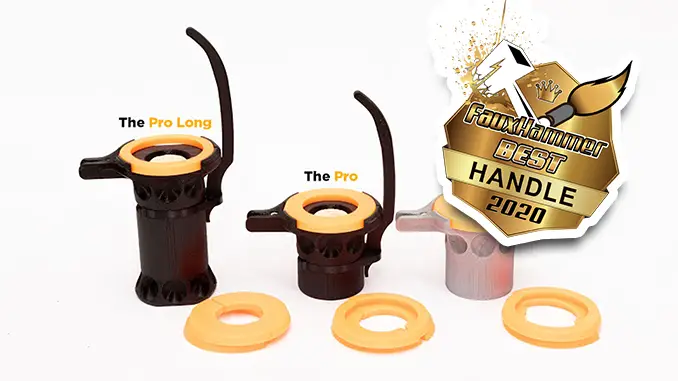 With Garfys Get a Grip range, specifically the pro models you have so much versatility at an incredible price. Want to Pin your models to cork? Do it. Want to paint your models already affixed to bases? Yep, you can do that (with larger sizes than GW's base handle). Ah and if for some reason you prefer your models affixed to your handle with putty, even though it's not as rigid as the other two options, you can, of course, do that too.
At such a modest price, get one, heck if you paint armies get 5 or even 10! Yeah it's 3D printed, but no other handle offers this much versatility, and certainly not at this price. Support a fan favourite miniature painter and buy his handles.
SEE OUR BEST PAINT SHAKER ARTICLE
The Most popular choice for Paint shakers is still the humble old hand, Chances are you have one, if you are lucky you have two. Don't shun this, you are lucky, some people don't. So there's something to be grateful for today. If you are looking for something more mechanical, check out the following.
How Much!!!!!! Yeah, they aren't cheap but let's are honest this is probably still a lot less then you spent on little plastic people in the last few months…?
Exactly….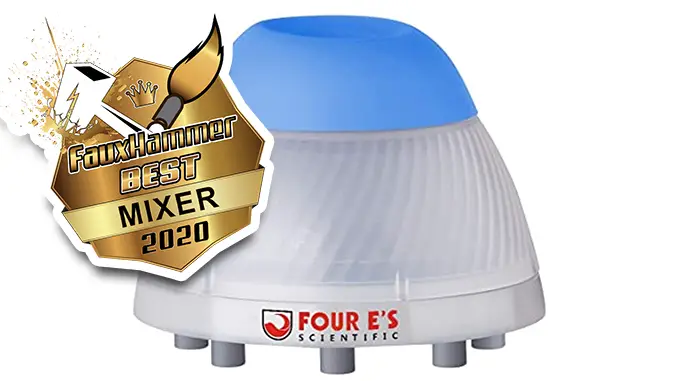 Whist these come with a tall price tag, ask anyone who has one what they think. This truly goes beyond convenience. Whereas things like the Robart Paint mixer or a popular but cheap nail varnish mixer offer little more than convenience. a noisy one at that.
This can take some of your worst most avoided paints and turn them into favourites. Put it this way, I actually like White Scar…. yeah, they are that good.
This mixer can do everything from repair dried out paints to fully mix some of the thickest paints, metallics for example often suffer from poor mixing due to the heavy pigment. Every time you pick up a bottle of paint, just a few seconds on this should give you a really solid and consistent colour, the likes of which you have rarely seen.
When it comes to model storage, very little beats an old cardboard box. We've had some things pop out this year and many of us know Duncan Rhodes video showing how he makes storage boxes.
Let's be fair, storing miniatures is tricky. They are various shapes and sizes and it's not like the boxes you get them in help either. I've used everything from toilet paper for transport to an Ikea cabinet for display, but what is the absolute best you can get?
Problem is… there are 2 options. so this is a draw, with 2 winners,.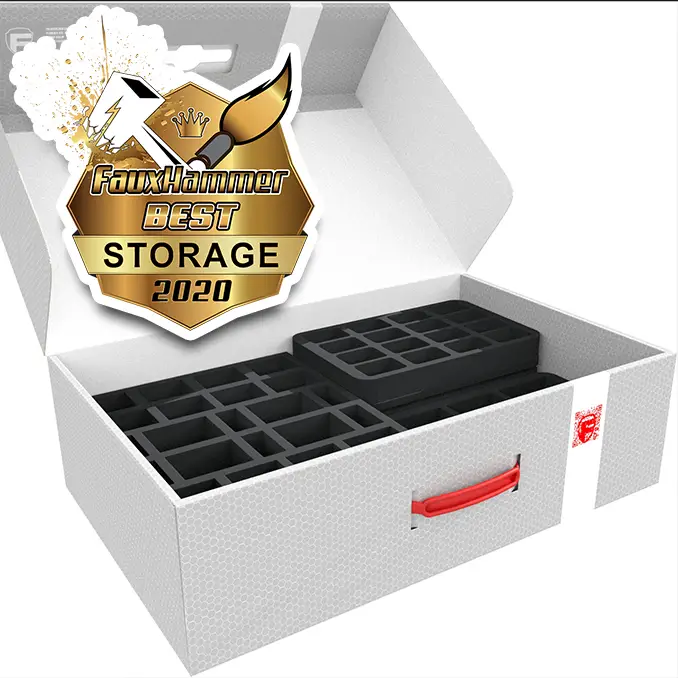 If pure storage is your bag (pun fully intended). There's no better supplier than Feldherrr. Everything from Cardboard boxes to Steel & Poly cases is available.
All with cutout options ranging from pull out plush cubes to make your own spaces for oddly shaped miniatures to standard sizes for various units and vehicles.
My favourite part of this range is the core-set cut-outs they sell for retail boxes. So if you grab a boxed game, chances are there is a Feldherr foam made to perfectly fit that box along with all the built models and sundries within.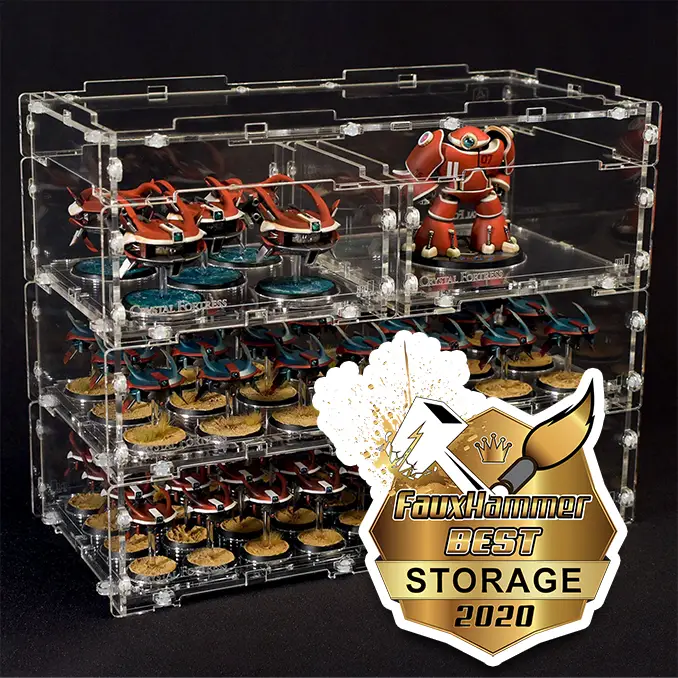 Crystal fortress is Absolute beauty – If you have an army of display models then you want them looking good at all times – you want this.
Crystal Fortress is by far the sexiest miniature storage you can buy. But it is quite expensive.
A modular design which connects together almost like 3D Tetris blocks and sandwiched between a base and a lid for transport. these double up as display boxes for your shelving.
These can also come with cut-outs and magnets to store all of your based models upright and proud.
Ok so that was all about storing your miniatures, but what about all your other hobby stuff? Brushes, Paints, Airbrush, More Paints, Files, More Paint, Basing Materials, Paints, Glues, Paints, Spare Model Parts and yet again…. Paint?. Where do you stick that lot if you want to upgrade from Cardboard Box?
There's a ton of choice in these areas but the best two are not too dissimilar from each other. In fact, they are all but cross-compatible, almost identical even. And those two would be The Hobbyzone Modular Workshop System and the ArttyStation Opera Modules
Dun dun dunnnnnm The winner is
We reviewed this set earlier in the year alongside Hobbyzone and well we have to say, we were surprised by what initially appeared to be a cheap knock-off when we found out that ArttyStation was the superior choice.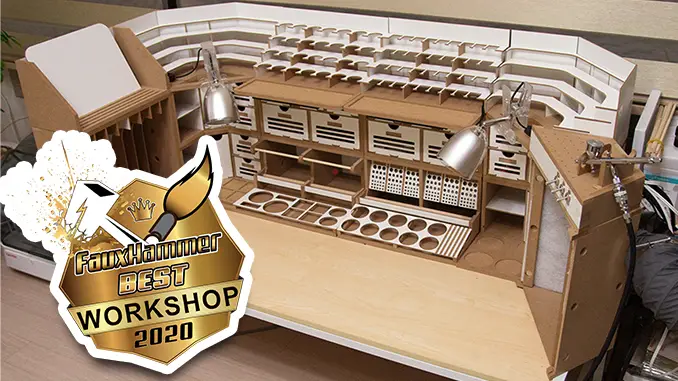 Price-wise, there's really not much in it as each has modules which are more expensive to similar options in the other. So we need to look deeper to see which one is best.
The reason ArttyStation stand out is mainly due to the fact that they are far easier to build with little to no glueing required making the set up much faster. But also the quality of the material is better with ArttyStation units being laminated or resin-coated (no idea how they have done it). But this means they are less susceptible to spills and other liquid damage.
The Standard Opera set up is the perfect storage collection for miniature painters, putting everything in arms reach and even offering an airbrush station along side.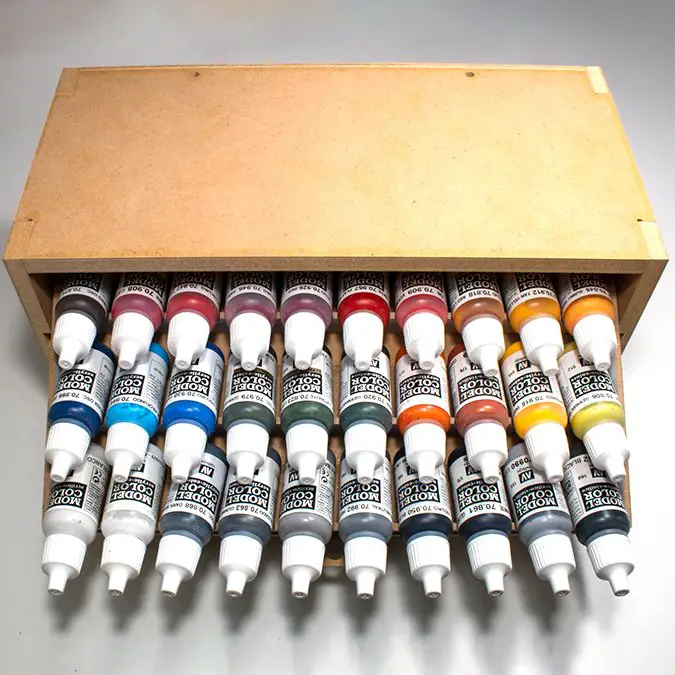 With each brand having some clever designs in its modules. The best unit overall is ArttyStation's Paint storage modules which house the most paint in the smallest area of real estate. And let's be fair, it's paint storage we want need most of all.
We were going to call this Best Kickstarter but then we realised that there are more crowdfunding platforms than Kickstarter. Undecided on a catchy name we decided on this as it is, in the very least, descriptive.
There have been a lot of great ones this year. and you know what it's made me realise how hard this job is. I've read so many other pages that do these yearly awards and I sit and chunter and disagree and argue with people online about what should have won. But actually choosing a winner amongst so many great choices is really hard. Especially feeling the pressure of knowing everyone will be having the same disagreements with me.
So at the very least, let's have a look at some of the best ones up front.
I've personally backed all of these but my absolute favourite (making it the winner) is;
I am somewhat biased about this one purely because they are the one Kickstater that supported us by sending over their test print on Indryhten to paint and preview on the site.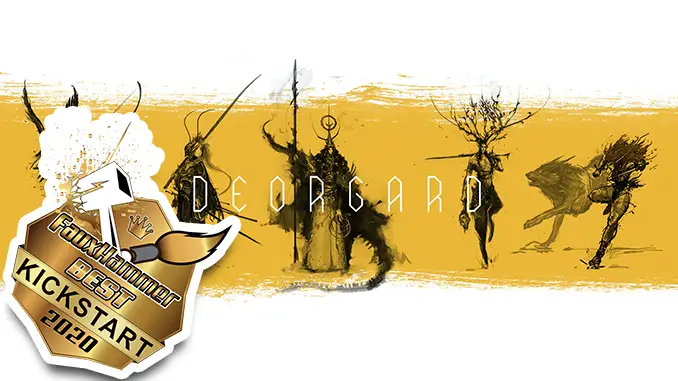 But after 20 years of my love for all things Warhammer and turning my nose up to everything else. It was this model and this project that made me fall in love with 75mm miniatures and finally extend my reach beyond Citadel and some people paint guides I could copy /tweak.
It let me forced me to flex my hobby muscles and put into practise everything I learned with nobody holding my hand. My only regret is that my kids were being nightmare at the weekend and so I missed my chance to up my pledge to The Big Box.
It's not just the models and the support that make this a stand out for me. it was the campaign itself.
This team is really just 2 guys, 2 guys who pulled together some of the worlds greatest hobbyists. They created a ton of tiers so that you can back them at an affordable level all the way up to the big box. The unlocks ranged from extra rewards, offered equally to all, including those at the lowest level to supporting videos. So that if this is your first bust or larger mini, they will guide you through the stages on how to paint it and make it your own.
Cult of Paint is well known for their painting classes and guides. So there's no doubt these will be top-notch too.
Whilst this was technically one of the lowest earners of the list above where most made multiple hundreds of thousands. These guys made £70k. But that's massive considering these are really just a few sculpts (though insanely detailed sculpts at that). I spoke to these guys around the time they Hit 40K and there was no dramatic hyperbole. they were genuinely humbled by this with no expectation they'd hit £50k. So, massive well-done guys!!!
If you missed it, keep an eye on this set as it's gonna be a great kit for you to play with. Especially if painting is your thing over gaming.
Not even gonna do an intro, it's Indomitus, Let me check by looking at the title below, yeah it's Indomitus
Is this any surprise? really? I don't know what I liked most about this? Was it the announcement, The models, the sheer value? the gorgeous Limited Edition Artbook. Or was it the fact that all the scalpers got completely screwed over 3 days after it sold out in record time when GW announced that they would make it available on made-to-order for over a month?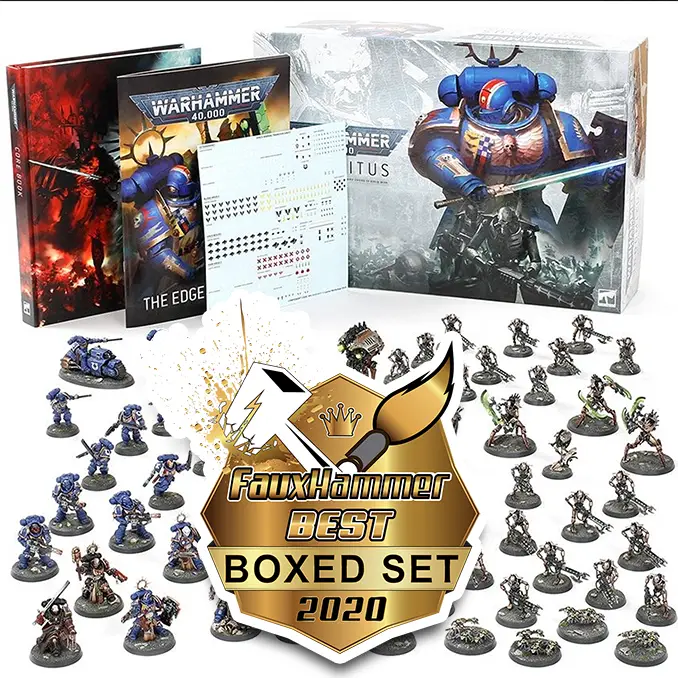 It came out right at the end of the UK's first Covid Lockdown and week after Warhammer world reopened. I remember this vividly as I was actually the first customer to buy a copy from Warhammer World on Release day. (kinda proud of that one).
I've bought it built it and painted it, twice, and I still want another box.
Whilst there are the Recruit, Elite and (somehow illiterately greater than Elite) Command Editions available. Nothing beats the value of this box. With it's (still at the time of publication) Exclusive Models.
If you are eagle-eyed, you'll notice that more than a few retailers decided to wade in on made-to-order so (as of now) you can still pick this up for yourself or as a gift this holiday season. But when they are gone. They are truly gone.
This entry was entirely Community Choice – of all the miniatures released this year (and there have been some greats) – the one that stands out to our readers more than all the other's is;
An absolutely incredible sculpt here by Darren Latham, it makes me wonder if there is anything this man cannot do. He can Paint, he can Sculpt and I'll put money on him being able to fly. having met him in person I also need to say he is also just a super nice guy.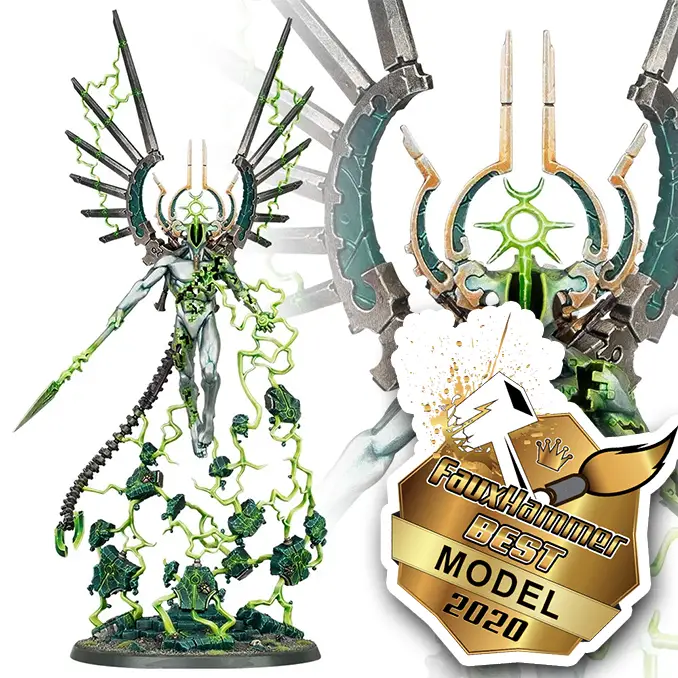 The sculpt itself is juct beeautiful, There's sso much to play with here, you have the tri-fecta of forms. Hard Metallic and Rock surfaces. Smooth Humanoid forms and Windy-Swirly Effects galore. And wiuth the model being larger than your typical infantry or even character level model, you get to throw so much more paint at it and really make it your own.
Remember when i said above that it was Deorgard that made me fall in love with 75mm models. This is why….
There have been some incredible paint jobs for thois guy which is unsurprising considering his scale. He is screaming out to have a massive range of contrast, just check out some of the Amazing work on Instagram.
If you fancy one yourself, you can still go out any buy one, or…..
We've decided, in honour of the innagural FauxHammer Awards in 2020 we're going to give him away.
FauxHammer Hobby Awards 2020 Giveaway
That's right, we are giving 1 lucky reader the chance to get theor hands on this years winning "Best Model", There's a reason that we never said this when arranging the poll, (we didn't want everyone voting for the most expensive!).
Entry is simple, All you need to do is comment below between now and a month from now (December 26/12/20). All we want to know is what you think of these yearly awards? Good, bad ugly? What and how should we improve this for next year? I'll be the first to admit there will probaly be things here we did not get right, maybe in the approach or how it was announced, missing categories. etc. But this is our first go and I don't think any other sites do a similar thing. So, unlike my old homework, there was nobody to copy off.
We want to make this bigger and better guys, a nice yearly event, but we need your feedback to do it. Give us some and we could be sending you a free C'tan as a thanks!
FauxHammer out…
Click this link & buy your hobby stuff from Element Games for the UK & Europe to support FauxHammer.com – Use Code "FAUX2768" at the checkout for double reward points.




Our Affiliates / Hobby Stores
What did you think of this Article? Please let us know in the comments.
If you like what we're doing here you could really help encourage more content with a share on any social media platform.
Click the share links at the bottom of this screen (or on the left for computers and tablets)
Want to keep updated with the blog? You can subscribe in the sidebar for RSS or by email below
(Sidebar is below the article on Mobile Devices)