ArttyStation Opera Review for Miniature Painters
Last Updated on April 23, 2021 by FauxHammer
If you've been on Instagram or Facebook recently and you follow our particular hobby, chances are you've seen some targeted ads for the ArttyStation Modules – Well, Come see what we think of them in our ArttyStation Opera Review for Miniature Painters.
Click this link & buy your hobby stuff from Element Games for the UK & Europe to support FauxHammer.com – Use Code "FAUX2768" at the checkout for double reward points.



Our Affiliates / Hobby Stores
ArttyStation offers a huge range of hobby storage systems, Each with its own Orchestral name to define the range. Such as the Symphony, Concert & Picolo. Today we are looking at the flagship of their range the ArttyStation Opera – We have the complete base-set, though it is worth noting that this modular system can be bought as individual modules. As small as one 30cm x 15cm x 15cm module or as big as a room when you purchase the modules individually.
Best Hobby Tools for Miniatures
This article is part of our series looking at The Best Hobby Tools for Miniatures and Wargames Models.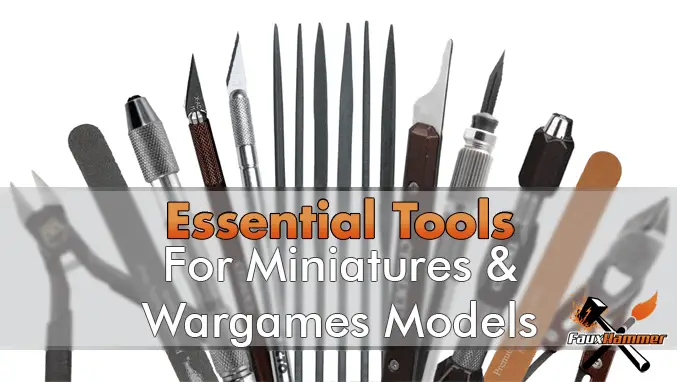 To see all of our guides to the Best Tools for Miniatures, click on the image above.
ArttyStation Opera Review – Summary
So – first off, there are going to be a lot of comparisons to the HobbyZone Modular Workshop System here (see our review). If you have seen either of these ranges – the similarities will have smacked you right in the face. Not only are they both modular storage systems for hobbyists – but the modules themselves have the exact same dimensions in the most part.
In many ways I have found the Arttystation to be the superior product – however, the complete "Opera" set-up which they offer as their flagship is very much tailored toward model builders and those specific tools rather than miniature painters.
Over Time, I have found myself growing more and more accustomed to its various uses. If you treat this range in the same manner as Hobbyzone and plan the modules you need for yourself. Arttystation provides a range of storage units which are better manufactured and easier to build than their direct competitor.
It loses some major opportunities to maximise the potential functionality of the whole range, but new modules are still being released, where HobbyZone has been dormant for a number of years.
Can't decide on a brand? With just a wee bit of tinkering – you can mix and match both.
Arttystation
There's little I can learn about Arttystation themselves – they are a South Korean based company and all of your products will ship from there.
As the company is based in South Korea, the details about them are just a little off when coming to interpret. The English pages have clearly been auto-translated from the South Korean language and feature the amusing level of detail we English speakers see from many eastern language translations.
The about page for examples translates to the following
"I shall create what I need!"
One day, it just got to an ordinary modeler that something is quite inconvenient.

It got him to start making his own tools and things one by one to resolve the issue.

Then the modeler came to realize that what he had been creating for his own convenience was what all the other modelers were also seeking for his own.

ArttyStation was founded not in seek for profit, but for the convenience of everyone including myself. We thrive to provide the ultimate convenience for all.

Everyday, we ArttyStation work diligently to design products that are more convenient, useful, and aesthetically improved products for our customers.

Thank you.

Arttystation
There's certainly a level of poetic wonder to this statement and I do get the idea what they are saying – it also leaves me with the warm fuzzies.
But that's about all they say, I think they were founded back in 2018 based on what I can make out from their companies registration page (also auto-translated).
ArttyStation Opera Review – Packaging
All of the modules arrive in simple brown boxes with a tickmark on the top and front confirming the unit contained within.
For the module below there are 2 variants, 19A and 19B, the sticker below the ticked box on the lid identifies that this is the 26mm module (19B).
Without checking back on the website, however, there's no way to know exactly what each number designation means. When you have a ton of these to build, it's kinda hard to know what is in each box.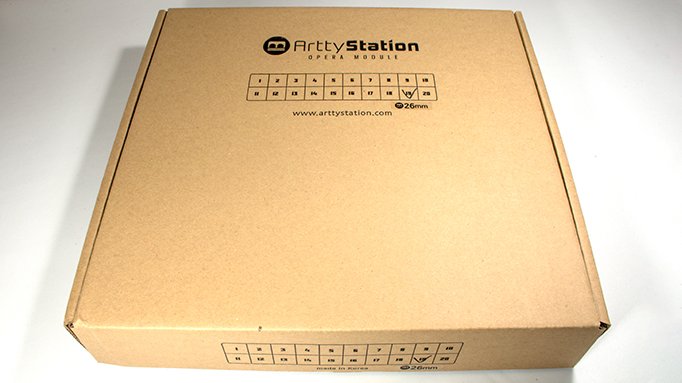 The box itself contains the instructions on top (which is at least one way to quickly identify each module) and the components wrapped in a protective perforated wrap.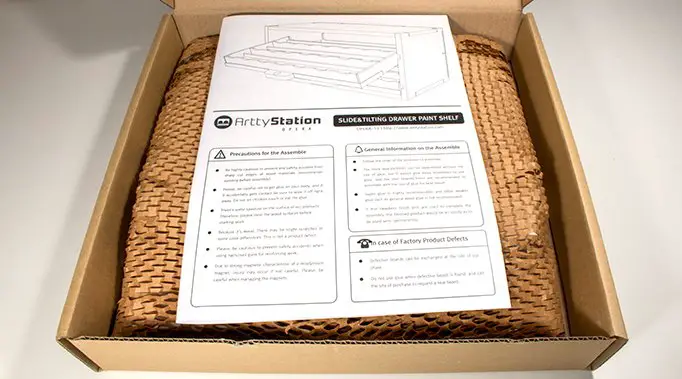 This has been more than adequate for shipping protection. This came all the way from South Korea to the UK within a week (during lockdown) and there as nary a scratch on a single piece, even though the outer box had been smashed in on the corners.
Each of the components is taped together with it's matching parts in the box, further preventing any movement.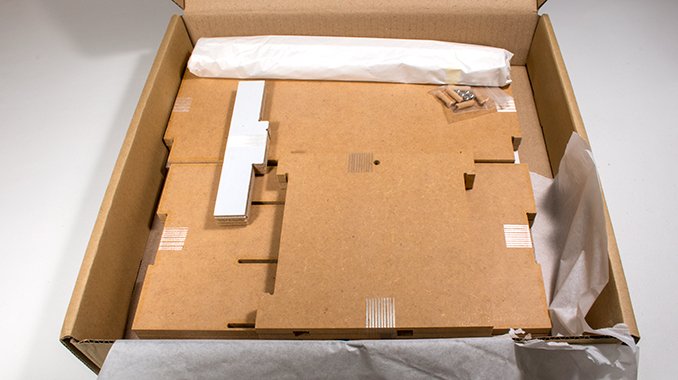 Here are the components laid out – this module is one of the more complex units from the range. This is the Slide & Tilting Drawer Paint Shelf OPERA-19B. A module which does not come with the Opera Complete set as it is a recent addition to the range – A welcome one at that (but more on this later).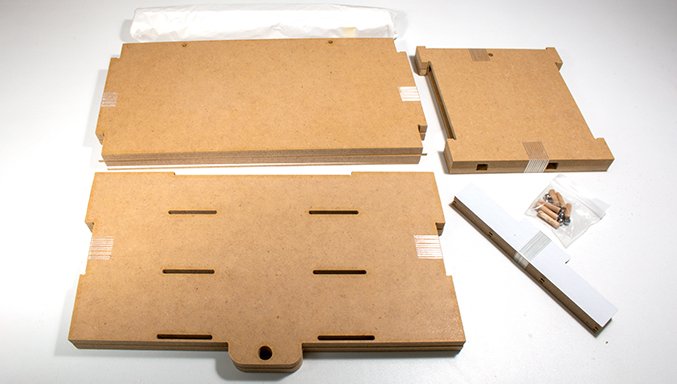 Removing the tape is where I saw one of the first improvements to this range when compared to HobbyZone. All of the MDF components in this are double side-coated in what appears to be clear resin.
Unlike with HobbyZone, pulling the tape away did not pull away at the wood and leave a rough-textured surface. It left a smooth laminated texture.
This is fantastic as the sides are water-resistant and even dried paint could be wiped away using appropriate paint stripper – without damaging the surface of the units.
The next benefit over Hobbyzone are the white spacers used for several of the modules.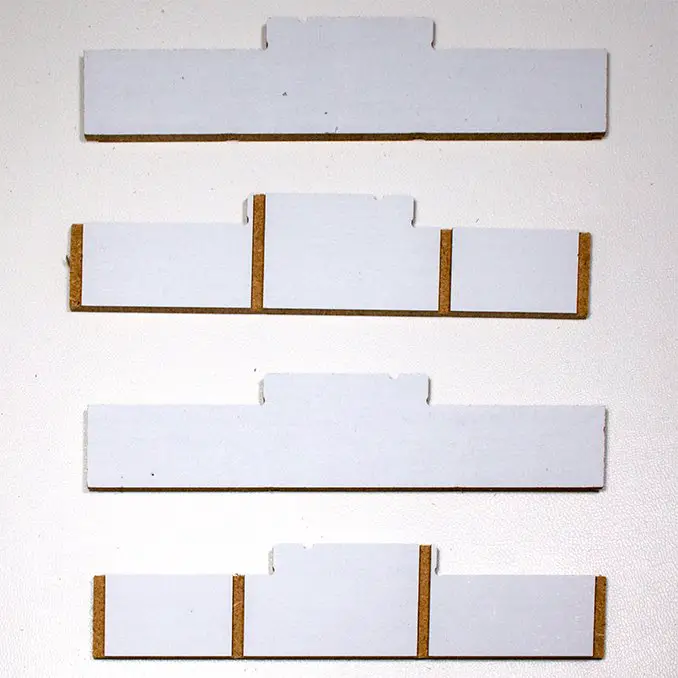 With Hobbyzone these are only white on one side, with ArttyStation – both sides are white-coated which adds an extra level of care that has been put into the manufacture of this product.
ArttyStation Opera Review – Construction
And yet another benefit over HobbyZone! (I'm counting that as 3-0 so far) is the instruction manuals.
Instead of just one sheet point out the order you assemble the components (which is often wrong on HobbyZone's part) you get a full booklet with step-by-step guides. More akin to Lego and Ikea manuals.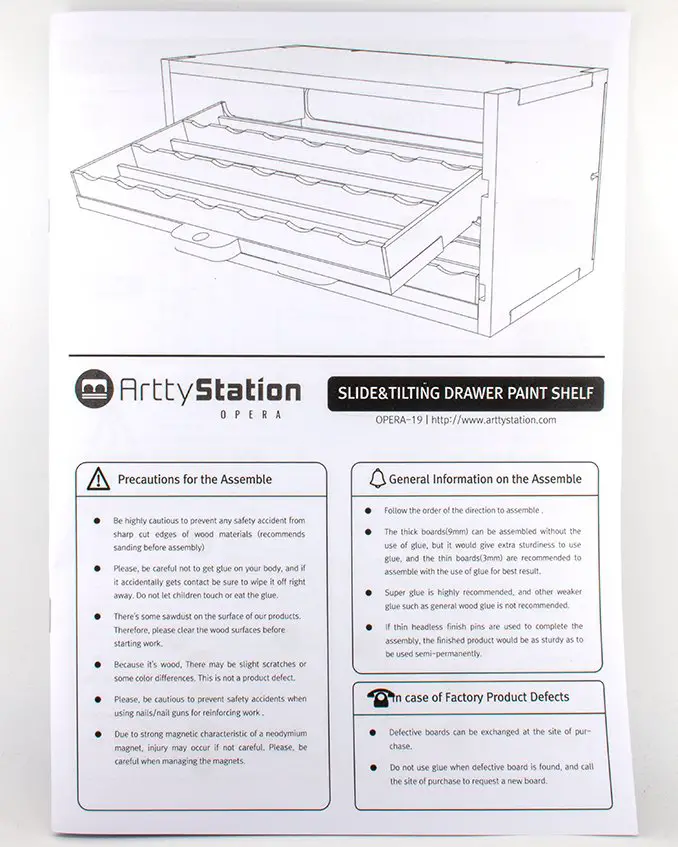 The biggest benefit over Hobbyzone (4-0), is that these modules are in the most part, push-fit. Due to my perfectionist nature, it would take me the most part of an evening to build a HobbyZone module – with ArttyStation I had this one below together in less than 20 minutes.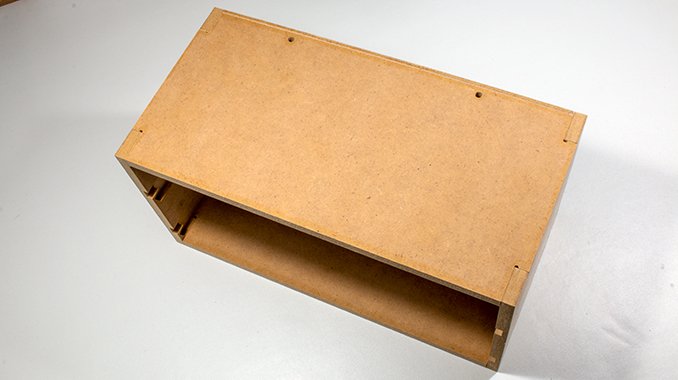 The only glueing done on the module above was tho attach the backplate securely – Even then, the glue was not entirely necessary (though this seems to change from module to module. The corner modules and sprue holder are 2 exceptions which absolutely require glue for the backplate.
ArttyStation does recommend if you use glue, use superglue, not wood glue. Due to the lamination of the wooden surface, normal wood glues will not permeate the surface well enough to stick them.
Unless you use Gorilla Glue (ArttyStation says) – which is exactly what I had because it is awesome.
Frame wise, all of these modules are just persuaded together for a tight fit.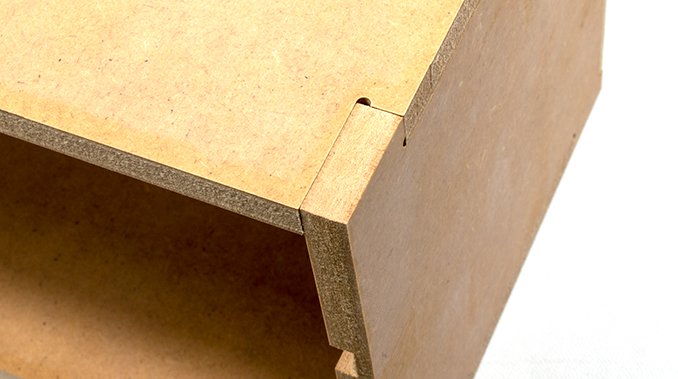 They do recommend you obtain the help of a rubber mallet – and even provide one in the Opera Full Set – Just be aware this is in the last box – I didn't realise until after I had built 4 of the modules using a toffee hammer.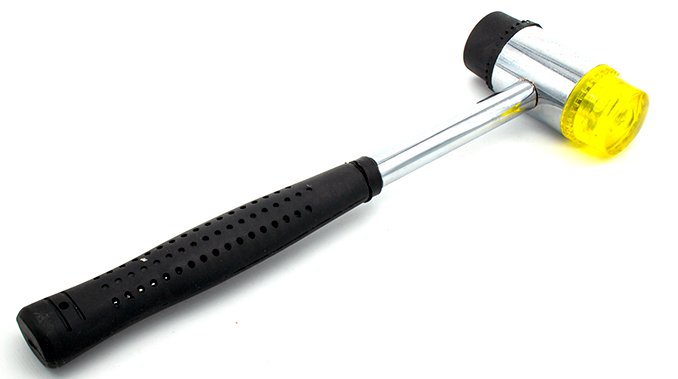 The only tricky parts of the whole set up were parts like these drawer fronts. The sides and rear snap together, but the fronts are held in by nothing more than the bottom tab. There's no recess on the sides (which Hobbyzone has) to help get them square either.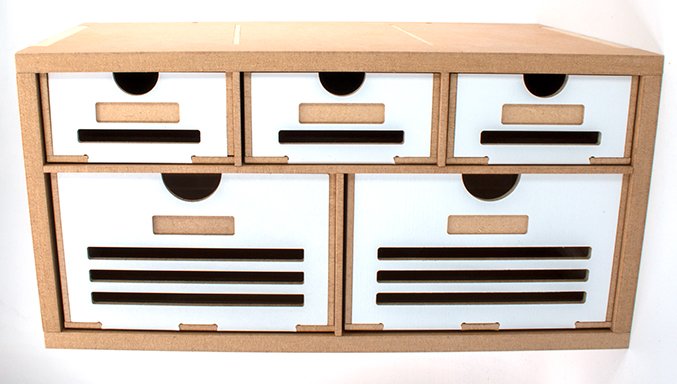 The walls of these Drawers are much thinner than the Hobbyzone units, which means you get just that little bit more space to store your stuff. 1 point each here (5-1)
With the newer Slide & Tilting Drawer Paint Shelf OPERA-19B they have fixed this alignment issue by having a recess in the sides so that the front, centre and back parts stay perfectly upright.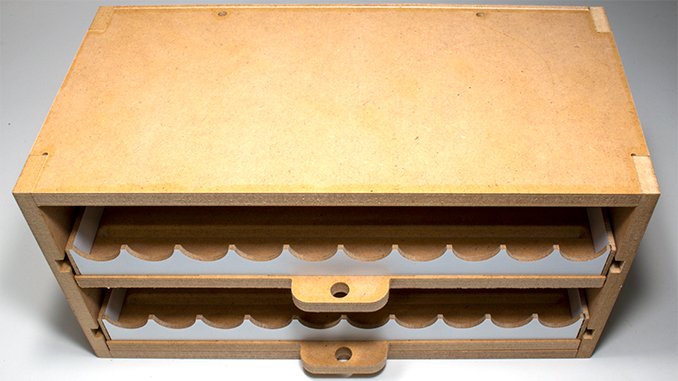 All in all, the building process for these is super simple as you essentially just hammer the frame together, glue on the back and you're pretty much there.
As noted above, this module I have featured in the build guide is not part of the Opera Complete set and is a newer addition to the range. and I have to say that it is my favourite module of any amongst the two ranges.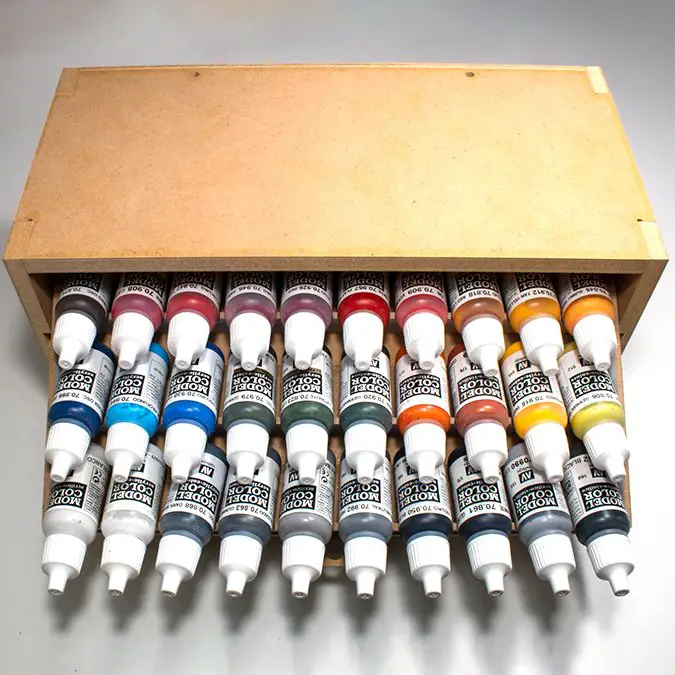 Like most people, we normally come across these sets when searching initially for hobby paint storage. This particular unit holds 60 Dropper Bottles (or the 19A variant which holds 20 larger pots (Think Tamiya or Citadel).
Holding this much paint in an area of 30cm x 15cm x15cm is incredible, the drawer (which runs on a ball bearing – nice touch) easily slides out and drops down a few degrees to present all of your paints.
Whilst the upright holders nicely present your paints on tiers which makes the whole set-up look really attractive – this is limited by surface area. the box above is the perfect mix of storage volume with tiered presentation.
ArttyStation Opera Review – Area
The complete Artystation Opera Base Set dimensions are advertised on the website, but they are a tad misleading. The infographic below shows the Area as 120cm x 60cm – However it ignores the overhang from the Airbrush module on the right which is an extra 7.5cm.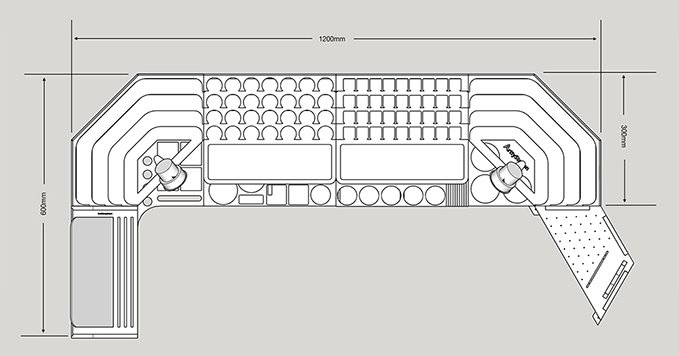 Obviously this is with the Opera Base set, you are welcome to build whatever set-up you require with the modules you want.
Another thing which I personally find as another improvement over the HobbyZone System is how the modules connect together.
With Hobbyzone you get Magnets, which are generally strong enough to hold the pieces in position – though there have been some occasions where some loose clothing has caught the end pieces and caused them with their contents to fall on my desk dor floor.
With ArttyStation, they have gone for the low-tech approach, wooden dowels.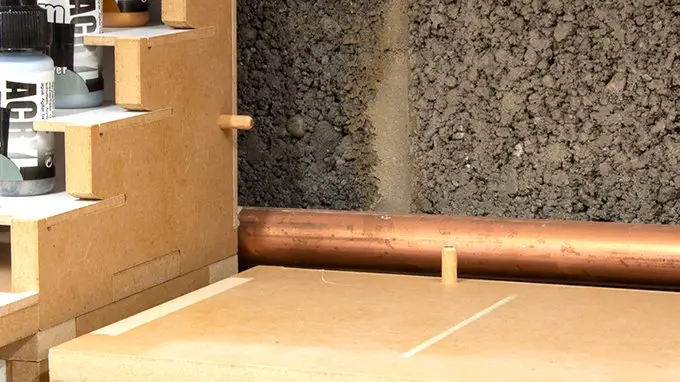 With this, the whole set-up is a bit more fiddly to connect together but is much more secure when built up. I was trying to figure out which approach is better, but for me, the dowels win hands down.
Sure you can't swap out and change the modules as easily with dowels. Instead, you need to build towers of units and push them together, often using a persuading tool (hammer).
But honestly, once built, how often will you be changing it around? I've changed my HobbyZone setup once is the last 3 years.
What's really lucky is that this whole set-up fits neatly on an Ikea Linnmon desk (with a shared overhang of 7.5cm each end) – this is Ikea's cheapest desk and the worktop itself (as that desk is modular) costs less than a few bottles of paint. The legs for it cost more but I managed to get a couple of office drawer chests from a local company who were binning them. I just sat the worktop on them.
The whole set up is really clever providing lots of function and storage in a small area.
ArttyStation Opera Review – Modules
The rest of the review will look at the modules themselves and an overview of the Opera Base set.
Ignore the numbers for the parts, they are just Arttystations designation. I'm trying to go left to right so you can easily follow along where I'm at in the set-up from the picture above.
All of the modules below are part of the Opera base set – but as I said, you can build your own by purchasing the individual modules.
This is a simple module that I probably wouldn't have picked for myself – however I've grown to love having somewhere to actually put my instruction manuals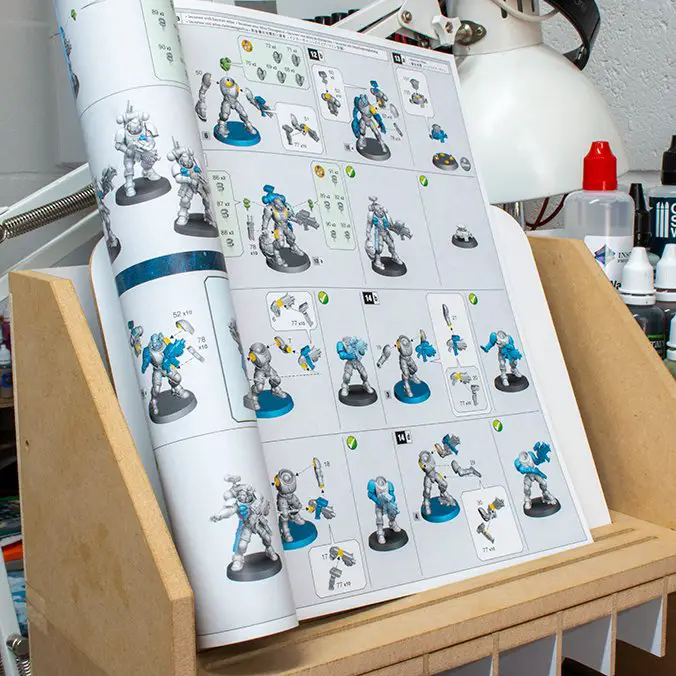 The back-board fits in one of several evenly-spaced recesses in the base which you can use to bring your manuals closer or move them further back. There's no adjustment to the angle so this serves me in that all my old manuals sit behind, and my current, in-progress manual sits at the font.
This area could be used for more paint storage but having this as part of the Opera Set-Up has been a nice touch. Manuals are oft considered superfluous and get dumped in a drawer, but I am grateful I now actually have a space for them.
Another module I would not have picked for myself but was pleasantly surprised by. Also the only module in the set which is 30cm width and 30 cm in height where the rest are only 15cm tall.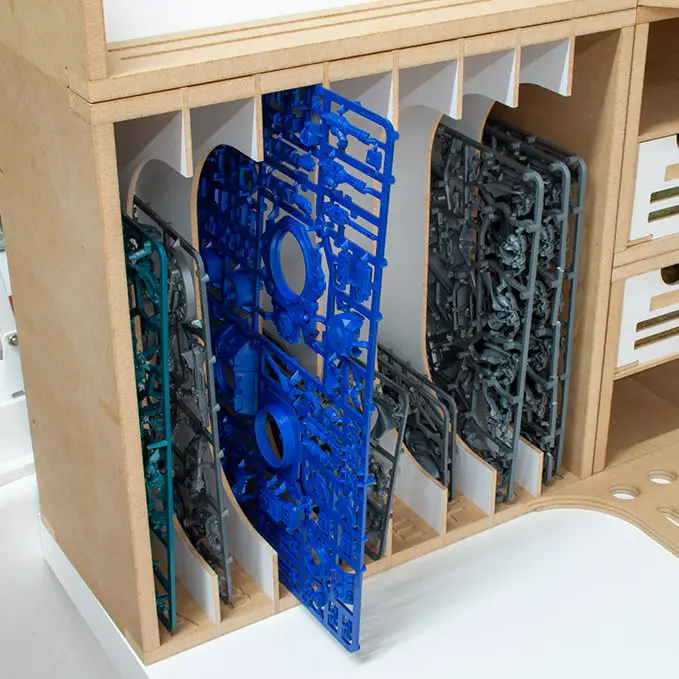 I'll be honest – this set has limited use for me – my backlog extends far beyond the 8-16 sprues this will hold in its A-H alcoves. But it is nice to actually put my next projects into some semblance of order.
For Games Workshop modellers like myself – this unit will fit most of your smaller sprues, but the larger sprues like the Repulsor sprue above will leave quite a bit of overhang. Sprues of this size with more depth on the parts (Rhino sprue) will not fit.
This is one of the more difficult units to build in the set, mainly in that it is larger than any other module and it is not a simple rectagonal box.
Then you need to build the individual drawers themselves – each requires glueing.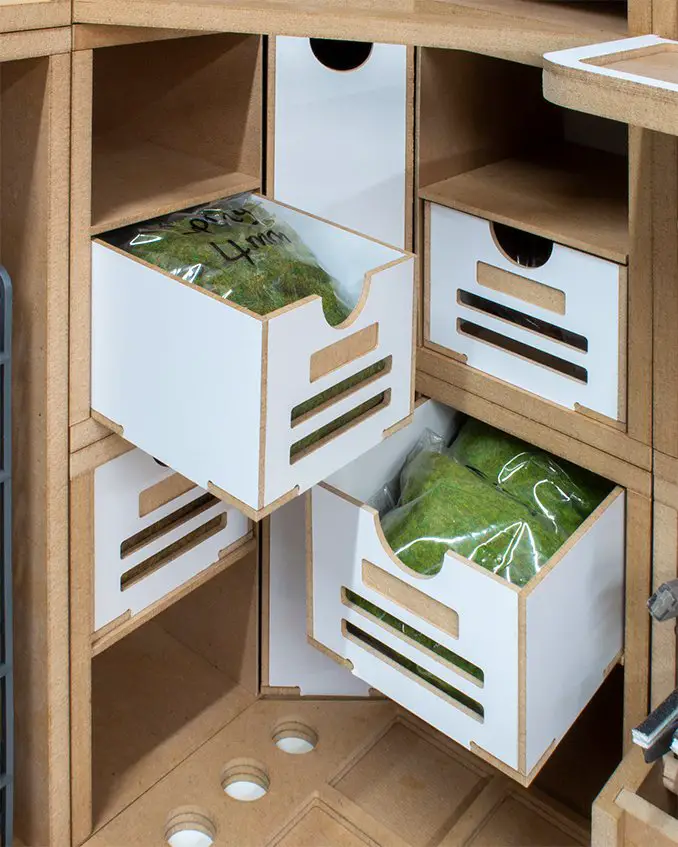 This is the only type of corner cabinet available from ArttyStation whereas HobbZone also offers a fully-open alcove unit.
The strength of the ArttyStation version is that the draw walls are thinner meaning you can squeeze just a little bit more space out of them – however, the gaps in the front are open, they are not windows so you need to be conscious of what you put in them to ensure they don't fall through the holes. ArttyStation could improve this with some simple acrylic sheets you can glue over these gaps. or you can.
It is worth noting that each of these modules comes with 1 central drawer and only 2 side drawers, leaving 2 gaps per module. Due to the small size of these openings, there's not much you can put in them as it is just too small to get a typical hand in to recover anything.
Having these gaps is just useless in my opinion and whilst it reduces the cost of Arttystation's module – It's is more frustrating to have wasted space – you can buy extra drawers, But this is only shown in the Opera Accessories section of the website. There's no indication when buying the individual module itself that extra drawers are available – the options section of this page is blank.
Although the Extra Drawer option is visible on the ArttyStation Opera Full Set page.
I believe the Website is in the process of being updated, as it used to be much worse (in speed and layout) than it is now.
Just a note on these centre drawers too, there is very little which will actually fit in them. They are too short for pens and too deep for most other pieces (the dividers are optional).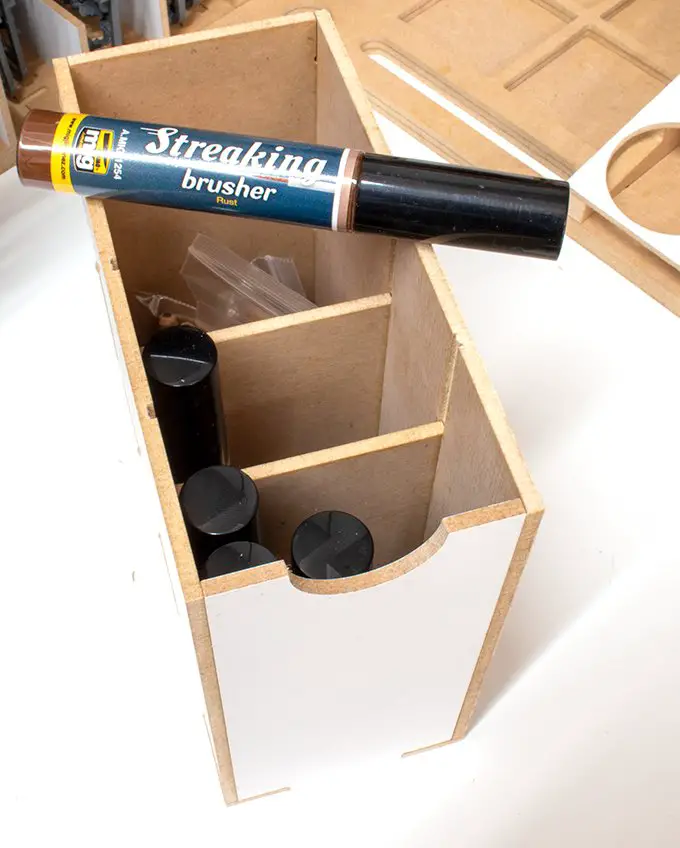 The only thing I have found will fit neatly are these streaking brush sets from Ammo (or my wife's mascara). If anyone else has more functional use for these drawers, let me know. Four of them in the set feels like too much awkward or unusable space and makes me miss the option of a completely open corner unit.
With ArttyStation's approach to a Corner module, the paint space is simply open, Unlike Hobbyzone who offer this choice but also alternatives with various size holes for even spacing of bottles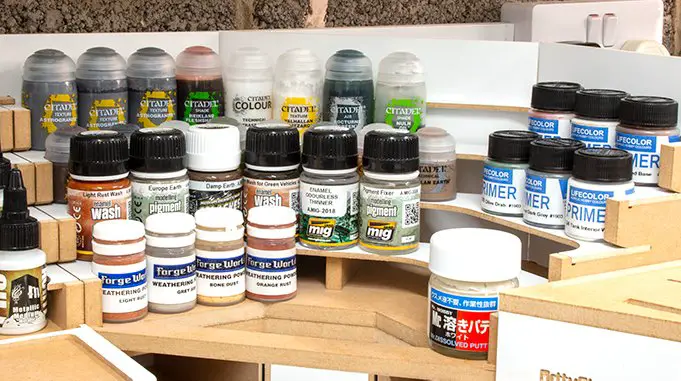 Having used those style modules for a while, I am steadily moving toward this open approach anyway. The preset holes are great for presentation, but it becomes too limiting in a short time. Chances are, you will be growing your paint collection, or companies may change their bottle sizes after so long (thanks Pro Acryl!). Leaving you with holes that you paint simply won't fit in. The open option allows for various size bottles, fits more paints and is much more flexible in the long run.
All of these upper modules also have a little hole cut in the backboard. It took me a long time to figure out what this was for until I spent more time on Arttystations website. – ArttyStation actually offer some clamp-on spotlights which attach to the crossbar on the corner module above.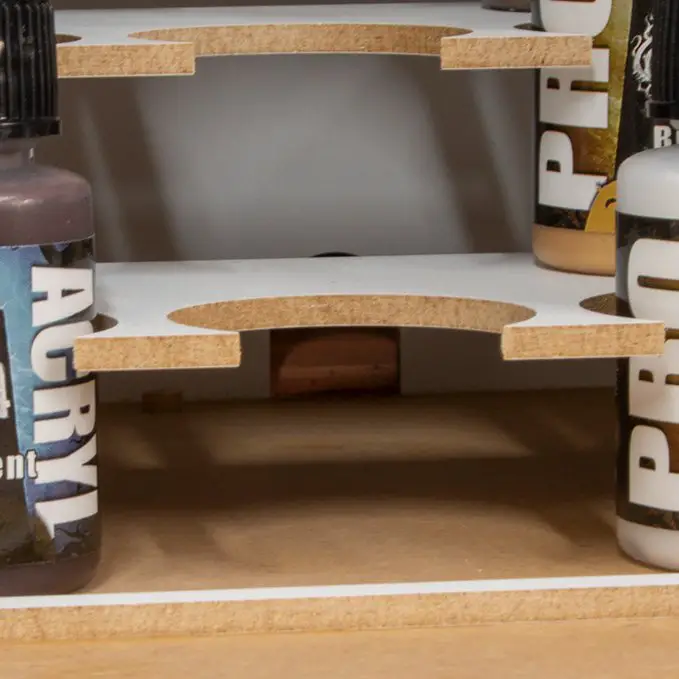 These holes are here for the power cable, But I'm thinking of getting some LED strips in here and using them to backlight my paint, could be cool.
Not the most exciting name for a module, but it's fair. This is the "standard" unit most people would want – paint storage. The main difference between this and the HobbyZone Alternative is that this has a 10cm tray in front of the paint.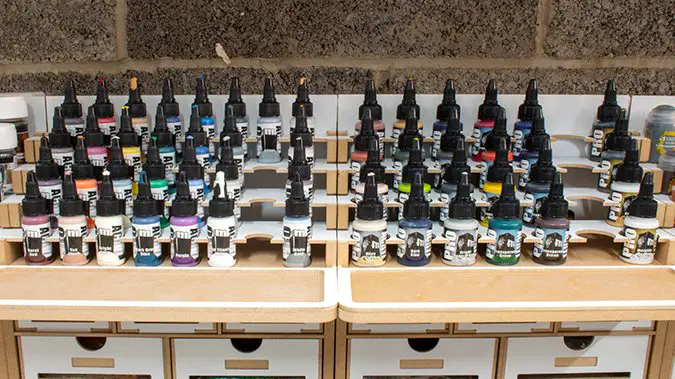 This shelf is useful for holding… stuff. Honestly, I'm not sure of it's intended purpose but I've managed to use it as a dumping ground. At least I have somewhere I can put stuff now to get it away from my work surface. You an also use these to clamp on some of the optional spotlights.
The unit comes with a variety of options for paint storage.
Open, like the corners module.
Square, which I have never seen but it looks like Tamiya and Humbrol sell this shape
26mm, which stores most Dropper Bottles
32mm which is good for Tamiya Mini & Citadel Pots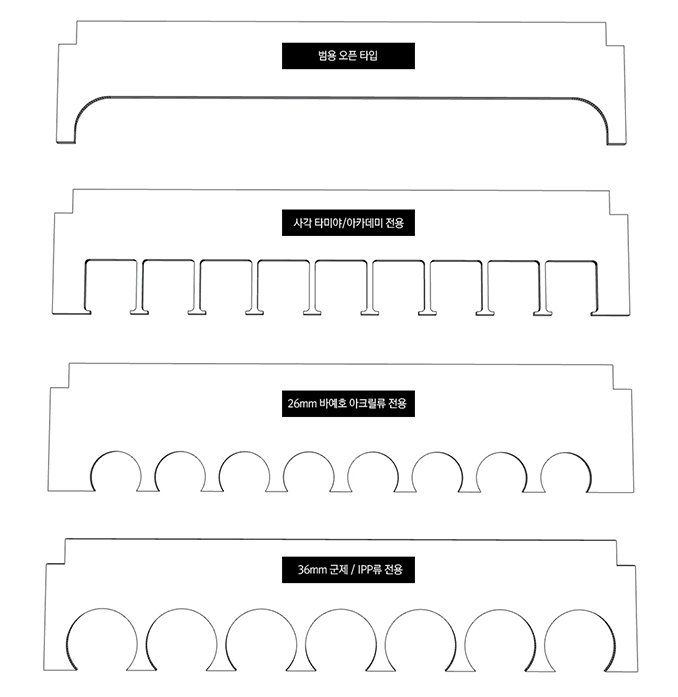 The Opera Full Set comes with units and then 1 set of 26mm, 1 set of 32mm and 1 set of the square (no open set). Something to be aware of if you just want a particular size. between the 2 units you get, you need to chose which variety of recesses you want.
Another slight change, when compared to HobbyZone, is that each shelf on the Arttystation version has the holes in line with the next shelf. On HobbyZone they are offset at each level, but both versions you can fit the name number of paints per bottle size
The best feature of these over Hobbzone again is that these shelves are compression fit – no glue. If you do want to swap them out later, it's simple. Leaning much more into the modular nature of this system.
Another slight difference is in the drawers set when compared with HobbyZone. ArtyStation's only drawers module consists of 5 drawers. 2 deep and 3 shallow.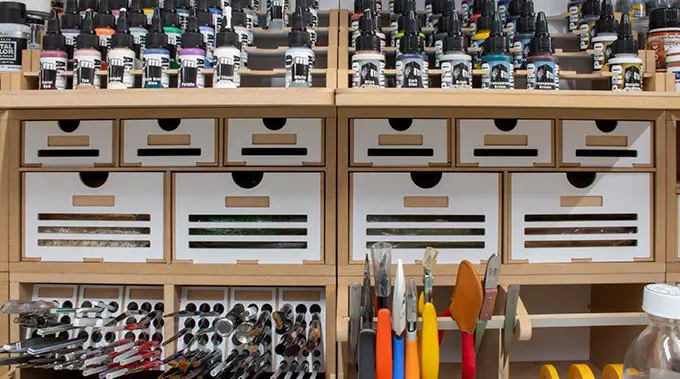 Again these drawers have thinner walls over their competitor, but the gap in the front is open with no covering. Decide what you are putting in here carefully lest it falls out. Or you can cover it with some clear acrylic.
One thing to consider with the opera set-up (and I used the same layout as they used in the promo shots) is accessibility.
In this configuration. the drawers the bottom left drawer on the right module is often restricted by the tools on the holder below.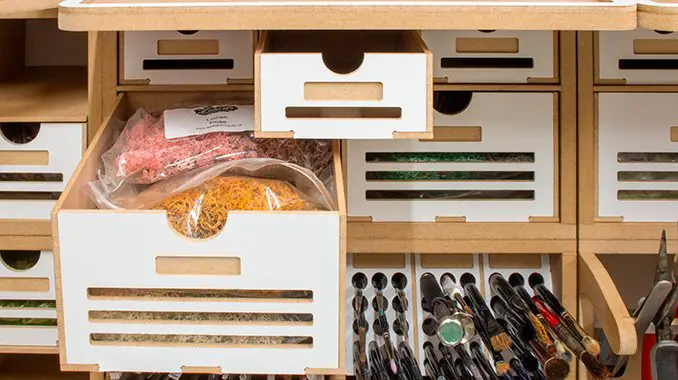 All of the upper drawers are blocked by the shelf on the Normal Paint Shelf module. These aren't so bad that I would say the set up is useless. It just means I need to pull the upper shelves out fully to access the contents or make sure I put things in the lower drawer that I use infrequently.
ArttyStation Brush and Paint Plates Holder OPERA-04
The Brush holder is a rather unique offering which ArttyStation have with a lot of function.
First up you have storage for 68 brushes or other round tools like drills, files, sanding sticks and hobby knives. My only gripe is that these holes are not quite wide enough to store my Winsor and Newton brushes in their protective sleeves, but Admittedly – I think that this is overkill on my part…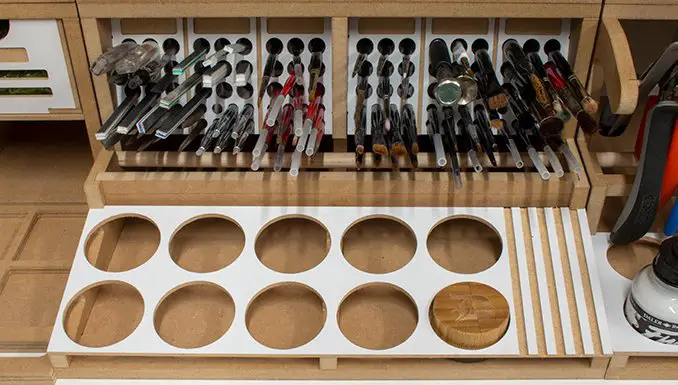 Whilst it is not pictured as I have no use for it the rod beneath the plates actually holds a roll of tin foil or baking parchment.
The holes on the front are something new to me, they are made to store paint plates – not heard of them? Well, they aren't too common amongst miniature painters unless you use oils. They are essentially mini mixing and thinning palettes. Check them out and see if they are useful to your painting process I still have mine on order. They are cheap but take a while to ship to the UK.
Update: they arrived, Don't buy the Mr Hobby Ones – they are too small.
I have a love-hate relationship with this module, not just that its name is long-winded but it is a really useful waste of space.
Like the unit above this also has a tray which encroaches an additional 15cm into your work area… But where in the above module, the unit itself stores the brush handles, in this instance the module is mostly just empty space.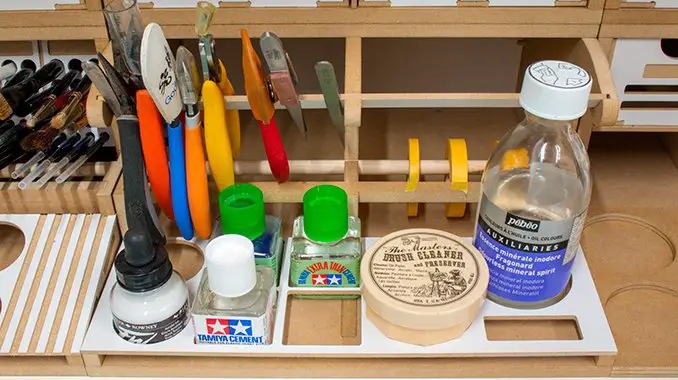 But that being said, this is one of the neatest ways I have seen to store these tools so tidily.
Whilst I haven't done it right, the bar below the clippers is actually to rest the handle on which keeps them out of the way of the glues below. There are 4 places for the Tamiya Glues (the best plastic model glues) and several other circular and rectangular recesses.
I have no idea what is meant to fit in these gaps, whether there's a particular product they fit – but I just wedge in whatever goes.
The final use is the tape dispenser which lets you put various hobby masking tapes along the rod and snap off as much as you need.
A minor addition to the Arttystation Opera full set is this small set of base pates with recesses for more glues and round tools.
All this really does is add a natural curve to one side of your setup to avoid having a gap between the corner modules and the modules above.
It's a nice addition to tidy-up the layout, but having tools in them just blocks you from opening the drawers. For me, the plate on the left actually blocks the central drawer from opening even without tools, as the required glue added extra thickness to the 3 layers of wood which make the tray. This now catches every time I try to open the corner module drawer.
And Finally, I've saved the best biggest til last, the Airbrush Station.
This is the second generation of modular Airbrush Spray Booth from Artty station – there are only a few upgrades from the original unit.
I need to note that what you see below is not everything that you get with the opera base set.
See the Acrylic cover, that's extra, the foam filter, extra – those switches – extra.
Without these parts and more (I'll get onto that in a sec) you essentially have a redundant large box and that's how mine sat for several weeks.
The design is quite clever but a bit clunky, the acrylic window is magnetised to the unit when closed (as shown) and the windows pull (sometimes fall) away easily. They are then wedged in upright down those small gaps you can see in the side of the base, and it's a tough job to wedge them in.
Swapping from open to closed is not simple. mine has remained open since I started using it.
The other thing to consider is that the extraction for this unit – also an extra cost, and a big one at that…!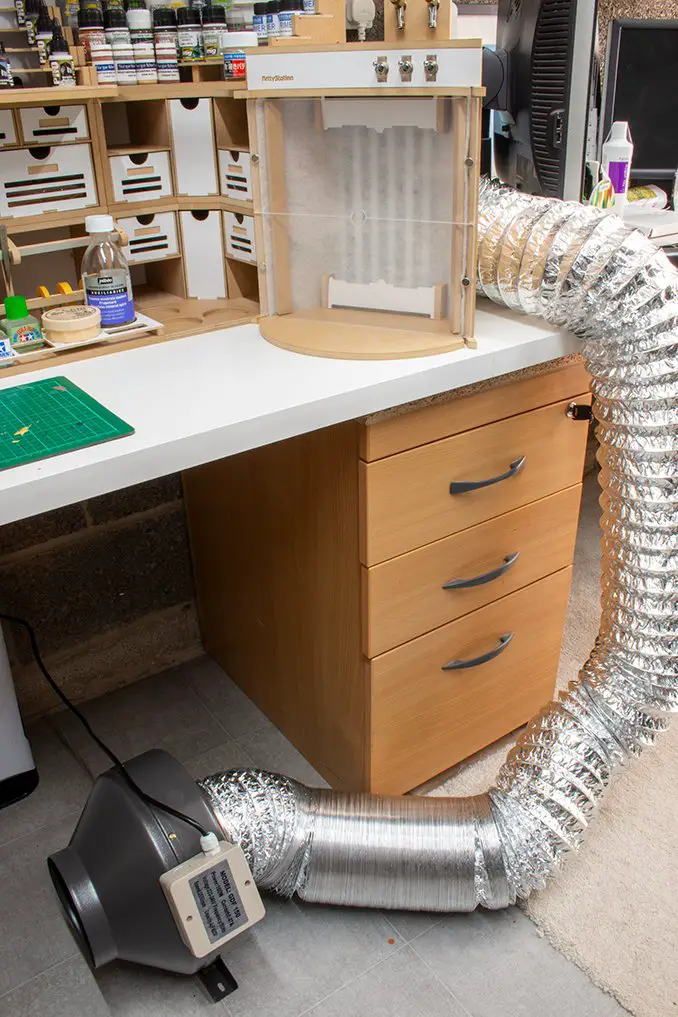 To use this set up you need a powerful air blower and ducting. The air blower alone costs about as much as those portable airbrush station's you see everyone using. But boy does this big fan make a difference.
Those portable units are powered by nothing more than a large PC case fan. This thing, woah, in comparison it pulls in the air like it's going out of fashion.
With this blower, I can pretty-much spray across the face of the booth and not worry that the paint will go anywhere but into the filter. It may just be a small booth but this works so much better.
As for the switches, you will need to know how to wire them up to get them working – I don't know electronics and (because they aren't in English) I can't even read them. So I just bought a smart switch for my blower which I can operate using Google Home to turn it on and off.
But at least these flip switches look better than bare holes.
ArttyStation Vs Hobbyzone
We have a habit in the western world of seeing eastern products as cheap knock off's – here's one massive exception – This unit is a huge improvement over its a competitor in many ways.
With Arttystation, the wood finish is better, the white parts are laminated on both sides, the instruction manuals are better, they offer free global shipping (when the world isn't suffering from a pandemic), you can build them quickly and they peg together rather than loosely magnetise them.
As for the connections – the holes for the magnets from HobbyZone Modules and the Dowels in ArttyStation do not line up. The units are not directly interchangeable. But you could easily line up parts and drill the required holes yourself.
Or you can do what I did and just wedge an Arttystation module in amongst some Hobbyzone units – this is sturdy enough.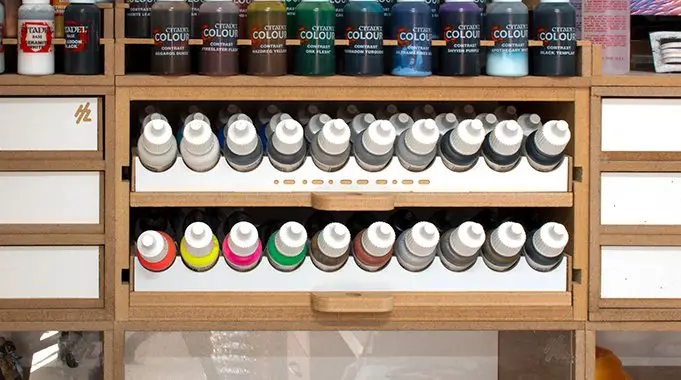 All in all I find that the ArttyStation product is objectively the superior product.
As for costs, they are in the same area for equivalent modules across both ranges. ArttyStation just has a few costs which are either hidden or lost in translation. Due to the extra drawers and airbrush components, you need to buy separately
Arttystation also offer 5% cashback on your purchase if you write a review for them in specific places. No that's not what this is – ArttyStation provided us with the units FOC for an independent review. I could tell you this set-up is rubbish if I wanted to and I'd still get to keep them. but hopefully, you know me well enough by now to know I am nothing but honest with you all.
I have one major gripe with this range – The website. I just want to say, this is already hugely improved over what they had only 3 months ago. Pages would take an age to load and were image heavy from user pictures without any form of compression – But hey, I can't talk, it took me 4 years to get this site optimised enough to achieve the loading speeds you see today.
I just find it a bit clunky. As I mentioned above there are modules like the corner drawers module which doesn't even give the option of buying drawers on that same page. It wasn't clear to me that the equipment needed to get the airbrush station operational were extras above the cost of the Opera full kit.
The pages themselves are still just too heavy with info. They are filled with, Look why we are better, along with reviews, user pictures and more. Sure, they are a young company, but pages are already starting to look a little desperate. When there is no need – the product is damn good.
If I buy something from any company – I'm not going to read the reviews posted on the manufacturer's web page – Those are obviously just going to be the most positive ones.
If I want a review, I want to get third party reviews, so I'll look elsewhere thanks. ArttyStation, you don't need this stuff as clutter on your page too – it's just chaff.
Maybe the eastern world prefers pages like this, but we are used to things being a little more succinct. Like HobbyZone's website
Will ArttyStation Opera Improve my Hobby?
I appreciate that this product is for a niche of a niche, many hobbyists struggle to get a dedicated workspace let alone the capital to put into a set-up like this.
But if you are in the market for something along these lines, this unit is more than worth your consideration.
Whilst I would not have chosen the Opera Full Set configuration myself and built something more bespoke – I now think I would have let myself down in that approach
In this small area, I have everything I could need in order to deliver a few projects at once and it's all within arms reach.
The Opera set is really aimed at general scale modelling and Gunpla builders. But for miniature wargamers who are opening up to the wider world outside of Citadel products, you'll quickly realise just how invaluable this kind of workstation is when you have one.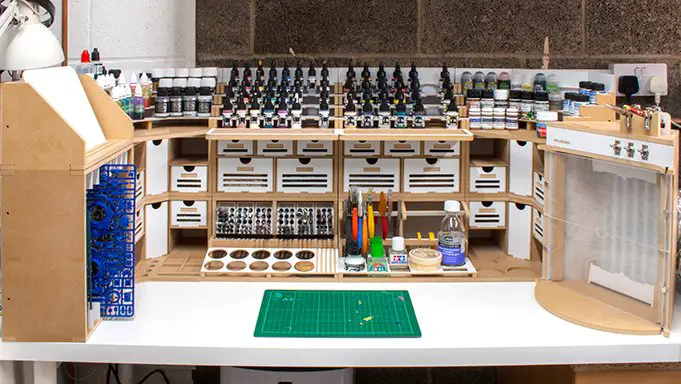 If you have all of your kit stored in boxes somewhere and need to keep pulling it out every time you need it, this set-up is a world apart from that.
Just removing the barrier to entry by having everything ready is enough to get you straight to painting with far less messing about.
ArttyStation Opera Review – Final Thoughts
This range has everything I would expect from a cheap knock-off. Heavily advertised on social media – similar to Wish or AliExpress ads. Web pages full of chaff look how good this. But to my own surprise – It is a better product than what many of us have already seen in this area.
It's interchangeable too so even if this doesn't have everything you want, just get the other modules you want from the competitor.
I was initially put off by the Opera Base Set configuration, but after time I have warmed to this as it has become much more functional than the Hobbyzone system I have. Though that is much larger, I configured myself – the customer is not always right.
Sure, there are a few gripes about marginally restricted access to drawers but for the most part, the function outweighs this, I quickly got used to just sliding drawers all the way out rather than peering in from above.
More than anything this unit encourages me to put things back in their proper place when I'm finished using them. See mum! I told you I learn to do it eventually….
Click this link & buy your hobby stuff from Element Games for the UK & Europe to support FauxHammer.com – Use Code "FAUX2768" at the checkout for double reward points.



Our Affiliates / Hobby Stores
What did you think of this Review? Please let us know in the comments.
If you like what we're doing here you could really help encourage more content with a share on any social media platform.
Click the share links at the bottom of this screen (or on the left for computers and tablets)
Want to keep updated with the site? You can subscribe in the sidebar for RSS or by email below
(Sidebar is below the article on Mobile Devices)
Summary
Reviewer
Review Date
Reviewed Item
Author Rating





Product Name