Best Brushes for Painting Miniatures & Wargames Models – 2023
Last Updated on April 10, 2023 by FauxHammer
In this article, we're looking at the 10 best brushes for painting miniatures & wargames models. This is the first in a multi-part series looking at the best tools for your miniatures and models hobby. After all, this blog is dedicated to tools and techniques to help you get the most from your hobby
Our Affiliates / Hobby Stores
Best Miniature Paint Brushes – The Quick Version
Ok, so let's do the quick version of the whole article. What I assume 99% of you are here for. Deciding what brushes are worth spending your hard-earned monies on. Well in this small section I can only give a summary of the miniature painting community's general recommendations quickly. If you want to read "why?" There's a whole article below. But here's the Best Brushes for Painting Miniatures – at a glance.
If you want the Absolute Best Brush Brand, It's Artis Opus – Hand's down! They are the only brand to make Artist's Grade Miniature Paint Brushes dedicated to Miniature Painters. All the other top brands are usually Watercolour brushes that just happen to work for Miniature Painters. Having specific use cases for each of their S, M and D ranges. (The Series S range is the starting point). You can also get a mixed range Starter Set available here. More and more god-tier artists are flocking to this Brand.
If you want the best quality on a budget, Then check out Rosemary & Co Series 33 brushes – really inexpensive, high-quality sable hair brushes and the size (density & length) of the hair is spot on for miniature painting.
If you are brand new to Miniature Painting and are still following various online guides & tutorials, then there's nothing much wrong with the Games Workshop ranges. both the black-handled natural hair range and the white handled STC range (the latter of which they are heavily pushing toward). If you want an even cheaper alternative to these, then check out The Army Painter's Wargamer Series (though the brush names will be different to what most tutorials put out). They are all far from the best in terms of getting the smoothest and cleanest results, and they wear down rather easily. But they do the job at a reasonable price.
And finally, if you want the best brushes for very very little money (not listed below) I find these Generic Triangular handled Brushes are fairly decent. It's what I buy for my kids to use. I call them "Generic" as they are given different brand names globally, In the UK, they are often under the moniker "Golden Maple" but if they look like these, they are the same thing.
Best Miniature Paint Brushes – Introduction
Quick update: Don't forget to check out our Top 10 Airbrushes for Miniature Painters & Wargames Models article too
To preface; the term "best" is so subjective. From best quality, last's the longest or makes you the best painter to best value and/or presentation. Everyone has their own interpretation. Please read the summaries below to help understand if they will be the best for you. This is our pick of the Top-10 based on usage.
For those of you who just want the TLDR: the most "popular" choice of miniatures paint brushes, (by a very 'clear' margin) is the Winsor & Newton – Series 7 Kolinsky Sable Brush set. Not to be easily confused with the Winsor & Newton – Series 7 Kolinsky Sable 'Miniature' Painting Brush set – more on this later).
However – these are, by far, the most expensive brushes on the list.
Are the Winsor and Newton Brushes the best miniature paint brushes for you? Well, If you want to know, have a look at the summaries below.
Most of the preferred options are sable hair brushes, sorry synthetic brush lovers. The general view here is that they last the longest due to their ability to be thoroughly washed and conditioned with brush soaps and conditioners.
Synthetic brushes are generally more resistant to washing & conditioning. Imagine washing a doll's hair with a normal hair conditioner? It's not going to make much of an impact. Synthetic brushes do have their uses, however, especially when using Oil & Enamel paints as the cleaning and thinning products (most of which are alcohol-based) will destroy the hairs on a typical sable brush. And whilst the sips of these brushes often curl. they can usually be straightened out and retrained to a point using some hot water.
If you are using Sable hair brushes, make sure you're cleaning and conditioning them thoroughly after every painting session. To do this you want to be sure to pick up a tub of The Masters Brush Cleaner and Preserver.
If you want to see how these brushes are made, check out the 2-minute video here.
To see all of our guides to the Best Tools for Miniatures, click on the image above.
Best Brushes for Miniatures & 3D Prints – Summary
If you are just interested in the Top-10 list without all the fluff see below, But we recommend reading the summaries of all the brushes or at least the ones you are interested in to see if they would be the best miniature brushes for you.
The 10 Best Brushes for Painting Miniatures & Wargames Models
Several people have asked what "Must Have" brush sizes are. Like the brushes themselves, this really depends on you but you also need to be aware that brush sizes are not at all consistent across brands.
I've kind of turned to Artis Opus's base set to answer this question. In their set, you get #000, #00, #0 & #1 and that seems like a fair starter range. However, I use their #3 brush primarily. Like with the Raphael 8404, the point is so fine you can use these brushes for pretty much any job.
To be honest, you could just get a #000 & #1 rather than either of the #00 & #0 depending on what you paint. Another good option would be a #10/0 for things like eyes, but a good pointed brush of any size can do this.
If you're painting larger curved surfaces start with a #2, #3 or #4. If you're painting vehicles with very large flat surfaces, you will want a flat head brush (Which is a style I haven't gone into below, other than them existing in the likes of Games Workshop & The Army Painter ranges.).
Like many of the options on this list, Da Vinci's Maestro Series 10 are watercolour brushes made from Kolinsky red sable hair. Preferred as the best brush by many miniature painters. They are some of the more affordable high-end brushes they come in just under the average price of brushes on this list. A huge range of sizes is available, from a crazy small 10/0 (aka 0000000000) to an insanely large size 50! The latter of which you have no need for, and don't want to see the price of.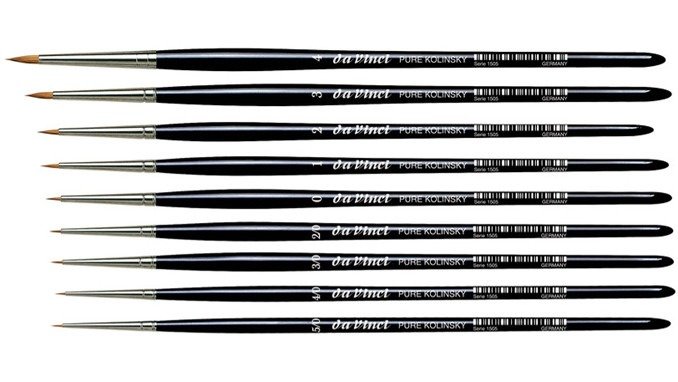 Users of the Da Vinci Maestro Series 10 (made in Germany) advise that they are great brushes with solid lastability. For people who have used these and other brushes, the only complaint is that the bristles are quite thin and short so they don't hold as much paint as some painters would like – but even this is not enough to put most people off. This choice would be a great entry point for some high-end brushes. Whilst they are number 10 in our list they are still considered among the best-in-class.
Check out our Reviews of the Series 10 along with the Micro Maestro Series (Series 100 and Series 170).
Buy now using the links below
These brushes are designed specifically for painting miniatures. Made by UK company Broken Toad. Available from one of the many global stockists. Advertised to have a large belly and fine tips they are exactly what a miniature painter wants. Another Kolinsky Sable brush; they have the Miniature series for your general painting needs, Flat Head Series for large flat areas such as those on vehicles. Finally, the Spearhead which is a combination of the two for blending and glazing. A good set of brushes, at a fair price. (They come in 15% cheaper than the average price of brushes on this list)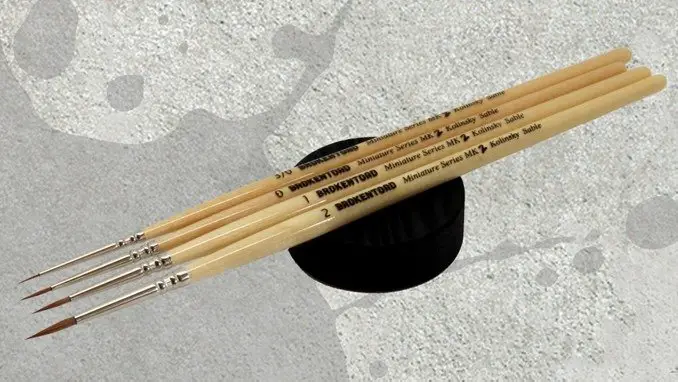 I've seen suggestions that Broken Toad no longer makes these brushes and my first draft of this article advised they were unavailable. This is because the store listed every brush as 'out-of-stock'. When I checked again for some more info on the brushes I realised they were back in stock… Perhaps it was just a product refresh or they are in fact coming to the end of their life? I'm unsure, but I can't see any suggestion from Broken Toad themselves that this is the end of the line for these brushes.
Update 04/01/19: Here is the announcement from BrokenToad are discontinuing their brushes. If you pick these ones up, you are unlikely to get replacements when you need them.
Thanks to Ian from The Geekary Painting Service for sharing this post from BrokenToad with me.
Buy the last of them from BrokenToad webstore UK
Update 24/09/19: As of today, BrokenToad is back with their Mk3 Brushes. (for which the initial pre-order sold out in less than a day! – but I managed to bag a set) I fully expect these to be higher on this list once I spend some more time with them.
Update 24/05/2022 – I'm not sure what is happening now, but a few months back, there were rumours of some internal fall-out happening with the leaders of Broken Toad, and rumours of closure. AS I check the site today. brokentodat.co.uk is completely down. so we may have seen the last of these great brushes.
Buy now using the links below
An odd set that I struggled to get much background info for. From what I understand (please correct me in the comments if I'm wrong) these were invented by SlowFuse Gaming (SFG) and are the only brush on our list which is actually made of a 'synthetic' Kolinsky Sable. Looking on SFG's website, they cannot be found anymore.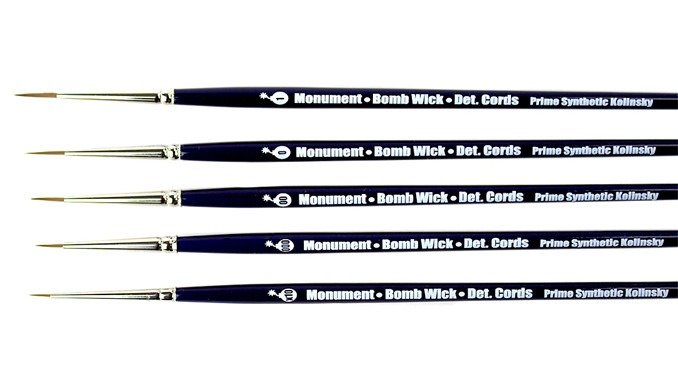 Instead, head over to Creature Caster where you can pick up all of the Bomb Wick brushes for a reasonable price (23% cheaper than the average prices of brushes in this list). What the relationship from SFG to Creature Caster is, I'm unsure. They are available in sizes 10/0 (aka 1×10) to Size 1.
Update 05/01/19: Jason from SFG got in touch via Facebook to explain the situation to me. Slow Fuse Gaming grew and rebranded to Monument Gaming (who now also sell their own range of paints). After this, they Merged with Creature Caster to develop and sell the products created by both teams. Good news, you can still get your Bomb Wick brushes and there's no sign of them disappearing any time soon.
Update 16/01/19: Jason from SlowFuseGaming / Monument Gaming / Creature Caster got back to me offering to provide a set of Det. Cords along with some other brushes which will showcase the whole range. We look forward to receiving these and will have a full review and range impressions up for you soon.
Update 24/05/22: Creature Caster & Monument Hobbies have long separated and Monument is now very much its own Brand. Make sure to check out Monument's Incredible Paint Range – Pro-Acryl, which is still my go-to paint for any base coats.
Buy Bomb Wicks from MonumentHobbiesBrushes USA,
Looking almost identical to the other Winsor & Newton – Series 7 option above (sans the word 'Miniature') the Winsor & Newton Series 7 is the most popular choice by a clear margin. When I say clear I mean this option took up 48.8% of all votes counted. If you include the perhaps mistakenly purchased "Winsor & Newton – Series 7 Miniature Brush set" it would have been 55.4%.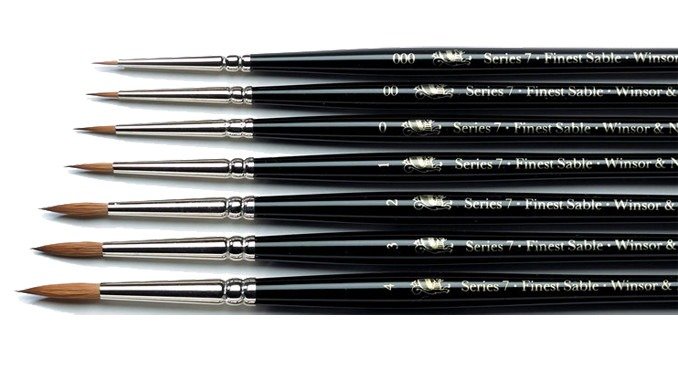 It's hard to determine whether Winsor & Newton make the best brushes for painting miniatures of if they are just on a very lucky roll. We do know they are the most expensive brushes (excluding Games Workshop's Artificer series). Both this set and the miniature set above cost 55% more than the average cost of brushes on this list!
But the attitude towards these brushes is a better example of how buyer expectation works. With greater popularity also comes more opportunity for criticism. Users have complained of issues such as the guide hair (the longest hair in the middle) sticking out too far and paint drying on the tip before you can apply it to a model. People have also said the quality level has dropped of late as they simply do not last as long as they once did.
I've had no issues with mine, but I'm an infrequent user and I keep them washed and clean with masters brush soap. They are an excellent choice of brush, but you are paying nearly half again on top of the Raphael 8404 Series and they are almost/over triple the cost of Rosemary & Co's Series 22/33 respectively.
Buy now using the links below
Honourable Mentions
When I put the call out asking what the best brushes for painting miniatures were, I had 32 significantly different options (and some daft yet creative suggestions, like the scalps of fallen enemies). The list below makes up the bottom 5% in popularity of all the options mentioned. This does not mean they aren't worth looking at. Instead, it goes to show that best brushes you can get are really just the best brushes that work for you.
As one voter commented; which I think is the best way to put it – "Wise man said: brush doesn't paint by itself… ". – Facebook Group – Miniature Painting Tips And Tricks. Showcase And Share Your Secrets.
Below are some perfectly adequate options for your Brush selection
Bomb Wick Monument Igniter
RedGrass Games
Games & Gears – Legends Series
Watercolours Round Sable
Andrea Miniatures – Kolinsky Sable
Boldmere
Daler & Rowney Pro Arte
Games & Gears – Pro Studio
Green Stuff World
Nevskaya Palitra
Niki 4
Raphael – 8402 Series
Rosemary & Co – 301 & 344
Scharff – 3000 Series
WAMP Store
Buy now using the links below
First up, you can get 5% off your whole Artis Opus order via the official store with code "FauxHammer" applied at the checkout.
Latin for 'Work of Art' the Artis Opus set are arguably the sexiest brushes on our list. This set from the designers in Manchester, England is rapidly gaining popularity as more people are getting invested in them. Successfully Kickstarted in April 2018 where they met their target of £10,000 ($12,610.50 USD) in only 52 minutes since launch.
They reached £187,953 ($237,018.13 USD) by the end of the campaign. Woah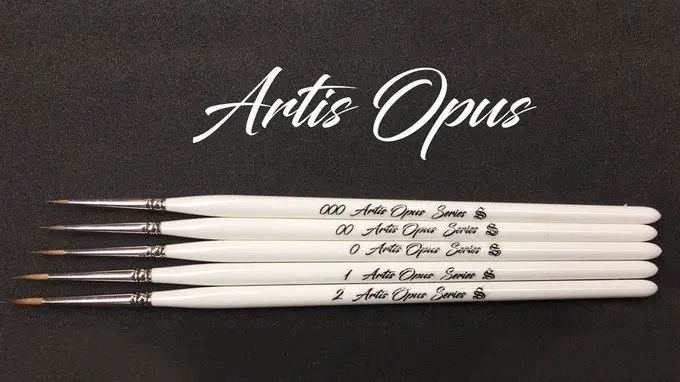 Feedback on these brushes has been incredibly positive and this is especially good when considering the Artis Opus Series S is 40% more expensive than the average cost of brushes on this list.
When buying this brush set, they come in a very attractive storage case which has a variety of wood finishes and a choice of engraved artworks.
The set main Series S set comes with 4 Brushes from Size 000 to Size 1. You can get a 5-brush case to store one of their additionally offered Size 2-6 brushes. It also comes with a little pot of brush soap. Unfortunately, there is no 9 x brush case to store the whole set.
If you have the money, this is an impressive set to obtain.
Fully endorsed by several signature (god-tier) miniature artists, I personally use these brushes exclusively now and have done since 2019.
They are also the only brand on this list where the brushes are made to a specific specification for miniature painters. (Dense with medium Hair length and a fine point). They are also the only brand that actually recognises that artists need different tool types for various jobs. The Series S (shown above) is your everyday workhorse (start here) and there are 2 more ranges to consider.
After the Successful Campaign and release of Series S – Artis Opus followed up with the Series M (like the Winsor and Newton Miniature brushes above) made for fine detail work and more delicate/deliberate painters. Then the Series D – which are the absolute Best Drybrushes you can get (see our Series D review here).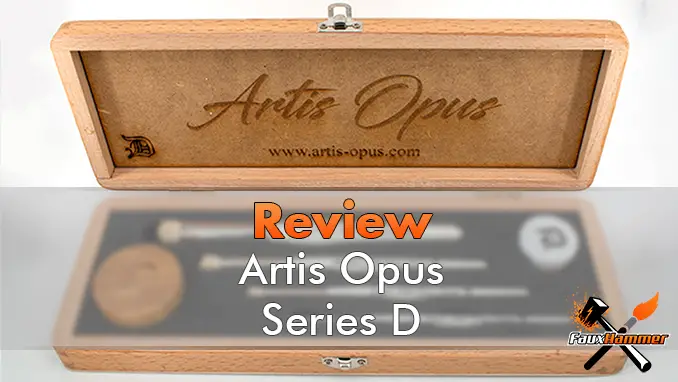 See our Artis Opus Series D Review Here
Buy now using the links below
If you're Not sure where to start with these 3 different types of brushes? Great, you're not alone. One of the questions we get emailed a lot is, "which specific brush sizes do you recommend?"
Well, we collaborated with Artis Opus to answer this question and created a mixed series set of brushes for you to get started with.
This set features 2 Series S brushes, the #3 for 99% of your brushwork, this does everything from base colours to eyes. We include the #1 for when you need just a little more control over paint flow. the Series M #0 for absolute precision such as freehand painting or dotting your miniatures eyes.
And finally 2 series D brushes. The XL for basecoats and vehicles. and the Medium for shading and edge-highlighting infantry models.
The set also comes with a pot of brush soap and the Drybrush Dampening Pad
You can also buy the set in a bundle with a FauxHammer Branded texture Palette.
And remember to use code "FauxHammer" on the Artis Opus website for 5% off all orders
The Best Brushes for Painting Miniatures, 3D Prints & Scale Models – Final Thoughts
In Summary, The Winsor 7 Newton Series 7 (Normal, not Miniature) have been the most popular brushes for some time, thanks to them being used by Games Workshop's 'Eavy Metal team. however, the Raphael 8404 series is commonly lauded as the better quality set. At only two-thirds the price of W&N's offering, picking these up is a consideration that should not be ignored, it certainly can be considered as a bargain in comparison.
If you're after the absolute premium set, Artis Opus is the "the" brand right now, providing some absolutely solid brushes for miniature painters which are triple-quality-checked before despatch! and they come in an absolutely gorgeous box that screams "I take Miniature painting very seriously".
Rosemary & Co, Da Vinci Maestro and Artis Opus are equally good options if you are looking for the best quality and reliability. and Rosemary & Co brushes are especially popular among the more Budget Concious Painter. Best value for money here, with no doubt.
Finally, if you are buying Games Workshop or Army painter brushes, you are getting brushes which are worth the price you pay. Neither will make you the best painter you can be, but equally, neither are restrictive in getting you to that "excellent" quality level.
So which one is the 'best' brush?
Whilst there is no simple answer, the thing to take away here is that the best brush is the one that works for you. One that fits your style and budget appropriately, just don't break the bank on a brush expecting it to make you a wizard. Start out with some cheap options like Games Workshop and/or Army Painter and work your way up when you have learned proper care and protection.
Find out what you do and don't like about the performance of your current brushes and if you're not happy, jump to a different brand when one starts to get stray hairs and needs to be replaced. With good care, all of your old brushes will remain loyal work-horses, as stipplers and smooshers at the very least. When they've totally had it, you can always use them as paint mixers. I still have my Games Workshop Citadel Starter brush that I got with my first paint kit over 23 years ago and yes, I still use it.
Remember: a good brush won't magically make you a good painter, but a bad brush could make your paintings worse than they could be.
Our Affiliates / Hobby Stores
What did you think of this article? please let me know in the comments. Would you like me to do some more top 10's? If so, what? Let me know in the comments
See our Existing TOP 10 Articles by following this link.
If you like what I'm doing here you could really help encourage more content with a share on any social media platform.
Want to keep updated with the blog? You can subscribe in the sidebar by email or RSS
(Sidebar is below the article on Mobile Devices)