BrokenToad Miniature Series Mk III Brushes Review for Miniature Painters
The BrokenToad Miniature Series Mk III brushes are everything a painter needs: lightweight, easy to control and manoeuvre, and boast razor-sharp tips that won't let you down.
Click this link & buy your hobby stuff from Element Games for the UK & Europe to support FauxHammer.com – Use Code "FAUX2768" at the checkout for double reward points.




Our Affiliates / Hobby Stores
BrokenToad Miniature Series Mk III Brushes Review – Summary
Truly awesome, the BrokenToad Miniature Series Mk III brushes are up there with the best of the best. These are some damn good brushes, and although they are a little on the expensive side, they're worth every penny.
BrokenToad Miniature Series Mk III Brushes Review – Introduction
One of the best things about writing for FauxHammer is being surprised by something.
FauxHammer and I have an agreement with my writing: I let him know when I'm finished with a bunch of reviews, and he sends me a bunch more stuff without telling me what to expect.
In the last box of goodies I've received from Casa Del FauxHammer, there have been a couple of stand-out things: the Squidmar Mk I brushes chief amongst which, closely followed by the Rathcore V3 Miniature Grip and the Garfy's Get a Grips Miniature Long Pro handle coming in close behind.
But some of these things you just know are going to be good. You look at the design, the build quality, the price, and the pedigree of the individuals behind the product, and it's almost fate that the products will be good. It becomes obvious after a while which products are going to stand out from the rest.
There are, of course, also a lot of things that elicit rolls of the eye and clicks of the tongue. Things that get cast aside mid-testing because you can't bear to continue to jeopardise your figures by their continued use. Again, after several months of looking at hobby equipment, you begin to spot tell-tale signs that certain products might not be quite up to standard before you start using them.
So it's nice to be truly surprised by something.
I knew absolutely nothing about BrokenToad when I found these brushes sitting at the very bottom of my box from the Big Boss FauxHammer. It was only after I'd started testing them and writing this review that I decided to do a little background research into the company.
Based in Middlesborough, UK, BrokenToad pride themselves on creating high-quality miniature hobby products, such as brushes, brush soap, and resin casts. Whilst they are still a relatively young company, they have gained a modest but loyal following in the international hobby community thanks to their ability to deliver on their quality-first ethos.
BrokenToad Miniature Series Mk III Brushes Review – Design
It's nice to get some brushes that aren't just black.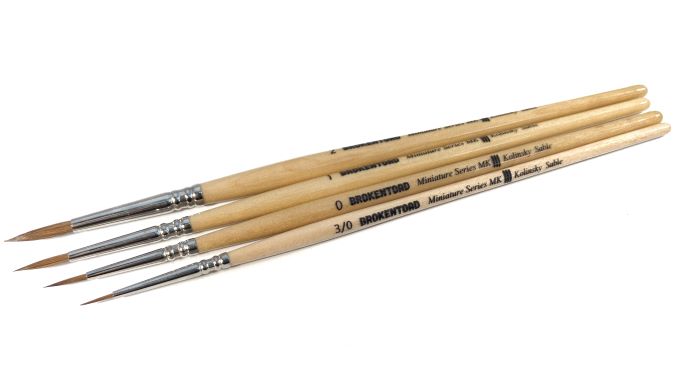 I just get sick of every paintbrush that shuffles its way across my pile of things to be reviewed being black. Like, why? Designers: make your brushes stand out; have some fun with their look!
The BrokenToad Miniature Series Mk III box contains four handmade Kolinsky Sable paint brushes in the sizes 2,1,0 & 3/0. They have a wonderful glossy wood finish. Simple, chic, and classy. Very nice.
What's also very nice is the swanky box they come in.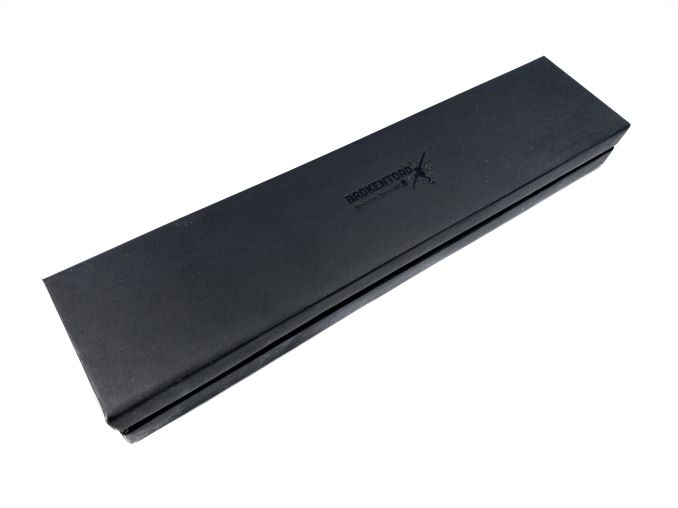 Just to add an extra splash of finesse to your hobby area.
The brushes themselves are individually handmade from Siberian male Kolinsky sable hair, which BrokenToad promise delivers "superior snap and paint retention". The brushes are carefully fitted onto a wooden handle specifically shaped to ensure painters have excellent control over their brush.
The brush head is designed to feature an "ample" belly, which BrokenToad say is capable of holding a "generous" amount of paint, but where these brushes really stand out is how they taper to a very fine point.
And what a point it is.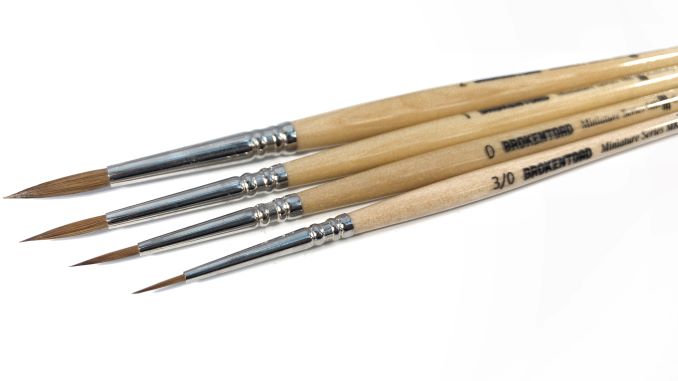 Razor-sharp and determined to stay that way, these brushes are designed to optimise paint flow to the precise area of your model.
Already, these are something quite special.
BrokenToad Miniature Series Mk III Brushes Review – Testing
To put these brushes through their paces, I dug a Space Marine Captain in Terminator Armour out of my pile of shame (which has recently been upgraded to a shelf of shame in a display cabinet).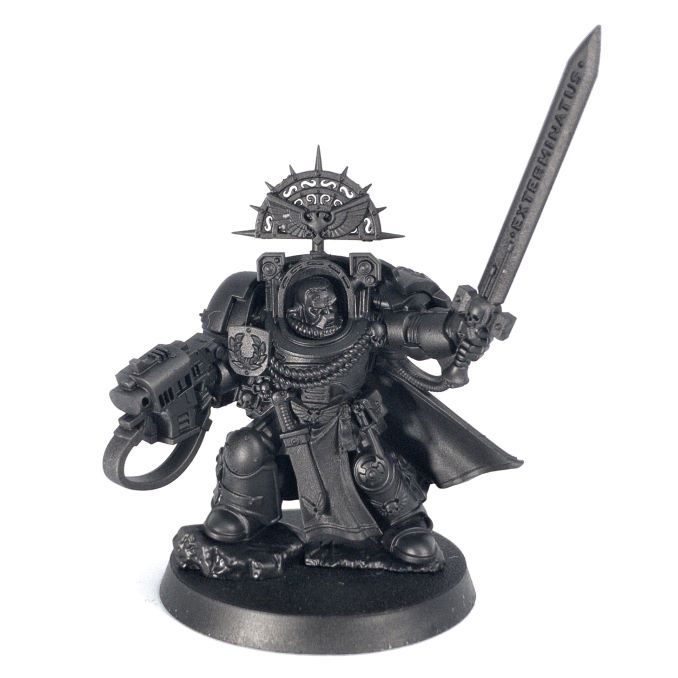 There's a good amount of variation in texture and detail on the figure, particular on some of the additional Dark Angels-y bits I added from the old upgrades pack. There are also plenty of fiddly bits on the armour and accessories which we can use to see just how good these brushes are and how well they hold their points.
The #2
I used the two larger brushes in the set, the #2 and the #1, to get the majority of the basing done on the figure.
I began with the #2, which I used to put down an all-over coat of Caliban Green on the power armour and a few layers of Zandri Dust on the cloth areas. I then swapped to my Artis Opus Series D to do some drybrushed highlights on the power armour in Waaagh! Flesh and Warpstone Glow.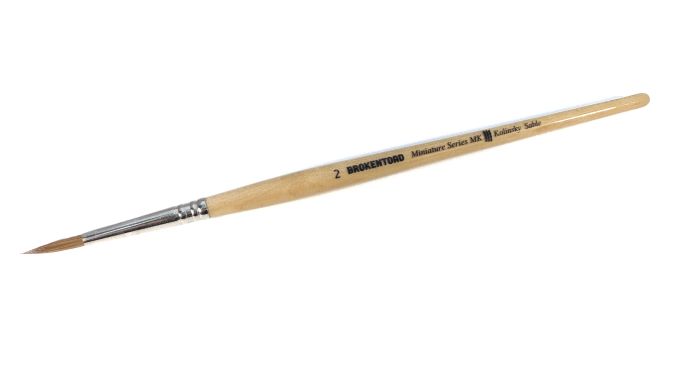 Yes, I know. Dark Angels in Terminator Armour are usually Deathwing division, which means there armour should be bone-coloured. However, this chap is the only fellow I have in Terminator Armour at the moment and all his soon-to-be buddies are in green. For the sake of synergy, he's going to be green.
Also, I couldn't be bothered to paint a billion layers of Ushabti Bone.
Anyway, back to the brush.
The #2 is fantastic. I was blown away by how well it handled and how accurate the brush head allowed me to be. Compared to the other brushes in the set, it's surprisingly large and has a fatter handle to boot. In spite of its size and my using it for some of the most heavy-handed painting on the figure, it held on to its point like a dog onto a bone.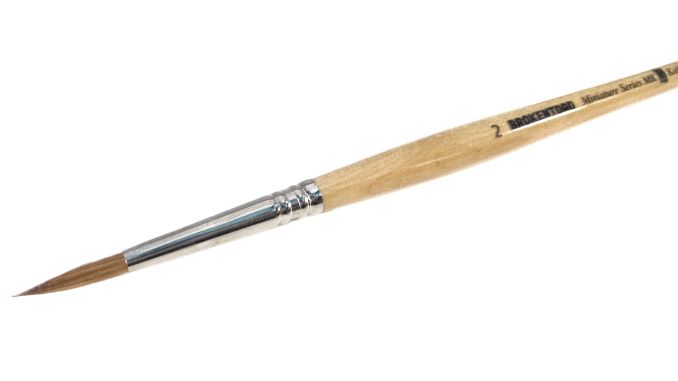 I cannot overstate how good this brush is. Its size was perfect for basecoating larger areas, such as the power armour and, in particular, the figure's cape. The way it retained its tip also meant I could get the brush into some of the harder-to-reach areas without having to worry about catching other surfaces.
A very strong start.
The #1
With the majority of my figure now either green or yellowy-brown, I set the #2 aside and moved on to the #1 for basecoating the detail.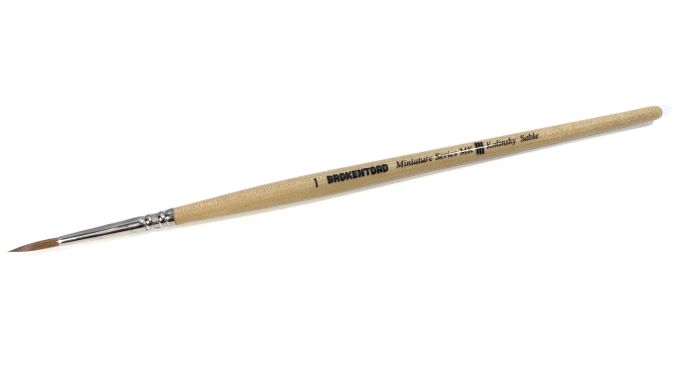 Much like its fatter predecessor, the #1 did everything I could have wanted it to but on a slightly smaller scale. Details such as the talismans, the bolter shells in the captain's gun magazine, and the decorations on his chest were no object or issue for the brush.
The #1 keeps that rigid point and awesome paint delivery in the BrokenToad family.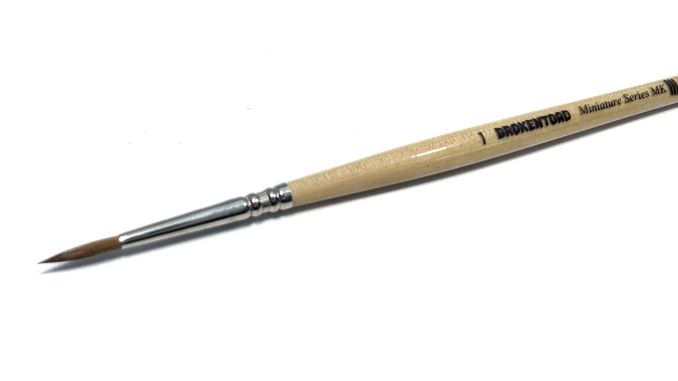 This is one of those rare brushes that could do absolutely everything. Whilst being large enough with a round enough belly to make short work of some of the larger areas on a miniature, it is simultaneously long and delicate enough to master some of the more miniscule of details.
I have only one criticism of this brush. I had a single fibre at the tip that was ever so slightly longer than the others that led to a hair-like few streaks of paint ending up in the wrong place. This kind of thing is common with handmade brushes, so I can be forgiving.
This thing really is a triumph. I didn't think I'd find a brush to unseat my beloved (and now rather tatty-looking) Squidmar M, but I think the BrokenToad #1 might just do it…
The #0 and the #30
With all the basing and preliminary shading on my captain done, it was time to bust out the smaller brushes in the set to get all those details finished off. Here's how he was looking after his rounds with the #2 and the #1.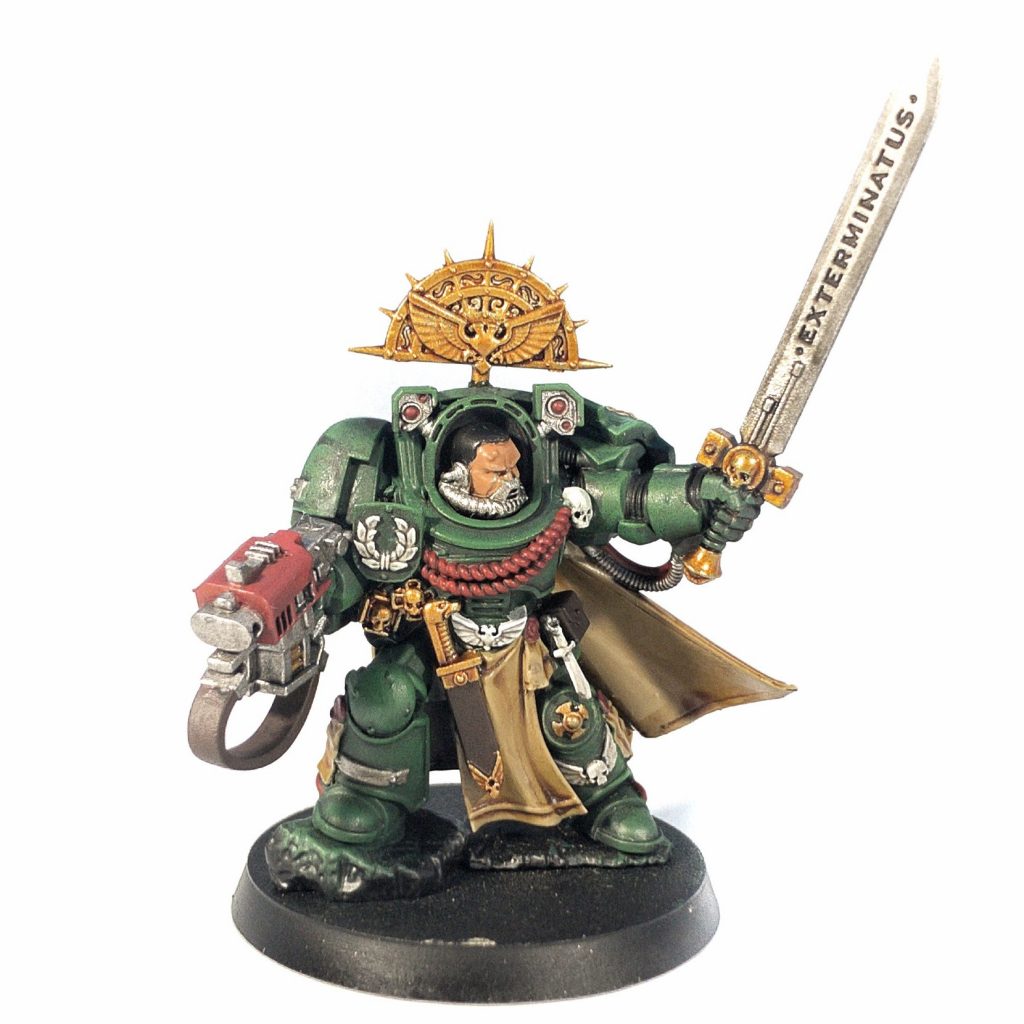 I started with the #0, the second smallest. This brush proved itself to be excellent for edge highlighting. The brush head strikes the ideal balance between length, girth, and rigidity (that's what she said) and retains the ideal amount of paint to ensure your highlights and details are easily accomplishable.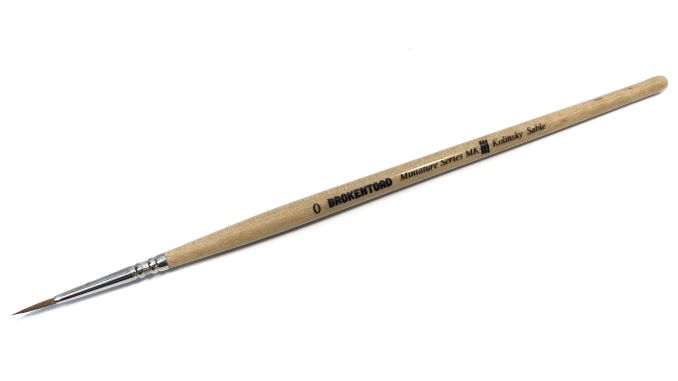 Much like the #1, I found myself blow away by just how excellent and versatile the #0 was. It's another of those rare brushes with which you can do anything: I used it to shade some of the smaller areas on my figures, used it to get some last-minute basecoat corrections on a few corners, and then used it for all the edge highlighting.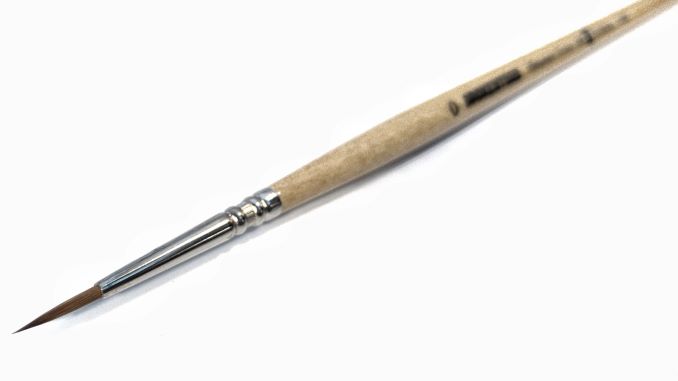 Once again, this brush really is quite special.
Finally, I moved on to the #30. By this point, expectations were sky-high, and yet the brush delivered.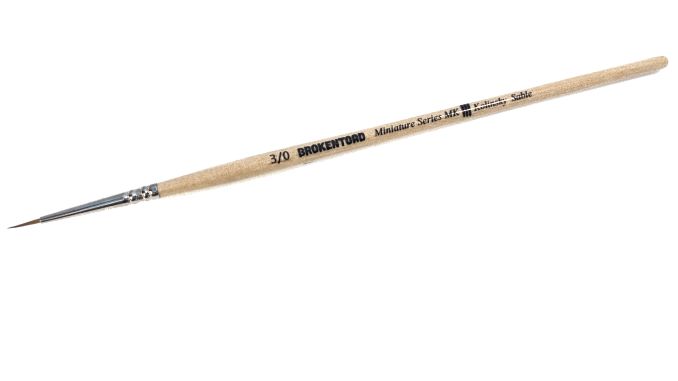 I had no trouble conquering the smallest of details – eyes, the textured grip on the power sword, the edge highlight on the figure's hair, even a little chequered detail on the right kneepad as a last-minute afterthought.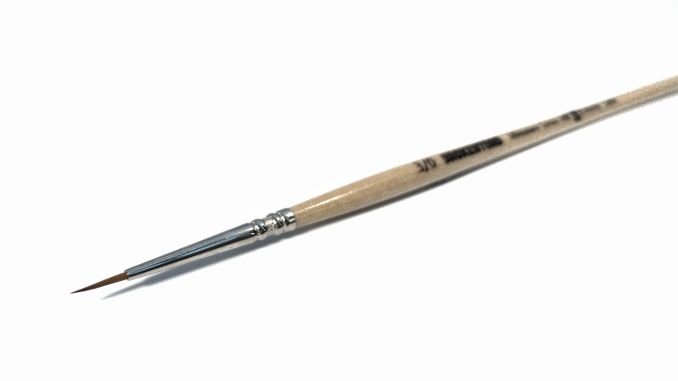 I often find that a lot of brushes smaller than a #0 are often a bit gimmicky – an exercise in just how teeny tiny someone can make a brush head. They often become ridiculous and impractical: barely a pinch of perilously short fuzzy hairs protruding at random from a ferrule with little care for a point.
But the BrokenToad #30 is anything but. It offers the same level of supreme control and uncompromising delivery as any other professional-grade brush. It's really excellent.
And with that, my Space Marine was done. Here's how he looks now.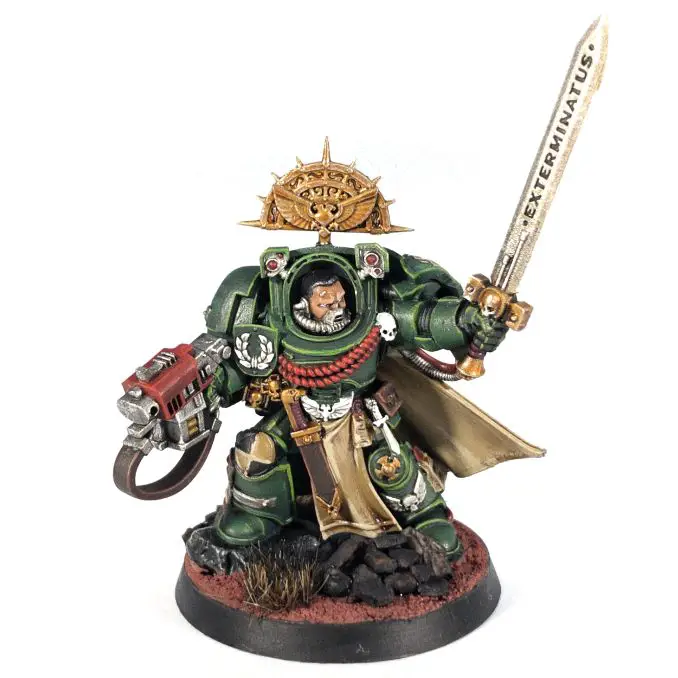 Not my best work, but not too shabby, if I may say so myself.
But the real hero of this review has been the brushes. From start to finish the BrokenToad Miniature Series Mk III brushes delivered – nay, excelled – in every field they were put through.
The BrokenToad Miniature Series Mk III really are quite simply awesome.
Will BrokenToad Miniature Series Mk III Brushes Improve my Hobby?
A great deal of the difference between high-end brushes is comes down to personal preference. When you're paying top dollar for brushes, the likelihood is that they're going to be very good no matter where they come from.
And let's make no mistake: we're dealing with some of the best here.
BrokenToad's brushes can match the elite. They're the new kid at school who can sit at the cool table, that saunters in to the lunch hall with cocksure gait and that self-assured smile. And they have every right to.
There are going to be very few brushes out there as good as or better than the BrokenToad Miniature Series Mk III brushes. Sure, they're pricey, but when you're shelling out some serious dosh for brushes, you want to know you're getting something good.
And you are.
In my humble opinion, these are some of the best brushes I've ever used. They are easily on par with the Squidmar Mk Is I reviewed, which to this day remain amongst my all-time favourites. The only brushes I've ever used that stand above these – and when I say this, it comes down to a hair's breadth difference – are the Artis Opus Series M.
So yes, these are good. These are really good.
BrokenToad Miniature Series Mk III Brushes Review – Price and Availability
BrokenToad's Miniature Series Mk III Brushes are available here from their online store. Priced at €45 for four brushes (£40/$55USD), these are definitely pushing for the high-end market.
If you're interested in what else BrokenToad offer, take a look at BrokenToad's entire range of products. You won't be disappointed.
BrokenToad Miniature Series Mk III Brushes Review – Final Thoughts
Pros
Cons
Look awesome
Designed to perfection
Tips as sharp as they come
Supreme control
Uncompromising paint delivery
Expensive
For us here at FauxHammer.com, we're told not to give five-star reviews of anything unless it's really good. As in Indomitus good. So things have to be good. As in as-close-to-perfect-as-is-obtainable-by-humans good.
As in really, really, really good.
Since starting writing here last year, I have given three five-star reviews.
My first was to the Warhammer 40,000 Command Edition Starter Set, a box so good it took my interest in Age of Sigmar, screwed it up, threw it in my face, and made me fill my home with Space Marines, Necrons and as-yet unpainted Adepta Sororitas.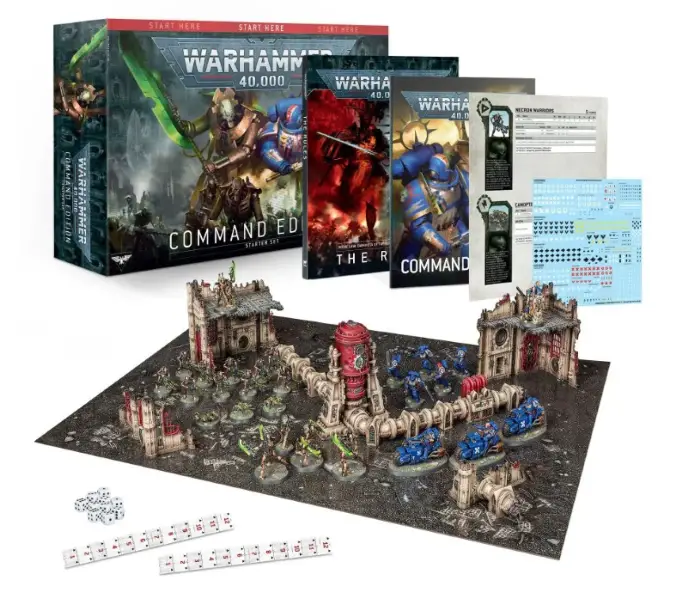 The second went to RedgrassGames' phenomenal Everlasting Wet Palette. This is a wet palette so good that it changed my hobby life completely. Following the introduction of the RGG palette into my hobby, my painting improved exponentially. I could see a visible improvement in every model I painted.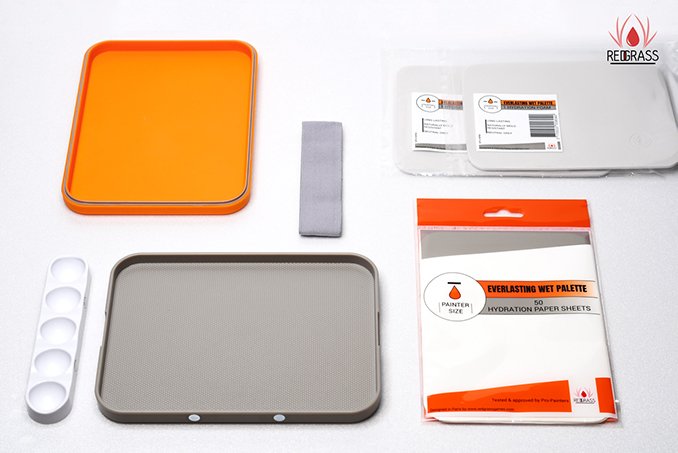 I've since been lucky enough to do some work with the RGG team, and I'm not convinced that they aren't imbuing some sort of French la magie into their palettes.
The third and final five-star review went to the Squidmar Miniature Painting Base Brush Set, a set of brushes I loved so much they made every other brush I had look cheap. The M, though not stated in my initial review, has since become my go-to brush for everything.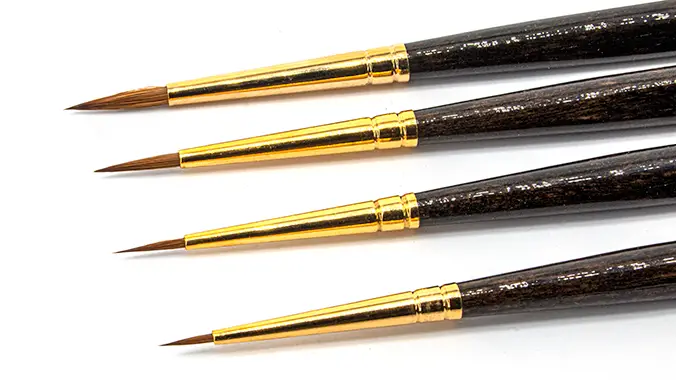 The entirety of my C'tan Shard of the Void Dragon was painted with my Squidmar M, which stands as testament to just what can be done with a really good brush.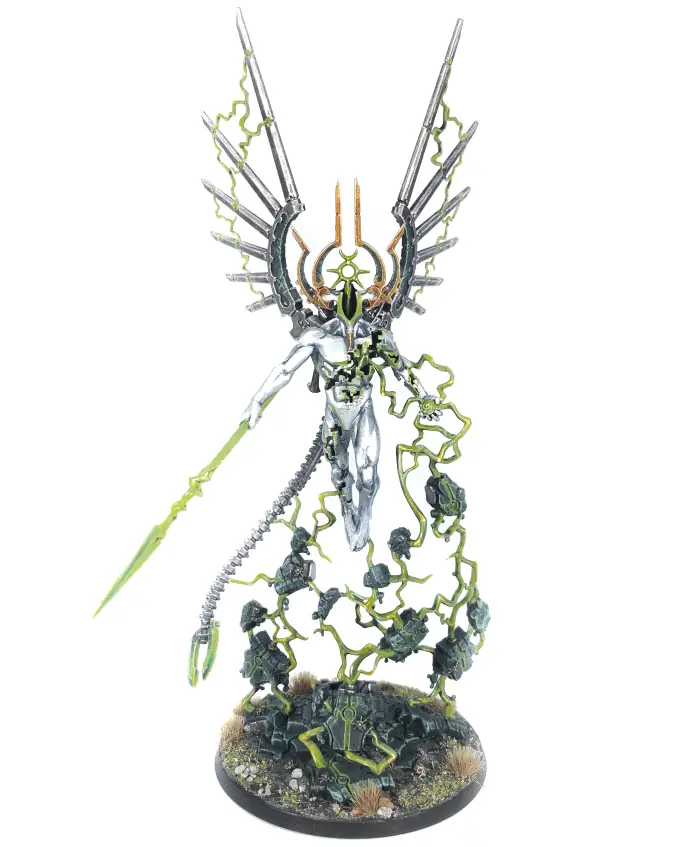 And yet today I've found myself faced with a set of brushes easily just as good as my beloved Squidmar Mk Is.
Which means there's only one score I can give the BrokenToad Miniature Series Mk III brushes.
Because they really are that good.
Click this link & buy your hobby stuff from Element Games for the UK & Europe to support FauxHammer.com – Use Code "FAUX2768" at the checkout for double reward points.




Our Affiliates / Hobby Stores
What did you think of this Review? Please let us know in the comments.
If you like what we're doing here you could really help encourage more content with a share on any social media platform.
Click the share links at the bottom of this screen (or on the left for computers and tablets)
Want to keep updated with the site? You can subscribe in the sidebar for RSS or by email below
(Sidebar is below the article on Mobile Devices)
Summary
Reviewer
Review Date
Reviewed Item
BrokenToad Miniature Series Mk III Brushes
Author Rating





Product Name
BrokenToad Miniature Series Mk III Brushes