Back in Stock – Warhammer 40,000 Indomitus
Last Updated on April 2, 2021 by FauxHammer
Update: 16/11/20: If you missed it the first time, this really is your last chance to grab Indomitus before it's gone forever. When this first came out, we did not understand the approach, GW said this was a limited release, leaving us wondering what will replace the standard, off the shelf starter sets. well, now we have the starter sets it's clear that Indomitus was/is a limited run and it's also something incredibly special and bursting with value.
After the initial orders sold out within an hour of going live. people have been clamouring for more copies with GW themselves releasing Made to Order copies for just shy of a month. allowing customers and retailers to order copies.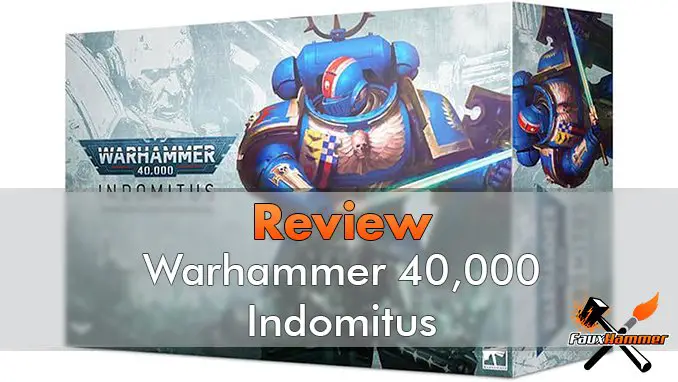 Well, those copies are now arriving, and if you missed the boat on that second time. Now is your last chance to grab Indomitus with it's (so far) exclusive models and limited edition rule-book before they are gone forever!
Check out our best places to buy Indomitus below for all the shops you should check before it's gone for good. or you can pay eBay scalper prices! (below is the original article published as released).
Our Affiliates / Hobby Stores
I'm not even going to go into any detail in this week's new releases post. Warhammer 40,000 Indomitus is available to preorder and you already know that. Demand will be high – purchases will be limited (to 3 per person). Below we have added our top picks for places to check so you can make sure you get your copy of Indomitus!
You're Excited – We're excited – You're getting models worth almost 3 times the cost of the box!
So to prime everyone for the pre-orders which will go up in your locale at 10:00 am. I asked everyone in our Facebook groups (Paint Hub and Indomitus) to give a shout out to their favourite store
There's a wealth of Places to check below so if you want the best deal or are struggling to find a copy then check the list for somewhere you may have missed. At the very least you could learn of a few more places to buy from in the future! There are loads I didn't know about.
Please be aware that most of these places are community recommendations. Whilst many stores are given their allocation and that is all which they will offer on sale – there are stores which will simply open the floodgates and let you order tons (even though they have no chance of getting them). Some stores (which I omitted from the list for breaking the pre-order date) have already sold out! I have put my prefered stores at the top of each list.
Also – the discounts below are based on what these stores have done historically – we may all find out very shortly that discounts are not allowed on this product! unlikely, but not impossible.
Warhammer 40,000 Indomitus Availability?
Update 14th July 2020 – So, as you may have noticed, yesterday Games Workshop announced that (cough) due to popular demand (cough) the product is now available to all via "Made to Order" (Sorry Scalpers!). Then off the back of this – listings have suddenly started popping back up, on many popular online stores (see the lists below).
I personally heard a statement from someone at Wayland Games, which I believe was accidental, that all but confirmed a Third-Wave of Indomitus retail stock. Coming at the end of the year. (With the First-Wave being release day and the Second-Wave being August 8th (estimate)).
This, along with the re-listings pretty much solidifies the fact you can order new copies now from some of your favourite retailers.
Update 12 July 2020 – The next day: Well that was mad! Insanity! I was sat with 5 windows open hammering F5 on to refresh each page every few seconds.
For the mast majority of the time, we were greeted by 504 or 301 errors. Games Workshop itself was all but down, being lucky enough to get to the checkout was luck of the draw. The Outpost was completely down for most of the morning (though their site is unstable and slow at the best of times). Element Games was so busy that they couldn't even access their own site to publish the product for several minutes! And poor Goblin Gaming oversold their stock by "a large amount" and are now dealing with the fallout of having to let people down who believed they had scored a copy.
I'm so sorry for everyone who missed out yesterday and grateful to those who found this post useful.
But there is possibly some hope – It is heavily rumoured that there will be a second wave in August – but I have no evidence to back this up, it's just hearsay at present.
Below I have left the rest of the article exactly how it was when published – here be the end of the update.
I have no idea – none of us does. Games Workshop has initially said they are limited but also that there are plenty of copies for everyone. They initially limited it to 6 per person – then 3. They even sent an email to registered FLGS earlier this week to say that they are already sold out (for Trade Sales).
Whether that's artificially creating demand of GW are genuinely got worried that this would sell out too quick and upset people. again, I've no idea.
Indomitus could be sold out in 1 hour or 1 year – Who knows? Either way, you're probably asking yourself "should I buy this now?", "Or should I wait?"
Well Sure, Buy, and you may skint. Wait and you' may keep your money — at least a while.
And dying in your beds many years from now, would you be willing to trade all the days from this day to that, for one chance, just one chance! To come back here and tell Games Workshop that they may take our Money, but they'll never take our freedom!!!
Sorry I got carried away there… (I'm 1/8th Scott on my dad's side you know)
So here we go, are you ready for 10:00 am, fingers on your mouse buttons – let's go!
UK – Best Places to Order Warhammer 40,000 Indomitus
Warhammer 40,000 Indomitus Recomended Retail Price £125
US Best Places to Order Warhammer 40,000 Indomitus
Warhammer 40,000 Indomitus Recomended Retail Price $199
Canada Best Places to Order Warhammer 40,000 Indomitus
Australia Best Places to Order Warhammer 40,000 Indomitus
France Best Places to Order Warhammer 40,000 Indomitus
Germany Best Places to Order Warhammer 40,000 Indomitus
Spain Best Places to Order Warhammer 40,000 Indomitus
Italy Best Places to Order Warhammer 40,000 Indomitus
Our Affiliates / Hobby Stores
What did you think of this Article? Please let us know in the comments.
If you like what we're doing here you could really help encourage more content with a share on any social media platform.
Click the share links at the bottom of this screen (or on the left for computers and tablets)
Want to keep updated with the blog? You can subscribe in the sidebar for RSS or by email below
(Sidebar is below the article on Mobile Devices)