AK Interactive Wet Palette Review
Last Updated on April 8, 2021 by FauxHammer
Whilst it retains water well and ensures your paints stay good and wet, AK Interactive's wet palette is impractically small and will prevent you from mastering a full spectrum of creamy cross-shade blends.
Click this link & buy your hobby stuff from Element Games for the UK & Europe to support FauxHammer.com – Use Code "FAUX2768" at the checkout for double reward points.



Our Affiliates / Hobby Stores
AK Interactive Wet Palette Review – Summary
AK Interactive's Wet Palette marks an important transition in your progress as a hobbyist: you've finally acknowledged that your homemade wet palette is just not up to snuff, but you're not sure if you're ready to invest in one of the high-end, top-of-the-range palettes available. Of course, this comes with drawbacks, chief amongst which is size.
Whilst it retains water well and ensures your paints stay good and wet, AK Interactive's wet palette is impractically small and will prevent you from mastering a full spectrum of creamy cross-shade blends.
The Best Wet palette for Miniature painters
If you'd rather not muck about with hunting for the right paper and then cutting it up in order to make a wet palette – check out the best Wet Palettes available by reading our Best Wet Palette for Miniature Painters article here.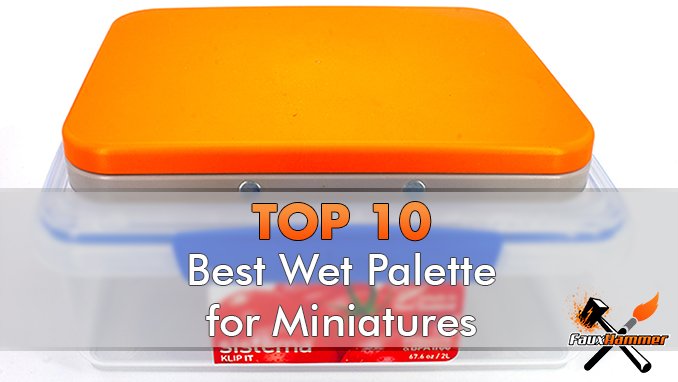 AK Interactive Wet Palette Review – Introduction
AK Interactive is a Spanish hobby company that is held in reasonably high regard by the international modelling community. Over the last few years, they have made a name for themselves in some of their publications and modeling books, particularly amongst die-hard military model makers.
Alongside their range of miniatures and dioramas, AK Interactive also pride themselves on their host of tools and other products designed, as they say, "by modelers for modelers".
So with something of a pedigree to their name, I was quite excited to see how their wet palette held up against their market competitors, but also against their own image.
AK Interactive Wet Palette Review – Design
AK Interactive's wet palette comes spread across a couple of packets and packages.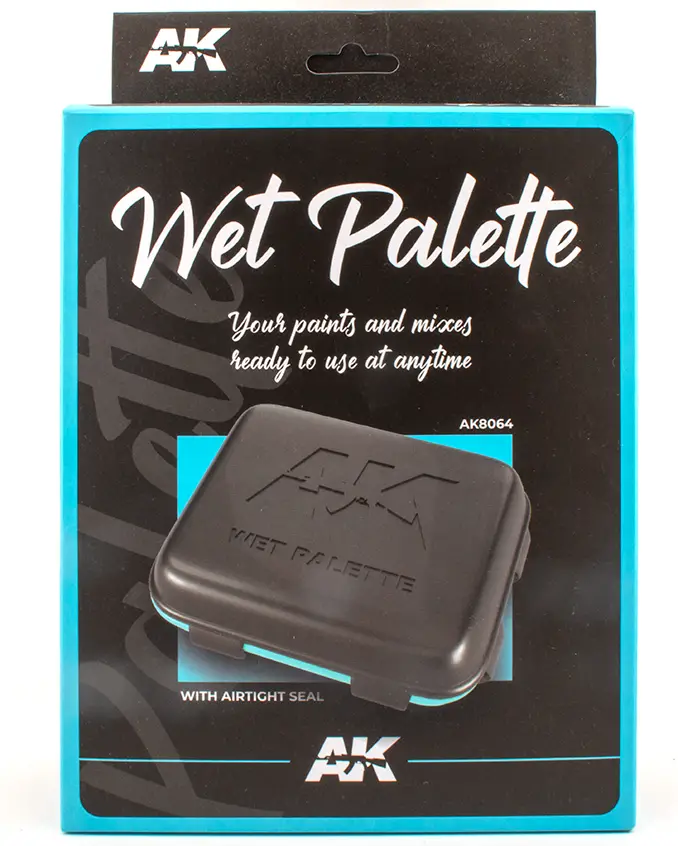 The palette itself also comes with a nice push-lock lid, like those you'd find on your Tupperware.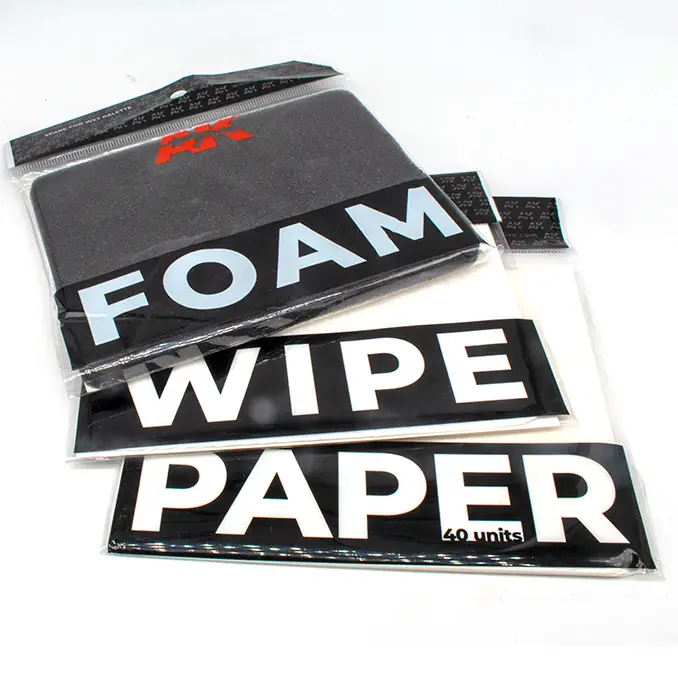 The clip-locking lid is a nice feature, as it ensures the product stays together should you need to move it, and whilst the clips themselves are reasonably flimsy, they still probably aren't going to open by themselves. Though given the hard and sharp-edged plastic used. I'm not filled with confidence that the's won't snap off given time.
You might have noticed from the images above that there's an additional component to AK's wet palette. Whilst most wet palettes (and those which you may make yourself) will consist of a foam/kitchen paper "sponge" and a layer of permeable paper (usually a baking sheet or the like), AK's palette comes with an additional piece of paper: the "Wipe" layer.
The palette is assembled with the plastic base at the bottom, then the foam layer, the "Wipe" layer and finally the paper layer.
The "Wipe" layer, as FauxHammer explains in his Top Ten Wet Palettes acts a little like a water filter, as it absorbs water but, unlike many other palettes which can overdilute your paint, the "Wipe" layer helps ensure the optimal amount of water which sits directly below the semi-permeable paper.
Whilst this isn't necessarily a bad thing as it helps the palette to function, it does feel a little wasteful to have an additional layer of disposable material necessary for the palette to function.
And this does create a further issue: the foam layer that sits directly below the "Wipe" sheet is so thick that it can take a awful lot of water being poured into the base in order for any fluid to actually permeate that middle layer, which has implications for just how easy this palette is to move.
But that aside, there is one major drawback to the palette:
It's really damn small.
Here it is compared to the very standard-sized RedgrassGames Everlasting Wet Palette and the Everlasting Wet Palette Studio XL.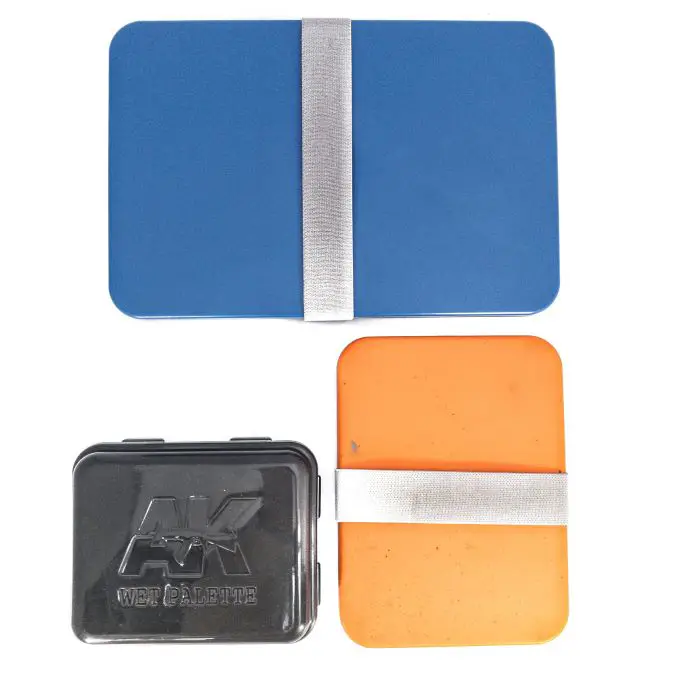 It's roughly half the size of the standard, near-A2 sized RGG palette, and you could easily fit four of these into one of the XLs.
As any miniature painter will tell you, one of the most important techniques opened up to you with a wet palette is the ability to wet blend. Being able to craft those careful differentiations in shade help bring your figures to life, as seen in my less-than-masterful examples below, quickly put together with the help of RedgrassGames' Everlasting Wet Palette.

Compared to some other wet palettes on the market, the space on the palette that can be utilized for painting is quite dramatically inferior. If you're a messy painter or want to ensure you get all your blends just right, this palette isn't going to give you what you need.
AK Interactive Wet Palette Review – Testing
AK's palette comes with excellent set-up instructions. The six steps to setting up your palette are printed on the back of the box the palette comes in. Whilst they're pretty abysmally written, there's not too much room for misinterpretation or confusion, which is always a good thing.
As mentioned above, there are a couple of extra components involved in setting up AK's palette, which are each spread out across more packets. Still, with clear instructions and labelling, you don't need a PhD to put this thing together.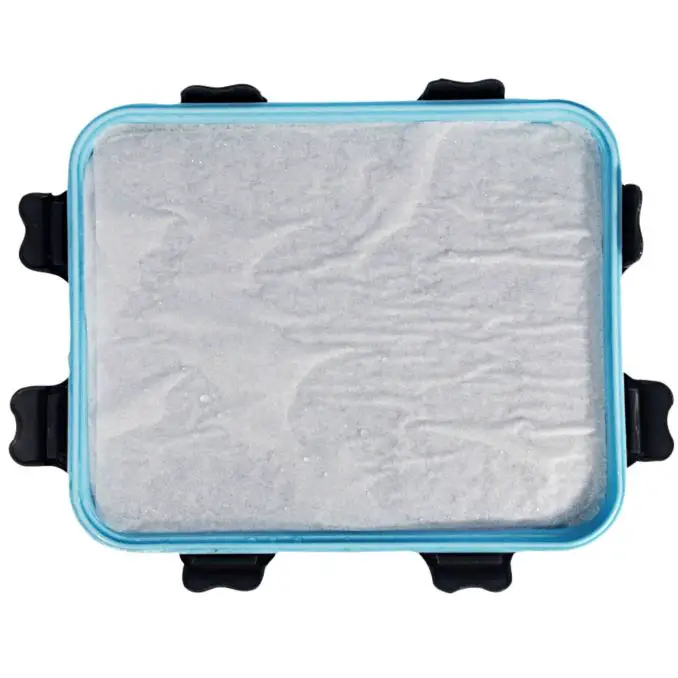 There are a lot of packets involved – whilst you get a good pinch of paper sheets to sit on top, you only get one wipe layer per packet – so if you're environmentally conscious, this probably won't tick many of your boxes.
Adding the wet bit to the wet palette is also very easy: the components are designed to only absorb and hold enough water, so you don't run too much risk of flooding the thing.
However, the palette is not watertight.
Keep this thing flat at all costs, or you'll quickly find puddles appearing in your hobby space. Because AK's palette has to be kept flat, it is not portable. Water leaks out around the edges of the plastic tray with very little persuasion, so don't try taking this to your LGS or a friend's house. You'll end up with a damp bag.
It's so not watertight that AK even include an "optional seal" inside the box – a string of rubber in, you guessed it, more packaging – and, to add insult to injury, you have to attach yourself.
I hate this.
The inclusion of the "optional" seal feels like AK's way of acknowledging the problem, but not really caring enough about the product to actually fix it properly. It's a shrug of the shoulders at the issue, not a decisive fix.
So, the most important question: how does it handle paints?
Separation is the key word here.
By and large, AK's wet palette deals reasonably well with acrylics. Initially after you've splashed your paints onto the palette – whilst you're using them and keeping them moving – most standard non-metallic colours will last a reasonable length of time.
Metallics, however, are another story. Within seconds of putting a little Retributor Armour on AK's palette, the paint began to separate. I had the same issue with any other metallics I tried.
Whilst this isn't a huge issue – you can revive your metallic paints with a little agitation with a brush – it's annoying to keep having to do this every time you return to the palette to refill your brush.
After a little painting with AK's palette, I sealed it up and left it overnight to see how it fared. Here's how things were looking at approximately 4PM: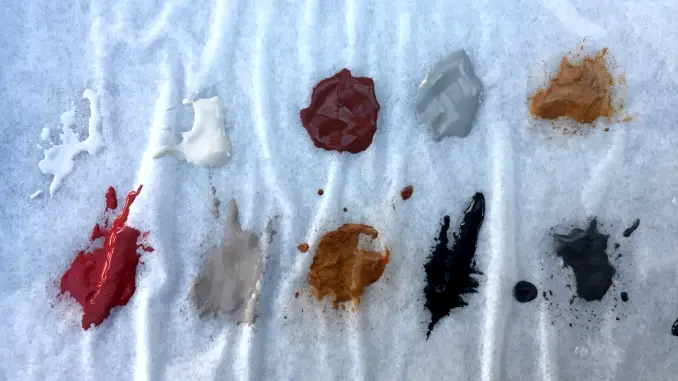 And at 8AM the following morning, I woke up to this: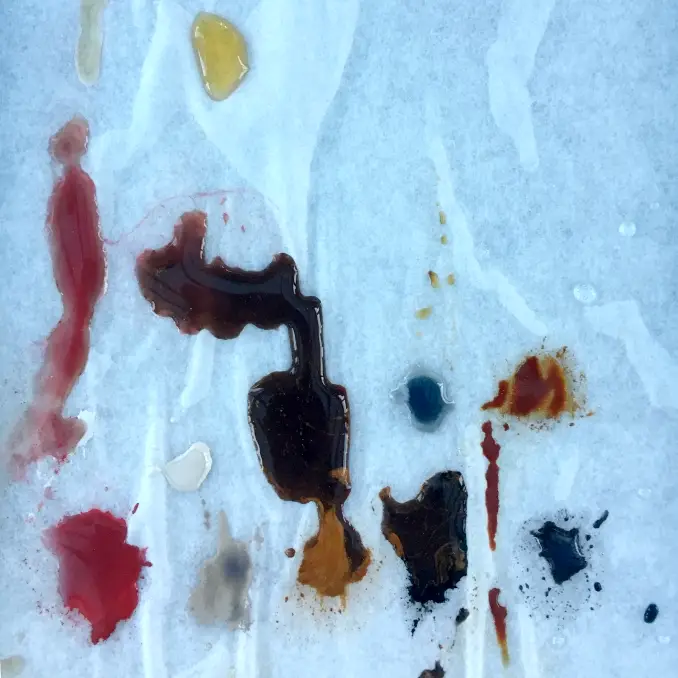 What. The. Hell.
A few things: I followed the assembly instructions on the back of the box to the letter. The palette had been kept flat and untouched during the 4PM-8AM time period. It had also been left next to my RedGrass Games Everlasting Wet Palette, which I had been using alongside this, which had similar colours on it – 100% of which were still usable.
The acrylics that had been left on the AK Interactive palette were completely unusable. After agitating them all with a brush to try and get them to mix again, only the metallic silver and gold on the far right of the above picture were salvageable – and even then, they were far wetter than I would have liked.
All the other paints had absorbed far too much water overnight. Using them would have been disastrous and would have ruined my figures.
At this point, the hydration paper went in the bin, and the palette was chucked in a drawer. I don't plan on using it again.
Will AK Interactive Improve my Hobby?
If you don't already own a wet palette, then yes, this is better than absolutely nothing. If you already own a wet palette, the chances are it'll be much better than AK's half-hearted offering.
Also, if you're a maestro at putting together homemade wet palettes, you might not notice an enormous amount of difference between what you've built in your kitchen compared to this. Heck, what you've made out of a takeaway tub, a folded bit of kitchen towel, and a piece of baking parchment might even be better than this.
AK Interactive Wet Palette Review – Price and Availability
AK Interactive's Wet Palette can be purchased directly from their website for €9.95 (£8.85/$12USD). At the time of writing this review (late January 2021), it was listed as out of stock, but if you're interested (which you probably shouldn't be), be sure to check back or shop around.
AK Interactive Wet Palette Review – Final Thoughts
Pros
Cons
Cheap

Tiny
Flimsy
Stupid seal
Doesn't actually, y'know, work
What a shame.
I'd had hopes that AK Interactive's wet palette would be a budget-conscious contender in the wet palette market, but having so spectacularly failed to actually keep my paints in a usable state between painting sessions, I can't recommend this palette to anyone.
Sure, if you're planning on bashing out a batch of speed-painted minis in a couple of hours and just need something to make sure your paints don't dry out in this time, AK Interactive's wet palette will suffice.
But if you're the kind of painter who needs a couple of sessions per figure or batch, keep your minis far away from AK's wet palette. It'll only serve to wreck your hard work and bess up your hard-crafted blends.
Boom. Thats two wet palette reviews without using the word "moist".
Click this link & buy your hobby stuff from Element Games for the UK & Europe to support FauxHammer.com – Use Code "FAUX2768" at the checkout for double reward points.



Our Affiliates / Hobby Stores
What did you think of this Review? Please let us know in the comments.
If you like what we're doing here you could really help encourage more content with a share on any social media platform.
Click the share links at the bottom of this screen (or on the left for computers and tablets)
Want to keep updated with the site? You can subscribe in the sidebar for RSS or by email below
(Sidebar is below the article on Mobile Devices)
Summary
Reviewer
Review Date
Reviewed Item
AK Interactive Wet Palette
Author Rating





Product Name
AK Interactive Wet Palette