How to paint Night Lords Tutorial with Mezgike
Last Updated on May 7, 2019 by FauxHammer
This guide to painting Night Lords came out at the perfect time, especially with the new Chaos Space Marine releases. I've been following Mezgike for a while now ever since I came across the mini below on Instagram.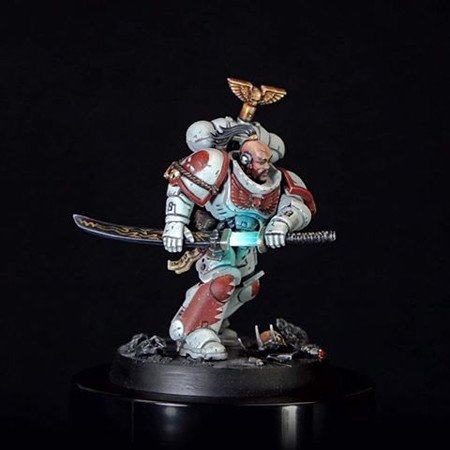 Impressive or what?
I highly recommend you check out Mezgike's other work by checking him out on Instagram or Facebook. He has a very interesting approach he takes to his miniatures, everything he does is a very unique tweak on what you have come to expect from these models.
He did have a Patreon page which I was eager to share, but in checking his Patreon page, it appears that he's taken it down, but the comments suggest that he will be uploading his videos to his youtube channel! which is fantastic news for all of us. I've watched this first video twice over and am (loosely) following the guide, to repaint one of my Night lords I started over 20 years ago.
Update: Speaking with Mezgike, he confirmed he closed his Patreon, but will be uploading his videos to Youtube! Hooray…
For now, check out this amazing How to paint Night Lords Video
We recently wrote an article talking about the best brushes for miniature painting, you'll see from the video below, that Mezgike paints this miniature entirely with Games Workshop Brushes. Although he also uses the Winsor & Newton Series 7.
Personally, I can't wait to see what else he is releasing. I hope he maintains his schedule of releasing a new painting guide every month. Please encourage new content from him by Liking, Commenting and subscribing to his videos. I think it's already obvious we all have a lot we can learn from him.
What did you think of this post? please let me know in the comments.
If you like what I'm doing here you could really help encourage more content with a share on any social media platform. 
Click the share links at the bottom of this screen (or on the left for computers and tablets)
Want to keep updated with the blog? You can subscribe in the sidebar by email or RSS
(Sidebar is below the article on Mobile Devices)