Reaper Miniatures Master Series Paints – Core Colors Set #1 Review
Last Updated on April 23, 2021 by FauxHammer
I'm still churning through my paint reviews, so I need to apologise to all the brands that have sent me paints. When I asked companies if they'd support FauxHammer.com, I didn't expect them all to say yes! Here I am going to take a look at Reaper Master Series Paints Core Colors Set #1.
Our Affiliates / Hobby Stores
Reaper Master Series paints are incredible. No kidding, these are so far the best paints I have ever used. High opacity but with an incredibly smooth flow. These paints on their own made me a better painter and it just leaves me wondering – "why aren't more people using them?", I have some vague ideas.
This article is part of our series looking into the best paints for Miniatures & Models.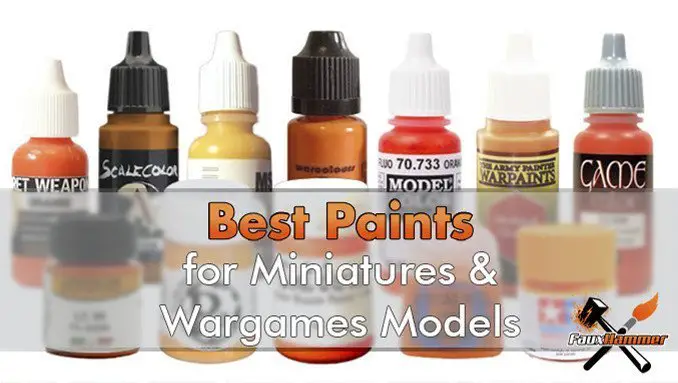 To see our up-to-date list of the best paints for your miniatures, just click the image above.
Reaper Miniatures
I'm coming at this from a somewhat ignorant angle. My knowledge of Reaper Miniatures before this review consisted of me researching and writing a guide on The Best Paints for Miniatures. Reaper Master Series was a highly recommended brand but at the time I could not find much out about them – the paints at least.
Reaper Miniatures are Huge! They opened in 1992 and are the largest independent (no shareholders) miniature manufacturer in the world. Their Facebook Page has over 25,000 followers and they even have a Facebook Group with 15,000 members (at the time this article was published).
Reaper Miniatures operate out of Texas in the US and produce their own models in Metal, Resin & Plastic, their own paints, wargames, tabletop games and even have a huge yearly convention – ReaperCon.
So why haven't I heard much of them? Have you?
Here's a list of their product lines;
Now, I'm coming at them from a primarily Warhammer angle. The Warhammer games are what got me into miniature painting and are still the largest Miniature Wargames company in the world. So when I'm looking at Reaper, I'm only looking at them for their paints and what they do. Well, now I can tell you, they do pretty much everything you want them to do, and they do it well.
Reaper Miniatures Master Series Paints – Overview
I'm going to get the first (only) issue with this set out of the way upfront. I find Reaper's paints confusing. Go to their website, click paints and you are greeted with a huge list of all their paints. It's immediately overwhelming.
I take for granted the breakdown Warhammer offer with their Base, Layer, Shade, Edge, Dry, Air categories. But it's categorisation which Reaper could seriously do with adopting. I genuinely couldn't tell what was what. Consider that in 2019 the average person's attention span is 8 seconds. Being flooded with a list of paints and having to wade through on your own to even categorise things isn't just offputting, it's painful.
To do this review I had several back-and-forth's with Reaper, just to understand the breakdown. The section below is a little bit of my explanation mixed in with theirs.
Master Series paints (MSP) Core Colours
Note: The below is slightly out of date but I have left the original editorial content in place for the perspective it gives. I have added an updated statement about this part of the site at the bottom of this section.
Known Simply as Master Series Paints or MSP, these are the base set of colours from Reaper. These are their thinner (think: "smoother" flow) line of paints. They are marketed in Triads, meaning each colour hue comes with 2 partners. A triad contains A darker colour, a mid-tone and a highlight.
Within the Core Colours, there are Metallics, Clear Paints, Liner Paints & Washes (though no washes are part of ore Colours set 1 unfortunately).
Master Series paints (MSP) Bones
Whilst none of the Bones Paints are part of this review it's worth knowing the distinction. The Bones line is a continuation of Reaper's now-defunct HD line. It's the same pigment, but it's thicker out of the bottle. This is so that you don't need to prime Bones figures.
The bones paints and old MSP HD paints are the same things. Whilst the Bones range doesn't include every paint from the HD range, those old HD paints are steadily transitioning into the Bones line-up.
Essentially they are thicker paint for better coverage out of the bottle.
We'll be reviewing them separately.
Reaper Miniatures Master Series Paints – Overview Continued
Please Note: The followings section has an update at the bottom
In this review I'll look specifically at Reaper Miniatures Master Series Paints – Core Colors Set #1. This is set #1 of 2. You can purchase Reaper paints as individual bottles, as Triads or in large sets which are;
Reaper MSP Core Colors Basics #1 – (24 Paints + Carry Case)
Reaper MSP Core Colors Set #1 – (This review 108 Paints + Carry Case)
Reaper MSP Core Colors Set #2 – (108 Paints + Carry Case
Reaper MSP Core Colors Master Set – (Both Set #1 & #2)
Viewing the MSP Core Colors Set #1 on the website doesn't clear up the confusion. The sets aren't listed in order as I have above, so working out the hierarchy of the sets alone requires scrolling up and down the page a few times.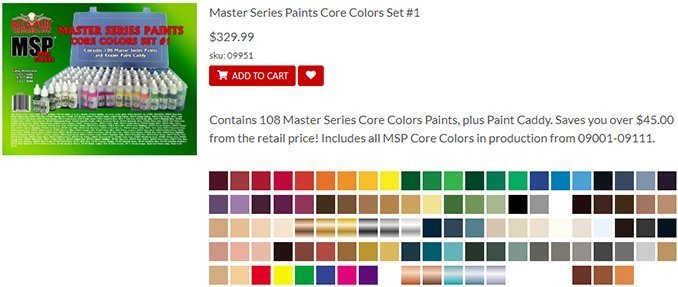 Then when you look at this individual set, it doesn't take you to a page which gives details about the set. The only indication of what is in the set is a grid of boxes showing computer-generated approximations of the colours is in the set. It's only when you mouseover that you will see the colour names themselves (good luck mobile users).
Even these aren't fully organised with metallics split in 2 places across the grid. I assume this order is the order in which Reaper released their paints. Probably great for Reaper themselves to see that order, but no-use whatsoever for someone coming into this now established range.
If you wanted to buy every Reaper paint they make (which I now do), There's no easy way to figure out what sets and then what individual paints you need to buy.
Seriously though, reaper needs to sort this out. They need to have a clear Categorisation of their range for all to see. Not just in the set but the whole Paints section of their website needs rebuilding. It should show MSP, Bones, Washes, Liners, Metallics &, Inks in separate categories with explanations of what each is. There may even be other paint types, but I haven't the time to dig through to find them.
It's not the worst issue in the world but it's a barrier to entry for what may possibly be the best paints for miniatures.
Note: Before this review was published Reaper actually updated the paints section of their website.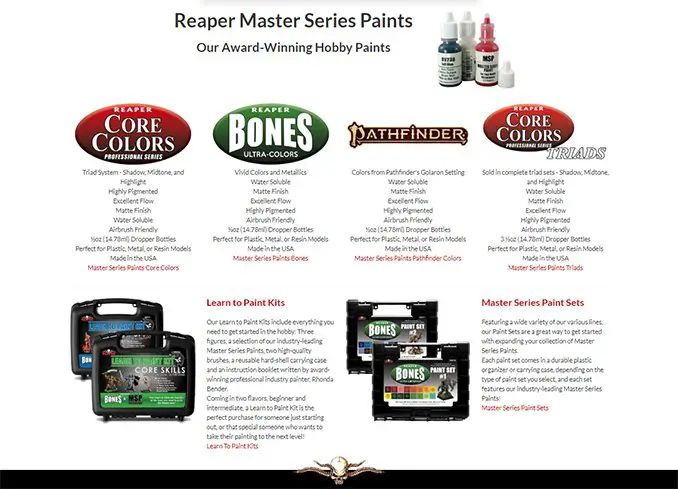 Whilst this is better than the overwhelming list of paints and it actually breaks things down into categories. It still isn't clear to the newcomer that the differences between these paint series are and why you would want to target a range. It also makes Core Colours Triads look like a range equal to Core Colours, when in fact triads are just a different way to purchase them in small sets.
Just listing the features of each set doesn't do much to explain them. Especially when most of them have the same features being listed in a different order makes it even harder to differentiate. When you go into these lists, they are still listed quite randomly (in the order of part number?)
Definitely a step. but I'd still much rather see a clear a Here's what Core Colours actually are, here's what Bones are and here's what Pathfinder is.
Reaper Miniatures Master Series Paints – Core Colors Set #1 – Unboxing
Reaper Miniatures Master Series Paints – Core Colors Set #1 – Carry Case
The Reaper MSP – Core Colors Set #1 Comes in a really useful and large carry case. So large it didn't fit in my photography studio. But that was made to photograph models and smaller products.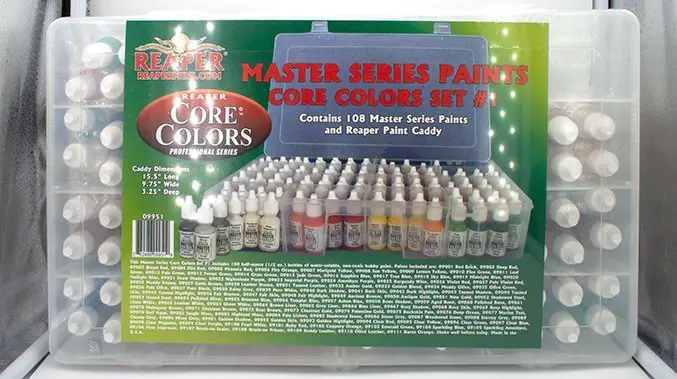 This is a great carry case. It comes with dividers to make separate compartments. The downside of this, however, is that each compartment holds 7 paints (at a slight squeeze). As the majority of these paints come in triads, you need to split your triads up between the compartments. With the dividers in you can only just fit all 108paints. with 14 compartments holding 7 paints each and the 2 compartments near the handle only holding 5 each.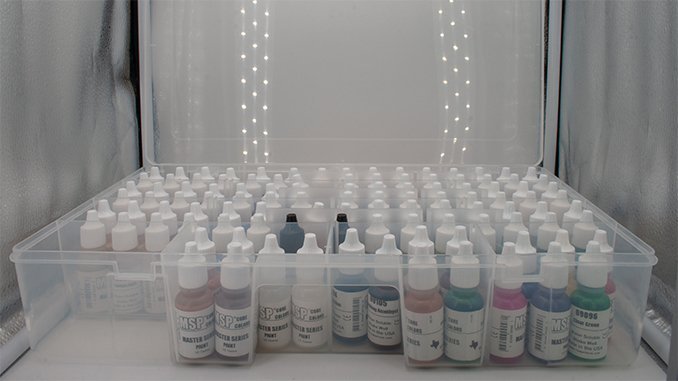 Still. At least you get a case.
Our Affiliates / Hobby Stores
Reaper Miniatures Master Series Paints – Core Colors Set #1 – Contents
The MSP Core Colour set contains the following
Base Colour Hues
Listed in Triads
Metallic Colours
In the table below – the top two boxes are Triads, the rest are singular colours
Clear Colours
I'm not sure why these are referred to as "clear". When applied, enough coats will give an opaque layer. They are very thin and act like dense inks.
Liners
These again act like the Clear Colours above, high-density inks which are excellent for panel lining.
Technical Paints
Supporting bottles which enhance the other coloured paints. Essentially these didn't fit into any other category.
Once it's broken down you realise that this is a very good set. A complete rainbow of hues with some strong focus on the green shades (makes sense as the human eye can see more shades of green than any other colour).
The triads themselves (mostly) share Similar names, the flesh tones follow a naming convention. even some of the blues with their Deep Ocean, Marine Teal & Surf Aqua have a water theme. It's a helpful little nudge that saves you having to remember exactly what colours work with what shade or highlight.
A triad of colours for both Gold and Silver, supported by 6 additional metallics.
The clear colours are a nice range of inks with which you can mix a wider variety of hues.
The liners are useful, however, I would have preferred a black over the blue.
And finally a small selection of technical paints. I never used the primer but the flow improver and sealer are both pretty good.
I would have liked some washes, at the very least a Sepia, Brown and Black. but the washes are part of Set #2.
Our Affiliates / Hobby Stores
Reaper Miniatures Master Series Paints – Core Colors Set #1 – Bottles
The 12 Ounce (approx 15ml) dropper bottles. the preferred container type for miniature painters.
There's no included paint agitator, however, as the faints are so fluid. I'm yet to find paint in this set which is thick enough to actually need one.
The labels are rather basic with the MSP logo, part number, barcode and colour printed on them. A slight annoyance with this is that the colour name is only printed on one side and doesn't quite stand out. I'm forever spinning my bottles and reminding myself where the colour name is. Really could do with getting these in a rack.
The label is on a typical heat-transfer sticker. So don't keep them too near to warm lights or the label could start to fade to black. But they would need to be very warm or be there a long time. Not good if you leave them near a window is what I'm saying, but that's not a good idea for any paint.
I did notice that a good few of the spouts came fully sealed and needed to be pierced with a pin before use. I prefer sealed spouts as it stops air getting into the bottle whilst in storage so if I don't come to use one for a long time it should still be well protected. I'm not sure if this was on purpose or just a moulding error on some of them. It wasn't an issue just an observation of inconsistency.
Reaper Miniatures Master Series Paints – Core Colors Set #1 – Application to Models
I've talked a lot about the bottles, and the presentation, but that is where my issues with the range end. Let's look at the paint itself.
From the second I poured these paints, I knew they were good. I popped a little bit of the Pure white on to my palette. It was so smooth, yet so pure white in colour. I'm used to white being very thick, almost chalk-like in texture. If you have used many of the more popular miniature range's paints. You will have had the same experience too. So this was an immediate wow moment for me.
Reaper Miniatures Master Series Paints – Core Colors Set #1 – Basecoating
The first thing we're going to look at is actually the last thing I painted before I started writing the review. But I didn't want to waste my time painting up a miniature in this way if I wasn't confident the paint could do it. After a few weeks with these paints. I was certain this next bit would be easy.
This paint is smooth, from beginning to end. It's smooth coming out of the bottle, smooth when you thin it with water and smooth when you apply it to a model. The above images show my attempt at base coating without primer, to show A, how smooth the end result is. and B, the opacity of this paint.
The paint isn't advertised to work without primer, but I've expressed many times that primer is not a necessary ingredient for painting miniatures. It's just better at binding to plastic and it's better for the paint to adhere too. If you are not going to handle your models during or after painting, primer is just an extra layer of paint between the final coat and the model's details.
If anyone here has followed my painting progress, you'll know I'm not the best at applying base layers. Or any layers for that matter without terribly visible brushstrokes. Here, the paint has done most of the work for me, I'm not kidding. I just slapped it across the mini and let it settle itself down flat. This is possibly the best brush-on base coat I've ever done.
Like the rest of the paints in this range, it has a really nice matte finish.
Reaper Miniatures Master Series Paints – Core Colors Set #1 – Layering
The best way I can show of layering is with this example here, white over black. It can be difficult to get any colour over a black surface. If you are looking for super-smooth layers you have to thin your paint and apply at least 2 coats. For white, it can easily be 5 or more layers.
With the reaper series, we got white over black in only 3 coats. Not only that but the finish is incredibly smooth.
The paints have a pretty decent drying time, it's not as long as some ranges but longer than most. This means you can get some good working time whilst it's on the surface of your models. This lets you quickly iron out any creases that form if you start to rework drying paint.
It's still caught me out a couple of times, but normally a quick rinse in a water pot and the water will reactivate the paint and let you smooth it out on the model.
This behaviour carries on through every bottle I have tested this range.
It's one of the most consistent ranges of miniature paints. If you want to know how Reaper MSP paint applies to the Warhammer 'Eavy Metal style, just see the above examples and expect this high-density and smooth consistency throughout.
Reaper Miniatures Master Series Paints – Core Colors Set #1 – Alternate Painting Styles
As for me, I've started stepping away from that style of painting somewhat. So I'll show you how this works with Airbrushing & Glazing.
If you aren't into glazing or have struggled with it, don't worry. this paint does most of the work for you.
I took these paints with me on a recent painting course I was on (Speed Painting Masterclass at Lead Belt Studion in Nottingham) – They said bring your own paints if you want.
That course taught me a lot about airbrushing and glazing to create really interesting and vibrant colour schemes. That course used mostly Citadel Colour paints and mixed them with various other products to make Citadel Contrat style paint for glazing with.
I had a mixed result when combining the Reaper Miniatures paints with these products. A little experimentation showed the best thing to mix with them to make glazes, is water.
Reaper Miniatures Master Series Paints – Core Colors Set #1 – Airbrushing
One of the things I learned during this new painting course was underpainting with an airbrush. The general approach is to apply colours and specific nuances to a model. then as you glaze over these areas with a single colour, the colours beneath react with this glazed coat to vary the final layer.
e.g if you apply blues as your base layer, it will cool the colours glazed above. Apply reds, it will warm them. Apply sickly colours like purples and greens and it will give it a nauseating feel. This is subtle but effective.
I decided to go with cool shadows and warm highlights when testing out the MSP paints.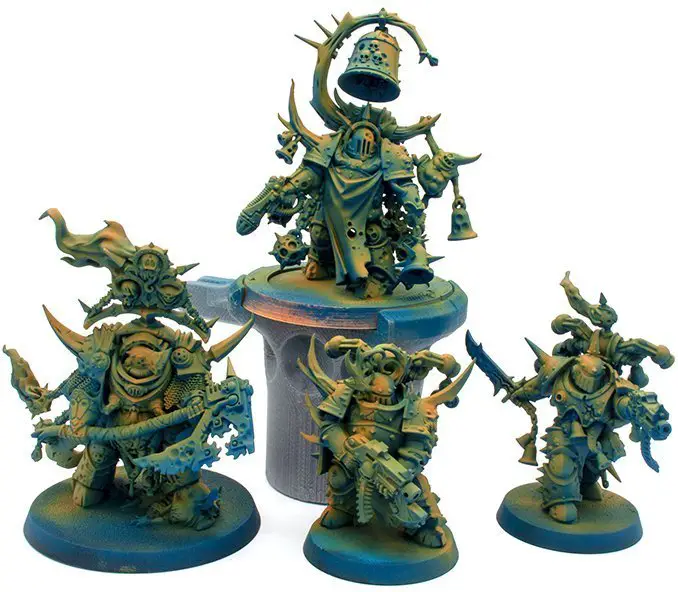 Mixing Cool blue with Warm Orange gave me a cool looking undercoat. I expected to have cool shadows, warm highlights and a general sickly colour across the miniature. (that's was the intention anyway).
Airbrush wise these paints worked absolutely perfectly, with only a touch of Vallejo Airbrush Thinner for every 4-5 drops of MSP gave a really nice airbrush consistency.
I didn't feel like I needed to do much balancing with this ratio. Going either way with it will just make the paint a bit thicker of thinner. I'd really need to puh it to make it too thin or too thick. The paint can (but I wouldn't, it's just wasteful) spray straight from the bottle.
Using the paint this way, I was able to get incredibly smooth blends across the models.
Reaper Miniatures Master Series Paints – Core Colors Set #1 – Drybrushing
Drybrushing with these paints is also a breeze. Again, with the high-opacity, you get a lot more colour in your brush. You need to be aware of this, compared to a typical paint you do need to spend more time removing paint before drybrushing the model. What another brand would take to get a drybrush consistency, Reaper MSP can still produce a decent layer with the same amount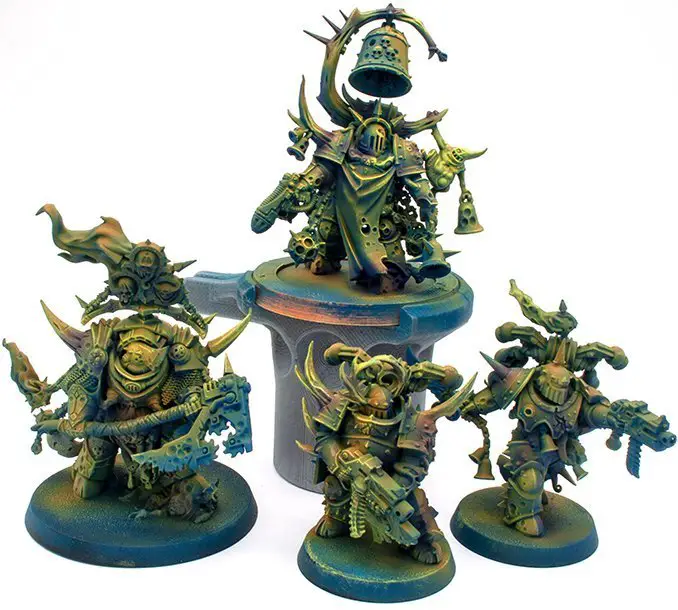 Here I've picked out some of the most raised surfaces to accent them. This just needed a feather-like touch with the drybrush for dense coverage.
I also (before the drybrush) used some of the MSP Clear Purple through the airbrush to add some nuance to the damaged areas of the armour.
Our Affiliates / Hobby Stores
Reaper Miniatures Master Series Paints – Core Colors Set #1 – Glazing
As I said above, glazing has never been my forte. I have had numerous attempts at it in the past and at best its come out splotchy, or I've given up becasue it takes too long. Having just been on a Speed Painting Masterclass. I was immediately upskilled in my glazing technique. This course used Citadel Paints mixed with different mediums to make what is essentially Citadel Contrast Paint with any colour. This worked great on the course but was soon as I tried this mix with the Master Serie Paints, I was back to blotchy results.
The Reaper Paint mixed with the mediums had caused everything to congeal and act more like a gel. This is not what I had wanted. so I to just fully covered him, this lost all of that base layer colour. I decided to have another attempt at glazing on a practise marine.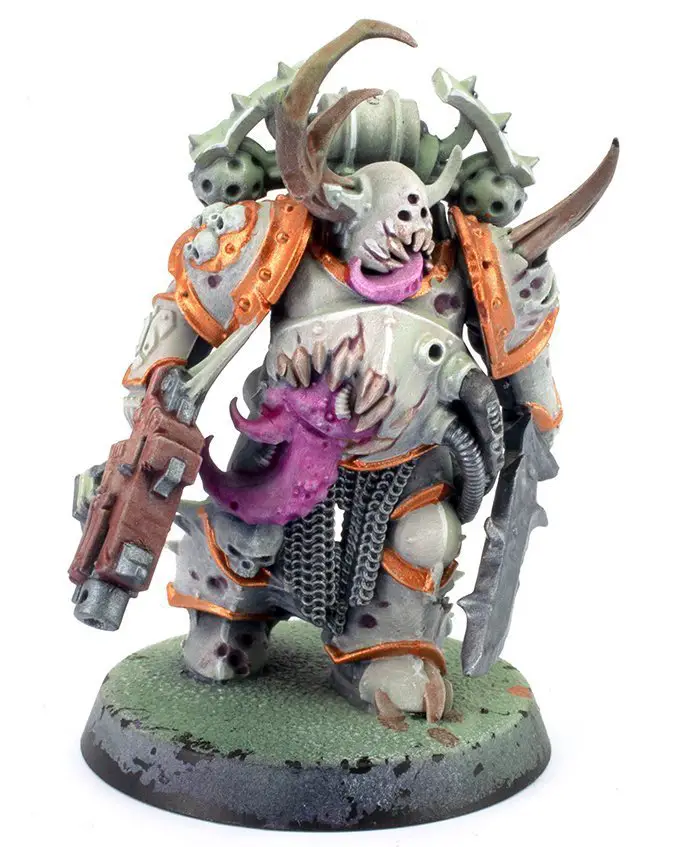 This guy was just quickly base-coated with purple in the shadow and green from above. Using Reaper Aged Bone, I reduced it down to a glaze with water, wicked off my brush so it was damp and quickly worked over the armour panels to avoid creating any tide marks. After a couple of coats, I had a pretty smooth and even layer. I went back in for a couple more. You can still see just a touch of the purple accenting the armour in the shadowed areas. This is much closer to the result I wanted. I think i had just gone one layer too far before I snapped a photo
Now to practise on some more marines.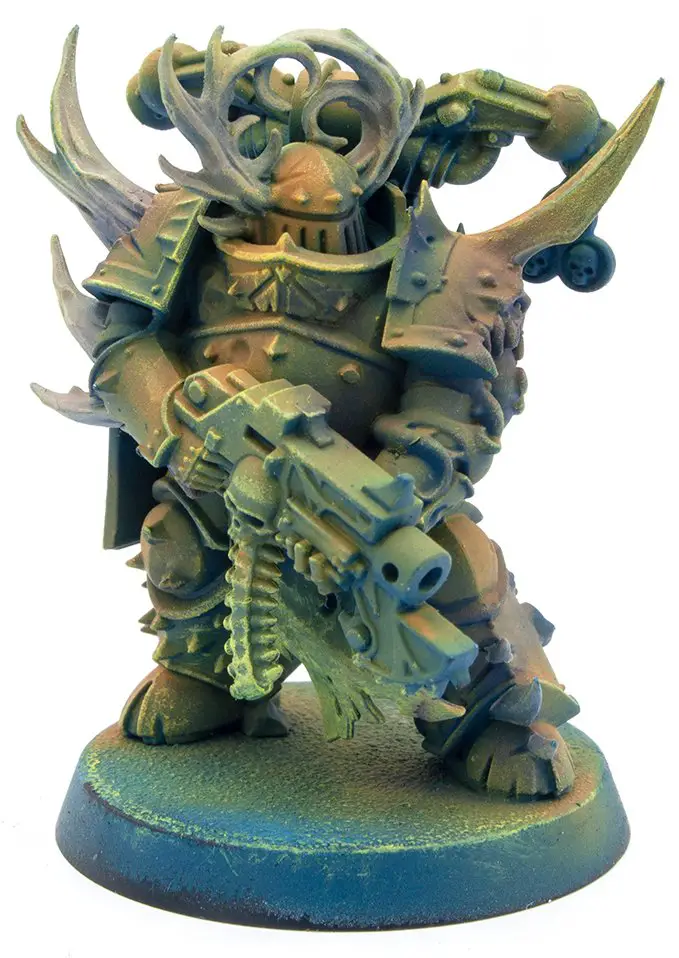 With the next guy up, I had really gotten glazing down. Unlike the model above I took shots of this guy in stages so you can see how the glazing performs. This above is after only one layer of Reaper's Fire Orange. I really wanted to try out a rusty coloured scheme for my Plague Marines and this was definitely heading in teh right direction. The glaze is now subtly shifting the overall armour colour to the orange tone I wanted, whilst still keeping the under painted cool blue layer in the shadows.
Aged Bone was also applied to the horns, which again has given a smooth layer, leaving the nuances of the under painted layer showing through.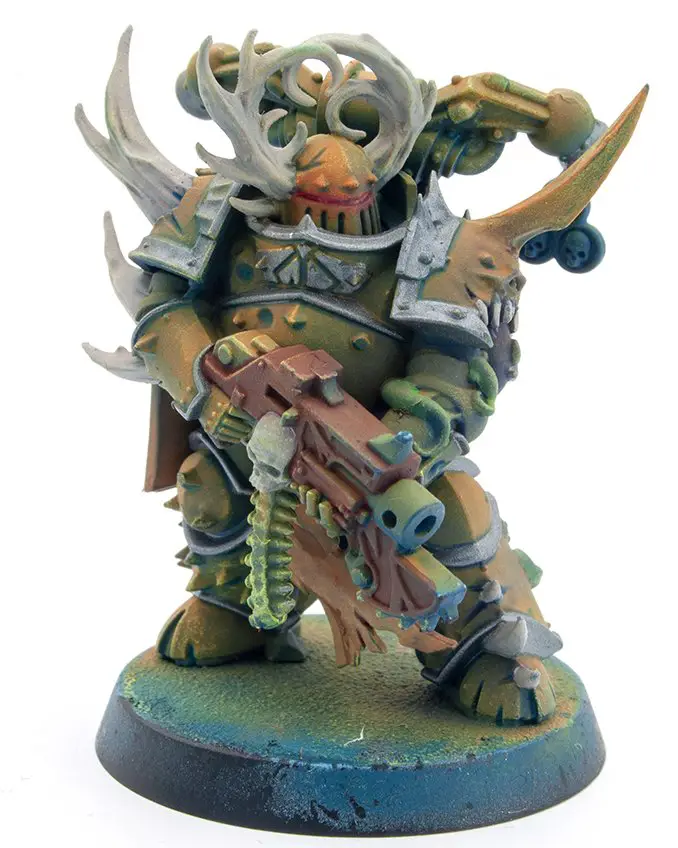 Adding another layer of orange and bone glazes along with some detail work has brought the model much closer to what I initially wanted. Mahogany brown was used for his weapon and I've started to add some red OSL glow to the eyes. I've never in my life been able to glaze this successfully. and I really need to thank the paint for doing most of the work for me.
Looking back on this, however, what I should have done was under-paint the model blue and yellow then drybrushed in White. Becasue I under painted in Fire Orange and then glazed in Fire Orange. The orange areas have lost any tonal shift and just become a flat orange. If I'd gone in with yellow and white, it would have given the orange more pop.
For the next attempt, I wanted to pick a colour which would be affected by the orange and blue airbrush layer. So I used the modern colour scheme for Death Guard Plague Marines.
By this point, I had gotten glazing with these paints down to an art. I've been trying to glaze with Citadel paints for a few years and I'm a bit exhausted by it. I either can't get the consistency right or it takes so many layers (30 or more) I get bored. The most annoying thing is that I need to remember the behaviour of every paint as they are all so different. Here I was able to pretty much nail glazing over 3 models, just by adding more or less water.
Seriously, using these paints felt like I was cheating.
On this model, I had added some medium, Winsor & Newton Galeria Fluid Retarder. Due to the larger surface area of this model, I wanted a little longer drying time so I could work the paint around more on the surface before it started to dry. The drying time in these paints is already very good, I'm just a slow painter so I needed a touch more for larger models.
I had already failed with the Vallejo Drying Retarder which is more like a gel and caused the blotchiness on the first Space Marine, though this works well with Citadel Paint. The Winsor & Newton retarder is much more fluid and matched the consistency of these paints better.
I'm happy with the model above, however again, when I painted the underlayer, I considered the contrast of colours with orange vs blue, what I didn't consider was the tonal difference (Light Vs Dark). There isn't really much of one. So the result is almost equal brightness across the surface. You can see the subtle warmth and cool areas. But the light to dark shit isn't as pronounced as I would have liked.
Our Affiliates / Hobby Stores
Reaper Miniatures Master Series Paints – Core Colors Set #1 – Availability
I need to wonder why more people aren't using these paints! They're pretty cheap when you look at the price per bottle, cheaper still if you buy the sets.
I've used enough different brands now to know a good paint from a frustrating one. I had no issues with any of these paints. In fact, I enjoyed painting with every single bottle.
I think the problems here are two-fold. One, they aren't as readily available outside of the US. In the UK specifically, only a few specialist (and lesser-known) hobby stores actually stock them.
Update 27th Jine 2020 – They are now available at Element games in the UK
Even Amazon's stock is limited or the prices from some Amazon retailers are prohibitive. I find this odd as I'm aware that reaper has a distribution warehouse in Nottingham. If this availability the same across Europe (as I've come to believe is the case) and other territories then it's no wonder that Reaper is not as well known. But availability is driven by demand.
The lack (that I've seen) of driving demand is the other lapse in this range. Where other companies are flooding the influencers with samples, which in turn is generating discussion, buzz and the best thing, painting tutorials. I'm yet to find a decent tutorial featuring Reaper Master Series paints.
Try it yourself, Search "Reaper Master Series Tutorials" on Google and the results are all reviews.
Reaper needs to get these paints in the hands of people like Miniac, Uncle Atom, Squidmar, Next Level Painting, Kujo Painting, Luke's APS and many others. Get in touch with Instagram influencers like Brushstroke. Sure, some of them may be so entrenched in their existing paints that the change alone could put them off this brand, but I trust the guys listed above to be objective.
Will Reaper MSP paints improve my hobby?
Yes! I've never been able to be so confident when answering this question. Hands down, these paints are the best I have ever used (so far). With consistent colour throughout no matter how much you water them down. They tick every box a miniature painter could want to tick.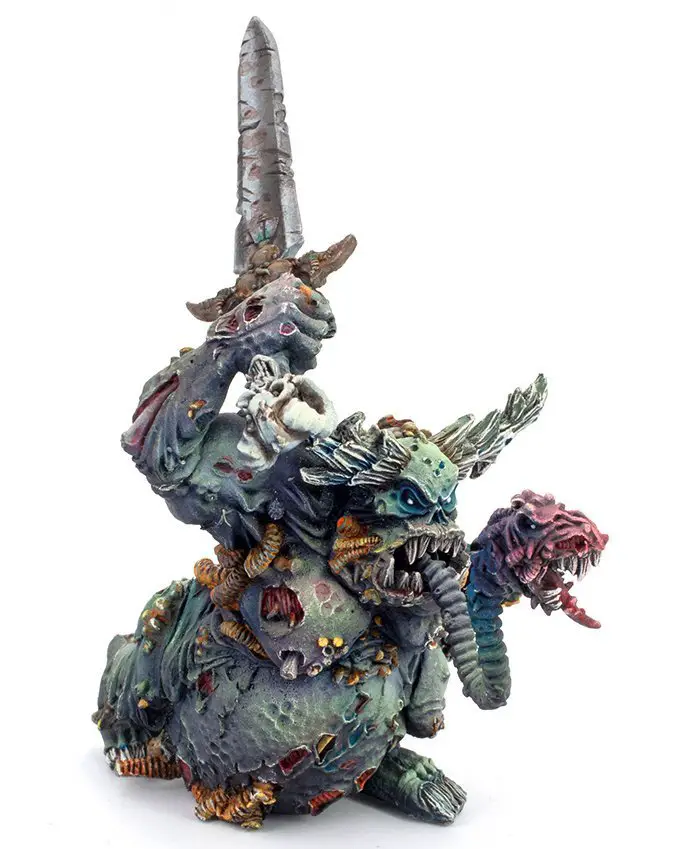 Above I have applied every common technique I know to this Classic Great Unclean one. I think that I've made a pretty impressive result with such a classic model.
Smooth basecoat
Airbrushing without issue
Drybrushing is soft
Layering
Glazing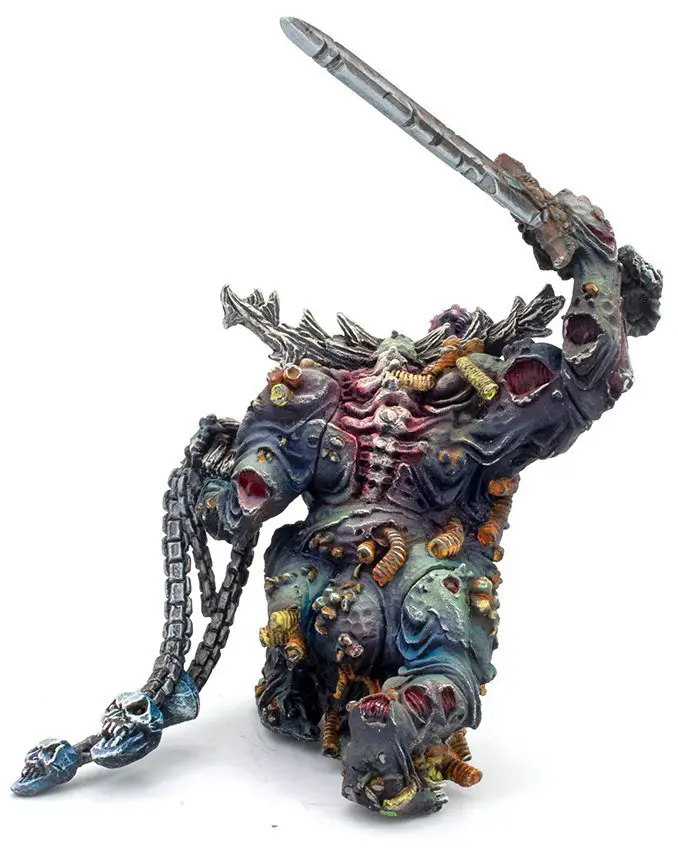 I genuinely can't praise these paints enough. Having a huge range, with every colour supported by 2 partner colours, it's so quick and easy to pick colour schemes and paint models.
Honestly, I think these paints make me a better painter. Check out my Instagram and you can see the difference in output versus anything I have painted previously.
Reaper Miniatures Master Series Paints – Core Colors Set #1 – Final Thoughts
These are now my go-to paints for everything. When I set out to identify the best paints for miniatures I never expected to find a result this good.
They do everything you could need as a miniature painter and they do it well. Put simply they make painting easier and more fun. There's no need to memorise specific paints and how they behave, Reaper has ensured a consistent behaviour throughout. And to have a White which can cover black smoothly in just 3 coats is incredible.
I'm sorry to say that it's Reaper's site and approach to the market that is lacking with these paints. Not enough people know about them, not enough people are using them and talking about how great they are. Nobody is writing tutorials using them. As Reaper is a miniature manufacturer themselves, maybe their efforts are spent promoting products within their own ecosystem. But if they were able to step out of this zone and get people writing guides for miniatures in different brands (i.e. Warhammer). I'm pretty sure they would make a huge impact.
But, even if you do hear how good they are. You then go to their website and it becomes offputting. I really hope they soon work to rebuild this with a better breakdown and clear explanation of all the different categories for the paint they sell. It's just too overwhelming in its current form. It's fine if you are a follower of Reaper, you probably know all this as they announced it. But if you're new, like me, you'll probably just back away.
For you guys, I highly recommend you try these out. Think of a colour that you paint most often for your army. Find a Reaper MSP triad that is in that range and try it in place of what you normally paint.
I'm confident you will be more than happy with the result and like me will probably switch from your current brand to Reaper.
Our Affiliates / Hobby Stores
What did you think of this Review? Please let us know in the comments.
If you like what we're doing here you could really help encourage more content with a share on any social media platform.
Click the share links at the bottom of this screen (or on the left for computers and tablets)
Want to keep updated with the site? You can subscribe in the sidebar for RSS or by email below
(Sidebar is below the article on Mobile Devices)