Christmas Buying Guide for Warhammer and Hobby Products 2022
Last Updated on November 30, 2022 by FauxHammer
This article serves 3 purposes… One is that it should inspire you when looking to get ideas for your Xmas. 2022 letter to Santa. No longer do we have the Argos catalogue to flick through the pages, but remember your childhood, that was the most fun part. Circling all the rubbish you don't need. Now, which leads us to point Two. we want this article to help you choose the best products of each category without doing a ton of research – essentially it's a short-form version of the many larger articles we do. And Three, this is the tie of the year when people go shopping crazy. But FauuxHammer.com doesn't sell stuff, we make money using our affiliate links. So, if you buy anything following this or any of our guides. clicking a link before making any purchase from the site it takes you to, and any purchase, even if it's not what we are advertising. You could click a link for some clippers and buy some car tires, this will still give us a commission at no cost to you. So thanks in advance for clicking them.
Click this link & buy your hobby stuff from Element Games for the UK & Europe to support FauxHammer.com – Use Code "FAUX2768" at the checkout for double reward points.



Our Affiliates / Hobby Stores
Christmas Buying Guide for Warhammer and Hobby Products 2022 – General Buying Tips.
Ok, whilst I fully Support Games Workshop and want them to succeed. If you don't already know, apart from products which are made-to-order and the few web exclusives. Everything Warhammer is available at 20% off at local hobby stores.
So why are people still buying so much Direct from GW! And don't worry, I'm not trying to get you to spend less money. Far from it, I'm telling you this so that you can buy more!!! At least 20% more!
So when you buy Age of Darkness, You could Buy it alone for £180 when you can buy it with a Dreadnought for the same price!
To do that, check out the online stores below and/or your local Friendly Local Games Store!
Christmas Buying Guide for Warhammer and Hobby Products 2022 – Hobby Tools
After Models, Tools, including paints, makeup pretty much everything else you could buy in this hobby so below we will break it down into various tool categories and suggest what you should buy in each after our extensive testing (…using each for a bit and deciding what's good and why).
Below is a whistlestop tour of the best hobby paints and tools you should look to put on your Xmas list.
If you are new to 3D printing or want the latest entry-level, this is gonna be super easy. First of all, you want a resin printer for better detail. Ignore FDM printers unless you are printing larger things like props.
Entry Level 3D Resin printers
Read our Full guide on 3D printers here
If you just want to print miniatures and some terrain pieces. You want either the Elegoo Mars 3 Pro or the Anycubic Mono 4k.
Both of these printers have an XY resolution of 35 microns which is incredibly impressive and is also the reason 3D printing has taken off so much in the last 12 months. yes, with these printers you are capable of easily printing miniatures which will contend with GW's production.
Both printers are similar sized and as stated above produce 35 Micron prints on their 6″ 4k screens. The Mars 3 Pro has an ever so slightly larger screen at 6.66″ vs the Mono 4k's 6.23. And the 4k Resolution Boost from 3840×2400 (Mono 4K) to the 4098 x 2560 (Mars 3 Pro) is what helps the XY resolution stay the same.
The Elegoo printers usually get more of a following due to their competitive prices, but in this case, we are seeing discounted prices Sub £200 for the Mono 4k!!! and this is an incredible price for a 4k printer. But if you buy direct from Elegoo, you can get the Mars 3 Pro, for $209, which is definitely worth the slight price difference over a discounted Mono 4k
Despite the incredible impact that Elegoo made with their Mars Series of products, the Mono 4k is selling in droves – currently having over 13k members in the Facebook group, vs the 30k users across the whole Mars range – that's the original, Mars 2 and Mars 3!
Over £1000 difference in price makes the choice a no-brainer. especially with a larger community to support you throughout use. The Mono 4k also has a much better bed levelling system too.
Large 3D Resin printers
The next tier worth your consideration is quite a jump in price. Between 2-2.5x more in fact!
But if you want to dive in feet first with 3D printing, Then I'd highly recommend you look at either the Saturn 2 or Photon m3 Premium. And in direct contrast with the above section – I'd do it in that order too.
Just like the above section, 1 printer costs over £100 less than the other at the mo, despite an incredibly similar spec. Both printers are capable of an incredibly low 28 micron XY resolution, which does make a notable difference over the 35 microns of the entry-level models above.
But the key difference here is the 10″ screen on both printers. The convenience of this has had me putting them in use far more than even my Phrozen Sonic Mini 8k. because the difference between this and that is visibly negligible.
Now whilst there is a £100 difference between the two right now, the M3 Premium, really is premium. Coming with a Screen protector pre-installed, a Z rail that has rivalled any 2 spaces for internal carbon filters (to remove nasty smells). this is one of the highest-quality consumer printers I've ever seen, and is certainly worth the extra investment. You'll unlikely get better-printed quality, but you'll undoubtedly have fewer issues.
Ultimate Quality Resin Printer
It's still the Sonic Mini 8k, release at the beginning on the year, this powerhouse of resolution has an 8k screen across only a 7″ diagonal. This beast offers an XY resolution of only 22 microns!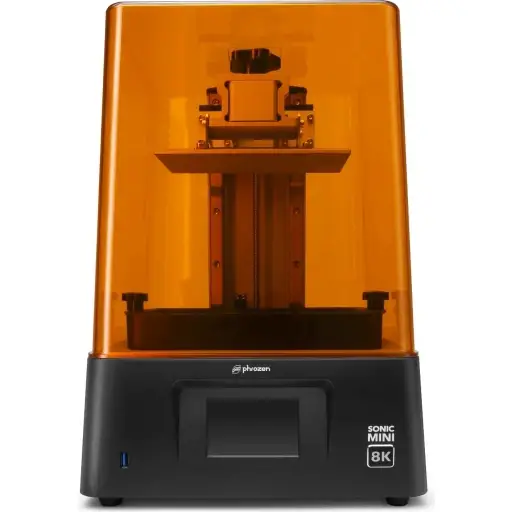 As I said above though, for the majority of models, the difference between 2.2 and 2.8 is barely distinguishable. it's there, but after paint will you be able to tell the difference? I doubt so. In the same price range, I'd opt for a larger printer. but if you absolutely MUST have the best print quality. this is the one you choose.
When it comes to brushes, once again it's simple, get Kolinsky Sable Brushes. and here are a few choices.
Read our Full guide on Brushes here
Rosemary & Co series 33 were the first Sable brushes I bought and they are still the biggest bargain Sable brushes for miniature painters. You really don't need every brush so My choice would be to get a 000, a 0 and/or 1 and a 3.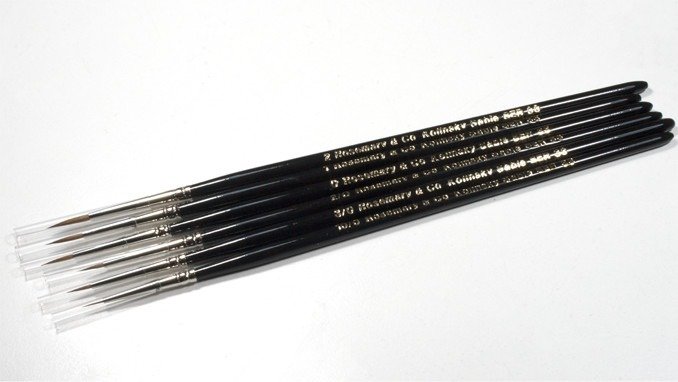 They also have a bonus choice as they sell the same drybrushes as Artis Opus too. So whilst/if you are shopping for pint brushes, wade in with a couple of drybrushes.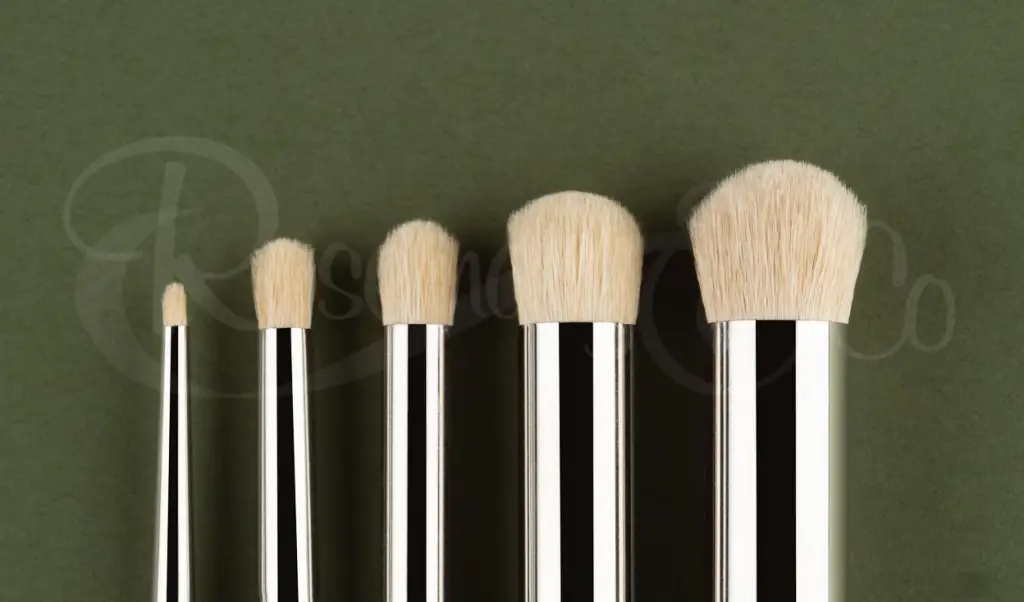 Here my choice would be the Medium for models (slapchop ahoy) and the X-Large for vehicles and general blending.
If you are a huge Games Workshop fan and want to paint as good as the 'Eavy Metal team, then you should choose the brushes that they (unofficially but frequently rumoured) choose to use. And this is the Windsor and Newton Series 7 range of brushes.
Whilst some people have been harsh on this brand, claiming a quality from in the last half-decade. It may be a case of expectation vs delivery. With any Sable brush you can find yourself receiving a product with stray hairs or spli/warped tips. Just run them in the water and do a few strokes before you apply any paint. At least then you have the option to return any faulty ones.
But still, they are super sharp and have a nice body to hold plenty of moisture.
Just make sure you get the Series 7 without the "M" in the name, those are mini (short) tips and are specifically intended for detail work rather than basecoat and layers.
When you get into mini-painting, most people will have gone the Warhammer Route. So the first pro painters you encounter will be the afore mentioned 'Eavy Metal team. But then there are the golden Demon Winners, the God-Tier painters. The Angel Giraldez, David Sope, Richard Grey tier of paint-benders. And what do these guys use? they use Artis Opus Brushes.
And whilst there have been claims of Artis Opus simply rebranding Rosemary & Co Brushes. I've been directly informed that the AO brushes are a different configuration. the handle alone is much widers and noticeably more comfortable to hold and manoeuvre.
But Artis Opus also have the benefit that they are the only Hobby paintbrush brand who cater for standard brushwork with their Series S, Detail Work with their Series M. and Drybrush work with their Series D.
When it comes to buying at this time of year, most purchases are intended as gifts. so it's really great that these come in gorgeous display boxes.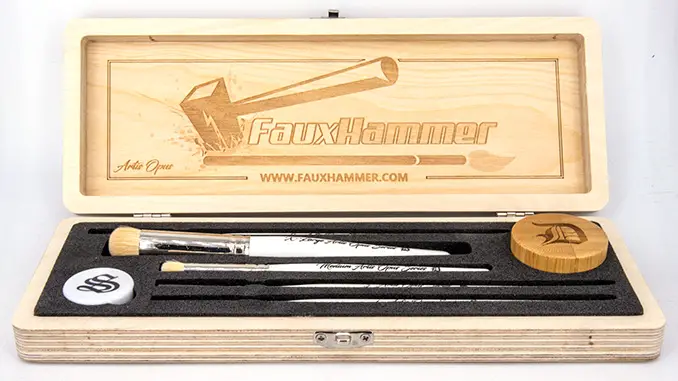 And if you're not sure where to start, what sizes and what ranges you can get. Then grab our very own "FauxHammer Branded" starter set which gives you a mix and taste of everything. and a perfect essential set for any miniature painter. Regardless of any other brushes, you feel you need. I'm confident these are the ones you'll use most frequently
Ok, So Airbrushes is also really simple and you can read our full guide for details of the best beginner airbrush and best specific airbrushes for miniature painters.
Read our Full guide on Airbrushes here
Read our Full guide on Compressors here
Best Beginner Airbrush Black Friday 2022
If you are just starting out, you need a Compressor and an airbrush. The simplest way to start is with a small compressor unit, either mains or battery-powered.
Now, to be honest, these are more for cakes than models but they do work. if you have a budget or space constraint, these (with your paints thinned) will do for primer, basecoat and some spot highlighting.
But if you are gonna consider seriously investing, then I strongly recommend you get a decent compressor up front. Specifically, one of these is shown below. (the one with the tank).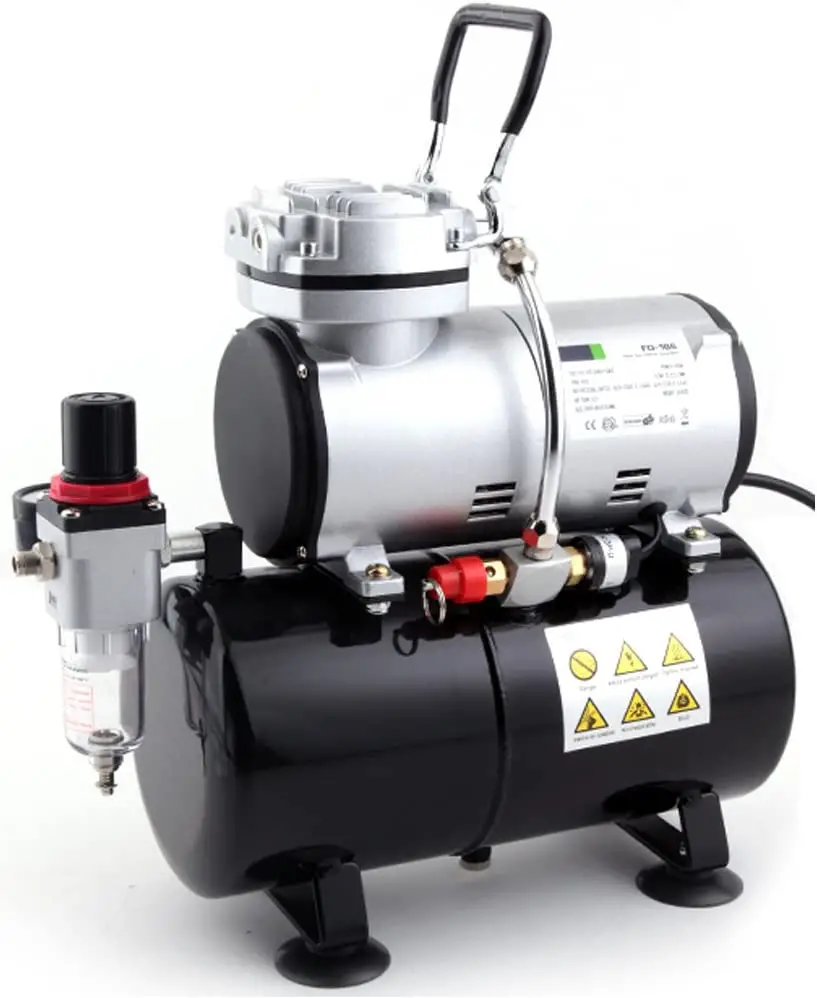 You'll find these under many brand names, but so long as it looks like this with a compressor on the top and a tank on the bottom, it will do the job, and it will do it for years. The only reason I ever even bothered to upgrade was so I could run 2 airbrushes at the same time – and to show off.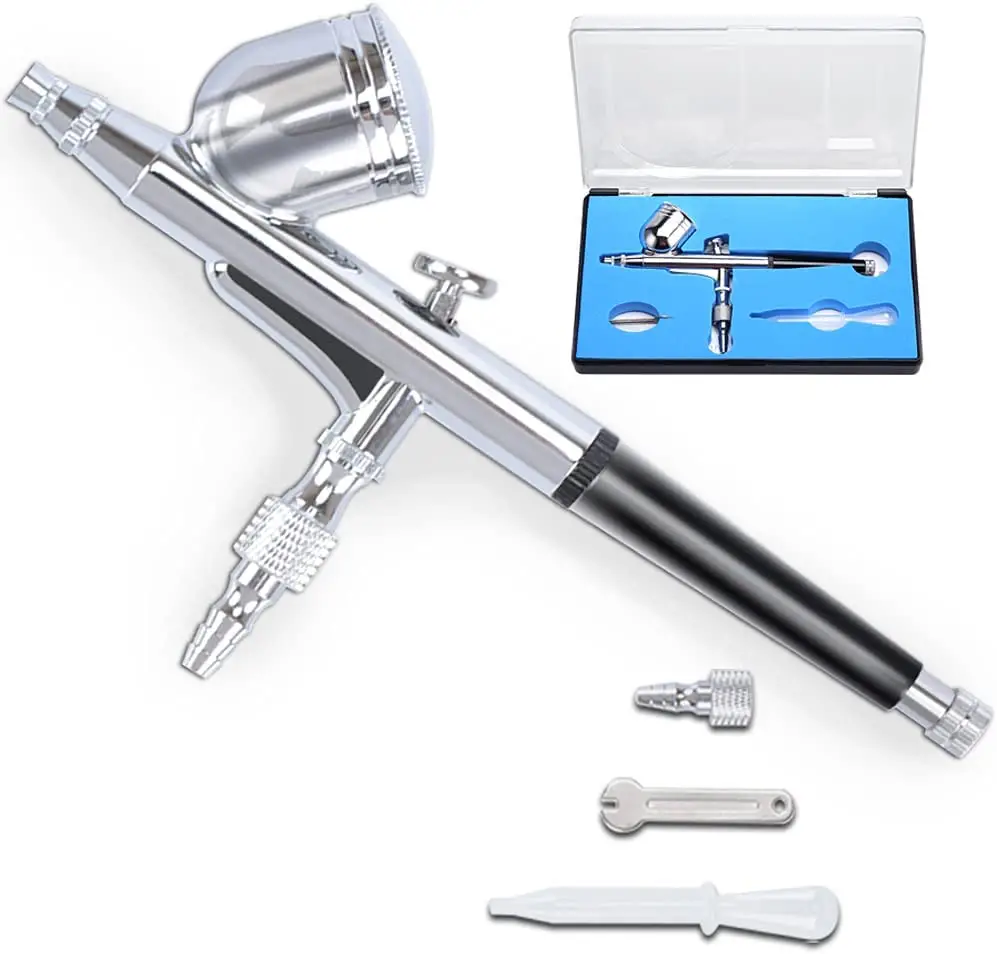 As for the airbrush itself, the one above costs less than £20. It was the cheapest I could find when searching Amazon for Gravity fed Airbrush. (gravity fed is the style with the cup on top) The best thing about the Compressor above is that for around £100 you should be able to pick one up with one of these cheap airbrushes included.
Are they good? no, but they work and are great to cut your teeth on before you dive into a more expensive airbrush.
Best Black Friday 2022 Airbrush – Beginner
If you want a basic airbrush, get the Badger 105 Patriot, Whilst badger Airbrushes have a proprietary connector, you can get an adapter cheap online.
The Patriot 105 is the most commonly chosen Badger Airbrush for Miniatures
Please avoid the Iwata Neo, it's ok but I find the quality on part with the likes of the cheapo brush shown in the section above.
The Patriot is as its name suggests a solid brush that will keep on going.
Best Black Friday 2022 Airbrush – Beginner-Intermediate
Honestly though, if your budget can stretch to it, get a Harder and Steenbeck Evolution CR+. This is used by so many miniature painters because the maintenance is simple and the twin-tapered 0.4 mm needles allow for both fine lines and wide sprays.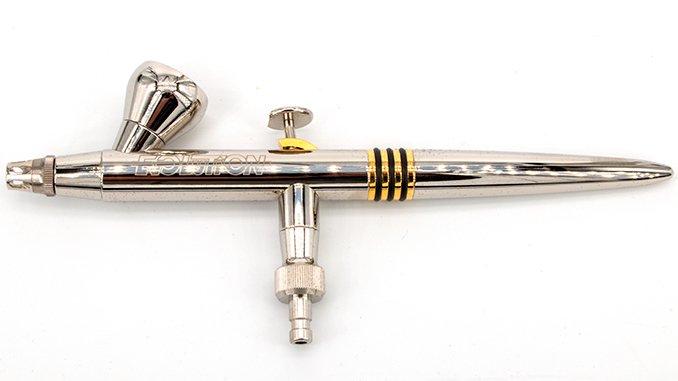 If you can stretch a touch further, the Cult of Paint variant features a much better trigger which allows far more control and precision. you'll pick up fine motor skills much faster. This Airbrush is exclusive to Element Games in the UK.
Best Black Friday 2022 Airbrush – Beginner-Expert
I say Beginner to Expert because the harder and Steenbeck Infinity CR+ features all the same benefits of the Evolution CR+. Most of the body is identical except for the rear casing which now allows access to the needle to help clear blockages.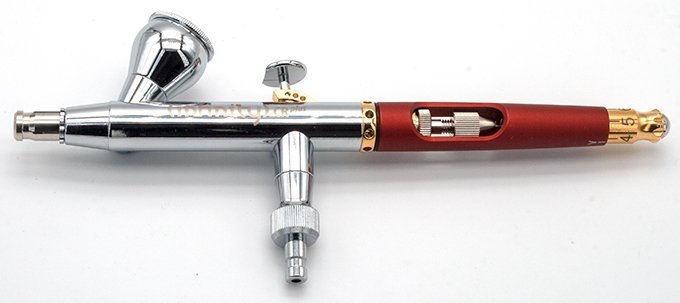 See our Harder & Steenbeck Infinity CRPlus Review
The quick-release needle stop is a great beginner feature. you can dial it in to prevent expressing too much paint. then pull the gold ring to release it when you need to black paint through and clear clogs. Press the silver nub and go right back to the locked position.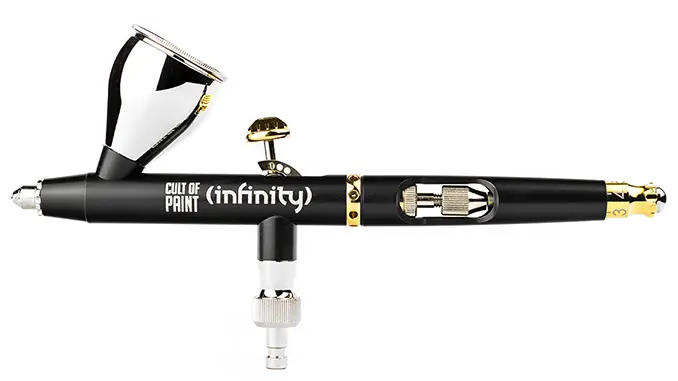 As a Kickstarted product made by H&S in Germany and designed by Cult of Paint in the UK. This is sold and distributed by Element Games in the UK shipped worldwide.
Again, for a few extra bucks you can get the Cult of Paint model, exclusive to Element Games. This again features the high-precision trigger but also has an aluminium rear casing – this makes a difference to arm-ache over a long airbrush session.
And just like the Batmobile – it comes in black…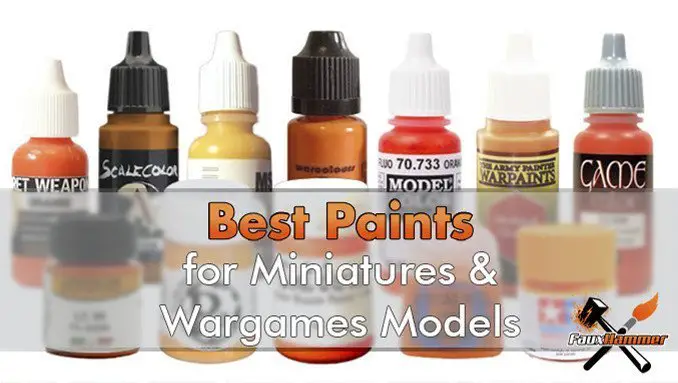 See our article on The Best Paints for Miniatures & Wargames Models
Obviously, in order to paint miniatures, you need paint. you could leave them unpainted. But then how would you know which miniatures are on which players side? It's arguable that with Games Workshop models, at least that you get your opposing forces in different coloured plastic now. Yet Games Workshop is the one who says you can't play with unpainted minis…
There are various brands. Games Workshop's Citadel paint range is by part the most popular and great for the beginner, especially as Games Workshop provide a slew of Tutorial videos showing how to use these paints.
The ones you "NEED" to try however depend on how you paint.
If you want smooooooooooth basecoats, with a capital SMOOO, layers. or you are new to painting. You absolutely must try a set of Monument Hobbies Pro-Acryl. They are by far the easiest paints to use and cover exquisitely.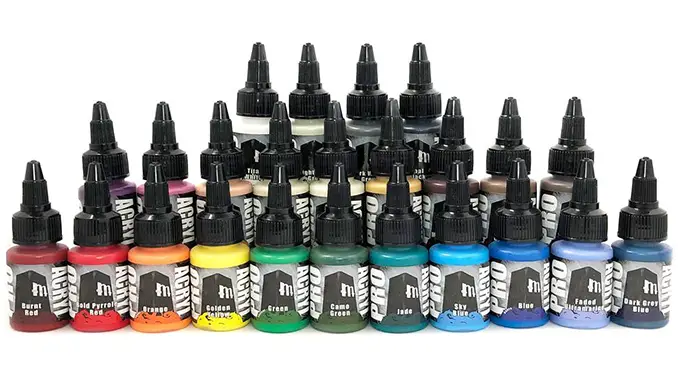 If you want to focus on your blending techniques. Then there is no better range than Scale 75, you can thin this down far beyond the "consistency of milk" ratio you've heard of and still get paint that doesn;t result in blotchy transitions.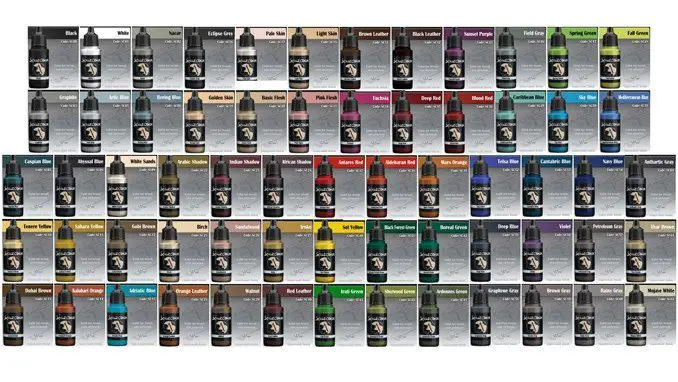 AK interactive's Gen 2 Acrylics are quickly taking over from Vallejo and games Workshop as the widest range of colours with excellent properties for miniatures. The coverage is great they can thin down really well. They come in various 4-colour sets made specifically to achieve certain effects (just see the name of the set). After just getting just 5 of these 4 colour sets from AK directly, I went out and bought a whole case of them! I highly recommend you try some too!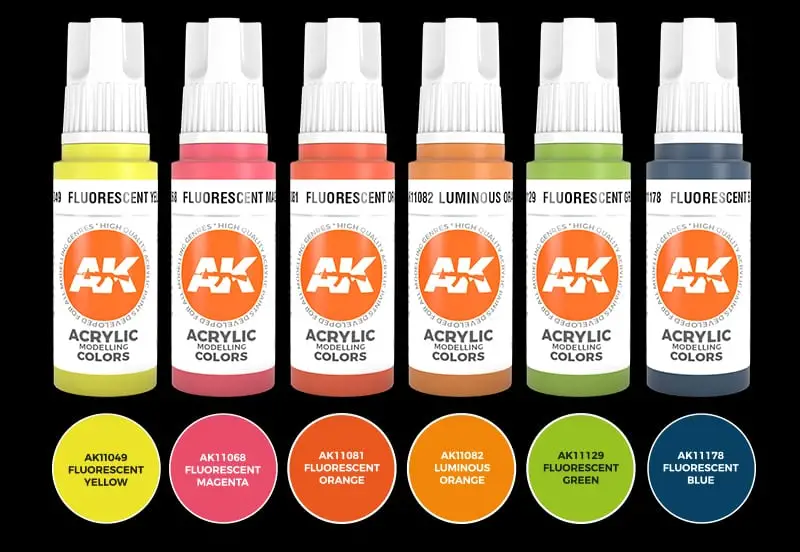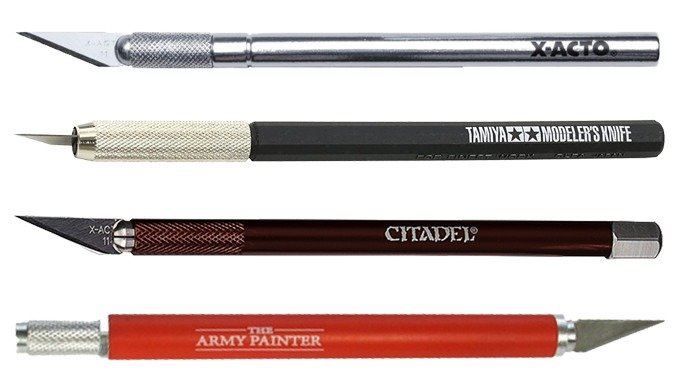 There are numerous hobby knife sets you can pick up with blades of all different sizes and shapes.
But the defacto knife is the x-acto knife.
A hobby knife is the most necessary of all your cutting instruments, In later sections, you will also come across sprue clippers and mould line removers. At its simplest level, the hobby knife can achieve all of these tasks.
You only need 1 handle (I've had the same one for over 20 years) and simply replace the blades when you need to. This is used for many things, such as trimming the excess sprue parts from your model pieces and cutting out water slide transfers. It can also be used for removing mould lines. However, unless you have a feathery touch, you can end up taking away more plastic than you expect them to. This is why it's often better to get a specific mould line removal tool.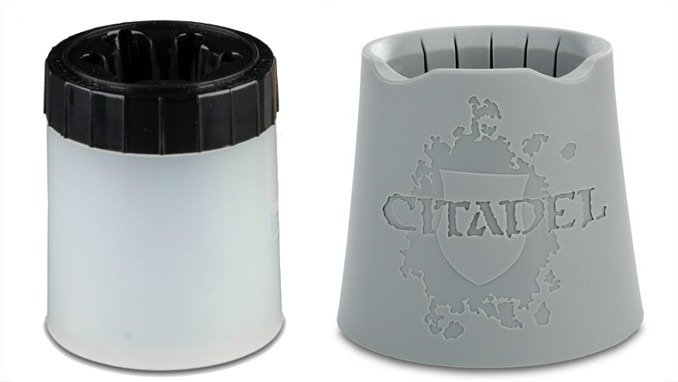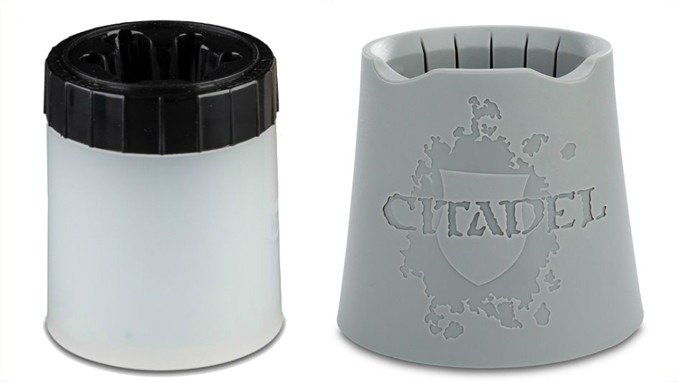 Kind of a given, but certainly worth mentioning. You need some kind of water receptacle. As a beginner, you can use some old plastic cups or empty noodle pots. When you become a "professional painter" you will want to step up to some old mugs! You could even get some branded mugs. Just make sure you have a way to differentiate them from the ones you use for hot drinks. Many of us have made the mistake of drinking a brush in a drink. Fewer, but still some, have even drunk their paint water.
There are several Water Pot products on the market that you can buy, and looking specifically at Games Workshop's offering. It's better and cheaper than their mugs and most other options.
When it comes to Water pots, you will want at least 2. one for normal paints and one for metallics. Personally, I use 3, the third one in a final rinse and also to take clean water for thinning paints.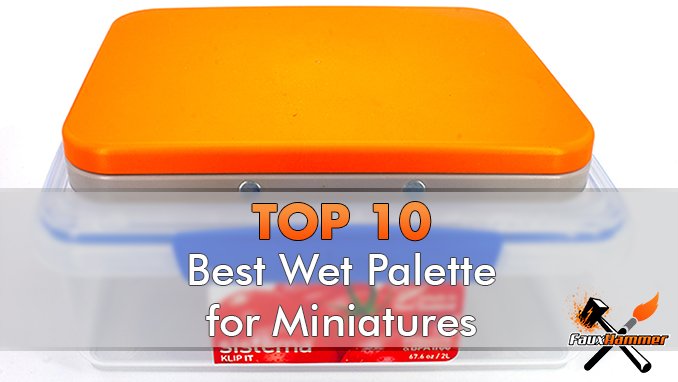 See our article on The Best Wet Palette for Miniatures
Like with primer, palettes are not "required", but if you are painting straight from the pot you simply won't be able to get a good finish. 99 times out of 100 – probably more than that, your paint will be far too thick to paint smooth layers. Get some kind of a palette where you can put your paint and thin it with water. Anything with a smooth clean surface will work. Games Workshop sells booklets of semi-gloss paper which can be used as palettes but are consumable items you need to rebuy. For years, I used an old, non-textured ceramic tile which I would clean off with Isopropyl Alcohol.
You can buy any old plastic artists palettes online which will do the job, but will also need to be cleaned off to keep the smooth surface.
The best option is using a wet palette. This is a palette with foam or tissue that you keep wet. Then a layer of semipermeable paper on top of this. It stops your paint from drying out. You can easily make your own using some Tupperware, a sponge and some baking parchment. or you can buy them online. The one that is made for and dedicated to Miniature painting the Redgrass Games Wet Palette (shown above – though now in Grey and White with an Orange Strap) is favoured by many miniature painters.
Redgrass has since released the V2 Wet palette which is slightly larger than the Lite, comes with a slide-on accessory tray rather than weak magnets. It also comes with their new reusable Hydration Membrane rather than the old Paper Sheets – which is much much better.
Though you can just get that membrane for the old "painter" now "Lite" palette.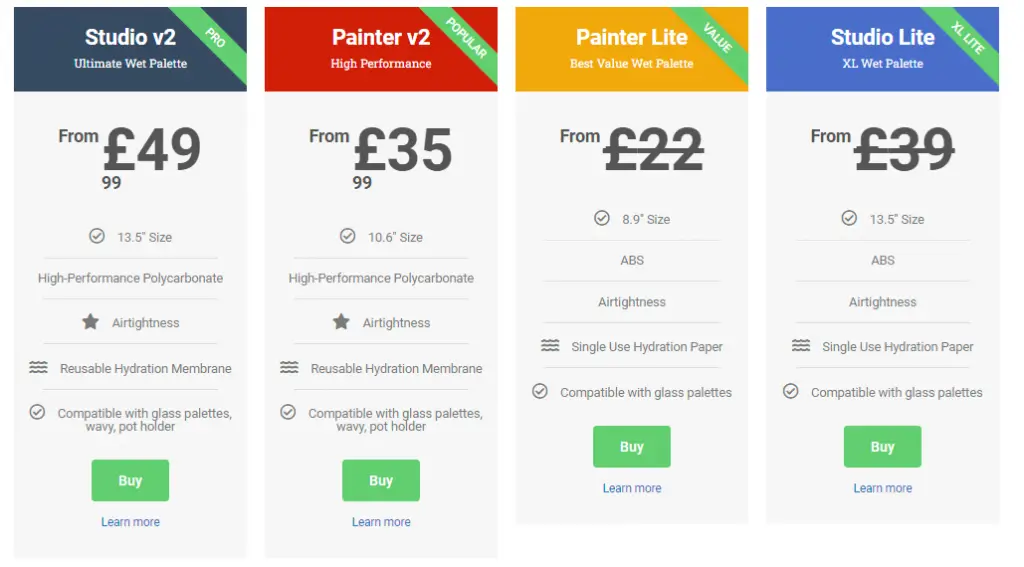 Check the above comparison of their different palettes, but whatever wet palette you get, get a Redgrass Palette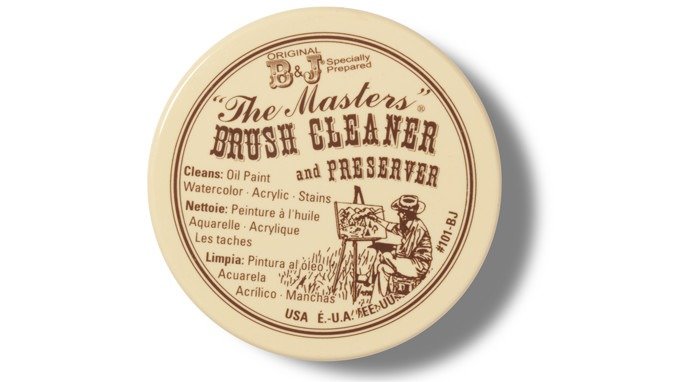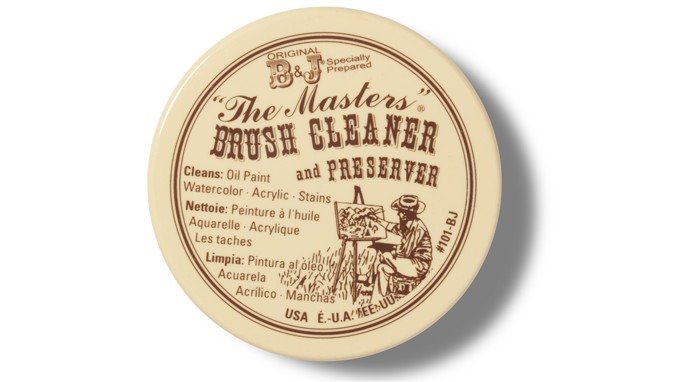 Use brings about wear, tear, and rust, (obviously it won't rust your brush but I just wanted to use a Final Fantasy Quote) A good worker takes good care of their tools and it's no different here. Keep things like knives, clippers and other metal tools free of rust. You also need to keep your brushes free of paint. at least when you aren't using them anyway.
You may think that rinsing your brushes in clean water is cleaning them, One use of a brush soap will show you, it isn't. If you're using cheap brushes like Games Workshop or generic Hobby Store brands this will greatly extend the life and condition of those brushes. If you are using high-end sable hair brushes, Brush soap is a necessity. Once you think you've rinsed your brush, run it through some brush soap and massage it through the bristles until it runs clean. Then you can finally rinse your brush and put it away.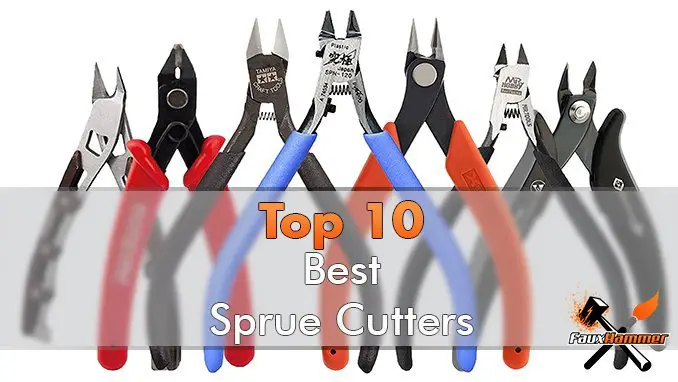 See our full article on the best sprue cutters
Quite a necessary piece of equipment. You can always remove models from sprues by flexing, ripping and tearing but this will leave chunks of plastic on your models or even worse, snap the parts. You can buy Games Workshop's own Citadel Fine Detail Cutters or just pick up any fine cutters from a hardware store at a third of the price or even less. You just want something small with the flat edge and a long nose.
So the ones you want depending on how heavy-handed you are.
You Know Redgrass Games as the creators of the Everlasting Wet Palette – here's another of their offerings – the RGG Precision Nippers.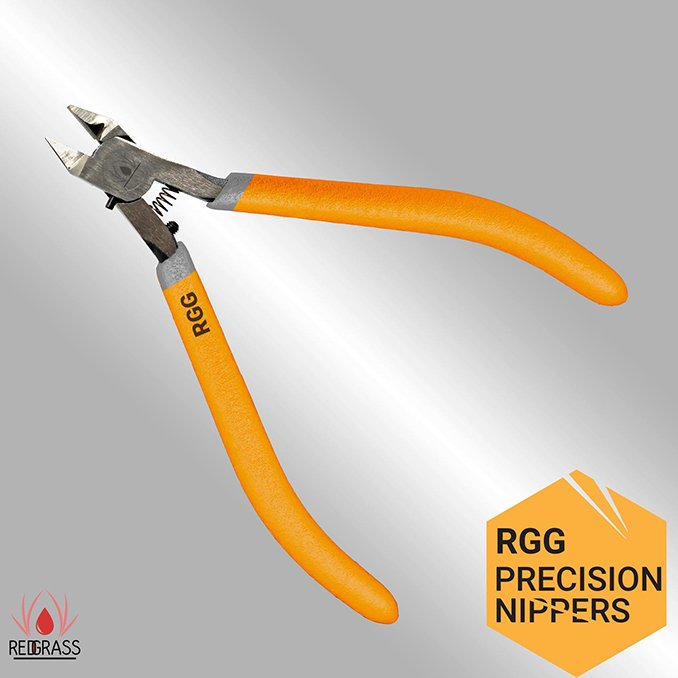 Another set featuring a flat-edge and a bladed-edge but these have the benefit of the bladed-edge being super-fine. Like the option below this limits the stress on the plastic you are cutting For finely detailed parts, this can mean make-or-break.
Hands-on with these, they leave a really smooth and precise cut and are the best we have tried for most of the main tool manufacturers (bar the sharper options below) – not the cheapest on the list but certainly worth the little extra cost over any other hobby brand.
Chances are you have never heard of Shanghai-based DSPIAE (Dream, Strive, Perfection, Innovation, Advance and Excellence). I admit when I first saw them on AliExpress of all places I caught a glimpse of these and thought, wow, someone trying to knock off the Godhand SPN-120. But for the price, why not pick a set up so I can slate them in a review.
Boy was I wrong.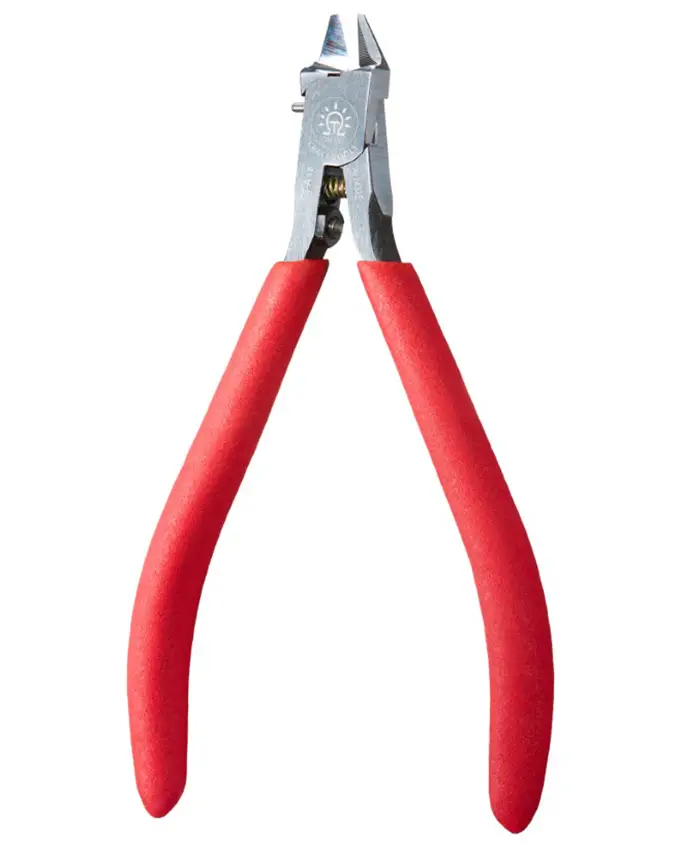 You can see the similarities between this and the Godhand, in fact, even on close inspection, other than one being red and the other being blue, there is very little difference. Even the curves in the metal are pretty much identical with only some minor flourishes like the retaining screw and spring extension protector being in a slightly different place.
DSPIAE have now released the 3.0 version of these, but I have seen little difference between them and the 2.0, so if you can get the 2.0 still, grab them. they are just as good.
Most importantly with snips of this level (compared with the Godhand), the quality of the cut is indistinguishable between them.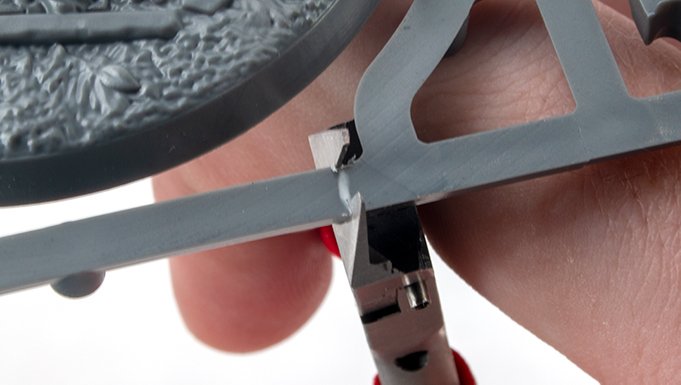 The image above shows just how little stress is put on the plastic as these things carve through sprues like butter. Grab your current set oof cutters and try this yourself. see how much of the sprue is stressed (it will turn white). Notice how one side will be left in the shape of a V as the cutters have mangled it. and notice on the other edge as you can still see a pinch of plastic where the cutters weren't flush. Because you are still going to need to deal with that on your models before you apply primer & paint.
These, like the Godhand, are however more fragile than any of the other cutters on this list. they're a different beast. I've broken my first pair of Godhand because I did not heed the warnings. But now I know, it won't happen again. It's simple really. As you are cutting the plastic, don't bend and flex them, the sharp blade is so fine (that's what makes them cuts so cleanly) is thin and it can snap if flexed. don't flex it.
It's a trade-off that I think is well worth it because they make the build process so much faster, easier and cleaner.
With these, I can get so close to the models when removing sprue gates that when I cut flat surfaces, there is only the finest amount of plastic remaining that a quick shave with a hobby knife will clean up. If I cut a part which is at a right-angle to the gate, there's rarely any clean up to do.
Oh, and did I mention these are almost half the price of the GodHand models, about half over again on the Citadel Fien Detail cutters.
They come much better packaged, presented and protected than any other set, and you can even verify authenticity on their website!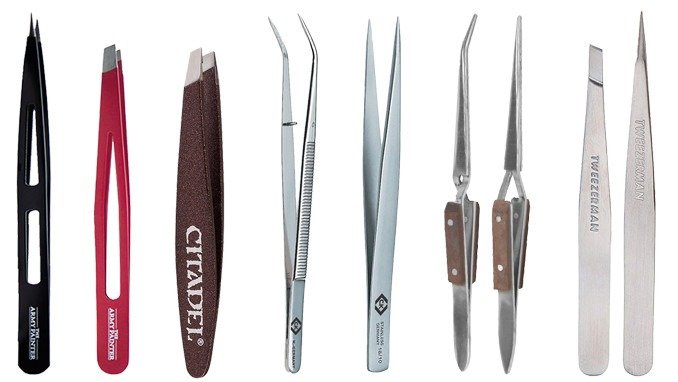 You can pick up tweezers anywhere for next to nothing, however, these options are normally soft metals and you will find the nose bends, long before you can get a good grip.
If you want to pay more money just for the sake of it, you can get some wargames branded tools, but you really are paying for the name. There's nothing wrong with wanting all of your tools to look cool and have a similar aesthetic.
I do however suggest that if you are paying more for tools like tweezers you check out companies like Knippex or C.K Tools for some professional long-lasting kit used in Electronics. These items will last for years if not for your entire modelling career.
There are multiple types of tweezers you can pick up. There's your grip type. You can get the more common ones that you hold closed. A much better option in most cases is the reverse of this where they are closed and you press to open them. These ones will keep a hold of the item until you press to let go. Much better for modelling.
Then you need to look at the tip, most commonly you will want some long needle-nose or point-top tweezers for precision and a set of slant-tip tweezers (like the Citadel ones) for holding things like transfer paper.
Finally, don't underestimate the use of forceps, especially useful if you start to pin components for airbrushing. As you can clamp the pin to hold the item with enough distance to spray.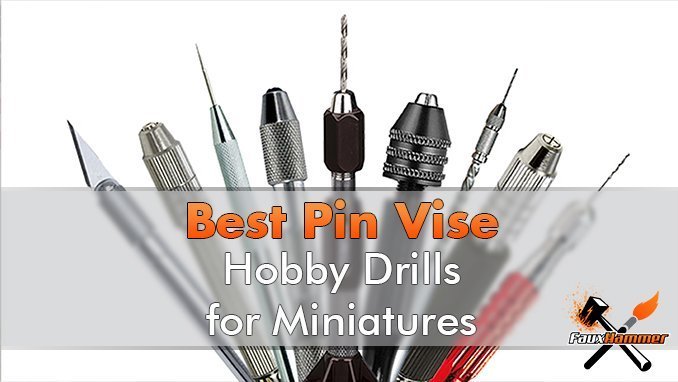 See our full article on the best Pin Vice for your miniatures
An activity which marks the difference between a complete beginner and someone who has been in the hobby for a while is drilling out gun barrels. You will notice that most weapon gun barrels have the recesses formed in plastic. The actual barrel opening on the front of most weapons is rarely moulded in and it's frequently none existent.
Get a Pin Vice, to drill out those barrels in the very least and actually show the depth within them. Don't believe me? Just post a picture somewhere online, of any model without the barrels drilled out and at least one person will hunt down that picture and shout "DRILL YOUR BARRELS!".
Another good use of a Pin Vice is drilling holes for pinning your components. Whether this is to securely attach weighty metal components and make sure the superglue holds, or just to put pins in to mount them to cork as you paint.
IMHO, this is the perfect Pin Vise. It has a standard build style and is nice and thin. Really sturdy construction and the bearing rotation between the body and handle is firm (no wobbles) and smooth. The body on the D-R is rubberised with a ridged grip making this the most comfortable model available (seriously, check the pics below, the D-R is the exact same vise but it has rubber around it). If you're drilling a lot of mini's, this does make a difference. It will likely wear down with time but a loooootttttt of time. There's always the Tamiya Fine Pin Vise D (74050) which is a full metal version.

Check Tamiya Fine Pin Vise D-R price at Element Games
It has 2 collets The bits that hold the drill pieces). one is stored in under the handle whilst the other is in use. It is one of the slightly more expensive options alongside the Citadel Drill. But it is a purchase that offers you the most convenience and with a half-decent level of care, you will only need to make once in your whole hobby career.

Best of all It houses up to 3.2mm drill bits with a perfectly snug fit for PCB Drill Bits -= this means that instead of swapping out drill pieces sizes and collets every time. just one collet will hold varying drill pieces sizes! It saves so much time.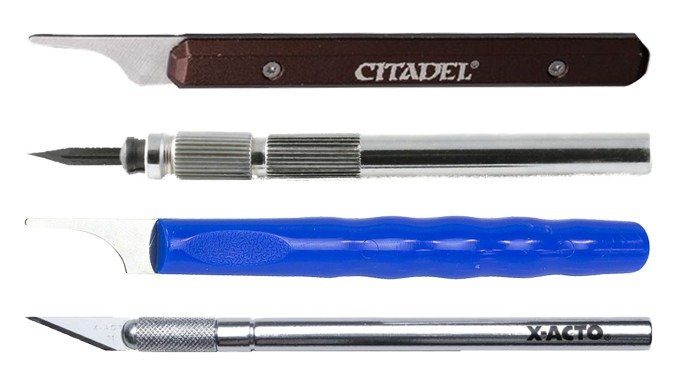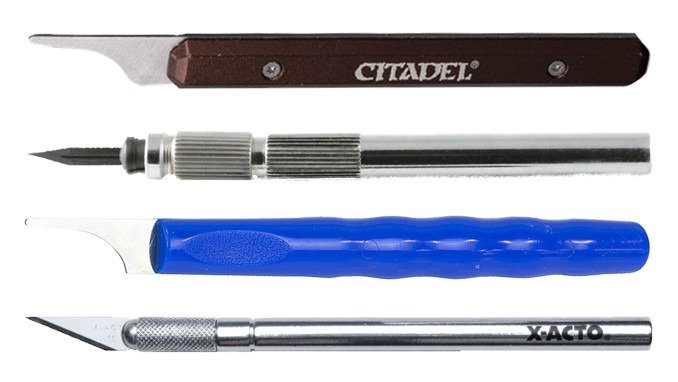 Just use your hobby knife. unless you are a youngling – in which case get the GW one as it's safer and made for the job, it just won't get into the finer details of the models.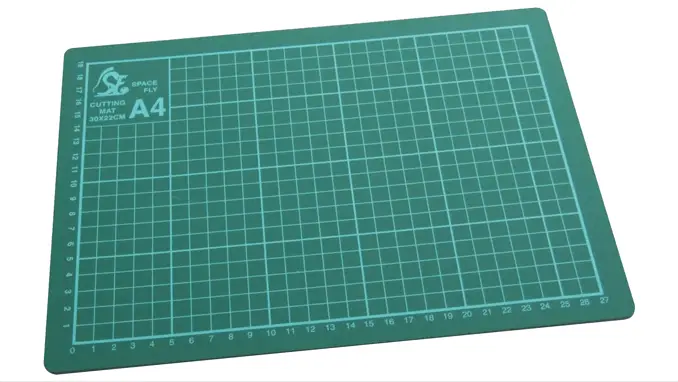 The necessity of this item is dependant on how much trouble you will get into by cutting into a tabletop. A self-healing cutting matt is a necessary component to protect your work surface. They are a basic and very cheap product to pick up and are really all dependant on the size you want.
If you fancy something a bit more Snazzy, Games Workshop has the Citadel Cutting Mat. but any of the standard green or blue mats will work just fine.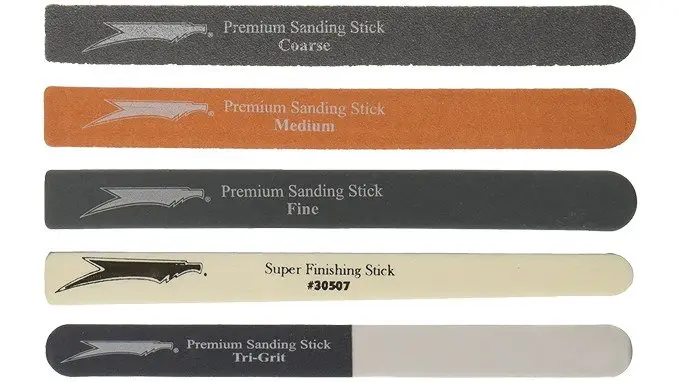 Sanding, even with sandpaper is really useful when working with miniatures.
If you want to take your mould line removal to the next level or even clean up some of the edges where parts have been glued together and get a perfectly smooth join. There's nothing better than sanding and polishing sticks.
One of the more popular brands is Squadron. Which are great sanding sticks but the size of them makes them more useful for scale models than miniatures.
The better option (IMHO) is the flory mini sanding and polishing mini sticks from the UK (pictured above), which are exactly the size you need for miniatures.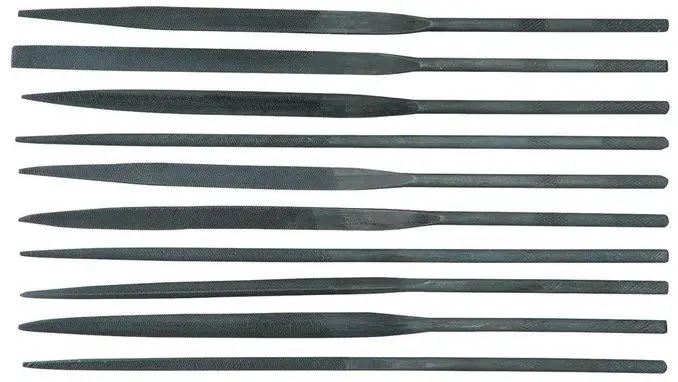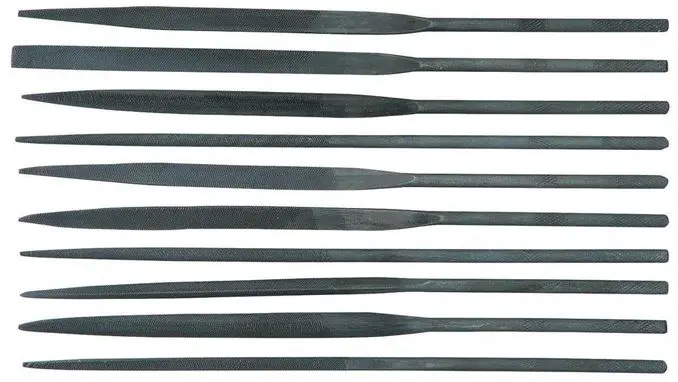 When working with resin or metal miniatures, sanding won't get you very far. A better option for removing those nasty bumps and lines are modelling files.
Honestly, you can pick up a full set of hobby files for next to nothing and these are perfect for the beginner.
At an intermediate or advanced level, there are some specialist brands who do higher quality sets. But for the highest level, you want to be looking for a jewellers quality set. With good care and attention, these will last you a lifetime when working with softer metals like pewter.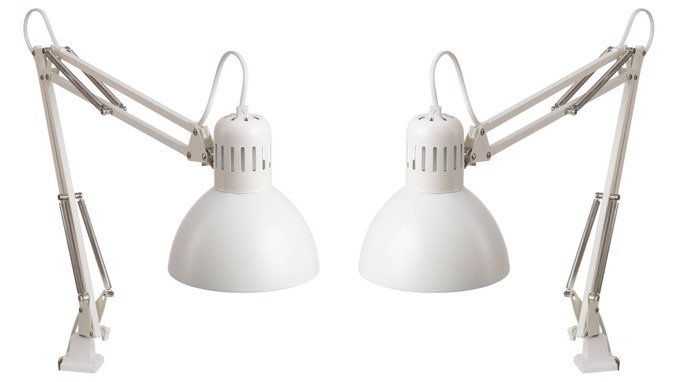 Good lighting really is a key requirement for painting, but it's lower down on this list because no matter how many people tell you this it will always be one of the last things a hobbyist buys. You can start with natural daylight then a simple set-up with a couple (that's right, a couple) of lamps.
For a proper setup, you want to upgrade and to get some bright daylight bulbs.
You can make your own light arch over your hobby space.
Finally, there are dedicated hobby lamps which offer the perfect lighting set-up.
But before buying these. I suggest you wait untill Redgrass release their task lap, which will undoubtedly get everyone's thumbs up as "THE" product to get.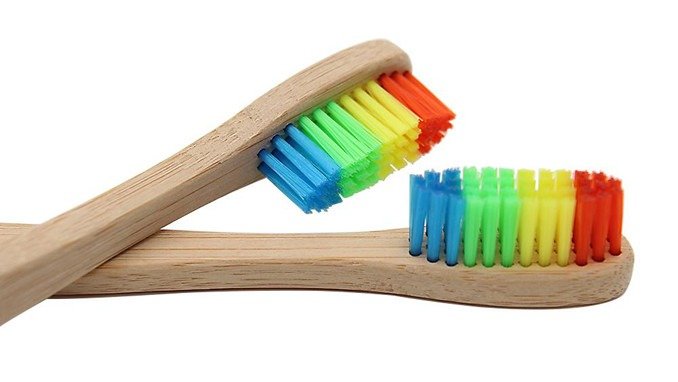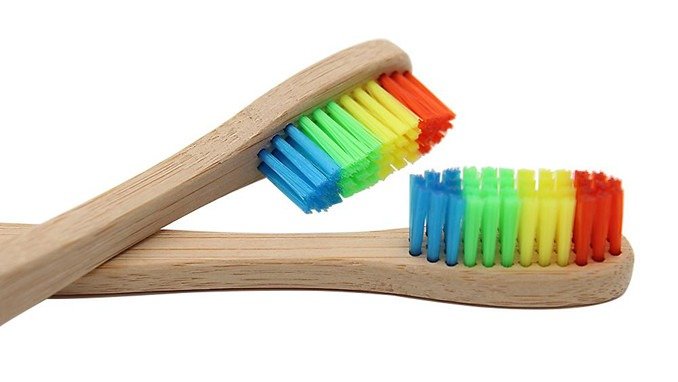 There are 2 main uses for a toothbrush in miniature painting. one is cleaning your miniatures with dish soap before priming. this is to make sure there's no residual release agent on them from the mould removal process. This stuff can stop paint or primer from bonding to the model altogether.
The other use is stripping paint off your miniatures. If you have a paint job but want to start again with a mini. then you can use isopropyl alcohol, a toothbrush and a little elbow grease will get that paint off a mini in no time. If you really want to go to the extra expense, an ultrasonic toothbrush will help too.
Advanced tools are optional and only necessary for true enthusiast hobbyists.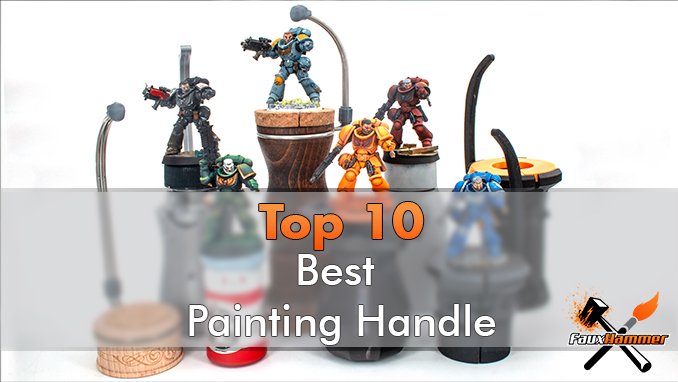 Check out our article on The Best Hobby Handle for Miniature Painters
One of the things that separate a well-painted model to a great painted model not touching the paint job at all whilst you are painting it.
Sure, the paint may be dry, but the natural oils on your fingers will give the paint an inconsistent finish at best and at worst will smudge and soften the style of the paint, along with transferring dirt to the surface of the model.
A couple of ways around this. 1 use gloves. 2 use a painting handle which also gives you the benefit of avoiding cramp whilst you paint. (something us older folk have to suffer with). You can make your own handle with any old pot and some blu-tack, then there are some others you can buy
Games Workshop has some of the most basic offerings, assuming you attach your mini to its base before painting. Then there are some others with unique features like the Redgrass Games RGG 360 handle. This product is great, especially for airbrushers!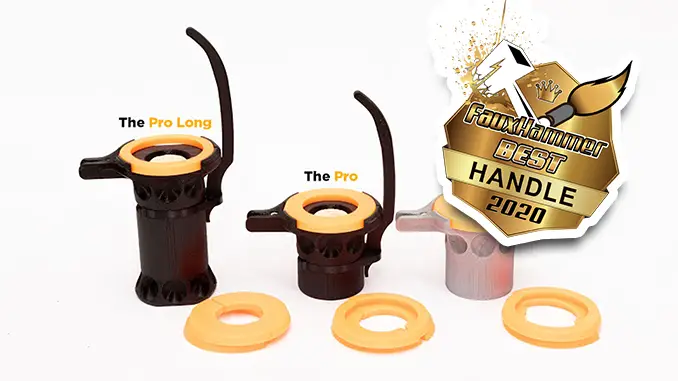 Our favourite option, however, is Garfy's get a Grip series, which holds based (up to 50mm) models or cork allowing you to attach parts using pins. This also has the added benefit of having a protective riser bar in the pro version. Also, it's pretty cheap in comparison to its competitors.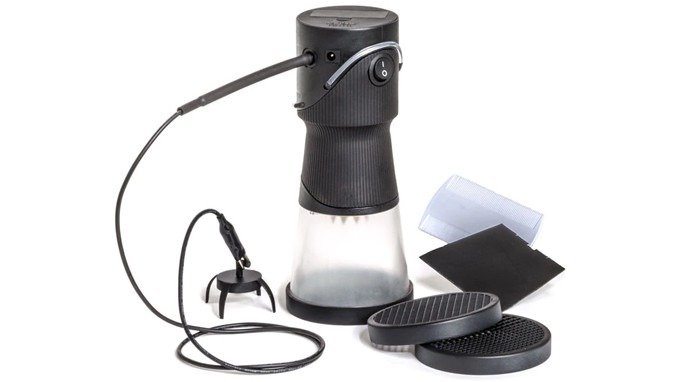 Did you know that Static grass is meant to be statically charged before application? No? well, now you do. Static is meant to be applied with an applicator. The function of this is to pass an electrical charge through the static fibres immediately as it's applied to wet glue. This is what takes your flock from looking unevenly spread across a base to actually standing upright. If you want to do grass bases, to make them look anywhere near realistic. you can't get far without one of these.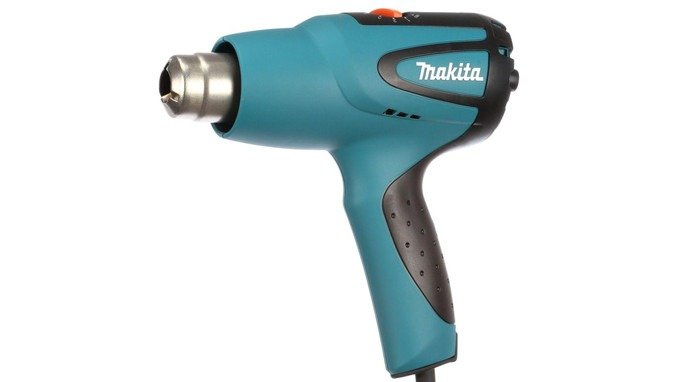 The deeper you delve into frequent painting, the more dispensible a method of quick-drying your paint. If you are display-painting you will need this between layers and equally so if you are batch painting. Give the mini's a quick blast between coats so you know they are solid. this avoids you lifting partially dried paint which is the biggest cause of badly textured models.
A hairdryer is a hairdryer, meaning one is usually as good as the next for this job. The cheapest hairdryer you can find will probably do the job. So long as it gets hot enough. But personally, I opt for a decorators heat gun set on it's lowest setting. For one main reason. a hairdryer is intended to be used in short bursts quite infrequently, to dry hair.
A heat gun is made to project hot air consistently. On their lowest settings, they are normally a touch hotter than the average hairdryer on its highest setting. Don't turn it up because it can strip your paint or melt your plastic and resin models. But the one I bought has been my go-to drying instrument for the past 5 years,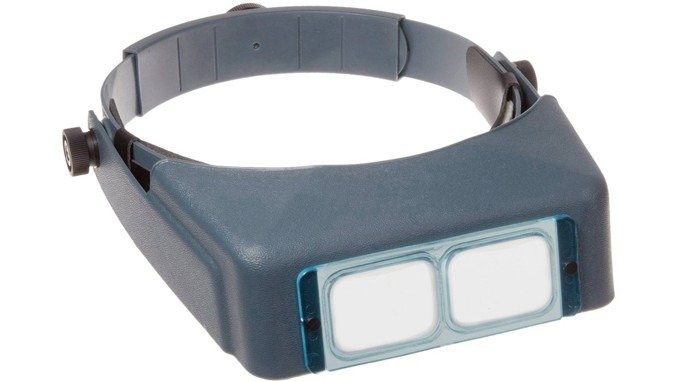 When you are finally ready for painting some of the finest lines, magnification helps, it's not necessary, but it helps.
There are multiple options here. you can buy a simple magnification stand which will hold your parts and have a magnifying glass, however, this is normally only one level of magnification.
Another option is a magnifying lamp which can both illuminate the mini and magnify it. Again, these are typically only one level of magnification, but some are adjustable.
The best option is the head-mounted magnifier with various levels of magnification.
have a go, i;ve tried them and couldn't get on with one, but others say they love them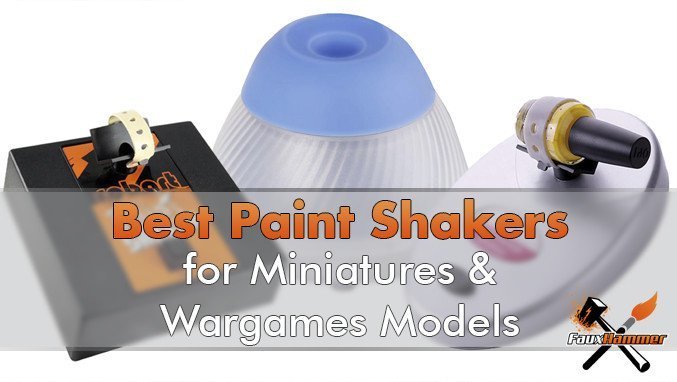 Check out our article on the best Paint Mixers on the Market.
There are a number of paint shakers on the market and a number of DIY options you can utilise to keep your paint in the best shape. The first tip I have with paint pots would be to transfer Games Workshop paints to dropper bottles. Or just use a brand that is already in dropper bottles. Whatever you do or don't do, it's worth adding an agitator to your paint pots to assist with mixing.
Before making your own DIY paint shaker, please don't go looking for a way to attach your paint bottles to a drill. I've seen so many people do this and that isn't a mixer, it's a centrifuge. It will separate the pigment from the medium, not mix it. The correct way to use a spinning device to mix paint is to get something like a drill or Dremel and put a brush end in it. Or you can buy something like the Badger paint mixer. but this is essentially just a Portable Coffee Frother.
The best DIY method is attaching a g-clamp to something like a jigsaw.
There are some actual paint shakers on the market, the cheapest being a nail polish shaker and the more expensive being the Robart 410 paint Shaker.
The absolute best paint mixer you can get is a vortex paint mixer. These work by creating an orbital spin of the paint bottle which causes the paint to act as a vortex. Constantly churning the pigment and medium in on itself. They are on the more expensive side of tools, but since having one I have found them indispensable. For me, it has even recovered some very old paints from near death.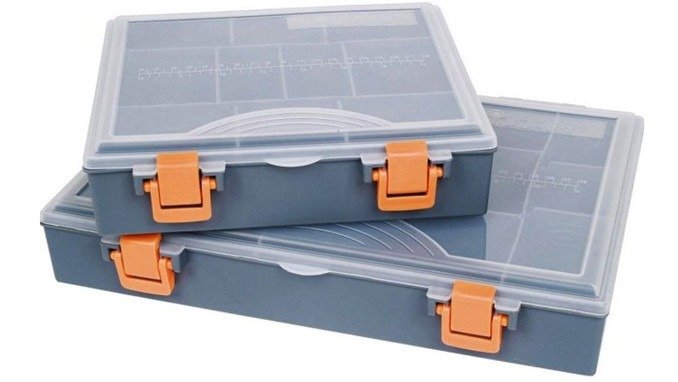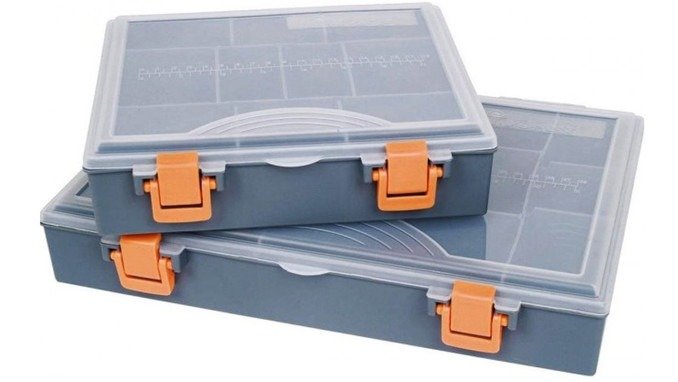 If you are new to the hobby, you'll soon start to find that you have many leftover components. parts can be used for later conversions, painting practice or basing materials. Some people sell their leftovers on eBay, after all, one person's trash is another person's treasure.
Any storage box will fo at first, even the box your models came in. After a while, you'll build up enough components that you'll want to start sorting and organising them. Something like a nuts & bolts storage box or a fishing tackle box.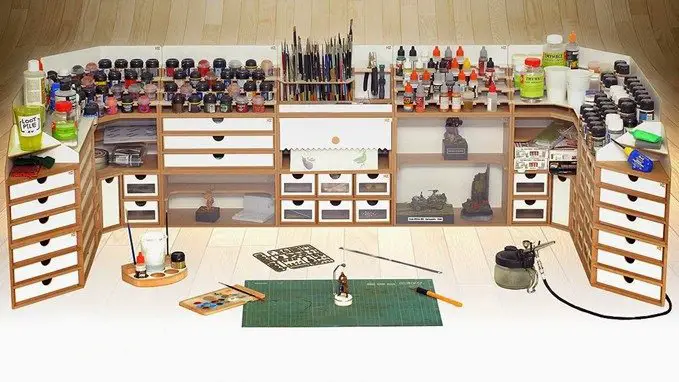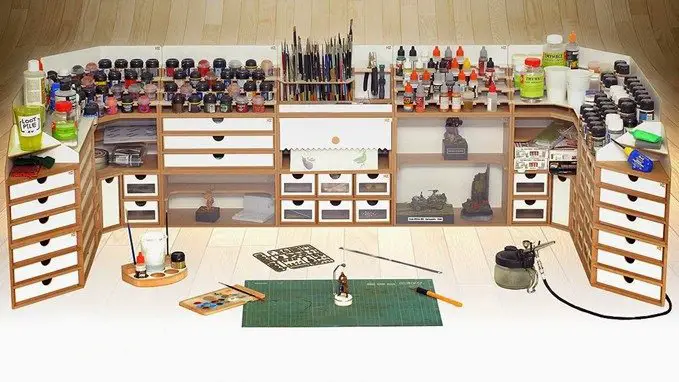 At first, you will probably just use your dining table and some storage boxes. as your models and equipment grow. it becomes more necessary to have somewhere dedicated to your hobby. If for nothing more than to avoid having to pull everything out and put it away every time you want to sit down and do some painting.
For desks, it'd down to personal preference, available space and how much you get it in the neck from other people living with you for leaving all of your kit out. The general rule of thumb is to get a large flat surface and get lots of drawers. you can get dedicated hobby desks which fit this requirement.
For storage, there are multiple options out there and most of them are variations of either laser cut wood or perspex which slots together to make drawers, paint stands or wall mounts. The most coveted set up is the HobbyZone Modular Workshop system which has a series of drawers and racks that you can build in a configuration that fits your space. Check out our reviews of the modules.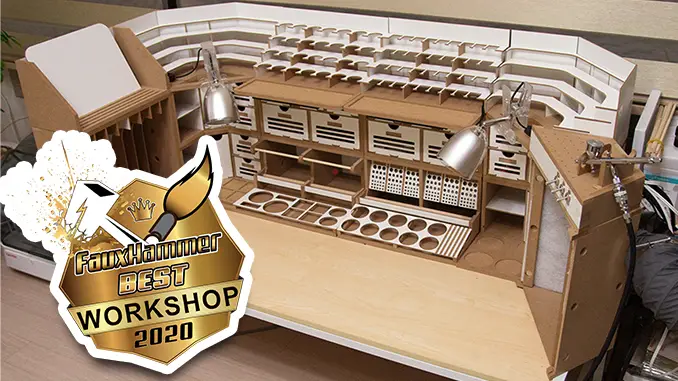 My personal preference is still the Arttystation however as it can be built without Gluue which saves so much time and the units have a protective layer on the sides.
Nobody seems to know about them but me!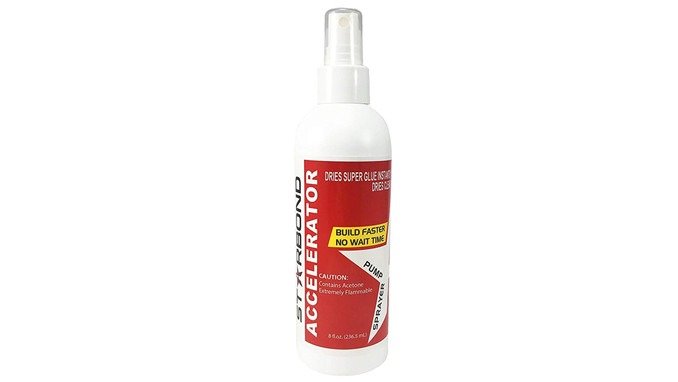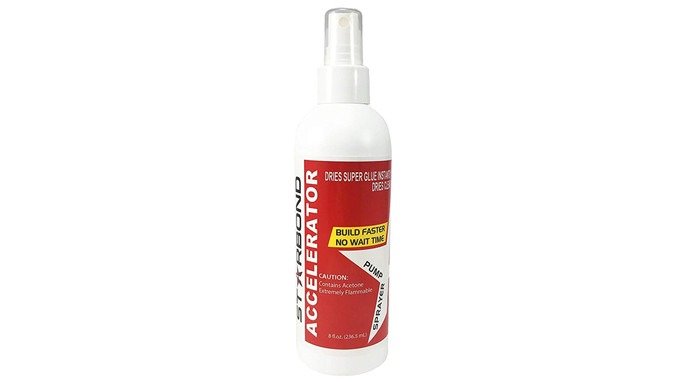 Super glue is super, but for some, it can still take some time to dry and the bond isn't naturally as strong as it can be. A superglue activator is simple, it will cause the glue to instantly cure and the bond will be much stronger than without it. Not the most necessary tool, but definitely useful for larger metal and resin models.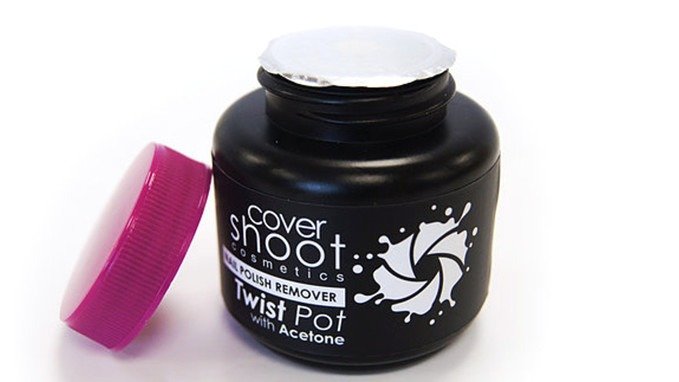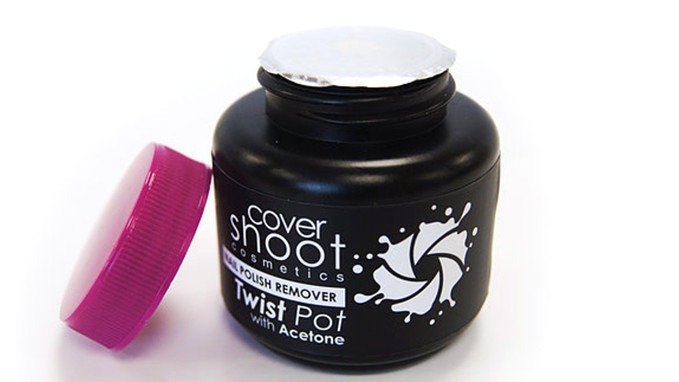 Throughout your hobbying, you are likely to get paint and glue all over your fingers. Especially now it has become quite fashionable to use the back of your hand or thumb-nail as a sub-palette. You could always use latex or nitrile gloves to avoid this. But if you prefer the tactile feedback of using your fingers directly, getting paint or glue on them is unavoidable.
The most marketable product you can use is nail polish remover. its acetone-based and will take both paint and glue off your fingers. Personally, I steal a pot from my wife that has acetone soaked sponge in it. you just did a finger in and swirl it around until it's clean.
If you are buying a paint stripping product for miniatures themselves. I've said it before and I'll keep saying it. the product you want is isopropanol, aka, isopropyl alcohol or IPA.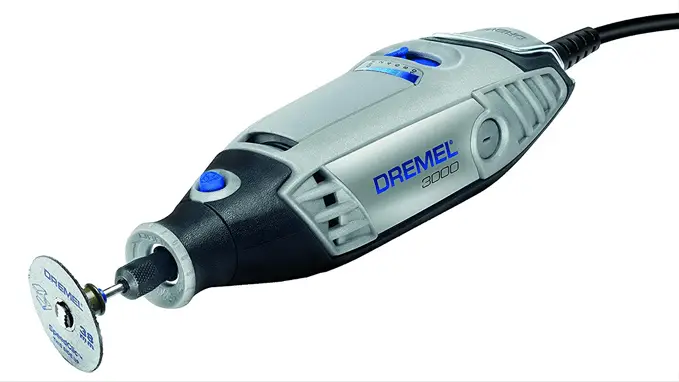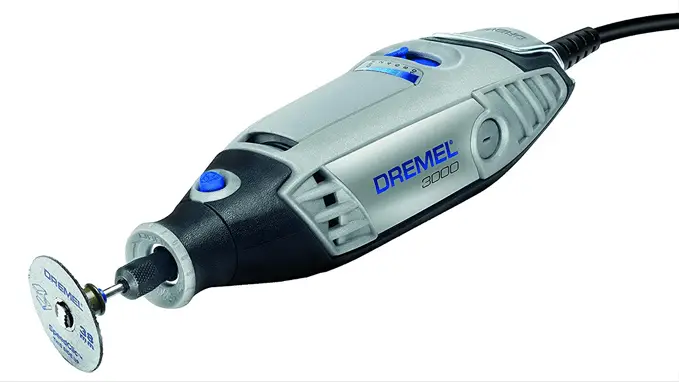 A Dremel or any other rotary tool for that matter is generally just a great tool to own. Not just for miniatures but jobs around the house too. But for the sake of this article, let's stick to miniatures.
It slices, it dices. But wait there's more. It also works as a sanding tool, a polishing tool, a cutting tool and my personal favourite, a paint mixing tool. For most cutting jobs that you would use a hobby saw for, this will greatly reduce the time and effort needed. The same with a pin vise, the Dremel will drill much faster, which is almost necessary for metal models, many of which will need pinning in order for parts to stay securely affixed. If you have any old paint that's dried out, just add a brush end to it and stick it in the pot to mix it.
If you are thinking of picking one up, I highly recommend a wired one over a battery-powered model. not that it spins faster. if you spin it too fast it can melt plastic minis instead of drilling or cutting. but the wired models have more torque, meaning they won't get stuck in the middle of a cut.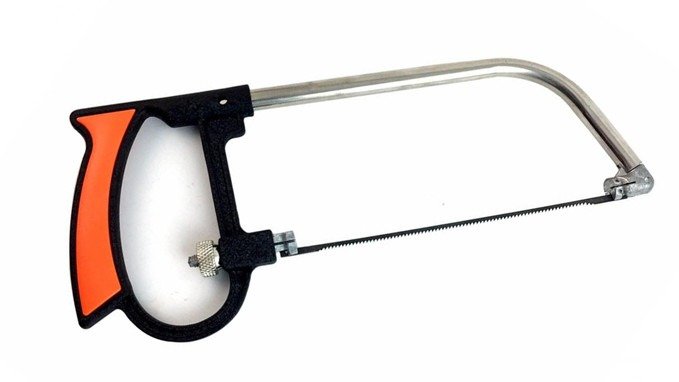 Not the most necessary instrument unless you are converting miniatures, sawing up scenery components or removing the large blocks of resin that come attached to resin miniatures.
When it comes to cutting through Resin, a hobby knife will not do the job, whilst it has a plasticky feel, Resin is a lot stronger than your usual plastic miniatures and needs something like a saw to cut through. It's a cheap yet indispensable tool when you get deeper into the hobby.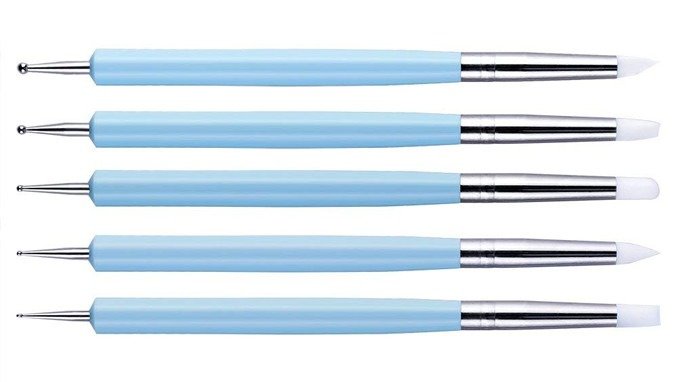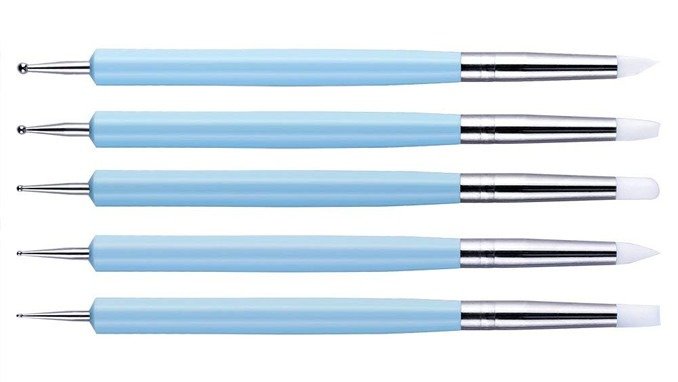 Sculpting is not really for everyone, and, for this reason, it goes into its own specialist category. I know many incredible painters who are terrible at sculpting and never do it. I know many incredible sculptors who are terrible at painting. Some are incredible at both (I am so jealous of those people).
You can start your journey with a simple metal sculpting toolset. Games Workshop does their own Citadel range of 3 basic tools.
You can extend this range with various metal sculpting toolsets available
Beyond that, a variety of brands make numerous different silicon sculpting toolsets featuring various shapes and sizes for smoothing out and shaping your creations.
You can also pick up a set of Sculpting Styluses too for your poking and prodding needs.
Click this link & buy your hobby stuff from Element Games for the UK & Europe to support FauxHammer.com – Use Code "FAUX2768" at the checkout for double reward points.



Our Affiliates / Hobby Stores
What did you think of this Article? Please let us know in the comments.
If you like what we're doing here you could really help encourage more content with a share on any social media platform.
Click the share links at the bottom of this screen (or on the left for computers and tablets)
Want to keep updated with the blog? You can subscribe in the sidebar for RSS or by email below
(Sidebar is below the article on Mobile Devices)