Darkstar Molten Metals Review for Miniatures & Models
Last Updated on April 23, 2021 by FauxHammer
Here's a paint range entirely dedicated to True Metallic Metal (TMM) effects – see what we think of them in our Darkstar Molten metals Review
Click this link & buy your hobby stuff from Element Games for the UK & Europe to support FauxHammer.com – Use Code "FAUX2768" at the checkout for double reward points.



Our Affiliates / Hobby Stores
When it comes to painting your miniatures and models with true metallic metals it's not easy to find a set of paints that ticks all the boxes. Whilst this range doesn't quite do everything you could possibly want. It's still a solid range with coverage on par with some of the better metallic acrylics. A fine pigment, high sheen and one of the greatest varieties of colours to choose from.
The Best Paints for Miniatures & Wargames Models
This article is part of our series looking at The Best Paints for Miniatures & Wargames Models.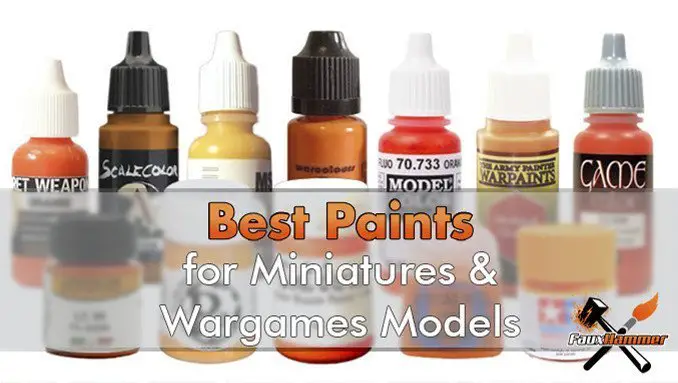 If you want to check out what the best paints are for your projects, please check out our Best Paints article by clicking the image above.
Darkstar Molten Metals – Range
The Full Range consists of 27 metallic paints (and a bottle of thinner). Whilst these many similar shiny colours may seem overkill, as I used them more and more I was able to see the variety of uses these paints had. For both Golds and Silvers, it gave me the power to have diverse or subtle shifts in the metallic colour value. In addition, I had a wider range of hues which can easily add more visual interest to any metallic surface.
For Silvers, this was especially interesting as I can now add some (almost) warmer tones to the metallic areas and have more interesting contrast across a specific piece.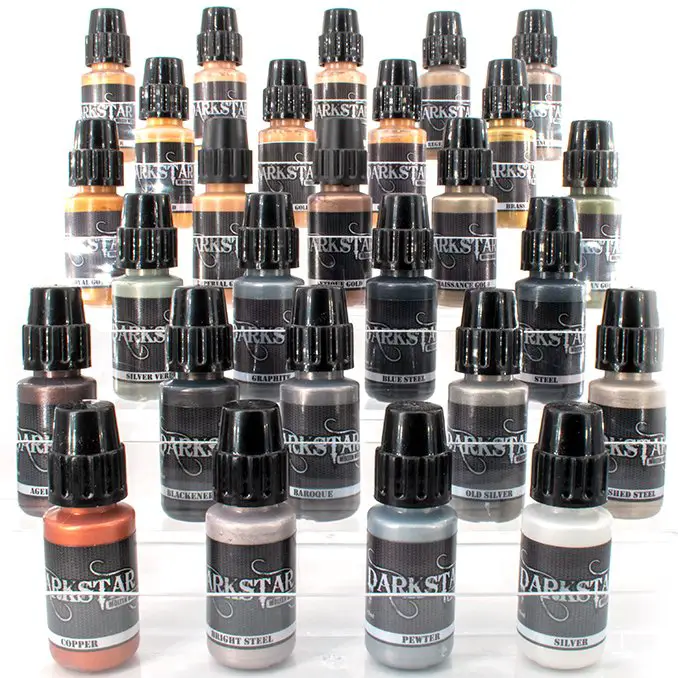 The complete range consists of the following colours;
DM101 – Royal Gold
DM141 – Copper
DM161 – Pewter
DM181 – Regency Gold
DM201 – Pale Gold
DM2111 – Imperial Gold
DM221 – Renaissance Gold
DM2291 – Bronze
DM2331 – Bright Steel
DM2499 – Platinum
DM271 – Steel
DM301 – Brass
DM864 – Antique Gold
DM500 – Metallic Thinner
DM121 – Classic Gold
DM151 – Silver
DM171 – Graphite
DM191 – Blackened Bronze
DM211 – Victorian Gold
DM2131 – Fine Gold
DM2251 – Tarnished Steel
DM231 – Old Silver
DM241 – Silver Verde
DM261 – Baroque
DM281 – Braid Gold
DM498 – Polished Copper
DM856 – Blue Steel
DM867- Aged Copper
The paints come in 17ml dropper bottles, (once again Dropper Bottles FTW!). One thing to note about these bottles is that they are more flexible than most. When I first gave one a squeeze to pour paint out I was surprised how quickly, and how much paint came out. Word of advice – be gentle – it's a subtle issue, but one that's important to know when your muscle memory is trained by bottles from the likes of Army Painter of Vallejo.
Style-wise, I like the Darkstar design, although the running paint effect dripping off the D always makes me think that I've scratched some of the label off – I've used all of these now and it still gets me every time.
Darkstar Molten Metals – Brushing
I started, like with any review, just brushing this paint onto models and my immediate reaction was that I was unimpressed. From the style of the website, I expected these to be a one-coat solution to painting metallics. however, in practice, this was not the case.
But One-coat isn't meant to be the case, It was my own expectation that let me down here – how much of that is actually due to the marketing I'm unsure, but check out the website and see what you think?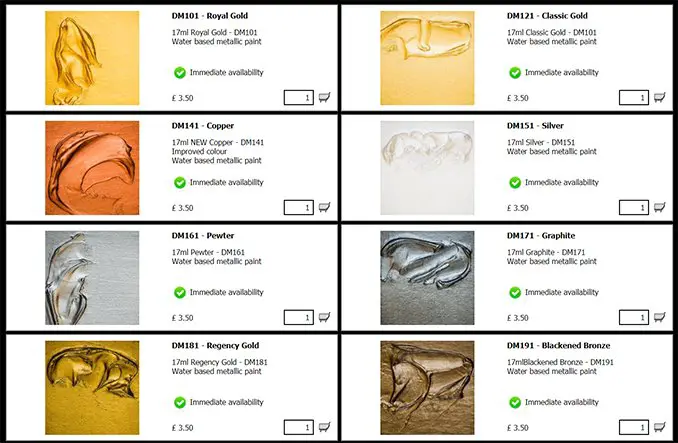 The guy below has had just one coat of Brass applied to the trim (the Goldish areas). Ignore the main armour colour, for now, this was done with airbrush and drybrush which we'll cover in a mo.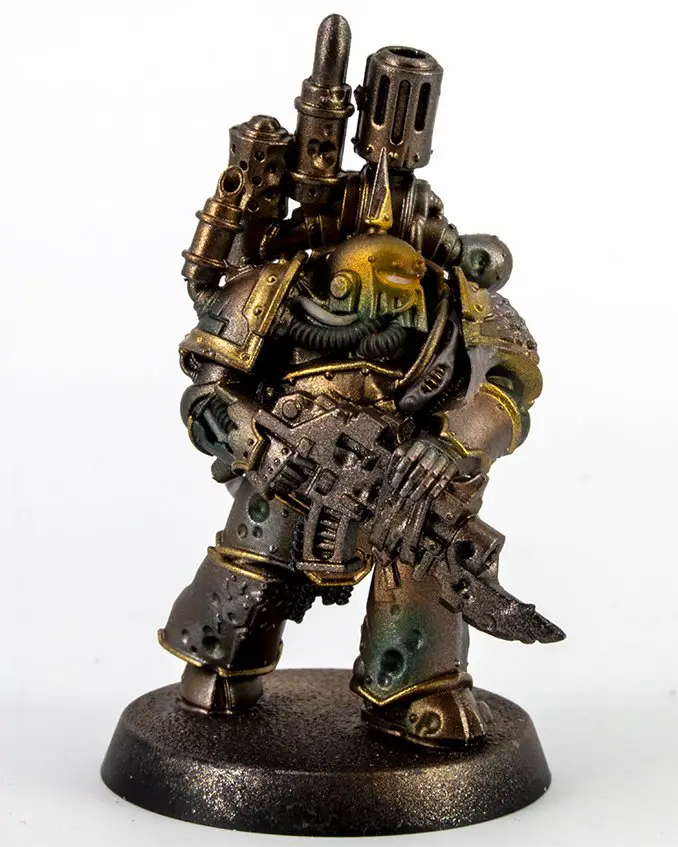 However, once I got passed my expectations and actually got them down on the surface, after a few coats (only 2 below), they really stood out.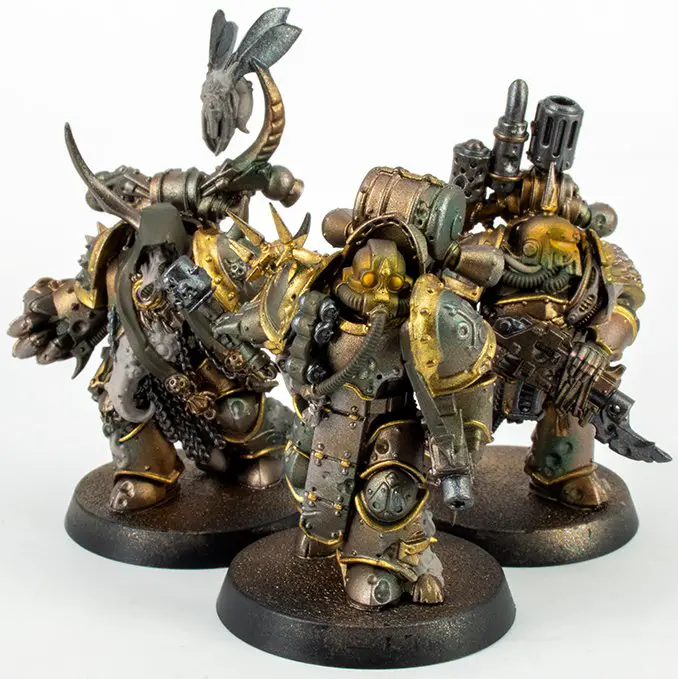 Even with a brush, the fine pigment of these paints really blends into a single smooth surface without heavily clogging the details. Many other brands would still show flecks of metallic colour all over the model
The medium also leave a solid glossy sheen which further enhances the shine of the metal surfaces.
Darkstar Molten Metals – Airbrushing
When it comes to airbrushing, these paints are a dream. For wide nozzle airbrushes, you can easily spray them without adding any thinner. But I feel this is heavy-handed and just wastes paint.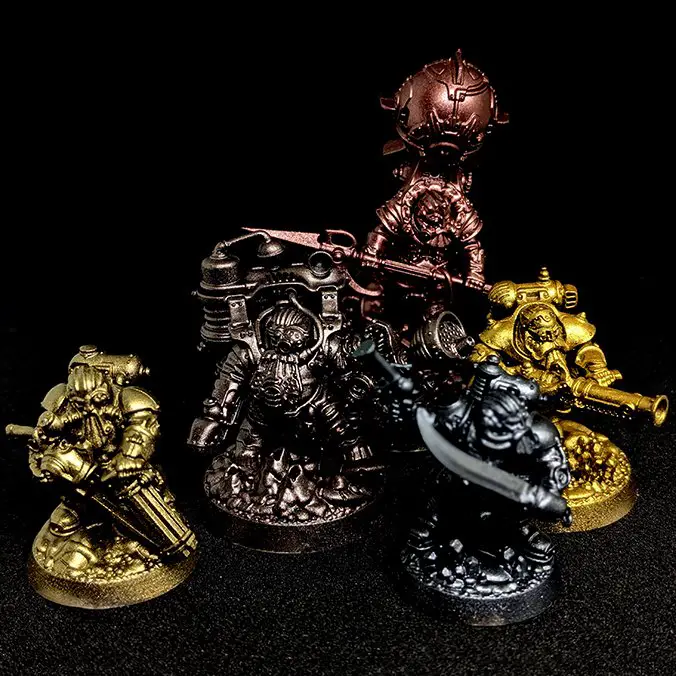 Adding a little airbrush thinner (or the included thinner from this range) helps the paint to go on smoother – great for transitions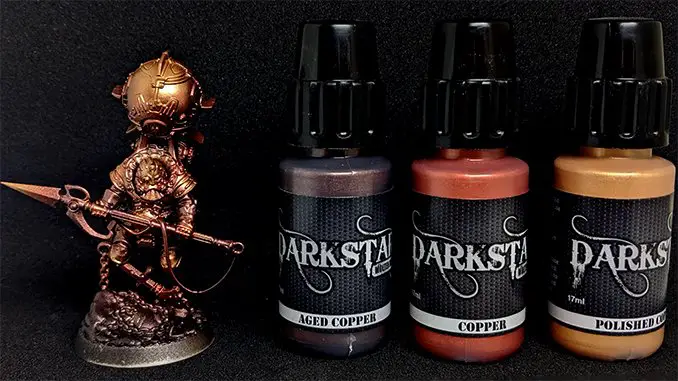 When it comes to the metal thinner which was included here, I didn't see much difference between this or any other acrylic thinner. And for the majority of the time, I just used water for brushwork and Vallejo Airbrush Thinner in the airbrush.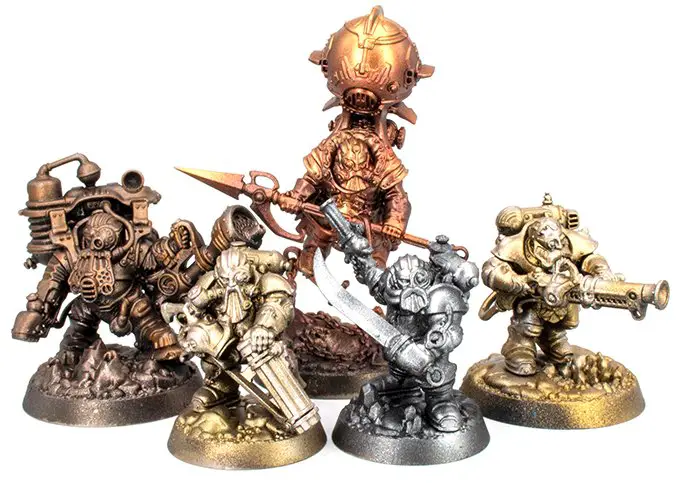 When sprayed on, like with normal brushwork, you end up with a highly reflective sheen. This certainly isn't Mirror Like Chrome but it is generally shinier than most other paints on the market and the finish is really tough.
Darkstar Molten Metals – Drybrushing
I'll admit I'd never tried drybrushing with metallic paints before this review, But now I have these paints I don't think I'll ever stop.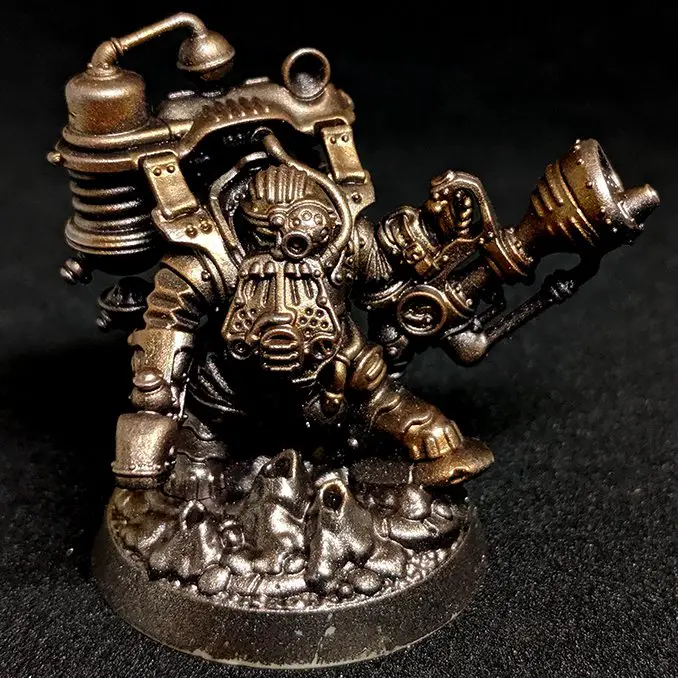 The fine pigment of the Darkstar range really lends itself to getting some smooth transitions between colour changes. Using these paints with some decent drybrushes can make painting metallic based armies a breeze and the colour variation available will add some amazing interest to them.
Even the drybrush palette looks great!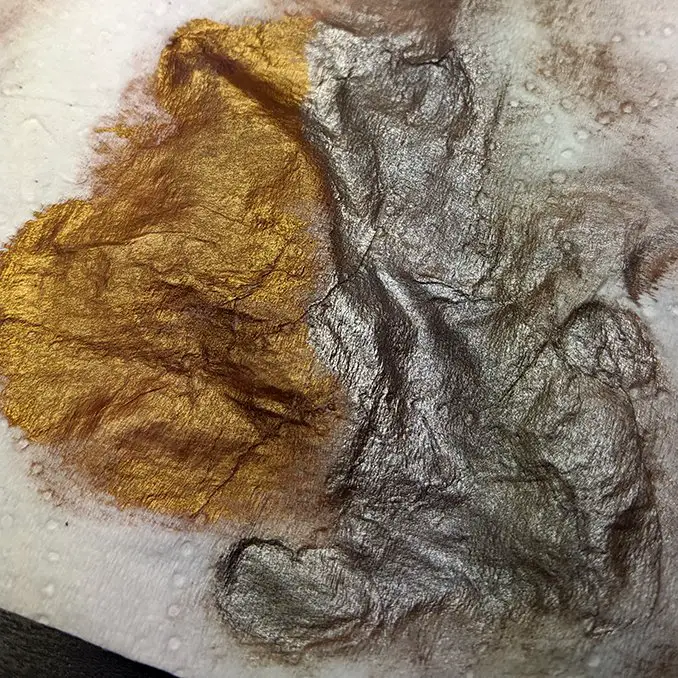 One thing I noticed throughout the range is that the colours look quite different in the bottle to how they look on the models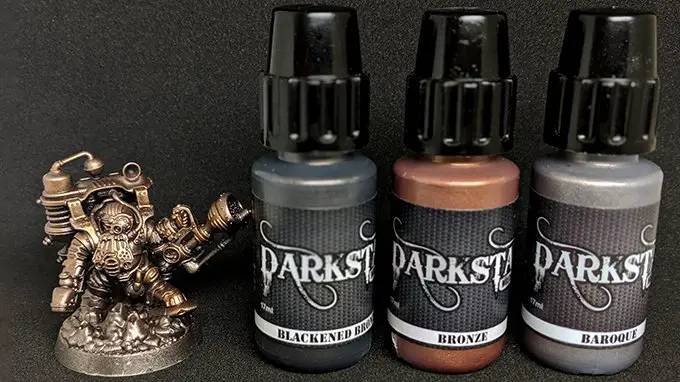 Blackened Bronze is quite black in the bottle but brown on the model. Bronze has lost the deep orange.
Nevertheless, this is still a good transition but it is worth noting that the paints will be much more affected by the colours beneath them than most other ranges. This means that colour transitions will be more gradual, however, it will require many more coats to get the deep colour you want.
Darkstar Molten Metals – Price & Availability
Price-wise these are a brill! Direct from UK company Darkstar Miniatures, they retail at £3.50 for a 17ml a bottle. Just A bit cheaper than Games Workshop's Metallic paint per bottle/pot, but a lot cheaper when you factor in the extra 5ml per bottle.
They really last too when thinned down appropriately – I worked on this review alongside Lead Belt Studio. All of the models below (and more) were base coated in DM271 – Steel, and I still had over half a bottle left
That's a bargain when you consider they are far superior paints when compared to GW's metallics. And they're in a much better container too.
Availability wise things aren't as good. They aren't on Amazon for one which is where most people in the world shop for pretty much anything. You can pick them up in a few select hobby stores. in the UK you can get them at a discount (some of them are discounted) from places like Element Games.
Click this link & buy your hobby stuff from Element Games for the UK & Europe to support FauxHammer.com – Use Code "FAUX2768" at the checkout for double reward points.



Our Affiliates / Hobby Stores
I'm yet to see many of the big online personalities flock to them which is a pity because they are excellent paints.
Will Darkstar Molten Metals Improve my Hobby?
If you're using Citadel paints, then yeah, you'll likely prefer these and they do offer a much wider range of colours. They are great for those who really like the True Metallic Metal paints over a Non-Metallic Metal style – I know that for speed, I certainly do.
I know that with these, I have a finer pigment, better coverage and wider range of metals to have fun with and I've switched all of my metal painting primarily to this brand for 95% of my metal paintwork.
Darkstar Molten Metals – Final Thoughts
Pros
Cons
Large Range
Super-Fine Pigment
Good Coverage
High-Sheen
Tough Finish
Amazing to Drybrush
Incredible through an airbrush
Metal Thinner available elsewhere
Website suggestive of one-coat coverage
There's so much to love about this range but the main things are the sheen and ultra-fine pigment. Sure, you don't get a mirror finish where you can see yourself in the reflection – but you do get the absolute best you can from acrylics as there are rarely any visible pigment flecks which really helps to see the metal effect.
From Brushing through airbrushing to drybrushing. Even techniques like glazing and blending come far easier with this set than with most equivalent metallic paints.
Click this link & buy your hobby stuff from Element Games for the UK & Europe to support FauxHammer.com – Use Code "FAUX2768" at the checkout for double reward points.



Our Affiliates / Hobby Stores
What did you think of this Review? Please let us know in the comments.
If you like what we're doing here you could really help encourage more content with a share on any social media platform.
Click the share links at the bottom of this screen (or on the left for computers and tablets)
Want to keep updated with the site? You can subscribe in the sidebar for RSS or by email below
(Sidebar is below the article on Mobile Devices)
Summary
Reviewer
Review Date
Reviewed Item
Author Rating





Product Name
Darkstar Molten Metals Review