The Amethyst Stave – Mortal Realms – Exclusive Novella
So, we finally know what we are getting as our first exclusive extra with Mortal Realms Magazine subscriptions. an exclusive Novella – The Amethyst Stone.
Click this link & buy your hobby stuff from Element Games for the UK & Europe to support FauxHammer.com – Use Code "FAUX2768" at the checkout for double reward points.



Our Affiliates / Hobby Stores
Remember the lass from issue 5 we got as an exclusive model – Only availble wit Mortal Realms Magazine? if not her name was Xandria Azurebolt – A Stormcast Knight Incantor (I think).
Well, now you can learn a lot more about her in this exclusive novella – the first in a 3 part series.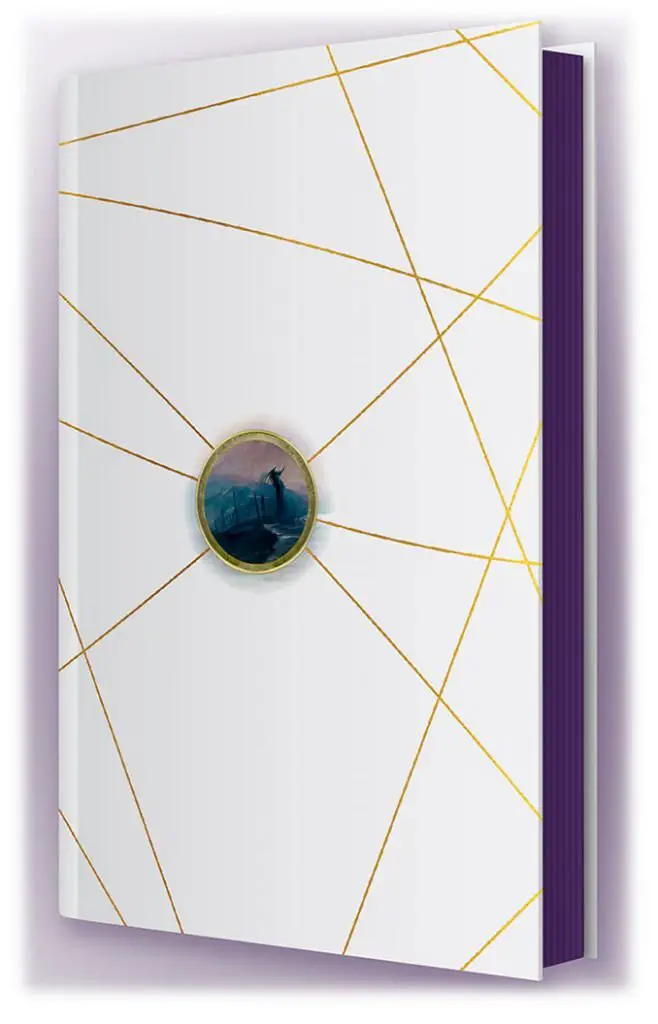 This (chargeable) extra is the first book of 3 and the final one comes with slipcase for all 3 books.
Look, I can blabber on, but instead let's look at what has been officially released by the guys who make Mortal Realms Magazine – you'll get this letter in your next delivery and the book will be delivered the following month (unless you opt-out).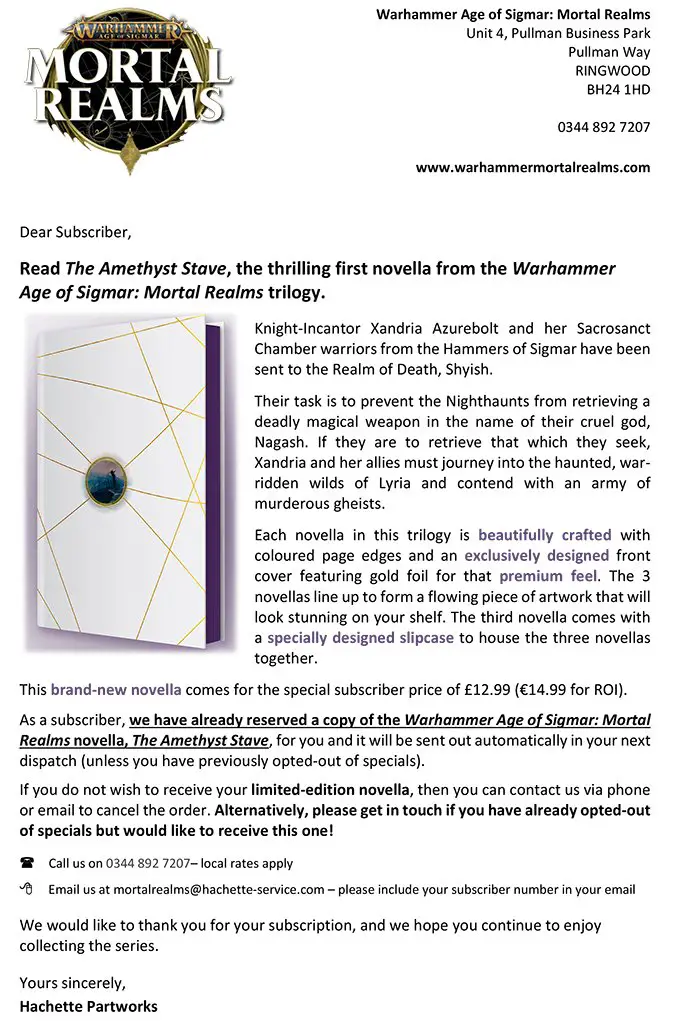 Here's the text incase your device shrinks the image
The Amethyst Stave – Letter
Dear Subscriber,
Read The Amethyst Stave, the thrilling first novella from the Warhammer Age of Sigmar: Mortal Realms trilogy.
Knight-Incantor Xandria Azurebolt and her Sacrosanct Chamber warriors from the Hammers of Sigmar have been sent to the Realm of Death, Shyish.
Their task is to prevent the Nighthaunts from retrieving a deadly magical weapon in the name of their cruel god, Nagash. If they are to retrieve that which they seek, Xandria and her allies must journey into the haunted, war-ridden wilds of Lyria and contend with an army of murderous gheists.
Each novella in this trilogy is beautifully crafted with coloured page edges and an exclusively designed front cover featuring gold foil for that premium feel. The 3 novellas line up to form a flowing piece of artwork that will look stunning on your shelf. The third novella comes with a specially designed slipcase to house the three novellas together.
This brand-new novella comes for the special subscriber price of £12.99 (€14.99 for ROI).
As a subscriber, we have already reserved a copy of the Warhammer Age of Sigmar: Mortal Realms novella, The Amethyst Stave, for you and it will be sent out automatically in your next dispatch (unless you have previously opted-out of specials).
If you do not wish to receive your limited-edition novella, then you can
contact us via phone or email to cancel the order. Alternatively, please get in touch if you have already opted-out of specials but would like to receive this one!
Call us on 0344 892 7207– local rates apply
Email us at mortalrealms@hachette-service.com – please include your subscriber number in your email
We would like to thank you for your subscription, and we hope you continue to enjoy collecting the series.
Yours sincerely,
Hachette Partworks
The Amethyst Stave – Chargeable!?
If you're reading this thinking "What!!!!! they're charging me anyway and I have to opt-out!!!!" I hear you…
I had exactly the same reaction when this first happened in Warhammer Conquest Magazine – I even put it out as a PSA – WARHAMMER CONQUEST IS ABOUT TO CHARGE YOU EXTRA!
I was fuming, for a few days, until someone in our Facebook group pointed out – "yeah mate, you were told this when you signed up".
It is known
So yeah, it's in your T&Cs for the sub.
But look, it's 2 minutes out of your day to give them a call and say "no ta" if you don't want it. (Personally I'd call, not email just to get verbal confirmation that this extra has been cancelled).
personally, and I;m not even a lore guy – I'm pretty happy with this, it looks liek it's gonna be a decent ammount of content for £14.99 and unlike Conquest which was 3 seperate books, this being a Trillogy is cool. Don't be surprised if the nexxt two are a little mroe costly theough (I don't know they will, just guessing based on how Conquest was).
If you subscribe at your local store or from Forbiudden Palanet and you want this. you can always try the other way, give them a call and ask for a copy, they allowed that with WH Conquest too.
Click this link & buy your hobby stuff from Element Games for the UK & Europe to support FauxHammer.com – Use Code "FAUX2768" at the checkout for double reward points.



Our Affiliates / Hobby Stores
What did you think of this Article? Please let us know in the comments.
If you like what we're doing here you could really help encourage more content with a share on any social media platform.
Click the share links at the bottom of this screen (or on the left for computers and tablets)
Want to keep updated with the blog? You can subscribe in the sidebar for RSS or by email below
(Sidebar is below the article on Mobile Devices)