JoyToy X Warhammer Figures – Full Collection Breakdown
Last Updated on September 21, 2023 by Jordan
There are even more Warhammer Action Figures coming. Yay! this time we are looking at the Joy Toy 4″ Space Marine Action Figures. Which in all honestly seem to be the most accurate (officially licensed) larger scale Space Marines yet. Let's take a look at the models, the range and the company making them below.
Our Affiliates / Hobby Stores
So, what do we know about these guys?
Well, they're multi-pose action figures for one. Standing at 4″ tall these are considerably smaller than the current products offered by Bandai and McFarlane which are both 7″ models. These are more akin to your classic Star Wars and Ninja Turtles models you played with as kids in the 80's/90's.
We'll explain what it's about in a mo, for now, let's just look at the figures
This is the recently release promo shot used for the eastern pre-order (I'll get on to that below)
They are all Primaris Reiver style models (in that they are all in Phobos armour), all 8 of them. Why we couldn't get 10 for 2 full squads is anyone's guess. But having specific Infiltrator and Incursor models is fantastic.
Thankfully there are some more close up images.
Once again, at first glance at these and they look just like normal models. but they aren't, they are 4″ action figures. The pessimist in me would think that this is how the 'Eavy Metal team theirs so well, make bigger figures. But I have seen those models up close to know they are real.
What I love about these models particularly is the scaling and style. It's absolutely spot-on when compared to a normal figure. Something that disappointed me about the Bandai and McFarlane toys.
There, the body size is just a little off and the Aquila specifically is just, well it's just nothing like what you see on your normal 40k models…
Whilst none of the models above sport a chest Aquilla, the Reiver Skull Symbol on the chest is totally accurate, which gives me good hope for any extension of this line.
To give you a full idea of the scale at 4-inch or 1/18 scale I've made this little infographic below
In recent weeks, they have revealed the full line in HD promo images, so we'll have a look at these.
I managed to get my hands on the Incursor box and here's a full breakdown of these models – everything you could want to know is in here – use the chapter selection for the parts you want to know
Don't forget to Like – Comment & Subscribe
And then the very next day, I bagged a set of the Infiltrators, so come see what we think of these (and hobby trolls) in our JoyToy Incursor Review Video.
Yet again – Don't forget to Like – Comment & Subscribe
With this being an eastern release (at least initially), there's some fluff around it. Like with Japan's Space Marine Heroes, there was a whole story piece to really sell on the Warhammer 40,000 universe to be much larger than a few figures.
With this release, every model gets its own little card with some story on it. they've even showcased one of these below as a preview. if you collect all 8, it tells a full tale
Read the first one below.
Don't worry, if you are struggling a bit, we've done the hard part for you. Using the internet most free Optical Character Recognition software and Translated by the worlds (arguably) most renowned technologists (Google). We've spared no expense (or real effort) to bring you the direct translation of the above. Prepare for the next Warhammer literary masterpiece.
Long before Abaton waved the magic sword, the alarm Star was in the tap. The fire burned at the same time in the section of the seven nests And after the handsome army stepped on this land, the love The situation is even more urgent to tum straight down. Police warn the Star Yuan Nursing home is forced to be disabled The rest of the army withdrew from a number of imperial-controlled areas, mixed stars International Warrior Army, subspace evil devil, Orc invader, black The Order of Dark Spirit Pirates and Gene Thieves is in the land of mankind. The situation in this critical world is as dangerous as it is tired The egg, the line will collapse.

The Octavio and Romulo teams of the Extreme Warriors were They were ordered to penetrate the resistance deep in the dead forest section. The broken blood axe Orc special war son, and when the war changes At that time, they received a new call from the commander of the Extreme Warrior regiment. Kalga. Command: Find out the hidden location of the ruler of the dead forest section. This secret plug is in charge of six deaths in good condition. Hri the missile directly, the power of these weapons is enough to crack In fact, in the upcoming showdown will become the key to breaking the game. The blood brothers of the Governor of the Ring Star rule the Dead Forest section, which The corruption of the noble family refused to cooperate, but the survival of the whole world died At the end of the day, his personal opinion was no longer important.

Both vanguard teams were damaged in the previous battle. The infiltrator team and the intruder team are now pros – When combined, the eight original cast interstellar warriors must step into the mix The centre of the section of the pool devil and the tyrant, through the half-seat has been After the nest city abandoned by the Imperial Army, their actions will last forever Far from changing the fate of the entire Star War zone.

—sour e of mass Mete

That image above.
I don't know about you, but I cant wait to read more about the Nursing home or the Gene Thieves.
Seriously though, if anyone out there can more accurately translate this. bang it down in the comments.
If you've never heard of Joy To before, well, welcome to wanting to collect action figures. Joy Toy has created some incredible models and I can see why they were a choice option for Games Workshop.
The style, design and detail of what they have produced before are just incredible. In a similar style to Titanfall, the majority of their line revolves around future-war army actions and big, BIG Mechs.
No, Not Meks. not yet anyway.
Once again their site is not very English, in fact, it doesn't even try to be. Their about page isn't even translateable in Chrome due to the info being presented as images rather than text. but once again we've put no effort into getting these things translated for you dear reader.
Honestly, just skip it. It's only here because I at least translated it and since I put some effort in it may as well stay here. someone may care.
O Save Company Profile Huaxi Joy (Beijing) Technology Development Co., Ltd. was established in 2015. Currently, its core business is the design and production of toy models, and the development of cultural products of cartoons and novels. Its IP products include soldiers, mechas, and vehicles. And the scene product. Wait for more than one hundred model toys. The core user population is aimed at adults over 14 years old to the market. The company's research and development center team has assembled many outstanding illustrators, model designers, sculptors, toy designers, and network creatives. While designing and producing traditional models and toys with professional concepts and superb skills, it has been Committed to achieving a new cross-border integration of model toys with film, television, animation, and games through cultural and creative combinations, creating sci-fi element products with a variety of "unprecedented toys" as the core, and opening up the blue ocean field of

JoyToy
CONTACT "Dark Source" Product Series Introduction The "Dark Source" series is a P product independently developed by Huaxi Joy. It has created a brand new 1:25 scale model toy market and has given a complete comic story chain mainly telling the hard science fiction of the near future Military themes have created numerous product images and a big world view. "Dark Source" has created more than 50 innovative products for Huaxi Joy, including mechas, dolls, weapons, scenes, war chess, vehicles and other categories, which have been recognized and praised by the majority of users. A UNSC●20℃ Mosty sunnyヘ回do)

JoyToy
They make toys and they have been around for a while.
If you want to read (discern) more directly, then check out their website www.hxjoytoy.com
We scoured the internet trying to find anyone with more news on what's coming. it's difficult because these are coming out of China and the way the internet works in China is very different to what we are used to. But we did make a contact who has provided us with some more info.
However, additional sources such as Facebook Groups and YouTube Channels have corroborated these claims and so we'll tell you what is being suggested by the community to come from JoyToy Still (and this apparently is just 2021!)
Wave 2 (China Release 2021) – Primaris Assault Space Marines – Ultramarines
Wave 2 (China Release 2021) – Primaris Assault Space Marines – Blood Angels
Wave 2 (China Release 2021) – Primaris Assault Space Marines – Blood Angels Death Company
Wave 2 (China Release 2021) – Primaris Assault Space Marines – Unknnown Chapter
Primaris Librarian
Primaris Chaplain
Primaris Captain in Gravis Armour
Primaris Invictor Tactical Warsuit
Sisters of Battle (this one is unclear, the translation is bad, but we know (have heard) we are getting "Arbites"?)
Chaos Space Marines – Black legion
Chaos Space Marine Terminators – Black Legion
Chaos Champion – Black legion
Chaos Space Marines – Thousand Sons
Orks
That's a lot of models! As I noted above, I'm not allowed to confirm these are coming out. I'm just telling you what the community are saying…
Aside from the Orks on the Chaplain, all of the other models from the above list have either been revealed as of this post or are in the image below. Said image also shows a lot, lot more!
The translation along the side of the images seems to suggest (based on google translate) the month they will go on preorder in China. You can easily do this yourself. if the translation is right, then the numbers represent the month of the year. the bottom blue section is "release date TBC".
Holy cow that's a lot of stuff. so let's quickly compile it as a list, it seems like this infographic is an indication of Joytoy's aims rather than set dates for specific models. many of the models seem to cross over their designated release timeframes.
Below is our best guess based on the above.
I'm inclined to believe that the squad sizes shown above are indicative of what we will get. The most common complaint about this range is that the squads come in sets of 4, not 5! And the Intercessor Squads shown above, also indicate 4 models in the set. Interesting to see if the Death Korps and Adeptus Sororitas come in sets of 10. And at a more human scale in comparison to the more towering Space Marines?
But still, take this list with a pinch of salt, though it has come from a very reputable source.
Whatever the case. this is an exciting list. Are you disappointed with any of it? Is there something you'd like to see from JoyToy which isn't shown above? And why is it Outriders? let us know in the comments
I do worry that the approach with this range is still not the best, where you can buy McFarlane figure off the shelf, even now. GW's western approach is to sell as made-to-order, months in advance of the actual release. This really should be an ongoing and readily available range. I do hope it moves that way. personally, I preordered mine from various companies that export them from China. No, I'm sorry I won't share who, as I think someone somewhere may get in trouble. But seriously, google is your friend. it's really not hard to find "JoyToy Warhammer Export".
My other worry with these is that, because they are (almost) all Ultramarines, is Nick Bayton buying enough of them to sustain the range. After all, he is the only person in the world who actually likes Ultramarines.
Update: 17/09/21 – Warhammer Community announced that Wave 1 will be available to order (via Made to Order) from 25th September to 2nd October on the Games Workshop Website – If you don't order between these dates, chances are you may never get these. But don't worry too much. More styles are coming.
Ahh, this is a difficult one. At present, the official site or even the official store does not list these. They were available on sneak pre-order in their local country for one afternoon at a special price. The only way to have pre-ordered these was to A, know about and B, join the official chat on a platform I can't understand and is clearly not aimed at or intended for English speakers.
Since then, the only places which seem to stock them are Joy Toy's official retailers.
I reached out to JoyToy via their Facebook page and asked them Direct, are you shipping thee to any other territories. , in fact, here you go, here's the whole exchange.
So the TLDR is, there are no plans as yet to bring them outside of China, but the suggestion of "watch this space" fills me with the hope that they will come. Space Marine Heroes did after all.
As they recommended, I sent them an email, but no reply. I have also watched their blog closely, but there have been no further updates since June. But I have managed to get some of these figured ordered at least…
I picked up mine from a site called 5ZeroToys who offer free international shipping. You can see the Infiltrators here and the Incursors here. They cost me $210 USD (About £150) per set of 4. And that's fairly standard for JoyToy models when buying from a overseas retailer. They should be shipping/arriving around September 12th 2021. so I'll have a video up with my unboxing impressions ASAP.
You can, however (which would have been smarter) buy them from AliExpress – which is essentially Amazon in eastern territories. Lot's of people don't trust AliExpress, but I've had a great experience with them. Like Amazon, they are a storefront for various sellers. But unlike Amazon and more like eBay/PayPal, they fully protect you (for 75 days!). So if you are not satisfied with your purchases, you're fully protected and will get a refund. The seller doesn't even get their money until you mark it as received and that you are satisfied (or the 75 days runs out).
Check out the Incursors here and Infiltrators here and this time they are only about £100-£120 ($140-$165 USD)per set shipped
You can also see a ton of the other awesome JoyToy products. Just be careful, it can get quite spendy! You will want them all!
At a minimum price of (I've found them at anyway) of £100 for a set of 4, that's still £25 per model. That's more than a single McFarlane figure and these are only just over half the size!?
But to me, it's the detail that matters. These are bigger versions of the exact models we collect and paint. Whereas the Mcfarlane models just look wrong in quite a few ways.
November 2022
Now, following up on last month's Thunderwolf riders, we have our first JoyToy Squig – so Squig fans rejoice! This is seriously an impressive kit, and one I would be quite excited to own.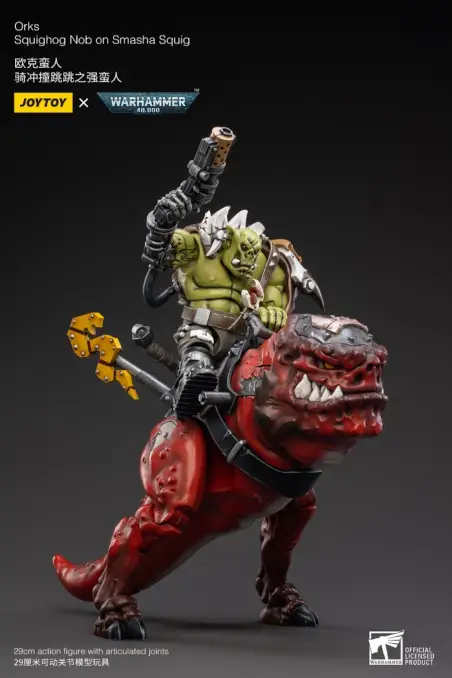 It's an Ork riding a cross between a Carnotaurus and a street shark, what's not to love?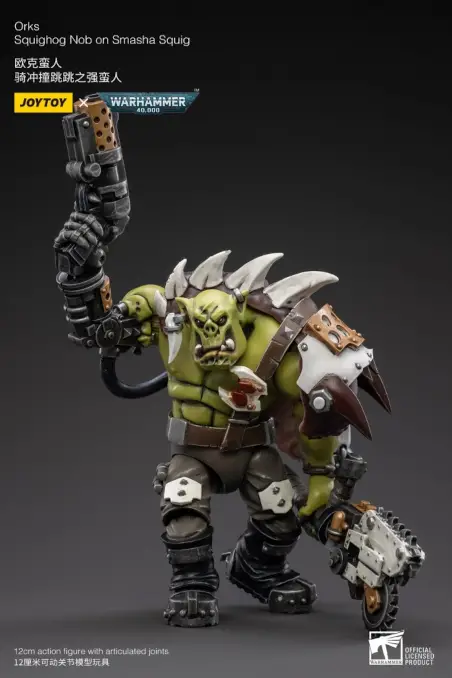 The rider's no slouch either – modelled directly after a Beast Snagga boy sculpt from last edition, translating those same sublime details over from the miniature.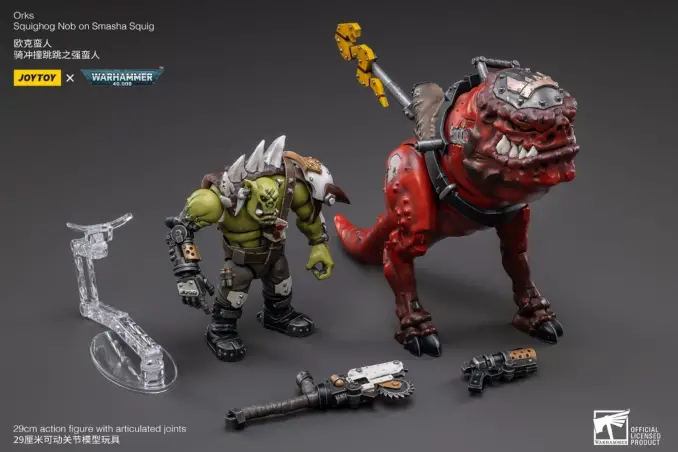 It should be noted as well that this is the first figure (that doesn't fly) that has a transparent support stand, as a bipdeal Squig with a massive head is expected to be top heavy. Seeing as, in one of my other hobbies (this is Jordan speaking) where I collect dinosaur models, I can understand and appreciate the need for such stands (a pain I know all too well when one of my expensive PNSO Tyrannosaurs fell to the floor…).
MSRP: GBP £98.00
October 2022
Greenskins represent! The first batch of Orks to come out of JoyToy so far, and the first Xenos too I believe. Following in the footsteps of the previous Krieg release, these Orks are directly based off their models from Kill Team: Octarius – so you know you're about to be blessed with some amazing sculpts.
Sadly, no bomb squig or distraction grot. Maybe we get some squigs in the near future…. hopefully.
MSRP: GBP £56.00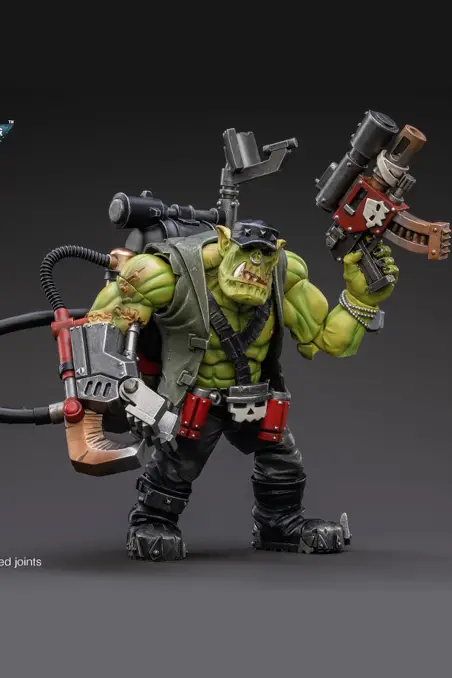 Another Dreadnought inbound, but it's an iconic one for Space Wolves and Dreadnought fans alike. Bjorn the Fell-handed, with icy blue power claw and extra wolf pelt and Wulfen heraldry.
MSRP: GBP £115.00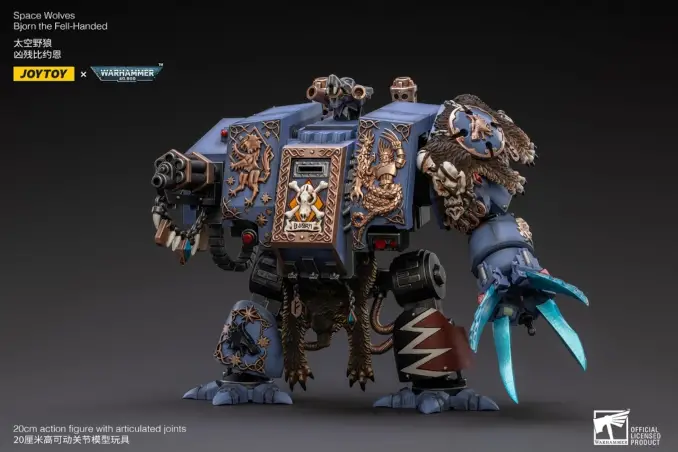 Another Space Wolves character to add to the collection – and it's Ragnar Blackmane, whose splendorous detail makes him an absolutely worthy addition to your collection.
MSRP: USD $89.00
When motorcycles just won't do, the Space Wolves sub in actual wolves for a good old ride. Unlike the JoyToy Outriders, the wolf and rider actually come in the same set and aren't sold separately.
MSRP: USD $110.00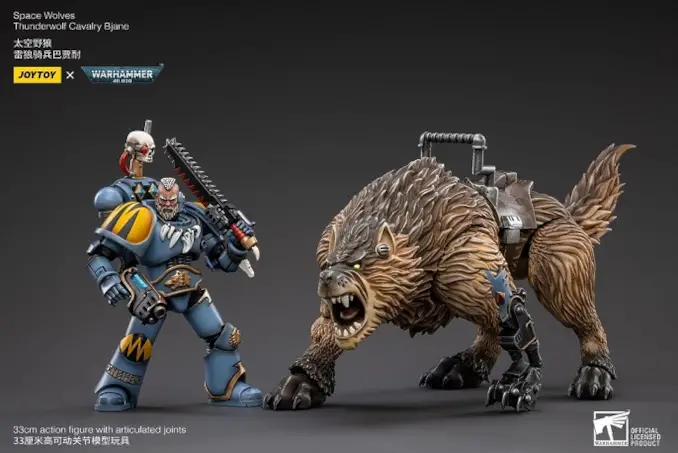 Frode is the second Thunderwolf variant – main differences are different heads and the wolf is black. When I see these images, I can only hear Duran Duran (or is that just me?).
MSRP: USD $110.00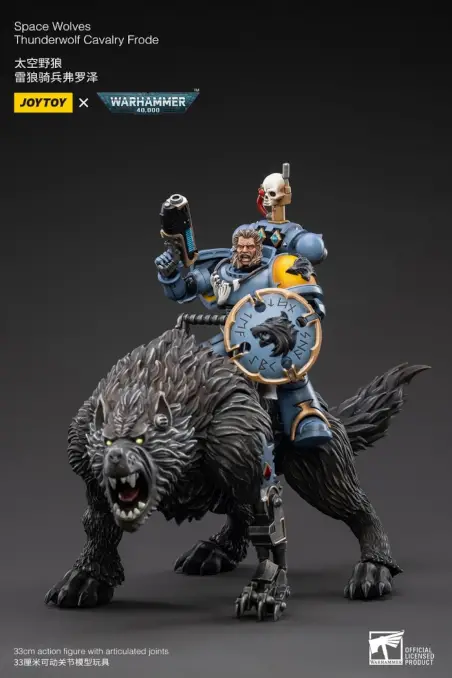 September 2022
Think you've seen enough Dreadnoughts? How about one with an axe, wolf skull and pelt? The details on this one put the previous Dreadnoughts to shame.
MSRP: GBP £115.00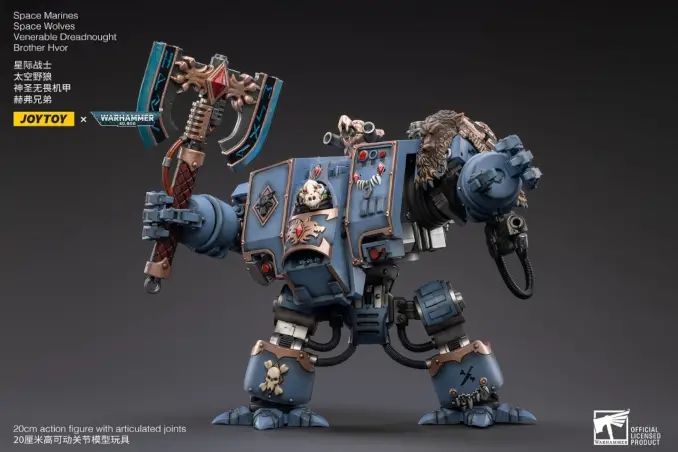 JoyToy are now releasing their first Redemptor Dreadnought – I'm sure there's more to come down the line with new hats in different legions.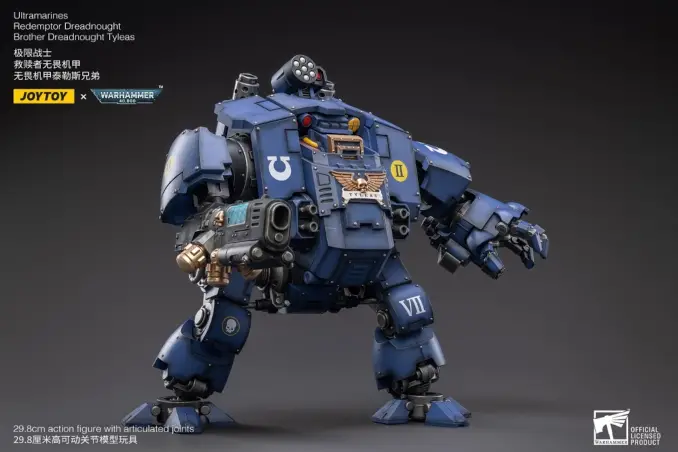 It does appear that you only get the Plasma Cannon as the sole weapon loadout, but to make up for it you can open it up to reveal the coffin inside.
MSRP: USD $199.00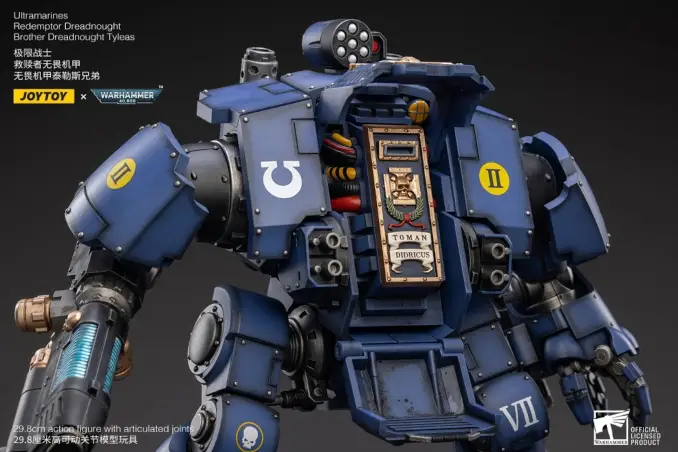 Woohoo, more Space Marines! Jokes aside, this is a pretty mint figure – the Roman plume, cape and sword make this figure stand out.
MSRP: USD $59.00
Following on from the Roman theme, we have Veteran Sergeant Icastus, who also bears a big plume and multiple spiky belt loin cloth.
MSRP: USD $55.00
How many Primaris Lieutenants does it take to change a light bulb? With all the variants that exist, a whole chapter's worth I'd imagine.
MSRP: GBP £49.00
As if by warp magic, another Primaris Lieutenant arrives with another light bulb for his quibbling brethren. This one carries a power sword instead of a chainsword.
MSRP: GBP £41.00
The Primaris Lieutenant meme lives on in JoyToy, but the Blood Angels variant does look very temptng. The curved power sword offers opportunity for cool Samurai stances.
MSRP: GBP £42.00
The Imperial Fists don't want to be left out in the cold either. Included in this wave is Veteran Brother Thracius, who bears a rocking shield and sword.
MSRP: GBP £49.00
August 2022
With August came some much needed vroom vroom – we finally get Outriders for our mass gluttony of Space Marine action figures. The downside – the Outrider and the actual rider are sold separately. A bit of a bruh moment, as it is usually expected that any model or toy vehicle is sold with someone to actually drive or pilot it. So you have to purchase two figures to complete the Outrider – ouch.
But hey, it will be fun to scoot along the floor like a Hot Wheels car.
We may as well start by bringing out the first rider, representing the the under-represented Ultramarines. He's just a standard intercessor – chances are, if you've been collecting these figures to date, you already have someone very similar.
MSRP: USD $42.00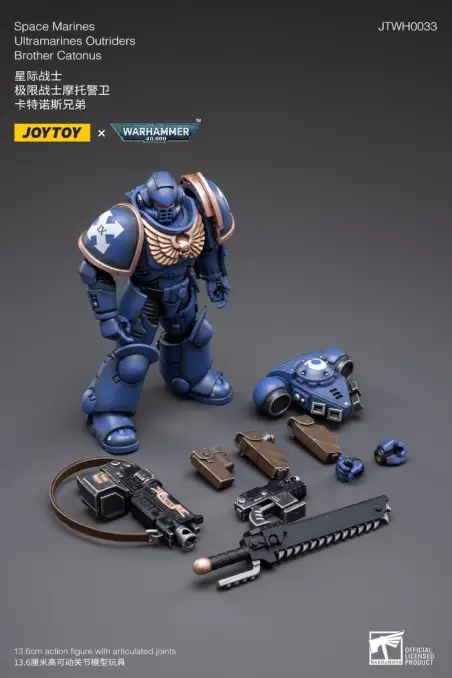 As you can see, you literally just get the bike – it's a great design nonetheless, and looks even cooler with Brother Eric Cantona Catonus on board.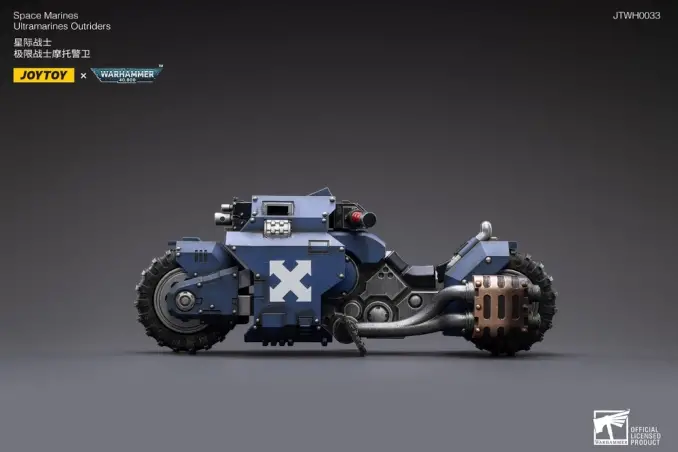 MSRP: USD $59.00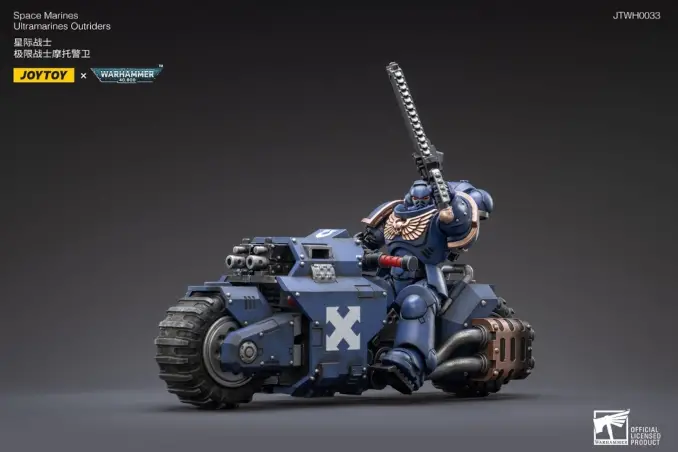 Now, let's look at more of the same, but this time in black! Though to be fair, the Black Templars Outrider does look so much cooler – with Brother Valtus atop, it definitely gives off that Terminator vibe.
Brother Valtus by himself, however, is just your bog standard Black Templars intercessor.
MSRP: USD $42.00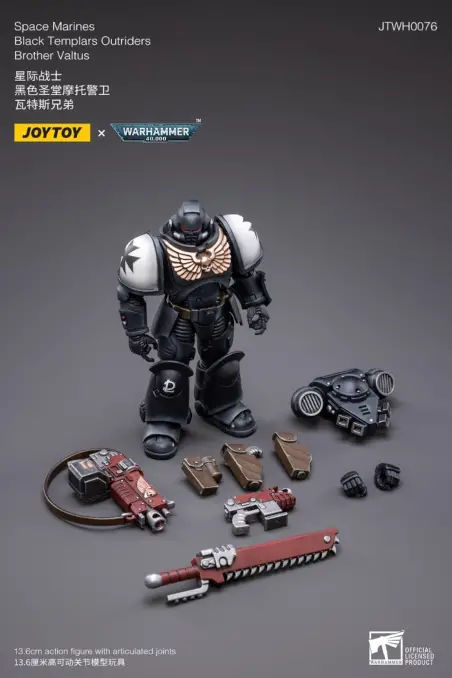 The black bike is very swish – very similar to the Nolan Bat-Pod from the Dark Knight trilogy.
MSRP: GBP £38.00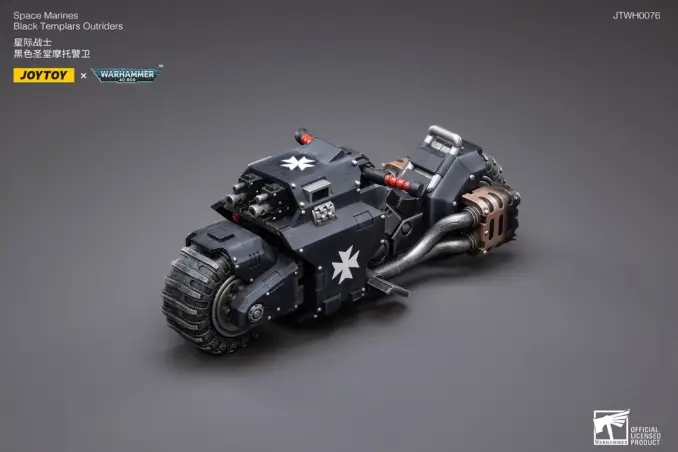 "Come with me if you want to live."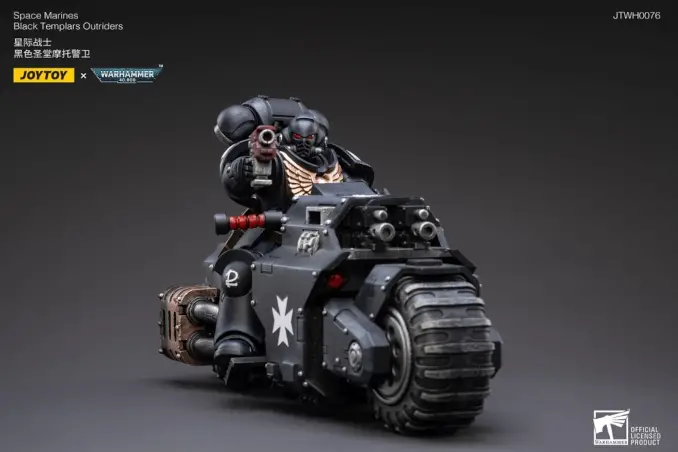 July 2022
Oh lawd, he comin'. I suspect this will be a highly desirable figure – it's very accurate to the source model, and you'll be relieved to hear that you won't have to paint this trim.
Unfortunately, there are no further accessories like you get with the model kit, like tentacles or other weapon loadout – it's just thunder hammer for you.
MSRP: GBP £122.00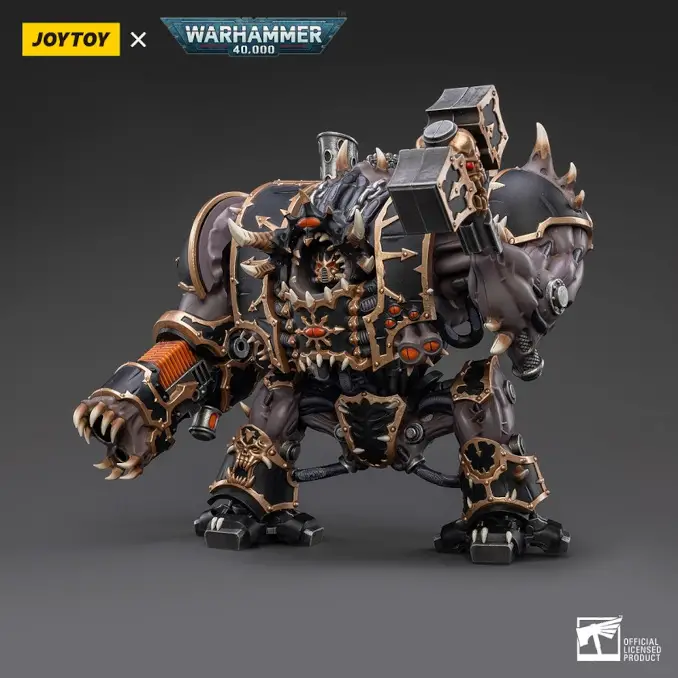 This may be the first non-Space Marine stuff that JoyToy are representing in figure form – and comes in the form of the fan favourite guard legion Death Korps of Krieg.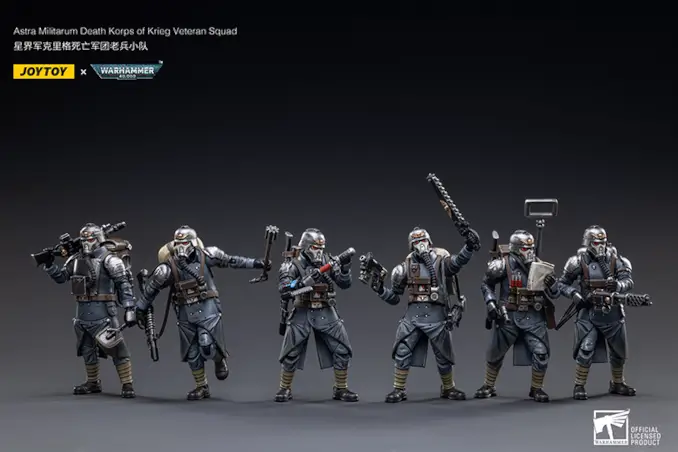 Based directly off the models you get from Kill Team: Octarius, these figures actualise a variety of sculpts to form your own squadron of unique soldiers. You get a sergeant, a medic (bag included), a demolitions expert, flamer, comms officer and a man who just wants to wallop you around the head with a mace and shovel.
MSRP: GBP £25.00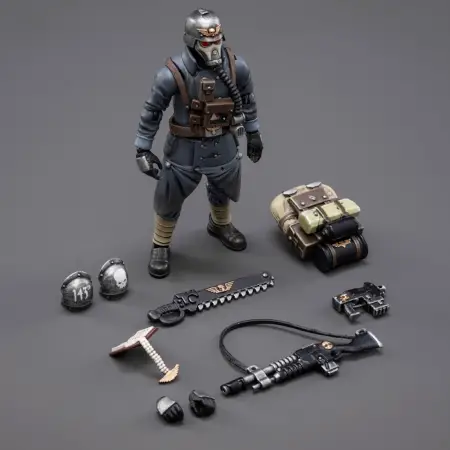 Another Dreadnought – this time, the iconic Furioso Dreadnought. A must-have for Blood Angels fans (or chad Dreadnought enjoyers).
MSRP: GBP £121.00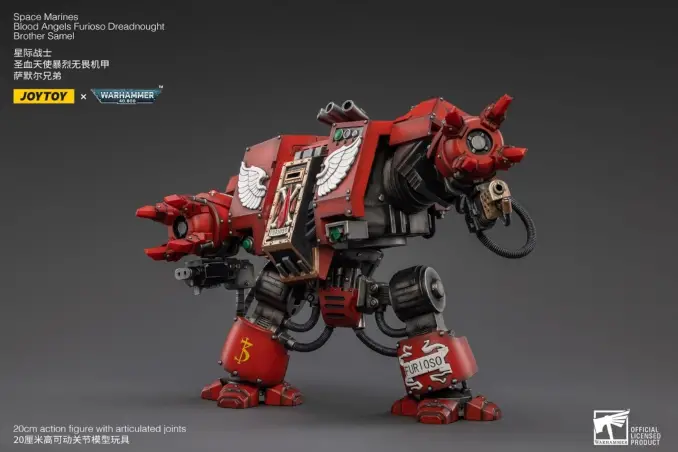 This time around we get some Blood Angels intercessors, each one granted a different set of accessories. First up is their sergeant, a chainsword-swinging maniac (presumably).
MSRP: GBP £42.00
We get more of the epic Brother Marines, 2 through to 4 – though 4 is actually an Aggressor rather than an Intercessor, but tomata tomato. Between Brothers 2 to 3, there isn't much difference – except one has a knife and a book.
MSRP: GBP £42.00
Space Wolves Claw Pack
Next up, we have the gnarly Space Vikings Wolves, and these miniatures are probably the best Intercessor lot so far, due to all their unique accessories and options they have. Not a Brother Marine 02 in the lot.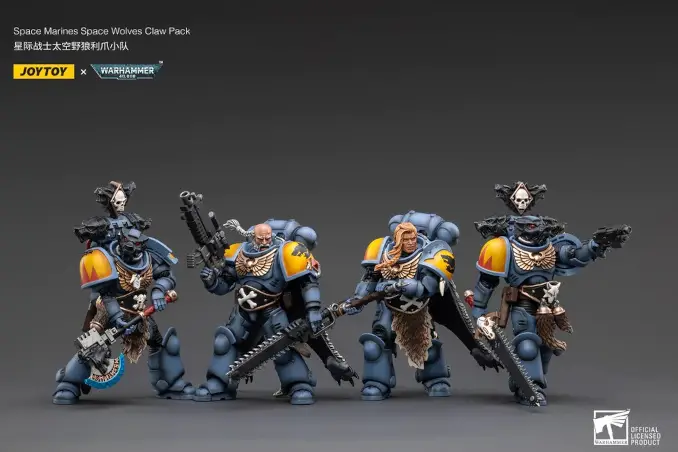 The power axes, Nordic heads and the wolfen helmets will certainly set them apart in your collection.
MSRP: USD $40.00
Bladeguard Veterans
New hat syndrome inbound! We have a glut of Bladeguard Veteran variants, while admittedly quite awesome, are more flavour of the same. Still, if you're into particular legions, these aren't ones to miss.
Other than his striking black and red colour scheme, I can't see much difference between this one and a regular Ultramarines one. Still, a cool figure to possess.
MSRP: USD $65.00
It's time to see red and shout 'HORUS!' uncontrollably. Another sweet figurine, but again, the colour is the only variable.
MSRP: USD $65.00
If you like building walls, then this fella in yella is for you. Again, the colour is the only exclusive thing about this figure.
MSRP: GBP £52.00
The Space Wolves variant is easily the best and most unique – it has more than the colour to differentiate it. He has a wolf pelt and Space Wolf backpack to boot.
MSRP: USD $65.00
June 2022
It's time to go big or go home – and this Dreadnought is something JoyToy collectors will want to take home.
It's a very faithful scale-up of the classic miniature everybody and their mother knows and loves.
It can even open up to reveal the poor brother who still has to serve, even in death. I hope he's getting paid overtime.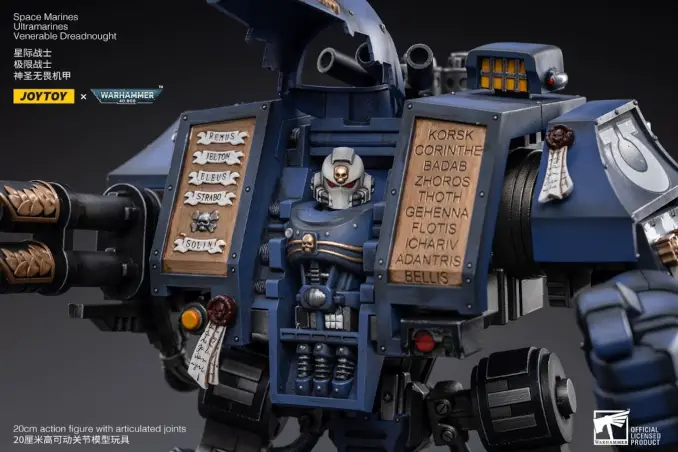 Feliz Naviaz! This lieutenant holds a unique accessory for your run of the mill lieutenant in the form of a riot shield.
MSRP: GBP £45.00
Ah, it's everyone's favourite 40k deep lore character, Brother Marine 02. He's so bog standard that he isn't named – but at least that gives his opponents a chance, right?
MSRP: GBP £38.00
Here comes your Power Fist variant, pulling off his power fist power ranger pose.
MSRP: GBP £45.00
I guess he's technically not an Intercessor, but he's an Imperial Fist that came out at the same time. No extra accessories with this one, though that bulky armour of his is probably enough.
MSRP: GBP £38.00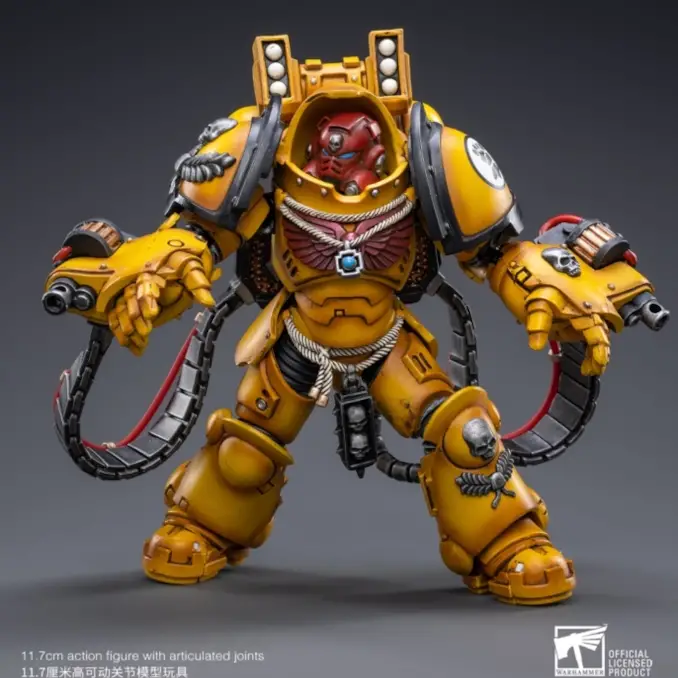 May 2022
The first of the 'Heroes of the Chapter' series of figures. First up, we have the man who took Capture the Flag a little too seriously to the point where he wants you to know he has it all the time.
MSRP: GBP £37.00
Insert meme joke of Primaris Lieutenant.
Sergeant Castor sugar at your service! He's armed with a bit of everything, so he has plenty of accessories to spare.
MSRP: GBP £33.00
All images courtesy of user "Kazuya" on Gamecores. Want to give JoyToy Feedback on these models? go post on there and tell them what you think.
Absolutely stunning model this one. The Primaris Captain in Gravis armour was a centrepiece of the Dark Imperium boxed game which birthed the Primaris Space marines. This faithful recreation nails every last detail
And like with many of the recent JoyToy releases, he now comes with an optional head! finally, we get to see the face of the now-named Brother Captain Voltan
No joke, after seeing this I have now cancelled my £200 Bandai preorder for the same sculpt, because A, this looks so much more accurate than that thing and B, £200 for that thing! what was I even thinking…
Considering we've already had both Incursors and Infiltrators, we could have done without the Reviers to be honest. or anything else in Phobos Armour for that matter. I'm one of those people who actually like the Phobos armour. but this is more than we needed.
Though it's only 3 now, not 4, or the ideal 5. for some reason, 3 just make more sense than 4, yeah it's still not a full squad. but there's something about a trio of marines that make it more mentally acceptable. with 4, you constant just feel like 1 is missing. 3 feels more like an intentional and acceptable creative choice.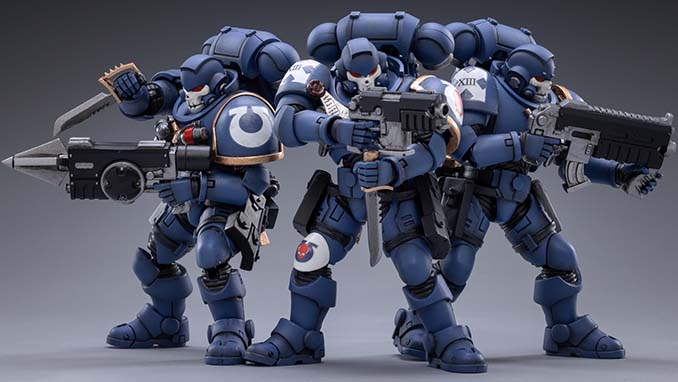 Continuing to hate on these, the effort put into pre-production models they have displayed her is well below par from what we've come to expect from JoyToy.
No edge Highlighting, just like the Space Wolves from Wave 3, and check the "Assault" transfer from that guy on the right. did they even try to affix that properly?
Check the mask sculpt from the guy on the left too. maybe it's just the angle but it looks a little more ape-like than I tend to associate the Reivers with.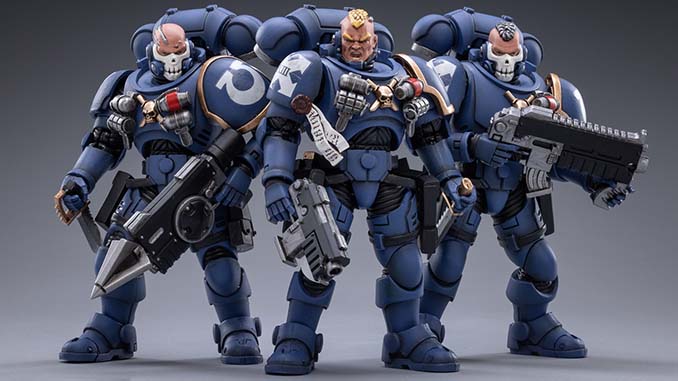 And what the H E (Hockey-sticks) is going on with that purity seal on the Sergeant?
Here's hoping this is just rushing preproduction shots and we'll actually see the finished articles with some shading?
Unlike previous releases, these early previews do not show the character names. But we know this to be the sergeant of the squared because he's stood at the front. he also has a full face shown, rather than half the Reiver mask.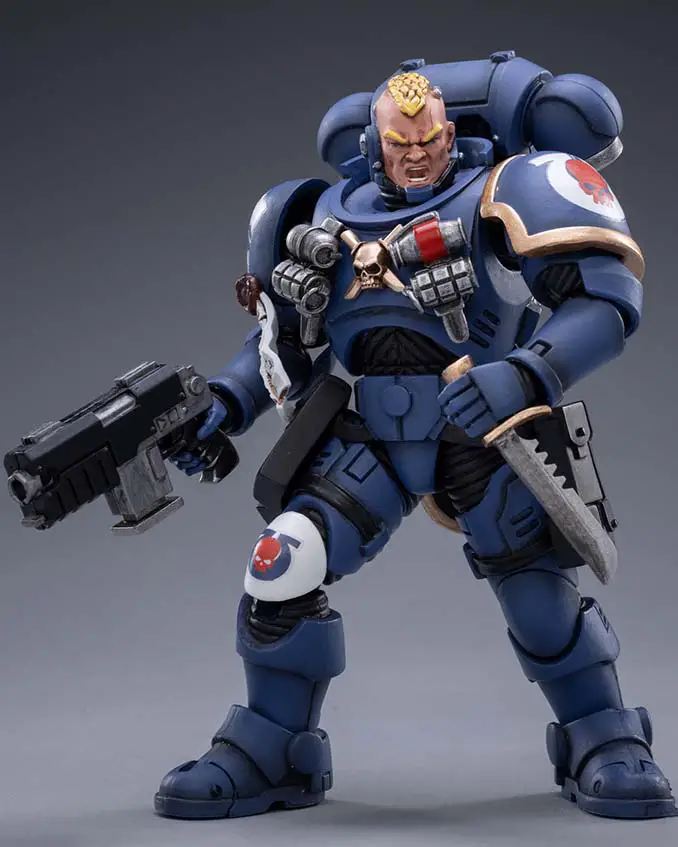 Some more grenades on his chest, and some new head choices, otherwise there's little difference between this and the previous Phobos Releases from Wave 1.
Not even a grenade swap on this one. The body matches the above model completely. so aside from the missing purity seal and different head, the sculpt is the same
He does at least feature a grapnel launcher and a spiffy knew handle on his combat knife
Once again sans name.
We now loose half the grenades, so at least this has some difference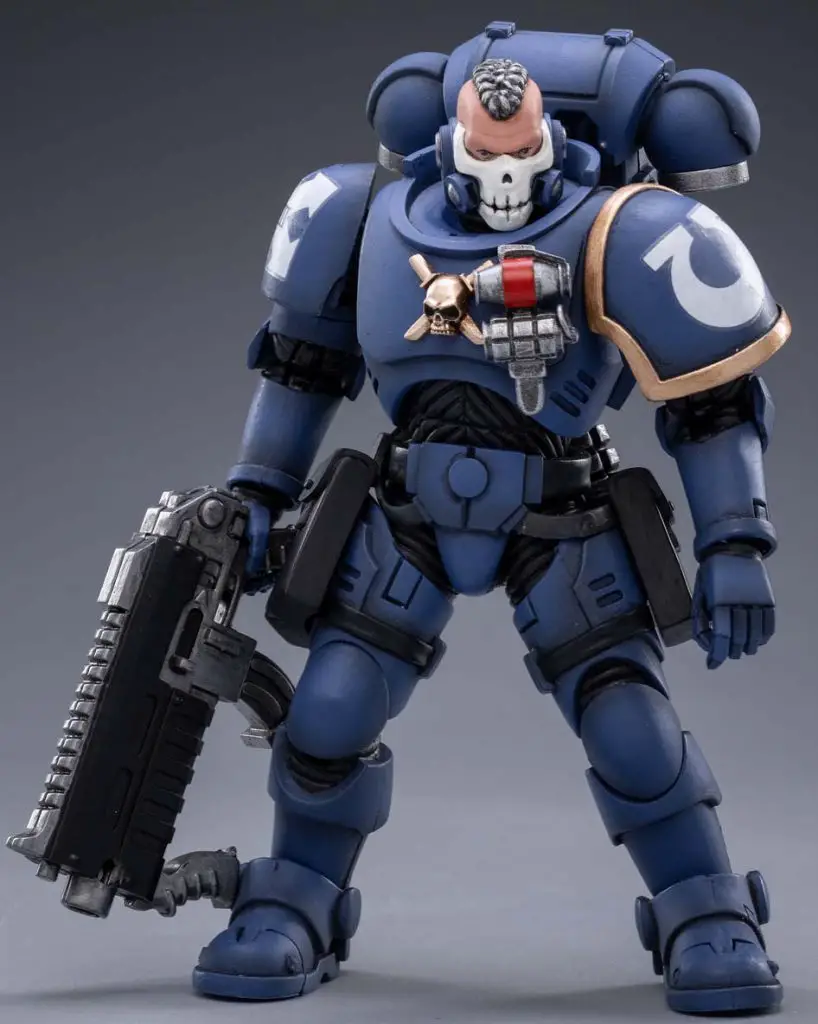 This model has its own head style and comes equipped with a Bolt Carbine.
What is better than a half-human half-machine badass? Exactly the same thing, but with a jetpack. Except of course in Robocop 3.
But here, that statement is very true.
All of these models come with flight bases, but is anyone else slightly miffed that the bases aren't circular, scenic and with a bevelled edge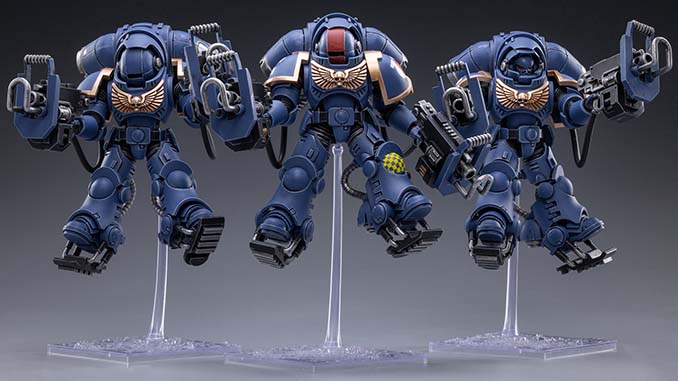 It's nice to see that instead of head swaps this time, they've included the option of the armoured shroud, seen on many of the inceptors. How you're meant to fit this inside the upper carapace is anyone guess. it's hard enough to put the optional hands-on the existing models.
if you are trying to do that yourself and are struggling. I've found that swearing a lot as you do it, seems to help.
Breaking down the models, the Sergeant stands out with his signature red helmet and the markings on his knee.
I've no idea what those markings actually mean, however. I do miss the time when GW would publish the correct chapter markings and designations for armour plates, but that seems to have just died off sometime around 8th Edition.
What other unique features does this model have over the other two.
well none, but I hope that doesn't bother you too much because we are about to play spot the difference.
The difference here is that the helmet is blue and he has no markings on his knee…
That's it.
And this is different to the above in that the photo is taken from another angle…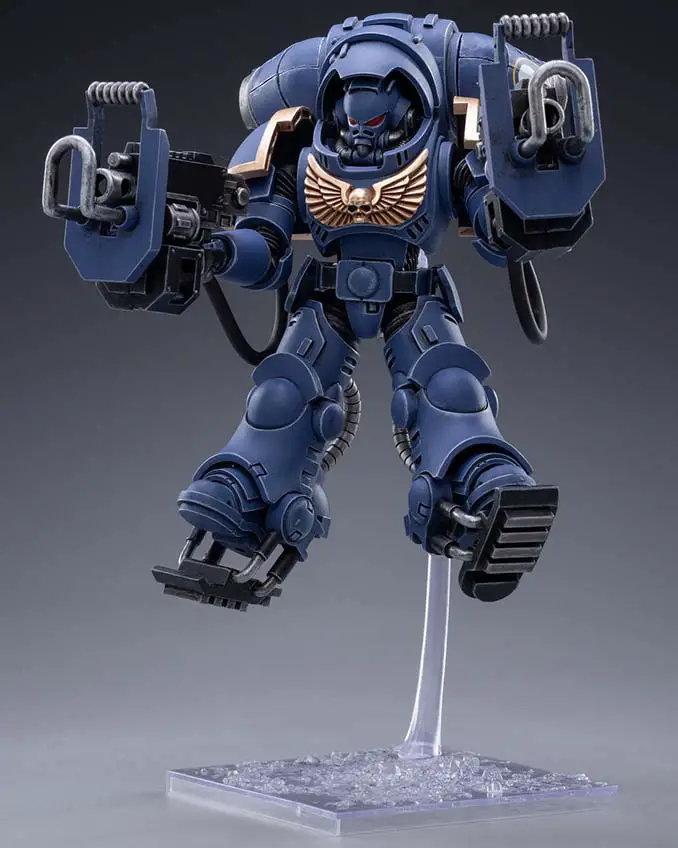 Seriously, that's it, go look for yourself, I cannot spot a single difference. the only way to make one of these two stands out will be to apply the shrouds shown on the squad image at the top of this section…
t's almost like JoyToy discovered how to sculpt Gravis armour this month and just couldn't stop.
I love these models, they have almost taken over from our Beloved and Iconic Terminator units. though they haven;t replaced them in our hearts.

This is a mean-looking, detailed squad. and the box is likely gonna be rather heavy. but JoyToy certainly isn't shy on that front having already shown off the Invictor Warsuit.
More effort (production time) has already gone into these guys, as they have names!
What can I say about this other than it just looks awesome? Once again we have an optional head. and the Sargeant even comes with moulded laurels on his Shoulder and Knee.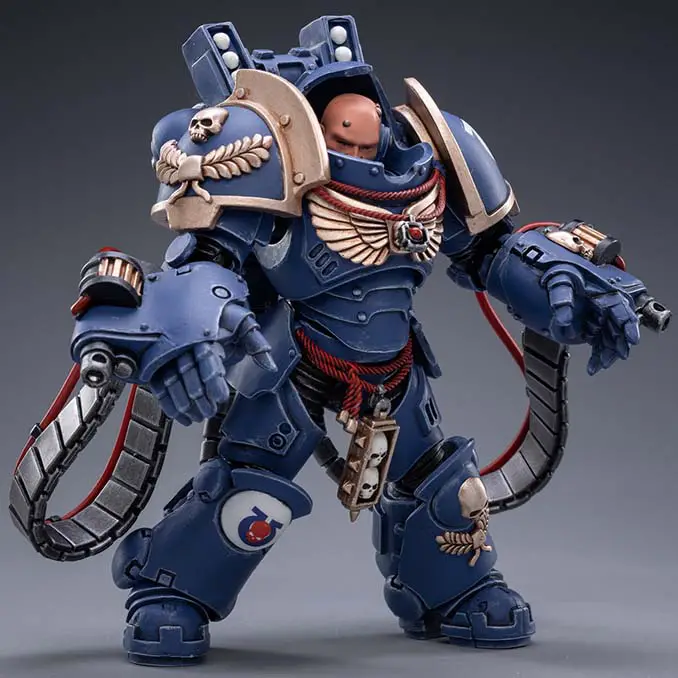 Knowing the collection quite well now, I highly suspect the ammo cartridges will also be mouldable to help somewhat with articulation. Though on the other side of this coming, I think they'll've leave that articulation rather restricted.
The next model loses all the sergeants embellishments and comes with his own head sculpt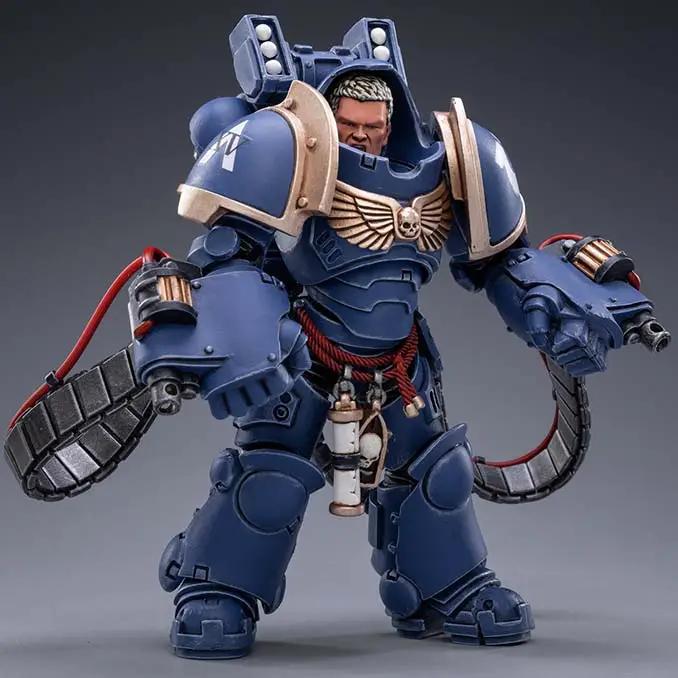 Additionally, he has his own relics dangling from his waist which houses a different rope.
Finally, we have another slight change in that the head sculpt is unique along with the rope and relics.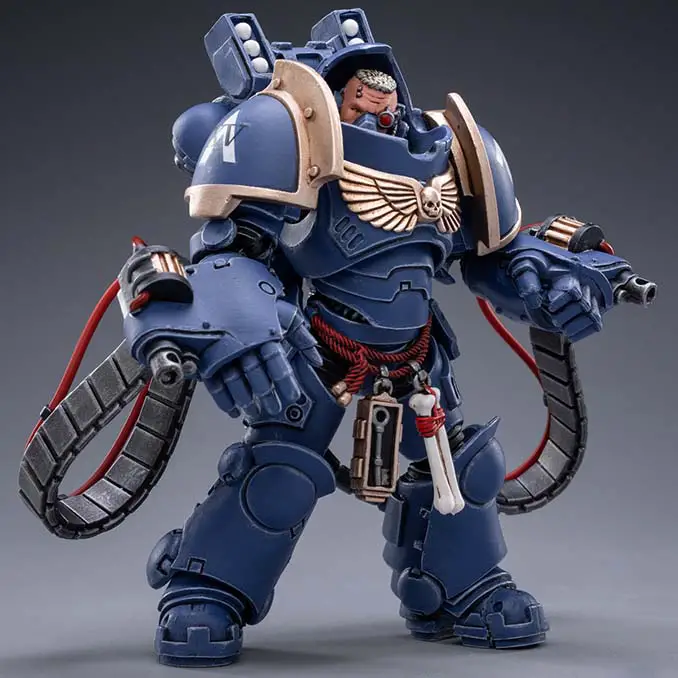 One detail I went back to check after seeing these is that they are taking the decals into account. None of the Ultramarine models so far have duplicated their Squad numbers. With the Original Release, it was squads 6 & 7, The intercessors were Squad 2, Inceptors are Squad 11 and the Aggressors Squad 15.
Little details, but they do matter.
I say continued because we had 2 of these in what we believed to be the second part of Wave 3. That collection of reveals included 3 Black Legion Terminators, a Chaos Champion and 2 Chaos Marines. That now brings the total Number of Chaos Marines to 5 – a full squad Finally, let's celebrate.
Having just spent the weekend building my Chaos Marines from the 2020 battleforce boxes, none of the details here are lost on me. These models are all fully unique in every way and showcase the absolute best of both GW's original sculpts and JoyToys dedication to faithfully recreate them. they are IMHO the absolute best of this range.
Amazing how long Chaos Space Marines aspire to be champions yet so few are. I guess many just skip the promotion straight to chaos Lord. TLDR, GW if you are reading this. more champions please. we have enough Space Marine Lieutenants and Captains to warrant you sculpting at least 1 more champion since Dark Vengeance was released – ten years ago…
Want to see which model inspired this guy and the ones below, just check out the screenshot on the product page, they are all quite hard to miss.
Everything I can see on this model appears to be unique. , the chest, upper and lower legs, shoulder pads, backpack, head, weapons and tabard are all sculpted individually.
Again we don't have a name for this one.
Whilst he is fairly generic amongst the set as a bolter wielding nasty-marine. thanks to all the chaotic embellishments, he still looks super awesome!
Once again, everything appears to be unique for this model. even the similar shoulder pads have their baroque-esque points in different places.
Another awesome model, and one close to my mind as it's the last one I built. Literally number 10 in the build guide from the retail set of models. and whilst it was a pain to get that ammo belt correctly resting over his arm, it's still cool to look at that it had to be done.
Ah forget it, I have nothing more to say, I am in awe of these.
So, we were actually expecting these models to come out based on the presentation slide from JoyToy themselves. (you can see that on our full collection breakdown). Around this time we are also expecting Chaos Space Marine Havocs, a Helbrute and Ultramarine Venerable Dreadnought.
These However, look damn impressive and no matter what your allegiance to certain chapters is. I'm confident to say, you want these Action figures!?
I find it odd that this is now the 6th/7th reveal from JoyToy in China, yet the initial Infiltrator/Incursor models put up for preorder by GW back in September still haven't found their way to people's houses yet? have they? I'm so glad I've been buying all mine from Locker Toys.
I think the only thing stopping people from just importing these is some expectation that the included card will be in English – though I personally don't expect this will be the case?
Ok, let's have a close look at the models.
The first chap here is the leader of the group
he has the usual Seargeant embellishments such as the red with white stripe helmet. he also has a plasma pistol.
The second model, which is unnamed is almost identical to the next. though this guy comes with a bolt pistol
The only difference really is some f the smaller accessory pouches and placement of purity seals
The final model of the 3 is almost identical to the last sans the head sculpt
Odd that this model comes without a hand pistol of any kind yet there is the option for us to install a holster with or without a weapon in it?
listed as Brother Slael in the official artwork, I've just called him Champion Slael here as I'm not 100% if Chaos Space Marines use the term "Brother"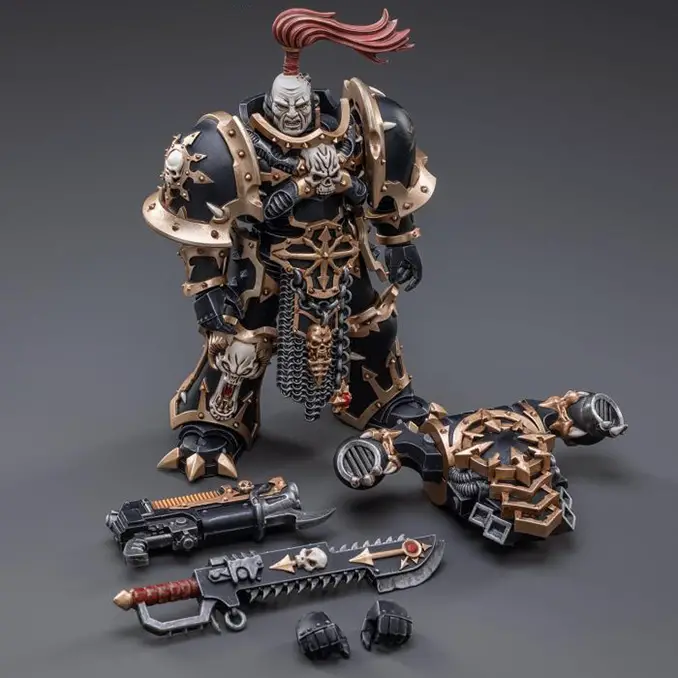 The lightest armed in the set, the leader is armed exactly as he is in the retail set of 32mm figures. in that he wields a chain sword and plasma pistol.
I think they may have gone a tad pale and deeply shaded with that head sculpt though
Each of these models is a direct representation of their 32mm counterpart.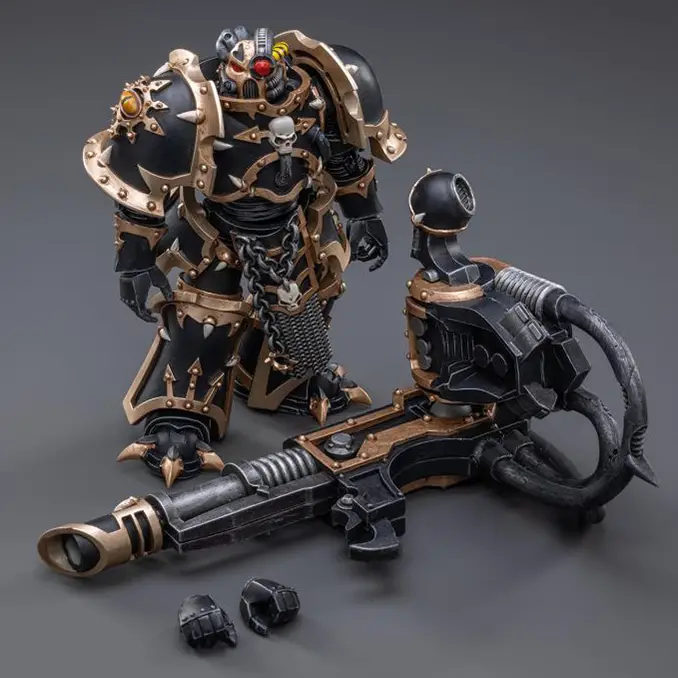 Here we have the Lascanon wielder
next up is the best model in the set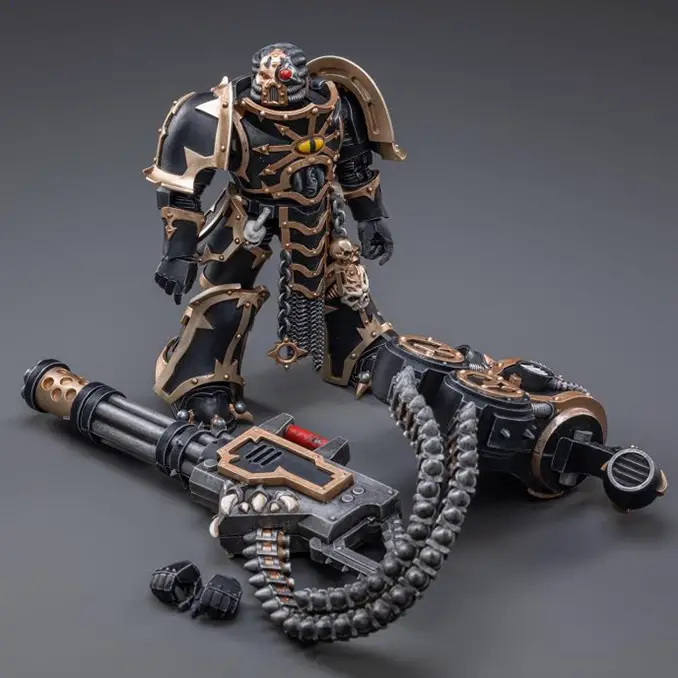 This chap has the super cool Assault Cannon
Next up is the Heavy Bolter Marine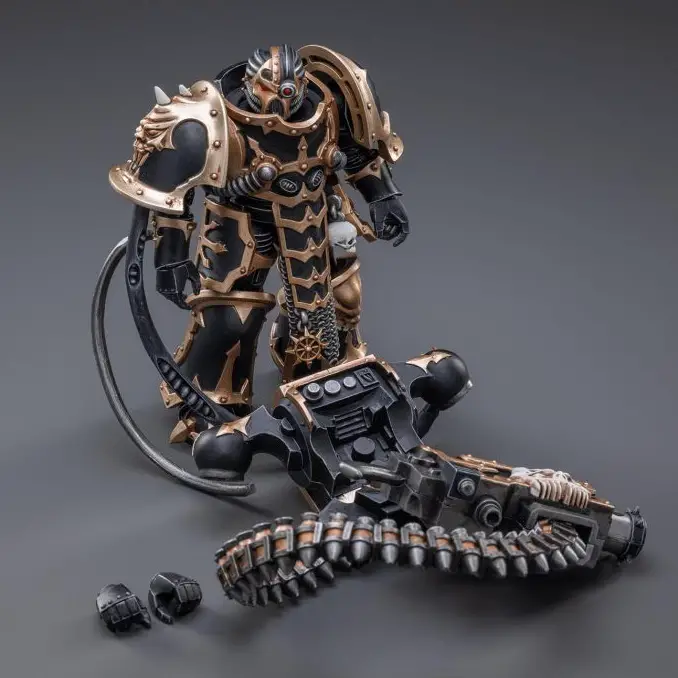 Take a look at some of the super-awesome details in the baroque armour edging.
Finally, one of the more dynamic models in the set we have the missile launcher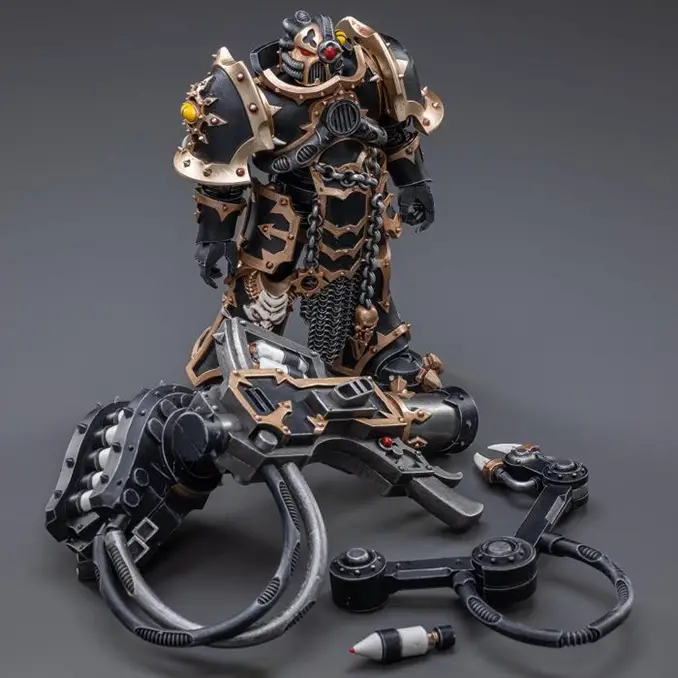 This one has a couple of extra components to his name. the extra missile can probably be held by the marine, clamped in the mechanical arm or loaded into the launcher itself.
JoyToy Space Wolves
Even the Pilot now has a name. I love the fact that this thing is so huge, a marine in Phobos scale armour can fit inside it.
The pace wolves version comes with an appropriate baby-blue colour scheme and what appears to be a new weapon option, the Incendium Cannon. Wave 2 had the Ironhail Autocannon.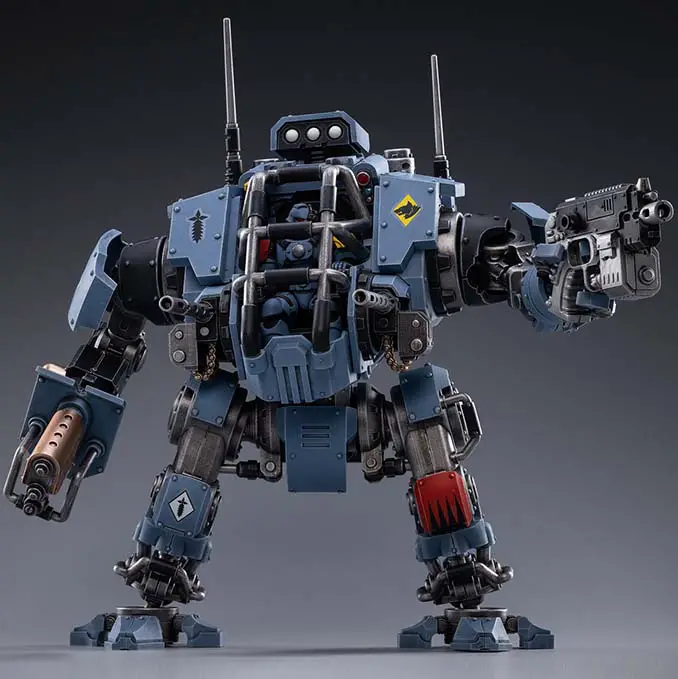 Now, I'm saying extra weapon options, but my experience of buying JoyToy mechs is that you get a ton of weapon options out of the box. as we don't have hands-on with the Wave 2 Invictor Warsuit yet, we can't tell if swapping your loadout is even possible.
And now for the individual characters.
So important this guy gets a surname. it's a bit Tropey McTropeface, but if you're new to Warhammer – get used to it.
Gonna get this out of the way up front so I don't need to say it on every model. These are not JoyToy's best work.
Terrible blotchy paint job with horrible patching of areas. recess shade is inconsistent and way overdone on the face. and where's the edge highlighting we saw on all the previous kits?
Just like the Death Company, the (now unsculpted) insignia is way too low. on the shoulder pad. The pack markings are off-angle and instead of being parallel and all warped and pointing to the same place.
It's not all bad though, the bronze-gold looks really nice.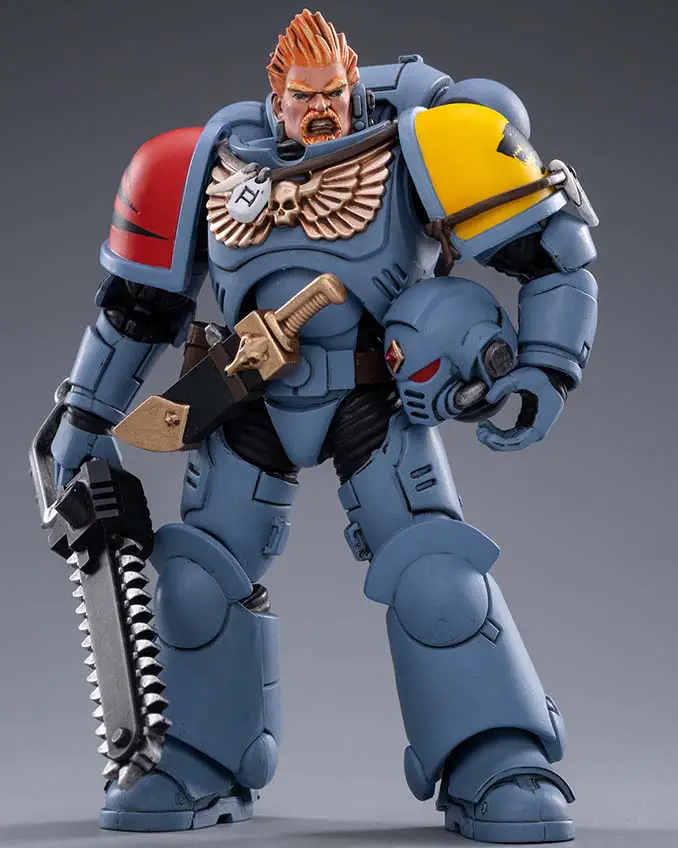 This pack leader stands out somewhat in that he has some extra embellishments, with his leather strapped runes across his shoulder pad and necklace. and it's nice to see they went the whole hog on the classic style of Space Wolf chain-sword.
Wulfgar is our typical angry scarred generic space wolf.,
The stand out space wolf detail on him? The amulet awkwardly hanging from his belt. Looks like Joy Tou have just as much trouble as every other hobbyist when it comes to figuring out where to place these damned things.
They got it right at least. jam it on at some awkward and unrealistic angle and pronounce that'll do…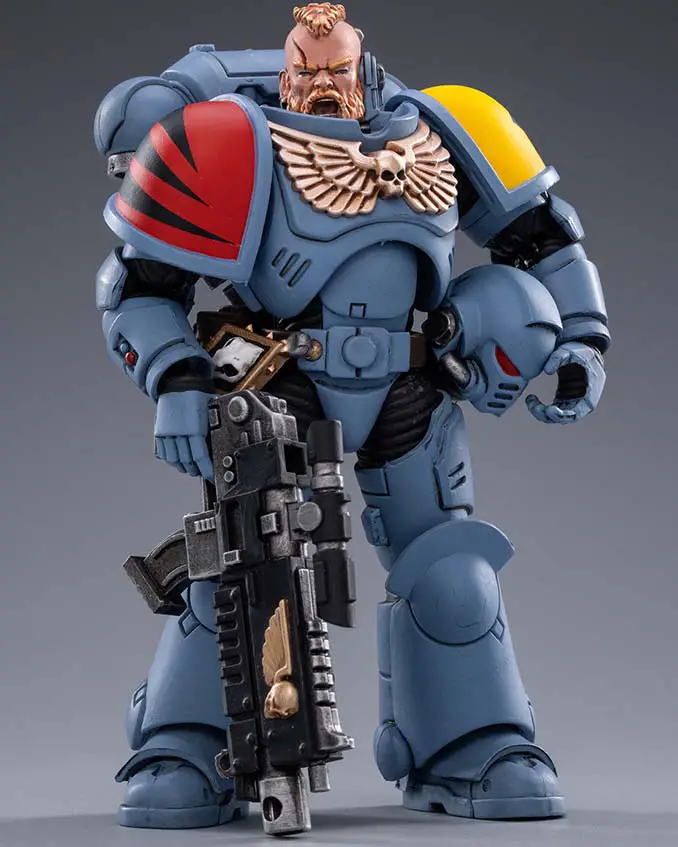 I think this hits the nail on my whingey head that, my issue with these is not so much with JoyToy's sculpts, but with Games Workshops's Genericification of our beloved chapters since the launch of Primaris. An issue which the BBlack Templars upgrades sprue seems to finally want to handle.
But give me some Primaris in the style of the original Space Wolves tactical marines any day.
What can I say here? Besides a head swap and slightly different trinkets, he's the same model as above. At least with OEM of the previous models, they tried t vary up the body sculpts just a day with a mix and match of different armour markings on the arms and the legs.
This is where I noticed that these trinkets all seem to be mounted in the same place. In fact, if you scroll back up, you can see they all have a little circular notch on the belt with things hanging off of it. when I noticed this I went back to the wave 2 figures and saw that they also have these but on the opposite side.
Is that is what's holding these things on? is it magnets?
Oh, don't worry, we'll talk about the face. There's no way we can ignore that. but let's do the "overall model" bit first.
Once again the embellishment here is his diamond amulet held on to his belt by magic. (if you don't believe it's magic then explain to me how magnets work?). Like the model above, he has a wolf pelt attached to his knee. is this also magnets.
Once again the placement of said wolf pelt is daft – Once again, just like us typical hobbyists do it. But I would have hoped JoyToy (a company I've praised for not taking liberties with the original designs) took some liberties in the placement of specific components to make them look better.
Right, the face. What is that even trying to be?
Is he snarling? Thinking? Having a conniption? Perhaps he's uncomfortably blowing a kiss. does he have a booger stuck up his nose.
My hope is that this sculpt was just accidentally left near something a little too warm. It's then melted but the JoyToy Marketing team demanded the pictures go out – that would explain the rest of the issues too.
Is this based on an actual head sculpt from GW (because I can't find it). What's with the metal bar across his head? Space Wolves famously avoid cybernetic augmentation over the heightened senses they acquire through Space Marine Initiation
There were so many better heads sculpts to copy…
What do you think this expression is meant be? let me know in the comments.
If you have a face like this, I'd like to apologise if I have caused any offence. But we'd also like to hear from you in the comments with pictures of you recreating this.
I'm gonna find out this was done as an ode to an ill fan or something arent I? If so I'm going to hell.
I'd say starting off strong, but all of these models are excellent. This is just my personal favourite. I always loved the original metal Chaos Terminators, and the lascannon model just looked ridiculously cool. Just like that metal model. It appears here that the weapon is so heavy that just like that original model it's almost impossible to not have it resting on the ground.
I hope on the final model they sort out the glossy edge to that transfer. But based on the original showing of the death company with it;s misplaced Blood Angel insignia, I expect what you see here is what you get.
Pretty much everything on this model appears to be unique from the waist up, only slight sharing some leg sculpts with another terminator. The head is quite unique and is not taken directly from anything on the Chaos terminators Sprue.
This chap is the standard terminator, armed with nothing more than a bolter, this is based on one of the Chaos Terminators in the model set. The only thing I'll call it out on are the eye of hours sculpts on the belt and shoulder pad, are they potatoes?
Once again the head is unique to this range.
based directly off the sergeant model from the Chaos Space Marine Terminators set. This chap comes with a very familiar sculpt and an awesome power sword.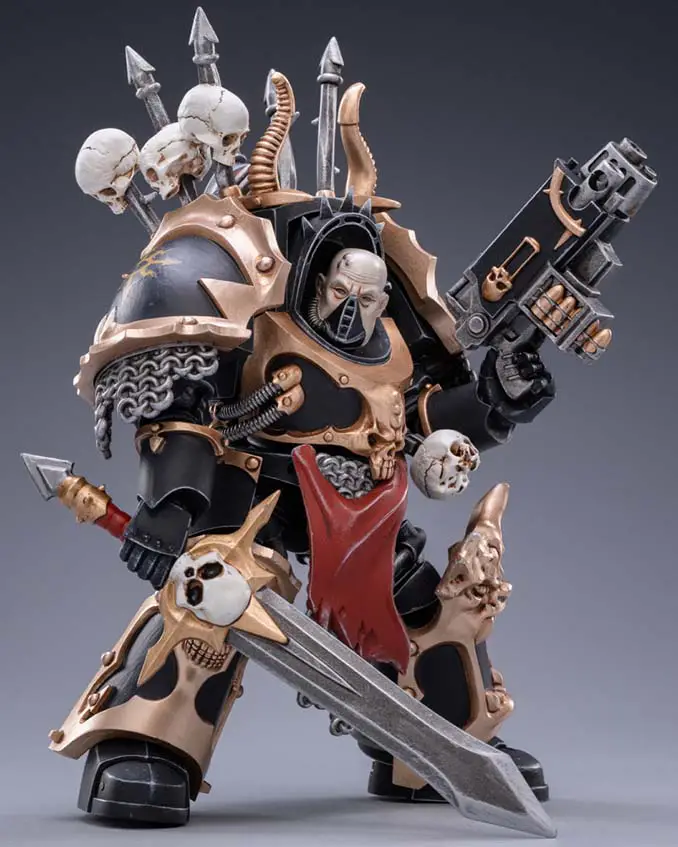 This head sculpt is also a familiar sight, inspired directly by the model from the retail set.
Here's our Chaos Lord based directly on the model which originally debuted with Blackstone Fortress.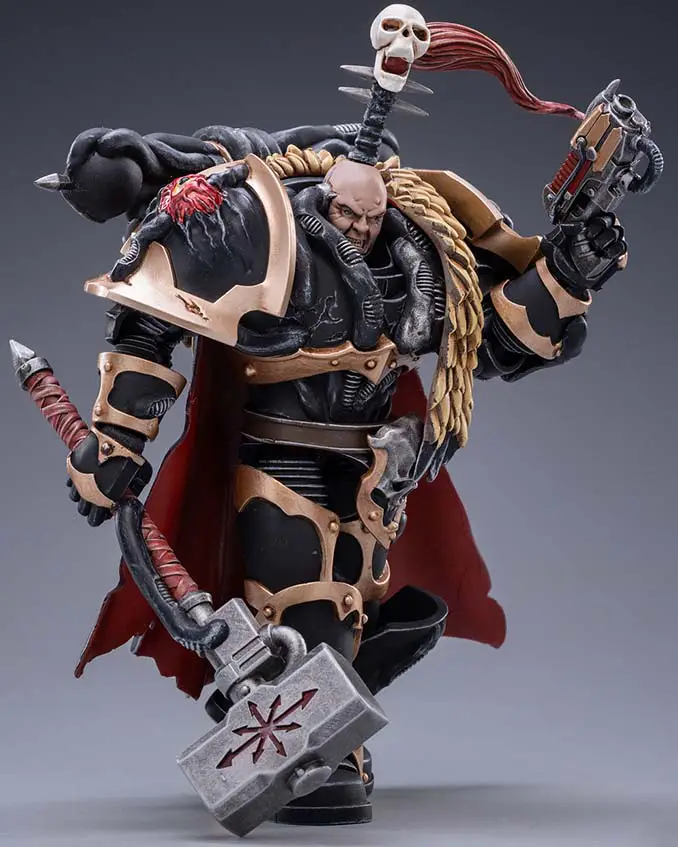 I do like this model but there's just something I can't put my finger on that makes this a little less imposing than the actual model. The Plasma pistol looks a bit small and the skull at the top has no teeth sculpted…?
Perhaps something is just lost in the mass-production style of the paint job. If you can see what I'm seeing and can explain it better, let me know in the comments.
Awww yeah…
Right?
just look at it!
What do I need to say?
It's just so freaking awesome right?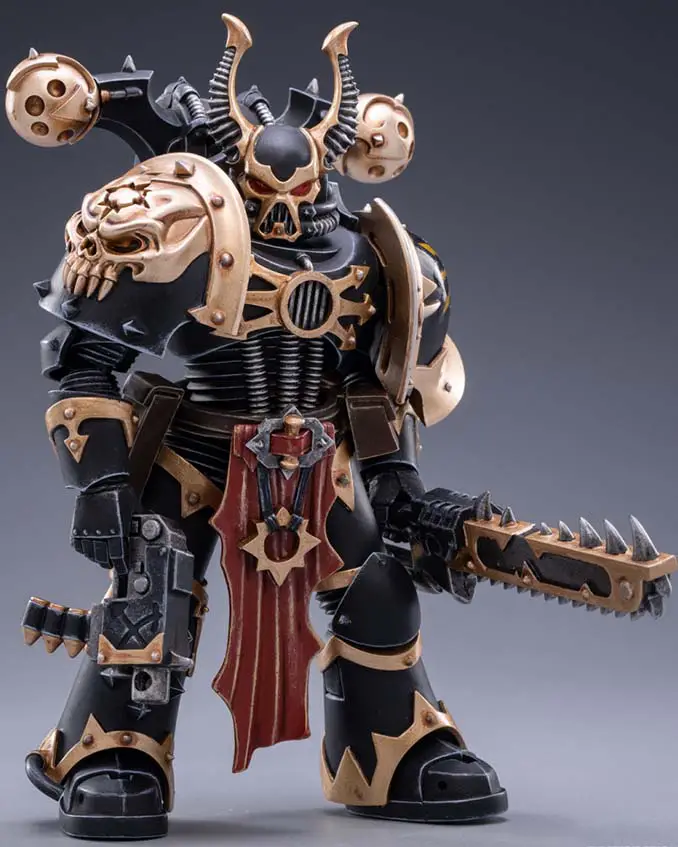 Armed with a bolter and chain sword. the baroque elements of this fully unique model are just insanely good.
Everything about this is everything I ever wanted from a Chaos Space Marine Action Figure.
Nope, no. I was wrong. This is everything I ever wanted from a Chaos Space Marine Action figure.
Actually, it's both.
It's both and then I want more of them.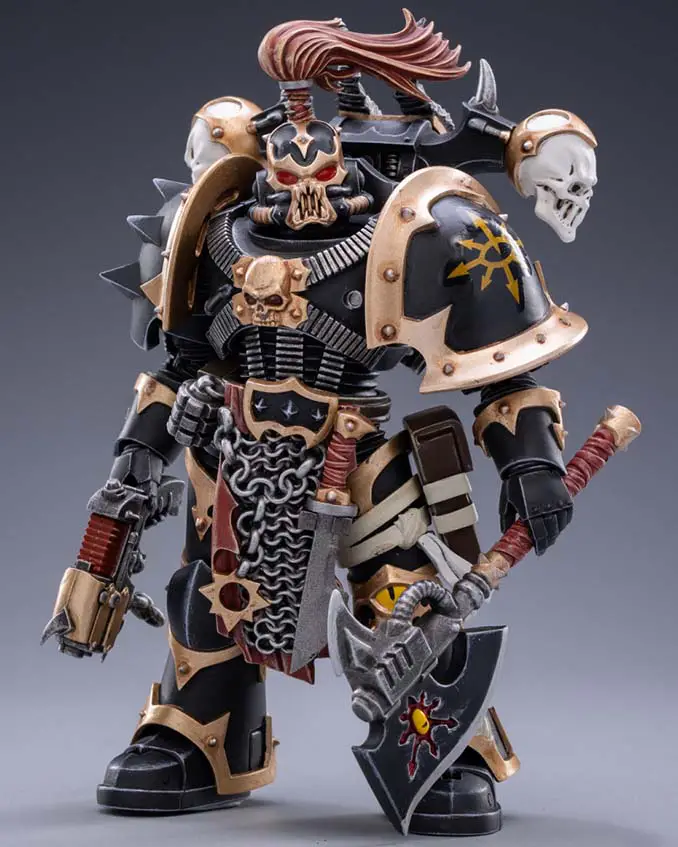 Once again, totally unique across the board for this model and that power axe is just so cool!
First up (technically second up, since this is Wave 2), we are getting some Intercessors.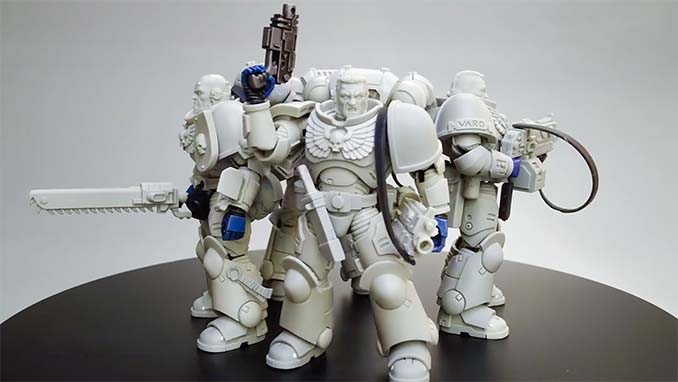 Normally GW would push for standard blue Space Marines to be the first release of any new IP share. why they went with the Phobos Armour style first is anyone guess. But anyway, now we get the basic units.
Shown below with a Chainsword and optional helmet, (complete with Seargeant insignia). Keep an eye on his left arm which has an auspex attached, this has been shown in other images to open and close.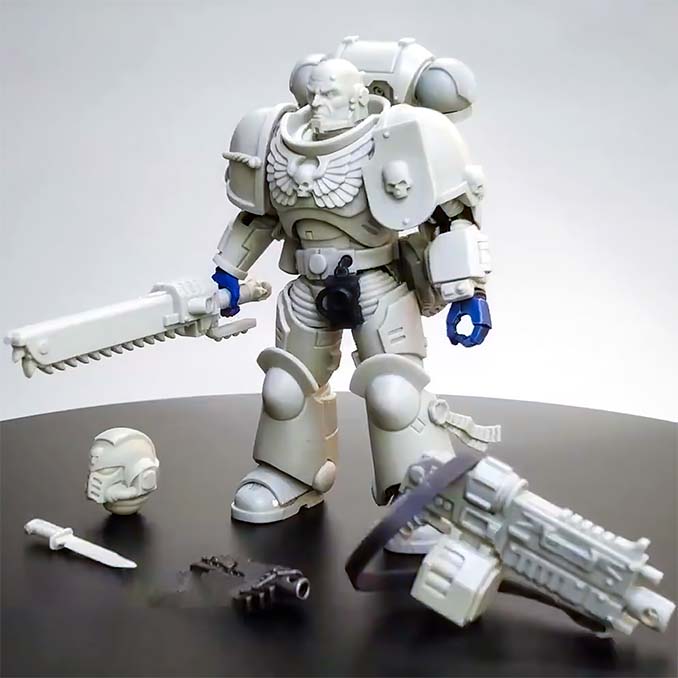 This model comes with various extras and ornamentation. Worth noting here that (like all the models below) the blue hands are taken directly from the existing Wave 1 models, suggesting that we will see the same various hand options across the board.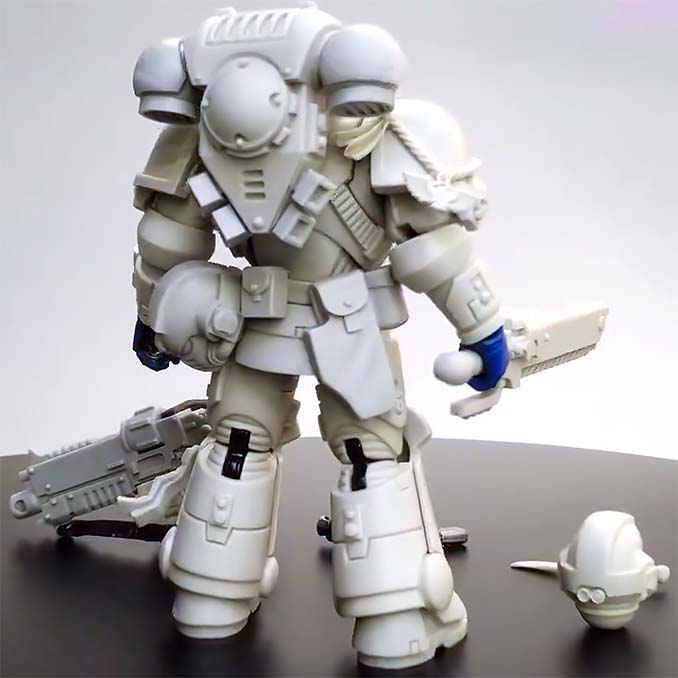 I've shown the back of Sergeant Manius so you can see that he comes with an extra attached helmet on his belt.
It's nice to see that once again this is a unique character and even has a spare helmet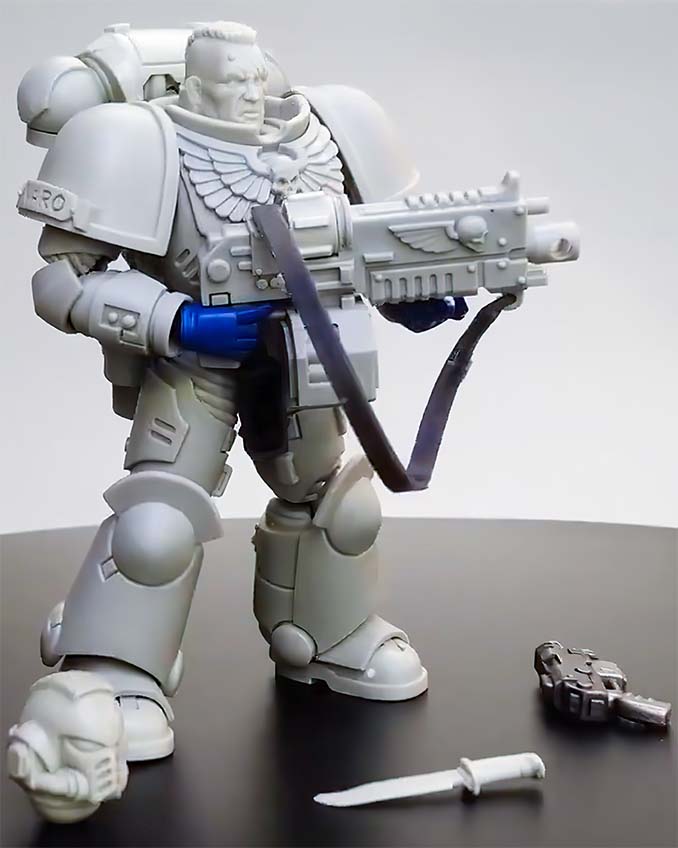 The strap on the Bolt Rifle also looks nice and flexible
Another model with a fairly standard loadout,
The obvious changes here include the head sculpt and the Bolter which now has attached rounds and a mounted launcher.
The final Ultramarine intercessor shows off his included knife, which matches the style used on the Wave 1 models.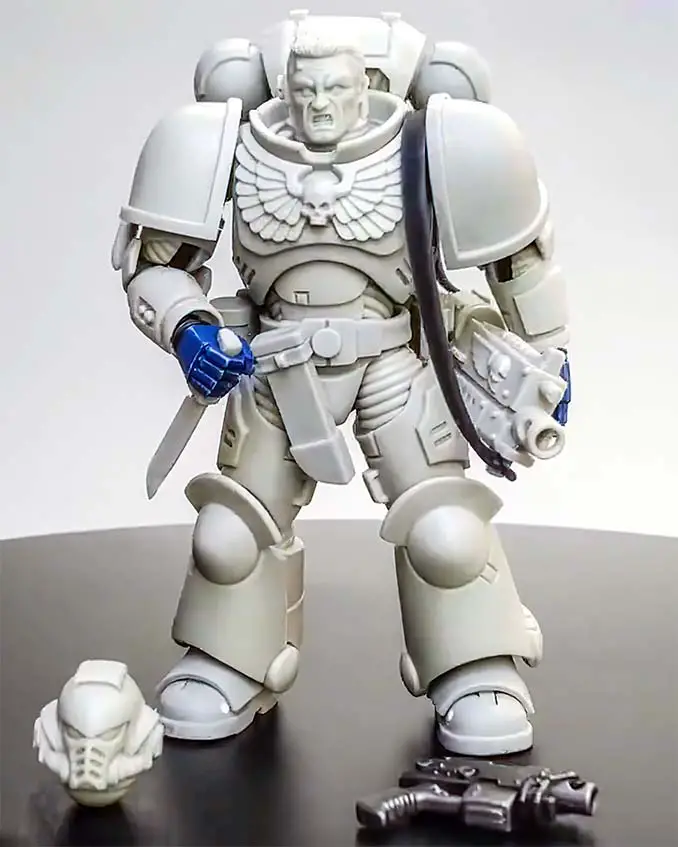 Here's hoping that the holster, like the pouches on the back of these, are removable and interchangeable.
The Death Company models, my fave here since they aren't Ultramarines (no hate – I'm just bored of seeing the same things) look absolutely incredible.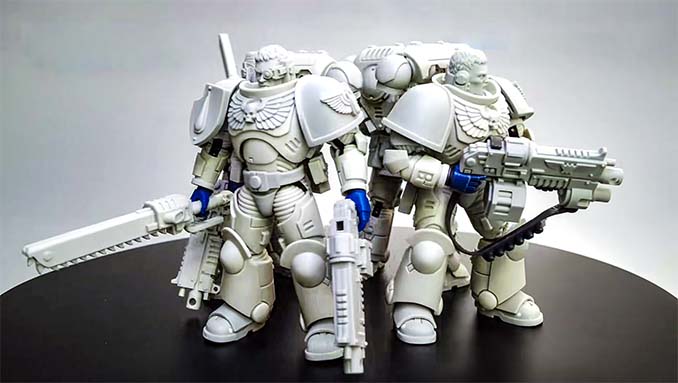 However, there is one small point that irritates me on all of them. The insignia is just too low.
Here it is compared to the sprue. version.
It wouldn't;t matter, I mean these models are far superior in accuracy than anything we've had before (I'm looking at you Bandai and Mcfarlane), but because the rest of the model is so accurate – this error just sticks out a mile.
I was hoping that this was only an issue n the mock-up sculpts shown here, but, well, we'll get to that.
Here we have a very Blood Angely looking Seargeant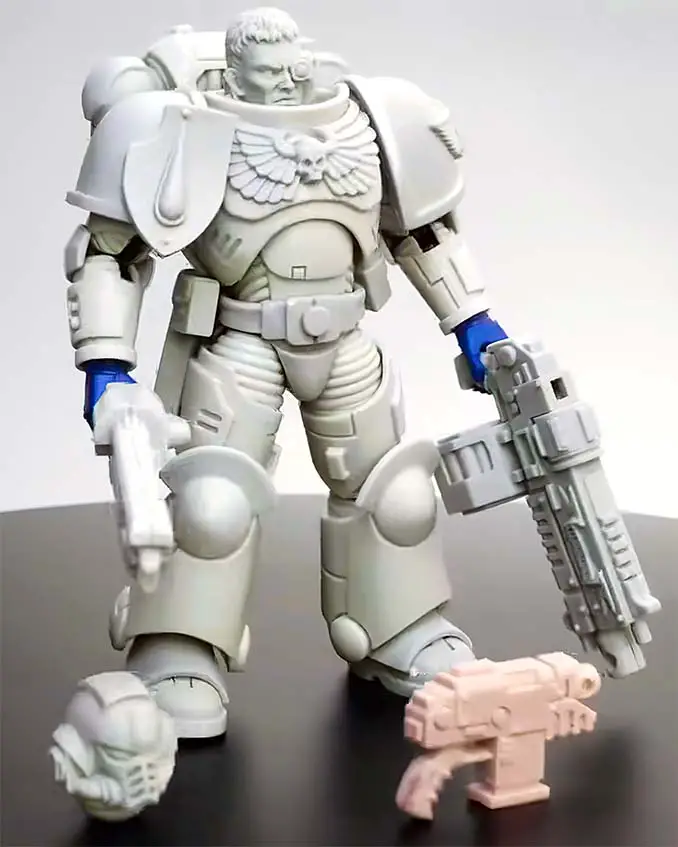 Not a massive amount has changed in the overall sculpt. Though the additional helmet and shoulder do have BA iconography which is nice to see. The Aquilla though is a rather standard skull rather than a blood drop.
however, with it being the most accurate action figure Aquilla when compared to our tabletop models. I'll take this love the others.
Our next guy up, also isn;t much different,
Again a different head, but otherwise the loadout is standard.
Again, other than the head, no changes here to note.
However with the Purity seal on the leg matching the above, i wonder if this is part of the model, and extra and whether it's standard on these 2 specific models.
Like with or ultramarines we get a model where the bolter includes a launcher.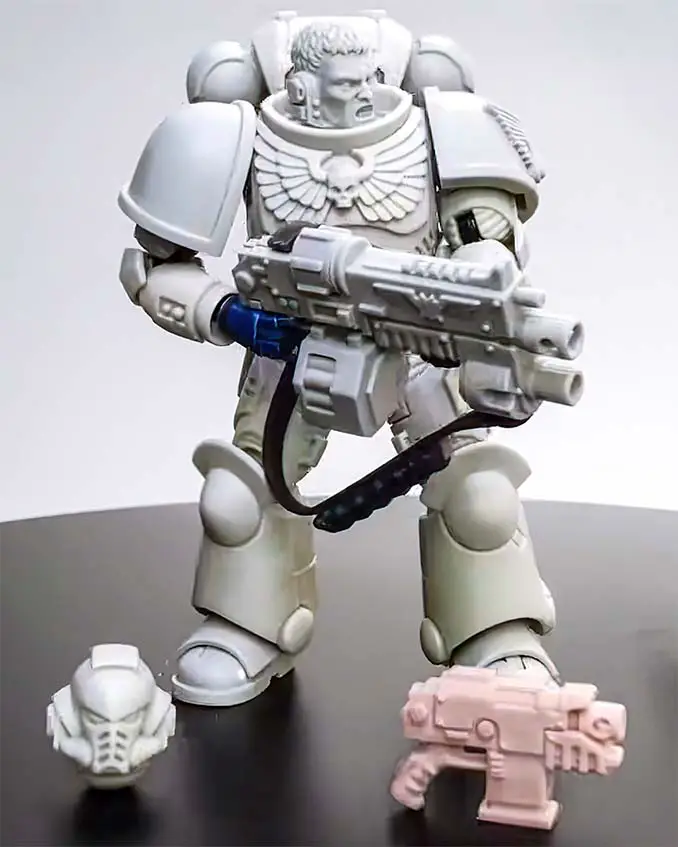 Aside from that, the head sculpt is different, that's the only real change here.
This is not the guy who you want to tell that your library card has expired.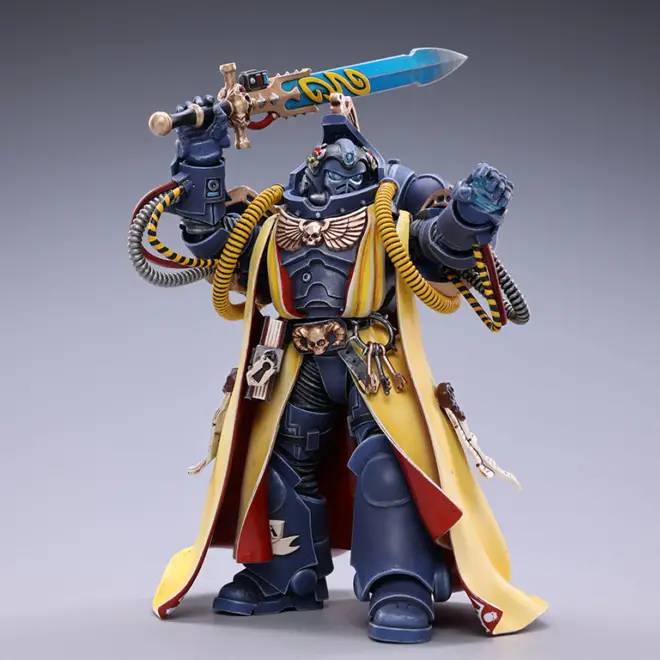 The Primaris Librarian is a highly detailed figure who will immediately draw the eye once he's standing amongst your collection of motley Ultramarines.
He comes with a helmet and bare head option to show off his glowing psychic eyes and gnarly caterpillar eyebrows.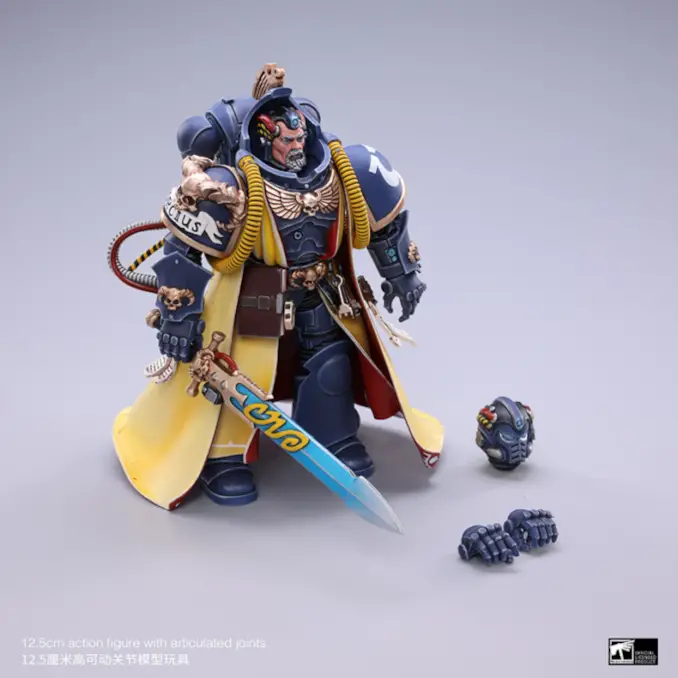 The first in hopefully multiple waves of Warhammer Action figures feature
Infiltrators tend to be the more defensive sneaky models on your board, when to comes to action figures, we just get a slightly different style of model, with 3 of them sporting helmets.
Octavia is the leader of this stunted (1 -man down) fireteam. he is a direct match to the Squad leader showcased in The Primaris Infiltrator Set from GW. Even the pose is spot on.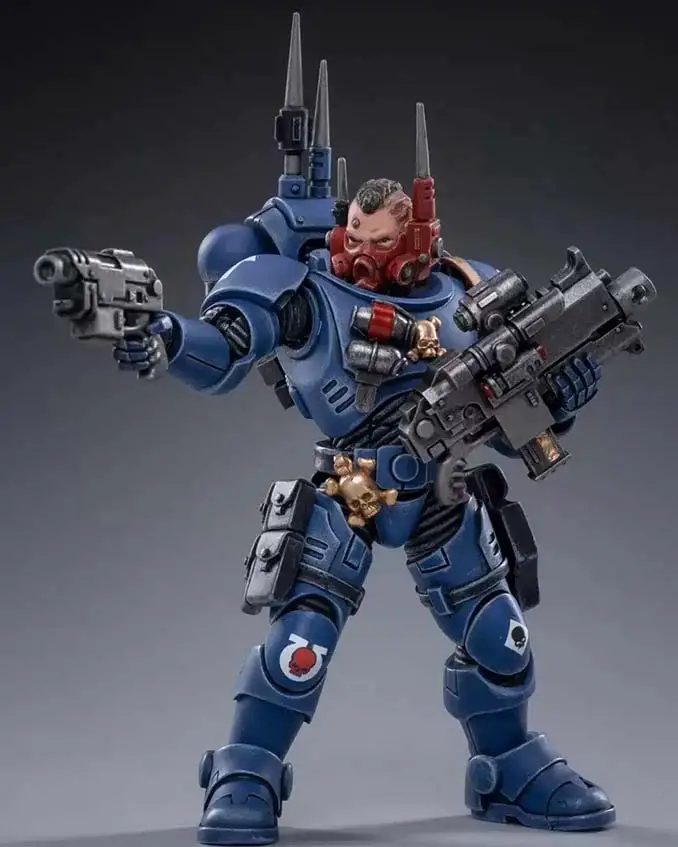 The main differences in this model are his head, chest grenades and hip-mounted relic.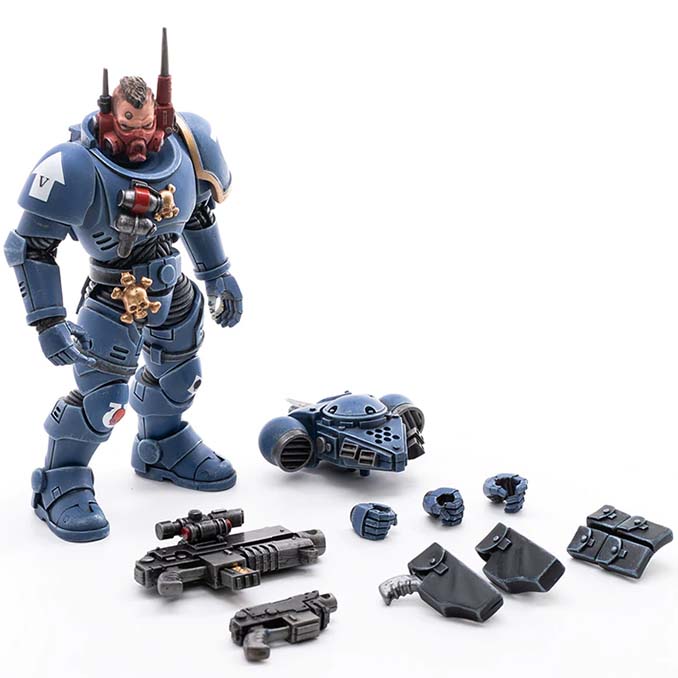 His accessories are standard for this squad, Backpack, 2 right-hand options, 3 left-hand options. A Marksman Bolt Carbine And a Bolt Pistol along with a pistol holster, or holstered pistol option. He also has a set of 4 pouches for extra rounds, his smokes and probably some dice.
Ruban is the most Unique Model and is once again a solid match for the actual model from the Primaris Infiltrator Set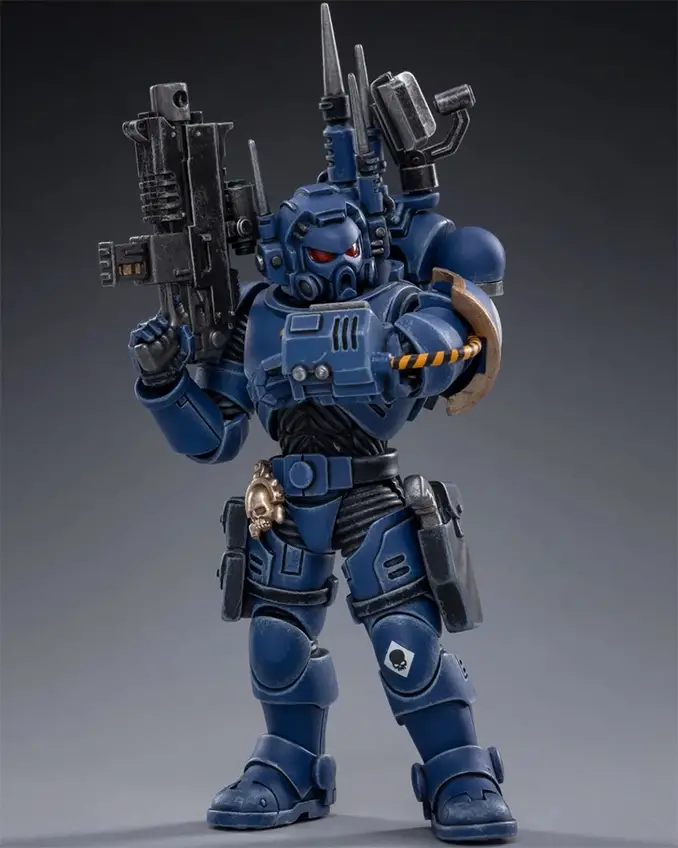 Loads of this are unique here, The head, the left arm (which we are not sure is very posable? since the 2 images above show it in the same place) and his hip relic. This model also features a radar dish on his backpack.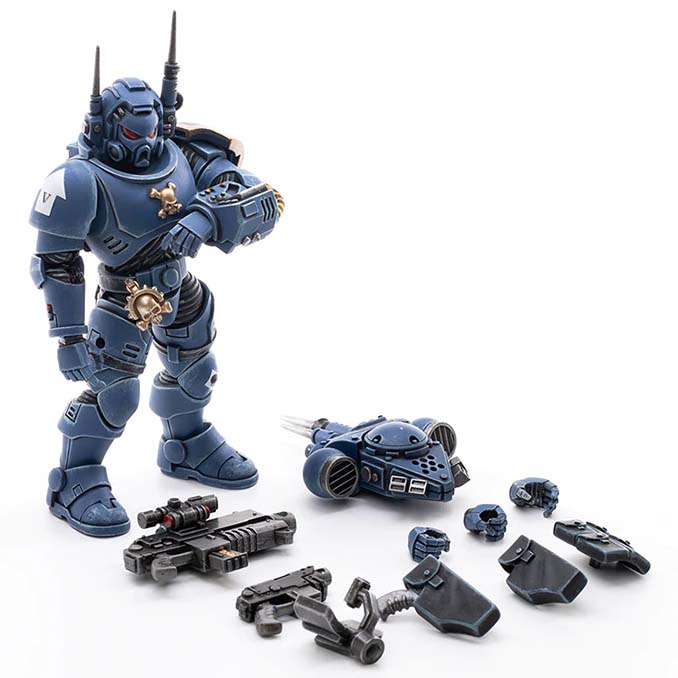 The loadout is pretty standard, as above but with an additional radar dish.
Pullo is the redshirt of the group. your absolute depiction of a rank-and-file Parimaris Marine.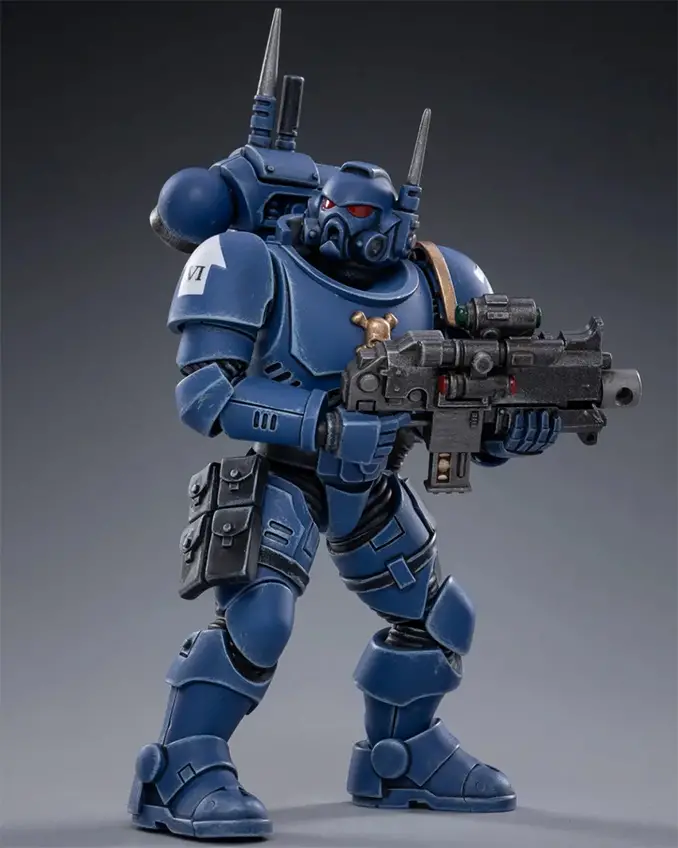 The head is ever so slightly unique (more on this when we look at the model below), other than that, he has no discernable features to speak of.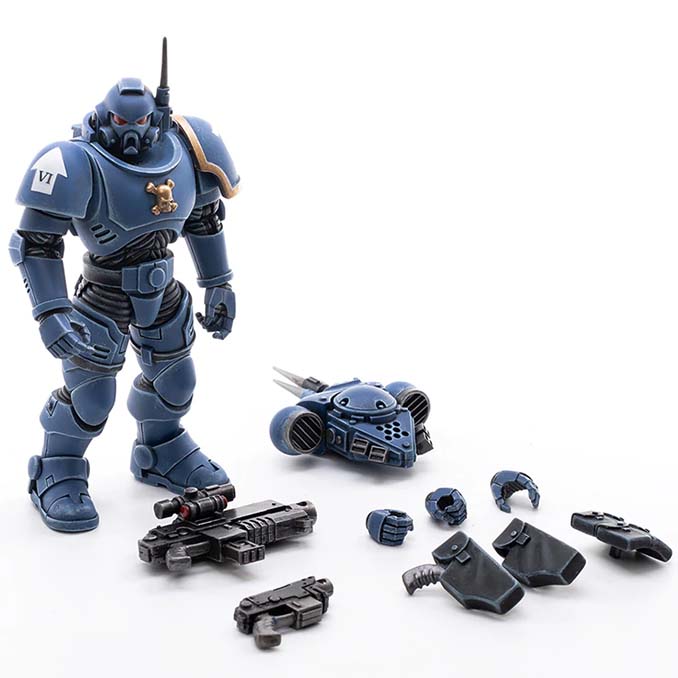 His optional loadout is also perfectly standard for the set.
Pullo's almost-twin brother Cyrus is almost indistinguishable from the model above. Though beneath his helmet I expect he looks a lot like John Malkovich.
Can you spot the difference(s)?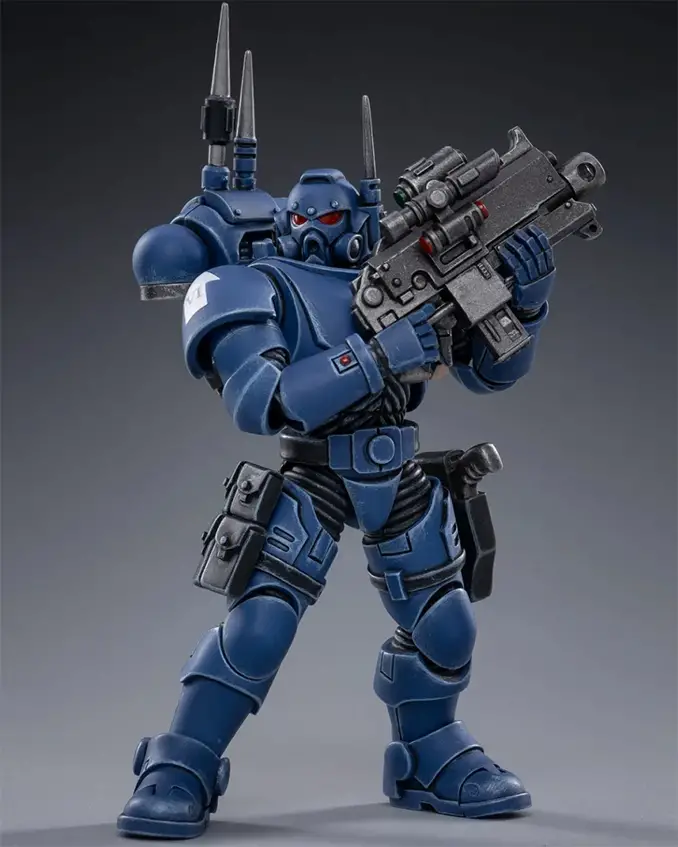 You may not have noticed, but Cyrus has 3 rivets on his brow…
There is a tad more than this but that's the main difference I can see. The other changes can't be seen in the pic above, but Cyrus also carries some grenades. Right near his face.
The Arm sculpt (the right arm anyway) is also slightly different, but it's that little detail (like with our standard 32mm plasticy boys) that shows they put the effort in rather than just tried to be cheap and use the same arm sculpt throughout the range.
Cyrus looks angry, he clearly has a bad attitude, like he's thinking "For him, you're somewhere between a cockroach and that white stuff that accumulates at the corner of your mouth when you're really thirsty."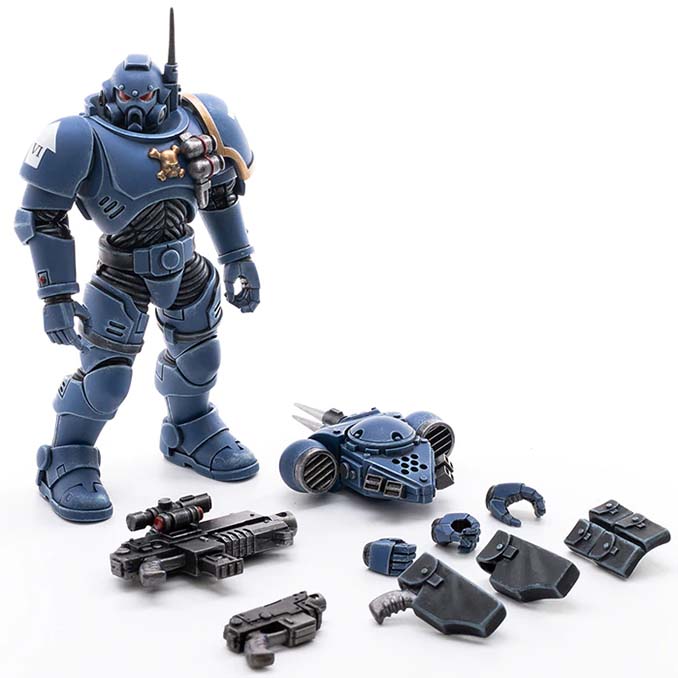 Loadout options – Standard.
The Incursors are the more aggressive of the MkX Phobos boys, this time armed with Occulus Bolt Carbines. Basically, bolt carbines but with a big viewfinder attached,
These models all showcase themselves as unique due to their individual face sculpts.
Here we see the leader of the pack, and yet again he is a match for his counterpart from the Plastic Primaris Incursors set, right down to his grenades and haircut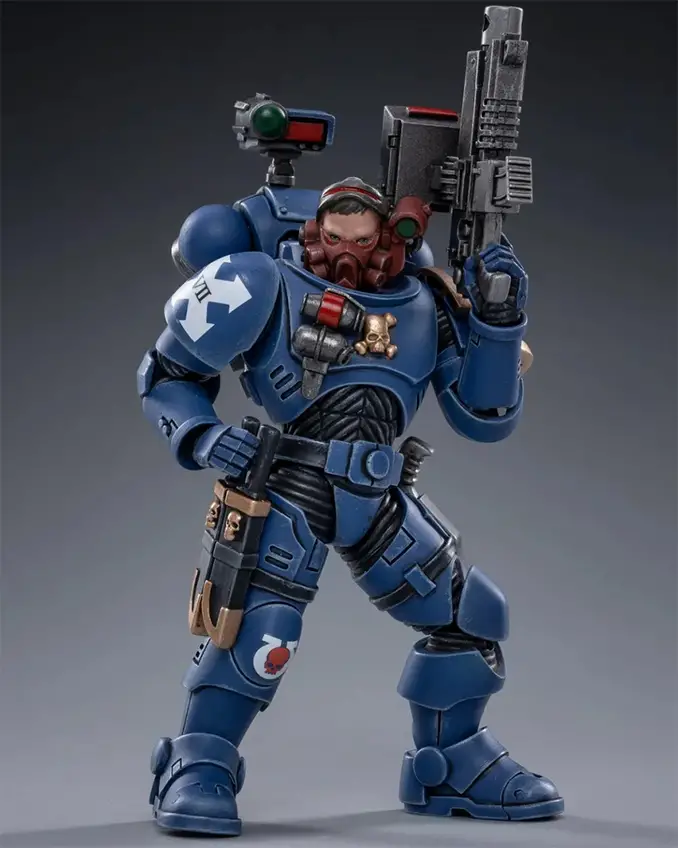 Unique style options are basically the head and the chest grenades
Loadout for the Incursors is identical to the Infiltrators other than the weapon and the backpack has been switch up for the Incursor specific options. 2 right hands, 3 left.
We also now have the option of knives which can be sheathed or unsheathed. And the backpack mountable Multi-Spectrum targeting array.
Varron is another model which matches an equivalent from the retail set of Plastic Incursors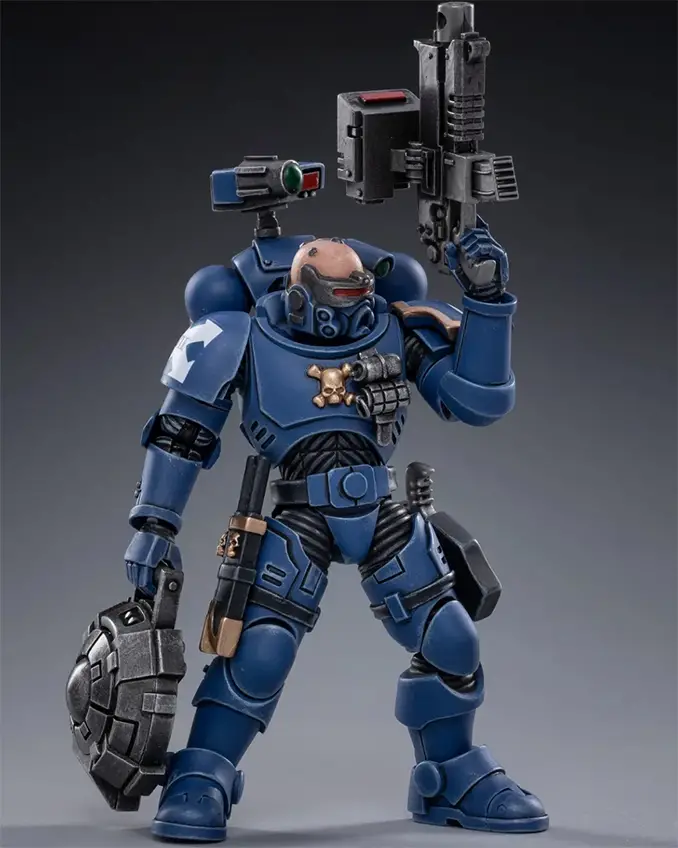 Varron's unique elements include his head, chest-mounted grenades and he carries a Haywire Mine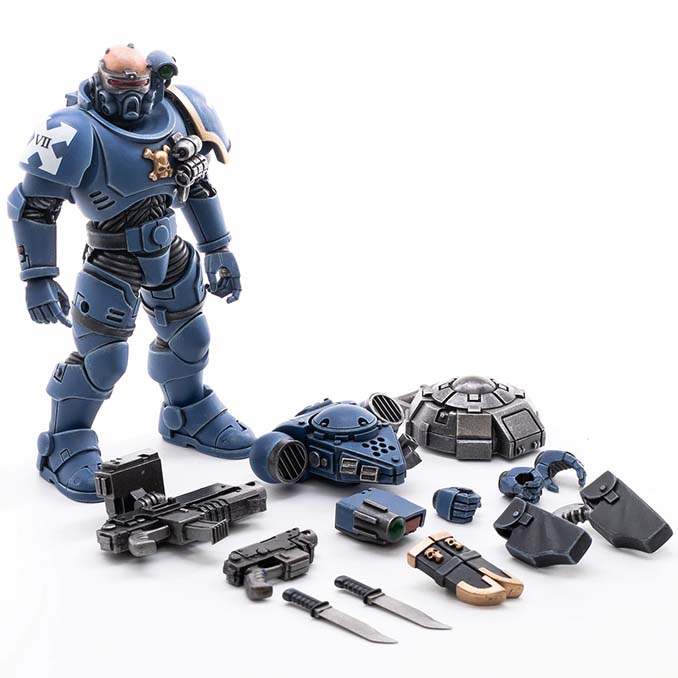 His optional loadout is standard for the range with the inclusion of said haywire mine
Remus is our rank-and-file model this time around, if you check the boxed set promo image for the retail set of Incursors, the closest match to this guy is the one on the back row.
He's unique in that he doesn't have any grenades attached to his chest. (that probably makes him the clever one).
he also has a unique head.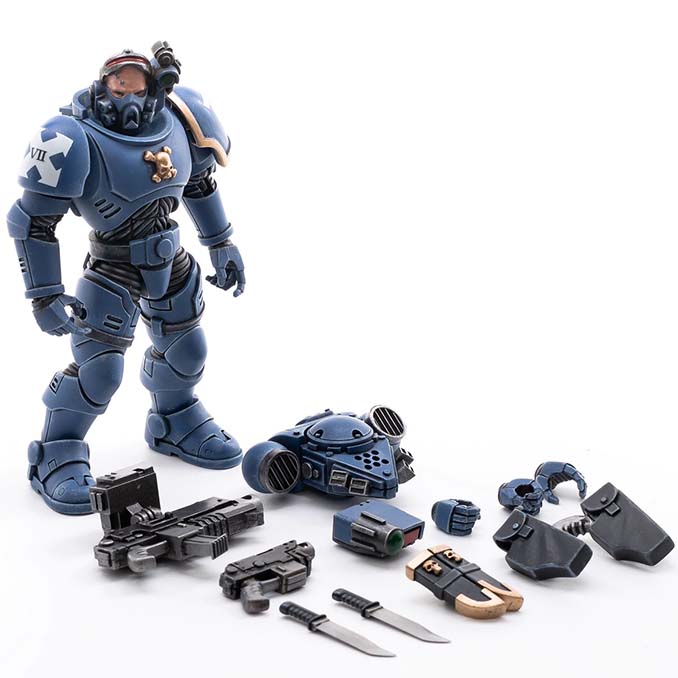 Optional Loadout – boring.
Ok, I know I said Remus was dull, but Aurelian has just about as much unique stuff on him. but the image below shows just how much more dynamic these guys can look when you give them a more dynamic pose. Once again, matching a model (and pose) from GW's plastic set.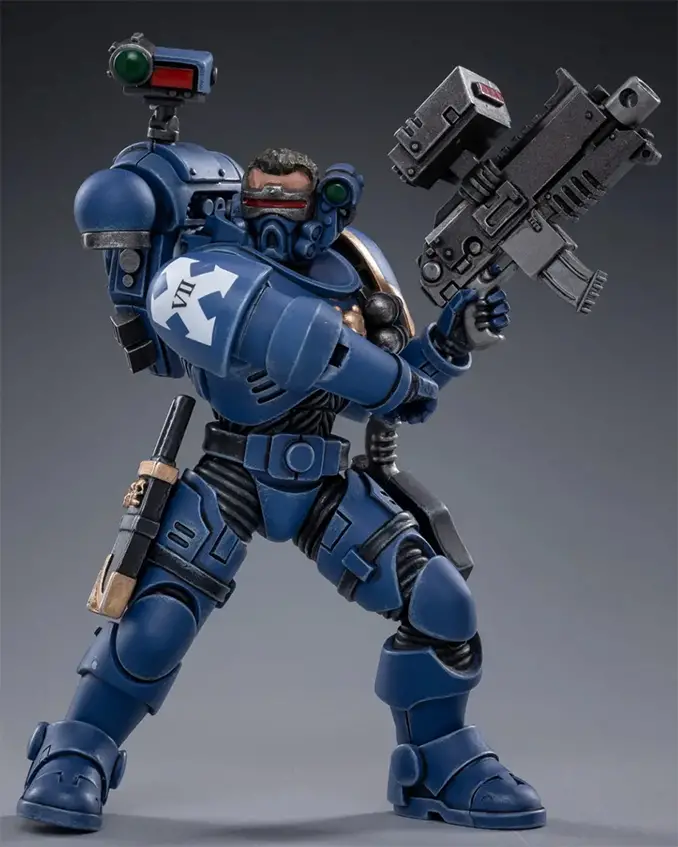 His head is unique and he has some grenades on his chest.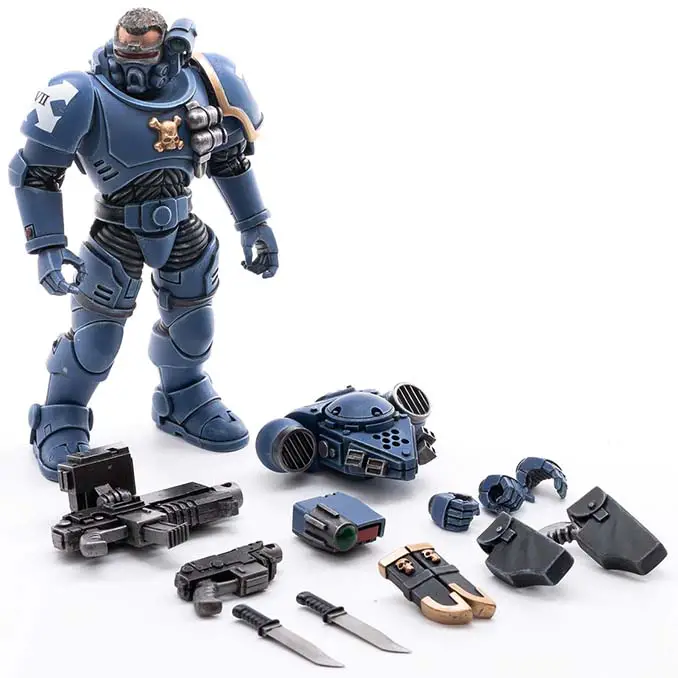 As for optional loadout, just like the above model. Standard.
What do you think of these? I love them, I just love the fact that they look exactly like the models we collect and paint, but they are bigger and we can play with them. Sure they are more expensive than the McFarlane Models but they look better. Almost thrice as much as a modern Ninja Turtle Figure but these are far more detailed. To me, it's that they are simply more accurate to our wee plastic men, and that's the best thing of all.
No more daft shaped Aquillas!
I'm so excited to see how people start to pull these apart and paint them to look like the different factions! #JoyToyWarhammer or something like that on insta will be an immediate follow for me.
Right now they are only available to import and I'm not 100% convinced that they will truly come overseas at any point. But if you want these things here, then make sure you let the Warhammer Community Team know. Storm the battlements and demand more info! Yeah, because that's worked before!
Just ask them politely and see what (if anything) they say. Actually, hold my beer, I'll do it.
To my Dearest @WarComTeam,

Would it be possible to know when/if these things are coming to the UK?

Warmest Regards,

FauxHammer xxxhttps://t.co/RQO9hSDfvc

— FauxHammer (@FauxHammerBlog) September 3, 2021
There we go, let's see what (if anything) they say. Feel free to jump on the bandwagon with a kind nudge.
Our Affiliates / Hobby Stores