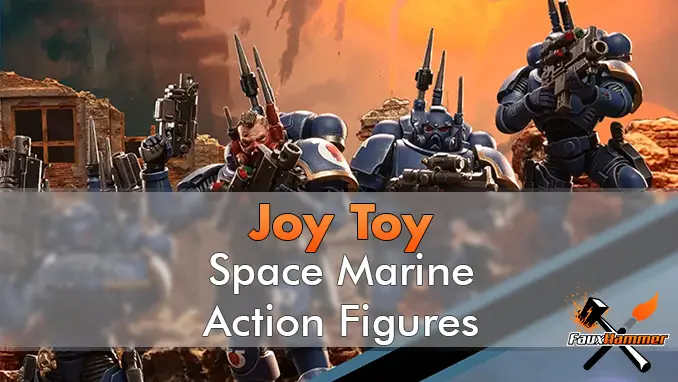 There are even more Warhammer Action Figures coming. Yay! this time we are looking at the Joy Toy 4″ Space Marine Action Figures. Which in all honestly seem to be the most accurate (officially licensed) larger scale Space Marines yet. Let's take a look at the models, the range and the company making them below.
Click this link & buy your hobby stuff from Element Games for the UK & Europe to support FauxHammer.com – Use Code "FAUX2768" at the checkout for double reward points.

Our Affiliates / Hobby Stores
Joy Toy 4″ Space Marine Action Figures
So, what do we know about these guys?
Well, they're multi-pose action figures for one. Standing at 4″ tall these are considerably smaller than the current products offered by Bandai and McFarlane which are both 7″ models. These are more akin to your classic Star Wars and Ninja Turtles models you played with as kids in the 80's/90's.
We'll explain what it's about in a mo, for now, let's just look at the figures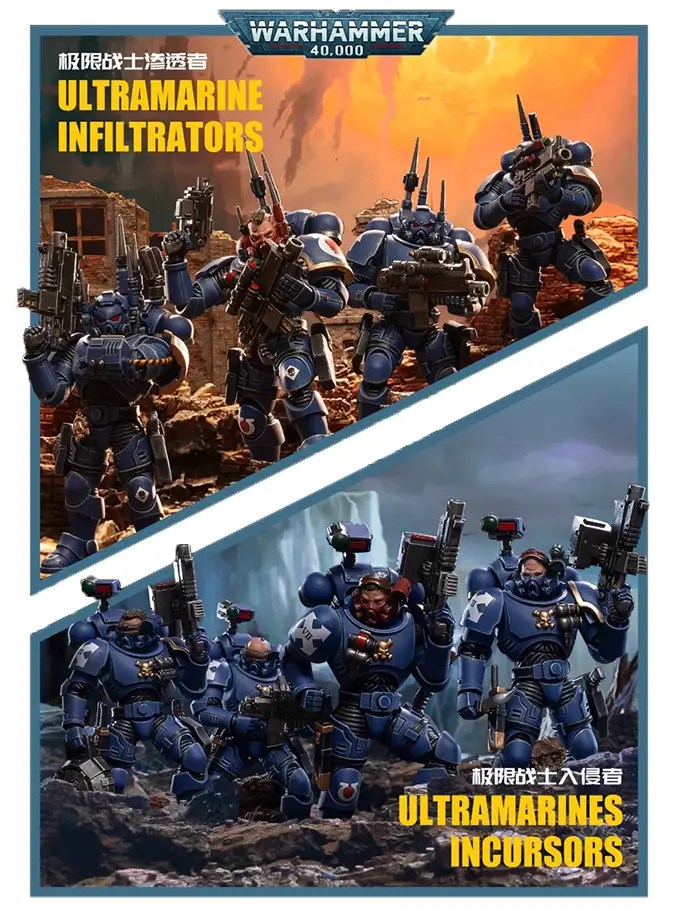 This is the recently release promo shot used for the eastern pre-order (I'll get on to that below)
They are all Primaris Reiver style models (in that they are all in Phobos armour), all 8 of them. Why we couldn't get 10 for 2 full squads is anyone's guess. But having specific Infiltrator and Incursor models is fantastic.
Thankfully there are some more close up images.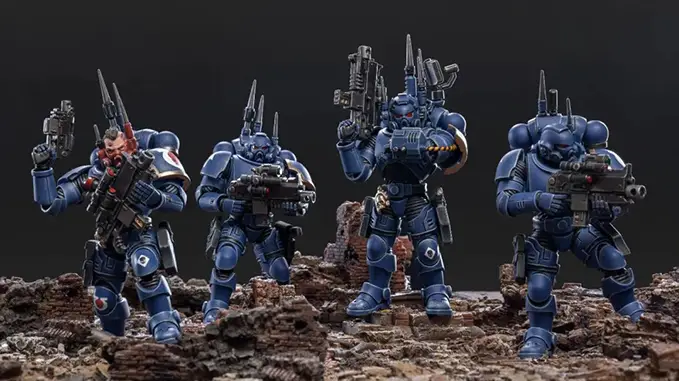 Once again, at first glance at these and they look just like normal models. but they aren't, they are 4″ action figures. The pessimist in me would think that this is how the 'Eavy Metal team theirs so well, make bigger figures. But I have seen those models up close to know they are real.
What I love about these models particularly is the scaling and style. It's absolutely spot-on when compared to a normal figure. Something that disappointed me about the Bandai and McFarlane toys.
There, the body size is just a little off and the Aquila specifically is just, well it's just nothing like what you see on your normal 40k models…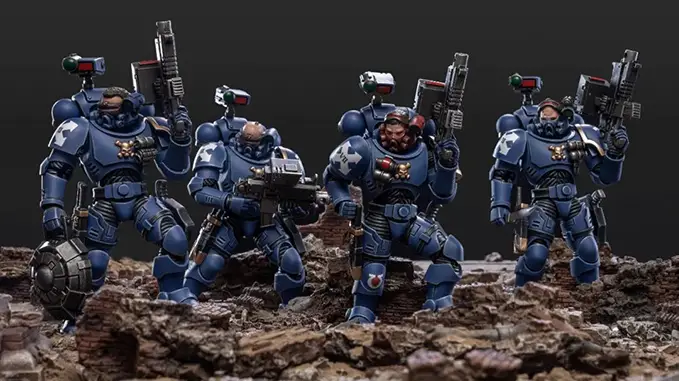 Whilst none of the models above sport a chest Aquilla, the Reiver Skull Symbol on the chest is totally accurate, which gives me good hope for any extension of this line.
To give you a full idea of the scale at 4-inch or 1/18 scale I've made this little infographic below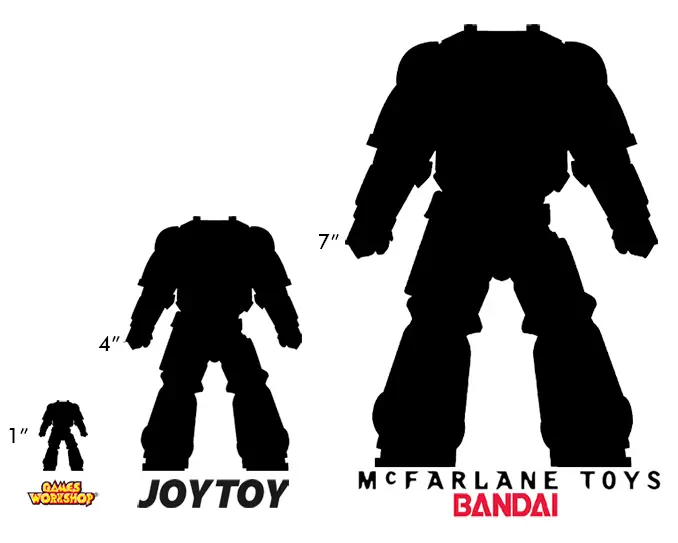 In recent weeks, they have revealed the full line in HD promo images, so we'll have a look at these.
Joy Toy Warhammer Space Marine Incursor Unboxing
I managed to get my hands on the Incursor box and here's a full breakdown of these models – everything you could want to know is in here – use the chapter selection for the parts you want to know
Don't forget to Like – Comment & Subscribe
Joy Toy Warhammer Space Marine Infiltrator Unboxing
And then the very next day, I bagged a set of the Infiltrators, so come see what we think of these (and hobby trolls) in our JoyToy Incursor Review Video.
Yet again – Don't forget to Like – Comment & Subscribe
Joy Toy 4″ Space Marine Action Figures – The Series
With this being an eastern release (at least initially), there's some fluff around it. Like with Japan's Space Marine Heroes, there was a whole story piece to really sell on the Warhammer 40,000 universe to be much larger than a few figures.
With this release, every model gets its own little card with some story on it. they've even showcased one of these below as a preview. if you collect all 8, it tells a full tale
Read the first one below.

Don't worry, if you are struggling a bit, we've done the hard part for you. Using the internet most free Optical Character Recognition software and Translated by the worlds (arguably) most renowned technologists (Google). We've spared no expense (or real effort) to bring you the direct translation of the above. Prepare for the next Warhammer literary masterpiece.
Long before Abaton waved the magic sword, the alarm Star was in the tap. The fire burned at the same time in the section of the seven nests And after the handsome army stepped on this land, the love The situation is even more urgent to tum straight down. Police warn the Star Yuan Nursing home is forced to be disabled The rest of the army withdrew from a number of imperial-controlled areas, mixed stars International Warrior Army, subspace evil devil, Orc invader, black The Order of Dark Spirit Pirates and Gene Thieves is in the land of mankind. The situation in this critical world is as dangerous as it is tired The egg, the line will collapse.

The Octavio and Romulo teams of the Extreme Warriors were They were ordered to penetrate the resistance deep in the dead forest section. The broken blood axe Orc special war son, and when the war changes At that time, they received a new call from the commander of the Extreme Warrior regiment. Kalga. Command: Find out the hidden location of the ruler of the dead forest section. This secret plug is in charge of six deaths in good condition. Hri the missile directly, the power of these weapons is enough to crack In fact, in the upcoming showdown will become the key to breaking the game. The blood brothers of the Governor of the Ring Star rule the Dead Forest section, which The corruption of the noble family refused to cooperate, but the survival of the whole world died At the end of the day, his personal opinion was no longer important.

Both vanguard teams were damaged in the previous battle. The infiltrator team and the intruder team are now pros – When combined, the eight original cast interstellar warriors must step into the mix The centre of the section of the pool devil and the tyrant, through the half-seat has been After the nest city abandoned by the Imperial Army, their actions will last forever Far from changing the fate of the entire Star War zone.

—sour e of mass Mete

That image above.
I don't know about you, but I cant wait to read more about the Nursing home or the Gene Thieves.
Seriously though, if anyone out there can more accurately translate this. bang it down in the comments.
Joy Toy 4″ Space Marine Action Figures – Joy Toy
If you've never heard of Joy To before, well, welcome to wanting to collect action figures. Joy Toy has created some incredible models and I can see why they were a choice option for Games Workshop.
The style, design and detail of what they have produced before are just incredible. In a similar style to Titanfall, the majority of their line revolves around future-war army actions and big, BIG Mechs.
No, Not Meks. not yet anyway.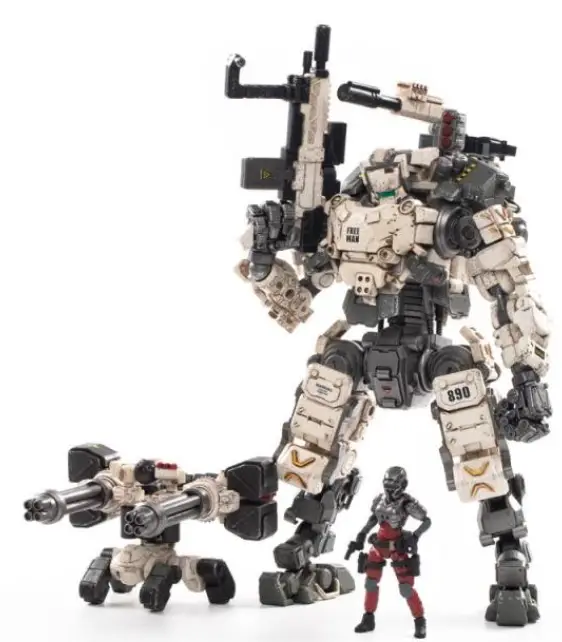 Once again their site is not very English, in fact, it doesn't even try to be. Their about page isn't even translateable in Chrome due to the info being presented as images rather than text. but once again we've put no effort into getting these things translated for you dear reader.
Honestly, just skip it. It's only here because I at least translated it and since I put some effort in it may as well stay here. someone may care.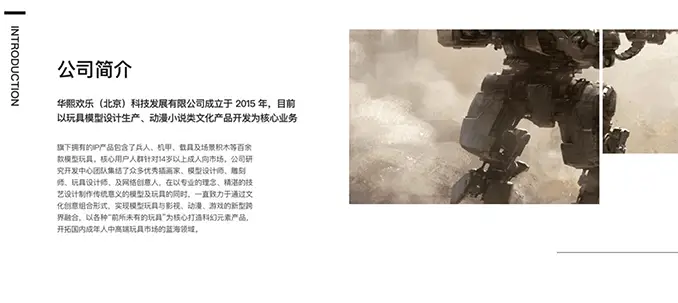 O Save Company Profile Huaxi Joy (Beijing) Technology Development Co., Ltd. was established in 2015. Currently, its core business is the design and production of toy models, and the development of cultural products of cartoons and novels. Its IP products include soldiers, mechas, and vehicles. And the scene product. Wait for more than one hundred model toys. The core user population is aimed at adults over 14 years old to the market. The company's research and development center team has assembled many outstanding illustrators, model designers, sculptors, toy designers, and network creatives. While designing and producing traditional models and toys with professional concepts and superb skills, it has been Committed to achieving a new cross-border integration of model toys with film, television, animation, and games through cultural and creative combinations, creating sci-fi element products with a variety of "unprecedented toys" as the core, and opening up the blue ocean field of

JoyToy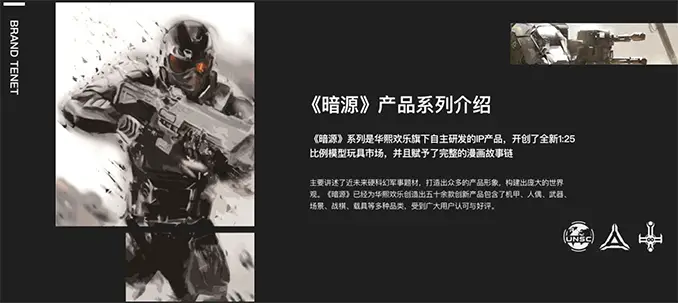 CONTACT "Dark Source" Product Series Introduction The "Dark Source" series is a P product independently developed by Huaxi Joy. It has created a brand new 1:25 scale model toy market and has given a complete comic story chain mainly telling the hard science fiction of the near future Military themes have created numerous product images and a big world view. "Dark Source" has created more than 50 innovative products for Huaxi Joy, including mechas, dolls, weapons, scenes, war chess, vehicles and other categories, which have been recognized and praised by the majority of users. A UNSC●20℃ Mosty sunnyヘ回do)

JoyToy
They make toys and they have been around for a while.
If you want to read (discern) more directly, then check out their website www.hxjoytoy.com
Joy Toy Warhammer Space Marine Action Figures – Wave 1
The first in hopefully multiple waves of Warhammer Action figures feature
Joy Toy 4″ Space Marine Action Figures – Infiltrators
Infiltrators tend to be the more defensive sneaky models on your board, when to comes to action figures, we just get a slightly different style of model, with 3 of them sporting helmets.
Joy Toy – Brother Seargeant Octavio
Octavia is the leader of this stunted (1 -man down) fireteam. he is a direct match to the Squad leader showcased in The Primaris Infiltrator Set from GW. Even the pose is spot on.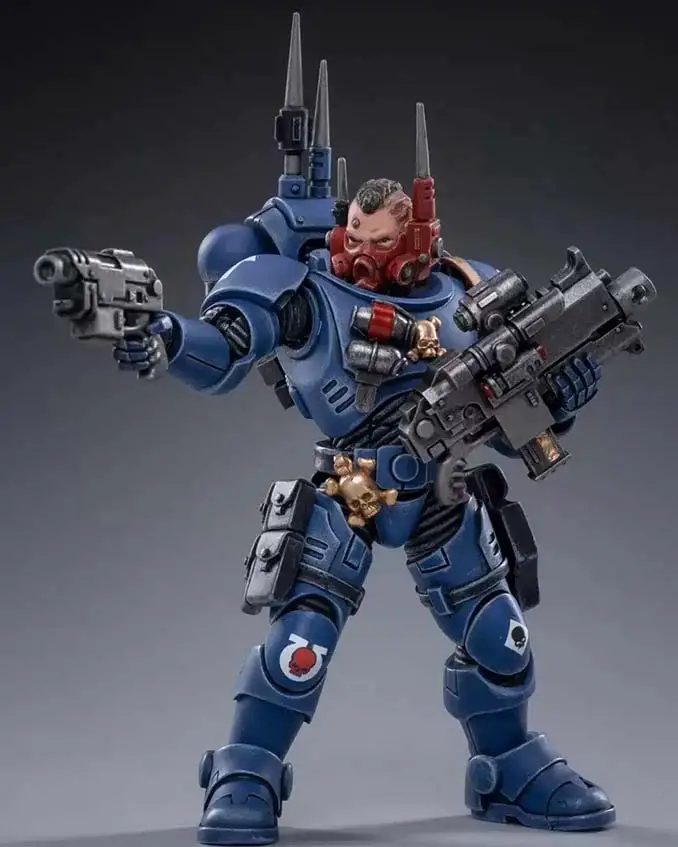 The main differences in this model are his head, chest grenades and hip-mounted relic.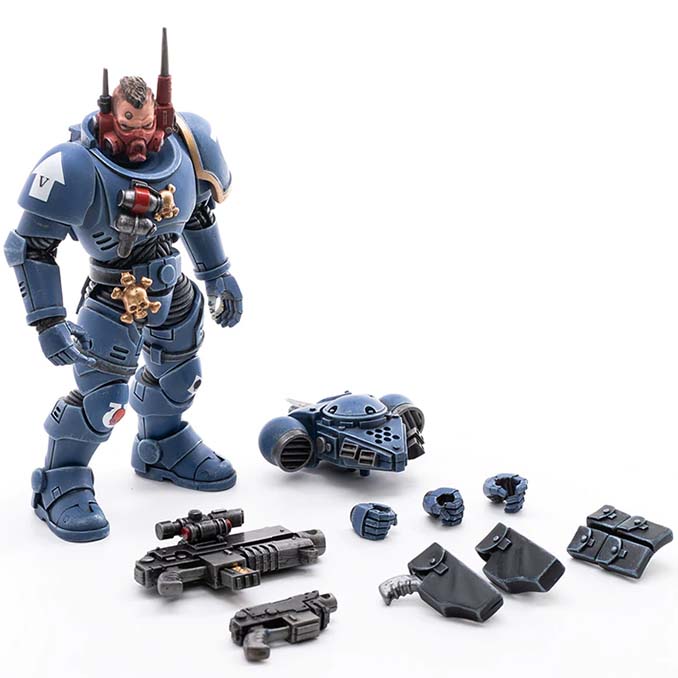 His accessories are standard for this squad, Backpack, 2 right-hand options, 3 left-hand options. A Marksman Bolt Carbine And a Bolt Pistol along with a pistol holster, or holstered pistol option. He also has a set of 4 pouches for extra rounds, his smokes and probably some dice.
Joy Toy – Brother Ruban
Ruban is the most Unique Model and is once again a solid match for the actual model from the Primaris Infiltrator Set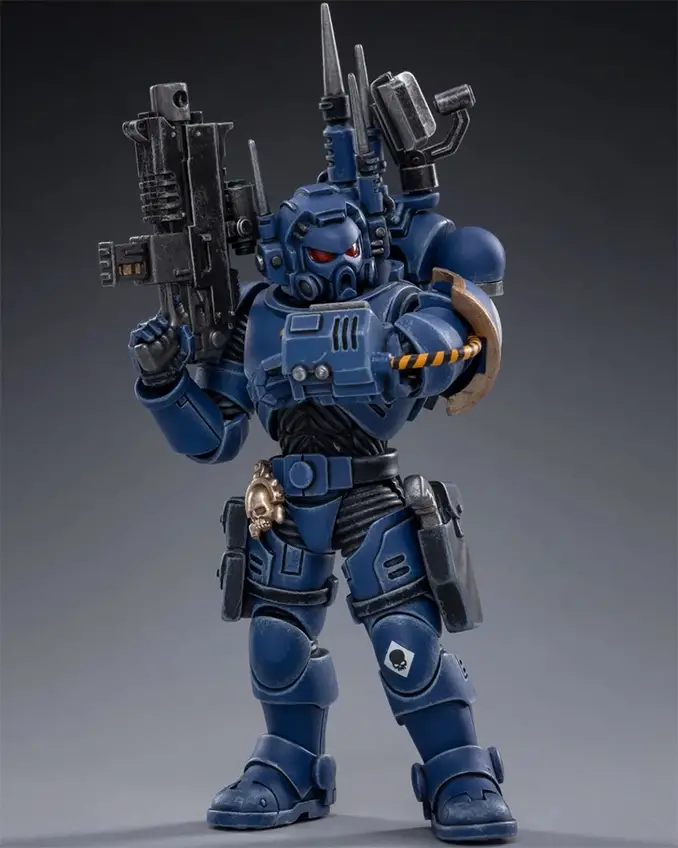 Loads of this are unique here, The head, the left arm (which we are not sure is very posable? since the 2 images above show it in the same place) and his hip relic. This model also features a radar dish on his backpack.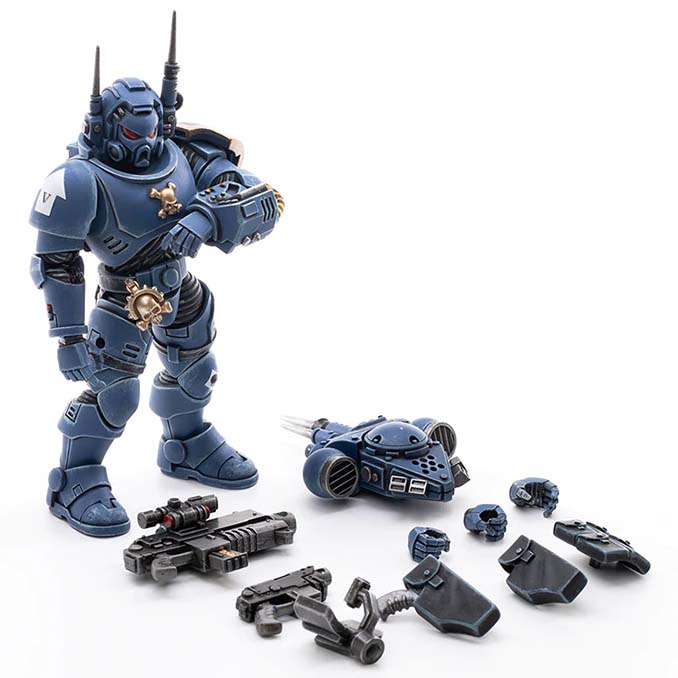 The loadout is pretty standard, as above but with an additional radar dish.
Joy Toy – Brother Pullo
Pullo is the redshirt of the group. your absolute depiction of a rank-and-file Parimaris Marine.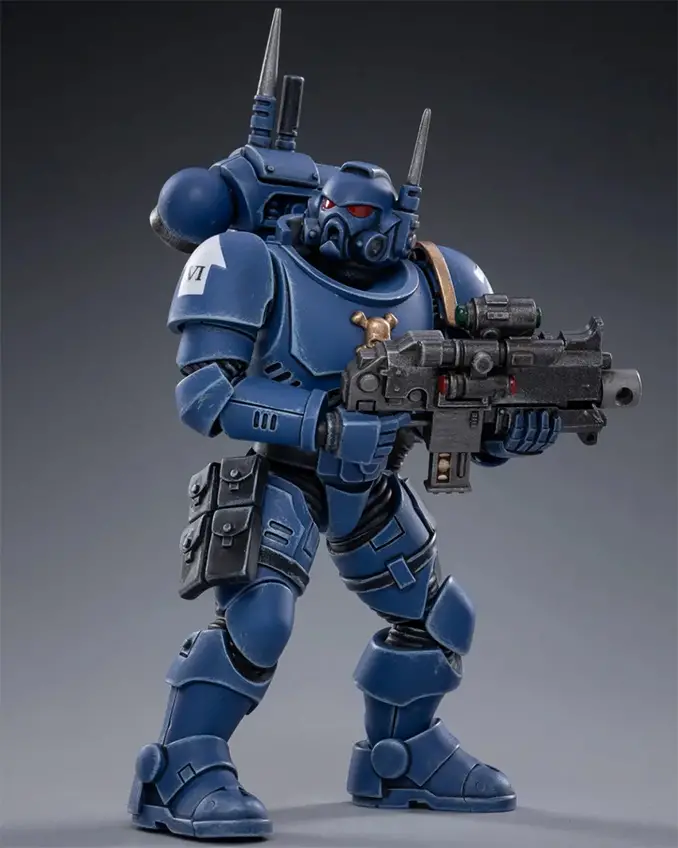 The head is ever so slightly unique (more on this when we look at the model below), other than that, he has no discernable features to speak of.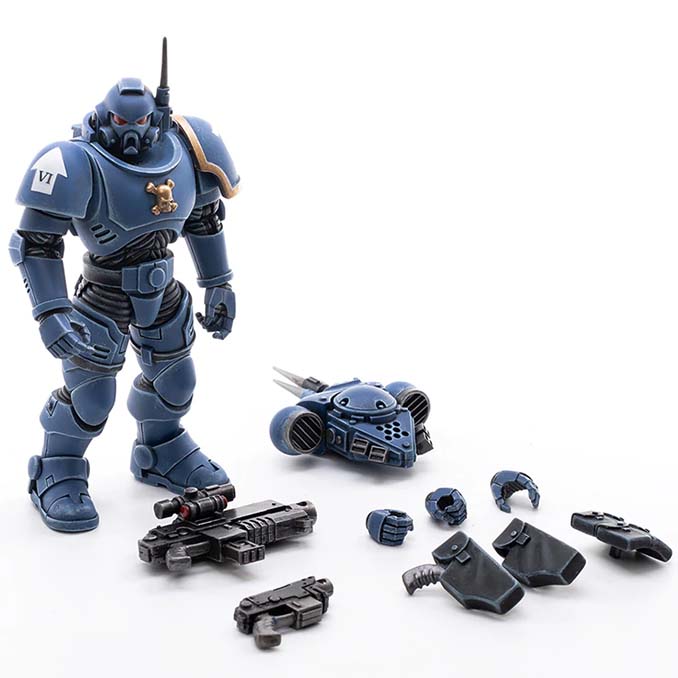 His optional loadout is also perfectly standard for the set.
Joy Toy – Brother Cyrus
Pullo's almost-twin brother Cyrus is almost indistinguishable from the model above. Though beneath his helmet I expect he looks a lot like John Malkovich.
Can you spot the difference(s)?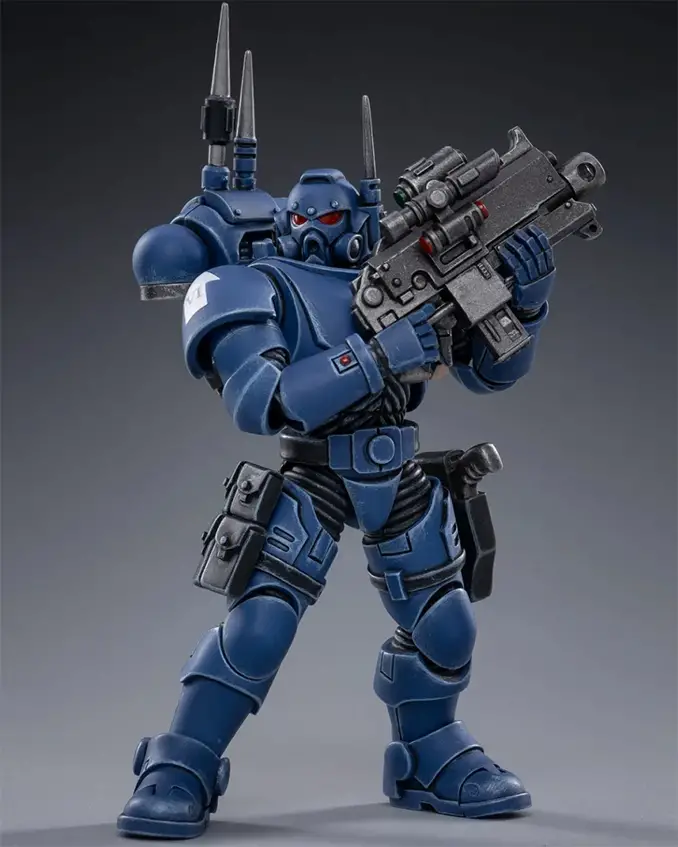 You may not have noticed, but Cyrus has 3 rivets on his brow…
There is a tad more than this but that's the main difference I can see. The other changes can't be seen in the pic above, but Cyrus also carries some grenades. Right near his face.
The Arm sculpt (the right arm anyway) is also slightly different, but it's that little detail (like with our standard 32mm plasticy boys) that shows they put the effort in rather than just tried to be cheap and use the same arm sculpt throughout the range.
Cyrus looks angry, he clearly has a bad attitude, like he's thinking "For him, you're somewhere between a cockroach and that white stuff that accumulates at the corner of your mouth when you're really thirsty."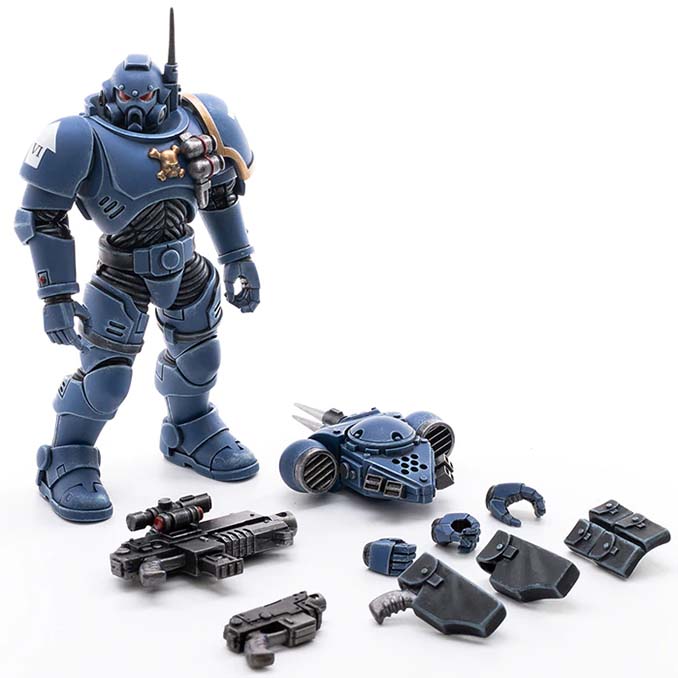 Loadout options – Standard.
Joy Toy 4″ Space Marine Action Figures – Incursors
The Incursors are the more aggressive of the MkX Phobos boys, this time armed with Occulus Bolt Carbines. Basically, bolt carbines but with a big viewfinder attached,
These models all showcase themselves as unique due to their individual face sculpts.
Joy Toy – Brother Seargeant Romulo
Here we see the leader of the pack, and yet again he is a match for his counterpart from the Plastic Primaris Incursors set, right down to his grenades and haircut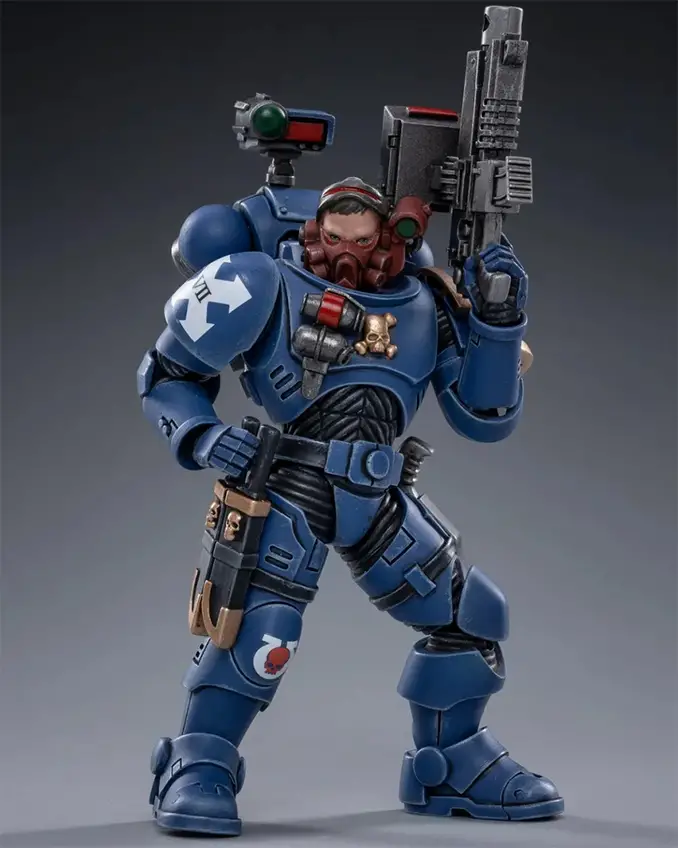 Unique style options are basically the head and the chest grenades
Loadout for the Incursors is identical to the Infiltrators other than the weapon and the backpack has been switch up for the Incursor specific options. 2 right hands, 3 left.
We also now have the option of knives which can be sheathed or unsheathed. And the backpack mountable Multi-Spectrum targeting array.
Joy Toy – Brother Varron
Varron is another model which matches an equivalent from the retail set of Plastic Incursors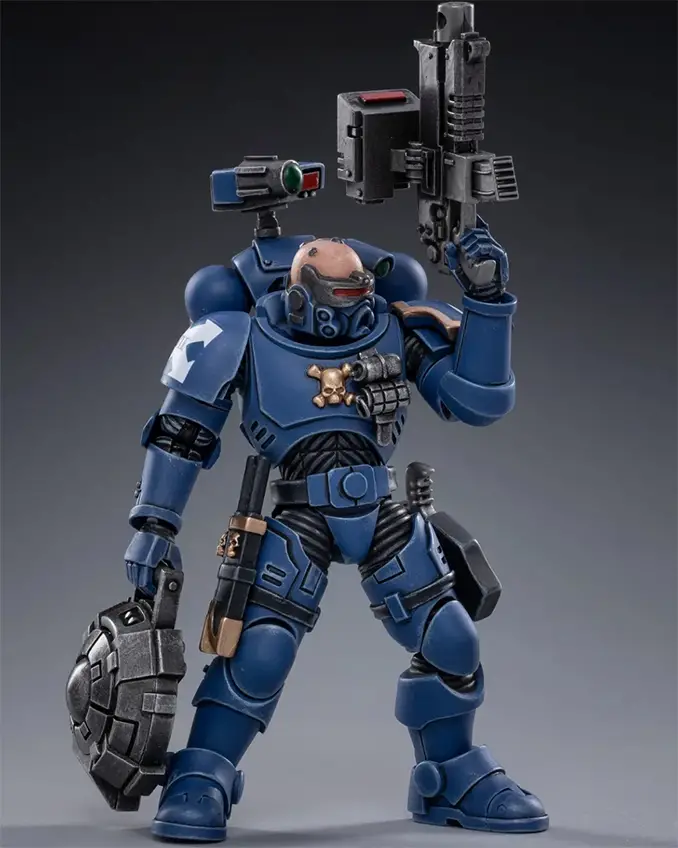 Varron's unique elements include his head, chest-mounted grenades and he carries a Haywire Mine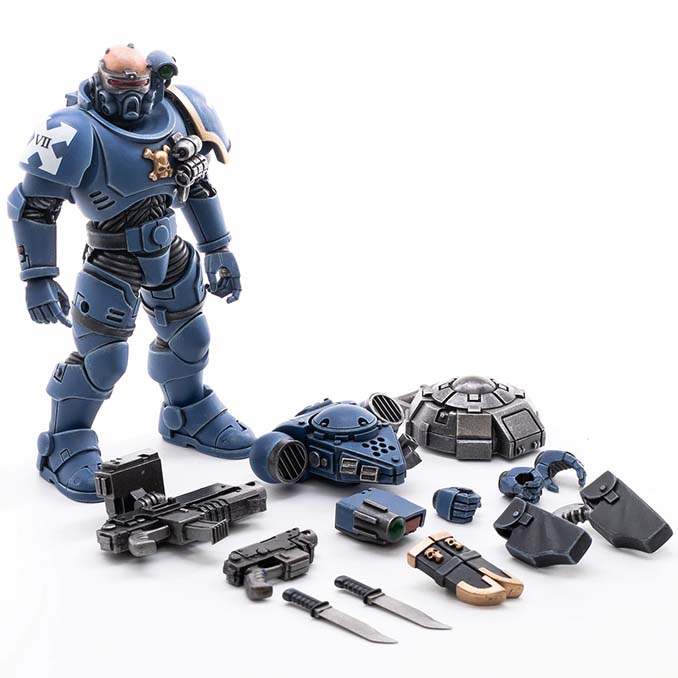 His optional loadout is standard for the range with the inclusion of said haywire mine
Joy Toy – Brother Remus
Remus is our rank-and-file model this time around, if you check the boxed set promo image for the retail set of Incursors, the closest match to this guy is the one on the back row.
He's unique in that he doesn't have any grenades attached to his chest. (that probably makes him the clever one).
he also has a unique head.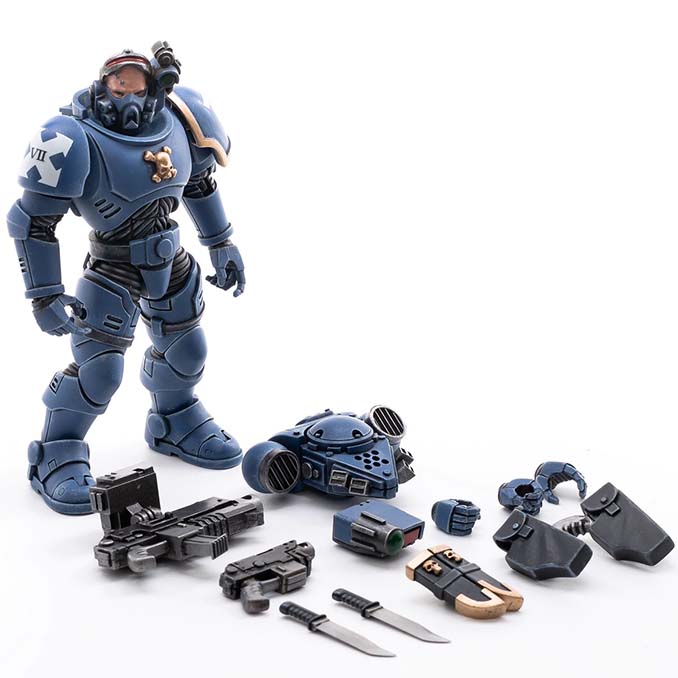 Optional Loadout – boring.
Joy Toy – Brother Aurelian
Ok, I know I said Remus was dull, but Aurelian has just about as much unique stuff on him. but the image below shows just how much more dynamic these guys can look when you give them a more dynamic pose. Once again, matching a model (and pose) from GW's plastic set.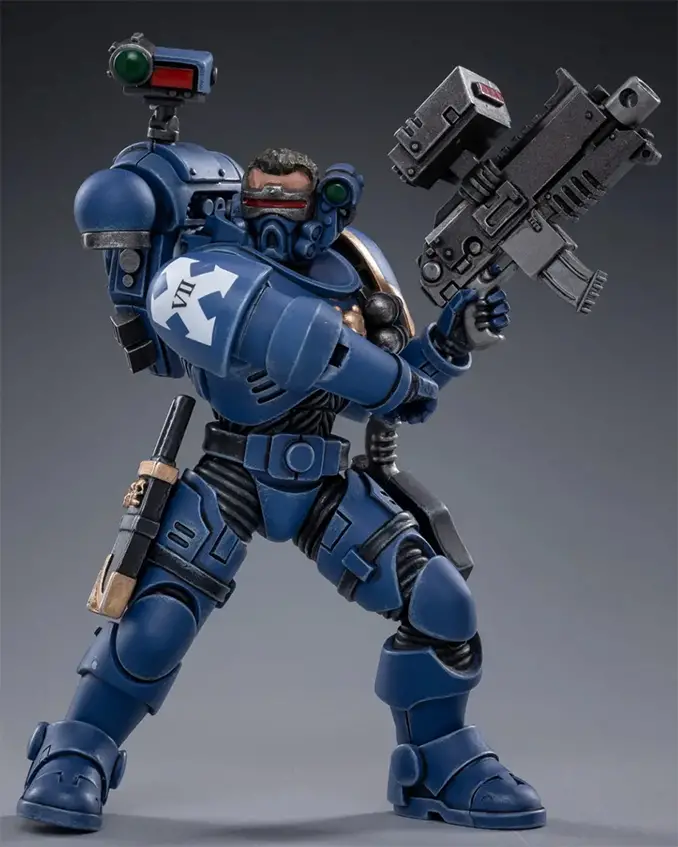 His head is unique and he has some grenades on his chest.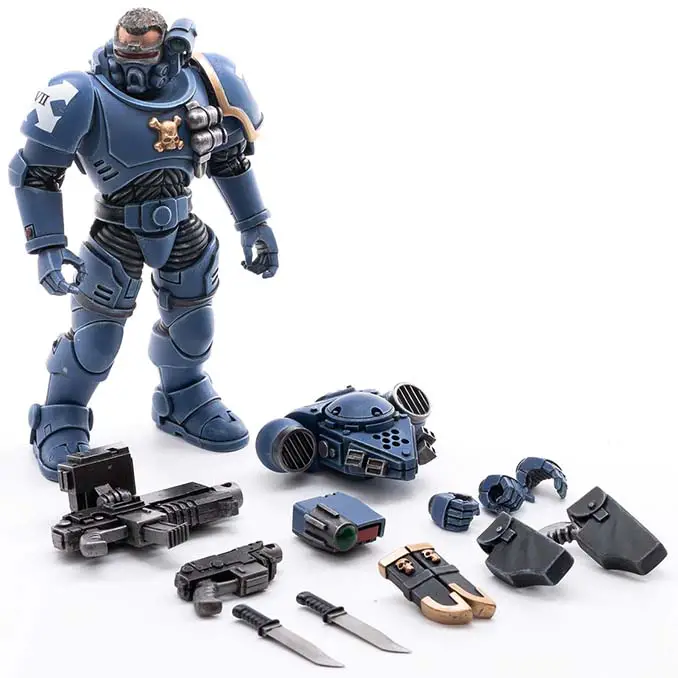 As for optional loadout, just like the above model. Standard.
Joytoy X Warhammer Wave 2 – Ultramarine Intercessor Squad
First up (technically second up, since this is Wave 2), we are getting some Intercessors.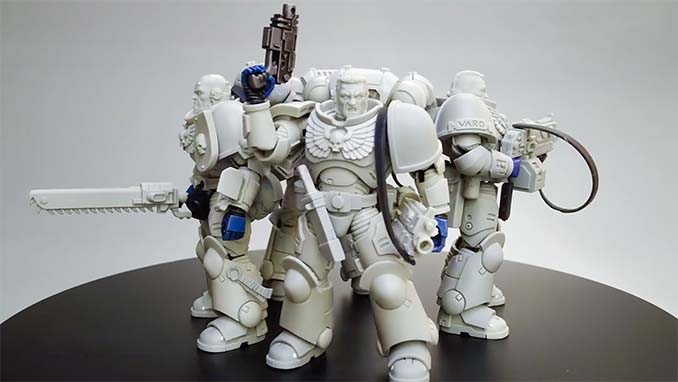 Normally GW would push for standard blue Space Marines to be the first release of any new IP share. why they went with the Phobos Armour style first is anyone guess. But anyway, now we get the basic units.
Joytoy X Warhammer Wave 2 Brother Sargeant Manius – Ultramarine Intercessor
Shown below with a Chainsword and optional helmet, (complete with Seargeant insignia). Keep an eye on is left arm which has an auspex attached, this has been shown in other images to open and close.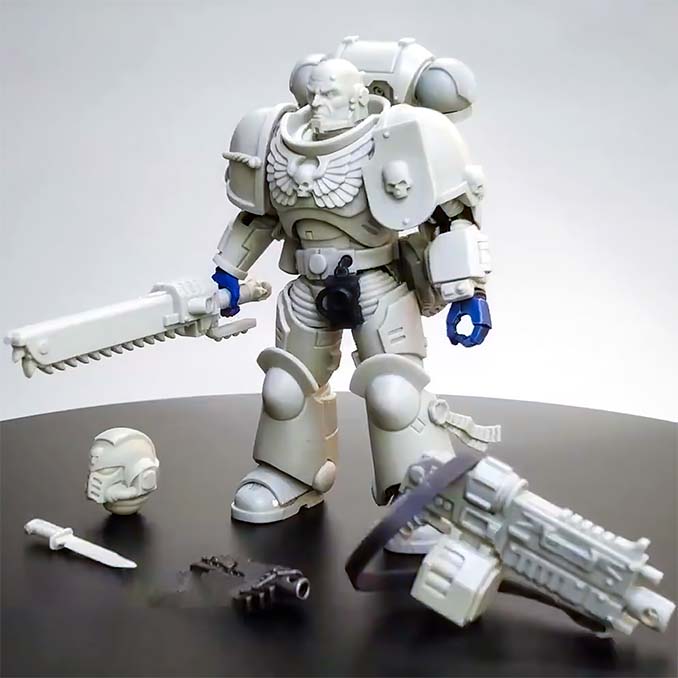 This model comes with various extras and ornamentation. Worth noting here that (like all the models below) the blue hands are taken directly from the existing Wave 1 models, suggesting that we will see the same various hand options across the board.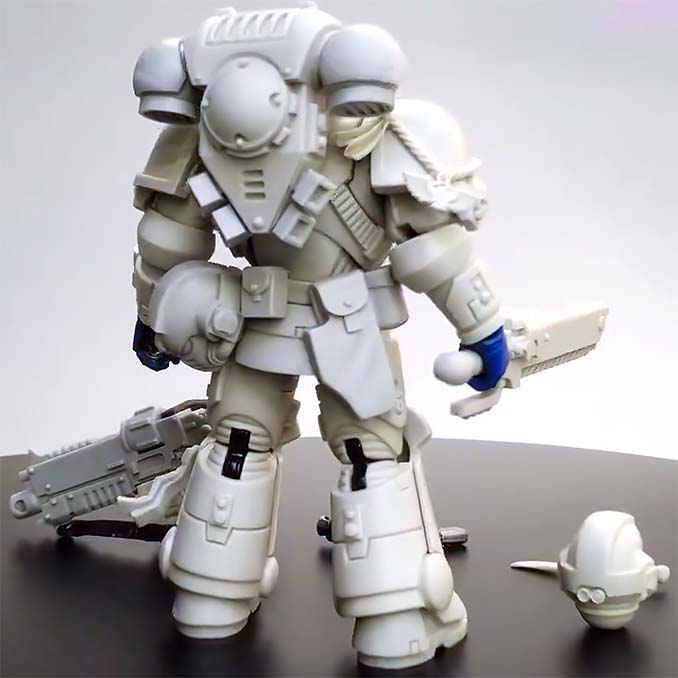 I've shown the back of Sergeant Manius so you can see that he comes with an extra attached helmet on his belt.
Joytoy X Warhammer Wave 2 Brother Varo – Ultramarine Intercessor
It's nice to see that once again this is a unique character and even has a spare helmet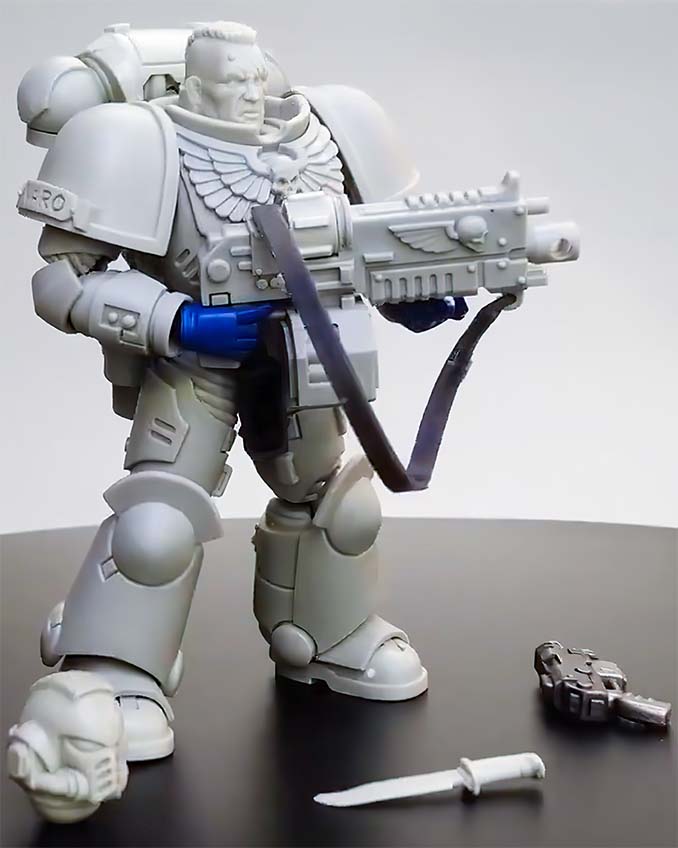 The strap on the Bolt Rifle also looks nice and flexible
Joytoy X Warhammer Wave 2 Brother Caeso – Ultramarine Intercessor
Another model with a fairly standard loadout,
The obvious changes here include the head sculpt and the Bolter which now has attached rounds and a mounted launcher.
Joytoy X Warhammer Wave 2 Brother Aulus – Ultramarine Intercessor
The final Ultramarine intercessor shows off his included knife, which matches the style used on the Wave 1 models.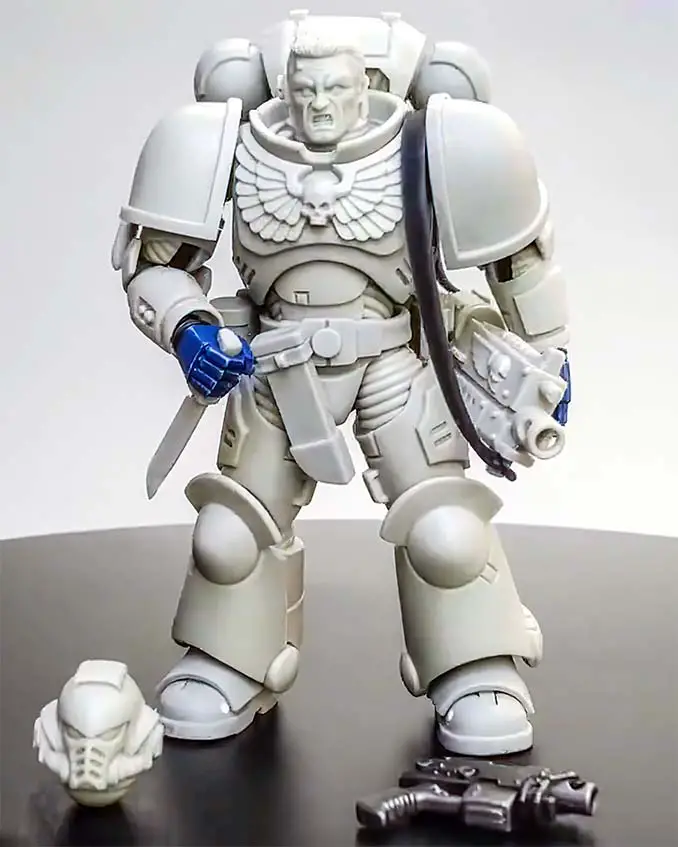 Here's hoping that the holster, like the pouches on the back of these, are removable and interchangeable.
Joytoy X Warhammer Wave 2 – Blood Angels Death Company Intercessor Squad
The Death Company models, my fave here since they aren't Ultramarines (no hate – I'm just bored of seeing the same things) look absolutely incredible.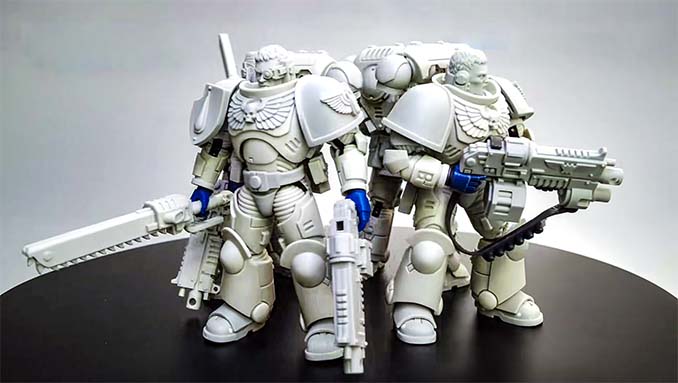 However, there is one small point that irritates me on all of them. The insignia is just too low.
Here it is compared to the sprue. version.
It wouldn't;t matter, I mean these models are far superior in accuracy than anything we've had before (I'm looking at you Bandai and Mcfarlane), but because the rest of the model is so accurate – this error just sticks out a mile.
I was hoping that this was only an issue n the mock-up sculpts shown here, but, well, we'll get to that.
Joytoy X Warhammer Wave 2 Brother Seargeant Samath – Blood Angels Death Company Intercessor
Here we have a very Blood Angely looking Seargeant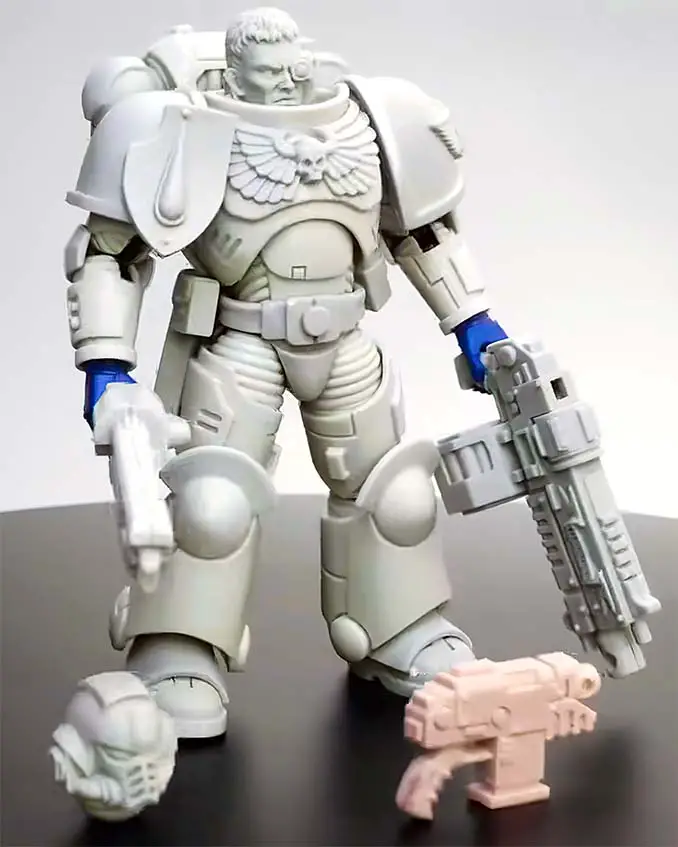 Not a massive amount has changed in the overall sculpt. Though the additional helmet and shoulder do have BA iconography which is nice to see. The Aquilla though is a rather standard skull rather than a blood drop.
however, with it being the most accurate action figure Aquilla when compared to our tabletop models. I'll take this love the others.
Joytoy X Warhammer Wave 2 Brother Zohane – Blood Angels Death Company Intercessor
Our next guy up, also isn;t much different,
Again a different head, but otherwise the loadout is standard.
Joytoy X Warhammer Wave 2 Brother Garius – Blood Angels Death Company Intercessor
Again, other than the head, no changes here to note.
However with the Purity seal on the leg matching the above, i wonder if this is part of the model, and extra and whether it's standard on these 2 specific models.
Joytoy X Warhammer Wave 2 Brother Garius – Blood Angels Death Company Intercessor
Like with or ultramarines we get a model where the bolter includes a launcher.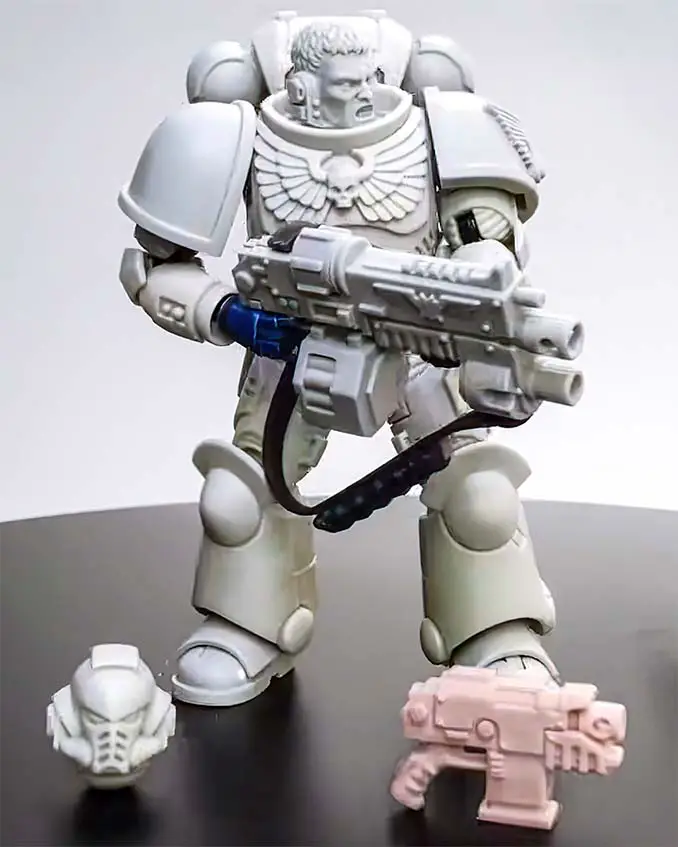 Aside from that, the head sculpt is different, that's the only real change here.
Joy Toy Warhammer Space Marine Action Figures – Wave 2 Continued
We have a sneak preview of what is coming in Wave 2 and beyond thanks to several people online there were some leaked photos of the upcoming models still at the sculpting stage, here's just a small selection.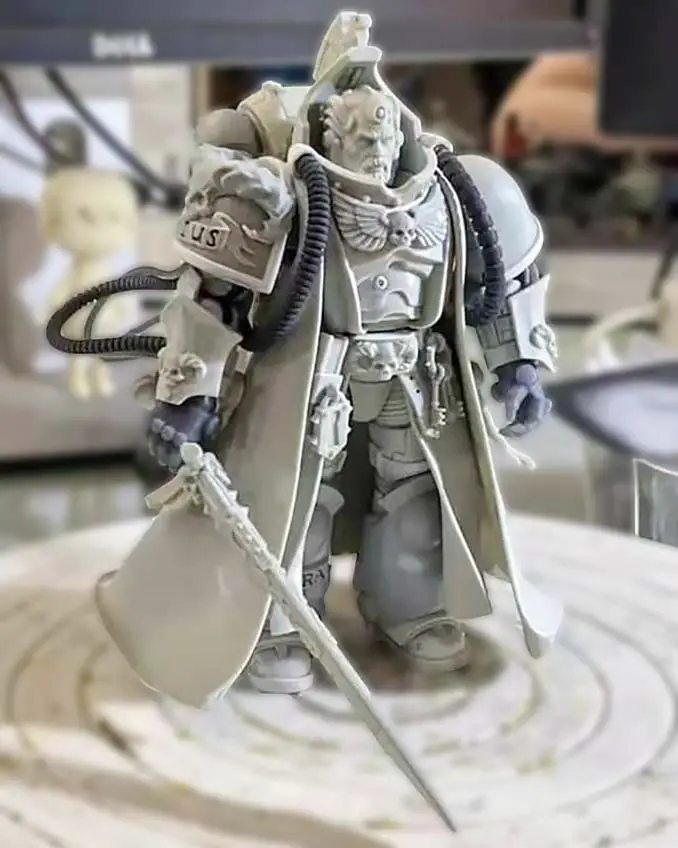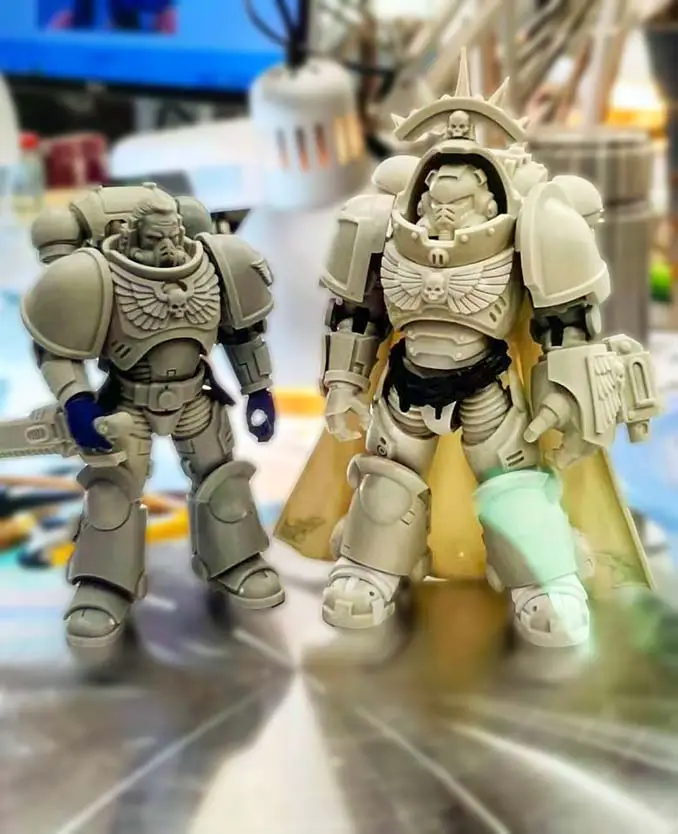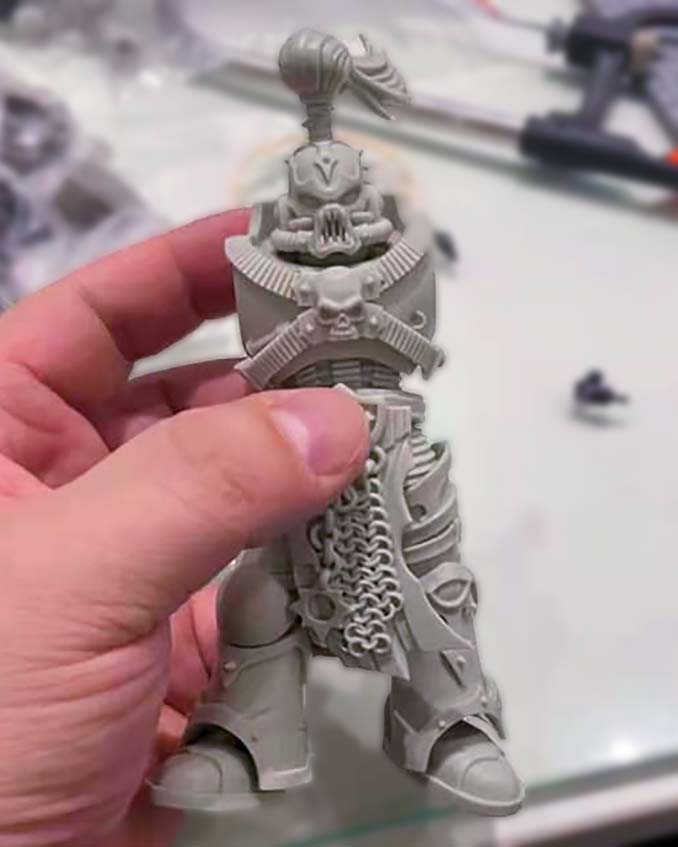 Once again these models look nigh-on identical to their actual GW unit counterparts, but there are other details to pick up on too.
That Assault sergeant in the middle photo has an insignia on his left shoulder, and that looks very "Blood Angel Wings" to me.
Following these leaks, we scoured the internet trying to find anyone with more news on what's coming. it's difficult because these are coming out of China and the way the internet works in China is very different to what we are used to. But we did make a contact who has provided us with some more info – that we cannot share just yet.
However, additional sources such as Facebook Groups and YouTube Channels have corroborated these claims and so we'll tell you what is being suggested by the community to come from JoyToy Still (and this apparently is just 2021!)
Wave 2 (China Release 2021) – Primaris Assault Space Marines – Ultramarines
Wave 2 (China Release 2021) – Primaris Assault Space Marines – Blood Angels
Wave 2 (China Release 2021) – Primaris Assault Space Marines – Blood Angels Death Company
Wave 2 (China Release 2021) – Primaris Assault Space Marines – Unknnown Chapter
Primaris Librarian
Primaris Chaplain
Primaris Captain in Gravis Armour
Primaris Invictor Tactical Warsuit
Sisters of Battle (this one is unclear, the translation is bad, but we know (have heard) we are getting "Arbites"?)
Chaos Space Marines – Black legion
Chaos Space Marine Terminators – Black Legion
Chaos Champion – Black legion
Chaos Space Marines – Thousand Sons
Orks
That's a lot of models! As I noted above, I'm not allowed to confirm these are coming out. I'm just telling you what the community are saying…
Joy Toy 4″ Space Marine Action Figures – Price & Availability
Update: 17/09/21 – Warhammer Community announced that these will be available to order (via Made to Order) from 25th September to 2nd October on the Games Workshop Website – If you don't order between these dates, chances are you may never get these. But don't worry too much. More styles are coming.
Ahh, this is a difficult one. At present, the official site or even the official store does not list these. They were available on sneak pre-order in their local country for one afternoon at a special price. The only way to have pre-ordered these was to A, know about and B, join the official chat on a platform I can't understand and is clearly not aimed at or intended for English speakers.
Since then, the only places which seem to stock them are Joy Toy's official retailers.
I reached out to JoyToy via their Facebook page and asked them Direct, are you shipping thee to any other territories. , in fact, here you go, here's the whole exchange.

So the TLDR is, there are no plans as yet to bring them outside of China, but the suggestion of "watch this space" fills me with the hope that they will come. Space Marine Heroes did after all.
As they recommended, I sent them an email, but no reply. I have also watched their blog closely, but there have been no further updates since June. But I have managed to get some of these figured ordered at least…
I picked up mine from a site called 5ZeroToys who offer free international shipping. You can see the Infiltrators here and the Incursors here. They cost me $210 USD (About £150) per set of 4. And that's fairly standard for JoyToy models when buying from a overseas retailer. They should be shipping/arriving around September 12th 2021. so I'll have a video up with my unboxing impressions ASAP.
You can, however (which would have been smarter) buy them from AliExpress – which is essentially Amazon in eastern territories. Lot's of people don't trust AliExpress, but I've had a great experience with them. Like Amazon, they are a storefront for various sellers. But unlike Amazon and more like eBay/PayPal, they fully protect you (for 75 days!). So if you are not satisfied with your purchases, you're fully protected and will get a refund. The seller doesn't even get their money until you mark it as received and that you are satisfied (or the 75 days runs out).
Check out the Incursors here and Infiltrators here and this time they are only about £100-£120 ($140-$165 USD)per set shipped
You can also see a ton of the other awesome JoyToy products. Just be careful, it can get quite spendy! You will want them all!
At a minimum price of (I've found them at anyway) of £100 for a set of 4, that's still £25 per model. That's more than a single McFarlane figure and these are only just over half the size!?
But to me, it's the detail that matters. These are bigger versions of the exact models we collect and paint. Whereas the Mcfarlane models just look wrong in quite a few ways,
Joy Toy 4″ Space Marine Action Figures – Final Thoughts
What do you think of these? I love them, I just love the fact that they look exactly like the models we collect and paint, but they are bigger and we can play with them. Sure they are more expensive than the McFarlane Models but they look better. Almost thrice as much as a modern Ninja Turtle Figure but these are far more detailed. To me, it's that they are simply more accurate to our wee plastic men, and that's the best thing of all.
No more daft shaped Aquillas!
I'm so excited to see how people start to pull these apart and paint them to look like the different factions! #JoyToyWarhammer or something like that on insta will be an immediate follow for me.
Right now they are only available to import and I'm not 100% convinced that they will truly come overseas at any point. But if you want these things here, then make sure you let the Warhammer Community Team know. Storm the battlements and demand more info! Yeah, because that's worked before!
Just ask them politely and see what (if anything) they say. Actually, hold my beer, I'll do it.
To my Dearest @WarComTeam,

Would it be possible to know when/if these things are coming to the UK?

Warmest Regards,

FauxHammer xxxhttps://t.co/RQO9hSDfvc

— FauxHammer (@FauxHammerBlog) September 3, 2021
There we go, let's see what (if anything) they say. Feel free to jump on the bandwagon with a kind nudge.
Click this link & buy your hobby stuff from Element Games for the UK & Europe to support FauxHammer.com – Use Code "FAUX2768" at the checkout for double reward points.

Our Affiliates / Hobby Stores