Mortal Realms Launch Confirmed
Last Updated on October 27, 2019 by FauxHammer
A post which surprised nobody ever, Warhammer Mortal Realms is getting a full launch in the next few months!
In news that still surprises some people. The Mortal Realms magazines which came out in August 2019 was not a full release. It was a trial release only. A process utilised by Partworks companies to test the popularity of a subscription before the full launch.
It would be an understatement to say that this p'd off a few people!
For those of us who had this experience with Warhammer Conquest, it came as no surprise that this would be the case. For those new to it, they handed over their credit card details to a company with the expectation that they would receive the issues shortly. (and they didn't arrive).
All we (subscribers) have received so far is the following letter.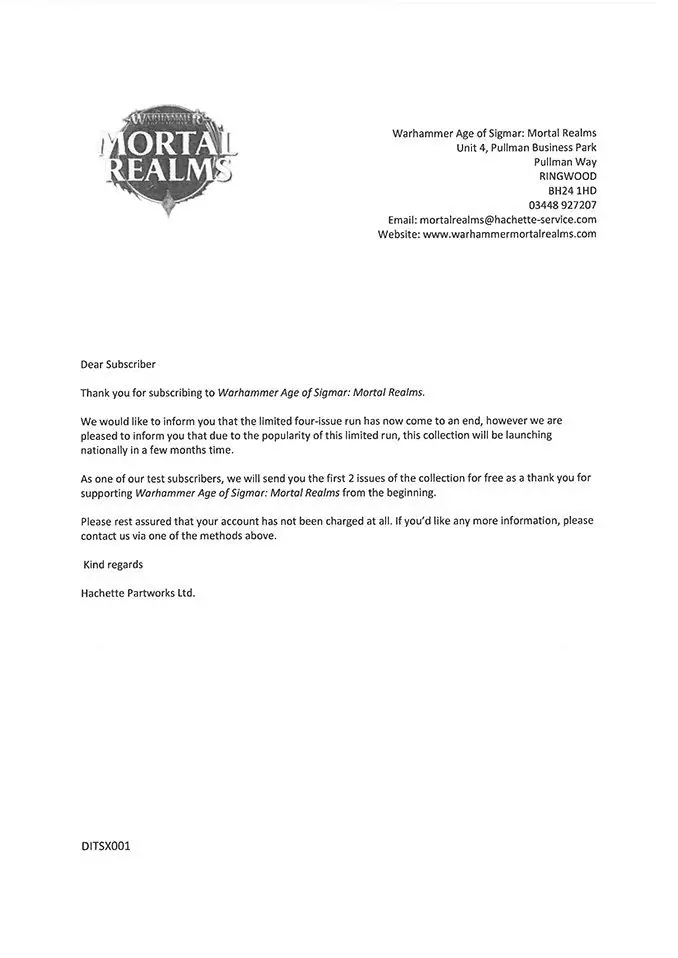 Dear Subscriber

Thank you for subscribing to Warhammer Age of Sigmar: Mortal Realms.

We would like to inform you that the limited four-issue run has now come to an end, however we are pleased to inform you that due to the popularity of this limited run, this collection will be launching nationally in a few months time.

As one of our test subscribers, we will send you the first 2 issues of the collection for free as a thank you for supporting Warhammer Age of Sigmar: Mortal Realms from the beginning.

Please rest assured that your account has not been charged at all. If you'd like any more information, please contact us via one of the methods above.

Kind regards
Hachette Partworks Ltd.

Hachette Partworks
Well, 2 free issues! That's better than a kick in the teeth…
Knowing what happened with Warhammer Conquest, we can make some assumptions about what this means.
With Warhammer Conquest, all the value was pushed up front to entice people in and the value was huge.
When you subscribe witch Hachette, you get your issues every 4 weeks (not weekly and not monthly). In that first delivery, Subscribers got issues 1-4. Issue 3 was free for subscribers and you got a few (crappy) tools too. In Mortal Realms, the 1st deliver bonus is suggested to be some Citadel Plastic Glue, Some sprue cutters and (the end of) a mould line remover. (see here)
You can see what you get in the issues by following our contents per issue list.
If you have already subscribed to Mortal Realms and have this letter, you are likely to get the following. Issues 1 & 2 free as the letter suggests, issue 3 free as a subscriber. You'll get 1st delivery your tools (or subscriber freebies) too. So all you should be paying for is issue 4 at £7.99.
Not bad considering all you did was give them your account details a few months ago!
AS for me, I'll be getting this first round at least, but just like Warhammer Conquest, I'll be cancelling my subscription with Hachette as soon as possible and ordering everything with Forbidden Planet. becasue I get them delivered to my door weekly, it works out cheaper and I don't have to deal with Hachette!
Warhammer Mortal Realms Release Date
We don't know the release date yet. the letter suggested it will come out in "a few months time". I've called my local newsagents (who are partworks masters) and they advised that new partworks arrive anywhere between November-April. At least they have the last few years, although Brexit delayed some of them last year.
Damn you Brexit!
What did you think of this Article? please let us know in the comments.
If you like what we're doing here you could really help encourage more content with a share on any social media platform.
Click the share links at the bottom of this screen (or on the left for computers and tablets)
Want to keep updated with the blog? You can subscribe in the sidebar for RSS or by email below
(Sidebar is below the article on Mobile Devices)