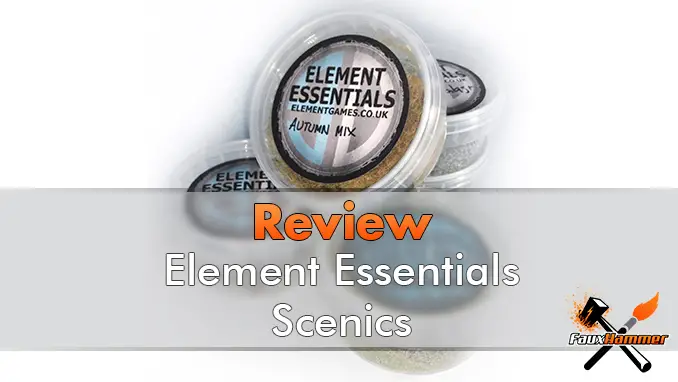 If a pot of texture paint isn't cutting it for you any more, or you find that your bases just need that extra bit of pizazz, Element Games' Scenics range might just have something to help give your figures that extra little bit of wow factor you're looking for.
Click this link & buy your hobby stuff from Element Games for the UK & Europe to support FauxHammer.com – Use Code "FAUX2768" at the checkout for double reward points.


15% off Phrozen with code: "22PRFHDP15"

Our Affiliates / Hobby Stores
Element Games Element Essentials Scenics Review – Summary
Element Games' Scenics range is the perfect companion to their Scatter Flocks. Whilst the contents of these tubs are not designed to be used to base your figures in their entirety, they contain some rather lovely little bits and pieces just to help make your bases look all the more realistic – or not, if that's the look you're going for.
Element Games Element Essentials Scenics Review – Introduction
With a virtual presence since 2012 and a physical store since 2013 over the last seven years Element Games are the one independent hobby retailer you've almost certainly heard of. With a Trustpilot average of 4.8 stars and over 9,000 reviews, as well as having also expanded in 2016 to facilitate the Element Games North West Gaming Centre, have established themselves as one of the premier independent UK hobby stores.
You might be wondering what the difference between the Element Essentials' flocks and scenics are. The easiest way to differentiate them at a glance is that, by and large, the scenic are more, well scenic. They're a little more specialist, more detailed, and will be better used in smaller and more selective amounts than the flocks would be.
Element Games Element Essentials Scenics Review – Design
As I've said before, each scenic comes in a standard-sized – albeit quite brittle and prone to breaking in the post, as I found out the hard way – plastic tub. Some of them arrive double packed, such as the leaf mixes, as a small plastic bag in a tub.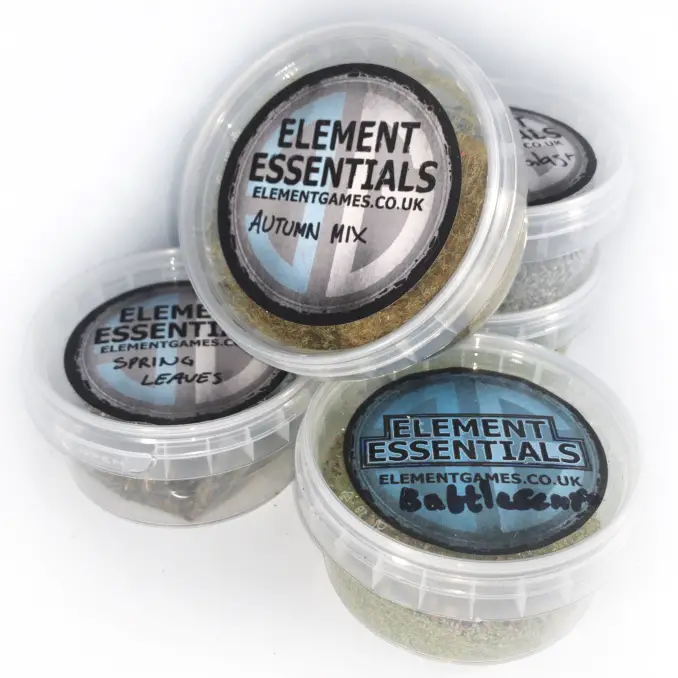 The scenic are a mixed bag, and don't have the same uniformity to their range as the scatter flocks. As said above, they're designed to be the icing on the cake of your miniatures, the subtle final details, those little bits of frill just to give them the last little bit of fancy they need to go from a nine to a ten. The devil and the beauty of these pots is in their details, and thus it is with a careful hand they should be used.
The range comprises of:
For the sake of this review, we were sent Spring Grass Mix, Autumn Grass Mix, Spring Leaves, Battlescape and Basing Gravel – more than enough to make a couple of lush, Realm of Life-style bases for some Stormcast Eternals.
There's some lovely variation across the Scenics range: some of the pots, such as Battlescape, could be used as an entire base in itself, whilst the grits and gravels are a more robust and diverse feature, and could be painted and drybrushed if you so wished.
Element Games Element Essentials Scenics Review – Testing
Because I'm currently painting up the massive horde of Necrons I've accumulated over the last few months, I don't really have an on-the-go figures to test these basing materials on.
So, diving back into the horde of circa three-hundred models I've painted since March this year, I dug out a couple of figures whose bases could benefit from a little TLC.
Spring Grass Mix
Let's dive right in with a classic: static grass.
Static grass is one of those things that everyone has used at one point or another. Whilst most people are content simply PVAing it onto their bases and calling it done – which, of courtse, there is nothing wrong with at all – static grass takes on a whole other look when used in tandem with a dedicated applicator.
Autumn Grass Mix
And, following neatly on from the Spring Grass mix comes its darker, drearier, more miserable counterpart: the Autumn Grass Mix.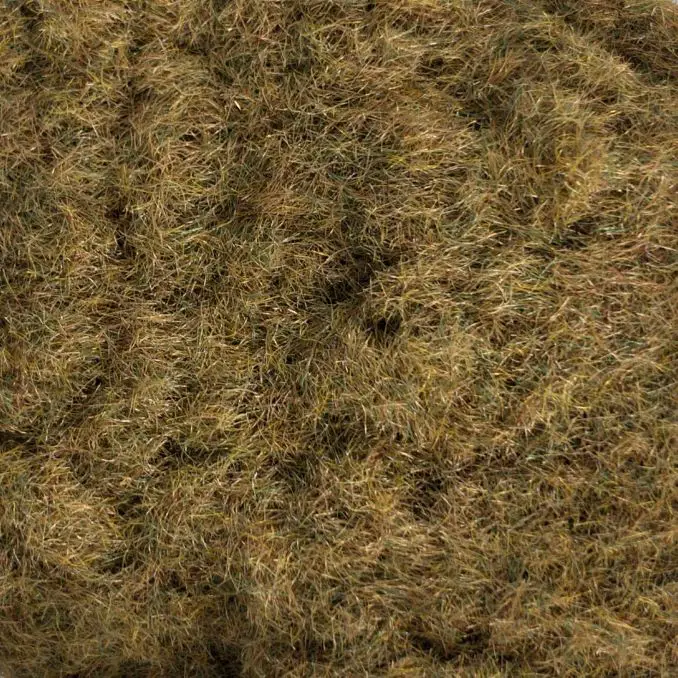 With an appearance akin to soggy hay, it's not necessarily the most attractively-coloured pot of basing material. It's the dreary last few months of autumn compared to the picturesque beauty of the first few weeks, the bitter first-thing-in-the-morning cup of black coffee compared to the hot chocolate and marshmallows of the previous evening, or me to the rest of the FauxHammer writing team. But just because it's darker and more broody doesn't mean it's bad.
Just like the Spring Grass mix, when applied correctly it looks great.
Spring Leaves
Do you ever just look at something and get a really bad feeling about it? Like the overflowing Christmas trifle you've got to carry to the dinner table that you know is going to get spilled, or that massive armful of laundry that you know is going to end up being deposited halfway down the stairs.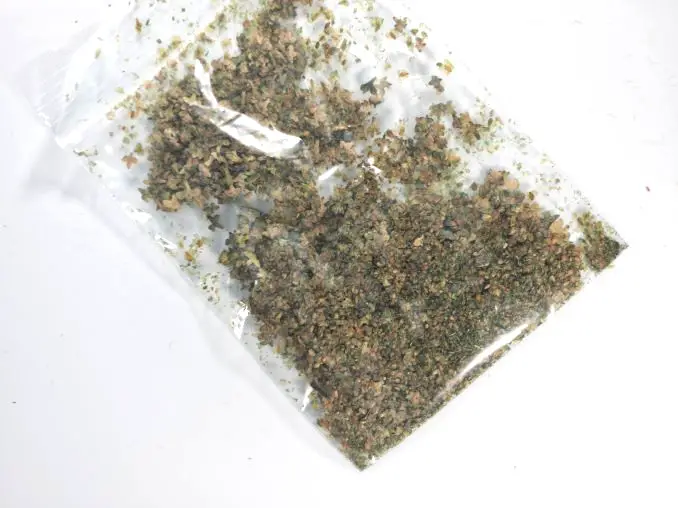 I get a similar vibe from the Spring Leaves mix. That it comes inside a relatively small packet inside a tub only makes me think further that this stuff has a habit of getting everywhere.
Simultaneously looking a little bit like a damp spice mix and also making me feel like opening this packet is going to deposit most of the product in my lap, there are nonetheless some quite artful and clever little bits in this packet.
They are definitely meant to be used as a final dusting on an already near-complete base, and whilst there isn't masses of product inside the Spring Leaves packet, it definitely looks like what it claims to be: the small pieces of material do look just like fallen leaves.
I put these to the test on some old Stormsire's Cursebreakers figures who have been sitting gathering dust on a shelf for about sixth months. These figures originally came with sculpted leaves on their bases which, when I painted them months ago, I did so with the only shade of green I then had available – MSP's Emerald Green.
They looked a little like they'd been cut out of fondant icing and did not fit the feel I wanted for these minis – even back then when I was an even noobier noob than I am now.
Element Games' leaves, though, look great.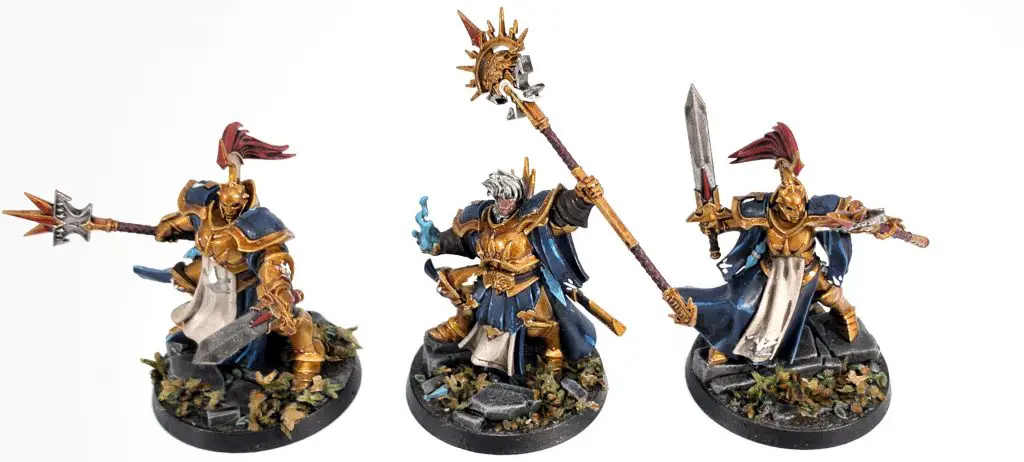 Mixed in with the moulded base, these leaves do look fabulously realistic and really fit the feel for these miniatures.
Battlescape
In stark contrast to the Spring Leaves mix, looking into the Battlescape pot gives me a very good, warm feeling.
The pot has everything you'd need to completely base a figure: grit, flock, and static grass all in natural colours. With family that hails from the Grim North, Battlescape speaks to me on an emotional level. Which, given the name of the product, doesn't sound quite as good as I'd like it to.
I decided to try this out on a Knight Questor I painted up months ago. One of my favourite Stormcast models, I felt the scraping of Astrogranite and Tyrant Skull drybrush I originally gave the figure didn't quite do him justice, so decided to work some of this mixture onto his base.
I love the result. The clever mixture of flocks, static grasses, and small pieces of grit, along with the tufts and Astrogranite mix I already had in place, make the figure look as if he is standing on some rocky heath or highland. Of the selection, Battlescape is by far my favourite.
Basing Gravel
The bread-and-butter grey rubble every basing range needs? Element Games has you covered.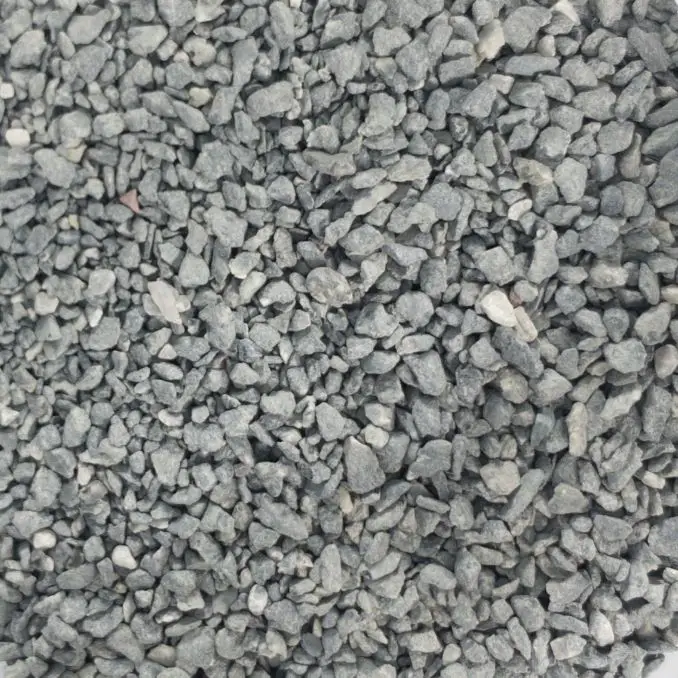 Plain, grey, weighty, and endlessly versatile, these tiny bits of rock can be used for a thousand different things: from shards of rock upon a heath to urban debris upon the battlefields of the far future, you really can't go very wrong with a pot of grit.
I recently painted a Gothizzar Harvester for my slowly growing collection of Ossiarch Bonereapers figures but upon completing it realised I had completely run out of the usual mix of tufts I would usually use on his base. Ever since, he's sat rather sheepishly at the back of my collection, his base looking rather nude compared to his boney brothers.
With nothing to lose and PVA going spare, I decided to see what kind of effect I could get with the Basing Grit – and wasn't disappointed.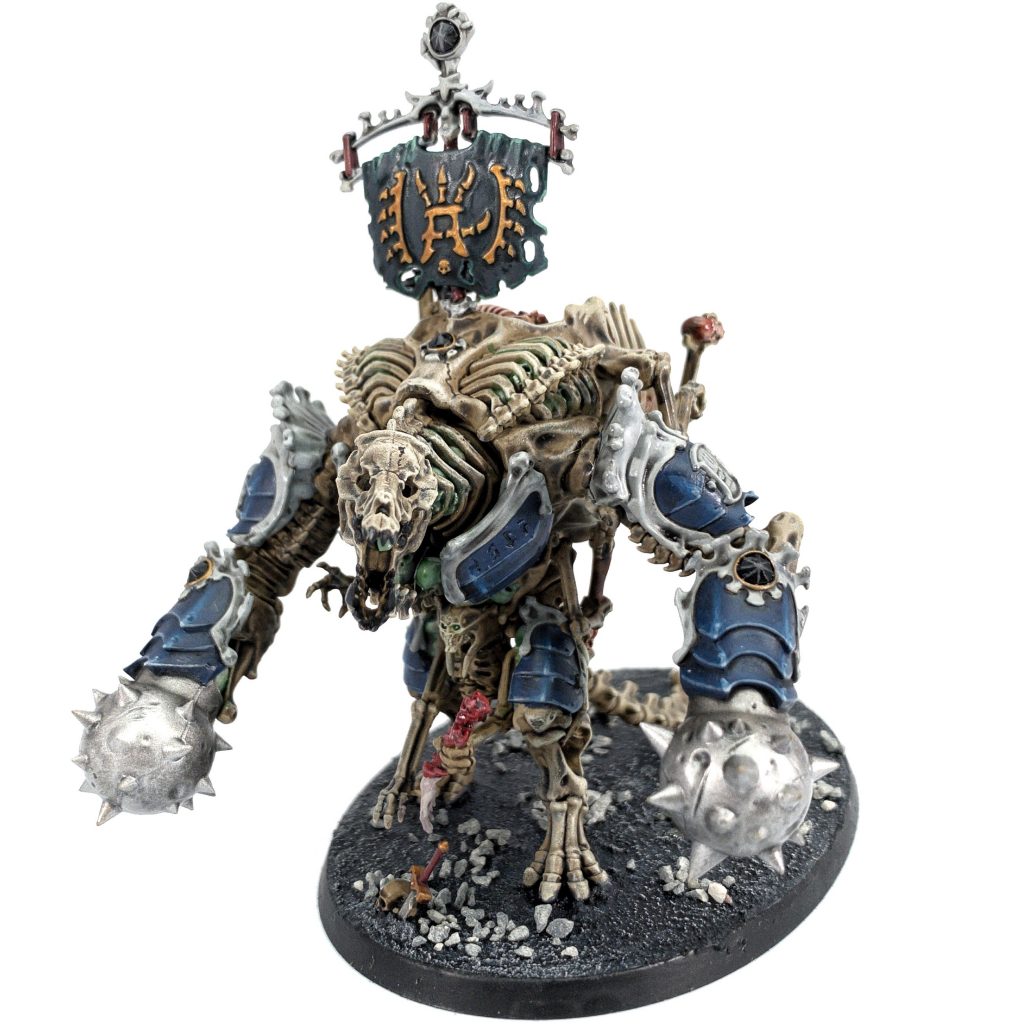 Sure, it's not the most exciting look ever – they're just rubbly bits of grey stone, after all – but it's something, and provides an excellent foundation to build from.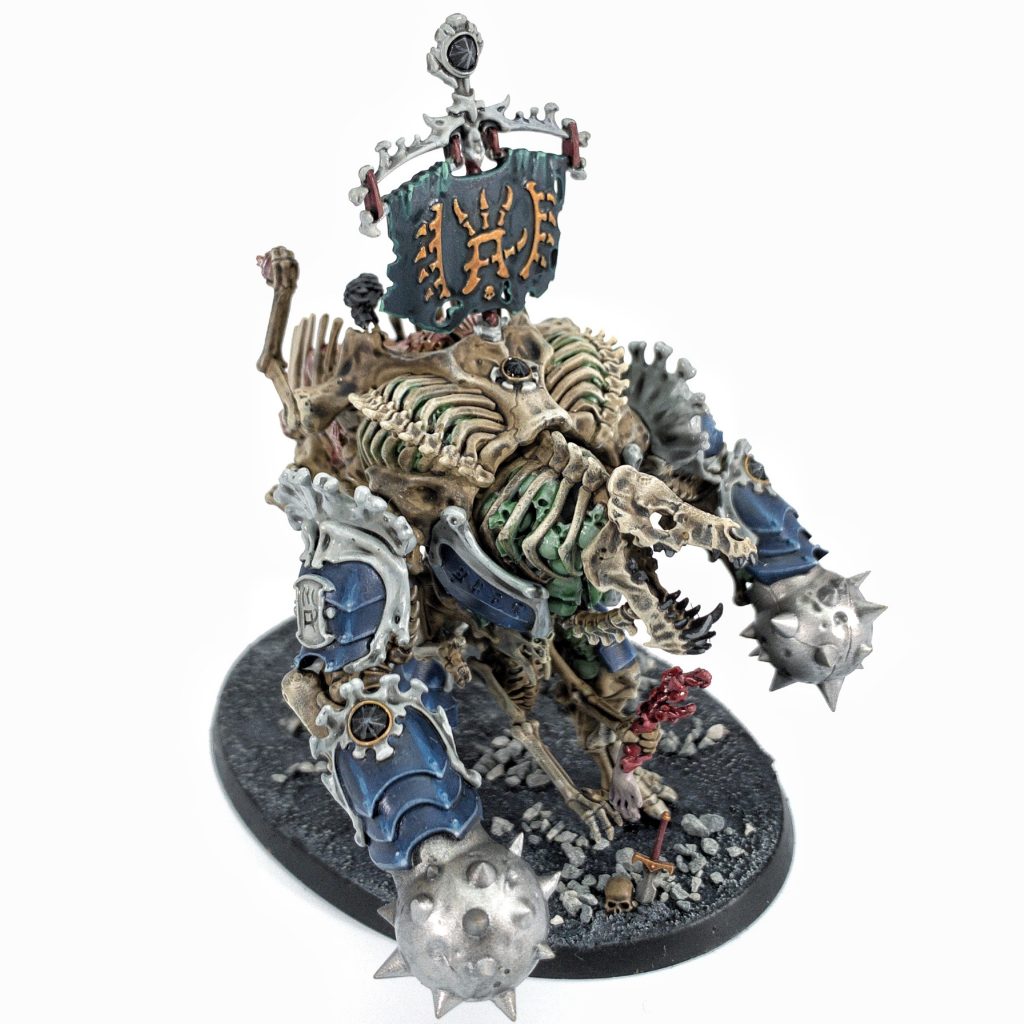 I guess now I need to stop putting off buying some more Deadland Tufts and finish his base.
Will Element Games Element Essentials Scenics Improve my Hobby?
Basing is one of those things that you should just do, and the sooner you throw yourself into it the better. Even if your model painting isn't quite where you would like it to be, a well put together base can take model from a four to an eight.
With Element Games' Scenics at your side, you'll find it a lot easier to get your bases up to scratch – and beyond.
Element Games Element Essentials Scenics Review – Price and Availability
Everything in the Scenics range is priced between £3.50 and £5.00, so you won't be breaking the bank picking yourself up a couple of pots of Element Games' Essentials.
Element Games Element Essentials Scenics Review – Final Thoughts
Pros
Cons
Excellent range of products
A great deal of diversity across the range
Battlescape is awesome
Leaves packets are a little on the small side
Tubs are quite brittle
Once again, Element Games' Essentials deliver. Simple, straightforward, and nothing too weird or outlandish as to be unusable, the Scenics range gives the painter everything they need to take their basing game from just cruising to mind-blowing.
Click this link & buy your hobby stuff from Element Games for the UK & Europe to support FauxHammer.com – Use Code "FAUX2768" at the checkout for double reward points.


15% off Phrozen with code: "22PRFHDP15"

Our Affiliates / Hobby Stores
What did you think of this Review? please let us know in the comments.
If you like what we're doing here you could really help encourage more content with a share on any social media platform.
Click the share links at the bottom of this screen (or on the left for computers and tablets)
Want to keep updated with the site? You can subscribe in the sidebar for RSS or by email below
(Sidebar is below the article on Mobile Devices)
Summary
Reviewer
Review Date
Reviewed Item
Element Games Element Essentials Scenics
Author Rating





Product Name
Element Games Element Essentials Scenics