Immaterium – Officially Licensed Warhammer 40k Escape Room Coming to Nottingham
Last Updated on July 21, 2020 by FauxHammer
Well, this is possibly the coolest partnership I've seen from Games Workshop in a while. They've partnered up with Escapalogic to create a Warhammer 40 themed escape room – Immaterium. The best part is it's right in Nottingham – The same city Games Workshop's headquarters are located.
For anyone who's never done an Escape Room before, I personally think they are some of the most fun things you can do with a group of friends. I've been to several and they were all at Escapologic in Nottingham.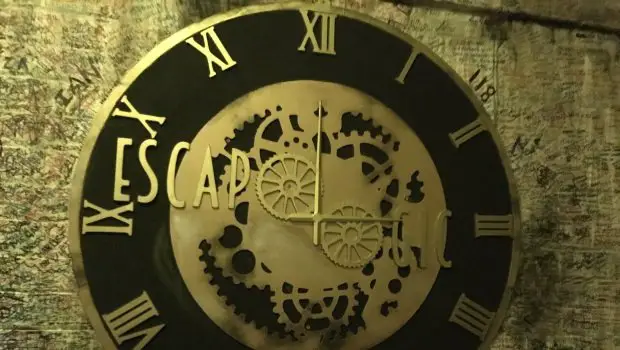 Unfortunately, there's not a lot I can tell you about the experiences themselves (because they need to be a surprise). Other than you're locked in a themed room for an hour and you need to work out how to escape using only the props and clues around you. Escapologic has some fantastic production quality and they are constantly reworking and improving their many rooms to keep them fresh.
I've had a fantastic time in their current rooms, specifically;
Here's Me my Wife, Girlfriend and their other half completing Butcher with just seconds to spare. it was a crazy – scary exhilarating experience. If we'd lost, (run out of time) we'd have our photo taken with us locked in a cage.
Now Escapalogic has teamed up with Games Workshop to create an officially licenced Warhammer 40,000 themed escape room – Immaterium. See the description below.
Passengers on pilgrimage aboard a trader ship, Evadere The Tempestas, on course to holy Terra. Pilgrims have been escorted to their quarters deep within the bowels of the vessel, upon entering they are told the ship will soon translate into the warp and the journey will begin. The ship stirs into life, players hear a distant rumble and feel a faint vibration as the engines wake. As the warp jump is made, the warp core and several ship systems fail, causing massive damage to the craft. Players have no choice but to leave and find out what has happened or risk being trapped in the crew quarters while the ship is slowly torn apart. Here the real journey begins… battle through the Warp Storm and escape the ever seeping Chaos.

Created in conjunction with Games Workshop, Immaterium is a simultaneous cooperative team experience. For the first time ever, players will be able to jump into the world of Warhammer 40,000 and experience its myriad dangers for real. They will touch, smell and feel all areas of the ship and everything on it – including a talking Servitor. Up to five people at a time can immerse themselves in Immaterium, and explore the deepest recesses of a star-faring vessel facing imminent doom.

https://www.escapologic.com/
Launching on Tuesday, April 27th 2020 (which is already sold-out) with advanced booking available now. Nottingham has truly become the hub of every 40k fan.
There's little information at the mo and I wouldn't expect any photos of the room to be posted online. The surprises of being in unknown surroundings are all part of the experience.
I've reached out to Escapologic to see if they'll let us take a closer look before or around the launch (I'm hopeful as my old boss and current cousin-in-law work there). In the meantime, polish-up (or weather-down) your cosplay garb and book in to get the closest to a real-life 40k experience you could possibly want.
What did you think of this Article? Please let us know in the comments.
If you like what we're doing here you could really help encourage more content with a share on any social media platform.
Click the share links at the bottom of this screen (or on the left for computers and tablets)
Want to keep updated with the blog? You can subscribe in the sidebar for RSS or by email below
(Sidebar is below the article on Mobile Devices)