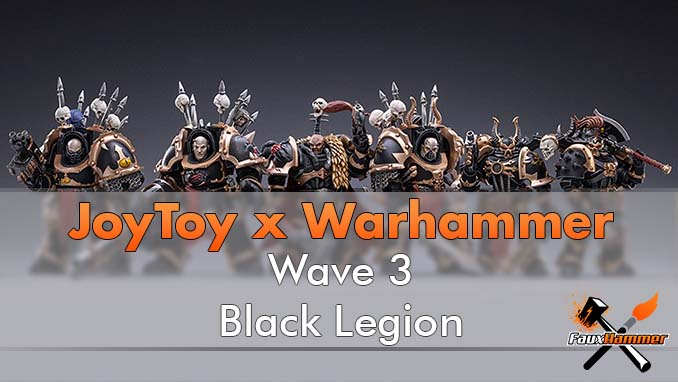 Last updated on February 17th, 2022 at 12:52 pm
is this JoyToy x Warhammer Wave 3? Wave 4? Wave 3.5? Who knows. I know that those of us who Preordered the Incursors and Infiltrators from GW direct are still waiting and that was wave 1. We've now seen wave 2 revealed in the form of Ultramarine Intercessors, a Librarian and a Warsuit. So I'm guessing Wave 3 is the Space wolves and these Anyway, let's have a look at some fabulous upcoming Chaos Space Soldiers.
Click this link & buy your hobby stuff from Element Games for the UK & Europe to support FauxHammer.com – Use Code "FAUX2768" at the checkout for double reward points.


15% off Phrozen with code: "22PRFHDP15"

Our Affiliates / Hobby Stores
Honestly, I'm both confused and a little miffed by the way these are being sold. for Wave 1, GW had these up for preorder for a couple of weeks if I remember. but if you haven't ordered already you can't get them anymore… sort of.
Officially, in the UK the States, Australia. basically anywhere that's not China, the only way to get these would have been to order during that preorder window.
Unless you import them… but is that ok? allowed? ummmmm…
When these first came out in China (and bear in mind I'm a huge fan of these models. They are my fave of all the Warhammer action figure ranges) I scoured the internet looking for somewhere to import them from. Pickings were slim but I got them on Ali Express, listed under a somewhat cryptic name. No "Space Marine", no "Infiltrator" or "Incursor" anywhere in the listing. This already lead me to suspect that selling these overseas was not allowed.
When they arrived and I shared videos of them, Someone from JoyToy got in touch demanding I share with him the source of the import and later to remove articles about stuff they had published online themselves… Turns out that GW actually has some agreement in place that JoyToy can distribute using their usual methods in China, but are not allowed to export or sell to a company that will export them. Everywhere else in the world, distribution is direct through GW only. Just like the Bandai models.
The listing I bought through at the time had long gone on AliExpress, but several more had popped up. Nowadays you can get these from AliExpress, eBay along with an absolute slew of exporters that have been shared with me since that initial post. And most of those will sell them at fair prices and even use PayPal so you are fully protected anyway.
This is where I've ordered Wave 2 and now Wave 3 from.
So you can get them, soon if you want, easily enough for a comparable price. And they will probably arrive around the time GW puts them up for preorder (Wave 2 arriving in Jan).
What I'd really like to see with these going forward is a worldwide distribution model more like the McFarlane models where even the first range is still available now – So many people want these things, but are limited by little more than, they didn't have the money for them during the preorder windows. These would have made amazing Xmas presents for so many people.
I've heard on the grapevine that JoyToy is looking to put out new Warhammer models every month! wow. And we've already seen a leaked list of what they allegedly planning along with some sculpts of a Chaplain and Captain in Gravis Armour.
The Chaos Black legion release marks a few clear changes from the previous collections. Gone are the oddly numbered 4-marine units (annoyingly not 5) and now we have 3 Chaos Terminators, 2 Chaos Space marines and a Partridge in a pear… Chaos Lord.
Here's the whole lot of em.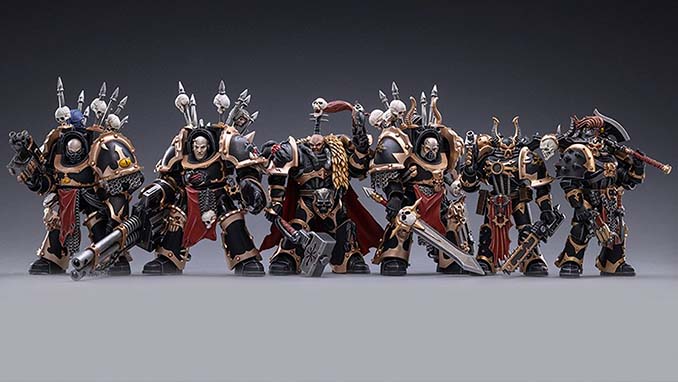 They do look impressive from a distance and even better when you get up-close and personal with them.
Each model is very unique this time, with varying armour ornamentation across the board. not simply head swaps this time. But speaking of head swaps. the Terminators all come with original helmets.
Another thing I was curious about with this set is scale. After all, Space Marines are now all Primaris scale. Whereas the Chaos Space Marines, lore-wise, are still tactical marine scale. despite GW models such as Thousand Sons and Deathguard now standing head to head with their Primaris counterparts..
At this point do we even care? Primaris was all bout making the jump to true scale 32mm more than it was with the lore really. I mean, we're all happy with the new scale of the models so, whatever. GW releases are all now officially 32mm and Primaris refers to little more than the event which formally kicked all this upscaling off.
So with that in mind, I'm pleased to see that the Chaos Space Marines measure at equal height to the Primaris Marines at 12.3Cm to the top of the head.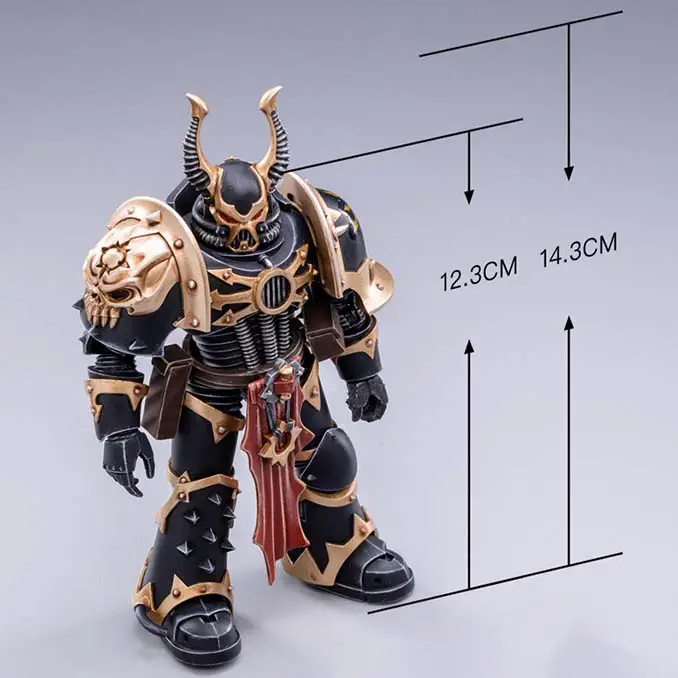 The Terminators however could arguably be a different story again. After all, when it comes to the tabletop models. Terminators are now equal height to your average Primaris marine. But we've had no new Terminators since Primaris (except Space Marine Heroes).
It is nice to see then that these terminators are about 8% taller (to the top of the head) than your run of the mill Primaris Marine.
I'd be interested to see if that Space Marine helmet on his Trophy Rack is equal to the size of the wave 2 models. Knowing JoyToy's excellent attention to scale – it will be.
I'd say starting off strong, but all of these models are excellent. This is just my personal favourite. I always loved the original metal Chaos Terminators, and the lascannon model just looked ridiculously cool. Just like that metal model. It appears here that the weapon is so heavy that just like that original model it's almost impossible to not have it resting on the ground.
I hope on the final model they sort out the glossy edge to that transfer. But based on the original showing of the death company with it;s misplaced Blood Angel insignia, I expect what you see here is what you get.
Pretty much everything on this model appears to be unique from the waist up, only slight sharing some leg sculpts with another terminator. The head is quite unique and is not taken directly from anything on the Chaos terminators Sprue.
This chap is the standard terminator, armed with nothing more than a bolter, this is based on one of the Chaos Terminators in the model set. The only thing I'll call it out on are the eye of hours sculpts on the belt and shoulder pad, are they potatoes?
Once again the head is unique to this range.
based directly off the sergeant model from the Chaos Space Marine Terminators set. This chap comes with a very familiar sculpt and an awesome power sword.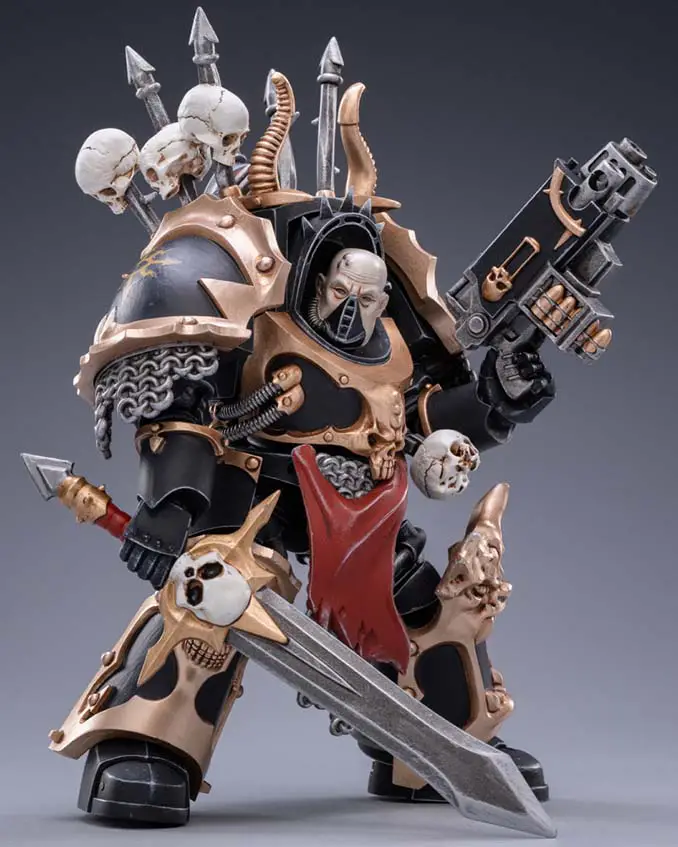 This head sculpt is also a familiar sight, inspired directly by the model from the retail set.
Here's our Chaos Lord based directly on the model which originally debuted with Blackstone Fortress.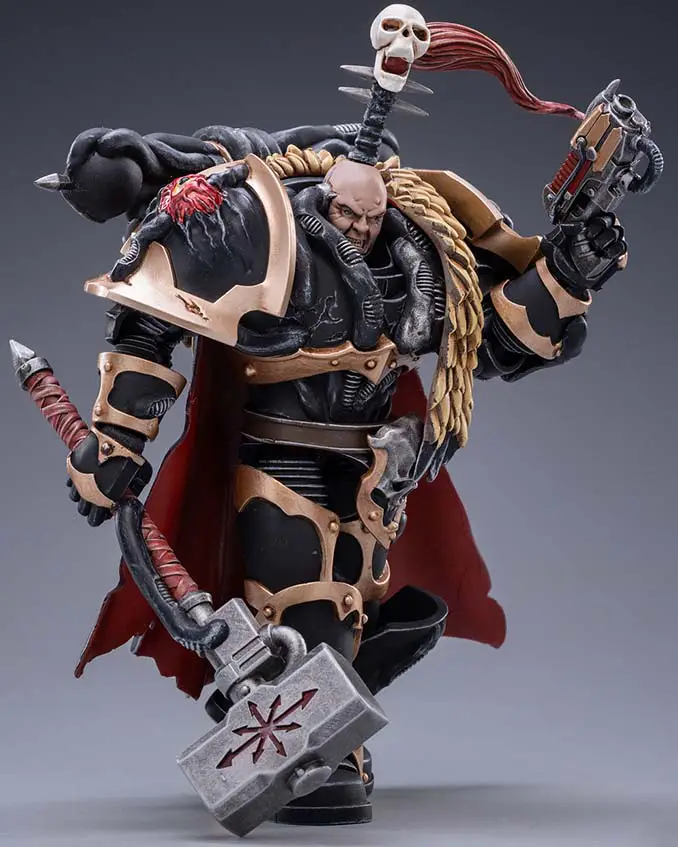 I do like this model but there's just something I can't put my finger on that makes this a little less imposing than the actual model. The Plasma pistol looks a bit small and the skull at the top has no teeth sculpted…?
Perhaps something is just lost in the mass-production style of the paint job. If you can see what I'm seeing and can explain it better, let me know in the comments.
owww yeah…
Right?
just look at it!
What do I need to say?
It's just so freaking awesome right?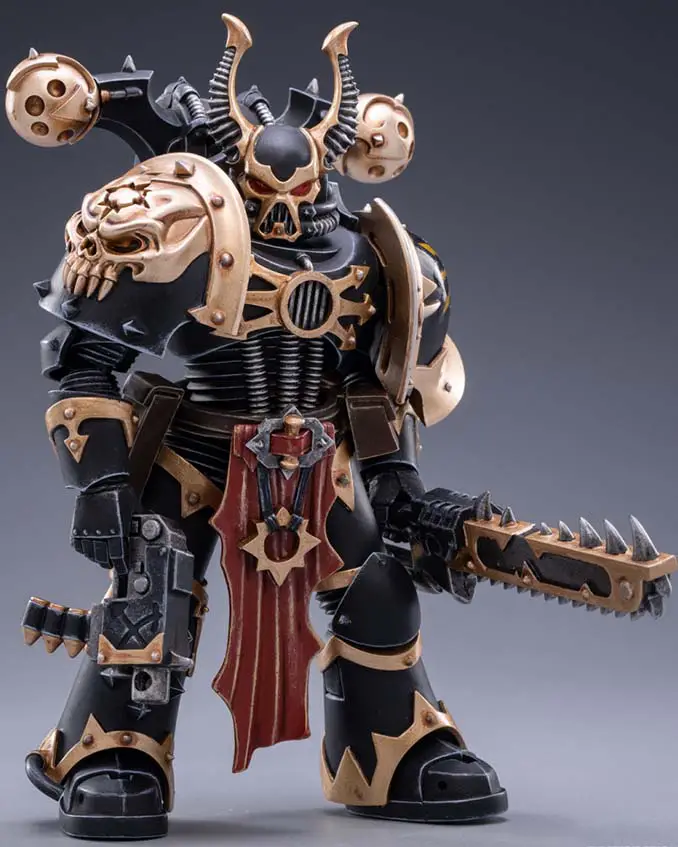 Armed with a bolter and chain sword. the baroque elements of this fully unique model are just insanely good.
Everything about this is everything I ever wanted from a Chaos Space Marine Action Figure.
Nope, no. I was wrong. This is everything I ever wanted from a Chaos Space Marien Action figure.
Actually, it's both.
It's both and then I want more of them.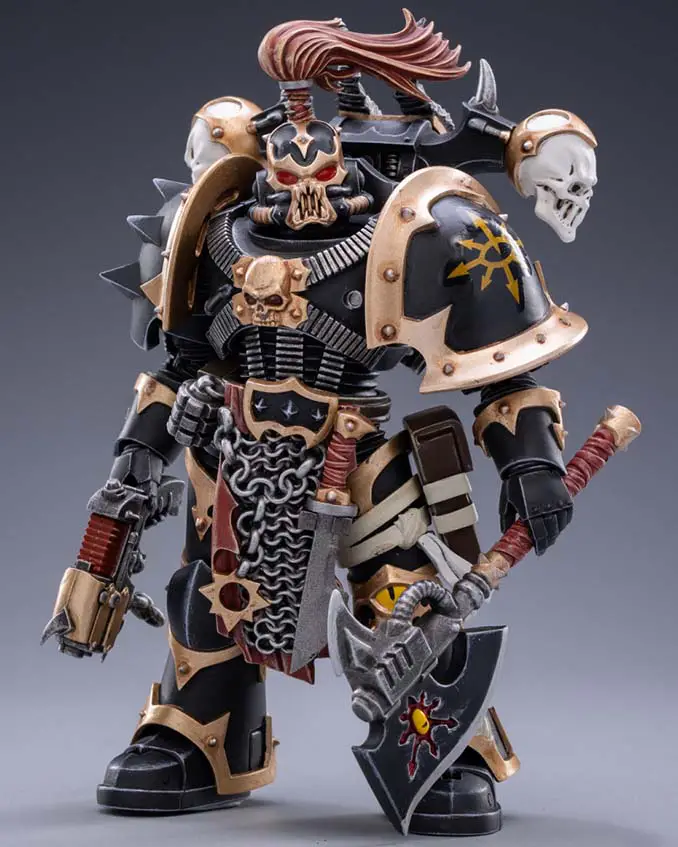 Once again, totally unique across the board for this model and that power axe is just so cool!
Gotta be honest, I'm totally gushing for these! I love Chaos Space Marine, they hold a special place in my heart as they were my introduction to Warhammer during my formative years. You never forget your first army (but some of us do regret selling it).
ok, let me talk about the stuff I don't like first.
I don't like that there are only 3 Terminators, not 5. I don't like that there are only 2 Chaos Space Marines, not 5.
Ok, that's it. I like everything else and after seeing the sub-par sculpts and paint jobs of the Space Wolves figures. not only is this a return to form. JoyToy just raised the bar on themselves!
Now dearest JoyToy, go figure out a damned way to get these on toyshop shelves year-round because we, the hobby community, want much more accessible to them.
Click this link & buy your hobby stuff from Element Games for the UK & Europe to support FauxHammer.com – Use Code "FAUX2768" at the checkout for double reward points.


15% off Phrozen with code: "22PRFHDP15"

Our Affiliates / Hobby Stores
What did you think of this Article? please let us know in the comments.
If you like what we're doing here you could really help encourage more content with a share on any social media platform.
Click the share links at the bottom of this screen (or on the left for computers and tablets)
Want to keep updated with the blog? You can subscribe in the sidebar for RSS or by email below
(Sidebar is below the article on Mobile Devices)