Warhammer 40,000 Imperium Delivery 1: Issues 1-2 Review
Last Updated on September 21, 2021 by FauxHammer
Like an Astartes drop-pod descending from the storm-scarred sky in a trail of golden fire and glory, so comes the first delivery of the new Warhammer 40,000 Partworks Magazine. Containing the first two issues of the new series, along with a host of other bits and pieces, it has everything you need to start your journey into the grim darkness of the far future.
Click this link & buy your hobby stuff from Element Games for the UK & Europe to support FauxHammer.com – Use Code "FAUX2768" at the checkout for double reward points.




Our Affiliates / Hobby Stores
Warhammer 40,000 Imperium Delivery 1: Issues 1-2 Review – Summary
Packed with absolutely everything the beginner collector could possibly need to make a start into the miniatures hobby and miniatures exciting enough to raise the eyebrows on grizzled old wargaming veterans, Hachette Partworks' first two issues of Warhammer 40,000: Imperium ticks a lot of boxes.
Warhammer 40,000 Imperium Delivery 1: Issues 1-2 Review – Introduction
Unless you've been living under a rock for the past few months, you might have happened to notice that there's a new Warhammer partworks subscription service available from the magazine maestros Hachette.
First coming to prominence with the much-loved Warhammer 40,000: Conquest series, which was followed by the equally-successful Warhammer Age of Sigmar: Mortal Realms collection, Hachette have established themselves as the premier in partworks collections.
So, the stakes – and expectations – are high with the new magazine.
Does delivery numero uno deliver?
Warhammer 40,000 Imperium Delivery 1: Issues 1-2 Review: Unpackaging Video
Check out our original look at the Magazine when it was in its Trial state
Don't forget to Like, Comment & Subscribe
Warhammer 40,000 Imperium Delivery 1: Issues 1-2 Review: Contents
In stark contrast to the majority of subsequent deliveries subscribers to Warhammer 40,000: Imperium will receive, your first delivery of the new partworks magazine will come with only the first two issues.
Warhammer 40,000: Imperium – Issue 1
Small double-sided Gaming Board
A large poster
Range Ruler
Gaming Dice
Warhammer 40,000: Imperium – Issue 2
Subscriber Extras (when subscribing with Hachette)
Citadel Plastic Glue
Citadel Sprue Cutters
Citadel Mould Line Remover
The Magazines: Issues 1 and 2
Unlike the myriad plastic addicts who'll be subscribing to Warhammer 40,000: Imperium in order to get a regular monthly dose of plastic. Some people – particularly less experienced players and hobbyists – will likely be interested in what's going on across the various sides of paperwork available with these deliveries. We'll take a quick, relatively spoiler-free flick through the magazines to see what's going on, starting with Issue 1.
Issue 1 feels meatier than the other magazine in the delivery. The reason for this is simple: it is.
Issue 1 comes not only with a large fold-out poster with a nice big picture of everything you can expect in subsequent deliveries on the back of it (which makes the hours Bosshammer and I spent trying to ID everything from a leaked image the size of a postage stamp back at the start of this year seem really worth it). It also has an additional fold-out section of lore detailing more background to part of the collection's setting.
Issue 2, by comparison, is likely going to be much more akin to how future magazines will look.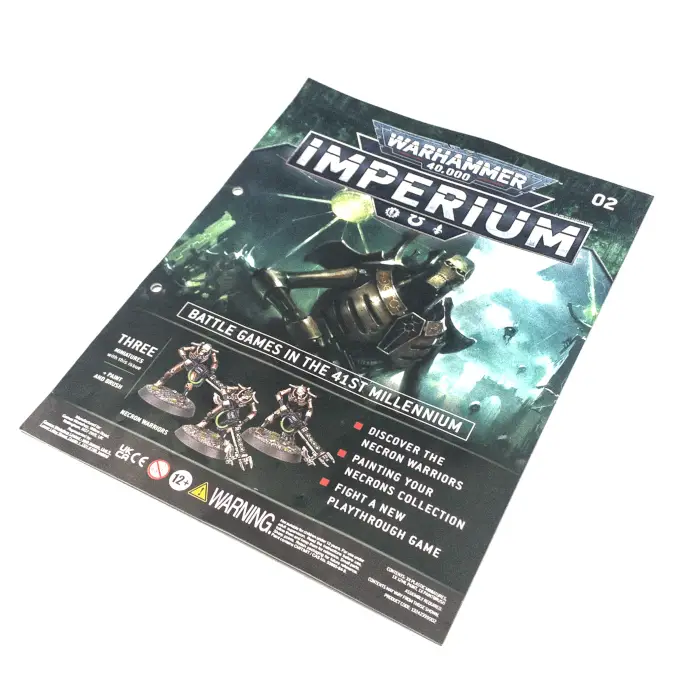 Inside, Issue 1 makes it clear that personalisation is the key word for Warhammer 40,000: Imperium. Several pages at the start of the magazine are given over to your new Primaris Lieutenant and Necron Royal Warden. Each sheet is double-sided, and whilst the obverse has some general lore-adherent narrative stuff printed on it, the reverse has a "Battle Record."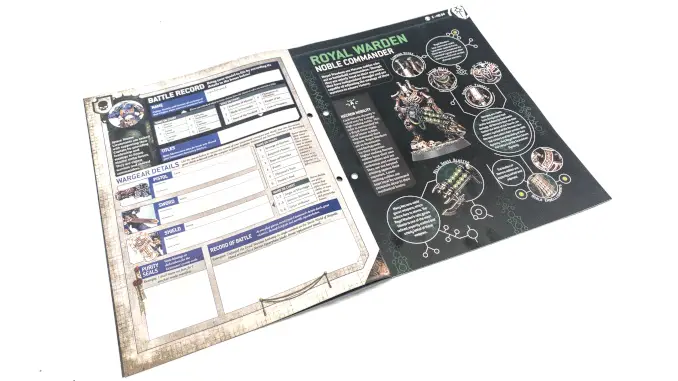 This is a new thing for these partwork magazines. Whilst we've previously had Warscrollds and Datasheets, we've never had actual customisable profiles to help you not only name your units but to also help add some background and individuality to them. This is a nice touch, and is designed to help bring your collection to life.
As you'd expect, there's plenty of lore about both factions.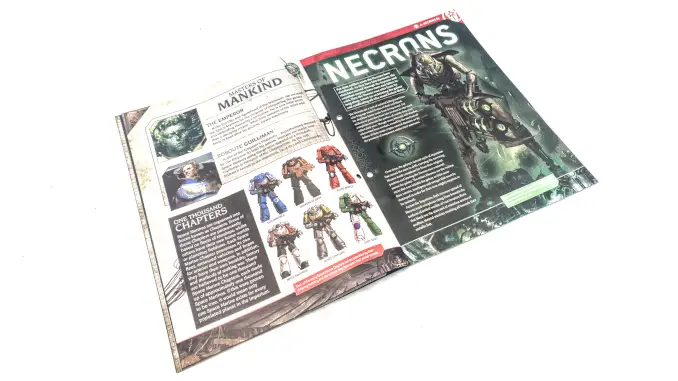 We won't go into this here, in case you want to have a read of it yourself.
This is followed by the all-important build and paint guides – though, of course, you can't actually paint anything yet with the contents of Issue 1 alone, as the brush and pot of paint comes with Issue 2.
Then comes the other part of the magazine: the part where it actually teaches you to play Warhammer 40,000 with the units you've received.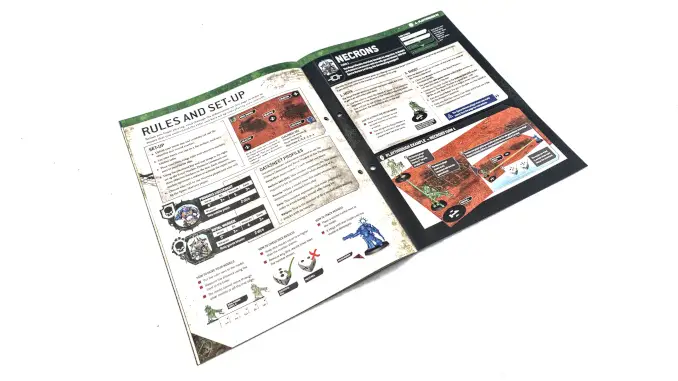 Issue 2 follows in a similar vein, opening with another Battle Record for your Necron Warriors as well as a further few nuggets of lore for your new figures.
Of course, as I mentioned above, you don't start painting until issue 2, so a couple of pages are given over to correct brush technique and how to care for your new brush. We'll have a closer look at both the brush and the paint that is included in this delivery in a moment.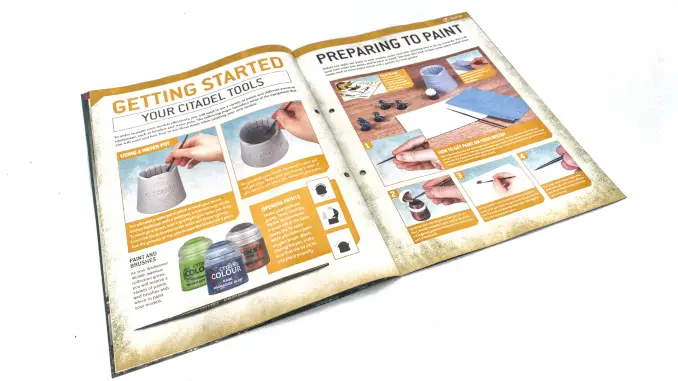 These initial pages have some great tips, like the use of a water pot (or mug), a palette (something smooth) and always have some tissue paper to hand. It even explains how to open your paint pots. tough it says "Shake your paint pot gently". Sorry no, any painter, any real painter will know. Shake it like your a 13-year-old boy who just discovered the true reason that the internet exists! "Then, carefully flip the lid backwards…" etc.
Not a fan of these pots? that's ok, nobody is, you can always transfer your paints to dropper bottles instead.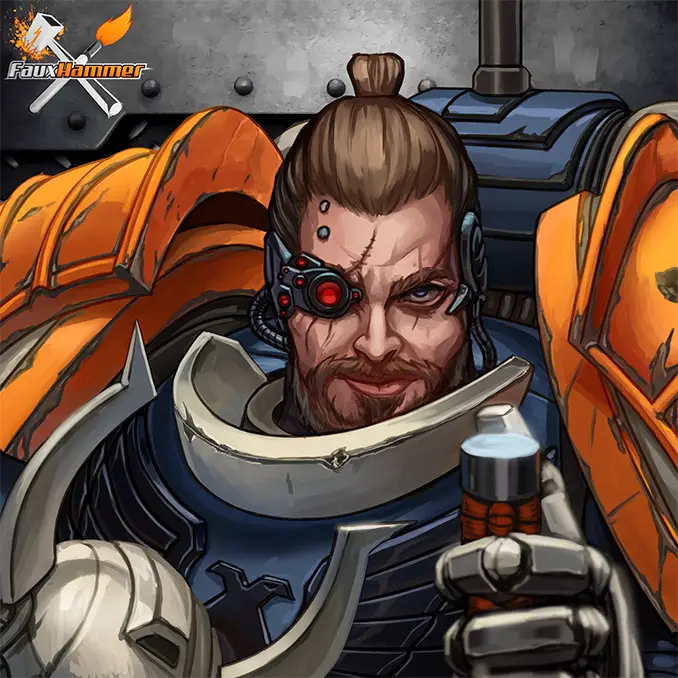 FauxHammer: Worth noting that these paint guides do not suggest using primer? why you ask, well, I think a couple of reasons. One the mag is really aimed at younger audience wanting to get them into the hobby and aerosols are dangerous. It's the reason you get a mould line remover instead of a hobby knife which does the same job (better) and more. But also, these are all shipped through Royal Mail usually and you can't ship spray paints via Royal Mail. But why they don;t even mention primer in these mags is beyond me. Maybe they could recommend you nip to a local GW store and pick one up. maybe even give you a voucher to get a discount off your first Can? (then they've got you going into GW stores and believe me, once you go into one, it's hard to come out without spending money, a lot of money)
Pro Tip: Go order yourself a tin of Chaos Black Spray Primer and spray every model with it before you even start painting. Your paint will adhere to the models better and stay on longer – and you'll thank me for the tip.
Back to you Rob
Finally, as there was with Issue 1, Issue 2 ends with a few more rules to help you start getting to grips with Warhammer 40,000 on the tabletop.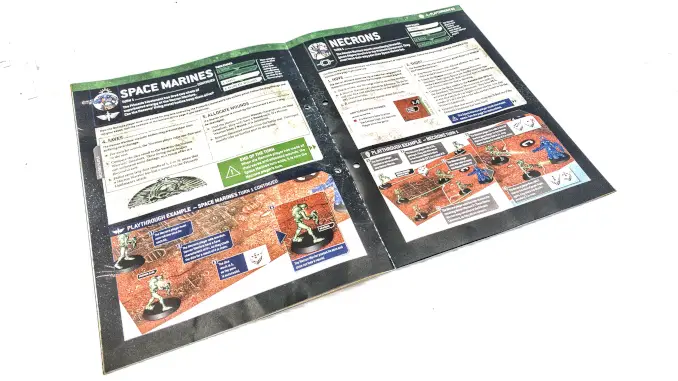 As you'd expect, when it comes to building, painting and playing with your new miniatures, everything in issues 1 and 2 is very basic and stripped-back. The magazine is aimed at new and completely uninitiated collectors and would-be wargamers, and over the course of several months recipients will have all the painting and gaming information they need to fully get to grips with Warhammer 40,000 drip-fed to them, so it's not too overwhelming.
But Issue 1 and 2 very much set the tone for what will follow. The Battle Records on the first pages, followed by a few sheets of lore, then your build and paint guides, and finally the rules you need to keep upping your understanding of the game.
Miniatures
Issue 1 furnishes you with two figures that have previously only been purchasable through boxed games. First, the Necron Royal Warden and Primaris Lieutenant were only available in the Indomitus box. Then, they also cropped up in the Recruit Edition of the Warhammer 40,000 Starter Sets.
They are two great models – the Primaris Lieutenant, in particular, is a fan favourite amongst a lot of hobbyists, whilst the Royal Warden has a few details to make him all the more menacing than his cronies.
Issue 2 gives you a few buddies for your new Royal Warden: namely a trio of Necron Warriors.
These guys are a real pain to put together: they're extremely thin and fragile, so be very careful when putting pressure on joints when assembling them. Ensure you follow the build guide to the letter, and you should be fine.
The included figures are an interesting choice.
Last time with Mortal Realms, issue 1 came with a trio of Sequitors and no fewer than 10 Chainrasps! From what I recall, these disappeared everywhere they could be found, given that ten Chainrasps and a trio of Sequitors would set you back about £40 elsewhere. Being able to snatch them up for £3 or whatever it was was an unbelievable steal.
It seems this time with their issue 1 release, Hachette has gone for exclusivity over volume. Not that anyone is complaining. But clearly based on photos of store shelves in our facebook group, far fewer people are scalping (smart move Hachette, smart move, kinda proud of you here)
This will not be the last you see of the Necron Warriors, though. Be prepared to see more of these little terrors scattered across subsequent releases.
Paints and Hobby Tools
If you're a subscriber, your first delivery will come piled with all kinds of stuff to help you get your figures off their sprues and onto the battlefield (of battleshelf) as soon as possible.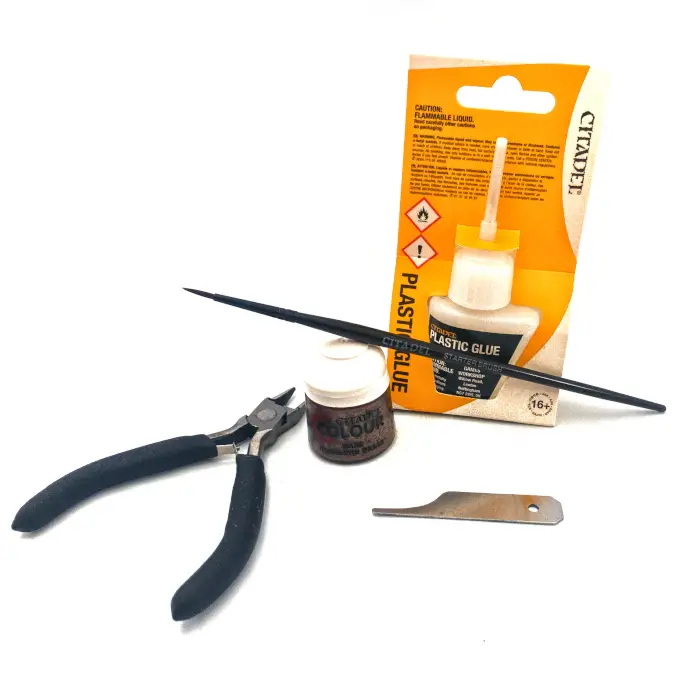 Whilst a lot of people will hate on Citadel Plastic Glue because it's a GW-affiliated product it's not Tamiya Extra Thin,(FauxHammer: good boy Rob, you're learning!) if you're a beginner modeller there's absolutely nothing wrong with it. The glue has a long, fine nozzle for application and will easily last you until the end of the subscription providing that you use it sparingly.
The Mould Line Remover is a fairly useful tool, too. Whilst anything with a good sharp edge or corner will be adept for removing mould lines on any of your figures, the tool is much safer as it doesn't have any edges you can easily cut yourself on. It's also really good for picking dried paint out of the lids of Citadel's bolter shell-style paint pots.
The brush and the nippers, however, leave a lot to be desired. As before, if you're totally new to the hobby and have nothing else, these'll do – for a bit, at least. I've always found the nippers begin to corrode and seize very quickly. The brush will fall apart within a few weeks of starting to use it.
Luckily for you, we have pages dedicated to brushes and nippers, so you'll be able to find plenty of recommendations here.
Gaming Accessories
Issue 1 comes with a host of goodies to get you started on the tabletop.
Anyone who's familiar with Games Workshop releases – particularly those frequent boxed releases – will recognise the standard white dice and Warhammer 40,000 range ruler.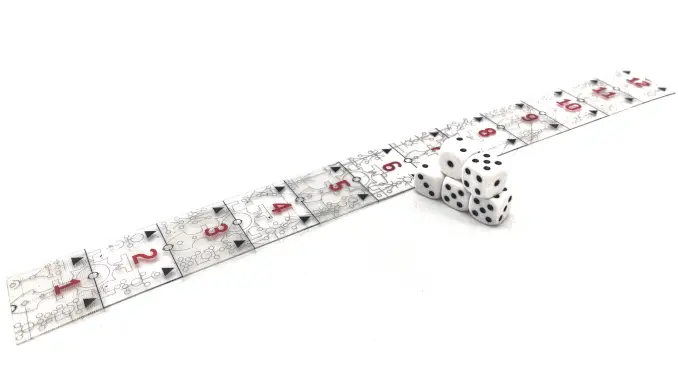 There's nothing particularly special about either, but they're all you will need to get started. To supplement this, Issue 1 also comes with a double-sided Gaming Board.
It's fairly rudimental and nothing too fancy, but the gaming board sports some decent graphics and is made of reasonably thick paper, so it's fairly durable and will see you through your first few games of Imperium's Warhammer 40,000 tutorials. Note the black bar down the side of the board: this is meant to be cut off, and the markers printed onto it removed for use in place of physical objective totems.
Warhammer 40,000 Imperium Delivery 1: Issues 1-2 Review – Price and Availability
All of our info on Warhammer 40,000: Imperium's upcoming issues can be found here. There's also a super useful section on the best ways to ensure you get hold of your copies of Imperium every week/month so you don't miss out.
Warhammer 40,000 Imperium Delivery 1: Issues 1-2 Review – Final thoughts
Pros
Cons
Incredible value
Really nice miniatures
Loads to keep you busy
Fun Faction Focus
Lots of extras to coerce you into playing 40K
Nippers and brushes are rubbish
No Recommendation of Using a Primer
Necron Warriors are a bit fiddly and fragile
As a first delivery, issues 1 and 2 of Warhammer 40,000: Imperium really do hold up. Impressive miniatures, plenty of things to get you playing the game, and all the bits you need to start painting (emphasis on start: if you're already au-fait with painting, this stuff will likely not appeal to you).
If we're going to split hairs, then sure: there are some things in issues 1 and 2 of Warhammer 40,000: Imperium that many more experienced hobbyists would do differently – namely, the brush and nippers. But this magazine isn't aimed at tried-and-tested plastic addicts, it's here for brand-new to intermediate collectors and gamers who may not have everything they need to . We just come along for the ride.
And that sweet, sweet plastic goodness.
Click this link & buy your hobby stuff from Element Games for the UK & Europe to support FauxHammer.com – Use Code "FAUX2768" at the checkout for double reward points.




Our Affiliates / Hobby Stores
What did you think of this Review? please let us know in the comments.
If you like what we're doing here you could really help encourage more content with a share on any social media platform.
Click the share links at the bottom of this screen (or on the left for computers and tablets)
Want to keep updated with the site? You can subscribe in the sidebar for RSS or by email below
(Sidebar is below the article on Mobile Devices)
Summary
Reviewer
Review Date
Reviewed Item
Warhammer 40,000 Imperium Delivery 1: Issues 1-2
Author Rating





Product Name
Warhammer 40,000 Imperium Delivery 1: Issues 1-2