Warhammer Age of Sigmar 2022 Battleforce Boxes – Price & Savings Breakdown
Last Updated on November 23, 2022 by FauxHammer
It's that time of year again everyone. Grab some massive savings in the run-up to Christmas. Whilst Games Workshop is generally known not to do sales. Their equivalent system is to release yearly large forces of models with discount prices. What is in the Warhammer Age of Sigmar (AoS) 2022 Battleboxes? When are they coming and how much can you save on each box? Well, That's what we're here to cover in our Warhammer AoS 2022 battleforce breakdown. We'll look at the contents, price, value and savings expected from each 2022 Sigmar Battlebox. – We've covered 40k in a separate article.
Our Affiliates / Hobby Stores
If you are new to Battleforce boxes let me start with a warning you should probably heed. they sell out. FAST! FOMO is naturally true with these boxes. It's always been the case and I expect the same to be true this year.
You'll get the odd box that will be available for maybe a few days after the preorder date at some lesser-known stockists or your FLGS. But for GW.com specifically, the pre-order day is generally chaos. though this is calmed slightly in recent years when GW.com invokes the queueing system, simply due to consumer demand risking bringing the site down. Indomitus release day was the last time GW's servers were clearly impacted.
So here's a tip.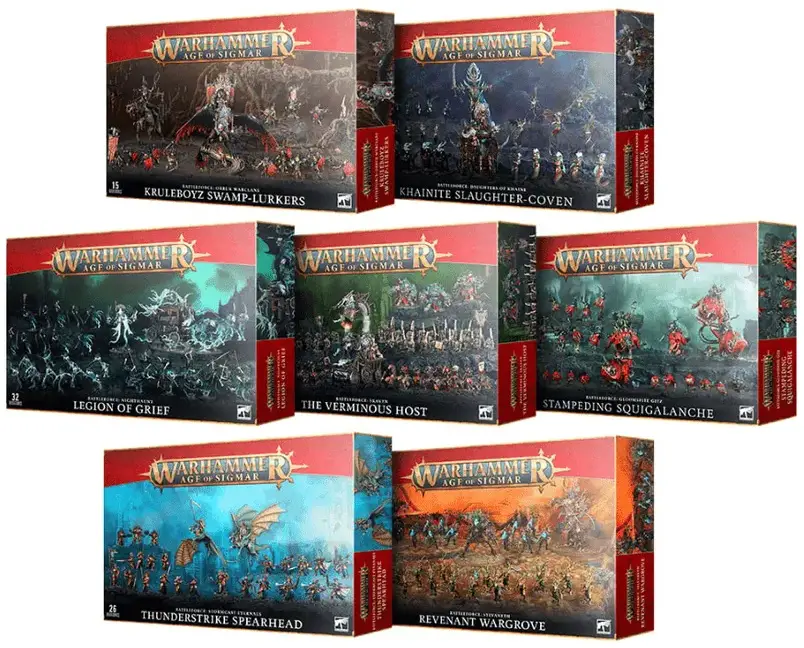 The releases, like every release, will go live at 10:00 am on the Saturday at both GW.com and your favourite online retailers.
So make sure you have a tab open for each retailer from at least 09:45 onwards and refresh each page regularly to make sure you see the bundles as soon as they come up. then get through that checkout process ASAP. ideally make sure you are logged in to your account for that site with your address and payment details updated before you even begin.
Webmasters will hate you for this and will hate me for recommending it, but this is the process I use and I haven't missed a product I've desperately wanted yet.
And if you are thankful for this advice, please click our affiliate links above before you begin so we can ket a kickback (with no charge to you) from those retailers. Helps us keep the site running and all that.
Super simple this one – though odd.
As many already know – the AoS boxes will be going up for preorder this Saturday November 26th.
But only the AoS boxes. the 40k boxes will likely be up the following week as we've seen no sign of them on either Warhammer Community or via Retailer pricing details.
Why split them to separate weeks? well, A it's a lot of boxes for a warehouse to shift in one week. Both AoS and Sigmar have more boxes this year than last year. Also, it allows for a slightly better cashflow for buyers want a box from each game, well you only need to pay for one of them this week, get the other nexty week instead.
It;s not like this would make GW more money, these boxes will sell out no matter how they do it.
We have had it confirmed this week that the AoS boxes prices are stable across the whole range. Last year's boxes cost between £125-£130 ($210 USD flat) last year was a £5 ($10 USD) bump on the previous year. So it;s great to see that they matched that this time. the European boxes have gone up by €10 however on the previous year. and we are still awaiting confirmation on AUD boxes.
Below is a summary of the value from each box, Which is on par with 2019 & 2020's boxes. The lowest value box is actually worth £1 more than last year's lowest and a few boxes here have values over £200, whereas last year's best value box was worth £199.50
Savings-wise, we're once again probably looking at last year for reference where we had anything from 30% – 37% in savings for these boxes versus buying the units individually at retail. That's Nothing to sniff at! it's a solid saving.
Though the Daughters of Khaine – Slaughter-Coven box in Australia only has a 7% saving? I;ve checked, re-checked and checked again, so unless I'm missing something, these are the numbers? Though again, I've not seen the AUD box prices confirmed.
So let's take a look at the individual forces and break down the Value in each box.
What I do like about the battleboxes this year is that each one has a stand-out model, The Slaughter Queen here is a great command unit standing proud of her minions.
Squigs Ahoy! forget Gloomspit Hitz, this is an army of Squigs, at my count, there are only 2 models in this set that aren't on Squigs. And they are Squig Herders
Despite Mortal Realms Magazine being a couple of years ago now, I am still sick of seeing Nighthaunt models. Though that Black Coach is drawing my eye. I mean, I could get all the extra models just for the sake of that small saving?
I'm not sure why but it seems to me that the Kruleboyz landed with a thud. Dominion seemed an unpopular box despite the detail of these awesome models. Ae people put off by the painting difficulty? They are very detailed…
For anyone who did like dominion and has that force, this is a great deal on both the Swampboss Skumdrekk & Gobsprakk – so long as you're happy to take some more Gutrippaz andBoltboyz with them.
There's a bit of a mix in here, whilst you get some great units like the Screaming Bell and Stormfiends. The Clanrats and Plague Monks are multitudinous, but they are also ancient kits! The sprues don't even have part-number on. that's how old they are.
But they are highly configurable.
Sigmarines are the poster boys of the Mortal Realms. This is a great box because it has dragons. and can you ever have enough dragons? You know the answer.
One of the higher value boxes out there featuring the all-new re-designed Stormcaset models from last year.
If you like Tree' here's the box for you
A massive Tree Elf-lord and 2 more bipedial trees, all surrounded by little trees
TREES!
Another year another set of battle boxes. this time with more boxes available than we've seen before. last year we had 4 and this time we have 7.
Whilst the savings of the boxes are roughly in-line with the usual 30%-37% from a yearly battlebox, it's a sign of the price increase earlier this year that there appear to be fewer models per box. Aside from the clans of really old rats.
But each box has a huge feature model making the overall style make much more sense.
Each is a great way to expand an army but in most cases, this is aimed at people looking to start a new one, simply due to the fact that existing players probably own these feature models already.
Our Affiliates / Hobby Stores
What did you think of this Article? Please let us know in the comments.
If you like what we're doing here you could really help encourage more content with a share on any social media platform.
Click the share links at the bottom of this screen (or on the left for computers and tablets)
Want to keep updated with the blog? You can subscribe in the sidebar for RSS or by email below
(Sidebar is below the article on Mobile Devices)