Over 100 Gift Ideas for Miniature Painters & Wargames Hobbyists
Just to preface, this article is twinned with our guide on how to pick the best gifts for a wargames hobbyist or miniature painter, That was aimed at none-hobbyists buying for hobbyists. This article, however, is just a spew of wargames hobby gift ideas you can browse through to generate inspiration.
We have everything from Stocking fillers to gifts for the most lavish occasions. If you see something you would love to receive as a gift, but it's not here. let us know in the comments.
This actually started as a top 10 Items to watch out for on Black Friday, but Black Friday launched early on most sites with stores promoting Black Friday Week!
Right, for any site out there advertising a "Black Friday Week" – Read that phrase again.. slowly… If you can't see what's wrong with that advert, I'm not helping you.
So instead of just pushing this article out, I decided to extend it to cover everything you should keep an eye out for based on what we had used over the last couple of years.
Anyway, I just kept finding more and more stuff, and it takes a long long time to write summaries for over 100 items. Literally over 60 hours now in one article, I need sleep. but please have a look and share it if you like it.
Now, this article is purely just a visual list of all the stuff you possibly/probably want to keep an eye out for. Hope you like it.
Note: there are a lot of links below to Element Games. If buy from them, use our referral Code "FAUX2768" at the checkout stage and you'll get double Element Crystals (Reward Points)
Miniature Boardgames & Wargames Gifts
The base kit for Warhammer 40,000 in all its Glory, if you are a beginner or just like the models, this is a huge value set containing everything you need for 2 player tabletop warfare
The slightly smaller starter kit for Warhammer 40,000 and again contains everything you need to learn the base rules. this is a sweet-spot entry-level product or a boost to existing forces.
This ultimate starter kit works well as a Stocking Filler or a cheap way to get your hands on a few decent models to paint. Excellent set showing you how Warhammer 40,000 works and enough models for a decent few skirmishes.
A tabletop skirmish games where players create a squad, known as a kill team and use the team to complete objectives against the other player.
This is Warhammer 40,000 turned up to 11. Instead of fighting Squad vs squad, you battle massive armies. The objective is to spend the most money on Games Workshop products. E.g. the starter set doesn't even have models in it, it's just the rule book and a "few" (You'll need more) dice. Whoever spends the most money wins.
A brilliant little Role Playing Game for 1-6 players, with plenty of expansions and cool models. The mix D&D with Warhammer 40,000 and a chance-based Dungeon master and you kind of get the idea.
Warhammer 40,000 based air combat game played on a hex-based board changing position, direction & altitude to take out the opposing force
Epic Reborn, Almost. Realising that most players couldn't afford multiple Knights & Titans. GW Scaled down the models so that they can have gigantic scale warfare but still in the 35mm depending on GW's mood) scale/
Much Like Dark Imperium, this is the complete starter box for Warhammer Age of Sigmar containing two decent sized armies. The rulebook and dice needed for starting up a decent game of Age of Sigmar.
Again a sweet-spot purchase for anyone who wants to get into playing AOS. comes with 2 decent sized forces and a playmat for small games. Also, a good value kit to boost the number of models from the Soul Wars set. or just good if you want more models to paint.
The Stocking filler approach to Age of Sigmar. Stormstrike is to Age of Sigmar as First Strike is to Warhammer 40k. This cheap box is a great way to get a taster or if you just fancy a load of models to paint without spending much money
This is DnD meets Warhammer, Like Blackstone Fortress this game sees you playing as one or more heroes against random enemies and events.
A much-loved game which was relaunched in 2016 and is more popular now than it ever was. Puts the Fantast in Fantasy Football.
A game of cool terrain that you can't buy outside of the original Warcry Boxed set. Kind of similar in scale to Kill Team where you or one of your (up to) three opponents controls a small Warband of individual models t complete the objectives determined by the game.
Buy this Buy This Buy this! This game is great. The correct name of the game system is Underworlds. The first year had a core set titled Shadespire, year 2 was called Nightvault and we are now in the third season of the game with Beastgrave.
Control 3-7 fighters on a hex-based grid. Fight using those models statistics and your accompanying card deck to complete objectives and win glory tokens. No matter if your characters live or die, the player with the most glory at the end wins.
Other Board games & Wargames
A kickstarted game featuring your favourite factions and characters from teh series of its namesake. Based more on the books than the show this game is force vs force combat. Objective styles are named for the books in the series and there's also a political element alongside the battlefield which will have a sway on the outcomes of actions.
Cool models and lots of dice. this is model vs model combat and its aimed at fans of the game series. Whilst there is some interest and fun for those who aren't fans of the videogames. It's core player base are those extending from teh tv (or monitor) to the tabletop.
It's better than Fallout 76
If you like miniature and you like star wars you have options. X-Wing is a fairly obvious space combat game. Armada is the same concept on a grander scale.
Legion is Warhammer + Star Wars.
Imperial Assult is a bit more Warcry / Kill Team + Star Wars, but also like Warhammer quest. simple huh?
X-Wong for trekies
A great alternative sci-fi tabletop wargame, featuring some really stylish 28mm models, this is a bit closer to Fallout / Kill team rather than the all-out warfare of something like Warhammer.
Personally I prefer the design of the models (in the most part) to the Space Marines of Warhammer. But those sculpts are much larger and more detailed.
Fount in detailed warzones, this is much more Cyberpunk than Grimdark and my be just what you're looking for.
This is kind of the default game for those who want to play Warhammer but don't like Warhammer. They have some absolutely excellent sculpts and Privateer Press also make some excellent paints too! Both Warmachine and Hordes are separate but games with the ability to integrate with each other and cross-battle. Battling Warmachine Vs Hordes armies are different from battling two Warmachine or Two Hordes armies against each other, with some rules being a substitute for others or some special abilities having no effect in a cross-functional battle.
Kingdom Death is the game that kicks you square in the wallet and as you drop to the floor shrieking in paint it just keeps kicking. Whilst 19lbs of Nightmare Horror gaming sound appealing it will cost you.
You need to be prepared for the effort required to play this game too. it's about survival. Get your survivors through campaigns of encounters with various enemy forces. and while a 235-page game book sounds like high value, it's still 235 pages you need to work through.
That said if you have the money, space and time to play this. it has been lauded as one of the most interesting of not quite compelling boardgames experience available.
The only official thing you can buy for Gaslands is the rulebook. Outtside of this it's all unofficial (and mostly 3D printed ) stuff.
The rules are really simple. Change gears during movement so you can drive long straights or turn tight corners to bash and shoot at other cars.
The models you use for this game are your typical everyday toy cars. So just grab some old ones from anywhere or get a box of new ones, smash them up and add bolt-ons. Then paint them up to look just like something out of Mad Max.
get a massive bulk of cars for gaslands. With all the pipes and pop-out engines on the Hotwheels cars, they are fun to paint.
Quite rightly based on the incredible Graphic Nover rather than the hit or miss TV show. this game see s you play out scenarios from the series itself.
Contains a great set of detailed minis resembling their comic likeness. You will use your characters to complete objectives against the zombie or human adversaries. All whilst managing the threat of being overwhelmed.
A fun game growing in popularity.
This is a really fast-paced Japanese style fantasy game featuring Samurai, Ninja, Serpent ladies and balancing your Chi ready to attack.
I've never played it, but the models are really really cool.
Kickstarter really is a fantastic launching platform for miniatures games. This was one of the biggest generating over $3.3 million in it's Kickstarter run.
The game is based on the Conan books by Robert E Howards and sees you battling through different environments to achieve scenarios based objectives.
Another scenario-based game and this time styled after the Resident Evil 2 videogame. In a similar vein, you need to manage your health and resources such as ammo to get through the zombie-infested environments.
A literal dungeon crawler game working individually or in a team to take on foes as you manage stamina to control your movement and attacks.
Do you remember Atmosfear? The game which required you to have a video tape (old people DVD) playing in the background as you played the game.
This has a lot of that feel as it also requires you to run an app on a tablet alonside managing the game itself.
The models themself arent amazingly detailed and they all pretty much look the same. maybe 4-5 different types. but it's a mightily fun game.
A pretty decent quest-based game. pretty much D&D without the need for much imagination. You need the time to sid down and play it.
Pretty much has everything you need for a tabletop game. a Board, Dice, Cards and really detailed miniatures.

Play longer campaigns or short skirmishes in the Doom Board game.
A regional battle game where you build strongholds and increase the size of your domain throughout territories. Control and battle Fantasticl Beasts.
With 58 awesome detailed models in teh box along with ships and strongholds. this is an incredibly high value set.
Another small scale skirmish game with highly detailed sculpts of batman figures. if you like batman and either want to paint miniatures or play a miniatures game, you should get some fun out of this.
Another great entry from Knight Models who do some excellent sculpts. this series has been bashed for coming in as overpriced and somewhat unbalanced. Time will tell if this gets the love it deserves to be a great tabletop game. but in the te meantime. the models are very nice.
A ton of minis with brilliant production quality. Boardgames based where you choose hero characters and battle them against hordes of zombies as they gather resources and gain experience to level up and make them stronger. A really fun scenario-based RPG lite.
Truth be told, you're only going to like this if you are a fan of the Movie and even then the game isn't really that fun. It's worth buying for the models however as it's the only place you can get Labyrinth miniatures unless you want to 3D print some.
Miniatures Storage & Transport
Possibly the best idea for a miniature storage case. Metal trays and a magnet connected to the bases of your models and you can store them without any of your fine paintworks touching any other surface.
Early reports, however, have said that some of the magnets are so strong they actually stay stuck to the trays and become unglued from the bases.
I love these, the whole concept of them. I'm a sucker for keeping the original packaging, however with miniature games, you can't just throw your painted models loosely into the box. Feldherr are the kings of miniature storage. the best thing they do is game-specific storage foam trays. safely holding and organising all the models in the original box.
A step aside from the above solution is better for custom armies. Feldherr offers a wide selection of Storage boxes containing cut-out space for rank & file miniatures or you can get the pluck foam boxes where you simply pull out the area to sore whatever size model you need.
The next level in the Feldherr range is the same variety of storage options above bit now in canvas cases and bags allowing full backpacks and briefcases worth of armies to be transported safely.
Hobby Tools Gifts
Paint Brush Gifts
The most popular brush used my miniature painters due to their endorsement by the majority of the games Workshop 'Eavy Metal Team. Available individually or as a nice boxed set.
Getting more popular by the day these brushes offer the quality of Rosemary & Co with the body of Windsor & Newton. They also come in a really sexy box.
Revolutionises your approach to drybrushing by encouraging a much smoother blending style approach. With practice, you can get a very similar style of result to airbrushing with the benefit of edge-highlighting kicked in.
Again, a sexy box.
The m series like the Windsor & Newton Miniature are shorter bristles giving better control at the cost of a reduced belly on the bristles.
The benefit of this is you have much more control than with longer bristles, so this will be better for freehand work. I've found they are really good for dot stippling too.
The 8404 series are the most lauded among independent miniature painters. With a fine tip and a wide belly, whichs stores a really good amount of paint. Making them great for glazing.
I always find these good to have, they cost next to nothing and are great when using alcohol and enamel-based paints which would ruin your sable brushes.
If you are getting sable brushes, get this and use it at the end of every painting session. one pot can last years. just wet the brush, rub it in the soap until it froths and expells colour. rinse and repeat until your brush runs clear.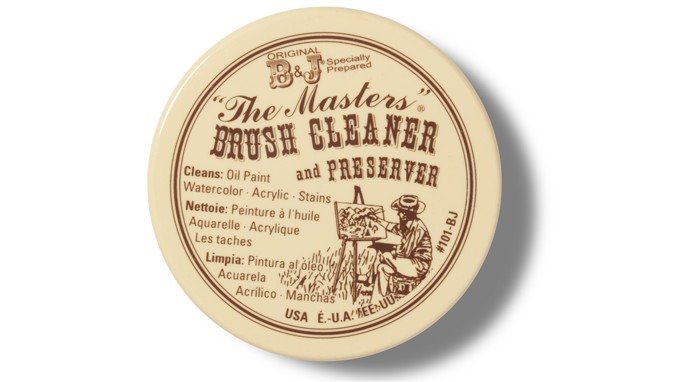 Looking for a cheap place to store your brushes. this desktop rack will store almost 100 brushes in various sizes
If you fancy something with a bit more sex appeal and quick access, store your best brushes on display on an actual display stand.
Citadel Water Pot
It not too hard to pick the best water pot. the tapered shape is anti build. it stotes plenty of water and the ridged base lets you agitate the paint off the bristles when you rinse. It's also pretty cheap, one of the best hobby tools Games workshop Offers.
An actual wash station that will store your brushes suspended in water. Many people will tell you that this can damage your brushes as the water will break down the glue holding in the bristles. Water will not break down the glue. Nevertheless, it's not good to practise to keep brushes suspended in water, especially if it's dirty. but, if you are working on a project which requires fast brush switching. this is a godsend.
The latest wet palette on the scene, It's not magic, it's just a decent wet palette at a good price.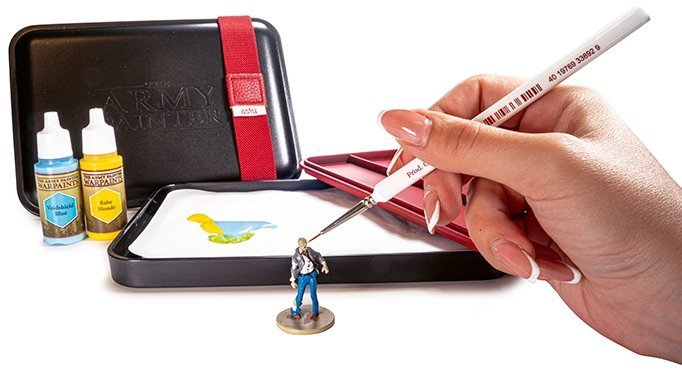 Again, it's not amazing and it is the priciest brand of wet palette you can buy, The Army Painter is almost half the price of this one and Redgrass have responded
You can now get the Starter Pack for an almost equal price to The Army Painter option. However, this only provides 15 sheets of paper, 1 hydration foam and you won't get the Wavy accessory.
Double the size of the Painter wet palette. For its features, this is honestly the best palette you can get if you have space on your desk for it. Don't forget though, you can just make your own if you wish
Airbrush Gifts
Airbrushing isn't as scary or expensive as most people think. If you are starting with a budget or without any idea what airbrush you should go for. good. Most of us did.
Just grab anything which looks like the model shown below and it will probably come with a couple of free airbrushes.
Those airbrushes are trash but will be enough to get you started and the compressor shown below should last years (you want one with a tank)
Pretty much the best entry-level airbrush if you are looking for something better than the free options given away free with a compressor. Nice and solid and will take good care of you for a long time.
A set up from the above, a perfect mid-range airbrush and excellent precision. Feel free to dive in to get this as your first airbrush it is solid and has good accuracy.
Check out our review for more on this model.
My personal favourite airbrush. grab the 0.2mm variant of this airbrush as soon as you can. Get it as your first airbrush if you can afford to. If not get it as your next airbrush. The most feature-rich and versatile airbrush we have ever used.
No wonder that this is the model adopted by Cult of Paint.
A simple affair but p[retty necessary for cleaning out your airbrush. Also, you see those prongs on the right where you rest the airbrush. They are a nightmare to push into the lid. Everyone notices this. Keep trying, you'll get it.
A common issue in airbrushing is moisture building up in the tank and the line. After a lot of airbrushing this can get pushed out onto your model ruining the paint work.
An in-line moisture trap should save you from this
There are various types of airbrush cleaner and they mostly do the same job about as well as each other.
I choose Iwata for one reason. The container, the lid is perfect to easily pour the cleaner into your airbrush. Grab the Vallejo version and you'll see what I mean.
Another cheap item which can help your painting. blue tack some models to it and just spin it round.
A posh version of a cardboard box. But this one won't let the fumes and paint particles reflect back into your lungs.
To use instead of, or alongside the above to protect your lungs.
Pour paint and fluids, easily with this cheap little addition to your hobby toolset.
Soft and plastic, much better for cleaning your airbrushes tubes than the wire-bristle brushes.
Store your mixes or swap your paint into these for a more enjoyable painting experience and make it last longer.
An excellent tool cleaning device, you can use it with your airbrush components if they're in a really bad way. Or to use with some isopropanol for stripping paint off miniatures.
These jars are the same ones used with most siphon fed airbrush. Another way to stope your mixes ready for use on future projects.
Most people use blue tack, but I find this a much more reliable product for masking models to airbrush.
Paint
An entry-level set which will get you a solid collection of Citadel Base paints.
A starter layer paint set
a selection of shade paints, howveerthese are in the older 12ml bottles as opposed to the newer 24ml pots
Games Workshop don't actually do a Contrast paint bundle, but yet again Element Games have you covered offering all the Contrast paints with a considerable discount.
Start your Vallejo Collection with this boxed set of model colours
Another great bundle, this time the Game colour series
The airbrush version of the model colour range
Finally the airbrush version of the game colour range
Army Painter is a great range for those looking to paint large forces on a budget and you can stretch that budget much farther with the Mega Paint set.
Save even more money by buying a collection of every warpaint that The Army Painter Offers
Reaper Master Series is my personal brand and I strongly suggest every miniature painter at least tries them
The models in these kits aren't the best sculpts but that's not the point of their models range. The paints are great and this is an excellent starter set
A literal step by step to some intermediae skills in miniature painting
Warpaints are an excellent range of paints. the key selling point. it tells you the opacity on the outside of each bottle. Hurrah! every brand should adopt this kind of approach.
A wide and growing range of paints, they haven't received the attention they deserve so please try a set out today.
I'm not sure how much of a secret it is that the best effects paints tend to be alcohol-based. Well, Ammo by Mig Jiminez is the latest company offering these types of paints. You can also get very similar products from AK Interactive, the Company which used to be run by Mig Jiminez…
Essential Tools
Pretty much the default Craft Knife, grab an X-acto if you can.
There are two sprue cutters in the best of class this is the slightly cheaper one and still does a damn good job. Gets in close and is really sharp. you won't find much better than this.
The best sprue cutters you can buy. the cutting edge is so sharp that it slices through the plastic with very little stress on the surrounding plastic. Absolutely beautiful cutters. but they cost a lot.
You will always need tweezers in this hobby, Twzzerman arent really a craft tool but they are some realy good precise tweezers
If you are working with decals or airbrushing pinned components. reverse action tweezers are a must.
Getting the right pin vise can save a lot of hassle. The model below was selected as the best as it supports 3.2mm drill bits. read the next section to understand why this is useful
PCB drill bits have a standard shank diameter of 3.2mm, just like standard Dremel parts. This means that you don't need to mess around swapping out different grips (collets) when you want to change the size of your drill bits. just leave the same diameter collet in your hobby drill and swap out the bit with ease
You don't need anything special here and they also work great as a temporary dry palette
Filling mould lines or just smoothing off surfaces, any wet & dry sandpaper will be a benefit
best for metal and resin miniature when you want to smooth off surfaces and remove mould lines.
Good lighting is a must to reduce eye strain and to ensure your colour selection isn't affected by the colour tone of your room lights. Daylight LED tasks lamps are great
As a secondary lamp and to get up close and personal to certain parts of models (eyes) these magnification lamps are excellent for both jobs.
There are numerous hobby handles online. handling minis can leave to finger oils polishing the surface smooth and even taking layers of paint off. my personal go-to is the Garfy get a Grip made by one of the most supportive members of the miniature painting community.
If you can, get the pro handle with the attached finger rest. This holds anything from 50mm bases and smaller to corks
games workshop offer a range of handles now, and they are cheap. but the spring load mechanism has sent my models flying across the room more than once and for the slight price bump, I'd rather have a Garfy get-a grip than 3 of these.
painting in sub-assemblies? wine corks are great for just pinning in parts as you primer or paint them. they work as handles all by themselves too. I like these as they are compatible with the Garfy get a grip.
Cork bungs used on for gallon just are great as a handle and something to easily pin parts into. unlike wine bottle corks the tapered edge will stop them from tipping over when a model is attached. and the wider diameter allows you to easily attach larger minis than on the wine corks.
If like me you've had static grass for years and it looks terrible, you may not have realised you need to put a charge through it to invoke the static component of static grass.
This Static grass applicator box is great for miniature basing. Stick some grass on the plate and flip it on, it will be pulled toward the crocodile clip.
Just add glue to the base wherever you want the grass to stick and shove it between the plate and clip.
An alternate method of applying static grass is to use a hopper. These come in many similar styles. this works in the opposite way to the applicator plate above. This is great for largescale terrain.
Apply glue to your terrain then add the conducting rod into that glue. Fill the hopper with your static grass and you can apply it so that it stays upright. A similar process is used if you wish to flock your car dashboard.
This can be invaluable. If you're fed up waiting for paint to fully dry before moving onto your next layer just speed up the process with a cheap travel hairdryer.
This is what I use. not through choice but it's what I had to hand when I wanted the paint to dry quickly. My argument is that a hairdryer is made to dry hair. This is made to get hot frequently. chances are it will last muchlonger.
make sure you get one with variable heat as you will want this on the lowest setting.. I've melted a mini before becasue I didn't realise I'd knocked it and cranked it up halfway.
Always useful if you (again like me) struggle to get your eyes to focus on small details. There are a few different options floating around. I prefer this as it's compatible with my glasses and the closed visor keeps me focused on the project.
Buyer beware (because I was stung), they are loud, take ages to properly shake your paint and are unreliable. But they are really cheap.

I got one of these and put batteries in it. Which didn't really shake the paint very much. The seller told me to plug it into an equal voltage adaptor. It shook much faster. For about 2 minutes and died.
The seller told me I should have run it for more than 30 seconds, now I've broke it and can't get a refund. (to be fair there was a note in the box I which said this, but I didn't read it).
So, just beware, now you know what I know, use it in moderation at you're probably fine. but it is still loud and slow.
I love this. this is one of those things that I never knew I wanted until I had one. absolutely perfect for all pots of miniature paints, this whisks up a storm of pigment and medium inside your bottles in no time.
This has turned some of my least favourite paints into favourites, churns even the thickest of paint in seconds. It has even recovered old paints from certain death.
If you have a lot of paints, I highly recommend this.
This is the same as the unit above however it's heavier-duty. whilst the mini vortex mixer is great for your paint pots and individual dropper bottles. if you have anything larger such as bottles of primer or varnish (which is a product that needs a good shake). It's not the best.
This is where the plate on something like the vortex genie comes in. Even your largest model paint bottles should easily mix on this beauty
It's a Dremel, there are 1001 uses for a Dremel. You've always wanted a Dremel anyway, get a Dremel
One of the lesser required tools but invaluable in situations you need it. great for resin and terrain work.
Ballers, Silicone Sculpting tools and carvers. They are all cheap tools and it's always better to have them and not need them rather than need them and not have them.
Fishing Tackle boxes are great for organising your spare bits. You could always in them but I always like to make sure I keep a pot of spare heads and weapons.
If you're building terrain (remember next time you pass Christmas or a Birthday, all that polystyrene is invaluable). This makes carving polystyrene easier than passing a warm knife through butter.
Workstation Organisation Gifts
This is the ultimate modular solution for workstation storage. Modular in that you can easily add or remove storage modules as you need to. You have everything from Drawers and Display Modules to Brush Racks and Paint Stands. Hobbyzone also sells wall mounts too among other things.
A bit more expensive than your typical wooden laser cut slat fit stands. The modular nature means your investing in something you can build up over years and you aren't committing to a fixed orientation
An alternate solution for hobby storage is acrylic make-up storage boxes. Whilst they lack the modular nature of the Hobbzone kit, the fact they are clear mean you can see what's in each compartment
A really nice way to store your paints is in these desktop stands. again the clear nature of the acrylic mean you can see the names of your paints. a benefit over the HobbyZone kit.
These are my favourite wall racks. Again Hobbz ZOne to a great modular system and the wall racks are nice becasue they match the style. however, they block the names of most colours leaving you to scramble around trying to find the correct paint.
These keep everything clear and on display.
Sundries
Used mainly when basing your miniatures. pick up any form of PVA glue, it's cheap enough.
When it comes to super Glue there are different types. smaller models will get away with normal liquid glue. Larger metal models will need Super Glue gel.
Personally I've been using these small tubes of Gorilla Glue for a while. I like the small tubes as super glue tends to mess up even the spouts of their containers. The spouts here tend to last as long as the glue inside. And, as of yet I've not had any white powder appear on my models which comes from the glue curing.
There are various forms of plastic glue. I'm not sure what supplier decided that a good applicator is a thin metal tube. But that really is a terrible way to apply glue.
Tamia Cement and here Tamiya Extra Thin Cement both come with brush applicators and make it much easier to get glue onto your models with increased control.
The absolute best product for filling small gaps. This reduces down into cracks and can be easily sanded smooth to make join lines disappear
Oh, what fun you can have with this! Make various colours of water effect son your models or entirely submerge them with Epoxy Resin.
Strip paint from minis, restore brushes, clean your airbrush, your desk and more. This stuff is cheap and great for your acrylic paints.
Books & Magazines
The Warhammer Black Libray books are now released on the Amazon Book store. The Kindle (not the Kindle Fire crap) is the best e-reader on the market purely due to the amount of support it has.
Everyone should ahve a Kindle
The Black Library is huge and there's something for everyone. I'm not even a big fan of the overall Warhammer lore, but I still enjoyed several of the books as independent stories.
I'm honestly surprised that magazines are still going, but White Dwarf is one that has stood the test of time. There's no better time to treat yourself to a 1-year subscription.
Gaming Surplus
You can buy expensive GW dice and slowly build up the stores until you have the volumes you need for your whole armies. Or you can buy awesome coloured dice, metal dice. wooden dice. Stylish dice in numerous varieties and the best part is they are probably much cheaper than GW's offering.
You know, or you can buy GW dice
And once you have all those dice, where do you keep them? The CardKingPro Immense Dice Bags are awesome stylish pull-string satchels available in a variety of colours. This will hold over 150 dice.
This is nothing to do with making dice shaking more comfortable on your wrists or anything. But a leather cup for storing and shaking dice is just cool.
Ultra Pro make terrible card sleeves, but they make cheap deck boxes in various colours.
Got a lot of cards and want to make custom decks? this variable compartment storage box lets you separate cars into categories as you create the ultimate arsenal of cards.
If you have cards, protect them. The best sleeves are Dragon Shield. Available in a variety of backing colours. but I just prefer the clear ones so i can see the artwork. You can also get Matte Clear. but they rae only matte on one side and they aren't really matte, they are just textured.
3D Printers
One of the most popular printers, it features a very large build plate. and an active online community. This is one of the higher quality printers too. For the price, it really has a great balance of everything from quality to size.
Better for Terrain than models due to the ridges caused by FDM printing.
The Elegoo Mars in a great entry-level Resin printer. You will be hard-pressed to find any out of the box quality differences in your print between this and the model below.
The main drawback is that it is not as widely available and therefore has a smaller printing community behind it. But it is quite a bit cheaper.
This is another DLP resin printer which means the UV light to cure the resin is projected on a screen below the resin bath. In regard to quality level, let's look at the layer height. unlike extruded plastic, this printer has a resolution of 47 microns (0.047mm vs the 0.25mm of an FDM nozzle) a minimum layer height of 25 microns. That's 3 times thinner than the average human hair!
This is great for model components or even full proxy miniatures. Whilst you won't get the same quality level as extruded plastic you will get excellent quality without spending thousands.
YouTube Studio Kit
I'm going to preface this by telling you that I got all this kit advice from Luke Fellows over at Luke's APS. Please check out his YouTube Channel for advice on saving money in hobbying and setting up your own channel. Also, the reason this list doesn't contain any terrain supplies is becasue I can answer that in one block. Check out Geek Gaming (also by Luke) for a great selection of terrain supplies.
Flock, Rocks & Other Terrain
Personally I just picked up a Used Canon 70D. you don't need the latest state of the art camera. just something that lets you swap lenses with at least 18megapixel sensor so you can crop in images without losing details and a video record function ideally with Auto-Focus.
With this, I can take all the high-quality pics of minis I need to and record youtube video.
Whatever camera you get, your kit lens will be fine for most miniature photos. a half-decent 50mm prime lens will give you that lovely Depth of Field focus with you shown clear as day and the background slightly blurred dependant on the distance from you.
If you want to do a video top-down showcasing you painting your mini's, you can spend ages building a whole rack of equipment to get your phone or camera in a fixed position to record video. Or you can pick up a cheap swing arm (get a tall one) and position your camera where you want when you want.
Another great and cheap piece of kit is a portable camera studio. get professional-looking shots with ease by having a flat background and some decent lights. you don't even need an SLR for this, just use your camera phone and the free Photoshop and or Lightroom apps
Get lit! these led studio lights are the perfect starter kit to make sure you are the focus of your videos. they are small and compact, come with height-adjustable stands and you can edit both the brightness and colour temperature to give some dynamic contrast to your face.
they work great as studio lights for your models too.
Not just a cool name this mic is the business. I spent ages looking for the best mic and even after spending hundreds on a blue yeti, swing arm and shock mount. this is the mic I use more than anything else. it plus into most cameras and phones with the included connectors. although if your phone is missing a jack input, you need that adaptor that lets you plug headphones in.
And that's it, Everything in this is is from Necessary equipment to weird & wonderful extras you may have never even heard of. I hope this has given some food for thought. but if you can think of a cool gift idea which Isn't shown on this list. Let us know in the comments.