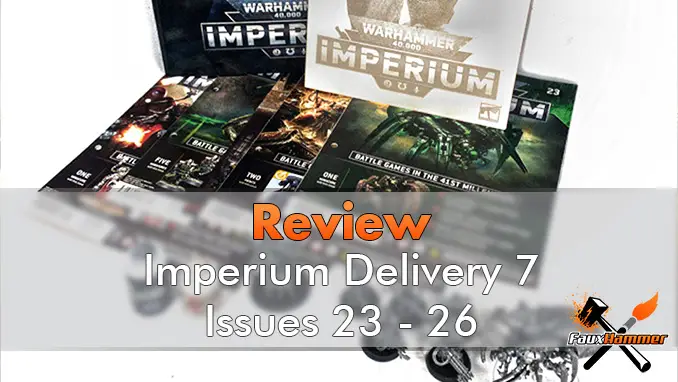 A new month has rolled around again, which means for many people their latest deliveries from Hachette Partworks will be making their way onto their doorsteps! This month, we have more Necrons, more Mechanicus, and more paints!
Click this link & buy your hobby stuff from Element Games for the UK & Europe to support FauxHammer.com – Use Code "FAUX2768" at the checkout for double reward points.


Our Affiliates / Hobby Stores
Warhammer 40,000 Imperium Delivery 7: Issues 23-26 Review – Introduction
Edit 08/04/2021 – So, as any regular followers of this segment will know, I had some issues getting my copies of Issues 23-26 last month. As I spoke about in our Delivery 8 round-up, my Delivery 7 didn't show up when expected. I usually very reliably receive my deliveries from Hachette between the 9th and the 15th of every month, so when March the 20th rolled around and Delivery 7 was nowhere to be seen, I knew something was up.
It's now the 8th April and Hachette have re-delivered my missing copies, so I've been able to finish writing this review up. Huge shout out to Amanda who was manning Hachette's Imperium helpline every time I called, and who's had to deal with me wittering on at her down the phone several times over the last couple of weeks!
We're now 7 deliveries into Warhammer 40,000: Imperium, so I have to ask: how are everyone's piles of unpainted plastic looking?
Personally, I've fallen behind. I've painted a fair bit of the Space Marine stuff, bar the Librarian in Phobos Armour, and the entire Premium Kit 1, but the Necrons are completely untouched. Gah, so much stuff to paint, and so little time!
Speaking of painting, there's been some spectacular work on display over at the FauxHammer.com Discord server, so if you feel like swinging by and showing off your latest work – or just marvelling at that which has been put on display by our talented community – please do come on over.
Warhammer 40,000 Imperium Delivery 7: Issues 23-26 Review: Contents
There's not too many miniatures included in Delivery 7, but what we do get are a number of quite high-valued figures.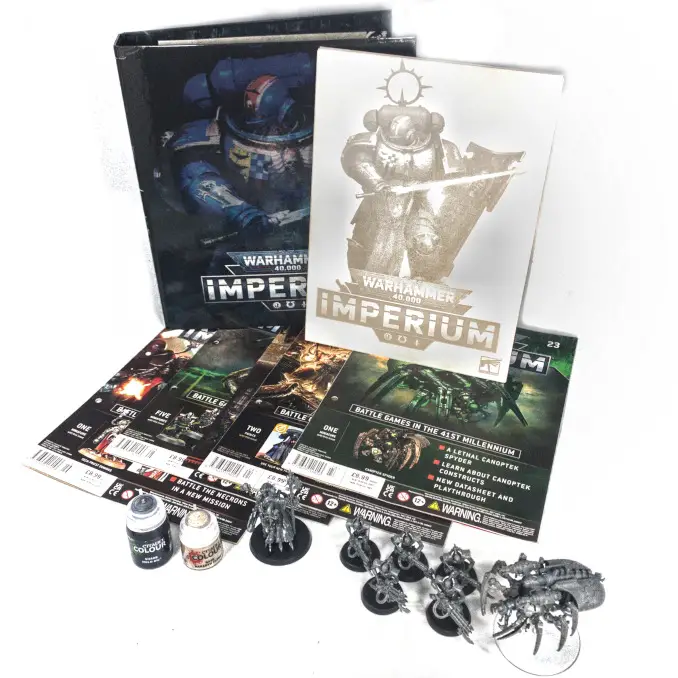 There are also a couple of new paints in this months delivery, as well as tons of stuff to be getting on with in the magazines. Also included is a new binder to keep your next 20 or so issues safe and tidy, as well as a card envelope full of art prints.
The Magazines: Issues 23-26
It's binder o' clock, folks. Delivery 7 comes with your next of four folders to keep your magazines in.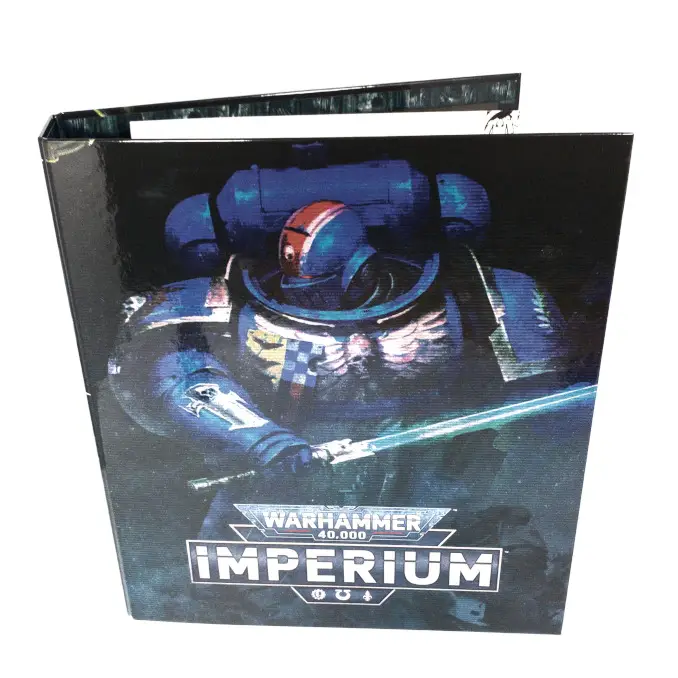 It's up to you how you choose to store your magazines. You can disassemble them and use the coloured tabs that come with the binder to separate them by content and follow the filing system the magazine suggests. I did this with my Mortal Realms magazines, but must admit that this time around the magazines are being put in in chronological order for ease of reference when writing these reviews.
Also included in this delivery is a printed envelope containing some rather fetching art prints.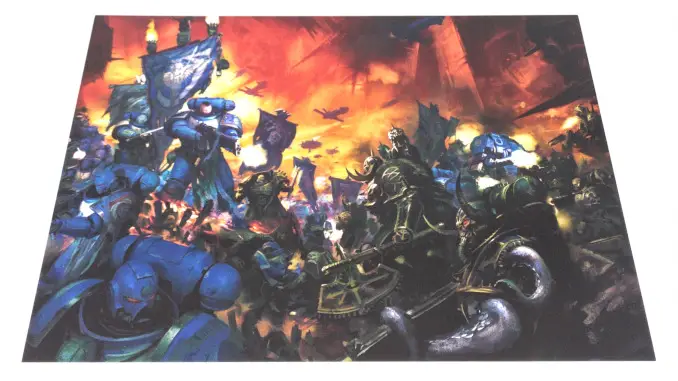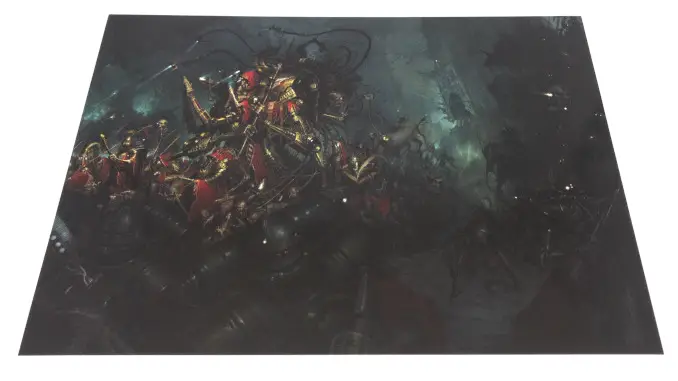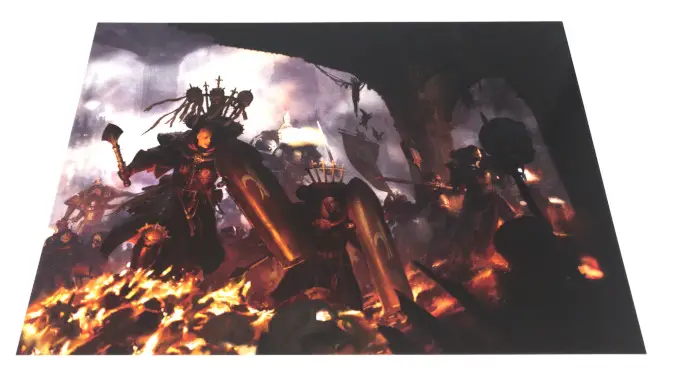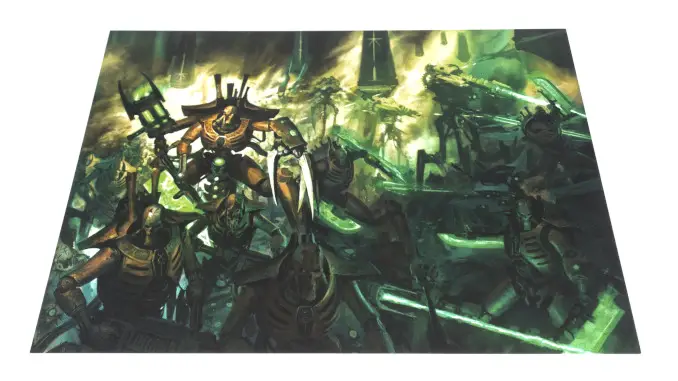 These A4 prints will be a lovely treat for the collectors amongst you – or those of you with space on your hobby cave walls for a few framed prints.
Anyway, let's have a look at the magazines themselves, starting with Issue 23.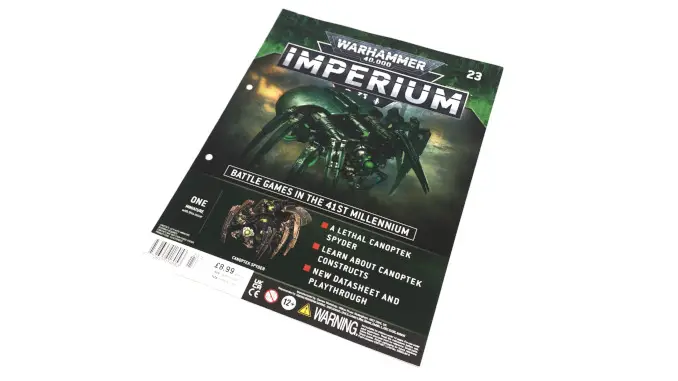 Issue 23 is all about everything robotic, with sections on both the Adeptus Mechanicus and the Necrons spread across its pages.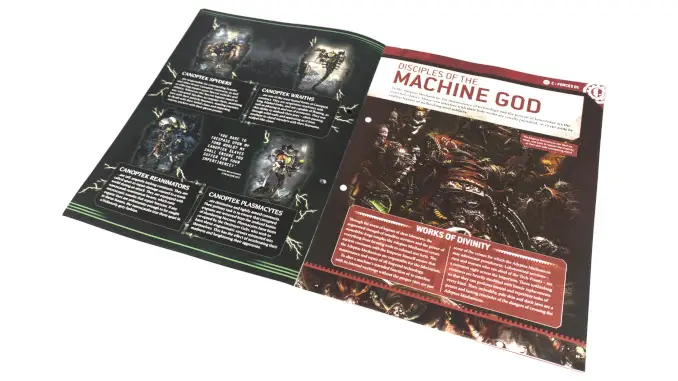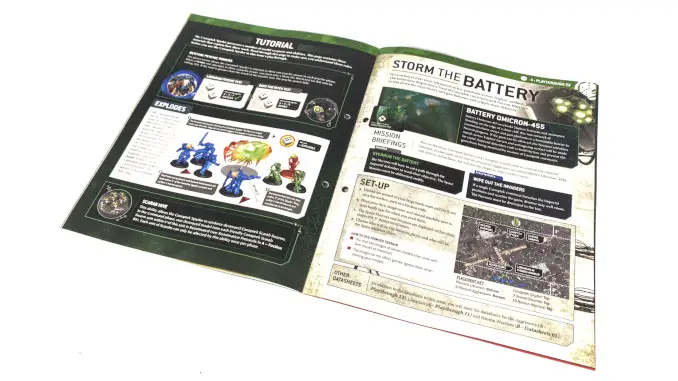 There's also a few tutorial pages dedicated to using some of your most recent miniatures in a game of Warhammer 40,000.
Issue 24 is quite lore-heavy, with a few extra pages dedicated to the Warhammer 40,000 setting with a particular emphasis on factions.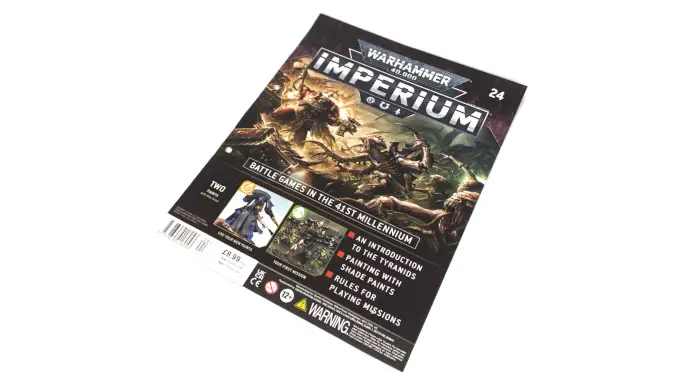 There's more information on the AdMech and Necrons, but the Tyranids also make a surprise appearance – perhaps a nod to the fact that we're due Premium Kit 2 in a couple of months, which comes stuffled full of hungry space gribblies.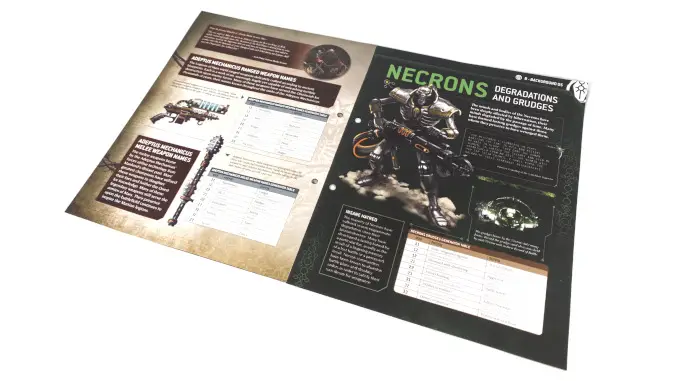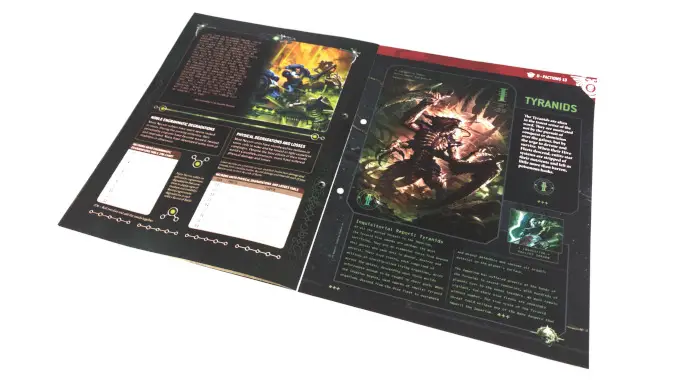 Moving on to Issue 25, Necrons seize the monopoly one again, dominating the cover and most of the content.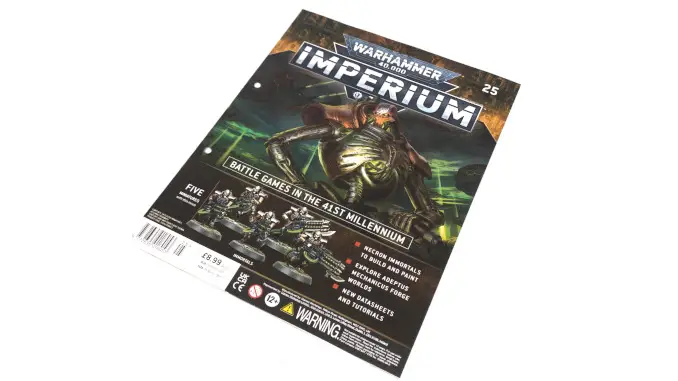 With plenty of information on Necron Royal Courts, as well as a painting guide for the Immortals that come with this issue.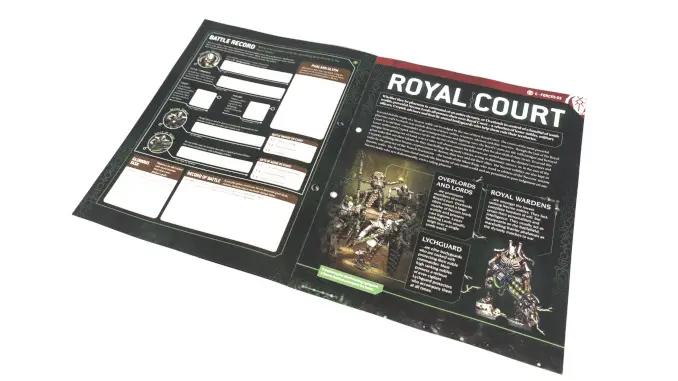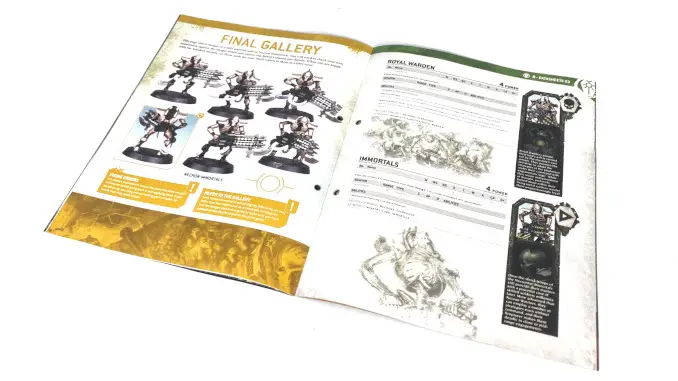 To keep your mind on the game, there are datasheets and more tutorials at the rear of the magazine, all aimed at getting you using your new miniatures.
There's also a fold-out insert with Issue 25 – unable to let the Necrons have all the say in Issue 25, the AdMech return with all sorts of extra info on Forge Worlds and other lore.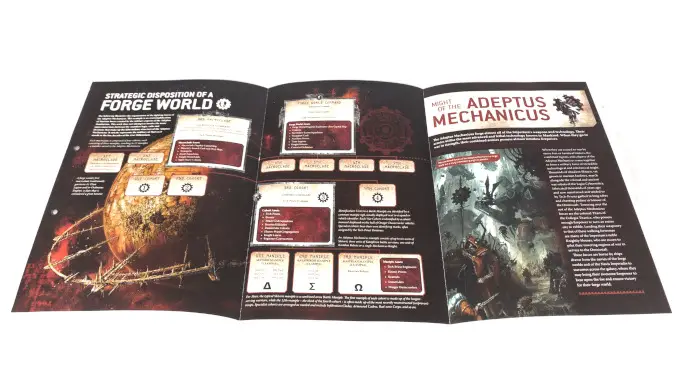 Finally, we arrive at Issue 26, and this time the AdMech have fully given the Necrons the boot in favour of making this magazine all about them.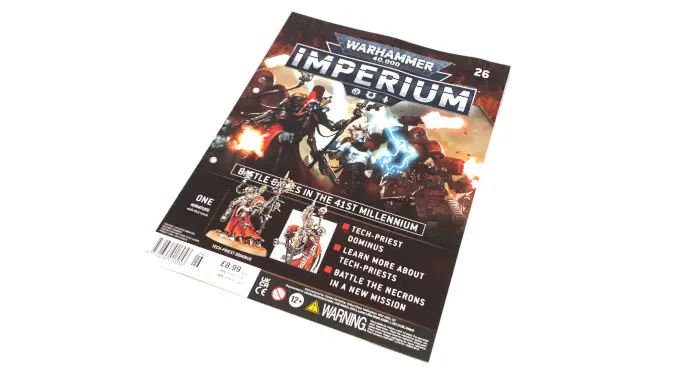 There's more lore on the Mechanicus, as well as a character sheet thingy for the awesome Tech-Priest Dominus that comes with this issue. There's also a painting guide to help new painters start getting to grips with the AdMech figures that there have been so far.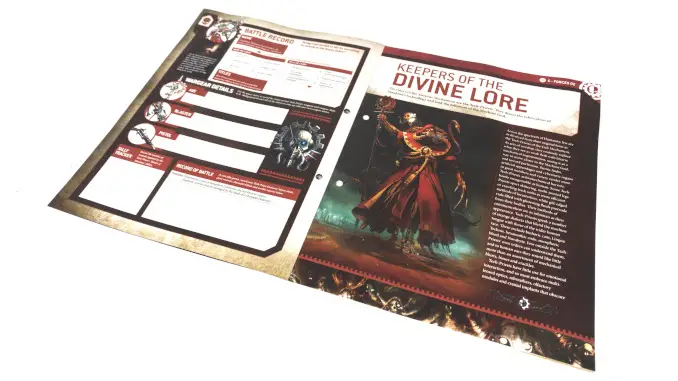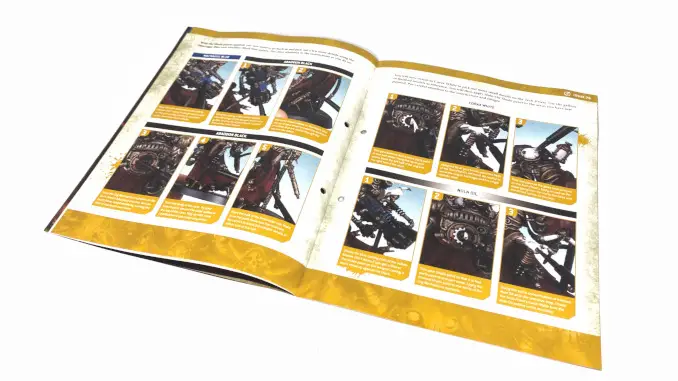 There's bags of content across these magazines, with all the building guides, more painting guides, and all sorts of rules and lore to read.
Miniatures
Issue 23 nets buyers a Canoptek Spyder. This meal ol' bug is basically a gigantic version of one of those Canoptek Scarabs that skitter around the feet of Necron soldiers – with the addition of a whacking great gun thing on its back.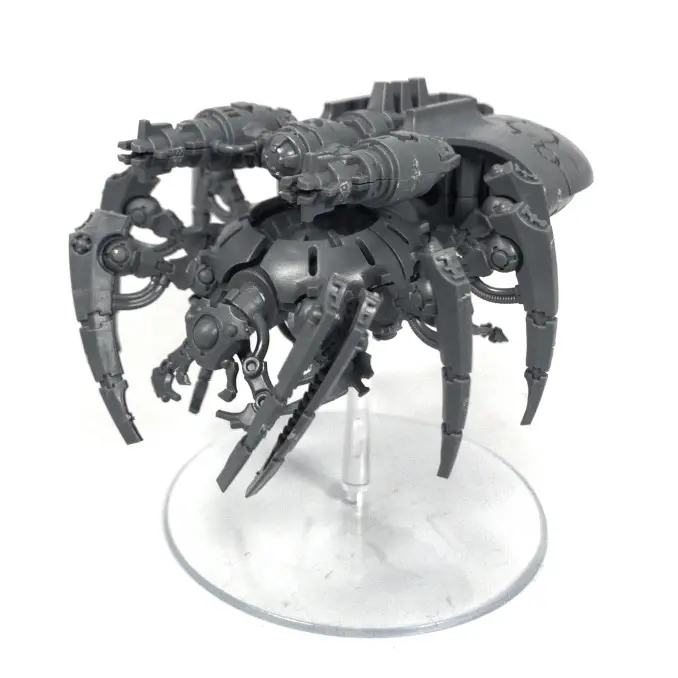 I don't love it, though.
Whilst I understand that the similarities across the Necron range are part of their aesthetic (for example, the legs on the Spyder are similar to those on the Reanimator and so-on, as is the face and some of its other bits), I just find the Spyder to be a little bit bleh. It's not really getting me very excited.
It's also a bit irritating to put together. The model has a surprising number of parts, and if its rear legs aren't on at quite the right angle, the abdomen won't fit on properly. The problem is, you're unlikely to discover this until the very end of the build process, when the legs have set and you're trying to manoeuvre the abdomen into position. If you follow Imperium's guide to the letter, and build the Spyder in sub-assemblies, you might not discover the issue until after you've started painting the figure.
I also don't love the Immortals in Issue 25.

They're extremely similar to the bog-standard Necron Warriors in how they look, but they lack some of the creepy, shambling, run-down zombie-ness of the more recently-sculpted warriors. Again, they just aren't giving me the "I really want to paint these" buzz.
The Tech-Priest Dominus, on the other hand, does.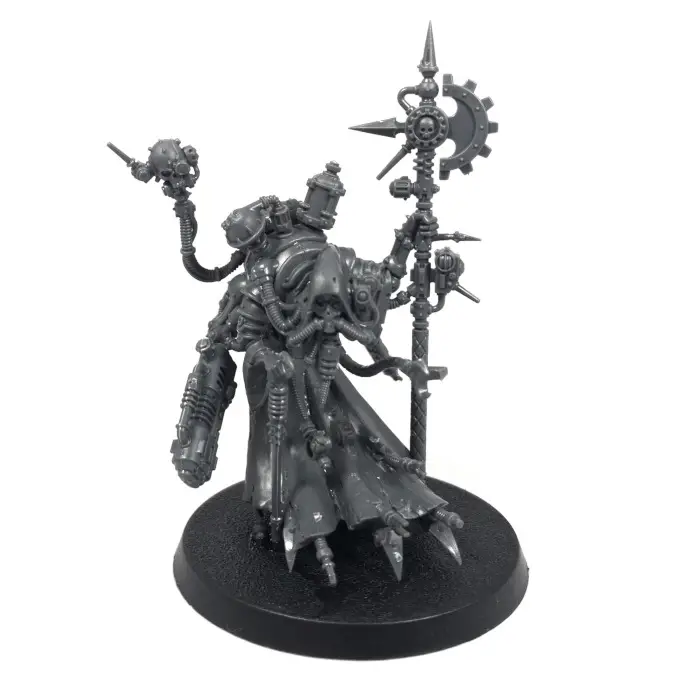 I really like this figure. The ab-human, post-organic, super-creepy feel of the Adeptus Mechanicus is personified beautifully in this impressive figure. The figure is unmistakably 40K, yet it oozes that classic evil fantasy wizard feel in how it hunches over, clutching its staves. Its covered in wonderful details, such as the vials and syringes on its back, and the gorgeously-sculpted metal plates on its back and its ragged robe will be a painting delight.
Paints and Hobby Tools
There's one entry into the Paints and Hobby Tools section this month, and it's a pair of paints you'll want to keep close by.
The first is Rakarth Flesh, which is the ideal base paint for any very pale, sickly or undead flesh you may wish to paint. It's also the perfect drybrush shade to use over any dark brown, muddy texture paint such as Stirland Mud.
The other is Nuln Oil.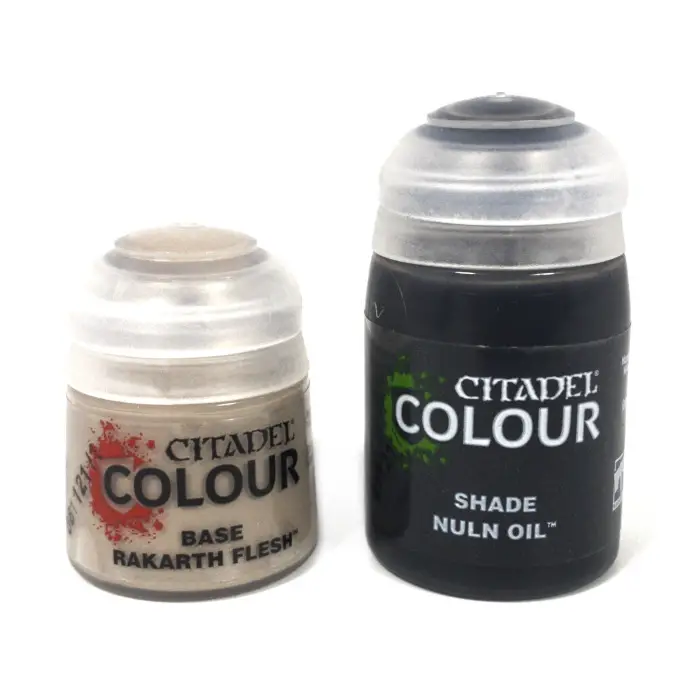 Nuln Oil, like its sibling Agrax Earthshade (which we received back in Issue 12), is one of the most useful tools for any painter to have in their hobby arsenal. As a shade paint, when washed over a texture, Nuln Oil will add depth and realism to an otherwise flat colour.
It's a very useful product for beginners who are unsure how to go about adding shade their figures, but also an extremely useful thing for more experienced painters to have on hand if they're wanting to pick out certain details in a texture.
Warhammer 40,000 Imperium Delivery 7: Issues 23-26 Review – Price and Availability
As ever, because everyone at FauxHammer.com loves a good table, here's a run-down of the savings available across this delivery.
| | | | |
| --- | --- | --- | --- |
| Issue No. | Price (GBP) | Total Value (GBP) | Total Savings (GBP) |
| 23 | £8.99 | £25.00 | £16.01 |
| 24 | £8.99 | £7.50 | -£1.49 |
| 25 | £8.99 | £25.00 | £16.01 |
| 26 | £8.99 | £22.50 | £13.51 |
| TOTALS | £35.96 | £80.00 | £44.04 |
| | | | |
| --- | --- | --- | --- |
| Issue No. | Price (USD) | Total Value (USD) | Total Savings (USD) |
| 23 | $13.95 | $38.00 | $24.05 |
| 24 | $13.95 | $12.35 | -$1.60 |
| 25 | $13.95 | $38.00 | $24.05 |
| 26 | $13.95 | $36.00 | $22.05 |
| TOTALS | $47.80 | $128.35 | $68.55 |
There are some pretty good savings to be had this month, which is always very welcome. You can find more information about the prices of these these magazines, as well as what's to come in future releases, over on our Warhammer 40,000: Imperium Magazine Contents List.
Warhammer 40,000 Imperium Delivery 7: Issues 23-26 Review – Final Thoughts
Pros
Cons
Excellent savings on miniatures
Paints are must-haves
Tech-Priest Dominus miniature is awesome
Art prints are nice
Necron miniatures just really aren't all that
No savings on the paints
Delivery 7 falls a little flat in some departments.
The paints are good 'uns, but technically you're not actually saving any money by getting the paints via Hachette, which is a bit of a bummer. It's cheaper to buy the Rakarth Flesh and Nuln Oil separately than it is to get them in the mag.
Further to this, the miniatures are a very mixed bag. For one, there aren't many of them, and what there is may not appeal to people. On the one hand, I'm a big fan of the Tech Priest Dominus figure, and really hope I get the chance to paint it up soon. Yet the Necrons that come in Delivery 7 don't really don't inspire me at all.
As ever, though, the actual content in the magazines delivers. I'm not sure how many subscribers to Imperium take the time to flick through their magazines, but I'd always recommend it. There's nothing ground-breaking or world-changing in them, but that's not the point. They're fun, light-hearted (well, as light-hearted as 40K can be), and informative. At most, they may inspire you to get painting some of your backlog, or delve into some Black Library fiction; at the very least, they'll give you something to do for a few minutes whilst you wait for the kettle to boil or you're stranded on the bog.
So, not the best delivery, but by no means dreadful. Here's to next month!
Click this link & buy your hobby stuff from Element Games for the UK & Europe to support FauxHammer.com – Use Code "FAUX2768" at the checkout for double reward points.


Our Affiliates / Hobby Stores
What did you think of this Article? please let us know in the comments.
If you like what we're doing here you could really help encourage more content with a share on any social media platform.
Click the share links at the bottom of this screen (or on the left for computers and tablets)
Want to keep updated with the blog? You can subscribe in the sidebar for RSS or by email below
(Sidebar is below the article on Mobile Devices)
Summary
Reviewer
Review Date
Reviewed Item
Warhammer 40,000 Imperium Delivery 7: Issues 23-26
Author Rating





Product Name
Warhammer 40,000 Imperium Delivery 7: Issues 23-26